These easy Haystack Cookies with Butterscotch & Peanut Butter were a staple in my household every Christmas when I was a kid.
Out of all the other types of cookies that were brought into our home over the holidays, these haystack cookies were always my absolute favorite.
I don't know if it's the crunchiness or the rich butterscotch/peanut butter taste that makes me love them so much.
Whatever it is, they're just the best!
Easy Haystack Cookies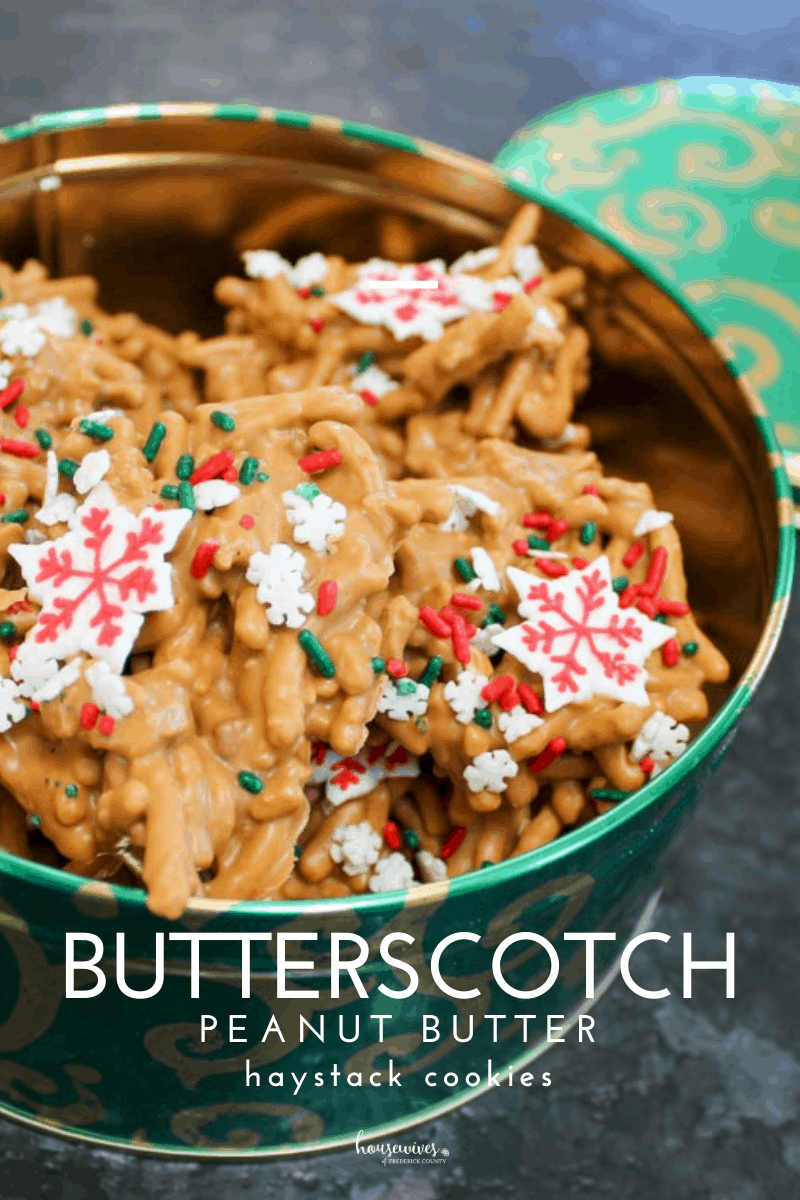 One of the beauties of this recipe, besides the fact that they're delicious, is the fact that they only require 3 ingredients.
4 ingredients if you include any decorations you want to sprinkle on top.
Another thing I love is that they don't even require an oven.
That's right! These are no-bake cookies!
What Are Haystacks Made of?
Well, it's really simple to be honest!
All you need to make haystack cookies are:
Chow Mein Noodles
Peanut Butter (I prefer crunchy)
Butterscotch Chips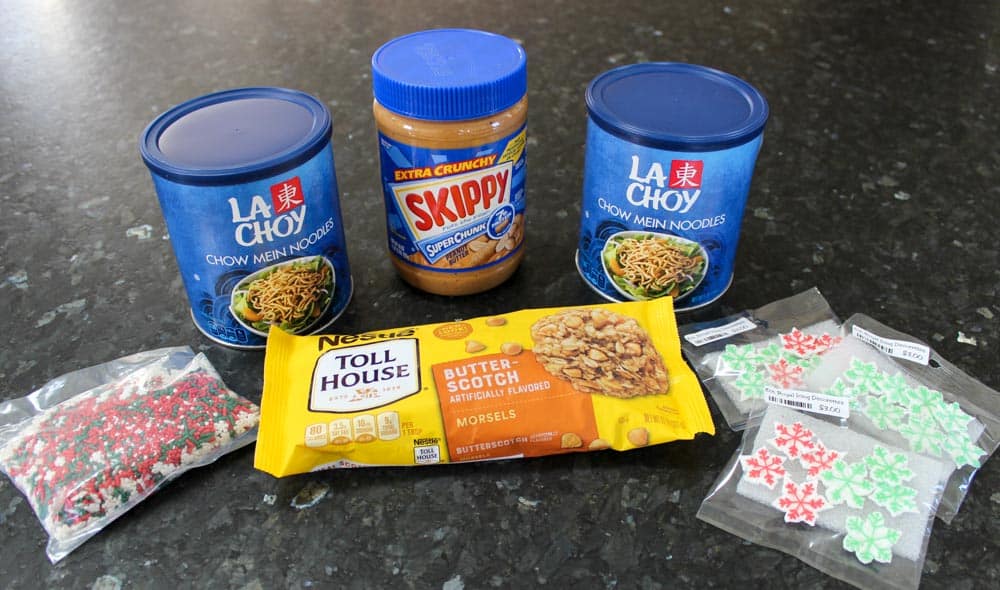 And if you want to decorate these cookies, you can use:
Just go to Amazon to find a never ending supply of holiday themed cookie decorations with gingerbread men, snowflakes, pine trees and more!
OR if you're local, check out the huge candy selection at Gateway Candyland in Thurmont, Maryland.
That's where I found the red and green snowflake decorettes.
So fun!
How to make Haystack Cookies
These haystack cookies are so easy to make it's actually kinda dangerous because I could make them and eat them every day!
First, add the butterscotch chips and the peanut butter to a microwave safe bowl and microwave for approximately 2 to 3 minutes.
Be careful when you remove the bowl from the microwave because it can get very hot, so use a potholder.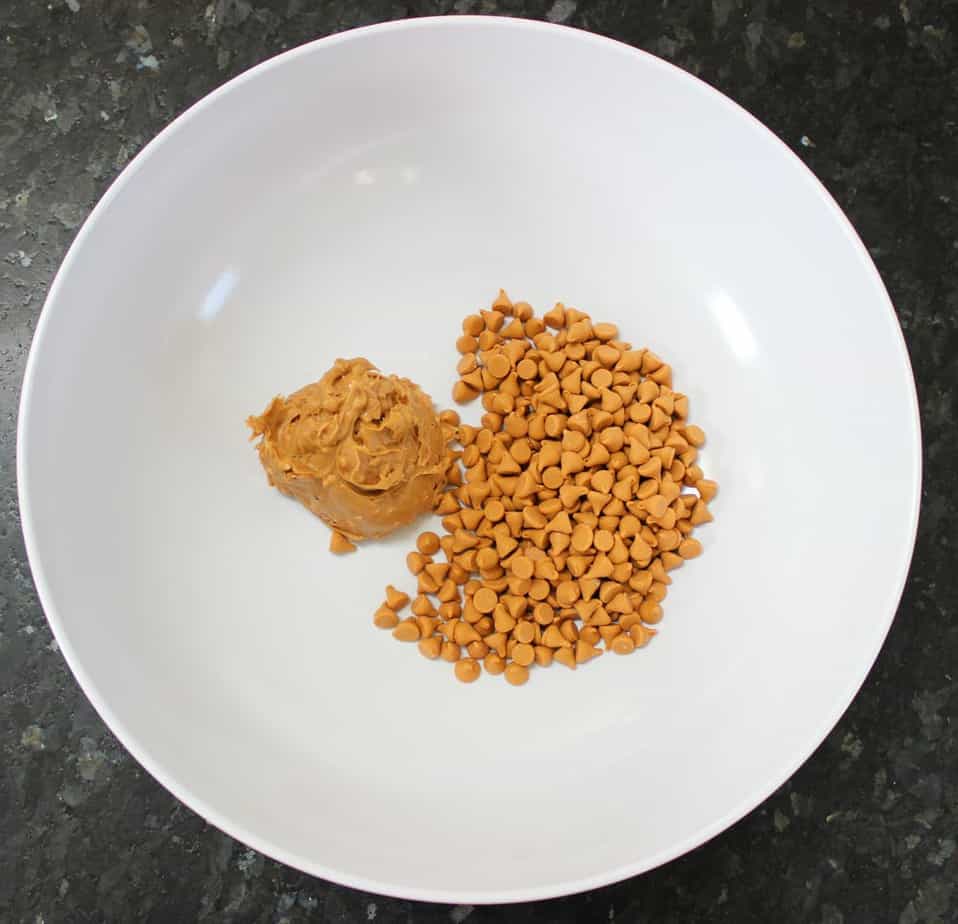 Second, use a large spoon to mix the heated butterscotch chips and peanut butter until thoroughly blended.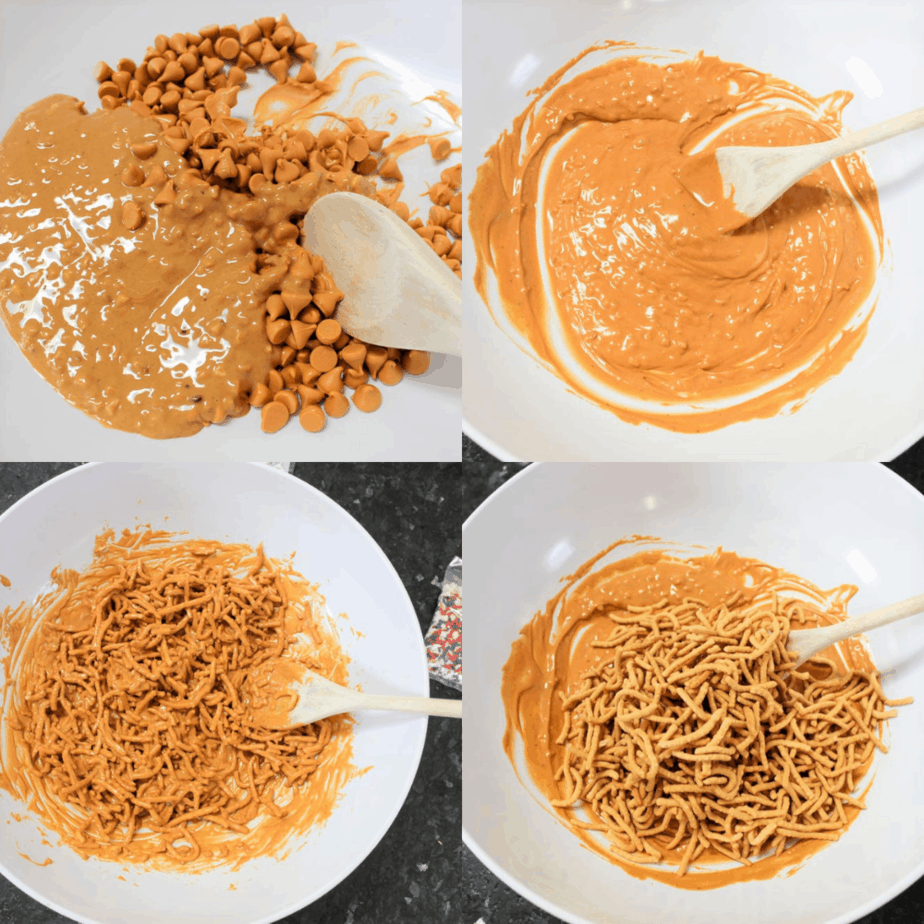 Third, add the chow mein noodles and mix again until thoroughly blended.
It's okay to break up the chow mein noodles a little bit.
After this, drop the cookies by the spoonful onto a cookie sheet lined with wax paper or parchment paper.
Then add your decorations.
Pro Tip: Add your decorations while the cookies are still warm and press down a little bit so they stick to the cookies once they're cooled.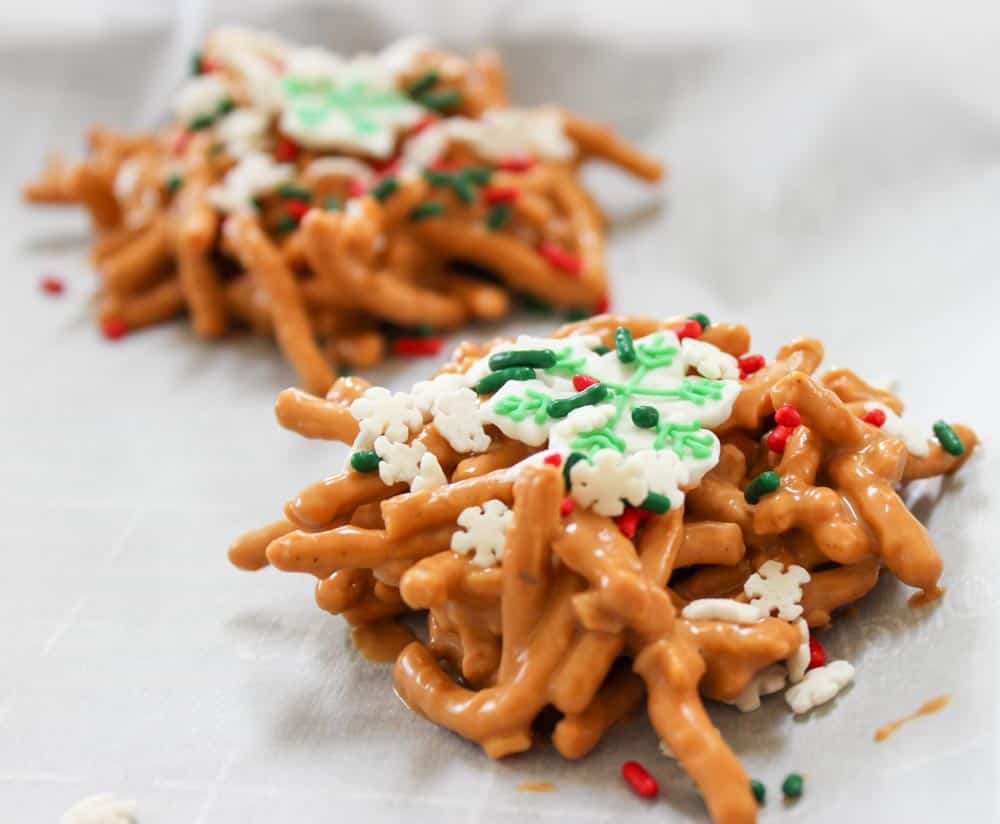 Once you've dropped all of the cookies onto the cookie sheet and/or sheets and decorated them, place them in the refrigerator to cool and set.
Do haystacks need to be refrigerated?
When you first make haystack cookies, they should be refrigerated so they can set quickly.
That way, you can place them in cookie tins or covered containers more easily & quickly.
However, once they've been set, it's okay to store them at room temperature as long as it's not too hot in your house as they will get soft and melt somewhat.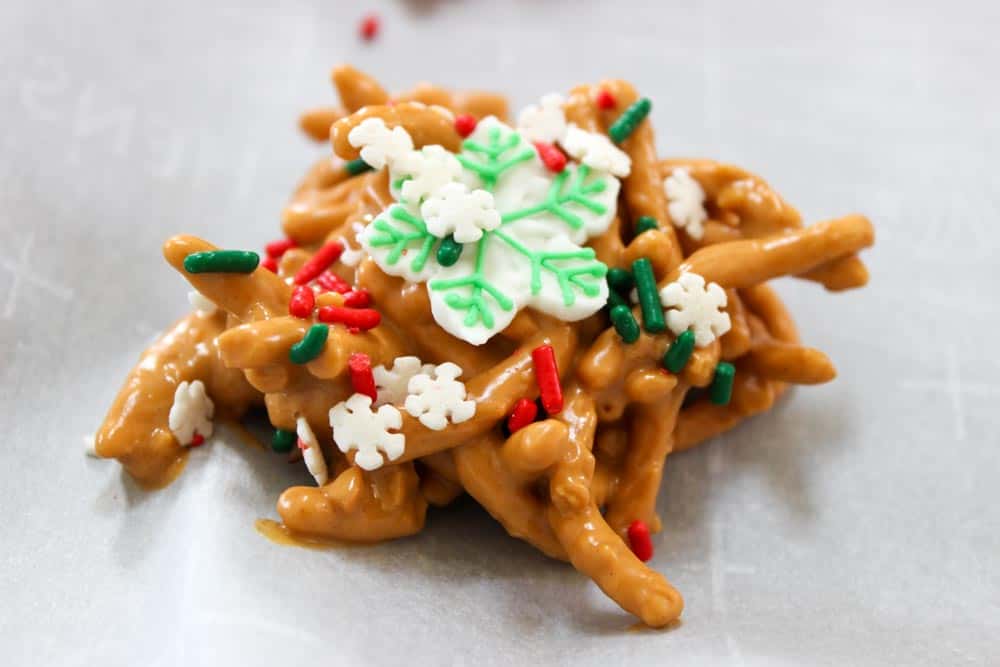 Even holding them in your warm hands can get a tad bit messy, but in a good way!
Mmm! There's really nothing like these butterscotch peanut butter haystack cookies!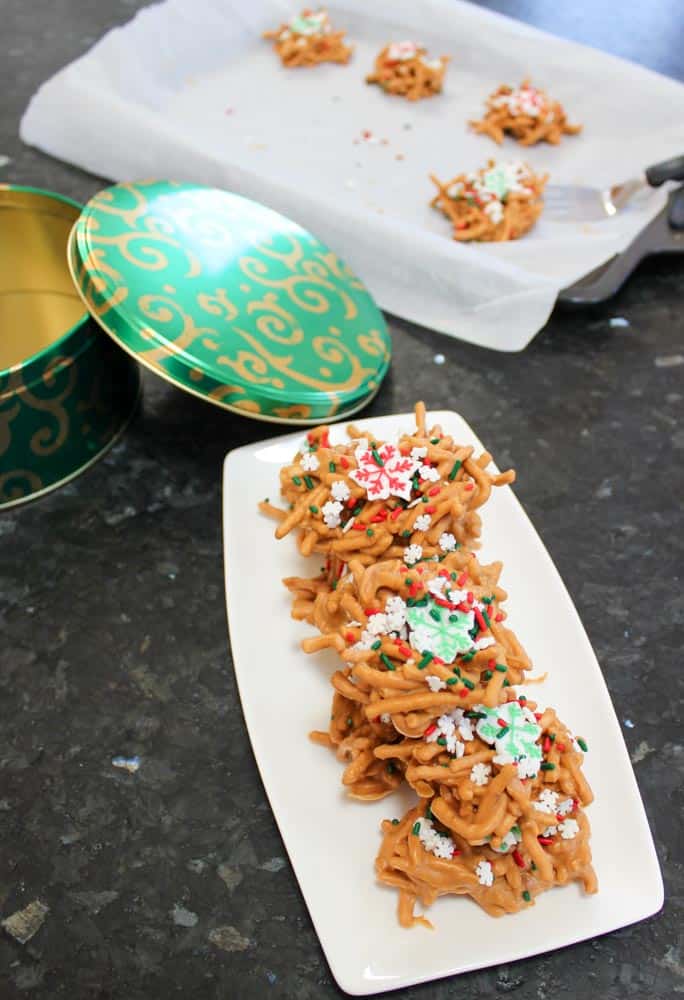 Variations to haystack cookies
So, my Momma always made haystack cookies with butterscotch chips and peanut butter.
However, I've seen them made with chocolate, marshmallows, corn flakes, coconut, and even oatmeal.
Whatever floats your boat and makes you happy, that's how you should make them!
For me though, making them this traditional way is the way I'll always make them because they bring me straight back to my childhood.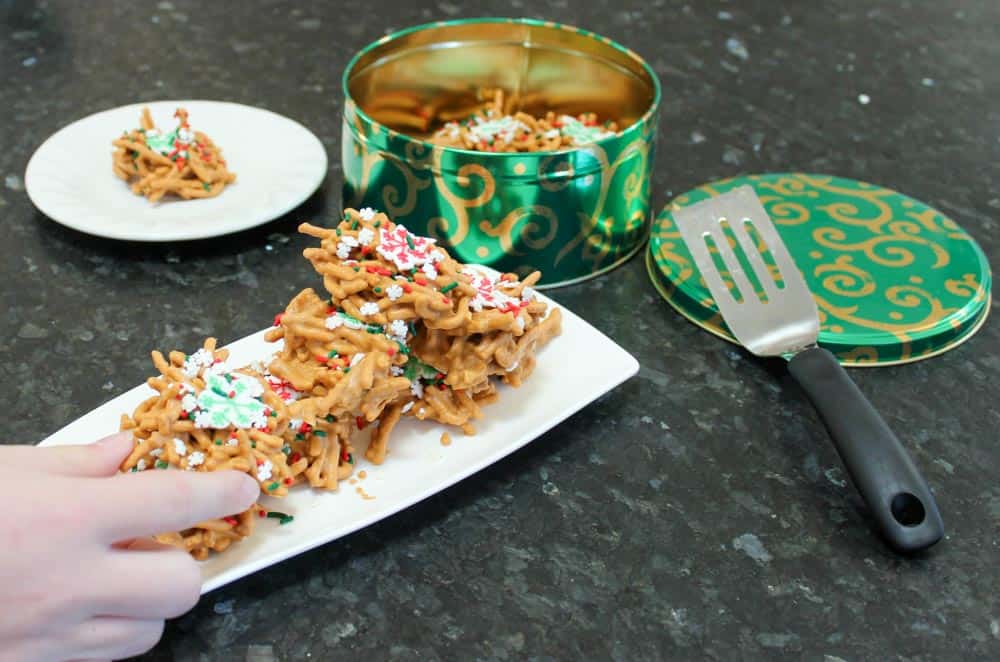 And now that I'm a mom, I'm happy to pass this tradition on to my son, who will always remember that "Mom made these when I was a kid every Christmas"!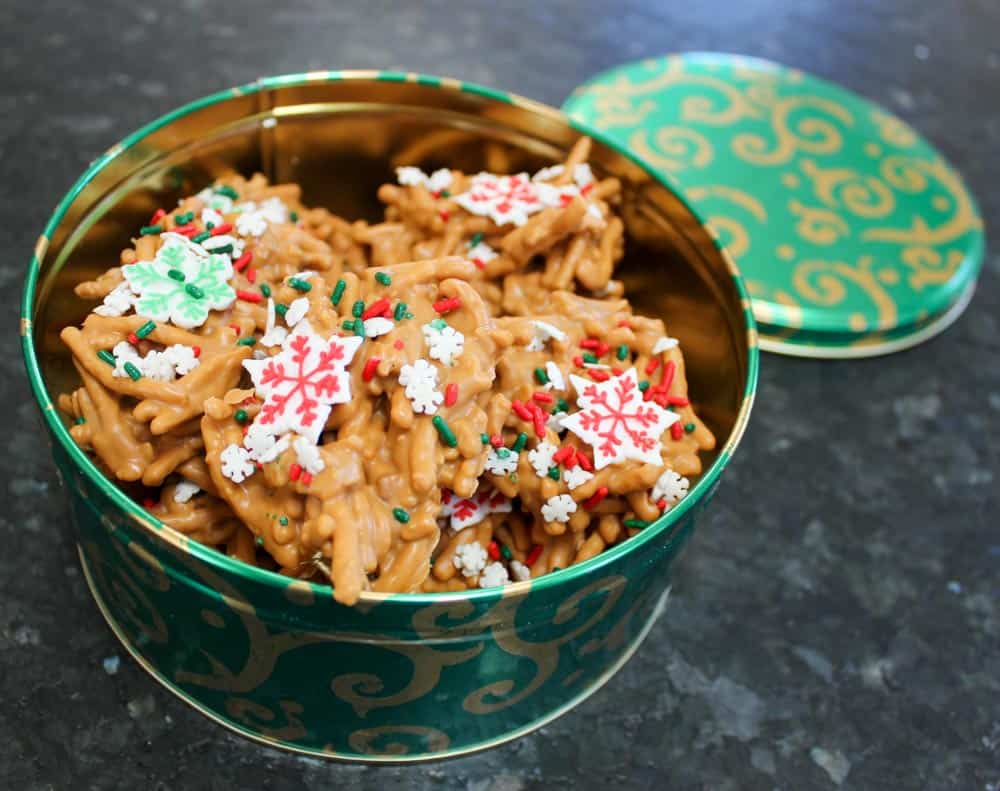 Haystack Cookies with Butterscotch & Peanut Butter Recipe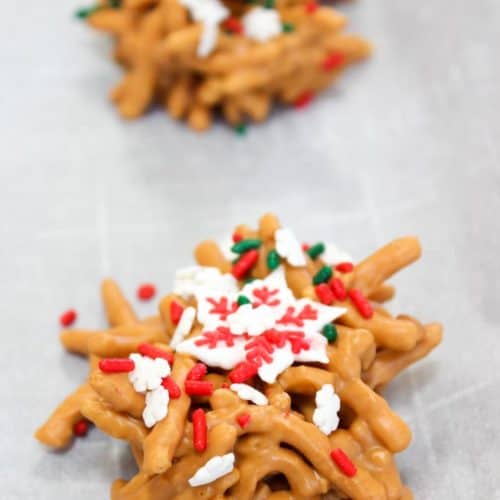 Haystack Cookies with Butterscotch & Peanut Butter
An old favorite from my childhood, this 3 ingredient no bake cookie recipe will be your favorite too!
Ingredients
1

cup

Butterscotch Chips

1/2

cup

Peanut Butter, creamy or crunchy

,

Don't use the natural kind

2

cups

Chow Mein Noodles
Optional:
Sprinkles, decorettes, or jimmies for decoration
Instructions
Place butterscotch chips and peanut butter in a large, microwave safe bowl.

Heat in the microwave for approximately 2 minutes.

Use potholder to remove from microwave and mix ingredients with a large spoon until combined.

Add the chow mein noodles and mix well. It's okay to break up some of the chow mein noodles.

Drop by the spoonful onto a wax paper or parchment paper lined cookie sheet.

Optional: Add sprinkles or other decorations to tops of cookies while they're still hot. Press down gently so the decorations set with the cookies.

Place in refrigerator to cool until the cookies are set.

This recipe makes 10 to 20 cookies based on the size of your spoonfuls.

These cookies keep longer in the refrigerator but can be kept at room temperature.
What Christmas cookie brings you fondly back to your childhood?
For more delicious Christmas desserts, click on over to:
17 Best Christmas Cookie Recipes For Your Holiday Season
6 Best, Fun Size, Easy to Make Desserts For the Holidays!
17 Best Christmas Dessert Recipes To Sweeten Up Your Holidays