This sheet pan sausage and veggies recipe is one of my go-to's on a busy weeknight.
Not only is it super easy to make, but also, it's absolutely delicious and requires minimal cleanup!
In addition, there are so many ways to make this recipe by swapping out the types of veggies you use and even the kind of meat or protein you want eat.
Easy Sheet Pan Sausage and Veggies
My inspiration for this recipe came to me one night around 6:00 pm on a Thursday night when I hadn't even thought about what we were going to eat for dinner.
I took a quick look in our refrigerator and saw that we had a package of sausages as well as a nice variety of vegetables.
So I plugged the ingredients into Pinterest and found this mouth-watering Bratwurst & Roasted Veggies recipe from Lisa's Dinnertime Dish.
Bingo! This is what I was going to make for dinner!
Keto – Low Carb Dinner Recipe
Because I'm on a very low carb diet, I didn't include potatoes in the recipe.
However, the good thing about that is that you can include even more veggies to fill up your sheet pan!
Undoubtedly, this is an incredibly delicious low carb, high protein, keto dinner!
And if your family is like mine, you do have some carb eaters who will still want potatoes or rice, so you can always make that on the side.
Sheet Pan Sausage and Veggies Ingredients
Here are the ingredients I used in my recipe.
Radishes (yes, roasted radishes are amazing!)
Brussels Sprouts
Onions
Green Peppers
Olive Oil
Oregano
Paprika
Garlic Powder
Salt
Black Pepper
Sausages
Although, keep in mind that the vegetables I use really depend on what I happen to have in the fridge on the particular night I'm making this recipe.
So the above list isn't set in stone.
Step-by-Step Instructions
First, preheat your oven to 400 degrees F and line your sheet pan (Amazon) with parchment paper (Amazon).
Then cut up all your veggies into 'two-bite' size pieces.
Whereas, if you cut them any smaller, they'll shrivel down to sad looking, roasted, veggie wannabes!
Place your cut up veggies into a large mixing bowl, like this OXO Good Grips 5 Quart Mixing Bowl from Amazon.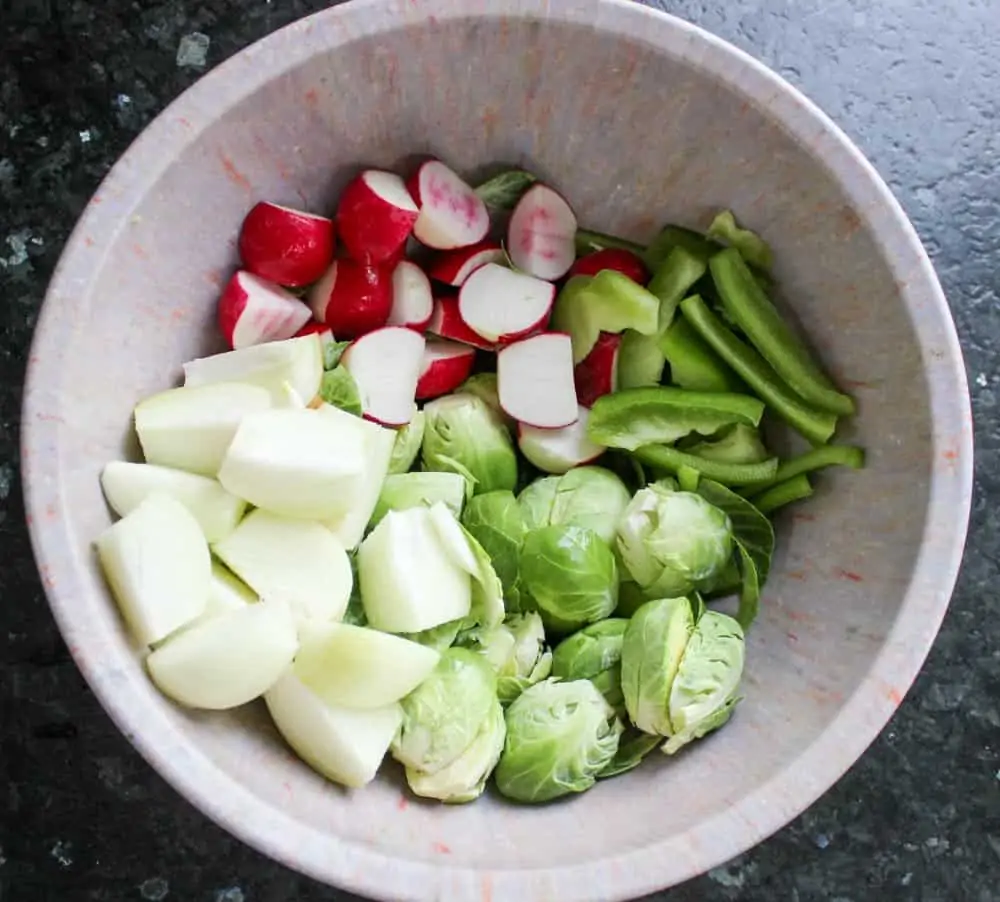 Then add olive oil and spices and mix everything thoroughly with a large spoon.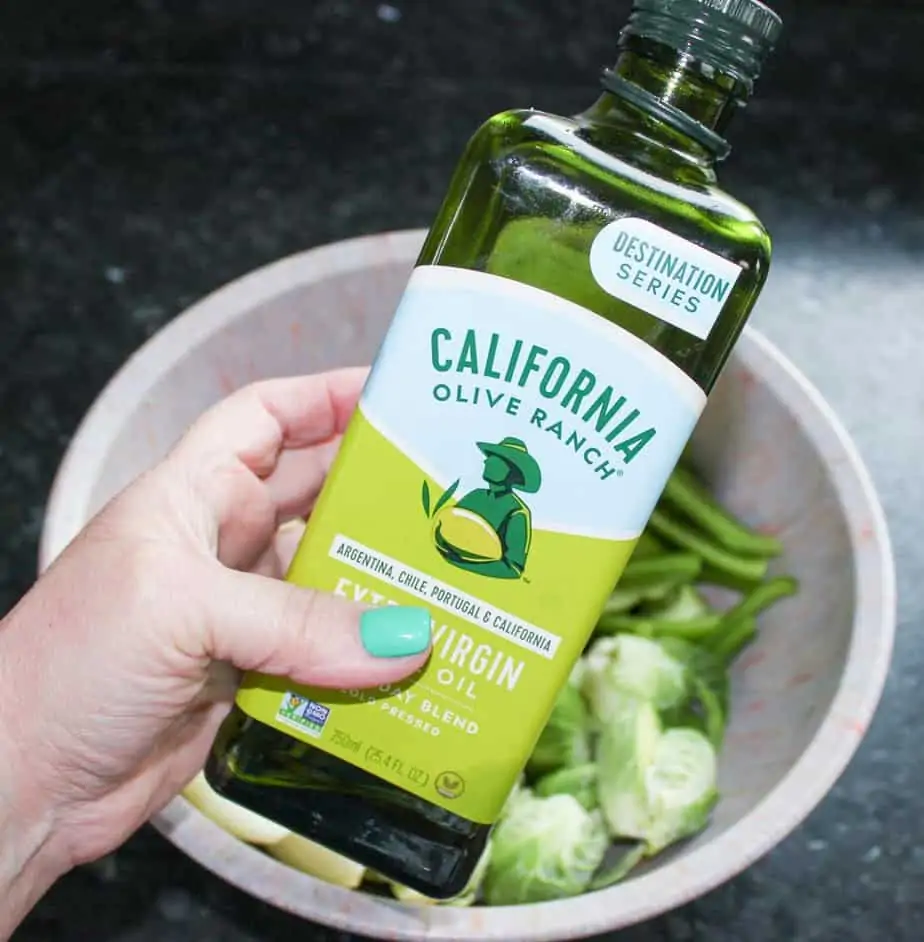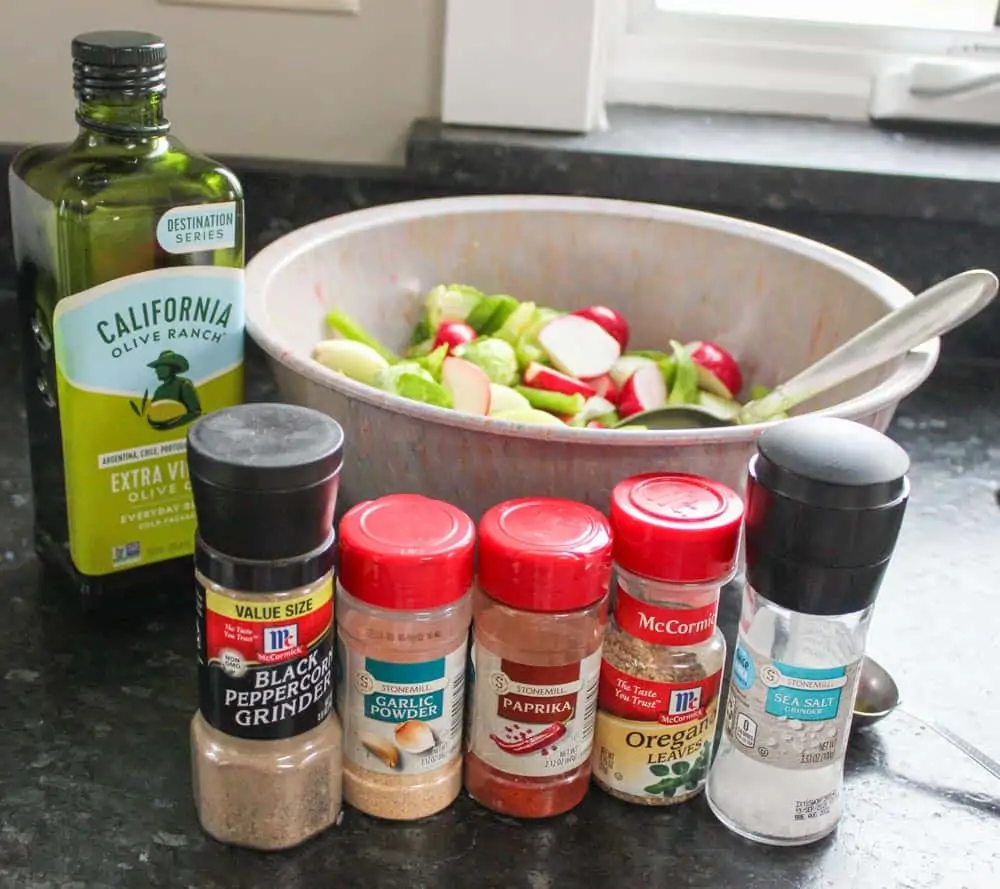 Once your vegetables are evenly coated, lay them out onto the parchment paper in a single layer.
Note: I place my brussels sprouts cut-side down so they will brown better.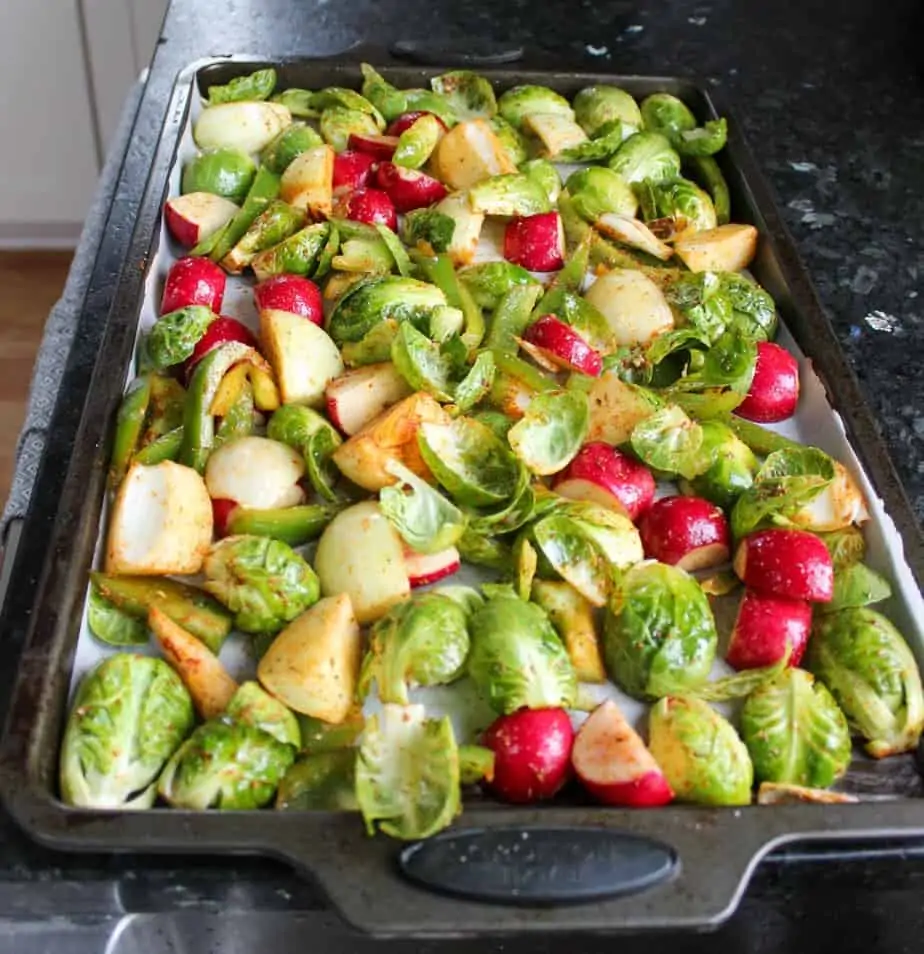 Finally, place your sausages on top of the vegetables and push down so that they're nestled in there.
We happen to love the Old Bay Sausages found at our local Aldi.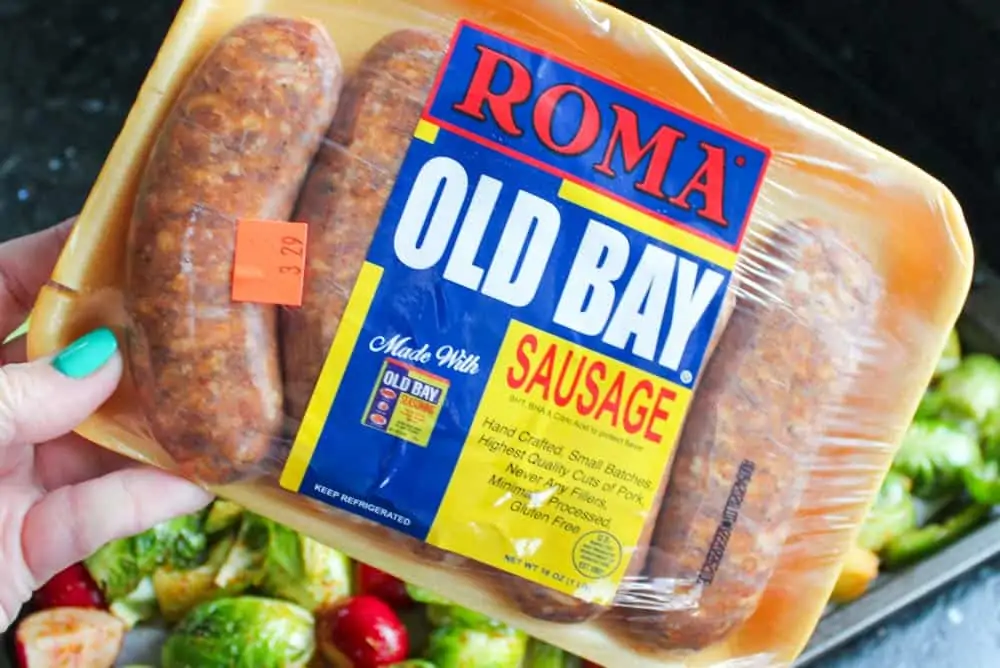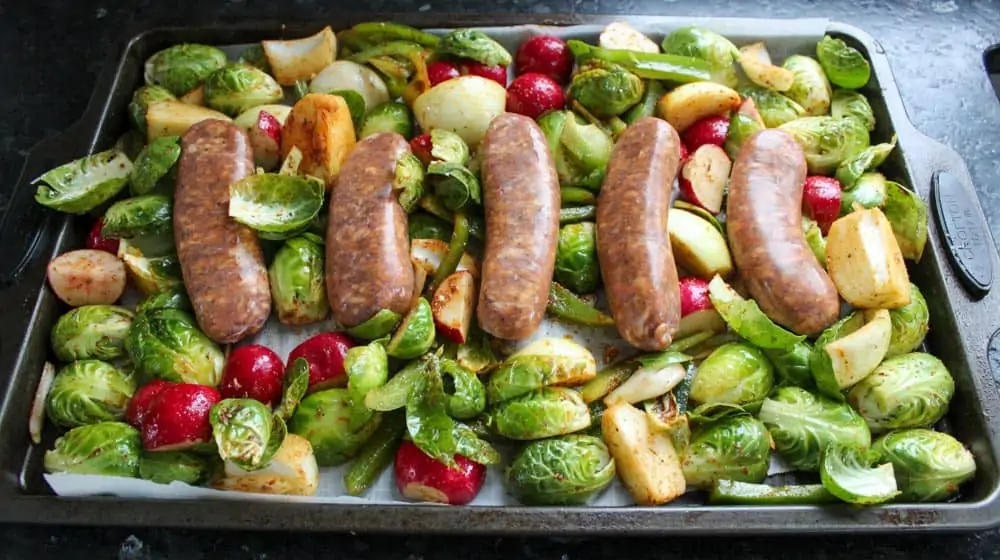 Lastly, bake for 35 to 40 minutes.
What will emerge from your oven will be a transformation like you've never seen.
It's almost like magic!
Everything is tender and juicy on the inside and browned on the outside!
And the flavor? Oh my!!
Indeed, the combination of spices makes for the perfect flavor! Mmmm!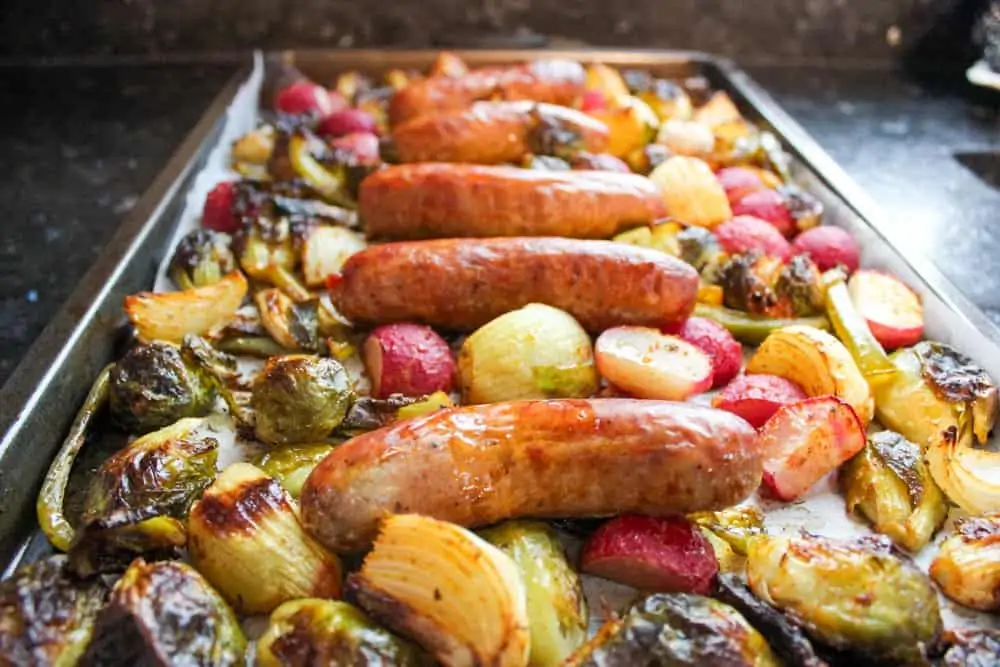 Note: In Lisa's Dinnertime Dish recipe, she serves the sausages and veggies on buns.
This is a great idea!
That way you don't have to bake potatoes or rice or whatever other starch you want to include.
OR you can serve it all on a dish.
Either way, it's amazing!
Frequently Asked Questions
What Goes With Sausages for Dinner?
The question should be 'what doesn't go with sausages for dinner?'
Pretty much anything goes!
That's the beauty of this recipe.
Include any of your favorite vegetables on the sheet pan for roasting.
Honestly, I can't think of a vegetable that wouldn't do well roasted in the oven except for maybe broccoli.
In addition, some great side dish options are:
Rice
Pasta
Potatoes
Bread
Baked Beans
Corn on the cob
Is Sausage Healthy For Weight Loss?
In my case, since I'm eating high protein/low carb, yes, sausage is a great choice for weight loss!
However, the fat and calorie content can be high in some sausages.
So either use a leaner variety of sausage, like chicken sausage, or eat the higher fat sausage in moderation.
In other words, don't eat high fat sausage every night.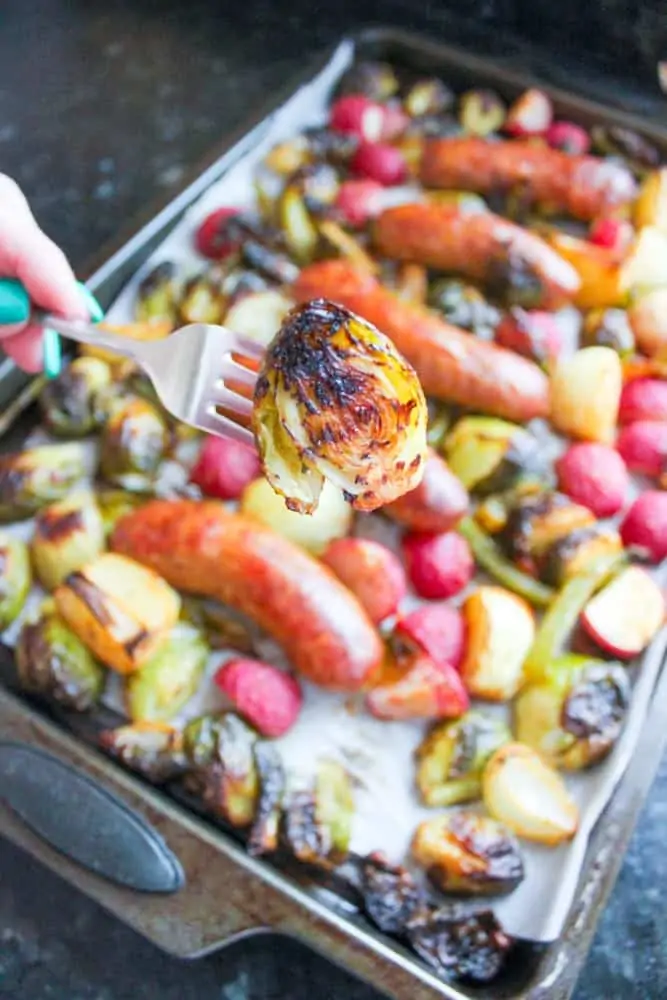 Sheet Pan Sausage and Veggie Substitutions
Like I said I don't always use the same ingredients when I make this recipe.
Basically, the only ingredients that remain the same are the olive oil and spices.
For instance, the other night we decided to make chicken shish kababs.
I made them the exact same way I make this recipe, except I cut the chicken into smaller pieces and mixed all of the ingredients together before skewering them.
Other substitutions:
Veggies:
Squash
Asparagus
Green Beans
Carrots
Mushrooms
Potatoes
Sweet Potatoes
Turnips
Meats:
Keep in mind, if you swap out a different meat for the sausages, be sure you don't under or over cook it.
Easy Sheet Pan Sausage and Veggies Recipe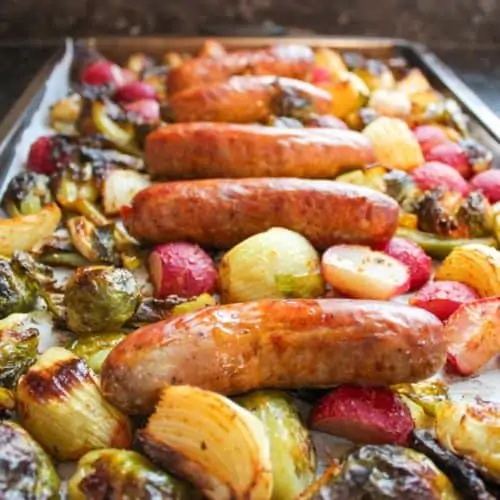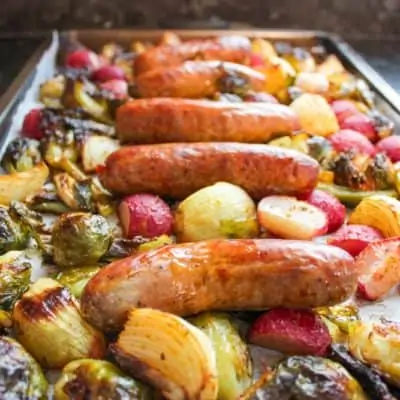 Easy Sheet Pan Sausage and Veggies Recipe
A delicious, easy to make, and easy to clean up one-pan dinner!
Ingredients
1

Green Pepper, sliced into strips

1

Onion, cut into wedges

1

lb

Brussels Sprouts, cut in half with ends cut off

½

lb

Radishes, cut in half

½

tsp

Paprika

½

tsp

Garlic Powder

½

tsp

Salt

¼

tsp

Black Pepper

2

tbsp

Olive Oil

4

Sausages
Instructions
Preheat oven to 400 degrees F

Line a baking sheet with parchment paper

Place cut up veggies in a large bowl and mix thoroughly with olive oil and spices

Spread coated vegetables onto lined baking sheet in a single layer

Add sausages on top of the vegetables and push down to nestle in with the veggies.

Bake in preheated oven for 35 to 40 minutes.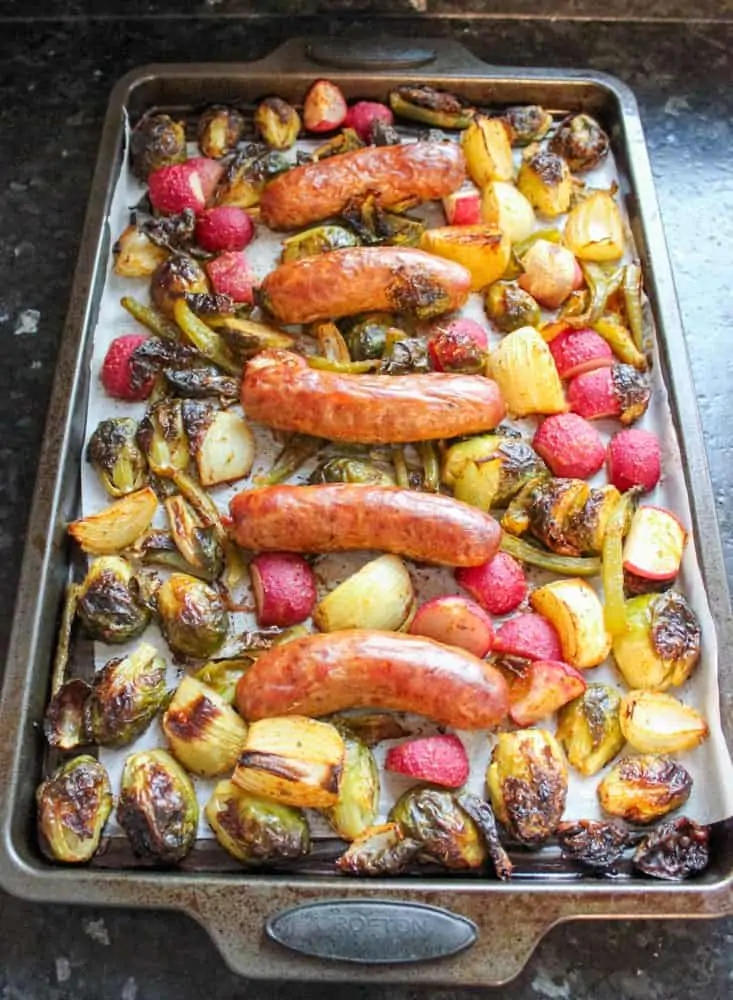 For other amazing low carb dinners, click on over to:
White Bean Soup with Sausage & Fresh Spinach in the Slow Cooker
Stuffed Acorn Squash with Sausage & Cauliflower Rice
Big Mac Salad: A Low Carb Copycat Recipe You'll Love!