This White Bean Soup with Sausage & Fresh Spinach recipe is the perfect remedy for a cold winter day when you just want to curl up on the couch and eat some comfort food!
You can either make this on the stove top in a big dutch oven, or cook it in your slow cooker.
However, the slow cooker is great for preparing it all ahead of time and just throwing everything inside and going about your day.
White Bean Soup with Sausage & Fresh Spinach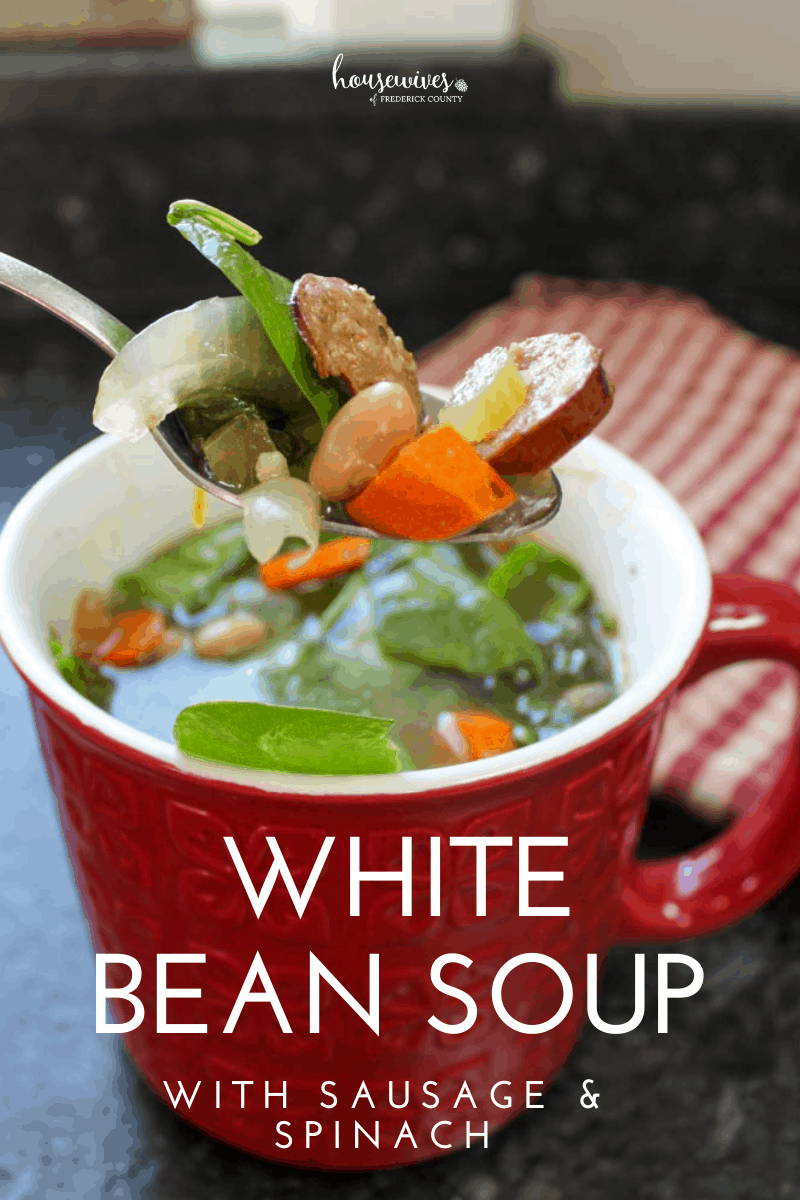 Needless to say, most of the ingredients in this white bean soup with sausage are staples you probably already have in your pantry and refrigerator like:
Olive Oil
Chicken Broth
Carrots
Celery
Onion
Minced Garlic
Oregano
Salt
Pepper
The other ingredients, you may need to go out and get are:
Great Northern Beans
Fresh Baby Spinach
Andouille Sausage
Although, I really like to keep these ingredients on hand as much as possible too because they go with so many recipes.
For example, I love using fresh baby spinach in my eggs in the morning! Mmm!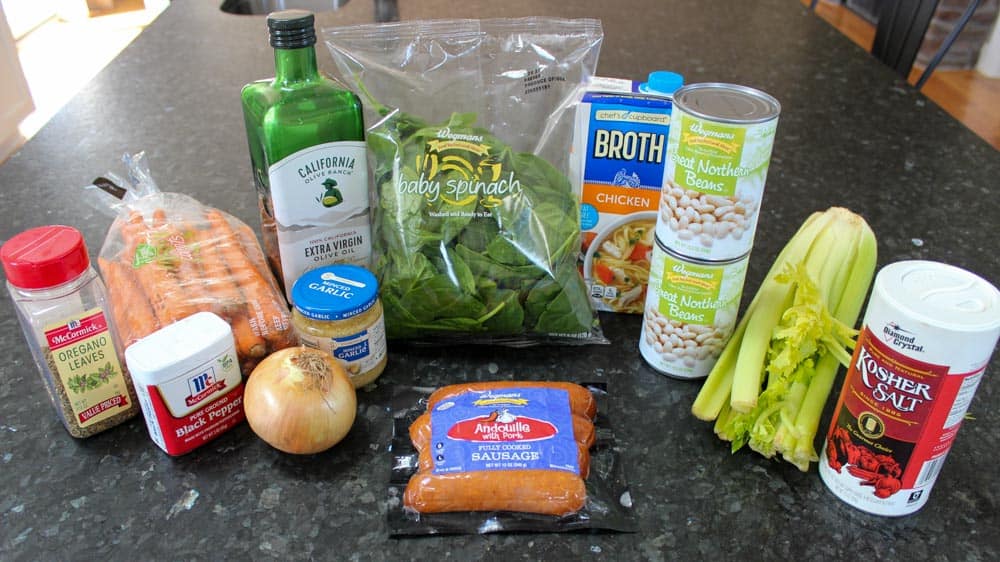 Is White Bean Soup Good For You?
You bet it's good for you!
White beans, specifically Great Northern Beans, are a great source of fiber, protein, folate, manganese, & iron!
In addition, they just taste really good and they add good sustenance to this soup recipe.
How Do You Make White Bean Soup From Scratch?
Well, we're gonna tell ya!
It just requires a little bit of chopping and cooking and then the rest is just a matter of heat and time.
Step 1: Slice & cook andouille sausage
First, slice up your andouille sausage into thin slices.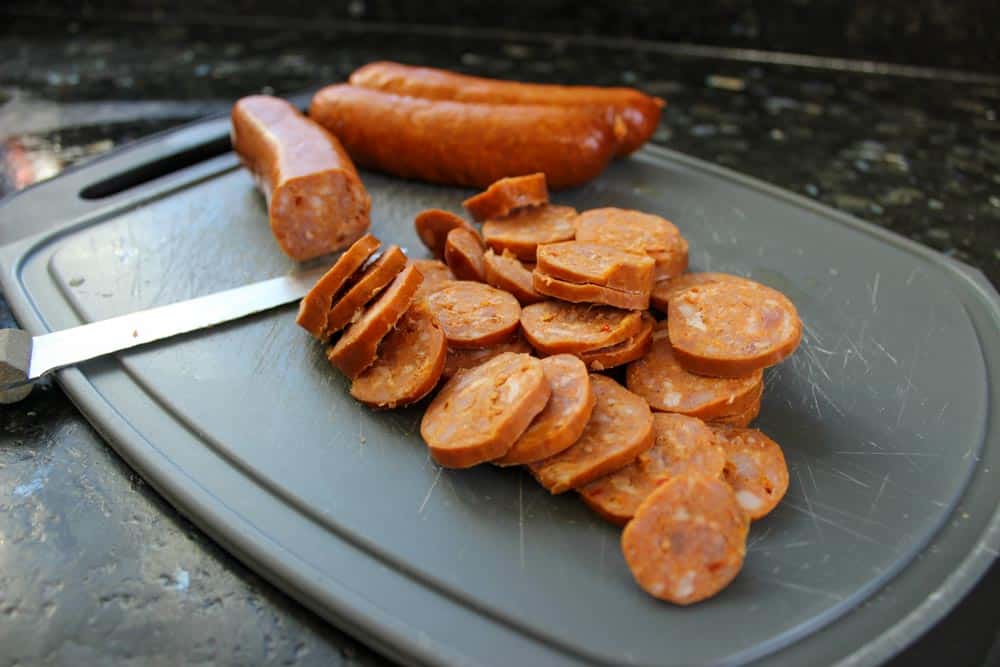 Then, add olive oil to a large skillet over medium-high heat and add the sliced sausage.
Cook the sausage, while stirring frequently, until it is a nice light brown color.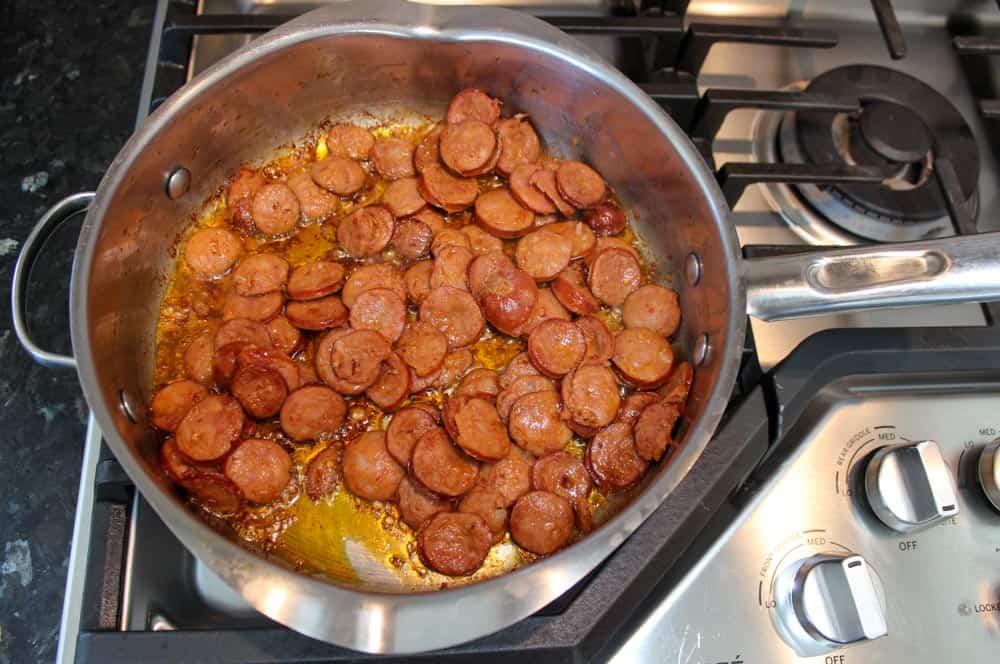 Step 2: Dice onion, carrots and celery & combine other ingredients into slow cooker
Obviously, this part is pretty self explanatory.
Just cut the celery, carrots, and onion pretty small and add them to your slow cooker along with the cooked sausage.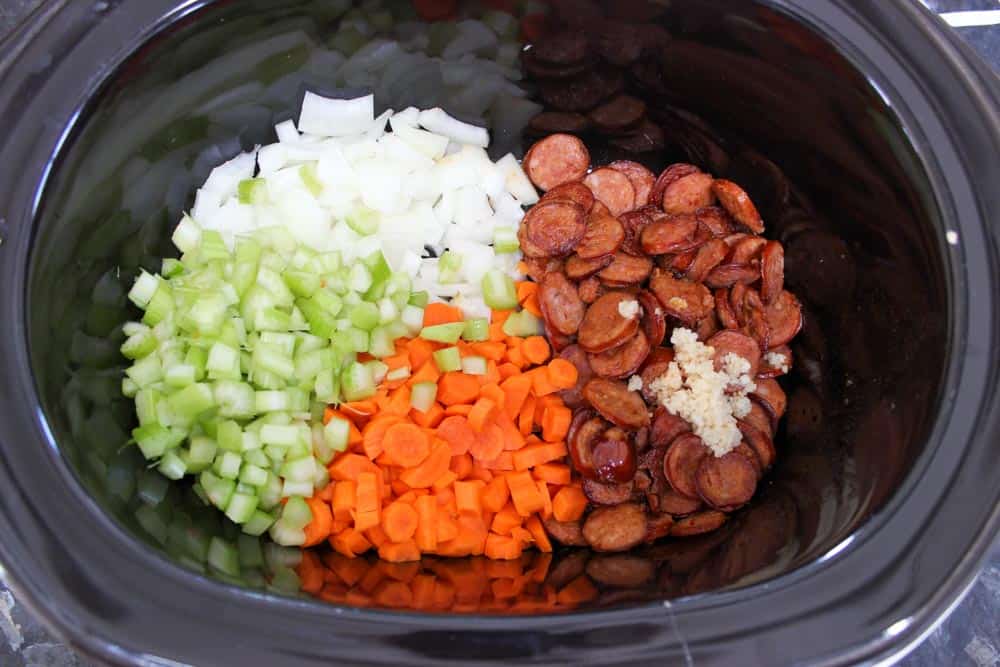 Then, add the minced garlic, great northern beans, oregano, chicken broth, 2 cups of water and salt & pepper.
Be careful with the amount of pepper
I'm typically a 'the-more-pepper-the-better' kinda girl.
However, in this recipe, I added a little bit too much pepper and it was a tad bit on the spicy side, which for me, changes it from comfort food to 'lets-see-how-long-I-can-eat-this-before-it-gets-to-be-too-spicy'.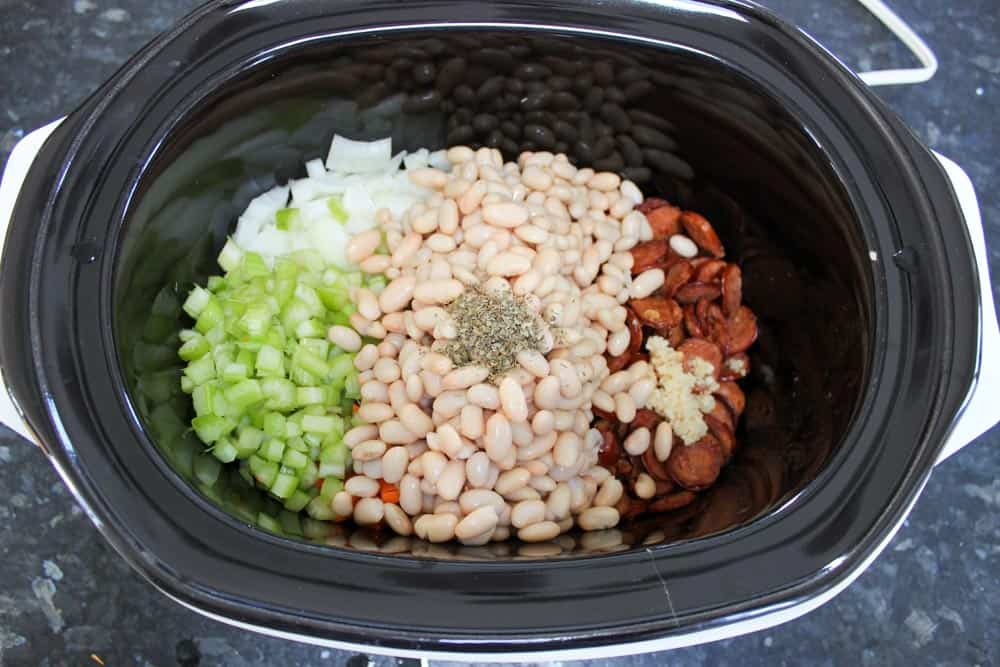 Step 3: Add fresh spinach
After everything has been added to the slow cooker (except for the baby spinach – you'll add that right before you serve it), turn on the slow cooker and let it do it's thang!
Turn it on low heat to cook for 7 to 8 hours or high heat to cook for 3 to 4 hours.
Then, when it's ready to eat, mix in the baby spinach and let it wilt in with the soup.
Now, it's ready to eat!
Look how good it looks! Yum!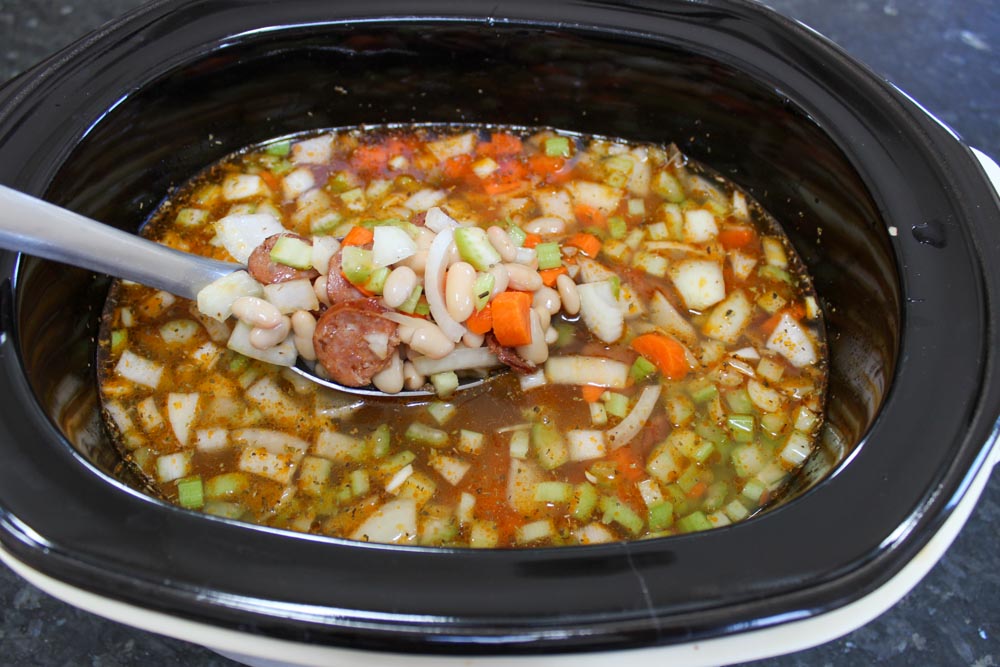 OH. MY. GOODNESS!
Not only did I feel really good about eating this healthy, protein rich soup, but also it was the perfect comfort meal on a chilly weekend afternoon!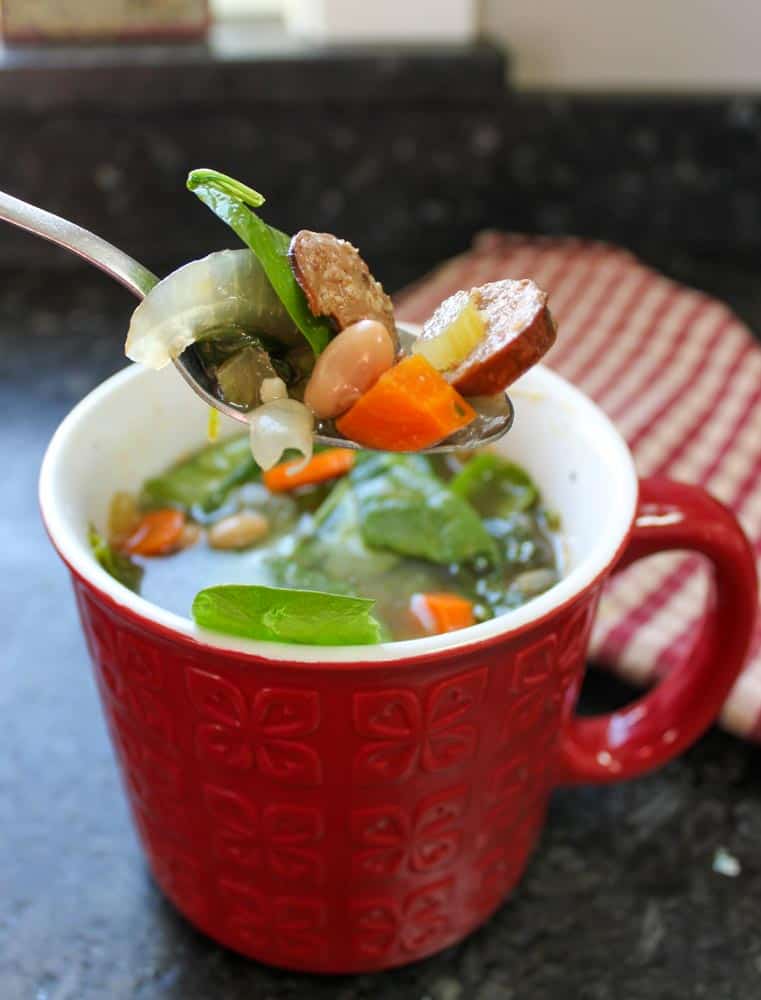 Accompany a nice size bowl of this soup with a toasted, crusty, buttered slice of bread, and you've got yourself the perfect 'lets-turn-the-fireplace-on-and-watch-a-good-movie evening'!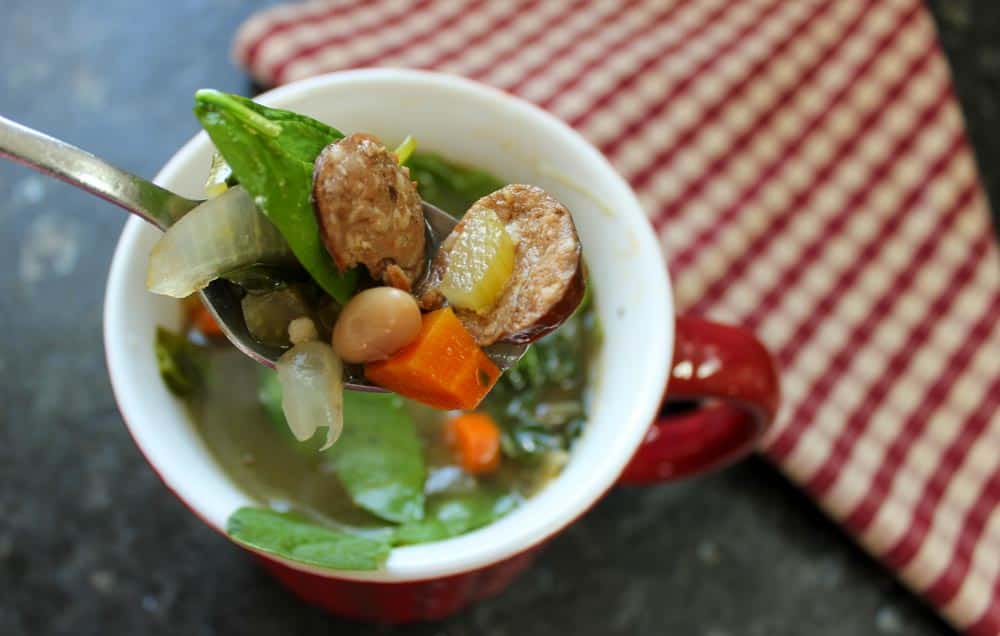 Pro Tip: I highly recommend that you add the fresh spinach immediately before serving the soup because it can tend to get almost overly wilted the longer it sits.
Lastly, keep some extra raw spinach on hand to add to your soup when you're eating leftovers, so you'll still get that 'freshly added spinach' experience.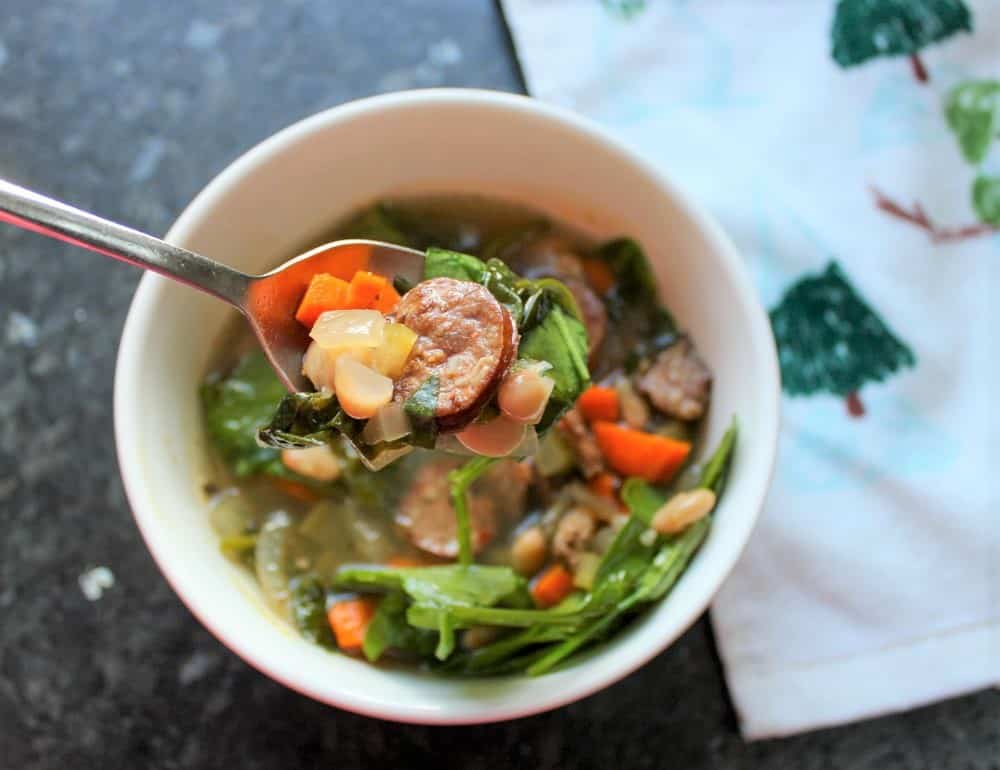 White Bean Soup with Sausage & Fresh Spinach Recipe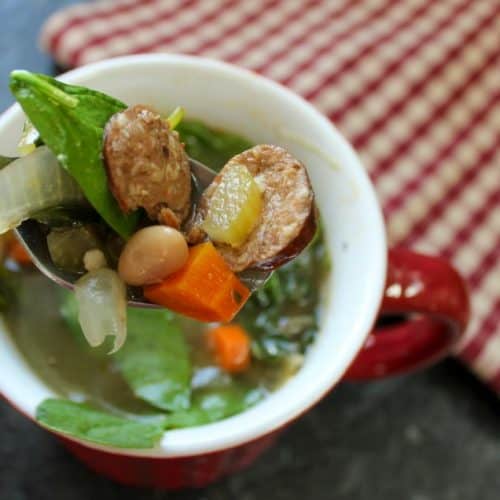 White Bean Soup with Sausage & Fresh Spinach
This perfect comfort food recipe is so delicious and packed full of protein, vitamins & minerals. It's also super easy to make!
Ingredients
1

tbsp

Olive Oil

1

package

Smoked Andouille Sausage, thinly sliced

3

cloves

Minced Garlic

1

Onion, diced

3

Carrots, peeled & diced

2

stalks

Celery, diced

2

cans

Great Northern Beans, drained & rinsed

1/2

tsp

Oregano, dried

4

cups

Chicken Broth

Salt & Pepper to taste

2

cups

Water

3

cups

Baby Spinach, fresh
Instructions
Heat olive oil in a large skillet over medium-high heat.

Add sliced sausage and cook, stirring frequently, until lightly browned.

Once sausage is cooked, add it to the slow cooker, along with the diced celery, onion, & carrots, minced garlic, beans, oregano, chicken broth, 2 cups of water and salt & pepper.

Mix until thoroughly combined. Cover the slow cooker and cook on low heat for 7 to 8 hours OR high heat for 3 to 4 hours.

Just before the soup is ready to serve, add fresh baby spinach and mix into the soup until wilted.
Finally, for more delicious comfort food soup recipes, click on over to:
Cream of Crab Soup Recipe: Maryland's Grand Prize Winner!
The Best Slow Cooker Beef Stew: Made with Love!