This stuffed acorn squash recipe is super easy to make and an absolutely delicious way of taking full advantage of Fall!
And because I'm using cauliflower rice instead of white rice, the carbs are very minimal, making this recipe perfect for those of us on a Keto, Paleo, or Whole30 diet.
Stuffed Acorn Squash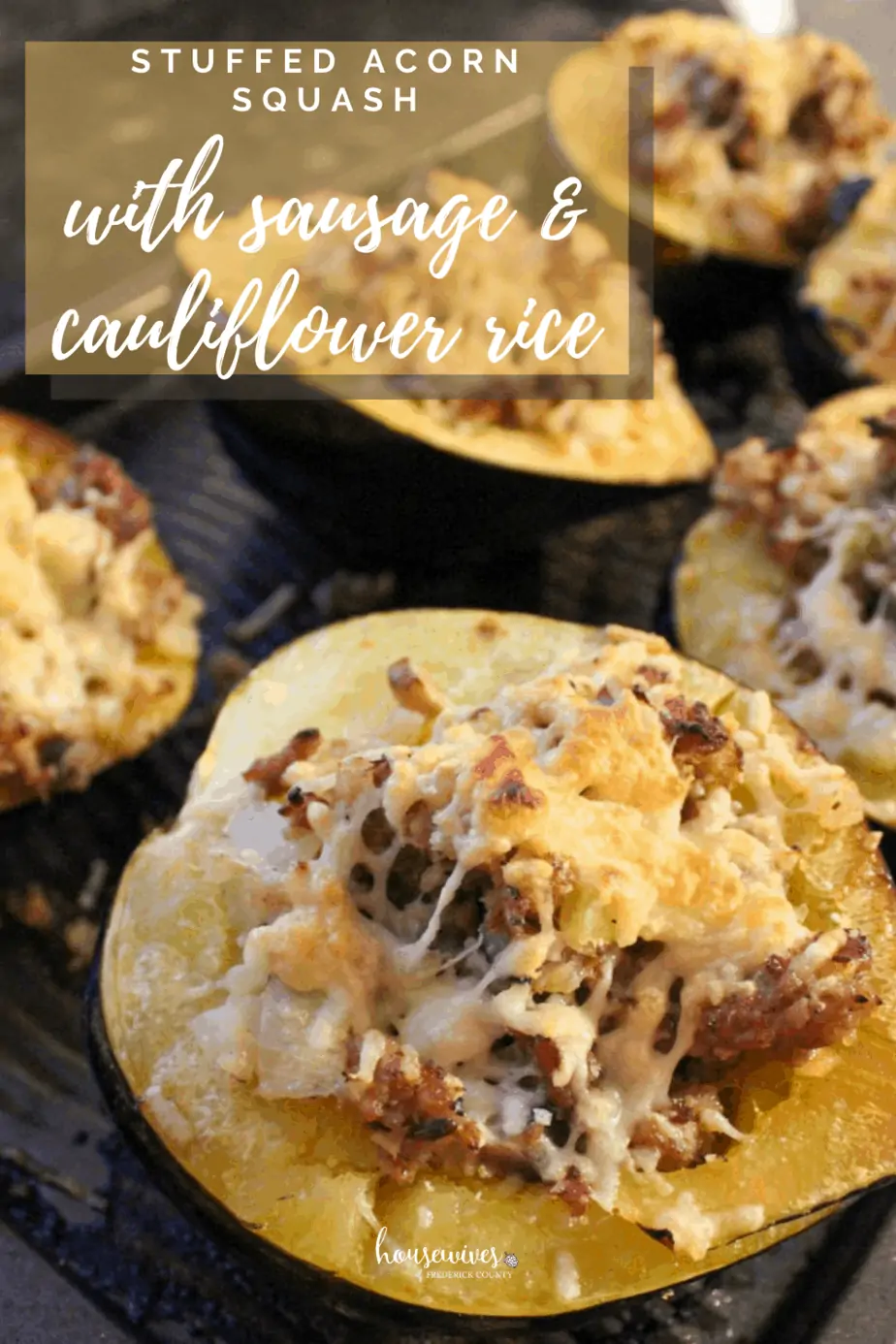 Recently, in my Aldi Frederick, Md Tips, Finds, & Recipes Facebook group, I asked for some ideas on ways to make acorn squash.
I love me some Aldi, and this particular week, butternut, spaghetti, & acorn squash are on sale for only .69 cents a pound.
Needless to say, I just had to take advantage of it and whip something up for dinner involving squash!
After several amazing acorn squash recipe recommendations, I went with the suggestion to make a sausage and onion stuffing.
I've never eaten acorn squash this way, so I was really intrigued and wanted to try it.
Not only did I find a great recipe from Kate S. Lyon, but also she substitutes cauliflower rice for white rice.
Perfect for my low carb diet!
Thank you Kate!
Now, I'm going to take you step-by-step showing you how easy it is to make this stuffed acorn squash with sausage recipe.
Step 1: Cut Each Acorn Squash in Half & Clean Out The Seeds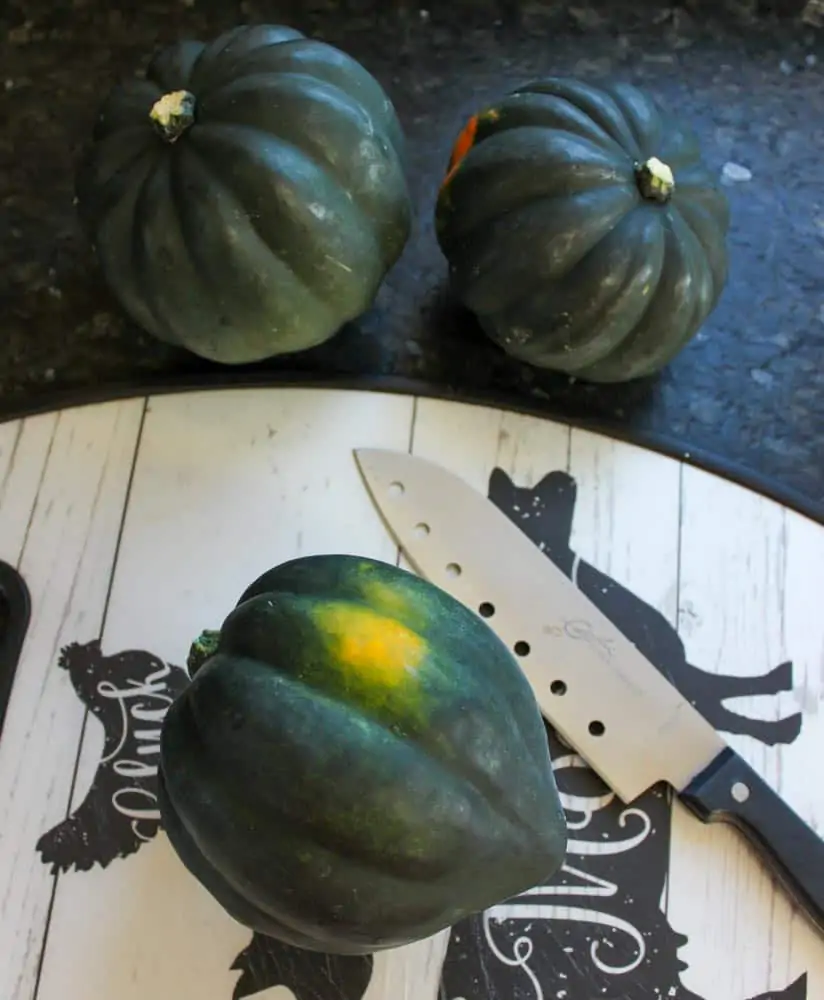 I don't know why, but I thought it would be easy to cut raw acorn squash in half.
Actually, it was pretty difficult.
I had to switch knives 3 times until I had a knife that was up for the job.
Obviously, be very careful!
I found that if you insert the pointy part of the knife into one of the grooves of the squash and then slice down, that seems to work the best.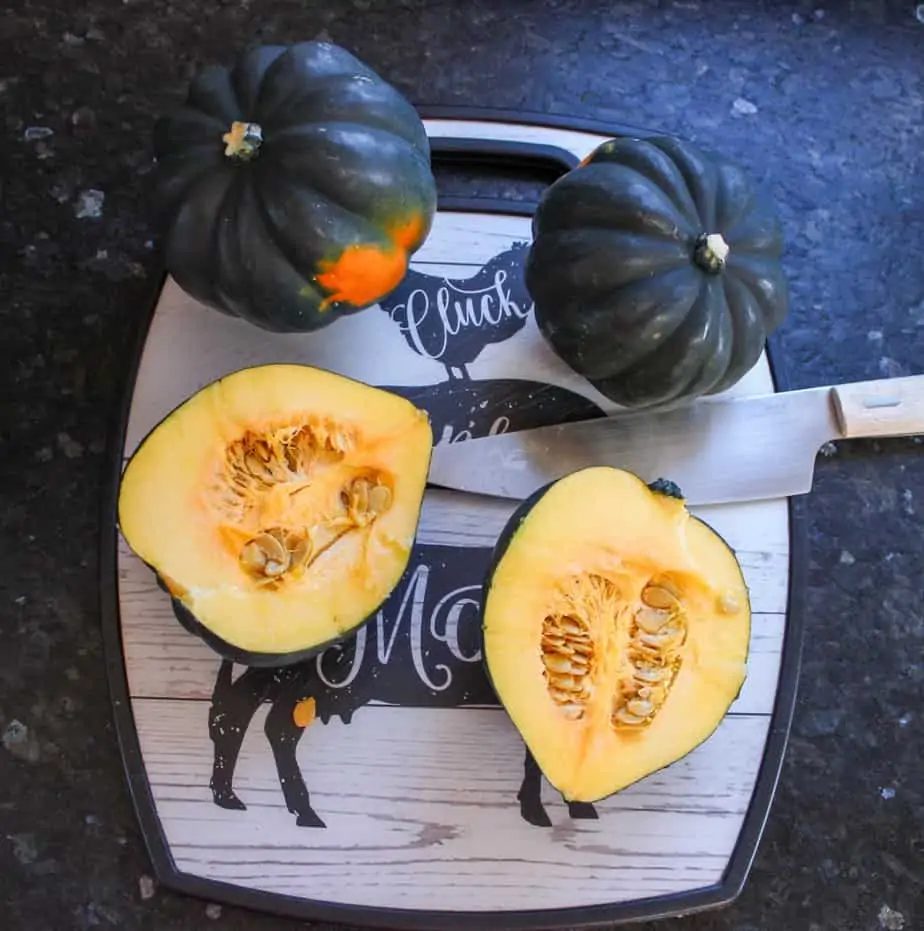 After you slice the acorn squash in half, get a spoon and thoroughly scoop out all of the seeds and any stringy parts.
Then rinse each half with water just to make sure all of the seeds are out.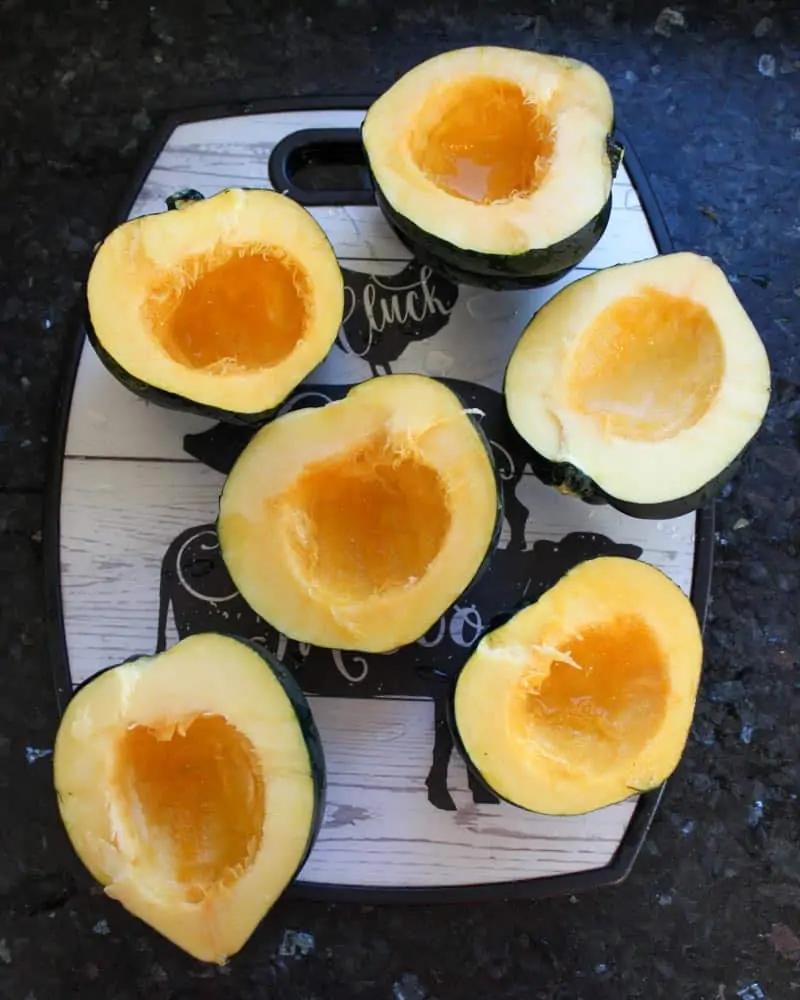 Step 2: Place each Squash Half Face Down on a Baking Sheet
Spray the baking sheet with cooking spray to make sure that the squash doesn't stick when cooking.
Then, place in the oven and bake at 375 degrees fahrenheit for 40 minutes.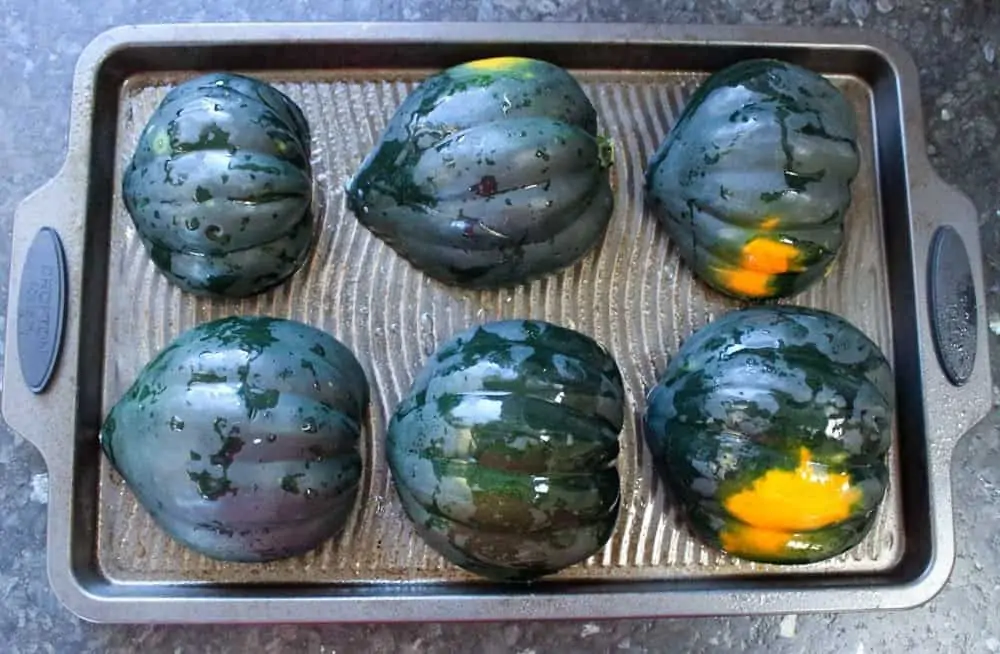 Step 3: Prepare Sausage Stuffing
First, heat a large skillet over medium heat and add ground italian sausage.
You can use spicy or mild, depending on yours and your family's taste preferences.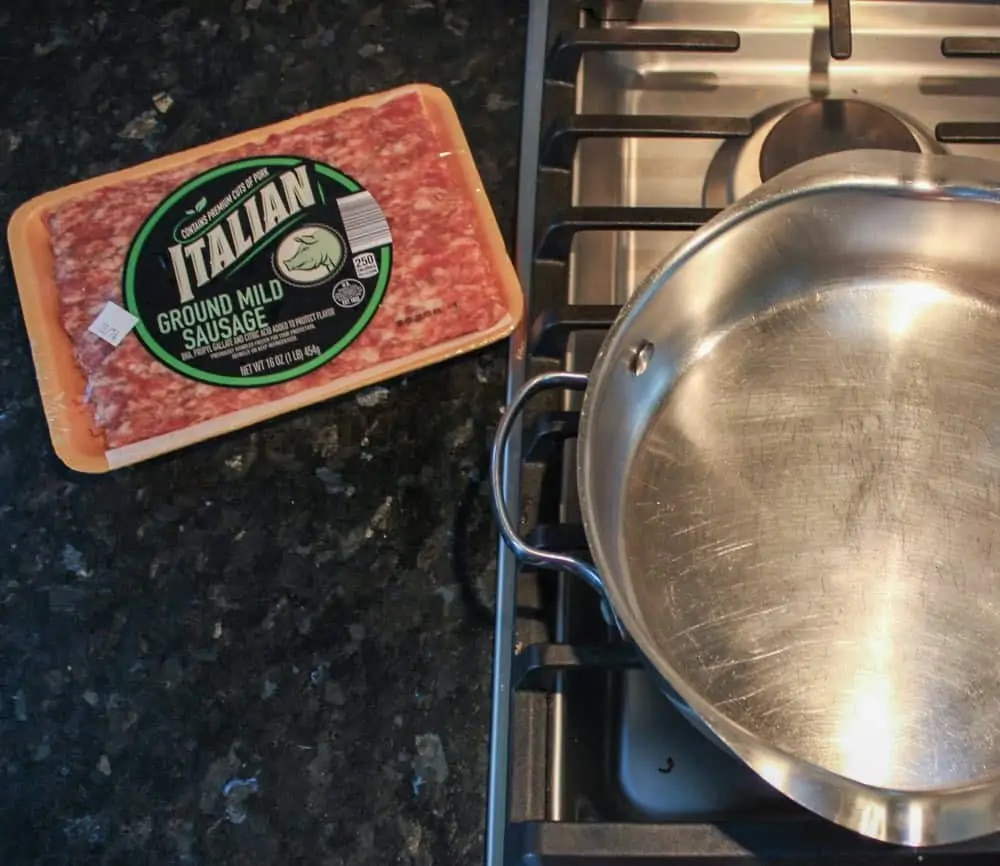 Be sure to break up the lumps while cooking the sausage, so that it all cooks evenly and thoroughly.
Then, when your sausage is completely cooked, transfer it to a large bowl and set aside.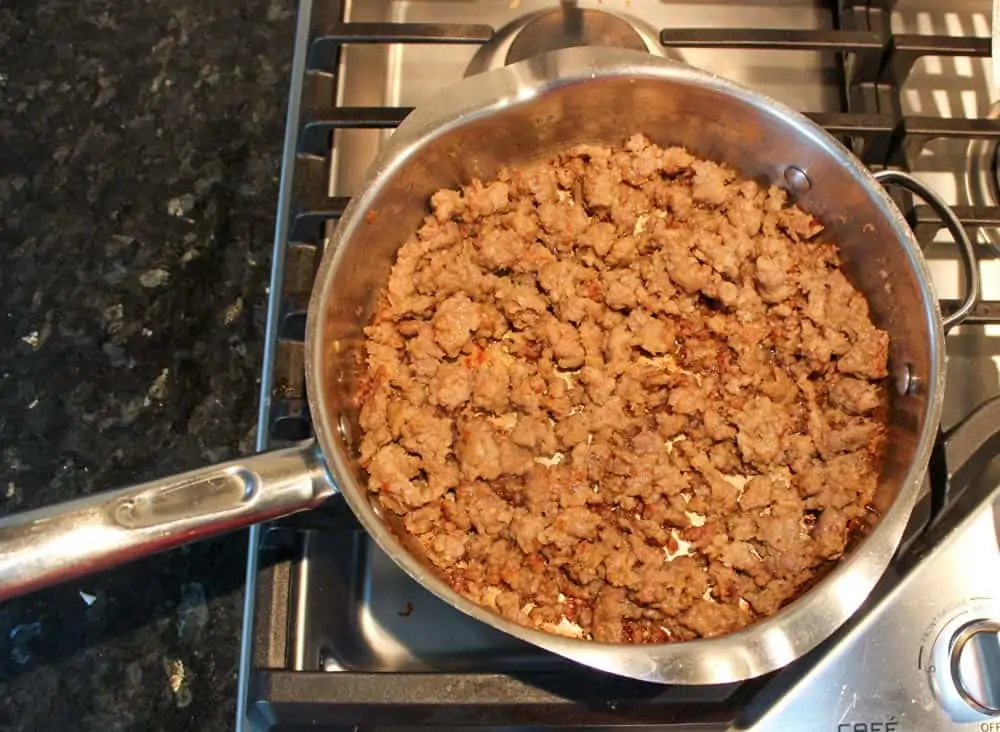 Next, cut up your onions, mushrooms and celery and add to your skillet, along with the cauliflower rice (I used frozen cauliflower rice to save time).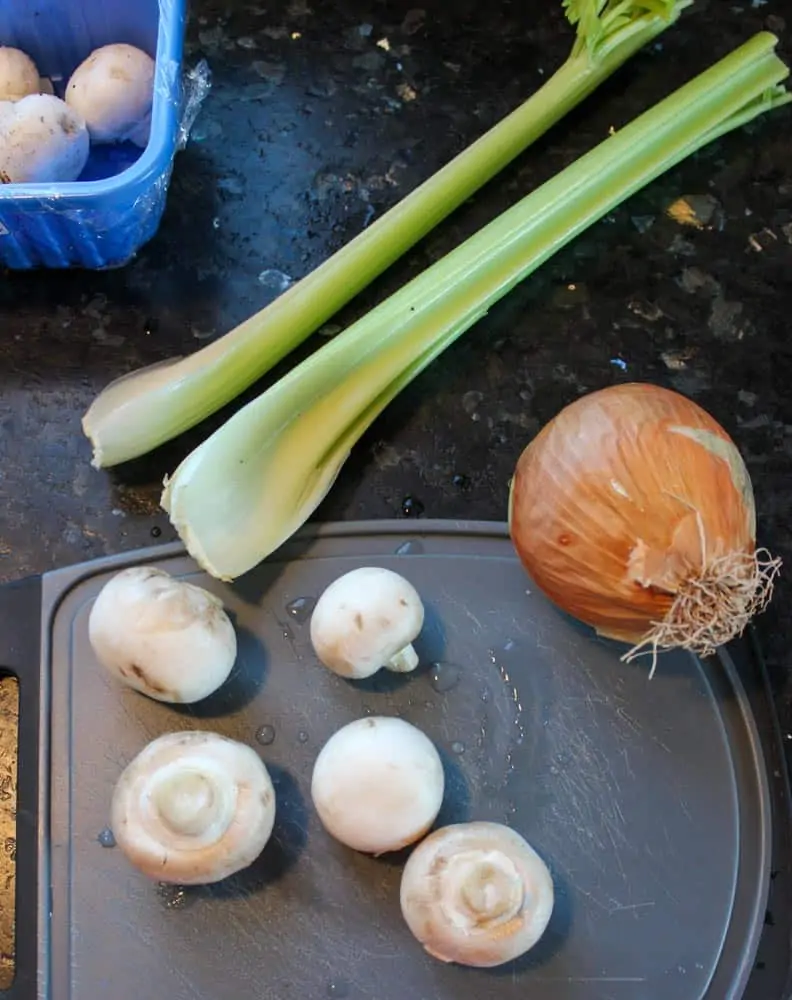 Cook for about 5 minutes and then add your garlic and herbs and cook an additional minute.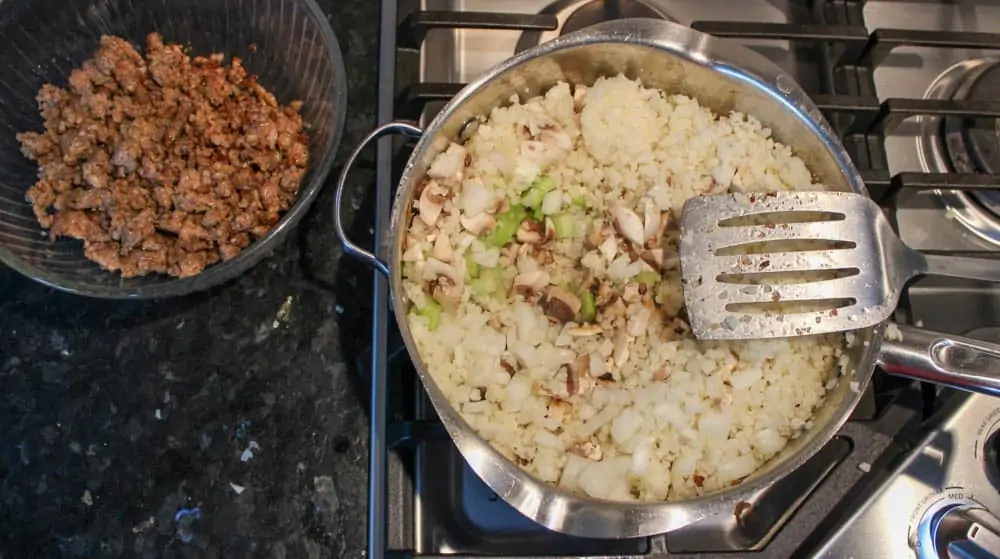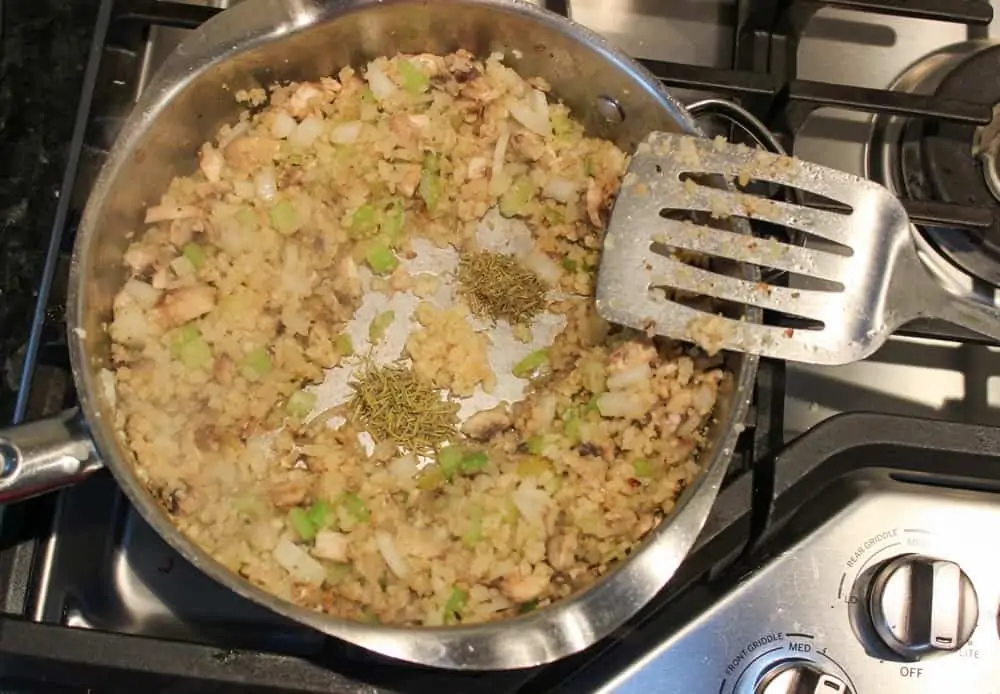 Then, add your cooked sausage back to the skillet, combine with the cauliflower mixture, add milk, and simmer for 5 minutes, stirring occasionally.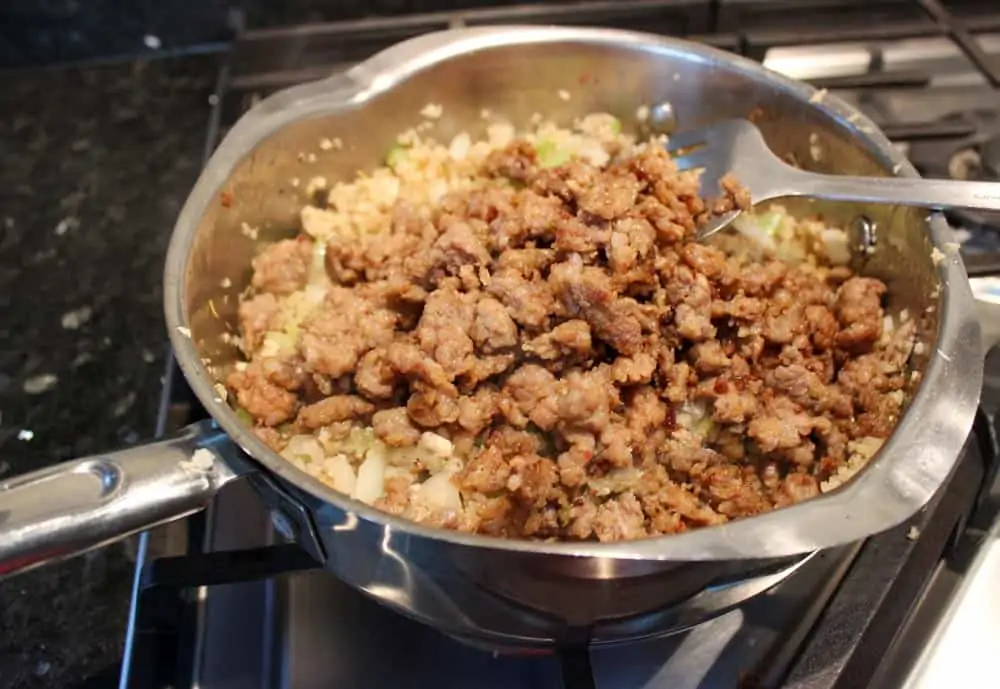 Step 4: Fill Squash Halves & Bake
This next step is the fun part!
Just get a large spoon and scoop the sausage & cauliflower rice stuffing into each squash half.
Be generous with the stuffing because you'll most likely have some leftover.
Then, you can sprinkle parmesan cheese on top.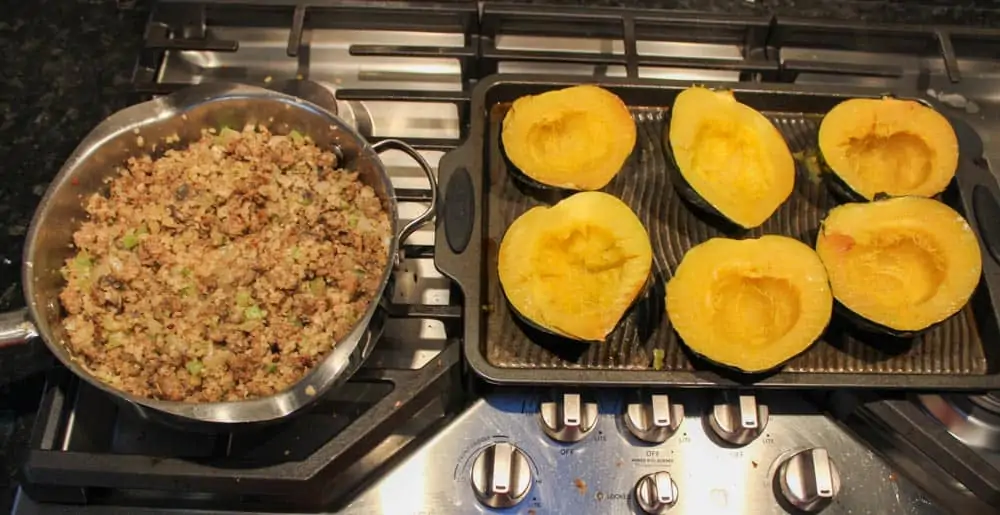 The below photo is a close up of each half after they've been stuffed.
Two of the halves don't have the parmesan cheese sprinkled on top because my son prefers it without.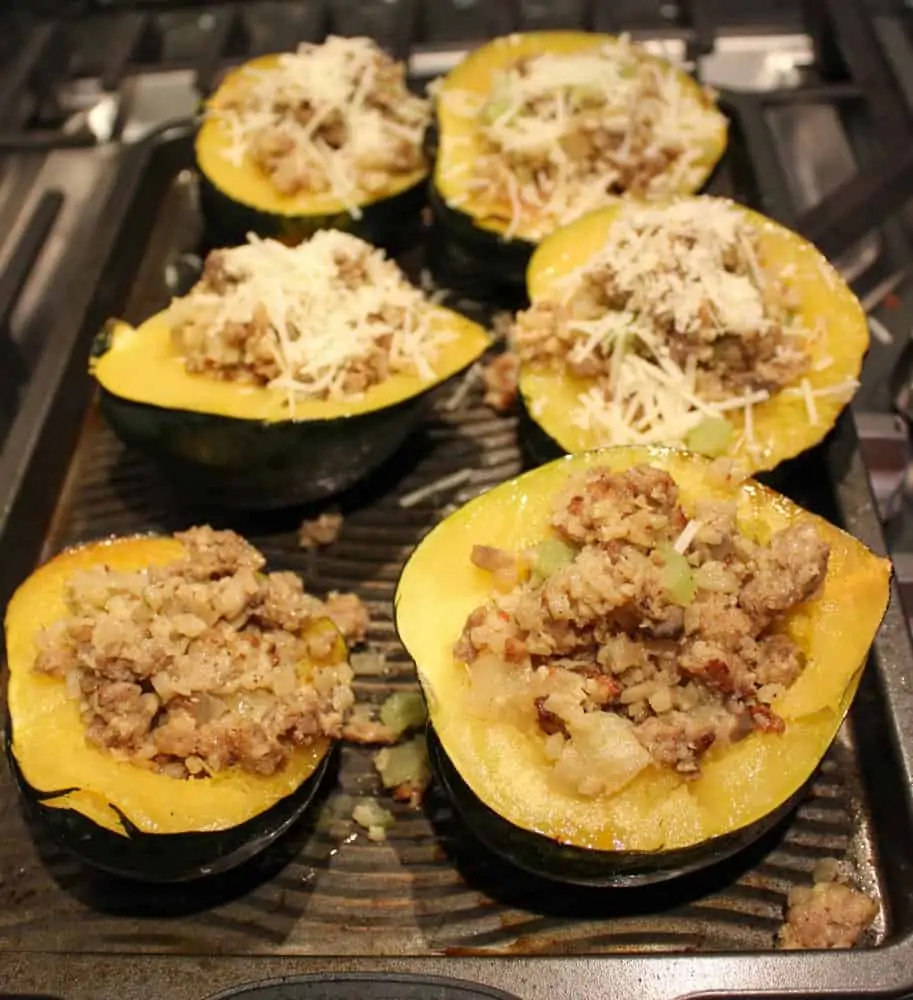 How They Turned Out
These stuffed acorn squash halves turned out delicious!
Both my husband and son were a little bit skeptical about eating acorn squash this way.
To be honest, I wasn't so sure either.
However, we were all pleasantly surprised with how delicious it was!
As a matter of fact, my son got up and placed another one on his plate.
Even though, when I asked him how he liked it, he said in a 'meh' kind of tone, 'It's good.'
I guess that's the teenage equivalent of 'Yes, mom, I'd like for you to make this again!'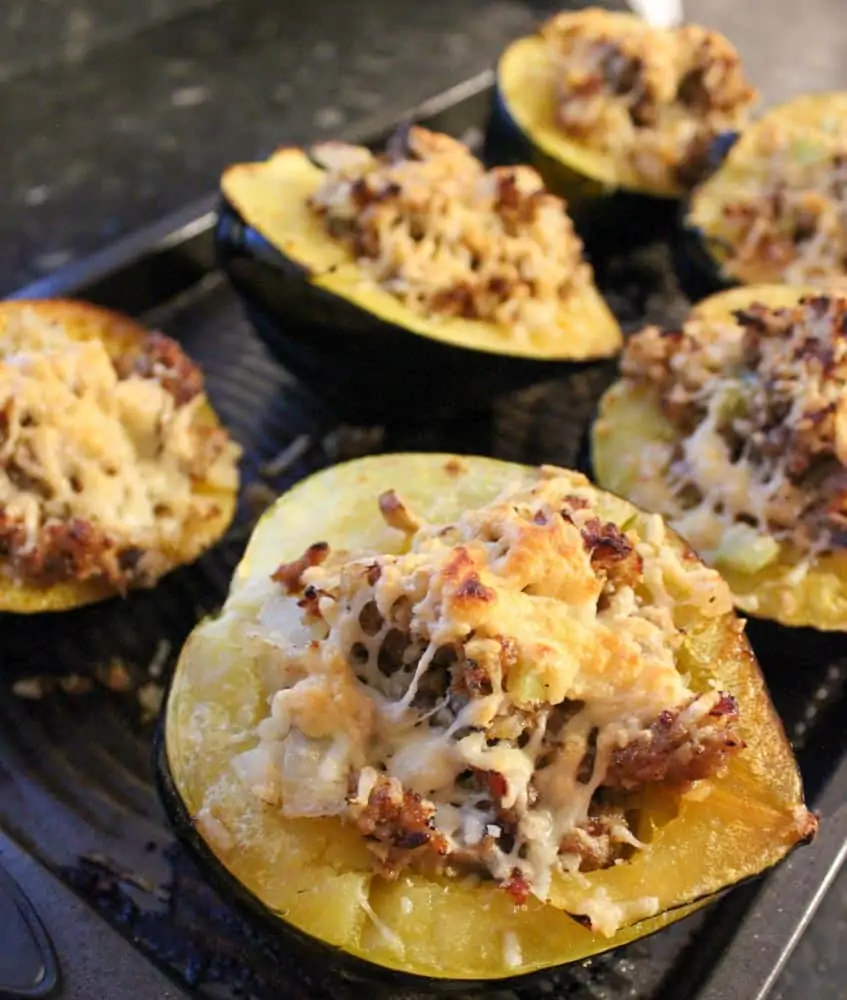 I was super happy with the combination of the onions, mushrooms, celery, and cauliflower rice.
Mmm! Turns out you really can swap out starchy white rice and save a lot of carbs using cauliflower rice!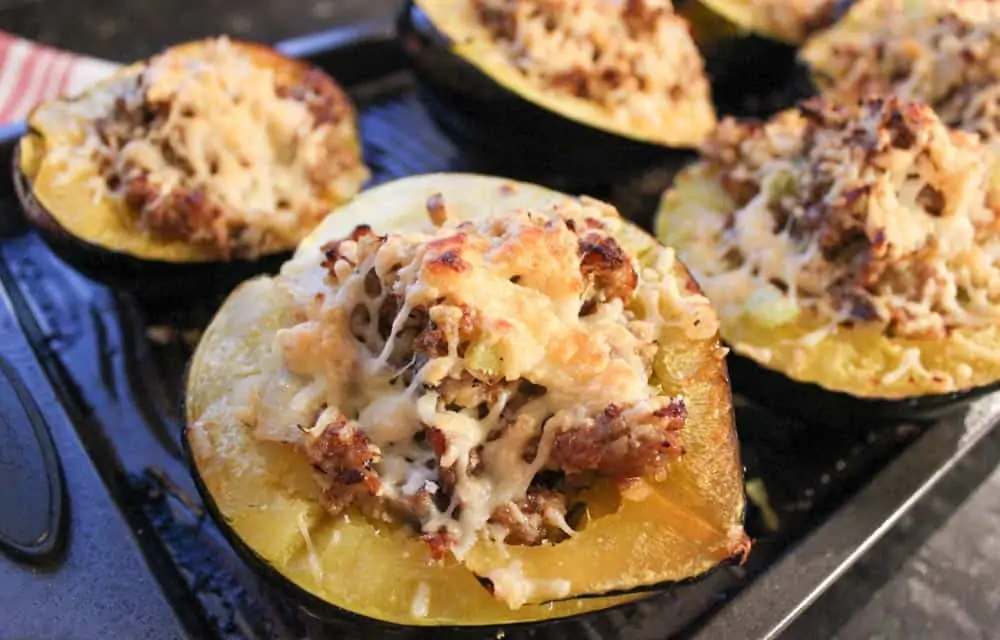 Stuffed Acorn Squash with Sausage & Cauliflower Rice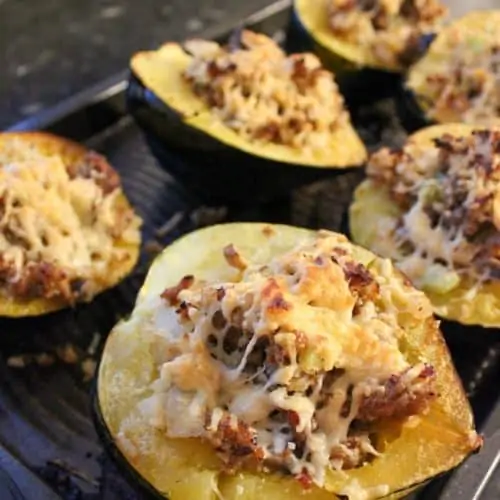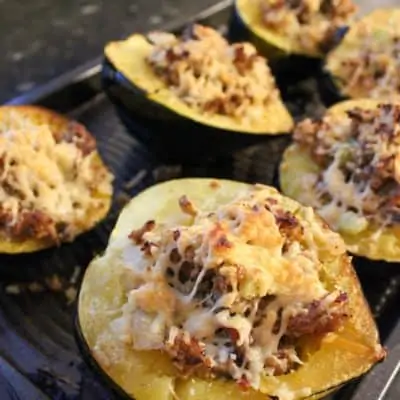 Stuffed Acorn Squash with Sausage & Cauliflower Rice
Change up your dinner routine and take advantage of the fall season when acorn squash is abundant! This recipe is super easy to make and dinner is all in one acorn squash vessel! Be sure to make enough because it will go fast!
Ingredients
3 to 4

Acorn Squash

1

lb

Italian Pork Sausage (mild or spicy)

1

small

Onion, chopped

½

cup

Mushrooms, chopped

2

cups

Cauliflower Rice, fresh or frozen

½

cup

Celery, diced small

4

cloves

Garlic, minced or fresh

1

tbsp

Rosemary, fresh

,

If using dried rosemary, only use 1/2 tbsp

1

tbsp

Thyme, fresh

,

If using dried thyme, only use 1/2 tbsp

4

tbsp

Milk

Salt & Pepper, to taste

½

cup

Parmesan Cheese (optional)
Instructions
Preheat oven to 375 degrees F and move oven rack to center position.

Cut each acorn squash in half. Scoop out the seeds and stringy parts. Rinse off with water.

Place acorn squash halves face down onto baking sheet that has been sprayed with cooking spray.

Bake acorn squash for 40 minutes.

While squash is cooking, prepare the stuffing. Heat a large skillet over medium heat and add sausage, breaking up the large pieces with a fork so that it cooks evenly.

Once the sausage is fully cooked, remove it from the skillet and set aside into a large bowl.

In the same skillet, over medium heat, add the onion, mushrooms, celery and riced cauliflower and cook for 5 minutes, stirring occasionally.

Add garlic and herbs and cook for another minute. Then add the sausage back to the skillet. Then add the milk. Mix the stuffing mixture together in the pan. Let stuffing simmer for another 5 minutes while stirring occasionally.

When the squash is cooked, remove from oven and fill each half generously with the sausage stuffing. Sprinkle tops with parmesan cheese.

Place under the broiler for about 5 minutes or until the tops are a nice golden brown.
Notes
Per Serving (1 stuffed acorn squash half):
Calories: 372
Fat: 23.5 g
Carbs: 15.4g
Sugars: 3.1g
Protein: 25.1g
For more squash recipes, click on over to:
Zucchini Muffins: Bite Size Mini Quiches