As promised in my last post for Sesame Salmon & Snap Peas, I am now presenting you with the second half of my scrumptious dinner that I made the other night using recipes out of my Hungry Girl To The Max! The Ulitmate Guilt-Free Cookbook.  This recipe is another super easy, foil pack recipe, called Hustle 'N Brussels Pack Attack.
Now most people I know stay as far away from brussels sprouts as physically possible, my son included.  However, they are so good for you and actually a very satisfying and tasty veggie to include in your diet.
A quick little story about me and brussels sprouts:  When I first met my husband, I wanted to find out certain things about him to find out if we were compatible enough to sustain a good relationship. I went through my mental list: Does he love the Redskins? Check!  Is family important to him? Check!  Does he ride a motorcycle?  Check!  Do we have chemistry?  Check!  Does he have good morals and a good work ethic?  Check!  The list goes on and on, but another thing that was much lower on the list, but yet still an important item was: Does he like brussels sprouts?  And the answer was yes!  A match made in Heaven!
So, here is the recipe: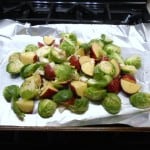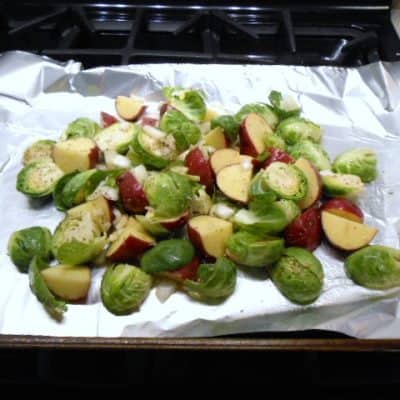 Print Recipe
Hustle 'N Brussels Pack Attack – 5 Weight Watchers Points Plus Value
Ingredients
- 10 brussels sprouts

or 14, if small, halved

- 10 ounces baby red potatoes

cut to same size as halved sprouts

- 1/2 cup chopped onion

- 1 t. olive oil

- 1 t. dried rosemary

- 1/2 t. chopped garlic

- 1/2 t. coarse salt
Instructions
Preheat oven to 400 degrees.

Lay a large piece of heavy-duty foil on a baking sheet and spray with nonstick spray.

Mix all ingredients in a medium bowl.

Distribute onto the center of the foil, and cover with another large piece of foil.

Fold together and seal all four edges of the foil pieces, forming a well-sealed packet.

Bake for 30 to 35 minutes, or until veggies are tender.

Cut packet to release steam before opening entirely.

Serve and eat!
Notes
5 Weight Watchers Points Plus Value
As with my other foil-pack recipe, this one was so easy to make and so tasty to eat. 
I served it as a side dish with my Sesame Salmon & Snap Peas.  The bottoms of the potatoes and brussels sprouts browned a little bit, so they had that roasted taste to them.  Mmmmm Mmmmm!
So you say you don't like brussels sprouts?  Have you ever tried them?
Do me a favor and just try them, especially in a recipe like this one.  I'm happy eating them steamed with some salt and pepper on them.  But if you dress them up a little bit like in this recipe, you might find that brussels sprouts have gotten a bad rap for no good reason!  This might even be your favorite new veggie!
Bon Appetit!

Pam is married and has 1 son – a middle-schooler in his teen years. She followed Terri to Frederick in 1999. She absolutely loves going to yard sales and estate sales and finding hidden treasures.
read more...