I found this recipe out of the September 2012 issue of Health Magazine.  It is a Bethenny Frankel Recipe and oh is it good!!
Makes 2 sandwiches and is 436 calories and 10 Weight Watchers Points Plus Value per sandwich.
 Here are the ingredients:
2 T pine nuts 

2T prepared pesto

4 oz part-skim mozzarella (I used shredded)

4 slices whole-wheat artisan bread (I couldn't find whole-wheat so I used multi-grain)
I found all of these ingredients at the local Weis grocery store.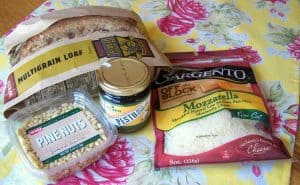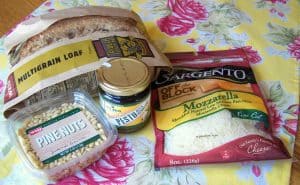 Directions:
Spray some Pam (non-stick spray) in a skillet and set it on medium heat.

Toast the pine nuts in the skillet, turning with a spatula, until they turn golden brown.

Spread the pesto on 2 slices of bread.

Layer each slice with the mozzarella cheese.

Sprinkle the toasted pine nuts on top.

Top with the remaining slices of bread.

On the preheated skillet, add more Pam and grill both sides of the sandwich until the cheese has melted and the bread is a golden brown.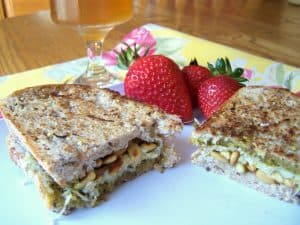 Oh my goodness!  I felt like I was at Pam's Restaurant!  This sandwich was so good and so satisfying.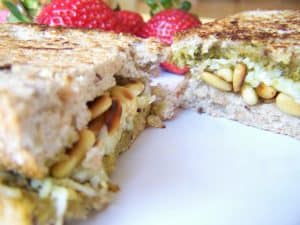 The combination of the toasted pine nuts, mozzarella cheese, and pesto sauce was perfect.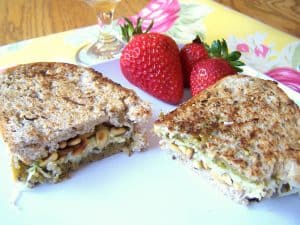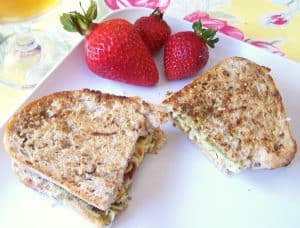 Pam is married and has 1 son – a middle-schooler in his teen years. She followed Terri to Frederick in 1999. She absolutely loves going to yard sales and estate sales and finding hidden treasures.
read more...