This cold salad with ramen noodles and chicken is one of my favorite recipes using traditional Asian ingredients, making it an authentically delicious meal.
With ingredients like fish sauce, sesame oil, ginger root, and fresh mint leaves, this will be a recipe that you'll want to make often.
Cold Salad with Ramen Noodles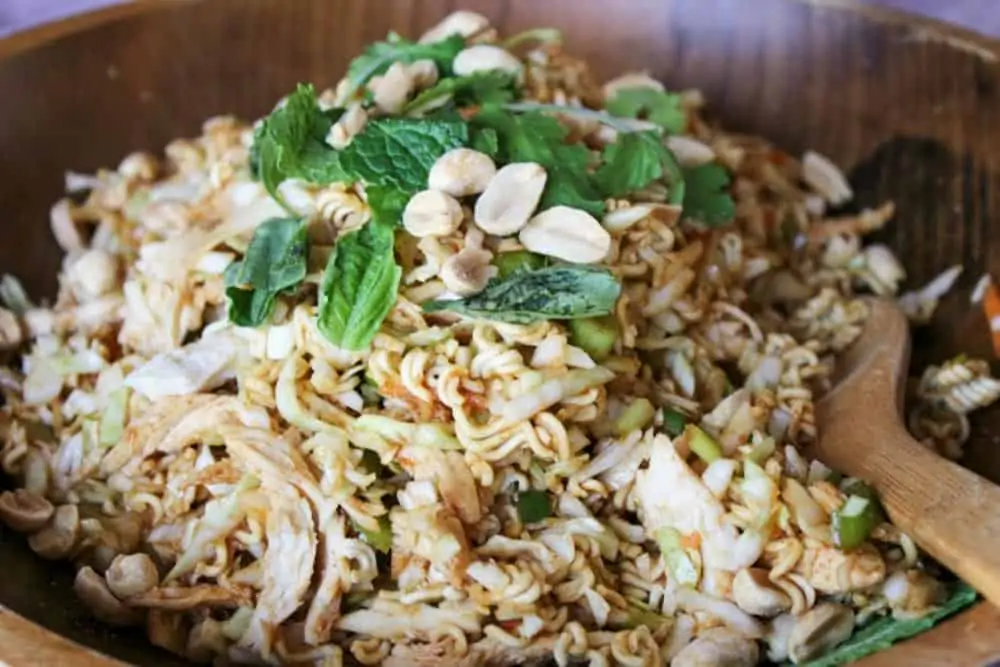 I've always loved a good cold salad with ramen noodles as well as any dish that's Asian inspired.
So it just makes sense to put the two together for the perfect salad recipe!
Because I love the freshness of herbs, the crunchiness of nuts, and the distinct flavor of a tangy Asian dressing, I knew I was on the right track.
How To Make Cold Salad with Ramen Noodles
Once you have all of your ingredients gathered, sliced and chopped the rest is super easy!
Not gonna lie, this Cold Salad with Ramen Noodles requires several ingredients that you might not already have in your refrigerator or pantry.
For instance, I don't typically have fish sauce, hoisin sauce, or sesame oil sitting around.
BUT after you try this recipe for the first time, you're going to want to keep these ingredients on hand!
Here's a great resource on Asian Ingredients for the Pantry along with links to other delicious recipes you can make with them!
For this Asian ramen salad recipe, here are the ingredients you'll need:
Napa Cabbage, Sliced – You can also substitute coleslaw mix as a time saver, which will add in some color from the green cabbage, red cabbage, & carrots.
Ramen Noodles (Dry) – Don't worry, dry crunchy ramen noodles won't be crunchy in this salad. The homemade dressing will be mixed in and will soften the ramen noodles. Also, you won't be using the ramen soup flavoring packet in this recipe.
Cooked, Shredded Chicken – I recommend boneless, skinless chicken breasts cut up into bite size pieces OR a pre-cooked (timesaver!) rotisserrie chicken shredded or cut up.
Hoisin Sauce
Rice Wine Vinegar
Soy Sauce
Fish Sauce
Toasted Sesame Oil – I love anything with sesame flavors!
Ginger Root
Green Onions
Peanuts
Basil
Cilantro
Mint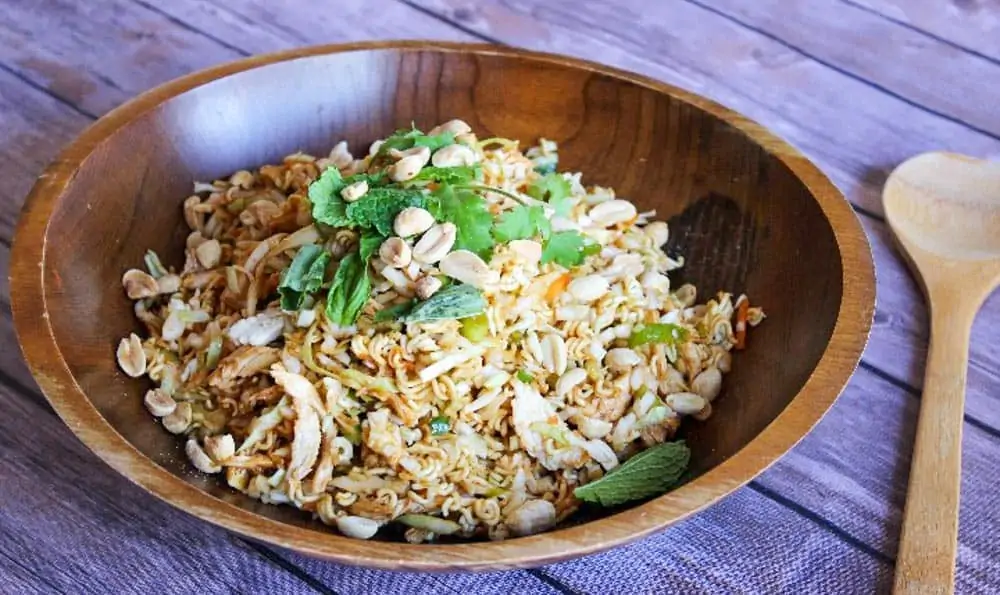 Step 1. Combine Cabbage, Ramen Noodles & Chicken in Large Bowl
If you're lazy like me, instead of slicing up a 1/2 head of fresh cabbage, you can buy the pre-shredded coleslaw mix.
It's okay, I won't tell anybody!
Be sure to break up the dry ramen noodles (you won't be using the flavor packets from the ramen soup packages) and use shredded chicken.
Another time saver is to buy a pre-cooked rotisserie chicken.
Step 2. Mix Dressing Ingredients Together
Mix together hoisin sauce, rice wine vinegar, soy sauce, fish sauce, sesame oil, ginger, and green onions.
You can mix it together in a bowl or in a jar with a lid so you can give it a good shake.
Step 3. Pour Dressing Over Salad Mixture & Mix Well
Now, top the ramen noodles, cabbage & chicken with your dressing.
Then, toss it well with a large spoon in order to coat all of the salad ingredients.
In this case, it's okay to mix the dressing into the salad a few hours before serving it because it will soften the noodles and really season the salad.
Step 4. Add Toppings Immediately Before Serving
Finally, immediately before serving your salad, add your peanuts, basil, cilantro, & mint.
Mmmm! This salad is SO tasty!
A Great Lunch Salad, Main Course, Or Side Dish
What I love about this recipe is that it's super versatile!
For example, the day I made it for this post, it was lunch time and made for the perfect lunch!
But, it can also be served as a main course for dinner or even a side dish!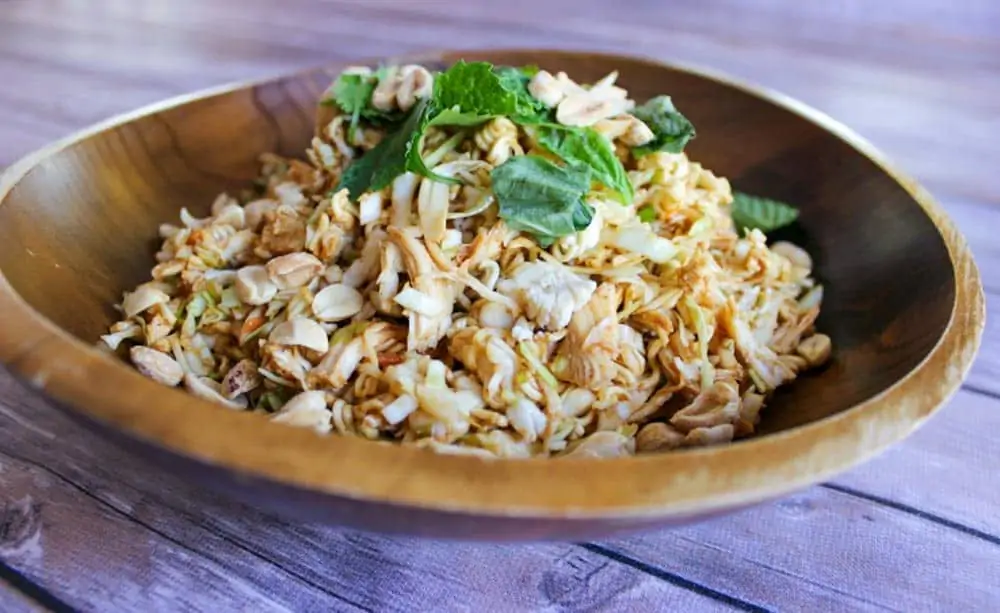 The Ramen noodles soak up a lot of the dressing, which makes the noodles soft and not crunchy.
The crunchiness comes from the peanuts.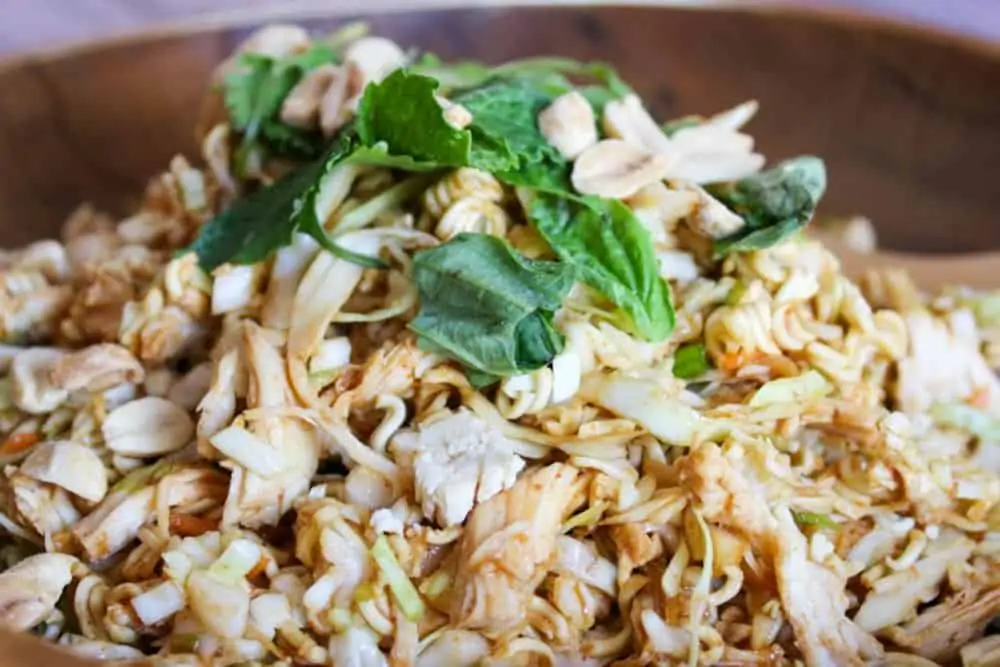 Tips & Substitutions
A couple things I might change for next time:
Make more of the delicious, tangy dressing to drizzle on top of your salad, adding extra flavor. It's so good!
Substitutions or Additions to this recipe:
Bean Sprouts
Mandarin Oranges
Cashews instead of peanuts
Sesame Seeds
Sunflower Seeds
Sliced Almonds
If you can't find rice wine vinegar, you can use rice vinegar.
请享用
Qǐng xiǎngyòng (Bon Appetit in Chinese)
Enjoy!
Cold Salad with Ramen Noodles & Chicken Recipe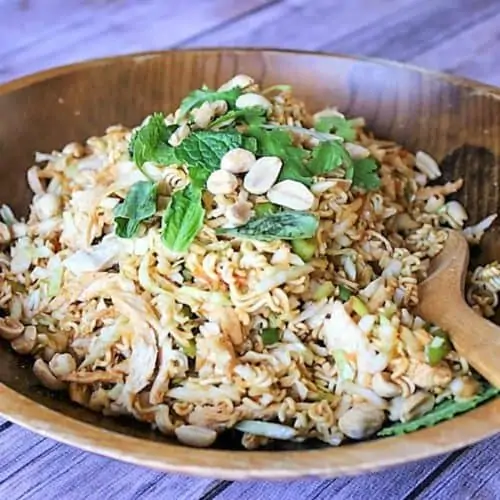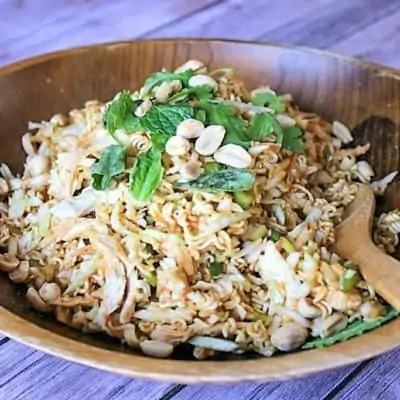 Cold Salad with Ramen Noodles & Chicken Recipe: 4 Smart Points
This salad is a delicious combination of cooked ramen noodles, shredded chicken breast, shredded cabbage, peanuts, green onions, herbs, and a wonderful homemade dressing. And only 4 WW Smart Points per serving!
Ingredients
Salad
½

head

Napa Cabbage

,

thinly sliced (I used a 16 oz bag of cole slaw mix instead)

2

cups

Chicken, cooked & shredded

,

I boiled 2 boneless, skinless breasts

2

packages

Ramen Noodles, dry

,

no seasoning, broken into bite-size pieces
Dressing
¼

cup

Hoisin Sauce

3

tbsp

Rice Wine Vinegar

,

I used rice vinegar

3

tbsp

Soy Sauce

1

tbsp

Fish Sauce

2

tsp

Toasted Sesame Oil

1

piece

Ginger Root, peeled & grated

,

1 inch piece

6

Green Onions

,

thinly sliced
Toppings
¼

cup

Peanuts, toasted

1

bunch

Basil Leaves, fresh

,

chopped

½

bunch

Cilantro, fresh

,

chopped

1

bunch

Mint, fresh

,

chopped
Instructions
Mix together cabbage, Ramen noodles and chicken in a large bowl.

In a small bowl or jar, mix hoisin sauce, vinegar, soy sauce, fish sauce, sesame oil, ginger, and green onions.

Pour over cabbage mixture and toss well to coat all the ingredients.

You can do this a few hours ahead so that the seasoned sauce will moisten the dried noodles.

Just before serving, sprinkle salad with peanuts, basil, cilantro, & mint.

Have bowls of herbs on the table so everybody can add what they like.
Notes
4 WW Smart Points per serving
For more delicious salad recipes, click on over to:
Shredded Brussels Sprouts Salad
Healthy Chickpea Salad That Will Make You Happy
Green Bean Salad Recipe: 3 Weight Watchers Points