If you're looking for the best poly outdoor furniture in Frederick Md with a company who goes above and beyond, look no further than Kelly Kuzma with JoNa's Exterior Design!
Kelly will work with you every step of the way to get you exactly what you're envisioning for the outdoor space of your dreams!
Conveniently located right here in Frederick County Maryland, Kelly with JoNa's Exterior Design will drop off her design book and color samples right at your doorstep so you can peruse at your leisure.
In addition, she's willing to take a look at your outdoor space and offer you recommendations for what your ideal setup can look like.
JoNa's Exterior Design, a family-owned business, works exclusively with one of the most skilled craftsmen of Amish outdoor furniture in the world, Finch outdoor furniture, located in Lancaster County, PA.
It should be noted, every custom piece of Finch poly furniture is assembled by hand.
Clearly, poly outdoor furniture from Lancaster PA uses top quality craftsmanship!
*This post is in collaboration with JoNa's Exterior Design, LLC. All opinions are my own.
Poly Outdoor Furniture in Frederick Md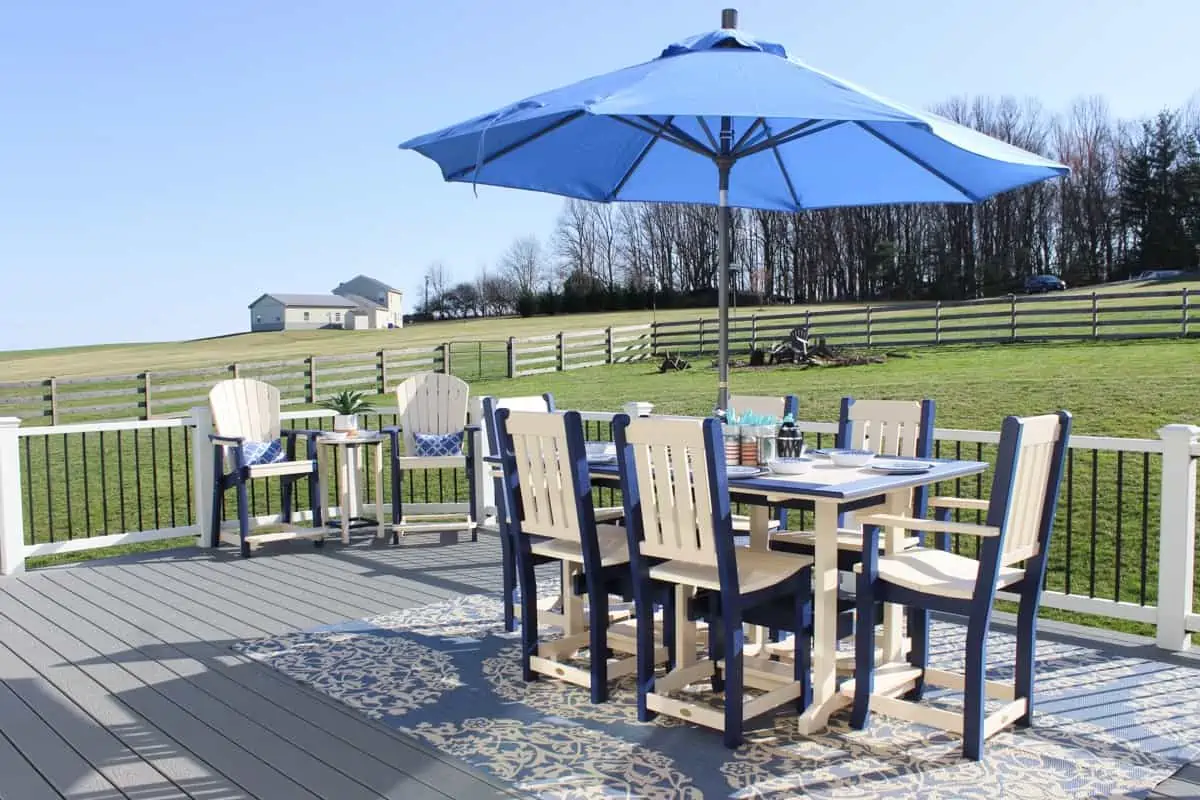 Yes, you can visit other local places who offer poly outdoor furniture for sale on their showroom floor.
As a matter of fact, when we were shopping around with other poly outdoor furniture manufacturers, that's exactly what we did.
However, the showroom floor furniture is typically furniture that somebody else ordered and decided not to buy.
Don't get me wrong, it's still great furniture!
BUT after searching some local places, we just couldn't find exactly what we wanted.
I'm sure I'm not alone in saying that when I decide to invest in a high quality purchase, I want it to be exactly how I want it!
Is Poly Outdoor Furniture Worth The Price?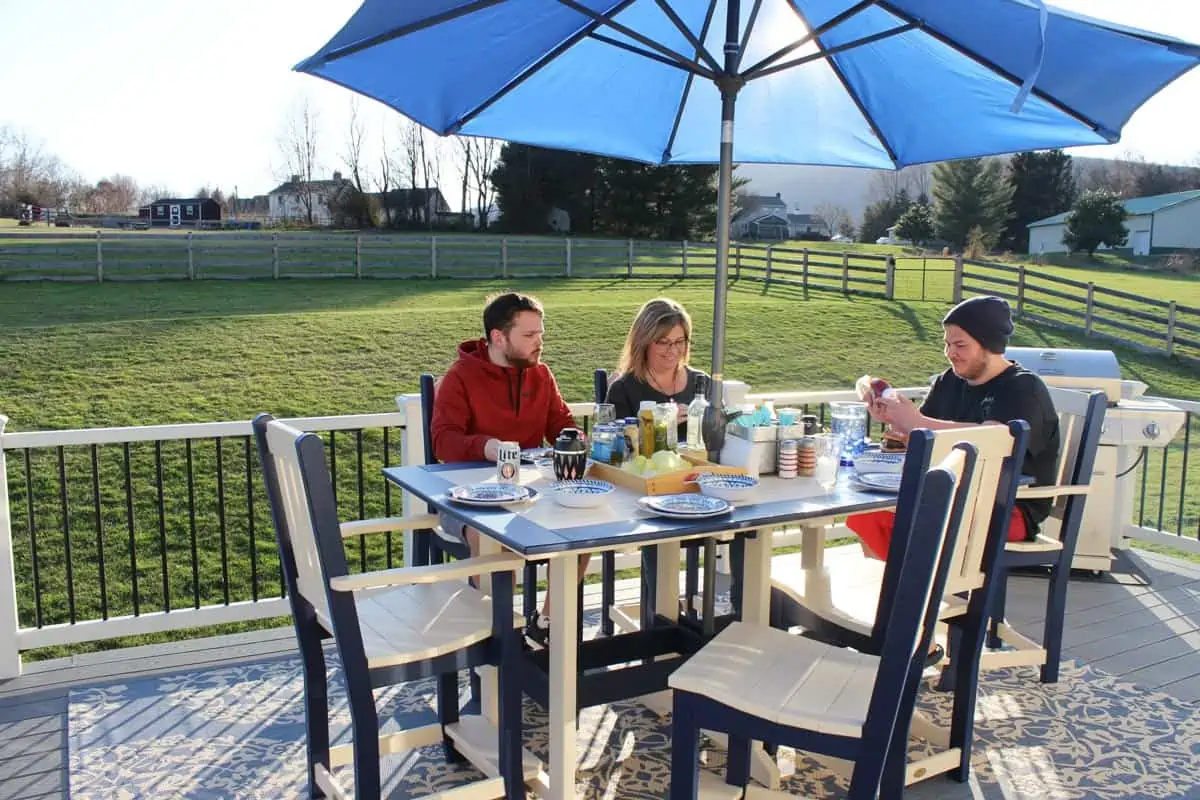 YES! Poly outdoor furniture is absolutely worth the price!
As a matter of fact, I'm going to give you 10 reasons why it's SO worth it.
1. Maintenance Free Patio Furniture
I don't know about you, but they had me at maintenance free!
Not only is this poly lumber absolutely gorgeous, but also it will out-last any other type of outdoor furniture by decades!
Clearly, when you think of it that way and you do the math, buying one set vs. buying multiple sets through the years is a way better option!
As a matter of fact, if this was the only reason to buy this furniture, it would be all I'd need to make my decision.
2. JoNa's Exterior Design Offers Excellent Customer Service
You can't ask for better customer service than with Kelly at JoNa's Exterior Design.
Above all, she genuinely believes 100% in the high quality of the Finch brand.
As well as that, with Kelly, there are no sales gimmicks or high pressure pitches.
On the contrary, she will allow you to make your decision on your own time and be there to place the order when you're ready.
Also, once you've made your purchase, she keeps in touch to communicate the build process and will let you know once your delivery is expected.
Finally, once you've received your furniture, she will follow up with you to ensure that you are totally happy with the final product.
3. So Many Customizable Outdoor Furniture Options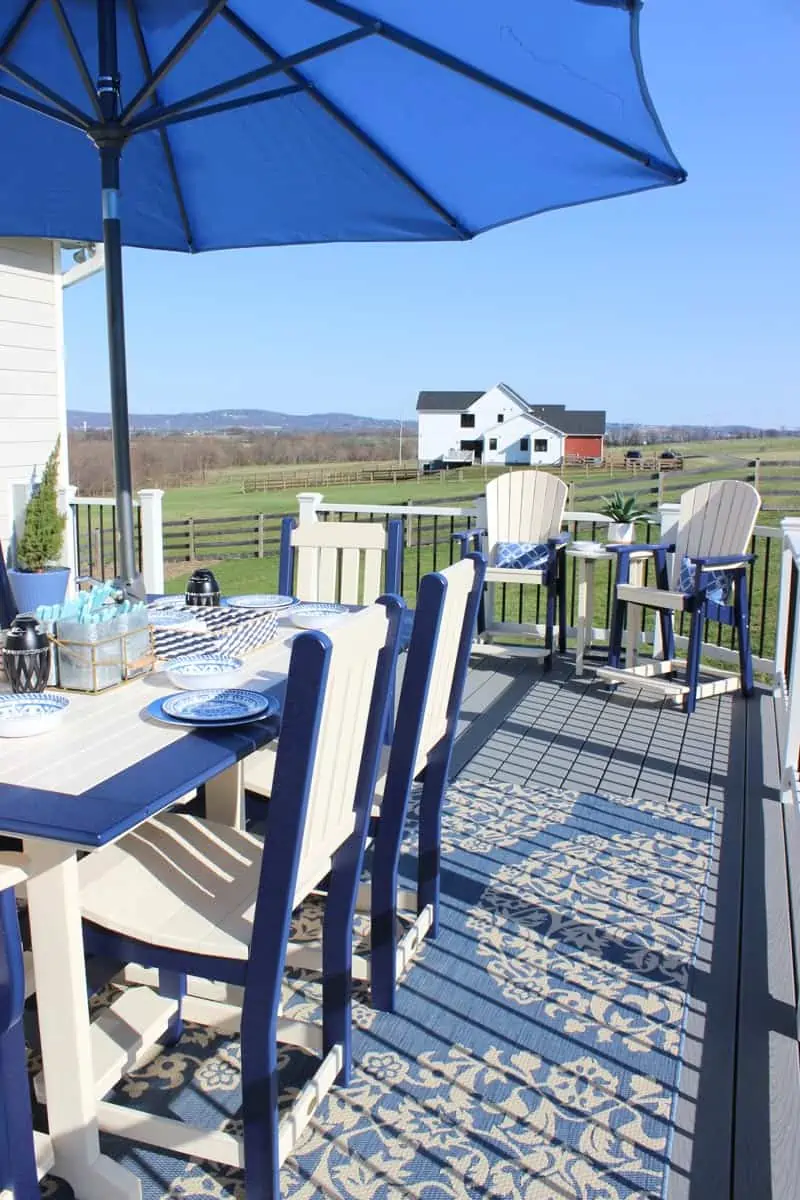 I absolutely LOVE how customizable this furniture is!
Proof of this, JoNa's Exterior Design offers:
26 lumber colors – You can even choose two color tones like we did.
Optional wood grain design.
Hundreds of fabric options.
Varying furniture heights: Poly outdoor furniture bar height, dining height, and counter height.
A huge variety of different styles to choose from in order to match your aesthetic.
In our case, we chose counter height tables and chairs so we could sit high enough to see the beautiful view of the mountains over the railings of our deck.
4. Made in the USA
Clearly, the fact that this poly outdoor furniture is made in the USA means that you will get your custom furniture sooner.
As well as that, it meets the standards of safety and quality control that other countries do not.
So you can feel confident in knowing that you're going to get a safe, great quality product.
5. High Quality, Green-Friendly Materials
All Finch furniture is made from recycled plastics.
Additionally, any manufacturing waste is recycled.
As well as that, this furniture does not leech or bleed toxins or carcinogens.
6. Weatherproof
Not only can you keep your poly furniture outside all year long, but also, there is no need for treating, staining, or painting it in order to keep it in good shape.
7. Easy to Clean
Basically all you need to keep your outdoor poly furniture clean is warm water and dish soap to wipe it down.
For a deeper clean, it's even okay to use a power washer on this super durable furniture!
8. No Rusting, Splinters or Rotting
As we all know, with other outdoor metal or wood furniture, it's inevitable that due to weather conditions, you will eventually get rusting, splinters and rotting.
However, this is not the case with poly outdoor furniture. The quality stays intact for decades.
9. 20 Year Residential Limited Warranty
Finally, because the manufacturer is so confident in it's product, every piece of residential furniture has a 20 year limited warranty.
You honestly can't get any better than that!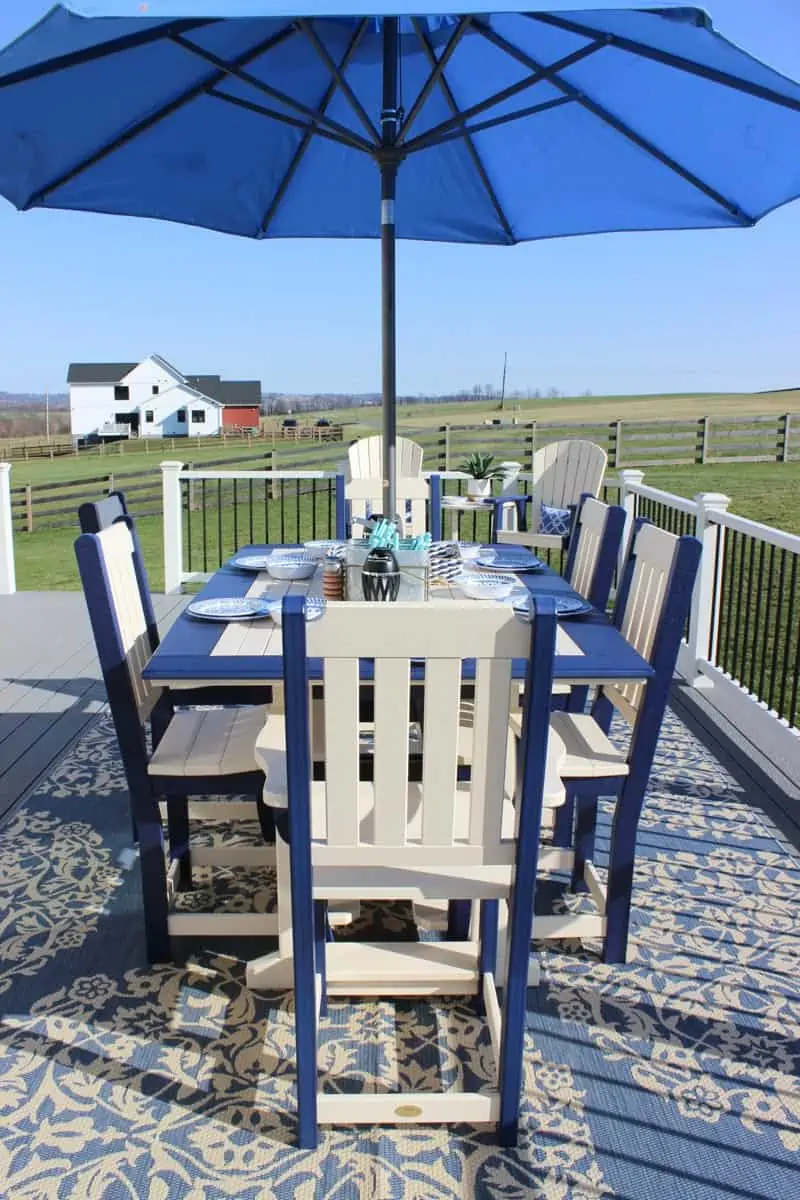 10. The Finch Brand is Top-of-the-Line
The Finch quality can't be beat due to the extra care they take in using:
Mortis and tenon joinery
Minimal face screws
Stainless steel fasteners
Aluminum frame reinforcement
Profiled edges
Is Poly Outdoor Furniture Heavy?
Yes, poly outdoor furniture is heavy.
It's not too heavy that you can't pick up a chair and move it, but it's heavy enough that it will not fall over or slide across your deck on a windy day.
And when you live out here in Middletown, Maryland where we live, we get a LOT of very windy days!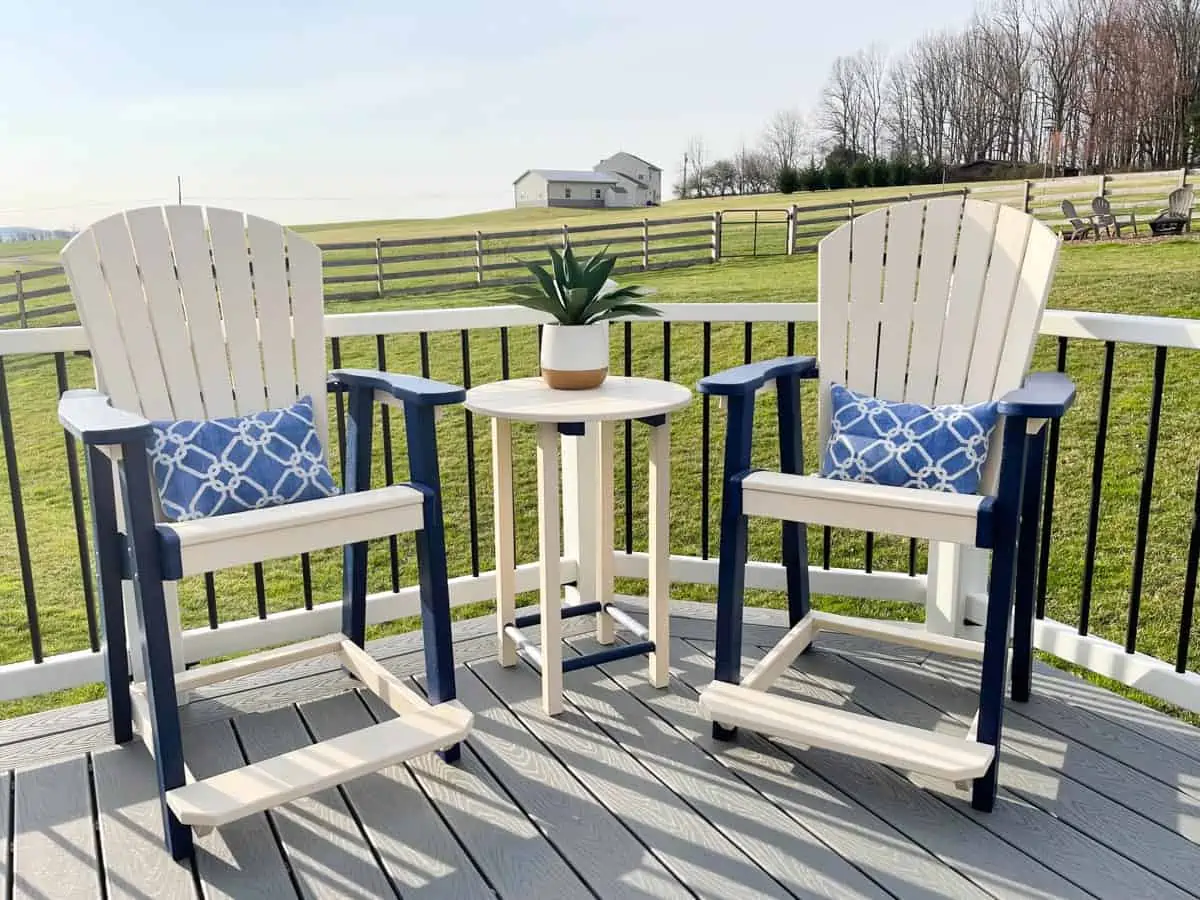 Is Poly Outdoor Furniture Comfortable?
As you can see from my photos, poly outdoor furniture is extremely comfortable.
I love how they've thought of everything with this furniture.
The seats of the chairs are deep and roomy.
Also, with our furniture being counter height, I love that they include a foot rest on the adirondack side chairs.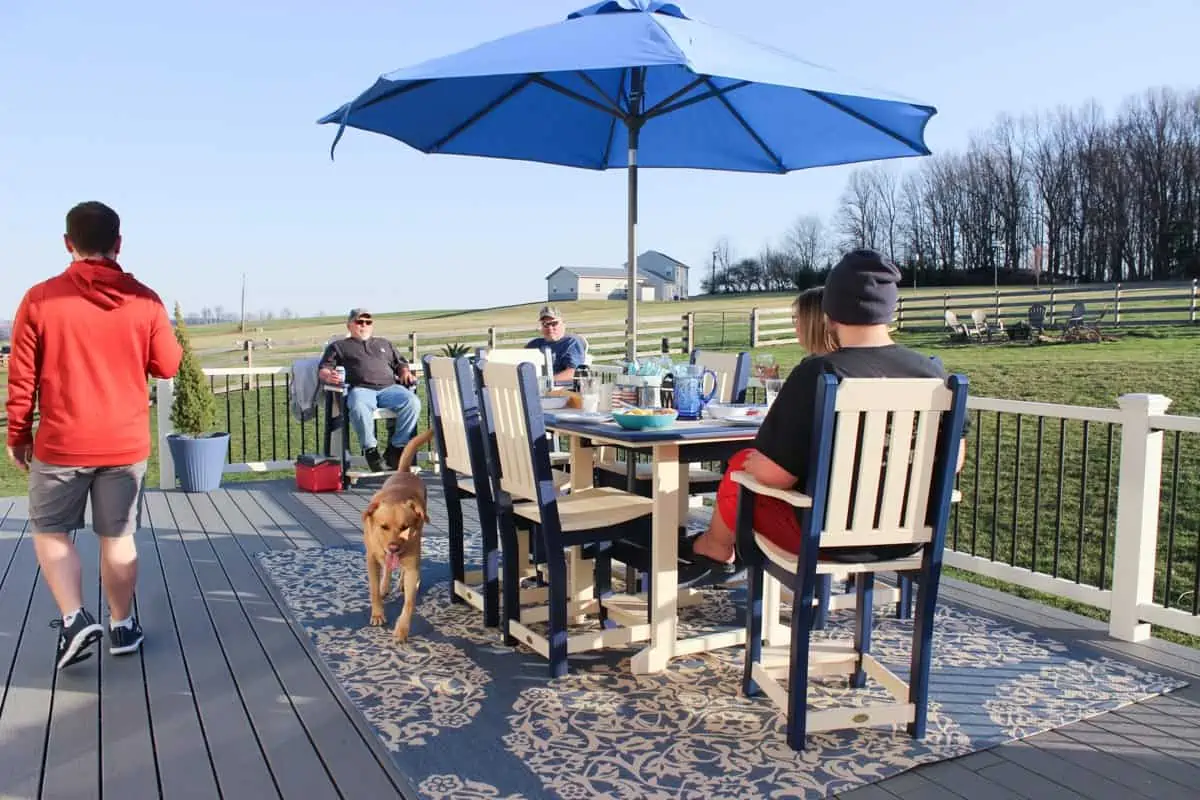 Can Poly Outdoor Furniture Be Left Outside During the Winter?
That would be a resounding yes!
Clearly, this is one of the main reasons why I love it so much!
We don't need furniture covers or a huge indoor space to move the furniture to during the winter months.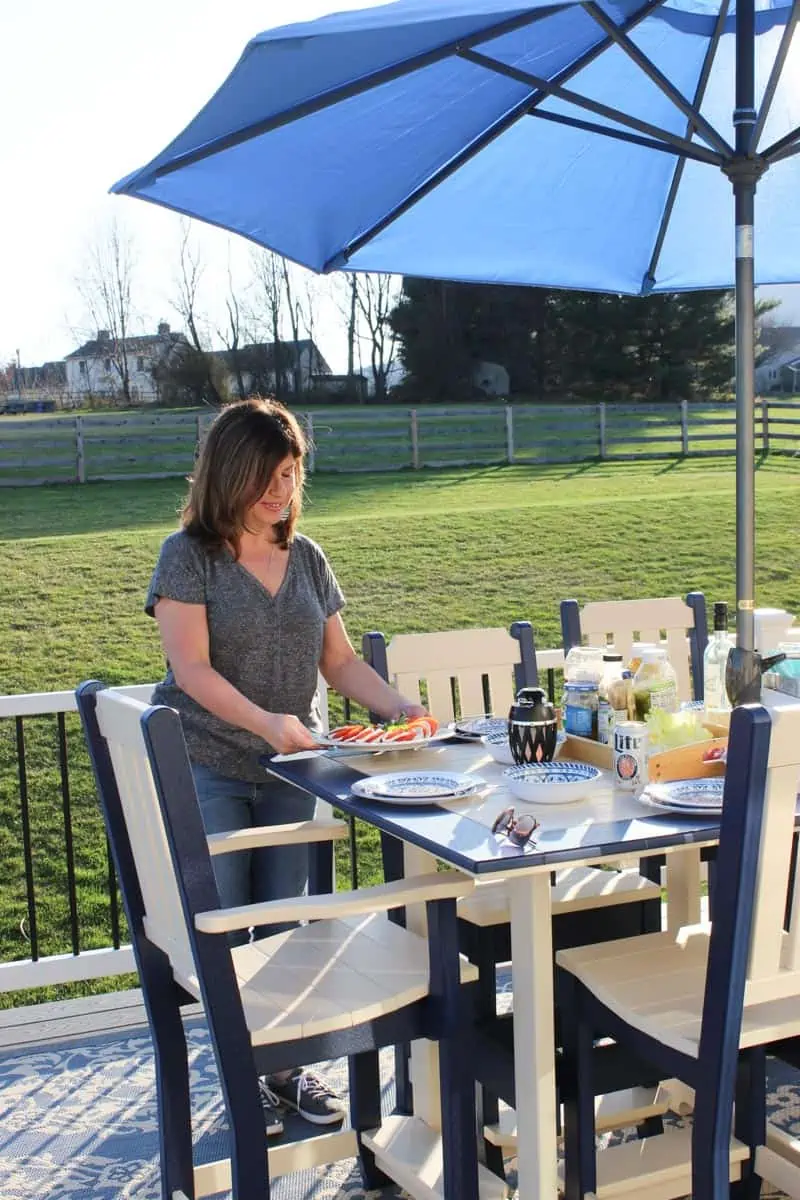 How Long Will It Take To Receive My Order?
As of now, lead times are holding steady at 32 to 34 weeks (8 months) once you submit your order.
This is not unique to JoNa's Exterior Design. It is the current industry-wide norm due to supply chain issues and extreme demand for outdoor furniture.
I know, this sounds like such a long time, and it is!
BUT, take it from me, it is SO worth the wait!
While we waited, we just kept our old, beat-up table on the deck with some anti-gravity chairs until we were able to replace it with our brand new furniture.
Obviously, it is an investment of time and money.
However, the wait is worth it and will result in a long-lasting investment that you will thoroughly enjoy for years and years!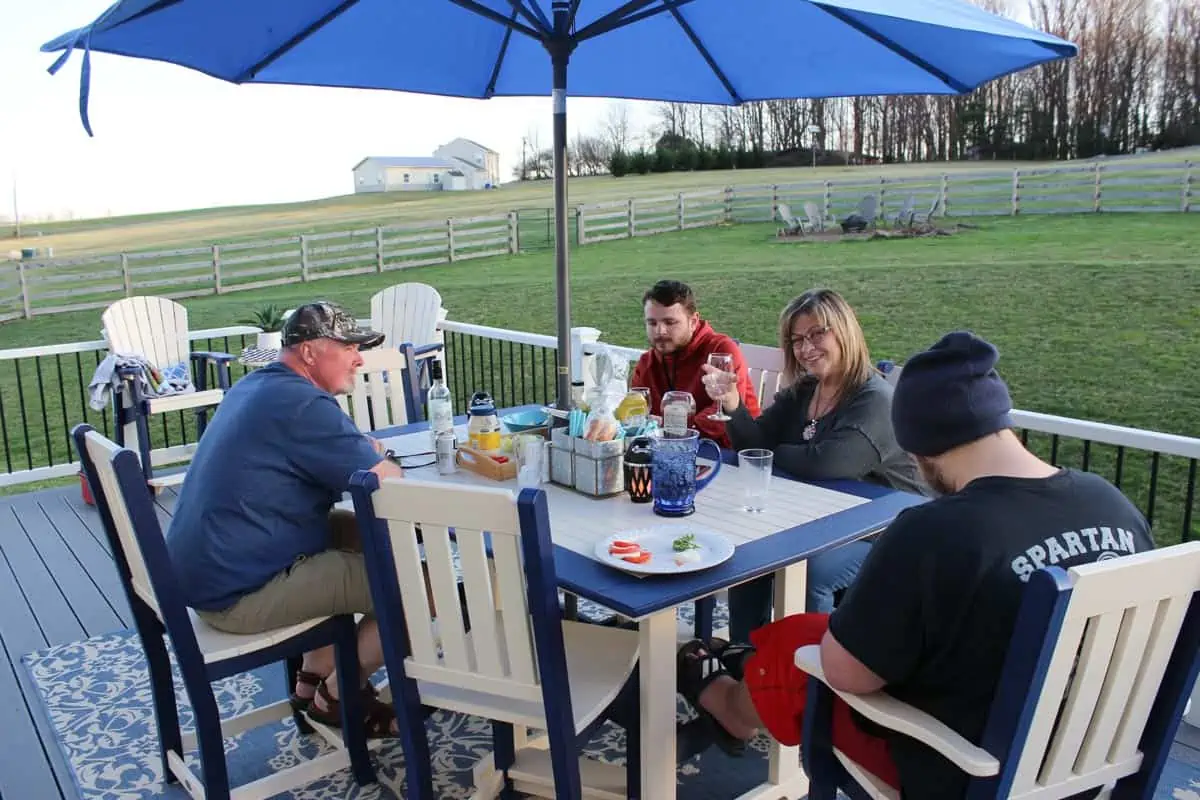 Lastly, I just have one problem: I want more!
Now that we have this gorgeous outdoor furniture and we've entertained with it, I envision a nice high serving table and some outdoor couches.
Kelly, I'll be calling you soon!
To contact Kelly at JoNa's Exterior Design and get the ball rolling, here is her contact information: