These healthy imitation crab recipes are unique and delicious ways to change up your regular routine and try something new!
From salads, to pizza, to pasta and even 2 different crab rangoons, I've got a super versatile list that you'll want to try for yourself!
Healthy Imitation Crab Recipes
If you've followed me for a while you know that I'm a Maryland girl who loves me some Maryland blue crabs!
However, what you might not know about me is that I'm super frugal!
Needless to say, I'll always find a way to enjoy a good crab feast, indulge in a big honkin crab cake or dip into one of my favorite recipes in the entire world, Maryland Hot crab dip!
BUT, as any seafood enthusiast knows, buying fresh crab meat from the grocery store or the fish market can get downright expensive!
In other words, getting the real thing is more of a special occasion type of ingredient versus it being in my weekly recipe rotation.
Cue in this ever popular substitution, made of Alaskan pollock, and the endless ways you can make healthy imitation crab recipes!
What is the Purpose of Imitation Crab?
So, if you're like me and you just can't bring yourself to buy real crab meat every time you have a seafood craving, the less expensive imitation crab is an excellent alternative!
Clearly, it's not the same as real crab meat.
However, it really is delicious and can absolutely be swapped in virtually all recipes that call for crab meat.
Without further ado, here are 13 healthy imitation crab recipes to get you started.
1. Healthy Imitation Crab Ceviche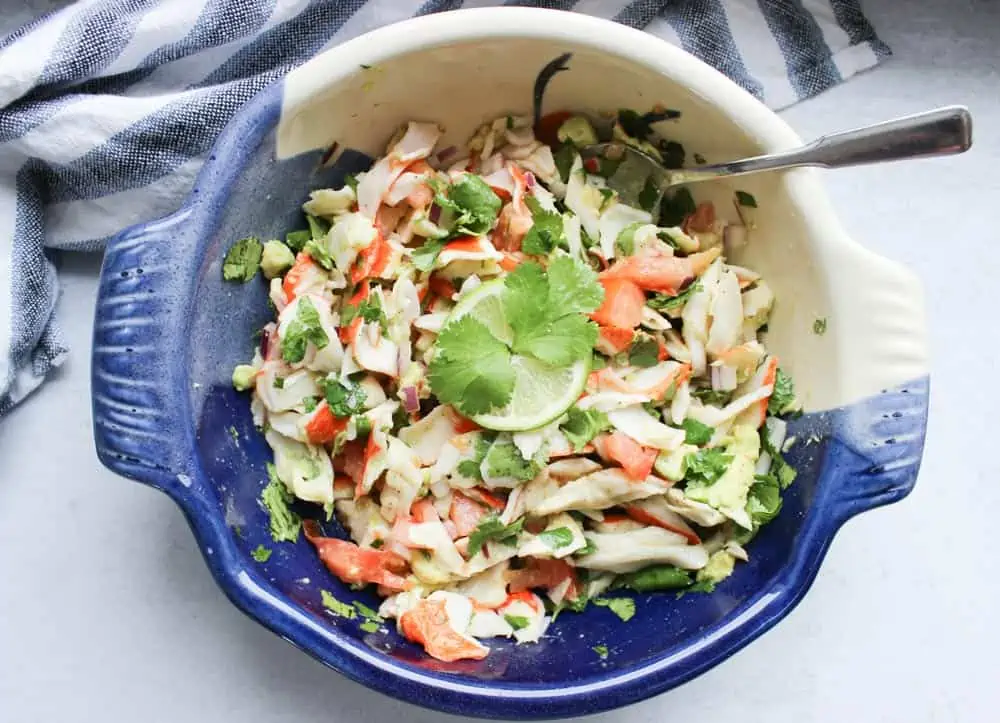 First up is this absolutely delicious Imitation Crab Ceviche, a light and creamy crab salad recipe.
This super easy recipe calls for the following ingredients:
Imitation Crabmeat
Tomatoes
Red Onion
Avocado
Cilantro
Lime Juice
Olive Oil
Salt
Black Pepper
Serrano Peppers
Undoubtedly, it's such a fresh, healthy, and delicious recipe with a great flavor that you'll want to make often!
Added Bonus: This recipe is great for those of us (like me!) on a low-carb diet.
2. Baked Imitation Crab Rangoon Flatbread Pizza with Sweet Chili Sauce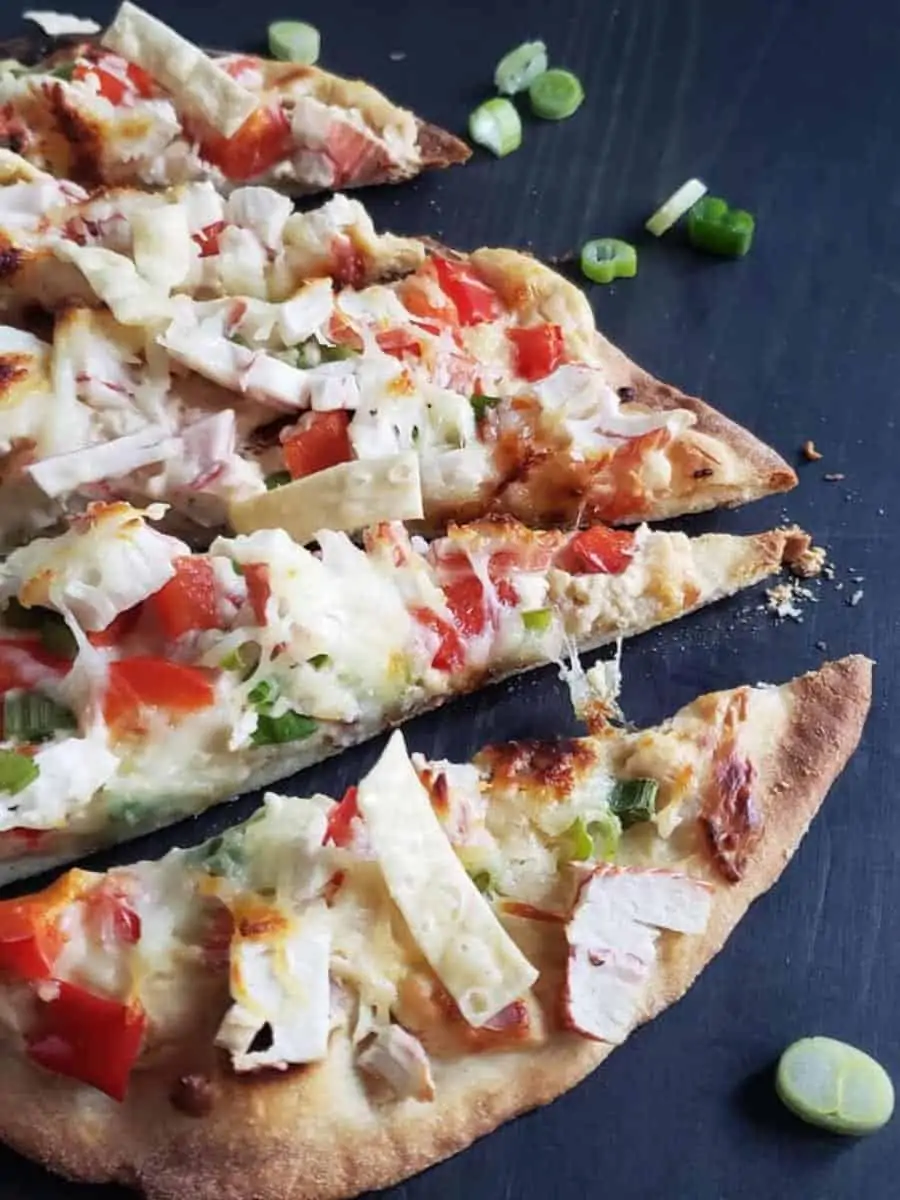 Next, is this amazing Baked Imitation Crab Rangoon Flatbread Pizza with Sweet Chili Sauce from Raspberries & Kohlrabi!
This recipe's mouth-watering ingredients are:
Creamy cream cheese
Imitation crab (surimi)
Crisp green onions
Gooey mozzarella cheese
Crispy wonton strips
Worcestershire sauce
Soy sauce
Drizzled sweet chili sauce
Truly, this would be great for a light lunch out on the patio!
3. Easy Baked Imitation Crab Sushi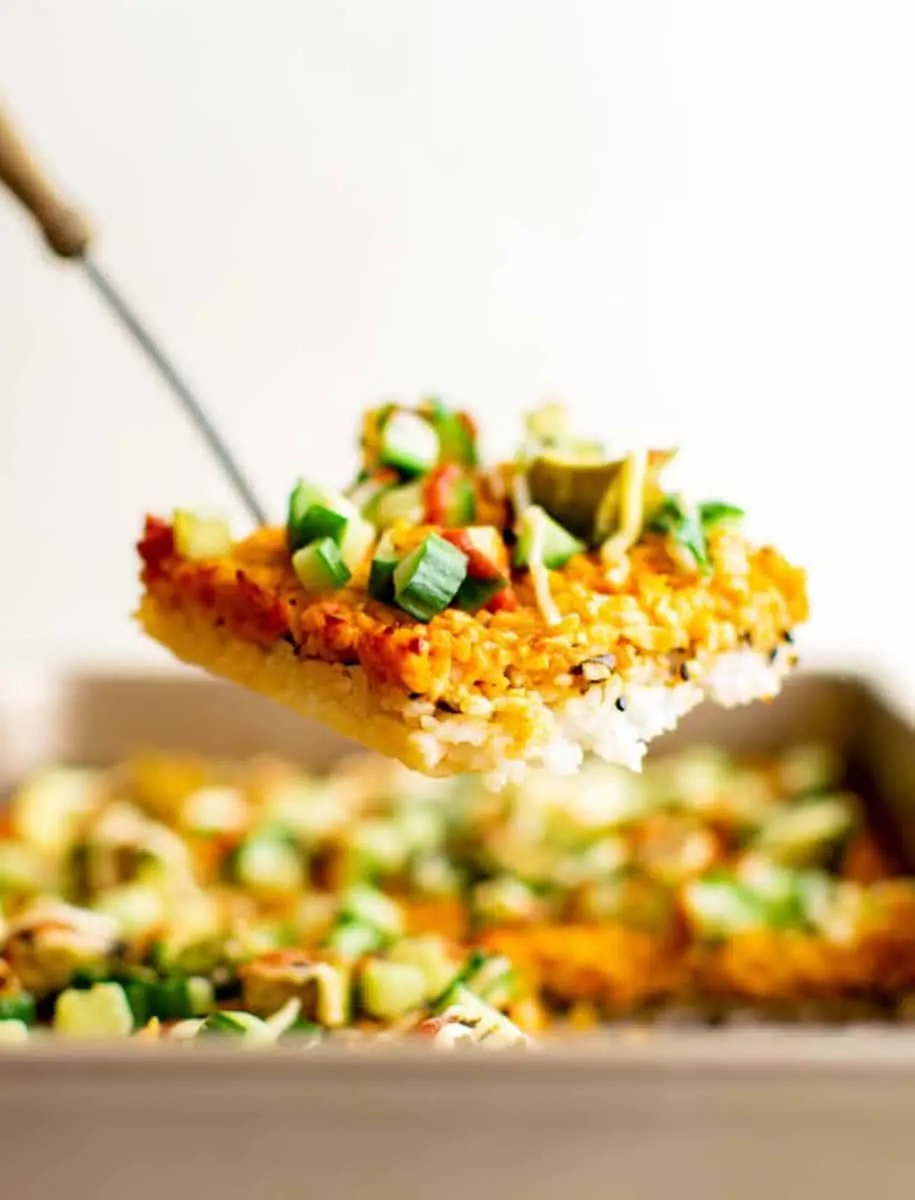 Third, is this simple recipe for Easy Baked Sushi by Blackberry Babe.
Above all, it is everything you love about your favorite California roll, but in casserole form!
Drizzled with a delicious spicy mayo, you'll want to make this often.
4. Seafood Lemon Garlic Pasta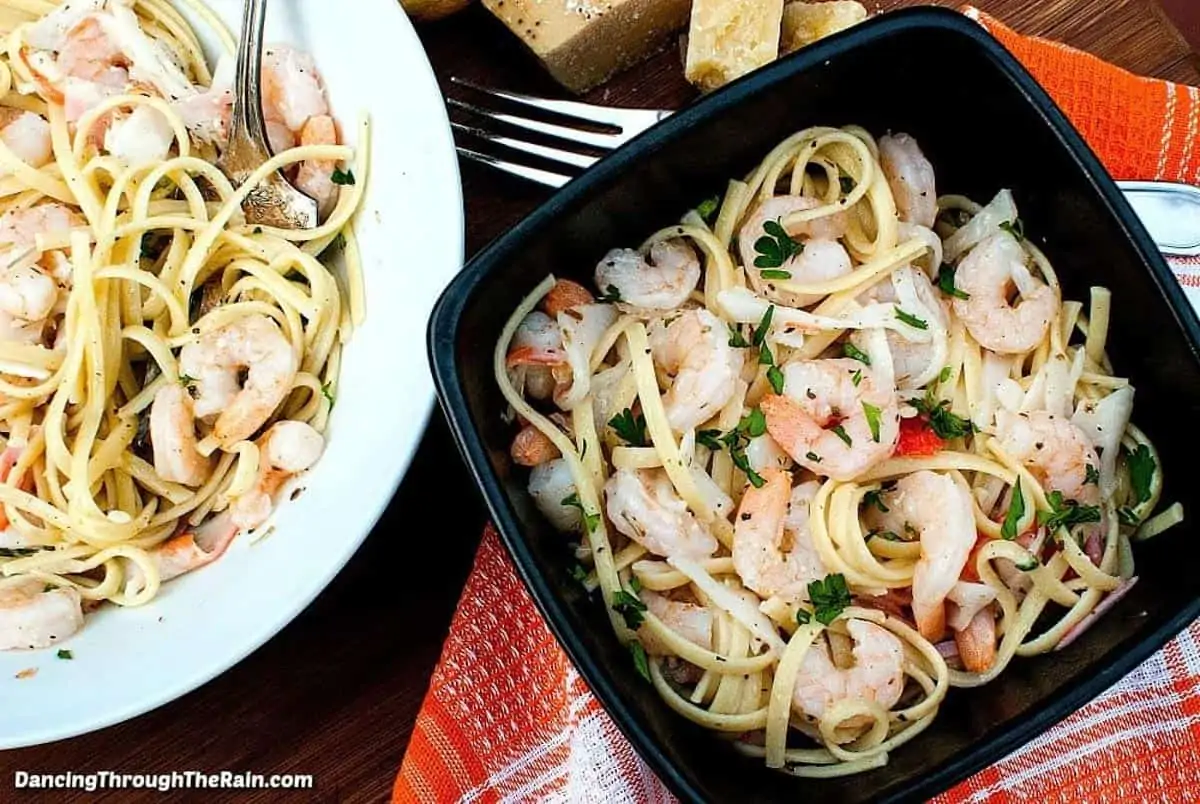 Next up is this Seafood Lemon Garlic Pasta by Dancing Through the Rain.
Without a doubt, just by the picture, you can see it is a delicious and easy pasta to put together!
Blended with a light and flavorful sauce, this is a tasty dish that anyone can make!
5. Imitation Crab Dip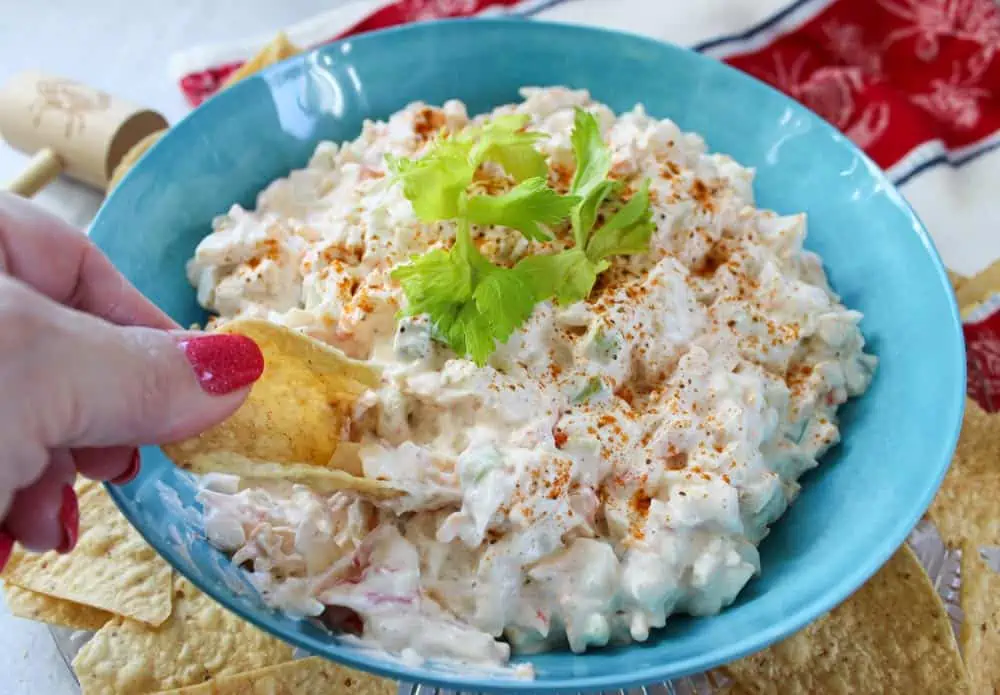 Recently, I made this imitation crab dip for my blog, Housewives of Frederick County.
Indeed, crab recipes like this one and my Maryland Hot Crab Dip are some of the most popular recipes on the internet.
In a large bowl, just mix up imitation crab, cream cheese, sour cream, celery, green onions, lemon juice, cheddar cheese, hot pepper sauce, and of course Old Bay Seasoning.
In addition, if you like the taste of fresh dill, you can add it to this recipe.
Needless to say, it gets devoured very quickly!
Also, now that I've made hot crab dip and cold imitation crab dip, I need to make me a hot imitation crab dip!
6. Imitation Crab Stuffed Mushrooms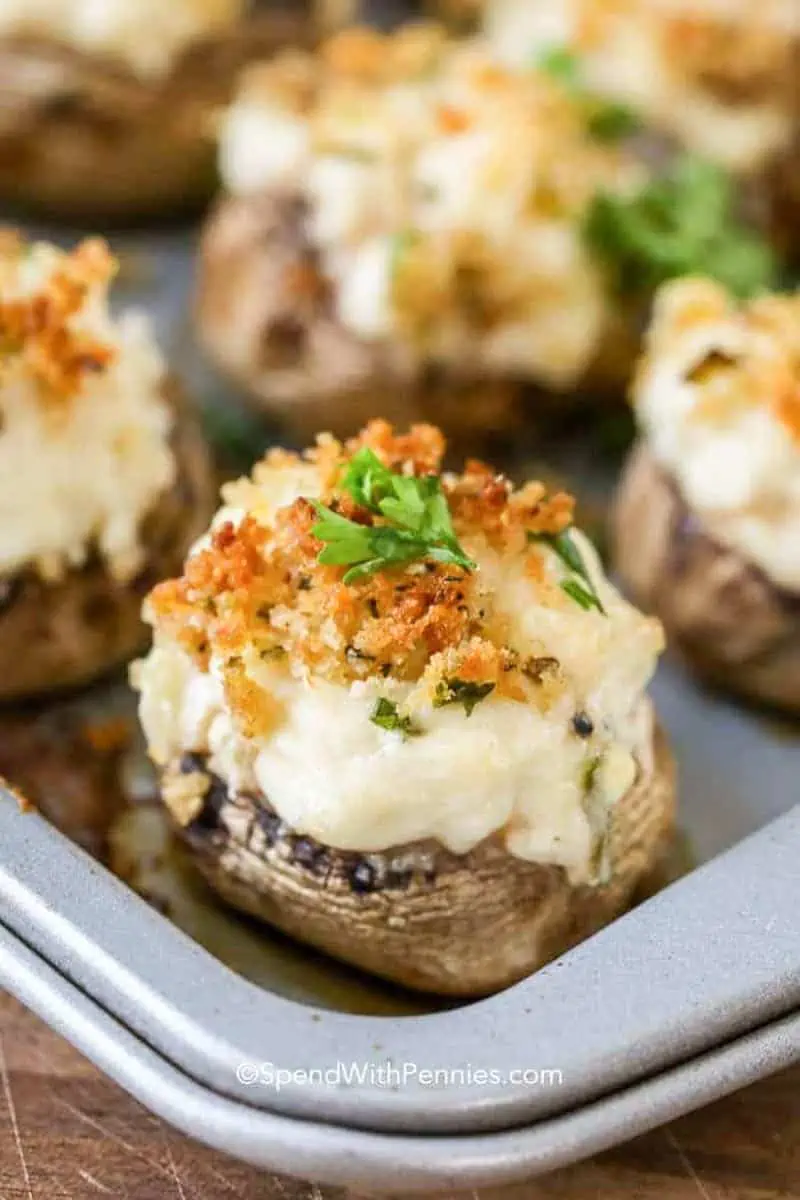 One of my favorite appetizers is stuffed mushrooms, so when I found this recipe for crab stuffed mushrooms by Spend with Pennies, I had to include it in my list!
In a nutshell, (actually a mushroom cap), the mushrooms are filled with a rich, cheesy crab filling and topped with 1/4 cup bread crumbs.
7. Crab Rangoon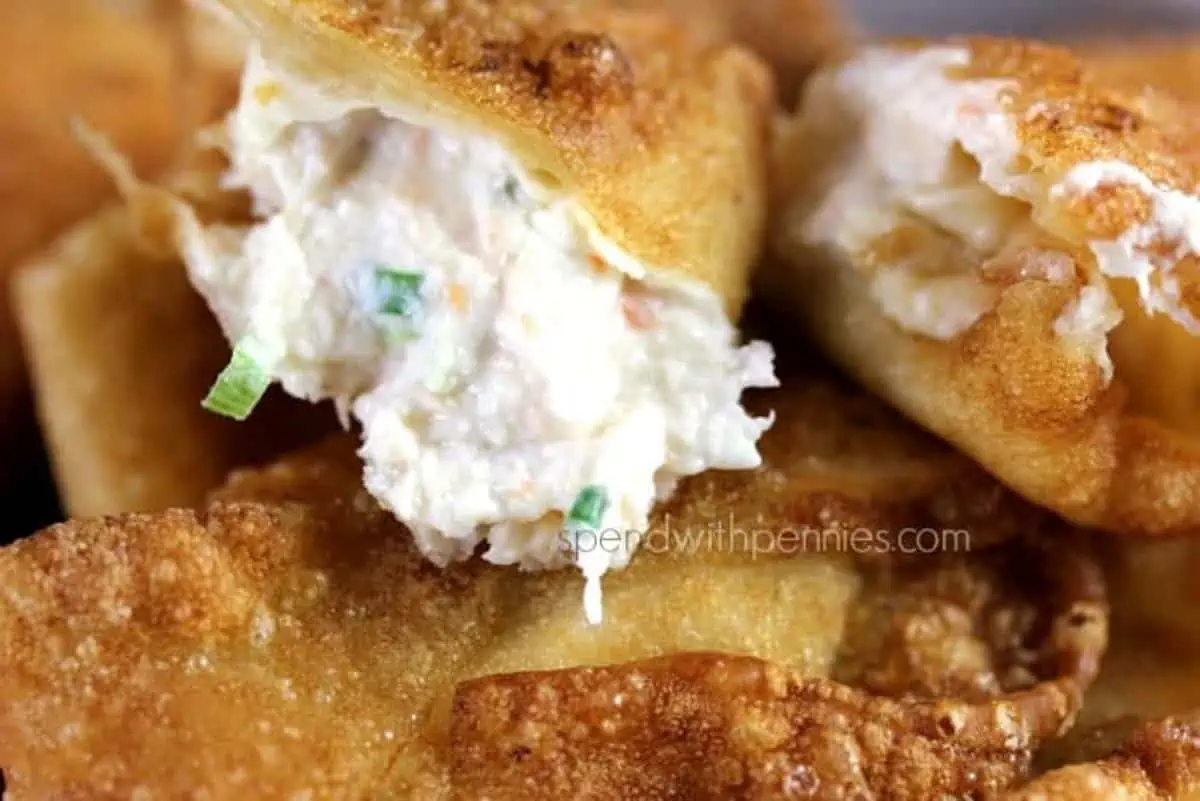 Crab Rangoon by Spend with Pennies, contains a simple mixture of crab, cream cheese, garlic powder and other seasonings wrapped in a wonton wrapper and fried crispy with vegetable oil (or baked in the oven)!
Keep in mind, this recipe calls for the real deal (crab meat), but again, you can substitute imitation crab meat for it and it will still be delicious!
8. Air Fryer Imitation Crab Cakes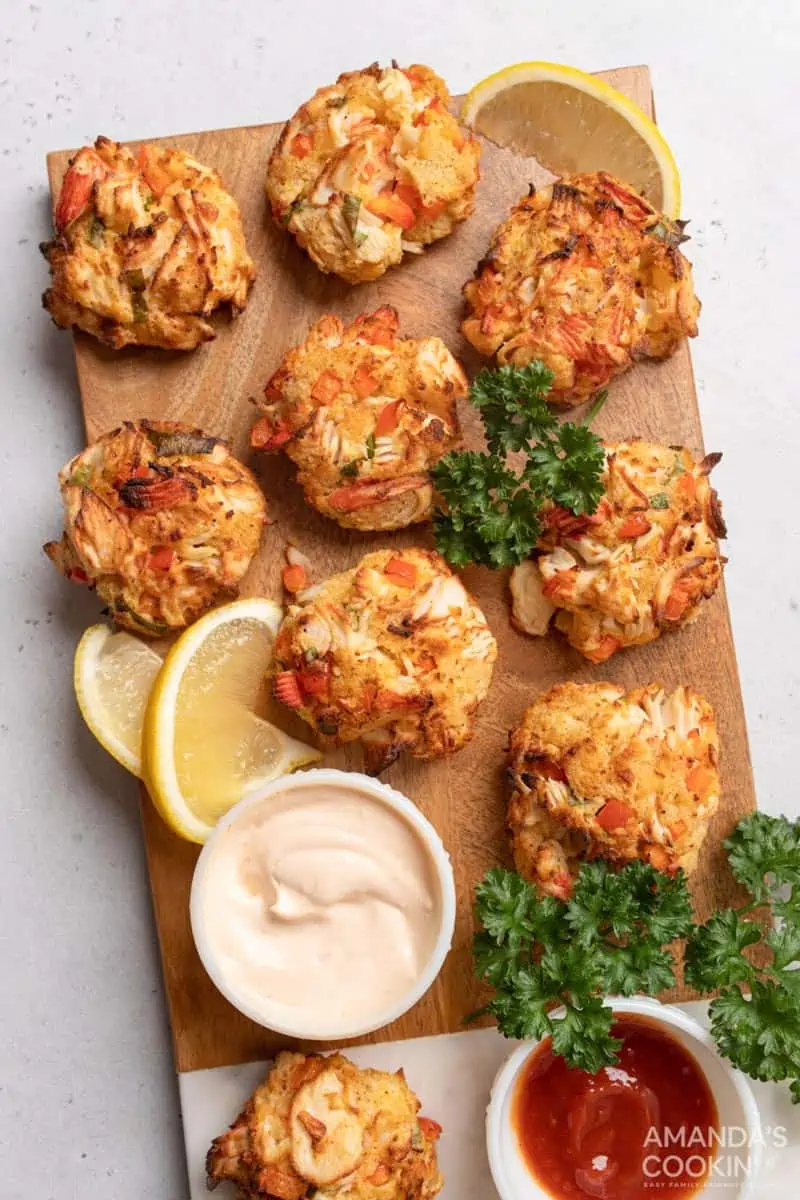 These Air Fryer Imitation Crab Cakes by Amanda's Cookin' are ultra appetizing and super easy to make with juicy lump crab meat OR imitation crab!
Stuffed into a crispy golden-brown crust along with bell peppers, onions, and lots of flavorful seasonings, this recipe is a crowd pleaser!
9. Homemade California Poke Bowl with Imitation Crab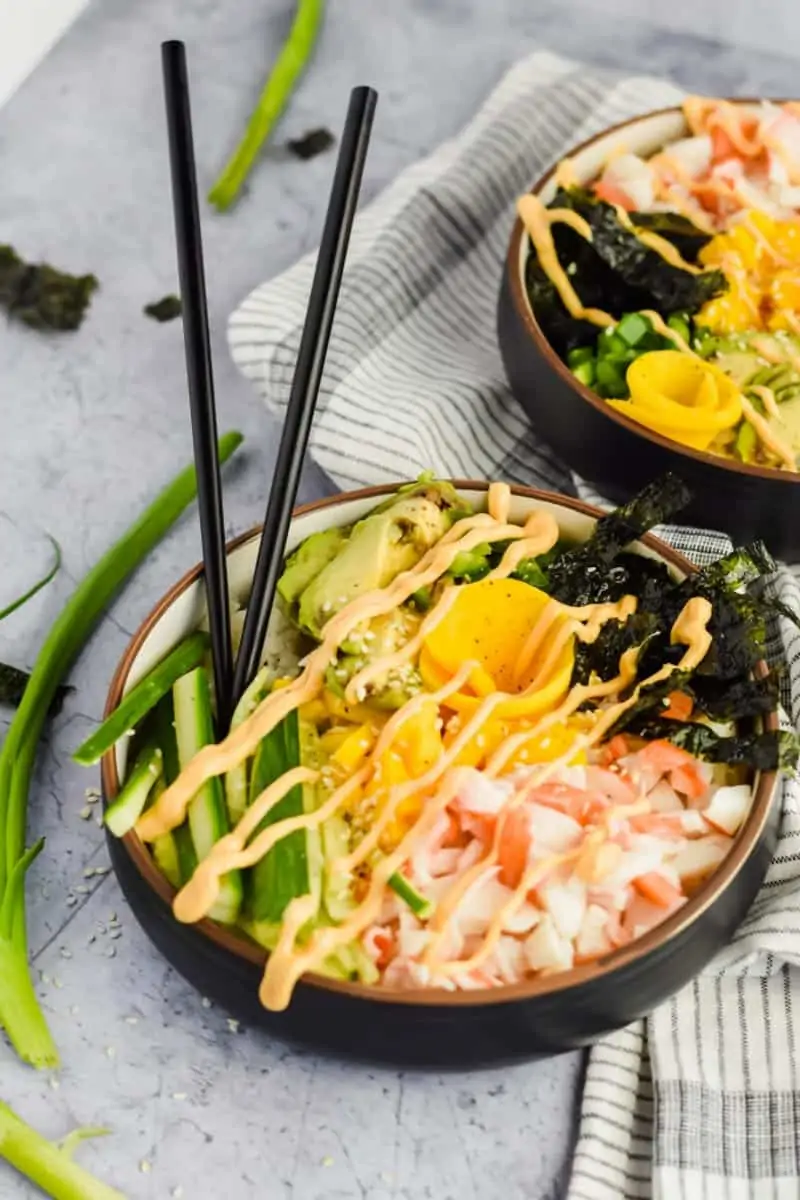 This California Poke Bowl recipe by A Paige of Positivity is refreshing and simple with imitation crab as the main ingredient.
Pair the crab with an easy blend of rice, creamy avocado, fresh cucumber, sweet mango, and tangy spicy mayo and you've got the perfect poke bowl.
10. Rainbow Roll Sushi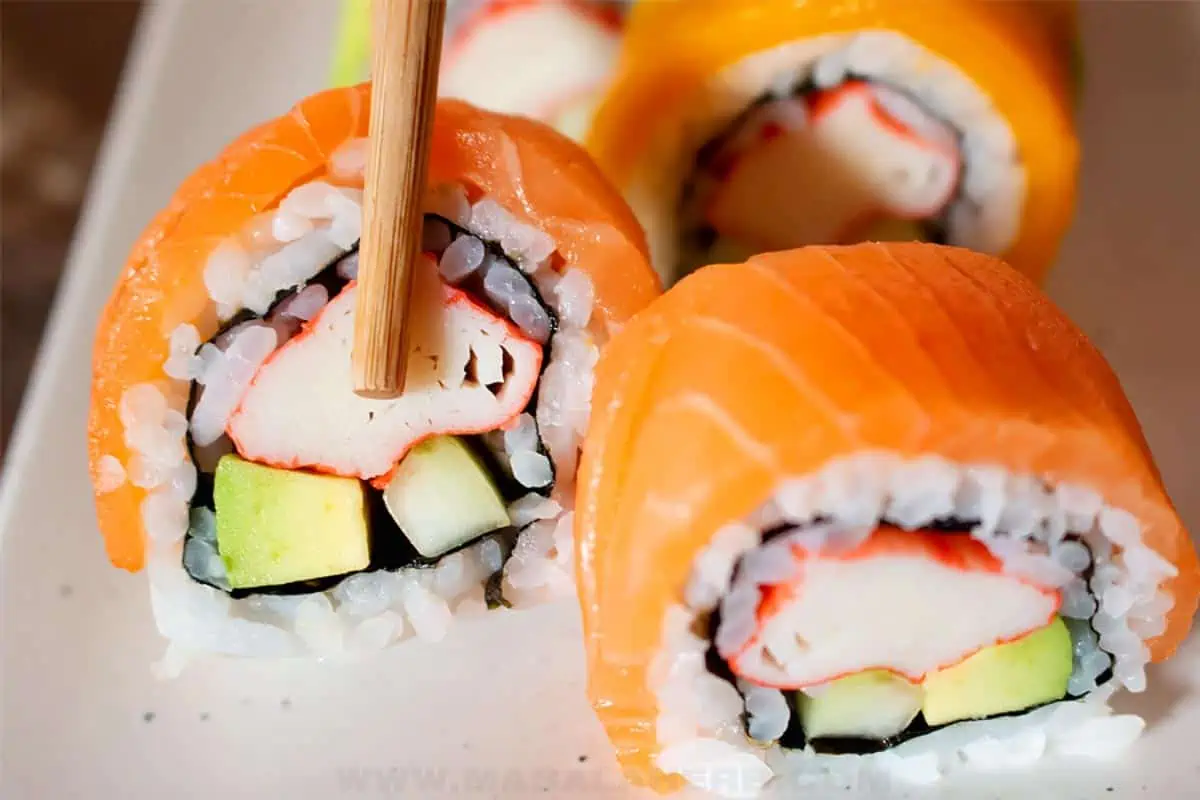 This rainbow sushi rolls recipe by Masala Herb is prepared with imitation crab, avocado, cucumber and various toppings to make the sushi roll look like a rainbow.
Also called California Rolls, these are my favorite kind of sushi!
11. Surimi Salad with Curry Mayo Dressing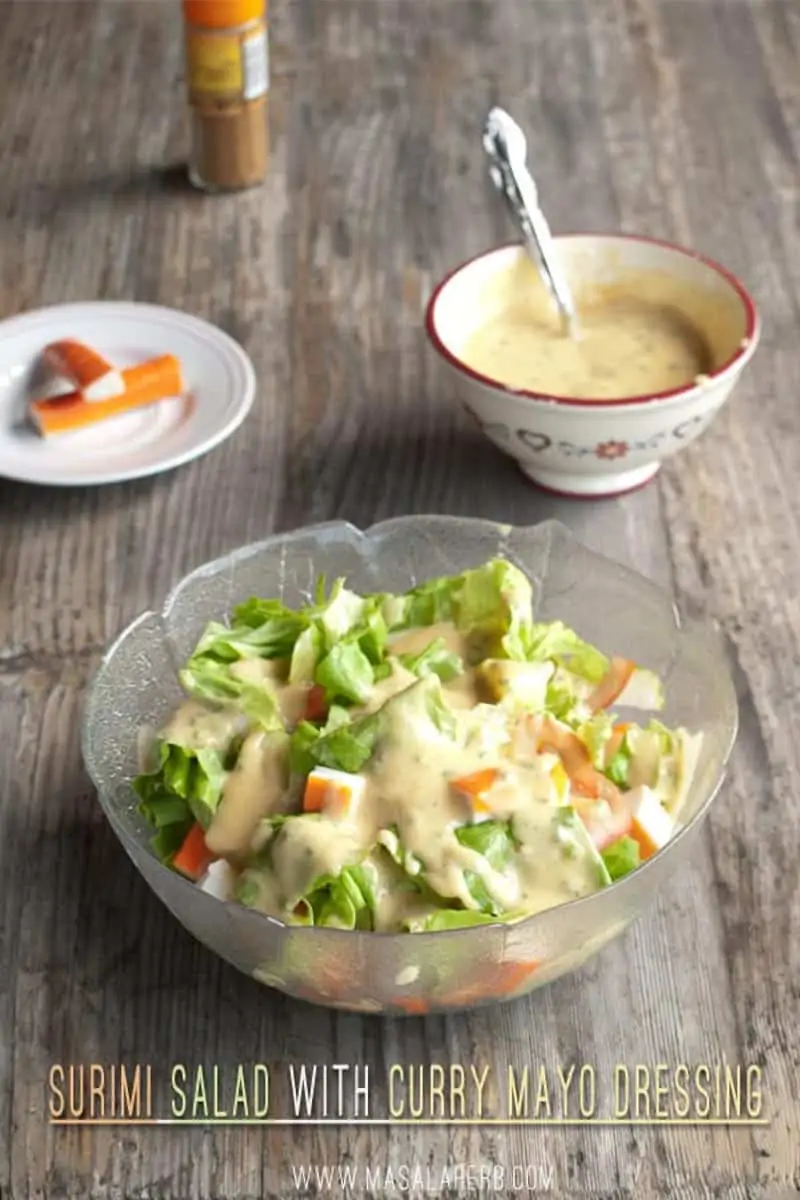 The surimi salad with curry mayo dressing by Masala Herb is inspired by French imitation crab sticks served with curry mayonnaise dip.
12. Thai Pomelo Imitation Crab Salad Avocados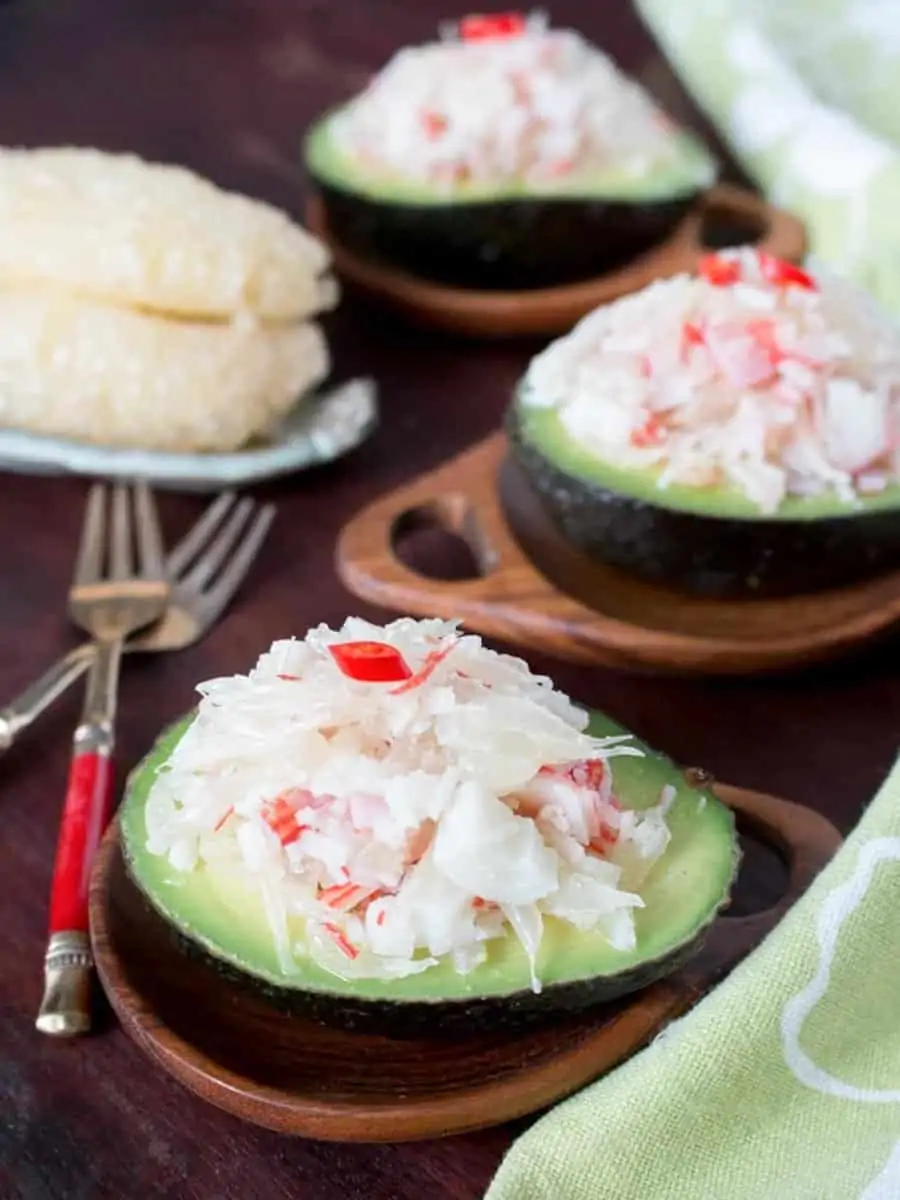 Following is this Thai Pomelo Imitation Crab Salad Avocados by Healthy World Cuisine.
Avocadoes are filled with delicate pink juicy pomelo fruits, crab meat and tossed with a simple spicy Thai salad dressing.
Lastly, serve it in portable avocado boats.
13. Imitation Crab Pasta with Pesto, Mushrooms, & Tomatoes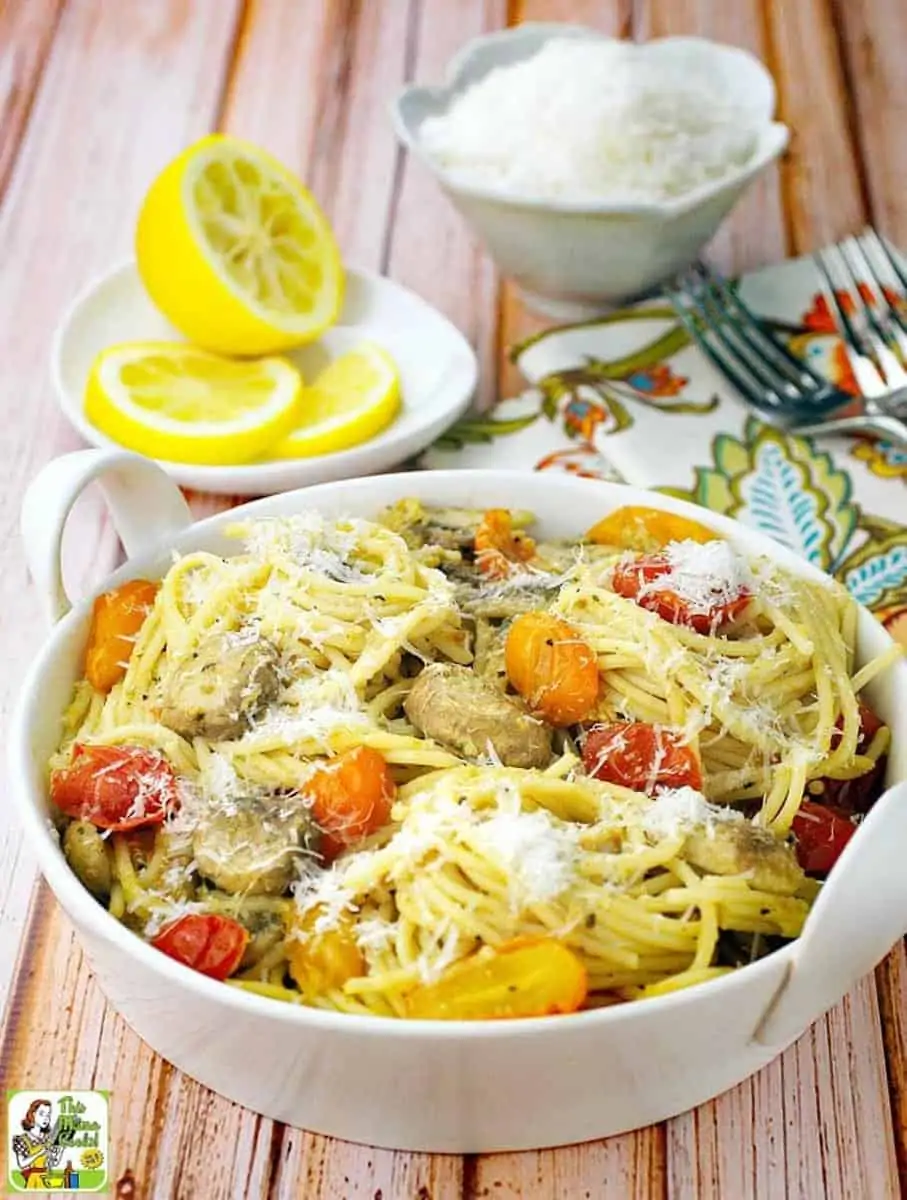 Finally we have this Imitation crab pasta recipe by This Mama Cooks.
It is gluten free and can be made with fresh crab OR imitation crab and pasta mix.
Using simple ingredients to make this recipe, you'll have a delicious dinner whipped up in no time!
For more delicious seafood recipes, click on over to:
Easy Crab Melts with Old Bay Seasoning
Keto Shrimp Alfredo with Tofu Shirataki Noodles
Maryland Crab Pizza: The Best Homemade Recipe