If you're an ahi tuna lover, you're going to adore these 7 amazing ahi tuna salad recipes!
Typically, ahi tuna, also called yellowfin tuna steak, is served raw, especially in Asian and Hawaiian dishes.
Not only is ahi tuna a lean protein with a delicious flavor, but also it is a great source of:
Protein
Selenium
Vitamin D
Phosphorous
Potassium
Vitamin B12
However, because of the mercury content, it is recommended that you limit eating tuna to twice a month.
Indeed, since you should only eat it twice a month, why not make the best recipes with it when you DO eat it!
Ahi Tuna Salad Recipes
Clearly, there's nothing better than a healthy, protein rich, delicious, satisfying ahi tuna salad recipe.
For this reason, I asked some amazing food bloggers to share with me their favorite ahi tuna salad recipes.
Obviously, they showed up and did not disappoint!
Can Ahi Tuna Be Eaten Raw?
Absolutely, ahi tuna can be eaten raw as long as it is sushi-grade or sashimi-grade tuna AND it is prepared properly.
All of the recipes listed in this post use fresh, sushi-grade/sashimi-grade raw or lightly cooked/seared ahi tuna.
Typically, ahi tuna is sliced into thin strips and seared just enough for them to still have a raw middle.
It should be noted, overcooking ahi tuna will dry it out, which is why it's better raw or seared.
What Does Ahi Poke Mean?
As you'll see in the below list, 5 of these 7 ahi tuna salad recipes are ahi poke recipes.
Poke (prounounced poh-kay, mm-kay?) recipes are recipes that use diced raw fish.
Although ahi tuna is the most popular, the type of fish in poke can also include:
Salmon
Octopus
Scallops
Imitation Crab
Shrimp
What Are the Main Ingredients in a Good Ahi Tuna Salad Recipe?
So, the beauty of making an ahi tuna salad is how versatile it is.
Indeed, you can add any of your favorite ingredients to it!
However, the main ingredients in an ahi tuna salad recipe are:
Ahi Tuna Steaks – raw, fresh tuna or seared tuna steak
Sesame Oil – to marinate the ahi tuna
Rice – the typical base for poke
Soy Sauce
Onion
Sauces – Wasabi, Spicy Mayo, Eel Sauce, Dragon Aioli
Each of the recipes in this post have their own special set of ingredients and flavor.
1. Spicy Ahi Poke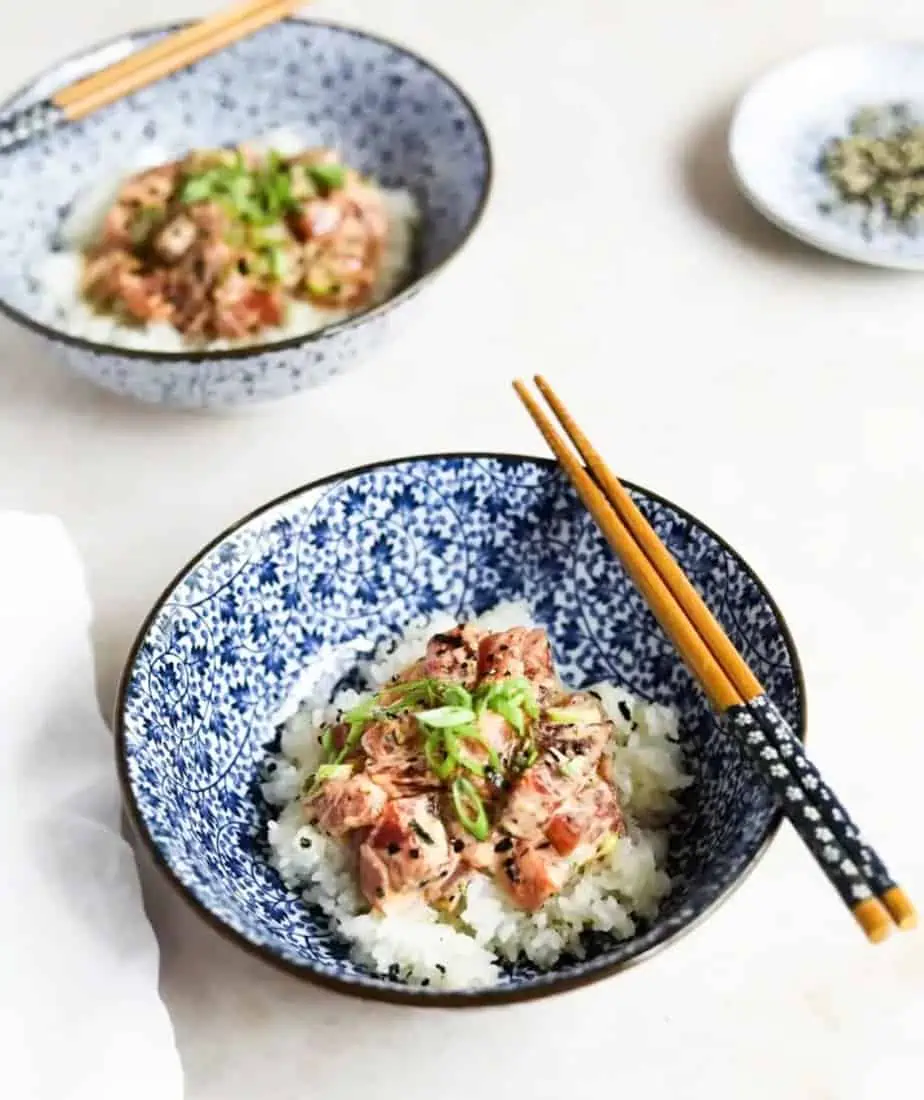 This Spicy Ahi Poke by The Heirloom Pantry is a light and refreshing recipe made with chunks of fresh sashimi grade ahi tuna and a spicy Kewpie mayo sauce.
Serve it on a bed of cooled Japanese rice and garnish with furikake (a dry Japanese condiment) and scallions for a delicious meal.
Ingredients that stand out in this specific recipe are:
Furikake & Togarashi – Japanese condiments
Mirin – a Japanese cooking wine
Scallions – used as a topping
2. Soy Free Ahi Poke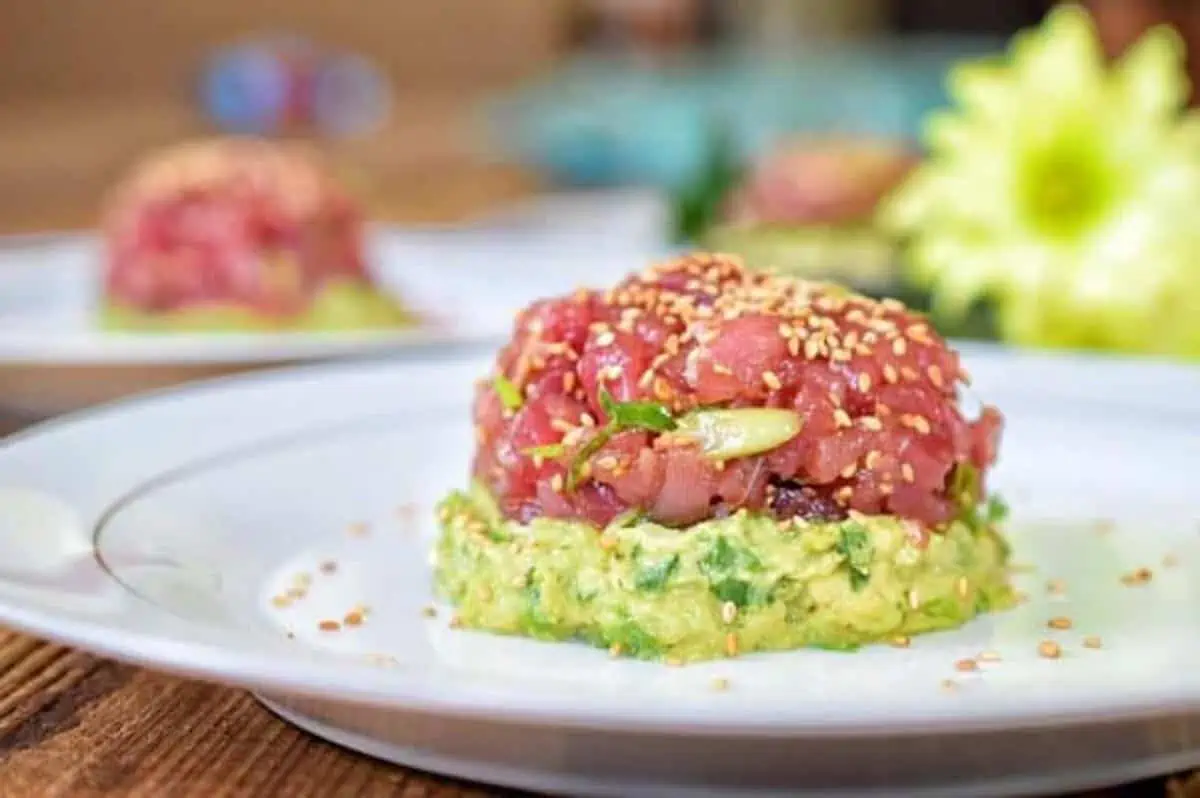 This Soy Free Poke by The Castaway Kitchen is a fresh and delicious no cook recipe!
Needless to say, you can enjoy this Hawaiian classic with a few allergy friendly modifications.
Ingredients that stand out in this specific recipe are:
Coconut aminos – to take the place of soy sauce
Toasted sesame seeds, green onion, and cilantro as toppings
3. Ahi Tuna Poke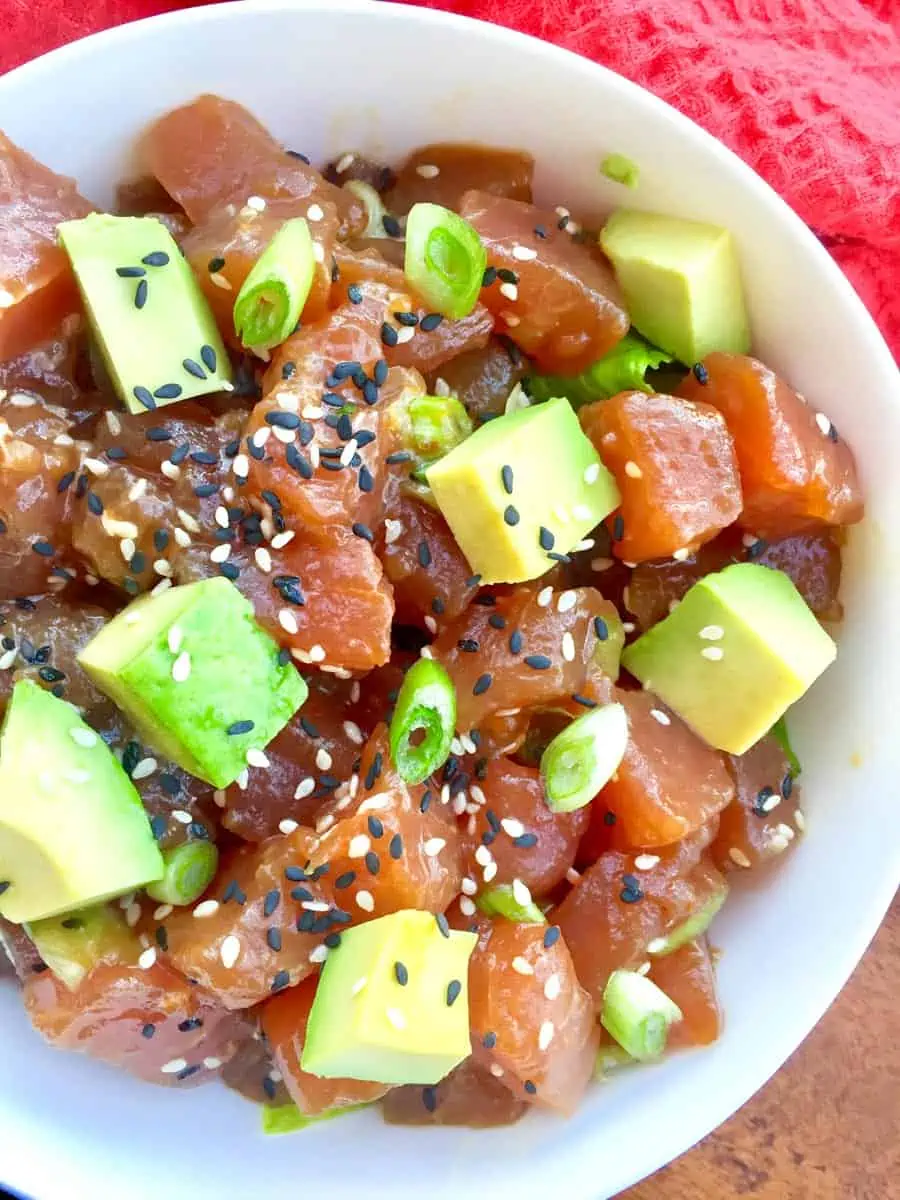 This Easy Ahi Tuna Poke from Kathryn's Kitchen Blog with avocado is low in sodium and is super simple to make!
Simply put, if you love fresh poke with a spicy twist, you will love this recipe!
Ingredients that stand out in this specific recipe are:
Sesame seeds
Red pepper flakes
Scallions
Avocado
Cucumbers
4. Homemade Tuna Poke Bowl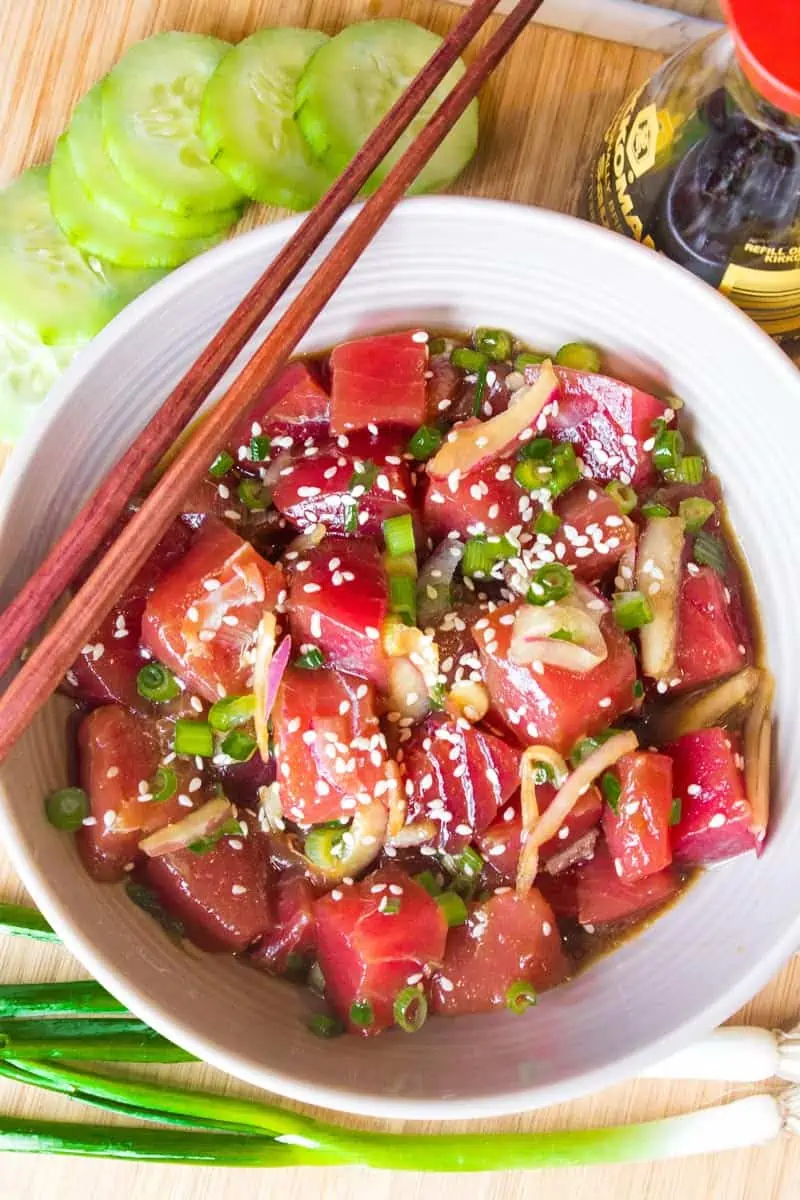 This Homemade Tuna Poke Bowl from Kathryn's Kitchen Blog recipe is so easy to make at home!
Not to mention, it's light, fresh, healthy and delicious!
Loaded with the freshest tuna and all the flavors you dream of in a homemade fresh poke bowl!
Ingredients that stand out in this specific recipe are:
Sesame seeds
Red onion
Cucumber slices
5. Ahi Tuna Salad Recipe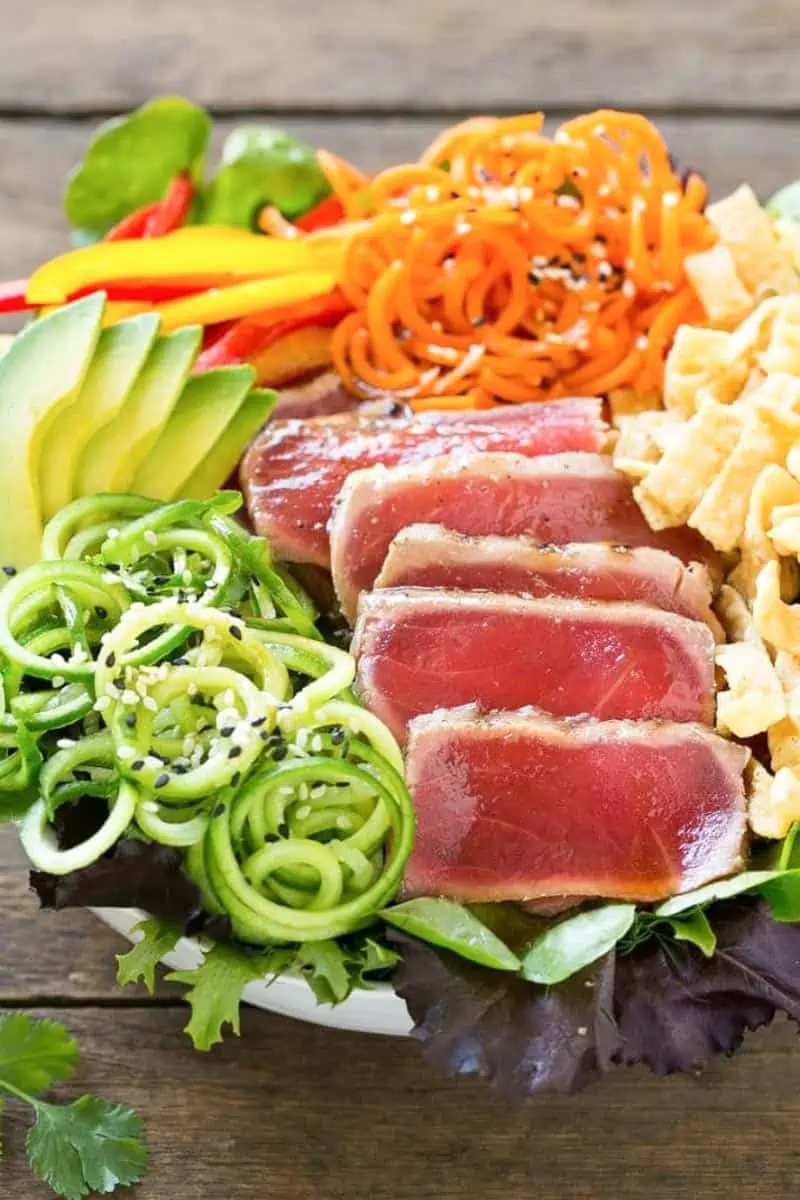 This recipe for Ahi Tuna Salad from Dinner at the Zoo is ahi with a nice sear on a bed of mixed greens with cucumber and carrot noodles, bell peppers, avocado and wontons.
Lastly, all of the ingredients are tossed in your own salad dressing, homemade with sesame oil and fresh ginger.
Ingredients that stand out in this specific recipe are:
Mixed salad greens
Bell peppers
Cucumber noodles
Carrot noodles
Strips of crispy wontons
Sesame seeds
Avocado
Fresh ginger & honey in the dressing
6. Chopped Asian Ahi Tuna Salad Recipe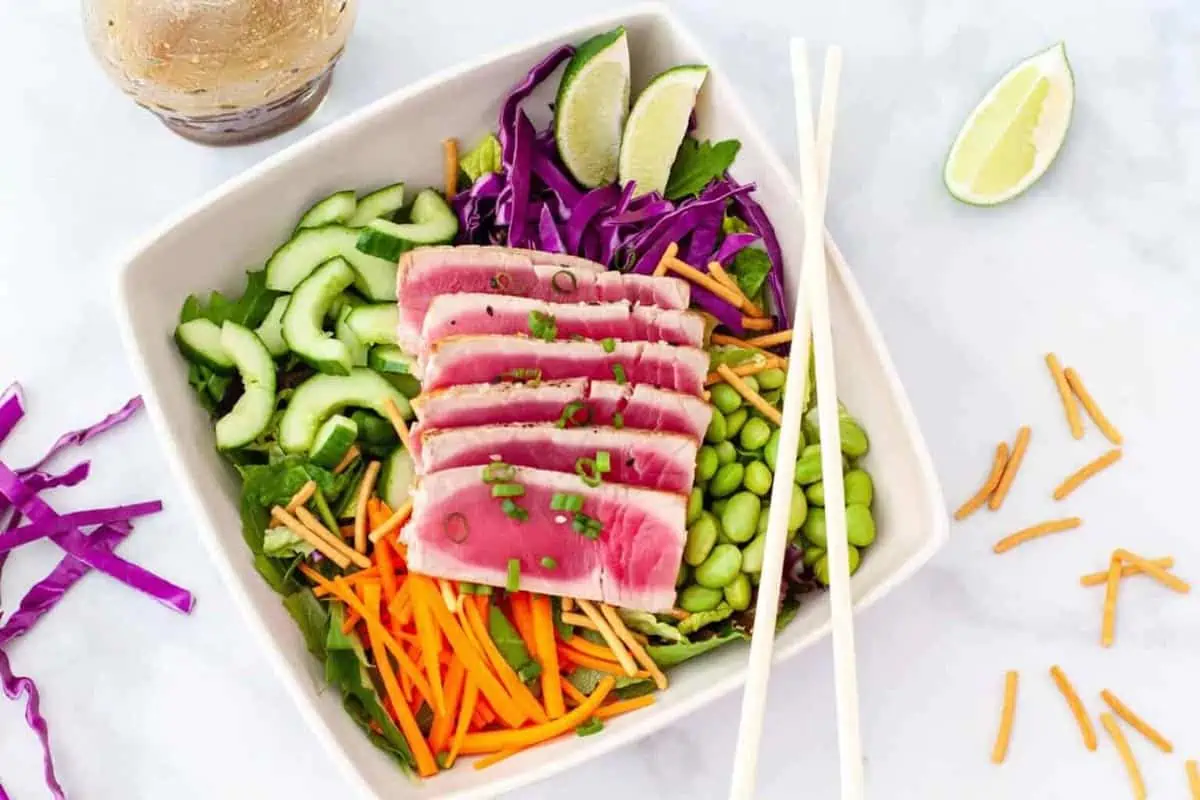 This delicious Asian chopped, seared ahi salad from Dishes with Dad is tossed in a soy ginger vinaigrette dressing and topped with thin slices of seared tuna.
Undoubtedly, it makes a great lunch or light dinner with tons of crunchy veggies.
Ingredients that stand out in this specific recipe are:
Romaine lettuce
Spring Mix
Red Cabbage
Cucumber
Carrots
Edamame
Chow mein noodles
7. Ahi Tuna Poke Bowl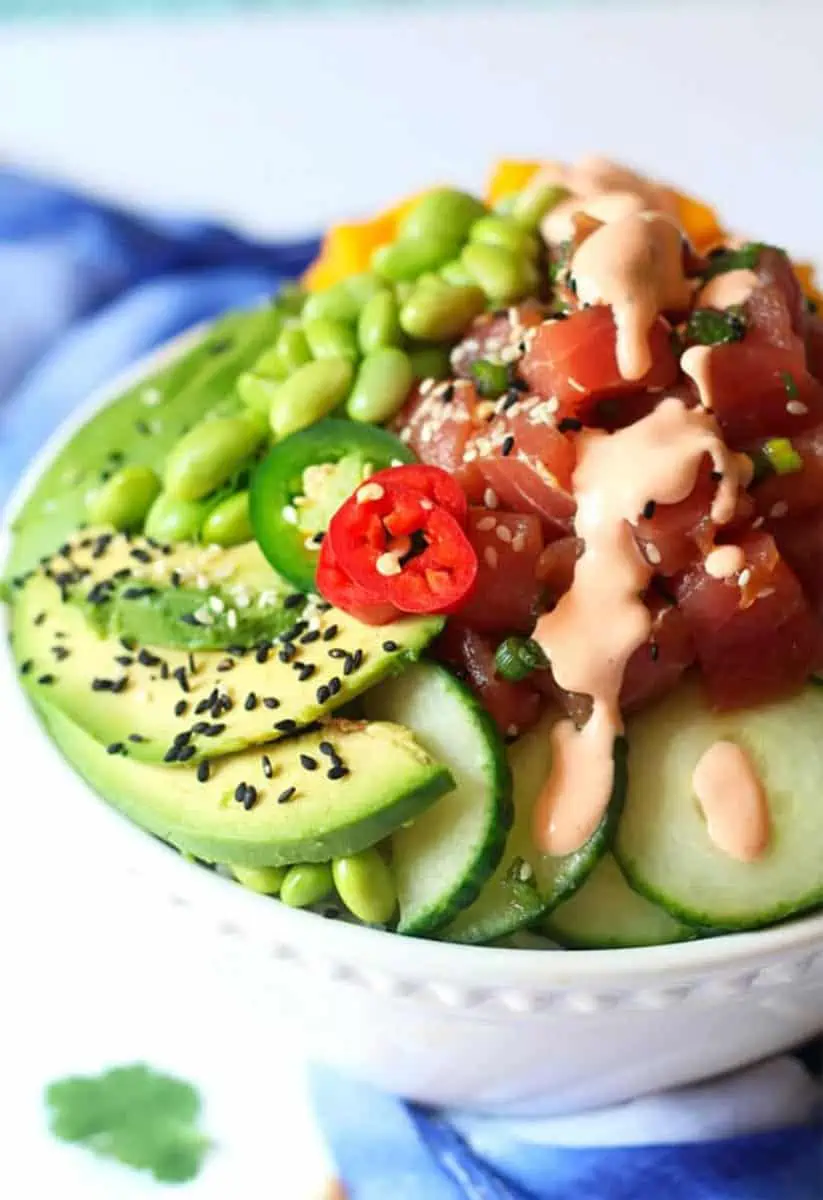 This Ahi Tuna Poke Bowl recipe from Lemon Blossoms is so easy to make at home!
Needless to say, because it's full of fresh ahi tuna, a citrus ponzu sauce, rice, cucumbers, avocado, edamame and mango, it's super healthy and delicious!
Ingredients that stand out in this specific recipe are:
Green onions
Avocado
Cucumber
Mango
Edamame
Jalapeno pepper
Cilantro
Macadamia nuts
Furikake
Orange juice
Sriracha
Finally, for more amazingly delicious, seafood recipes, click on over to:
Healthy Dirty Rice with Shrimp