Rita's Italian Ice in Frederick really is a pillar of happiness in our community of Frederick, Maryland.
If you are ever in a room of people, try this – yell out, "Who wants to go to Rita's?"

Chances are, most people will stop talking, followed by a chorus of "me! me!".
Rita's Italian Ice in Frederick, Md
If you don't know what Rita's Italian Ice is, let me tell you all about it!
What is Rita's Italian Ice?
Rita's Frederick is a tiny store with a bright, inviting storefront.
In the Spring, Summer, and even the beginning of Fall, you will see people lined up at Rita's.

Why? Because they want some of Rita's delicious, refreshing, fun, awesome Italian ice creations.
Can ya tell I'm a fan?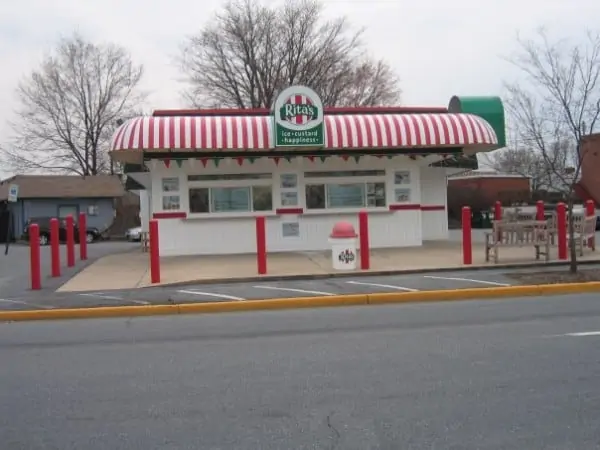 How Rita's Italian Ice Began
Rita's Italian Ice started out in the summer of 1984.
Bob Tumolo began selling Italian Ice, or water ice, from a small porch window in Bensalem, Pennsylvania.

With the goal of just earning a little extra income, he named the business after his wife, Rita.
There are now hundreds of Rita's across the country, as it is now a franchise!
How Rita's Italian Ice in Frederick, Md Began
Rita's Frederick was born in May of 1998.
Husband and wife team Frank and Toni Rovito opened the store and operated it with their daughter, Lori.
Lori is now the sole owner/operator.
How do I know all of this?
Well, being a huge fan of Rita's, I naturally followed them on social media.
Our Invitation to See Rita's Frederick
One day, Lori from Rita's Frederick tweeted us invited us to take a tour of the store!
Of course, we took her up on it and we got to see what's behind the service counter!

It kind of felt like peeking behind the curtain in the Wizard of Oz.
We got to see the magic happen!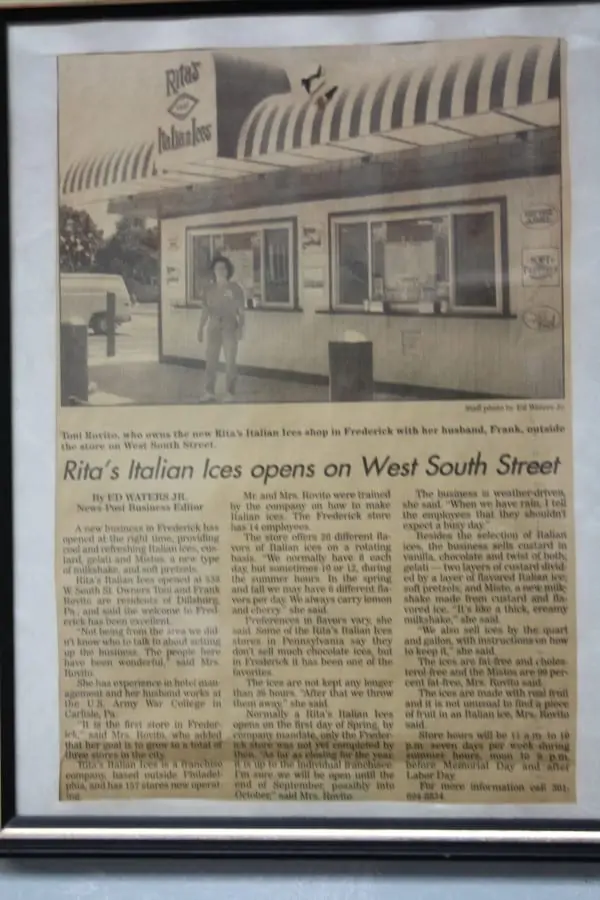 About the owner of Rita's Frederick
Let me, first, tell you a little about Lori.
She is everything you would want in the owner of Rita's.
She is extremely passionate and conscientious of her product, and of the service at Rita's!

Put it this way, out of the hundreds of Rita's across the country, Rita's Frederick was the top earner of 2013!
I believe Rita's Frederick has achieved this major goal in past years as well.
They also won Frederick Magazine's Best of Frederick 2014 award for best ice cream/frozen dessert (as she has in past years, as well!)
Lori has worked hard to determine which flavors are Frederick's favorites.
In addition, she strives to provide the best hometown service our wonderful town of Frederick, MD has come to love.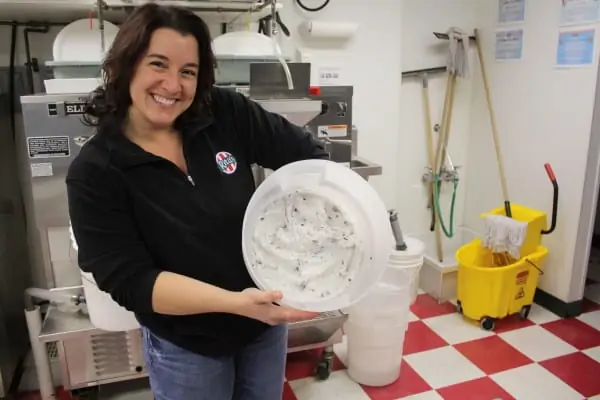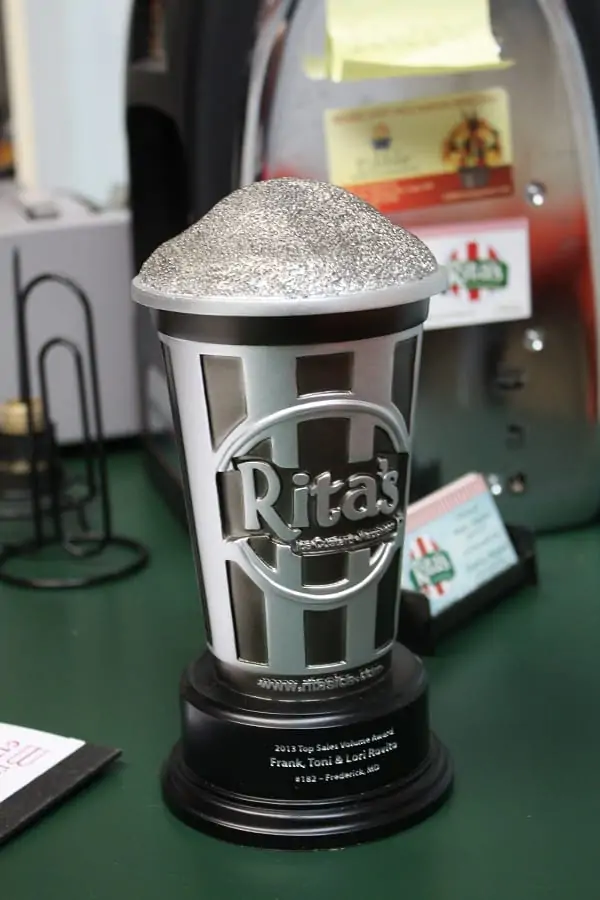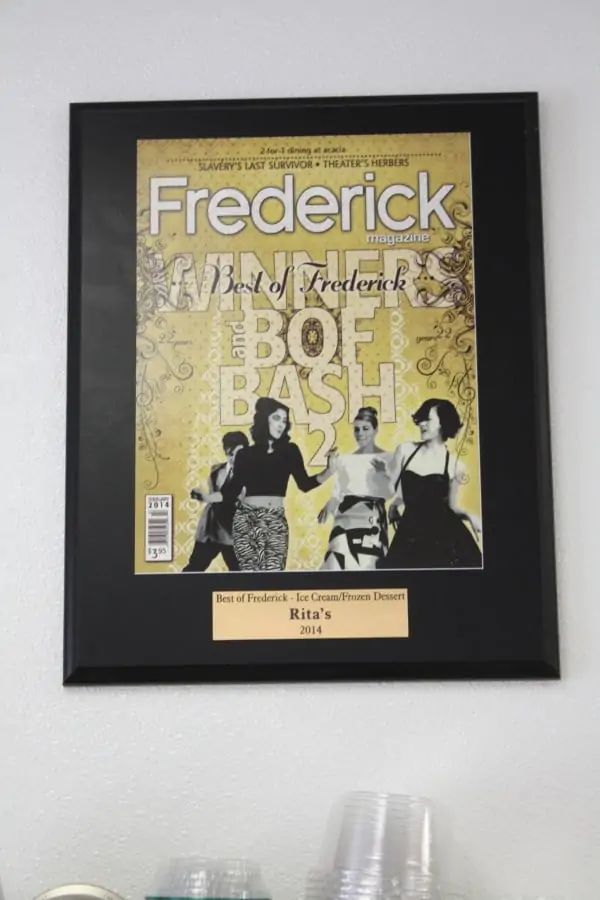 Can you guess which flavor is a favorite and is kept in the store as much as possible?
Mango!! Yummy!!!
Lori says that flavors with cherry, raspberry and strawberry in them are also very popular, as well as mint chocolate chip and root beer.
So, these flavors will most likely always be found at the store too.

Of course, new flavors are rotated in on a regular basis.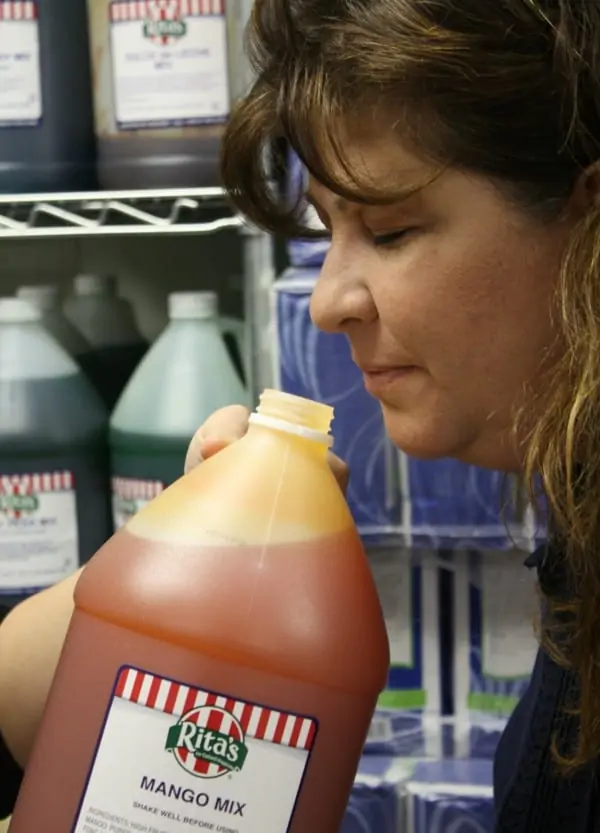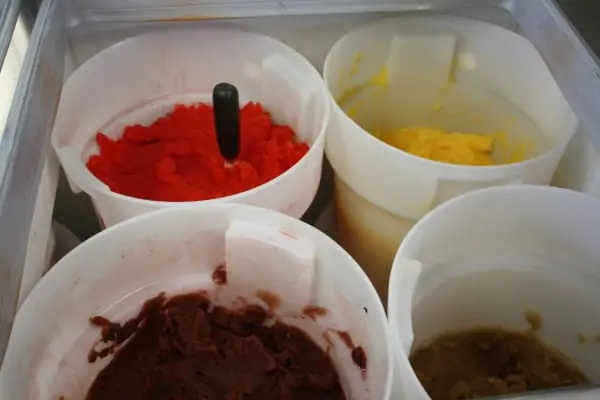 Getting a look behind the scenes at Rita's Frederick
During Pam's and my tour at Rita's we got to see the inner workings of how the treats at Rita's are made.
And, yes, everything is made right there in that little building.
There are specific recipes for each flavor of ice.
Each flavor has it's own designated syrup.
There are 3 large machines which mix all of the ingredients together into a specific consistency.
And each flavor is designated a particular consistency for optimal taste after trials and tests at the corporate level of Rita's.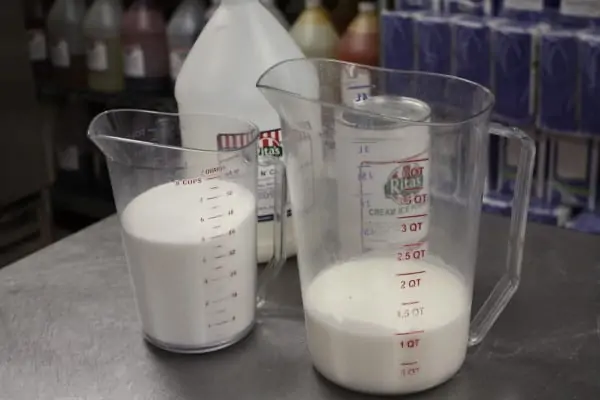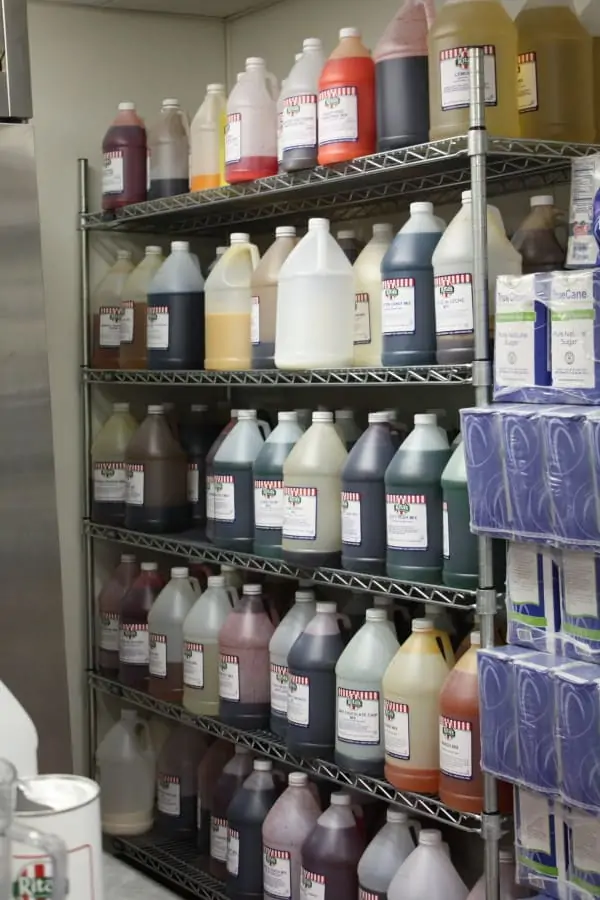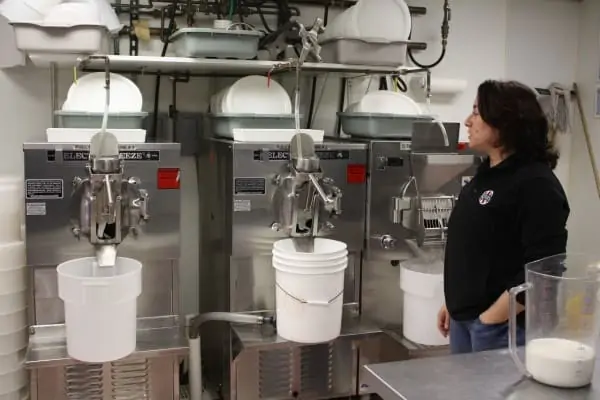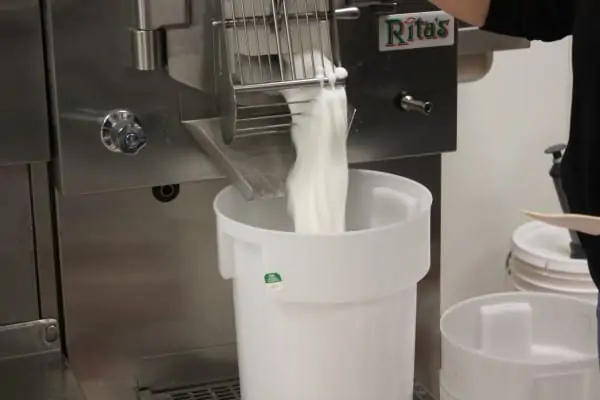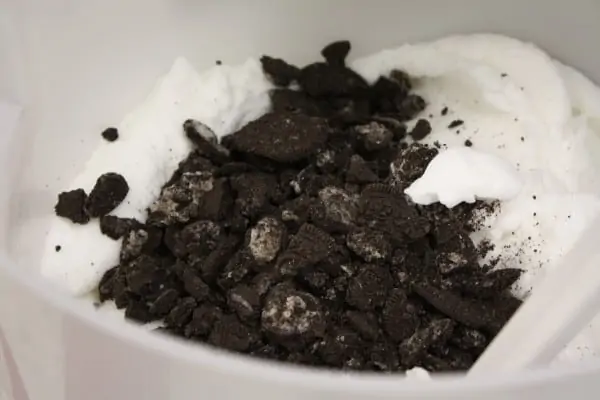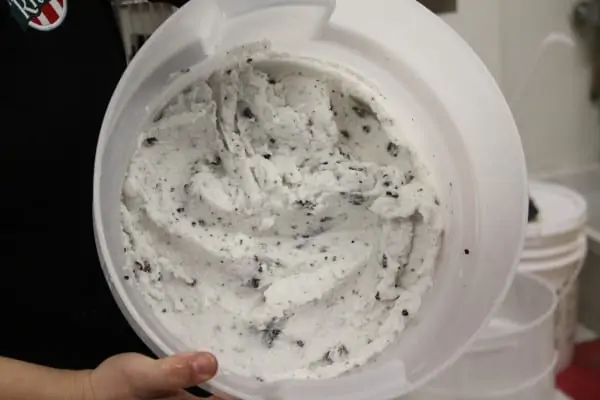 One detail that both Pam and I were very impressed with is the fact that once an ice is made and stored in a bucket-type container, it is not kept after 36 hours.
So, if it isn't sold, it must be thrown away.
This is the policy at all Rita's Italian Ice locations in order to provide the highest quality product.
Giving Back to the Community
A true community business not only provides a product and a service, but gives back to the community in some way.
Lori and her Rita's Frederick does not disappoint in this department.
As a matter of fact, on opening day of the 2014 season, Lori donated ALL of the proceeds of her sales to charity.
And not just any charity – 3 local charities that customers voted for via social media!!
This is just one example of how much Lori and Rita's Frederick have given back to the community.
Don't take my word for it – go check out their website, "like" their Facebook page, follow them on Twitter, and follow them on Instagram!
You will get to be in the loop for all of the fun goings-on that Rita's has to offer, as well as fundraising opportunities!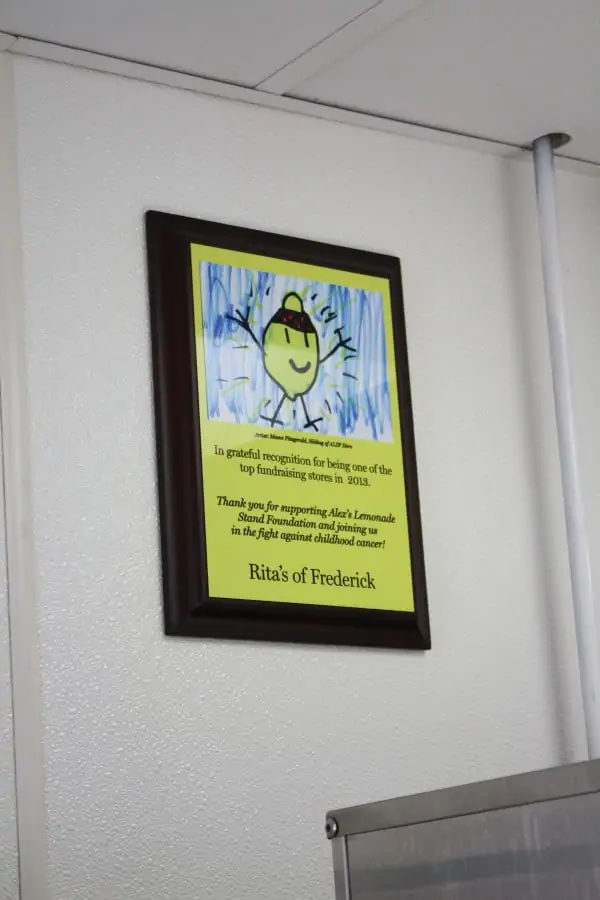 The last thing we talked with Lori about was the service at Rita's.
She said she just hired some kids for the season and views them as "her kids".
She holds them to high expectations to represent Rita's Italian Ice in the best way.
But she adds that most customers who visit Rita's are happy to be there anyway.
So, in general, it's just a happy place inside and out!
If you haven't experienced Rita's Frederick, and you're looking for a fun, refreshing, deeeelicious treat – go to Rita's!
You will love the sweetness it adds to your life 🙂