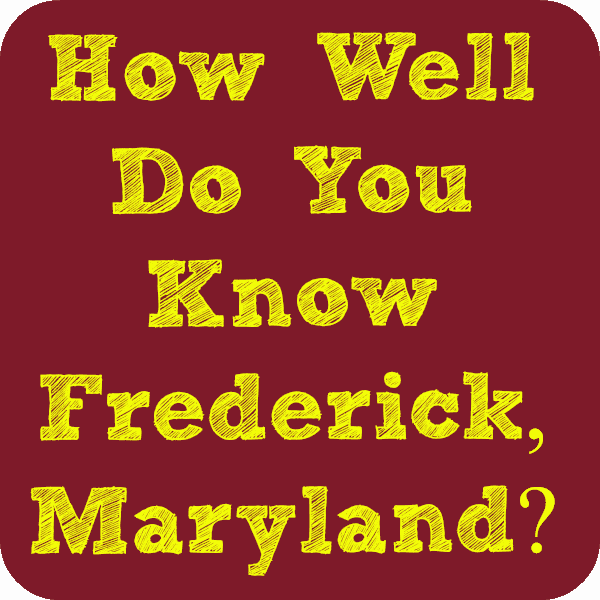 My sister-in-law was recently cleaning out some old books and came across a book that she thought my son would be interested in reading. It's called Maryland Trivia.  This book has 191 pages of questions and answers pertaining to Maryland's geography, entertainment, history, arts & literature, sports & leisure, and science & nature.  
I flipped through the book and pulled out all of the questions and answers pertaining specifically to Frederick, Maryland.  The copyright date is 1992, so it's a little dated, but the Frederick trivia I've included is still relevant today. 
So, how well do you think you know Frederick?
I've listed the questions first and the answers are at the end of this blog post.
If you get all of these right, you are a total Frederick, Maryland Rock Star!
So here goes.  See how many you can get right!
Frederick, Maryland Trivia Questions:
Where did Frederick, Maryland native, Francis Scott Key write our national anthem? 

Which small town in Frederick County is sometimes called Maryland's antique capital?

What is the name of the presidential retreat in the Catoctin Mountains?

What is the name of the prestigious liberal arts college in Frederick?

Where is St. Elizabeth Seton, the first U. S. born citizen canonized by the Vatican, buried?

What state park contains the only monument in the world dedicated to war correspondents?

What former chief justice of the U.S. lived at 123 South Bentz Street in Frederick?

Which Frederick County bridge, built in 1808, collapsed in 1942?

What caverns are near Boonsboro?

The Fallen Firefighters Memorial is in what town near the Pennsylvania border?

In what Frederick cemetery is Francis Scott Key buried?

Near what town is there a replica of the Grotto of Lourdes?

What is the name of the U.S. Army Medical Command Installation in Frederick County?

Mount St. Mary's, the second oldest Catholic college in the United States, is located in what Frederick County town?

The county seat of Frederick County is in which town?

What Frederick town was once known by the romantic name "Poplar Fields"?

Which Frederick County town celebrates its heritage with a Railroad Renaissance Festival each October?

Which Frederick County town is the Catoctin Colorfest held?

Which Boonsboro restaurant was occupied by Confederate general D. H. Hill during the Battle of South Mountain?

Which Thurmont restaurant was inundated by Soviets when Premier Brezhnev visited Camp David in 1979?

Which Frederick County town has a shopping district called Shab Row? 

At which Maryland Civil War battle did the Union repel the first Confederate invasion of the North?

During which war was Frederick native Winfield Scott Schley called the "hero of Santiago"? 

Citizens of which small Frederick County town erected a monument to George Washington on South Mountain in 1827?

What is the largest religious group in Frederick County? 

Which battle was fought in Frederick, Maryland on July 9, 1864 to prevent a Confederate invasion of Washington, DC?

Which Civil War battle was fought in Maryland three days before Antietam?

What famous world leader accompanied President Franklin Roosevelt for a tour of the Barbara Fritchie House in Frederick? 

What was Francis Scott Key's occupation at the time he wrote the national anthem?

Over whose grave in Frederick does the American flag fly day and night?

Which Frederick native wrote History of Maryland, which covers the years 1634 to 1848?

Which Natalie Carlson novel takes place at the Visitation Academy in Frederick? 

Maryland novelist Barbara Mertz endowed a $100,000 scholarship fund to encourage minority students interested in writing mysteries at what Frederick college?

How many eighteenth and nineteenth century buildings are preserved in the Frederick Historic District?

What is the name of the stadium in Frederick where the Frederick Keys play minor league baseball?

How many miles does the Appalachian Trail run in Frederick?
Frederick, Maryland Trivia Answers:
Fort McHenry

New Market

Camp David

Hood College 

Emmitsburg

Gathland State Park – see our Exploring Burkittsville, MD post.

Roger Brooke Taney

Jug Bridge over the Monocacy River 

Crystal Grottoes

Emmitsburg

Mount Olivet Cemetery – see our Historic Mount Olivet Cemetery post HERE. 

Emmitsburg

Ft. Detrick 

Emmitsburg

Frederick

Emmitsburg

Brunswick

Thurmont

Old South Mountain Inn

Cozy Restaurant

Frederick 

Battle of South Mountain

Spanish-American War  

Boonsboro

Lutheran 

Battle of Monocacy

Battle of South Mountain

Winston Churchill 

Lawyer

Francis Scott Key

James McSherry

Luvvy and the Girls

Hood College 

2,400

Harry Grove Stadium 

16.83 miles
So how many did you get right?  How many did you have no idea how to answer?  I know there were many that I didn't know the answer to.  One thing I do know though – Terri and I have so much more exploring and researching to do all around Frederick!  This trivia list just scratched a tiny tiny surface of what our historically rich town of Frederick, Maryland has to offer.
If you would like for us to include other trivia questions in this post, let us know by commenting!
*Please note that all of the black and white photos came out of a book called Pictorial History of Frederick Maryland, The First 250 Years 1745 – 1995.  An amazing must-buy book that has so much more information and pictures than what is in this post.

Pam is married and has 1 son – a middle-schooler in his teen years. She followed Terri to Frederick in 1999. She absolutely loves going to yard sales and estate sales and finding hidden treasures.
read more...