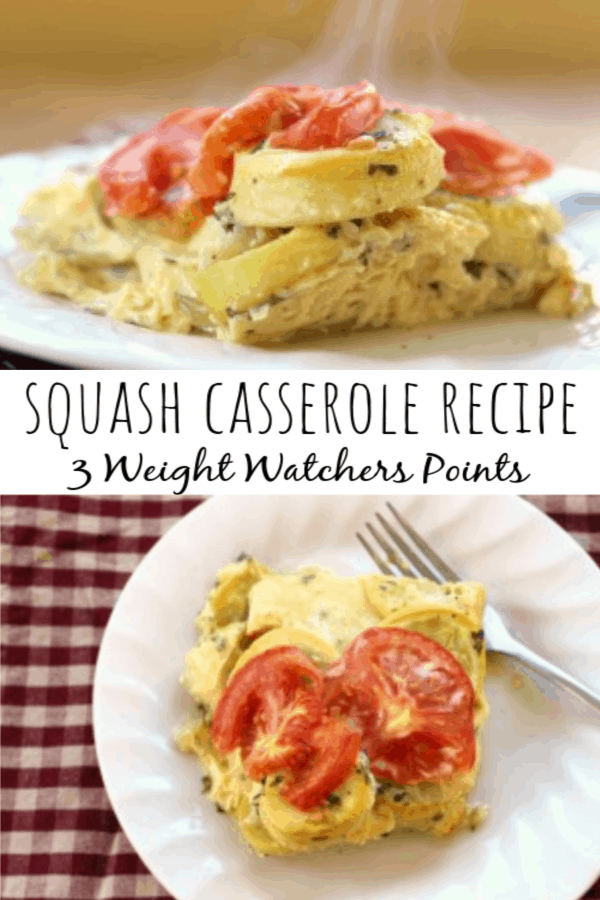 This Squash Casserole recipe is the perfect dish to make when you've got a lot of good fresh yellow squash on hand and want to make something delicious and healthy!
Because this dish is made up of mostly squash and tomatoes, the calories per serving are very low, which means you can eat a lot of it!
Squash Casserole Recipe
Terri and I are 'back on the wagon' and have started going back to Weight Watchers meetings.
Weight Watchers has a new plan called Simple Start where you eat off of their list of 'power foods' for 2 weeks.
Weight Watchers Simple Start Plan
You don't track.
You just eat off of that list.
We did that and are now in our 3rd week.
Both of us have lost weight and are back on track.
Not tracking.
Just on track.
I might eventually go back to tracking.
Weight Watchers Power Foods: Simply Filling
After the 2 week Simple Start, you can choose to remain eating from their list of power foods, which is called their Simply Filling plan OR you can start tracking points.
You can even alternate days.
One day eat Simply Filling foods and then the next day track points.
Thus, the beauty of Weight Watchers.
It truly does give you a lot of freedom to cater to your individual strengths.
Squash Casserole Recipe is Perfect for Weight Watchers
This Squash Casserole recipe can work for the Weight Watchers Points Plus Plan or their Simply Filling plan.
I received this recipe in the mail along with other recipes sent to me by the American Diabetes Association.
It came out of one of their cookbooks.
I do not have Diabetes and I pray that I never get it.
However, the ADA's food recommendations are good for anybody who wants to eat healthy.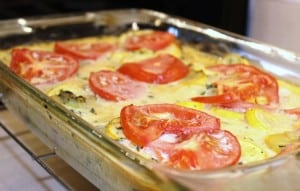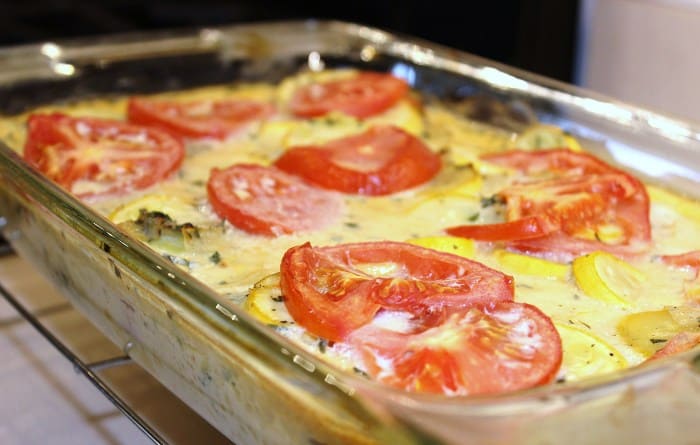 Squash Casserole Recipe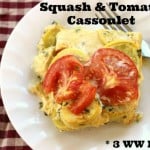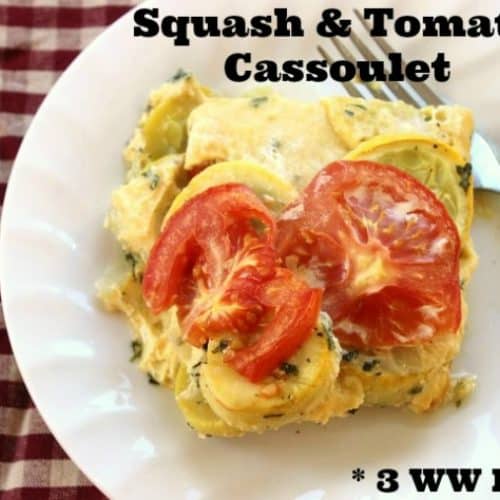 Print Recipe
Squash Casserole Recipe – 3 Weight Watchers Points Plus Value
3 Weight Watchers Points Plus Value
Ingredients
- 1 Tbsp. olive oil

- 6 small yellow squash

sliced

- 1 medium onion

minced

- 2 garlic cloves

minced

- 2 Tbsp. chopped parsley

- Fresh-ground pepper

- 2 medium tomatoes

sliced

- 1 cup egg substitute

- 1 cup evaporated fat-free milk
Instructions
Preheat the oven to 350 degrees.

Heat the oil in a large skillet over medium heat. Add squash, onion, and garlic, and saute for 5 minutes. Add parsley and pepper.

Layer squash mixture and tomatoes in a casserole dish. Combine egg substitute with evaporated milk, blending well and pour over vegetables. Bake for 20 to 25 minutes or until custard is set. Remove from oven, and let cool slightly before serving.
Notes
3 Weight Watchers Points Plus Value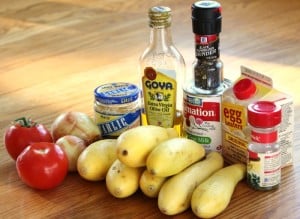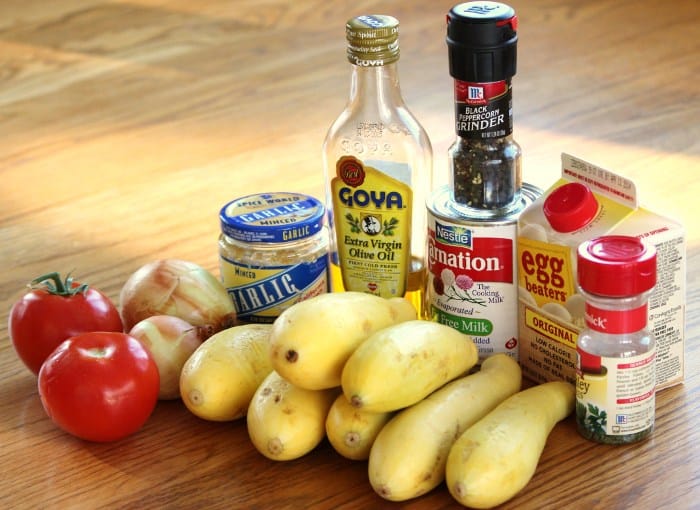 Squash Casserole Recipe Tips
This recipe says to bake for 20 to 25 minutes.
BUT, it took mine 50 minutes before it cooked through.
Just make sure to keep checking it after the 20 to 25 minutes, as all ovens are different.
It turned out really good!
Of course you really need to like squash and tomatoes to like this recipe because that is the bulk of the ingredients.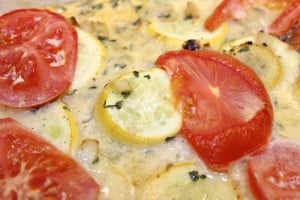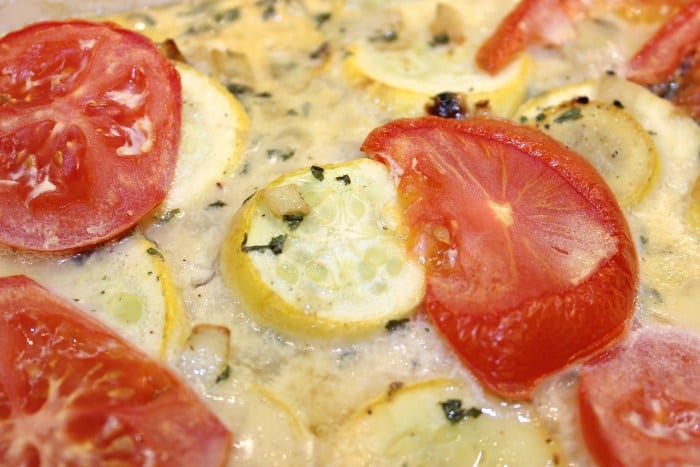 When I make it again, I will probably add more egg substitute to it to make it more of a frittata type dish.
The egg that the recipe calls for was a sufficient amount, but I would have liked the squash-to-tomato-to-egg ratio to have been more equal.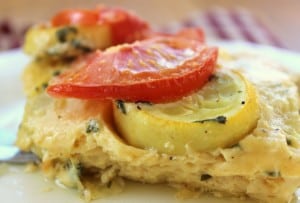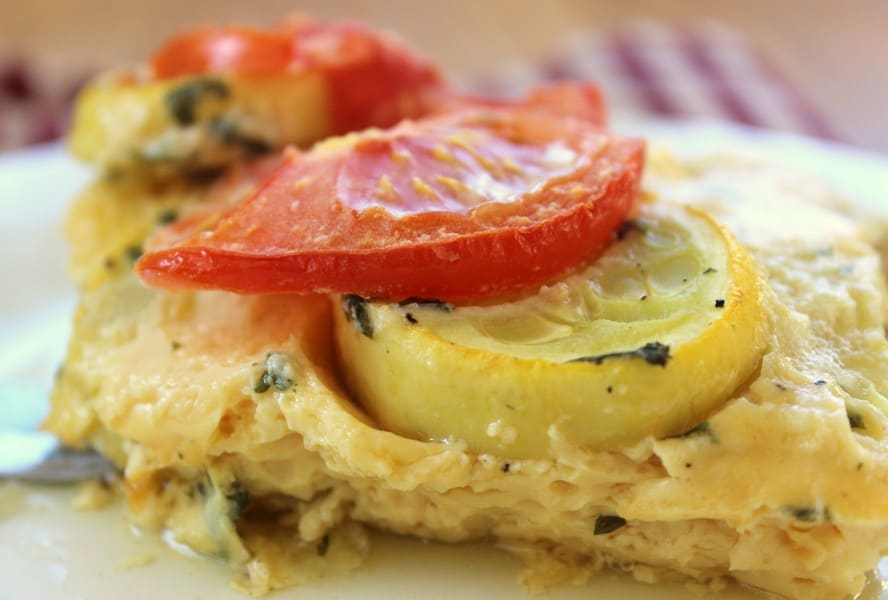 But mmmm, it's very tasty and a great side dish option!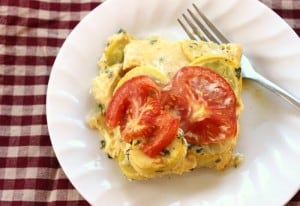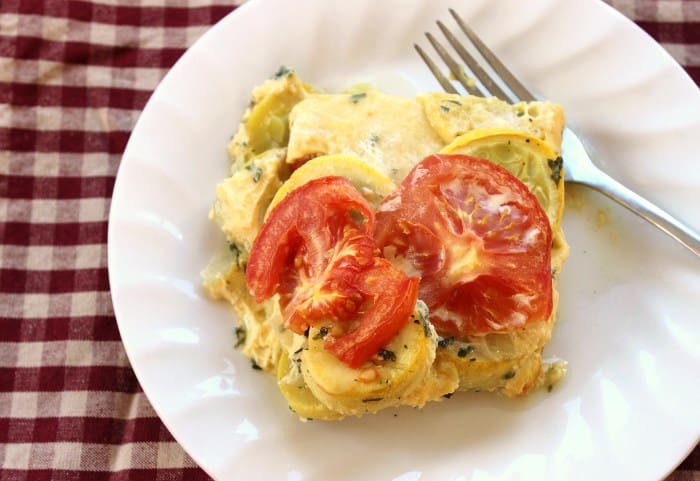 So next time you're in the mood for something a little bit different, that has some good protein (this recipe has 8 grams of protein per serving) and is still healthy, try out this Squash Casserole recipe.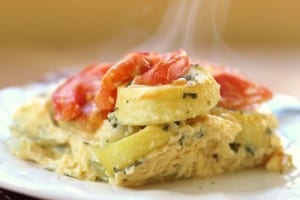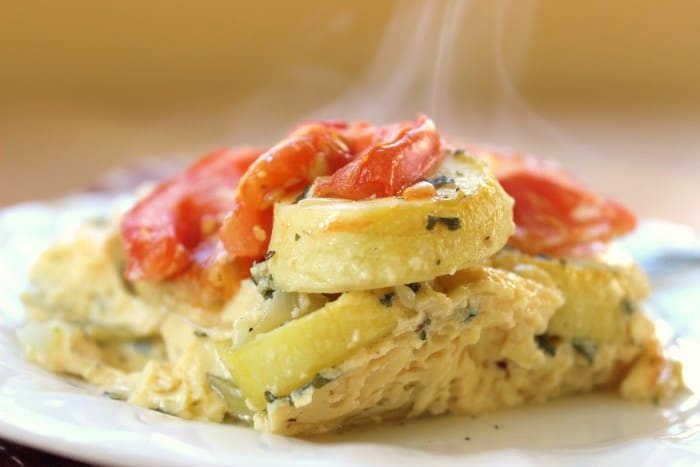 You'll definitely go for seconds!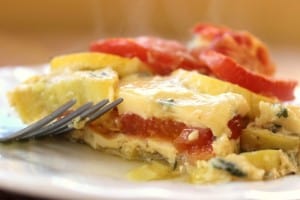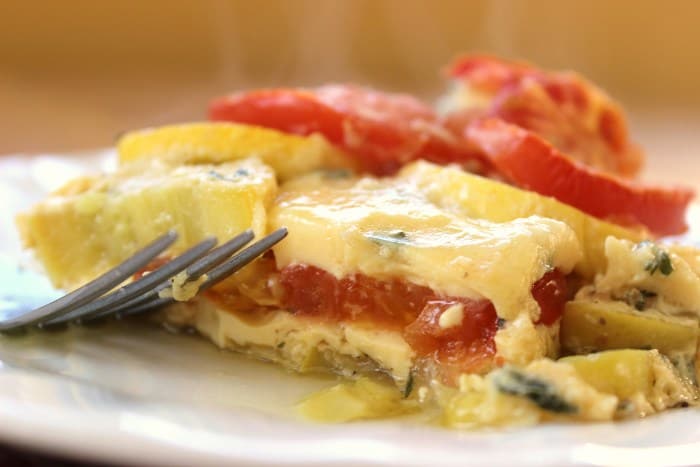 For more delicious Weight Watchers friendly recipes, click on over to:
Weight Watchers Zucchini Muffins – Bite Size Mini Quiches
Asparagus Orzo Soup – 2 Weight Watchers Points Plus Value
Green Bean Salad Recipe – 3 Weight Watchers PPV