This Keto Squash Casserole recipe is the perfect dish to make when you've got a lot of good fresh yellow summer squash on hand and want to make something delicious and healthy!
Because this dish is made up of mostly squash and tomatoes, the calories per serving are very low, which means you can eat a lot of it!
So whether you're on Weight Watchers or you're eating keto or low carb, we've got you covered!
Each serving of this Keto Squash Casserole is only 2 WW SmartPoints and has 5.5 grams of carbs and 7 grams of protein!
Keto Squash Casserole
Is Squash Casserole Keto Friendly
By all means, not all squash casseroles are created equal!
For instance, the traditional squash casserole that we all know and love has LOTS of butter and crushed crackers on top.
Although that sounds like total nirvana to me, it's definitely not keto friendly!
I found this gem of a recipe in a pamphlet that had been sent to me by the American Diabetes Association.
It totally fits the bill, not just for those with Diabetes, but also for those of us who want to stay on our healthy eating plans!
Needless to say, the ADA's food recommendations are good for anybody who wants to eat healthy.
How To Make Keto Squash Casserole
I'm going to give you the easy steps for making this delicious yellow squash casserole!
Ingredients:
Olive Oil
Yellow Squash – I use 6 to 7
Onion – I use 2 medium
Garlic – I always keep minced garlic on hand
Parsley – It tastes better with fresh parsley
Salt & Pepper
Tomatoes – 2 medium fresh tomatoes
Egg Substitute – I used Egg Beaters, but you can use any brand
Evaporated Milk – I used Fat Free because it has less fat, less calories, and more protein vs. whole evaporated milk

Step 1: Preheat Oven to 350 Degrees & Heat Oil in Large Skillet
This is pretty self-explanatory!
The larger the skillet the quicker you will cook your ingredients.
This Rachel Ray 14″ skillet (Amazon) is perfect for the job!
Step 2: Add Squash, Onion, & Garlic
Then saute the squash, onion & garlic for 5 minutes.
After that, add your fresh parsley, salt & pepper and heat through by mixing with a wooden spatula.
This Wooden Utensil Set (Amazon) is great for all of your cooking needs!
Step 3: Layer Squash Mixture & Tomatoes
Using a casserole dish, like this Glad 2.3 quart oblong baking dish (Amazon), alternate layering your squash mixture and then your sliced tomatoes.
I try to have my sliced tomatoes as the last layer on the top.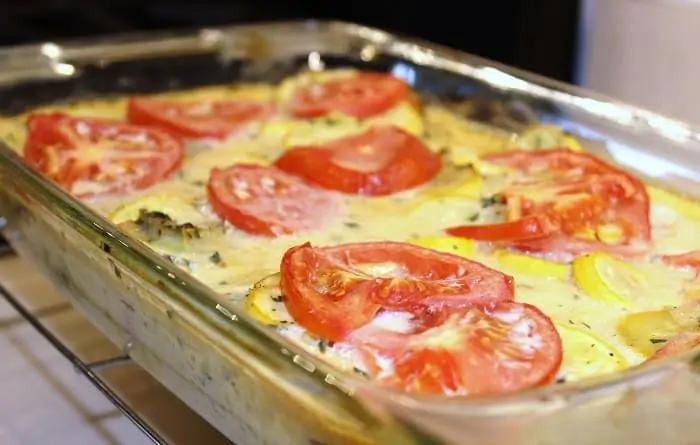 Step 4: Combine Egg Substitute with Evaporated Milk
Blend your egg substitute well with the evaporated milk.
Then, pour this mixture over the layered squash & tomato casserole.
Step 5: Bake For 20 To 25 Minutes
Be sure to check the casserole after baking for 20 to 25 minutes to make sure that the custard is set.
In my case, it took longer than 25 minutes.
Then, remove from the oven and let it cool slightly before serving.
Recipe Tips
This recipe says to bake for 20 to 25 minutes.
BUT, it took mine 50 minutes before it cooked through.
Just make sure to keep checking it after the 20 to 25 minutes, as all ovens are different.
It turned out really good!
Of course you really need to like squash and tomatoes to like this recipe because that is the bulk of the ingredients.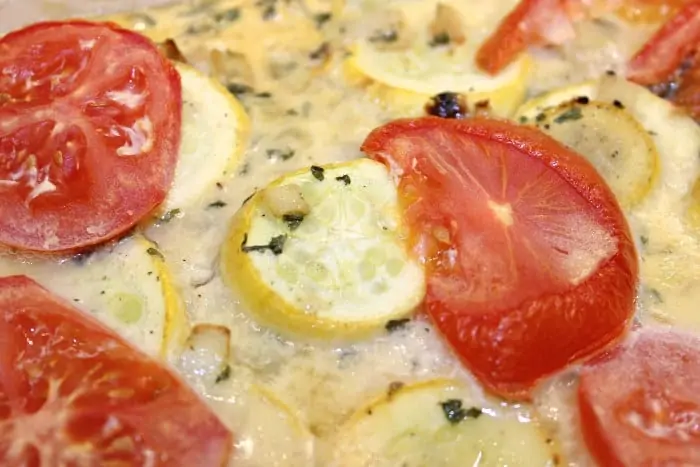 When I make it again, I will probably add more egg substitute to it to make it more of a frittata type dish.
The amount of egg that the recipe calls for was a sufficient amount, but I would have liked the squash-to-tomato-to-egg ratio to have been more equal.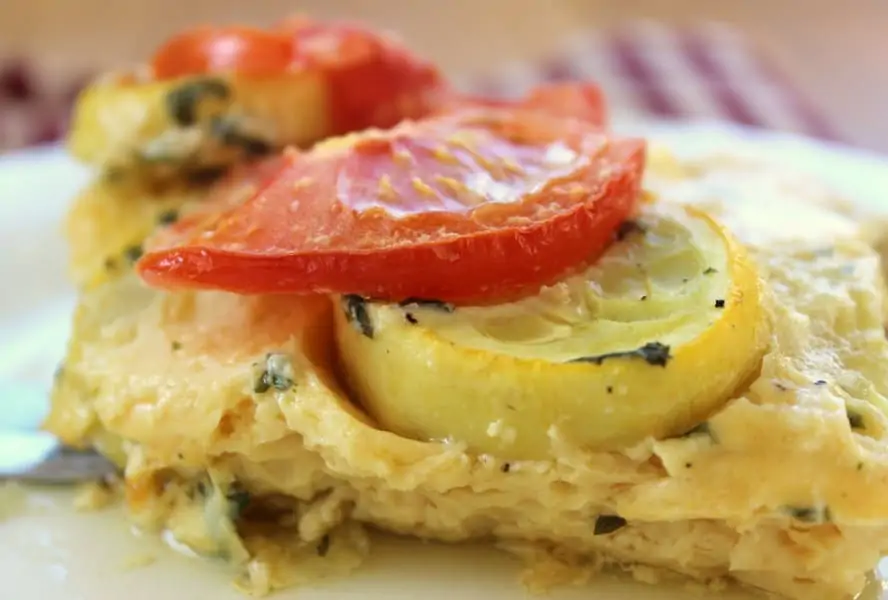 But mmmm, it's very tasty and a great side dish option!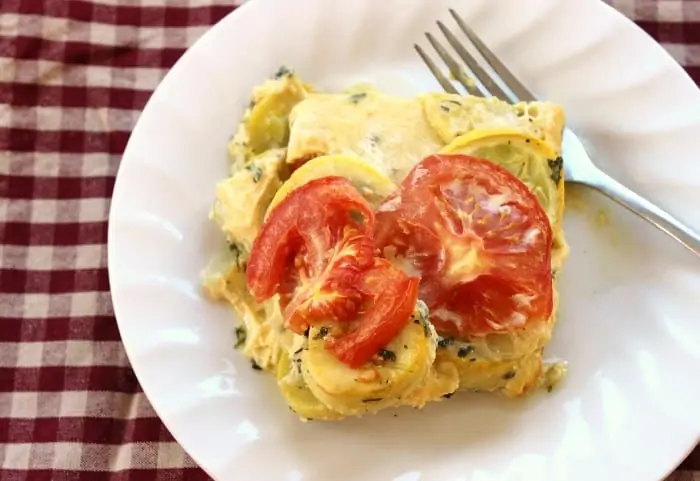 So next time you're in the mood for something a little bit different, that has some good protein (this recipe has 7 grams of protein per serving) and is still healthy, try out this Squash Casserole recipe.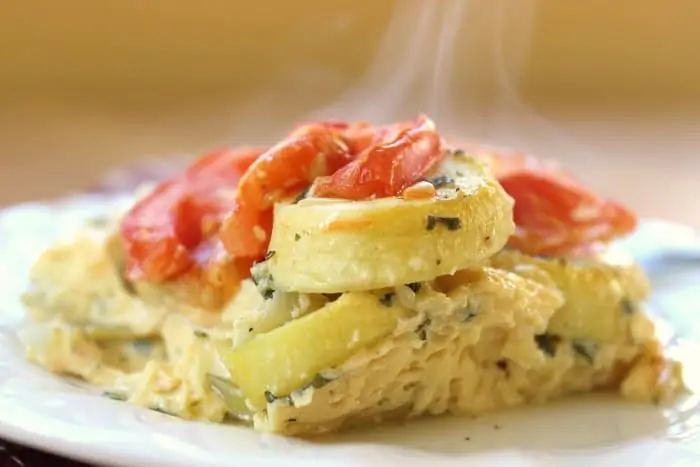 You'll definitely go for seconds!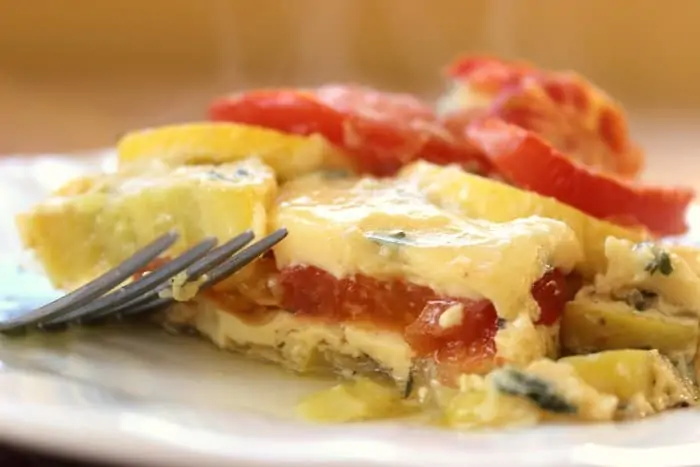 Keto Squash Casserole Recipe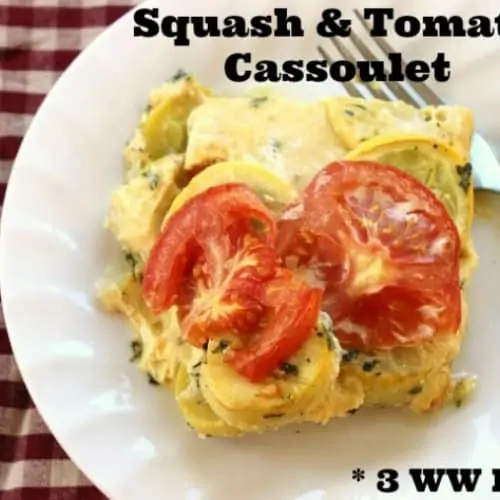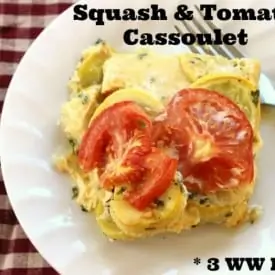 Keto Squash Casserole Recipe
A healthy, delicious way to take advantage of the bounty of yellow squash while it's in season. Great for Weight Watchers, Diabetics, Keto and Low Carb.
Ingredients
1

tbsp

Olive oil

6

Yellow squash, small, sliced

1

Onion, medium, minced

2

cloves

Garlic, minced

2

tbsp

Parsley, chopped

Salt & Pepper to taste

2

Tomatoes, medium, sliced

1

cup

Egg substitute

1

cup

Evaporated fat-free milk
Instructions
Preheat the oven to 350 degrees.

Heat the oil in a large skillet over medium heat. Add squash, onion, and garlic, and saute for 5 minutes. Add parsley, salt and pepper.

Layer squash mixture and tomatoes in a casserole dish. Combine egg substitute with evaporated milk, blending well and pour over vegetables. Bake for 20 to 25 minutes or until custard is set. Remove from oven, and let cool slightly before serving.
Notes
2 WW SmartPoints
5.5 g Carbs
7 g Protein
For more delicious WW friendly recipes, click on over to:
WW Zucchini Muffins – Bite Size Mini Quiches
Asparagus Orzo Soup – WW SmartPoints
Green Bean Salad Recipe – WW SmartPoints