Being that it's apple picking season, I set out to find the best apple cake recipe I could find!
Clearly, if you're going to take the time out to travel to an apple orchard, go out on foot to the trees, pick you some apples, and bring them home, you better find some darn good apple recipes!
And this particular apple recipe "takes the cake" in a good way!
The Best Apple Cake Recipe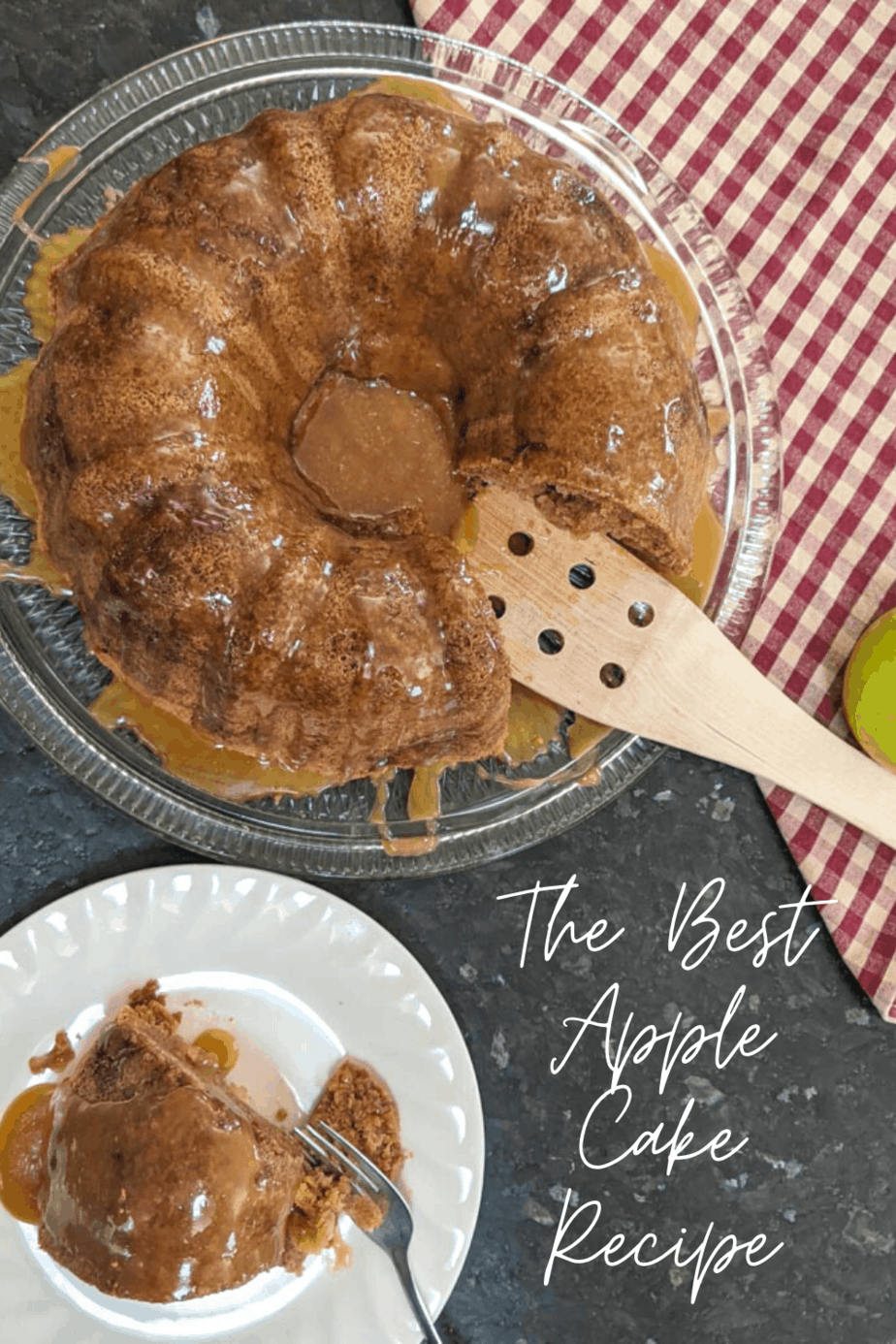 Speaking of apple picking, if you live in the Frederick, Md area, you have to read our post, 9 Best Apple Picking Farms before you decide where to go to pick your apples!
I was lucky enough to stumble upon this "I'm-definitely-making-this-again" recipe on a site, I Am Baker.
Needless to say, you can't get any better recipe than one that's been passed down from generation to generation with your grandmother's seal of approval.
And that's exactly where Amanda Rettke got this recipe!
What I really love about it is how easy it is to make, using very basic ingredients.
However, don't let the simplicity fool you!
The combination of these ingredients baked into a bundt pan results in a heavenly, "Don't-even-talk-to-me-while-I'm-eating-this!" experience!
Ingredients
Like I said, the ingredients are very basic:
Granulated Sugar
Vegetable Oil
Vanilla Extract
Eggs
Flour
Baking Soda
Cinnamon
Salt
Granny Smith apples
Butter
Heavy Cream
Brown Sugar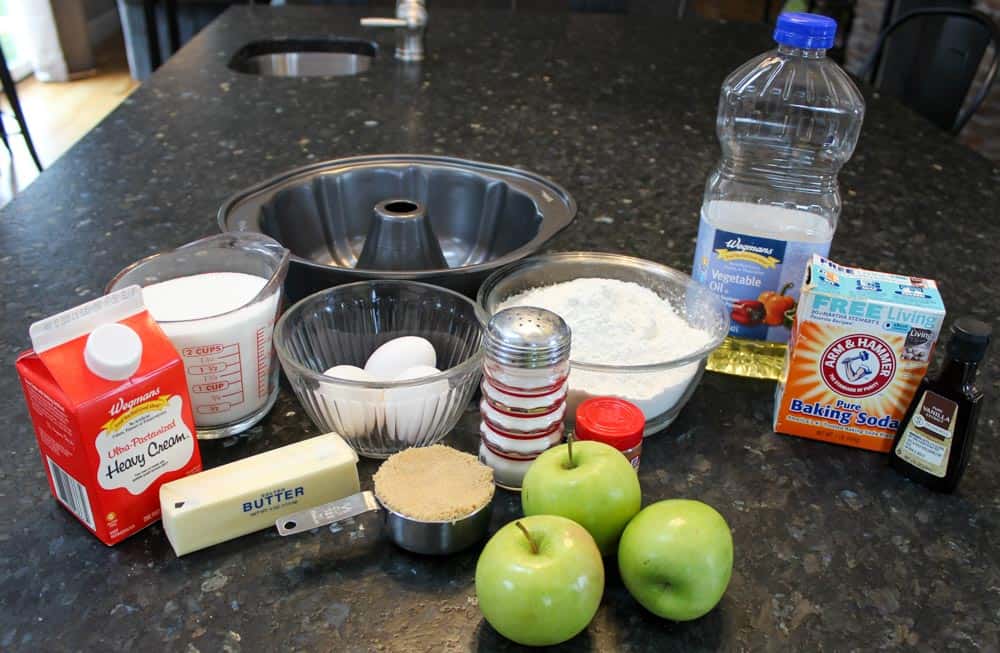 Step 1: In a mixer bowl beat sugar, oil, vanilla & eggs
I'm telling you right now, if you don't already have one, get yourself an electric mixer (Amazon)!
It is a game changer if you bake a lot.
Especially with this apple cake recipe, the muscles in your arms will thank you!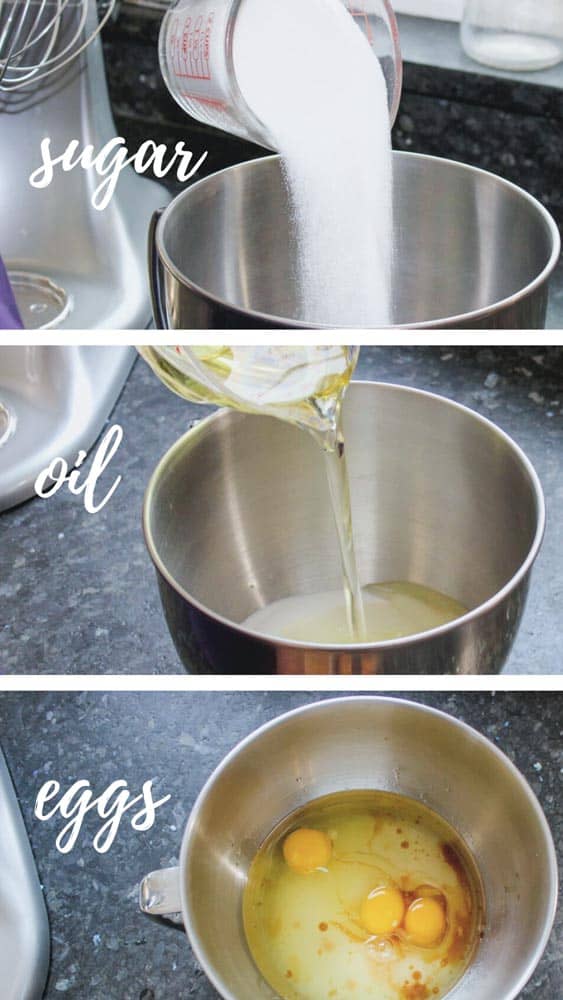 This first step is child's play and something you could technically mix by hand.
But…
Step 2: Mix in flour, baking soda, cinnamon, & salt
Once you add this next set of ingredients, it requires some major arm strength to blend it all together.
Therefore, I highly recommend using an electric mixer!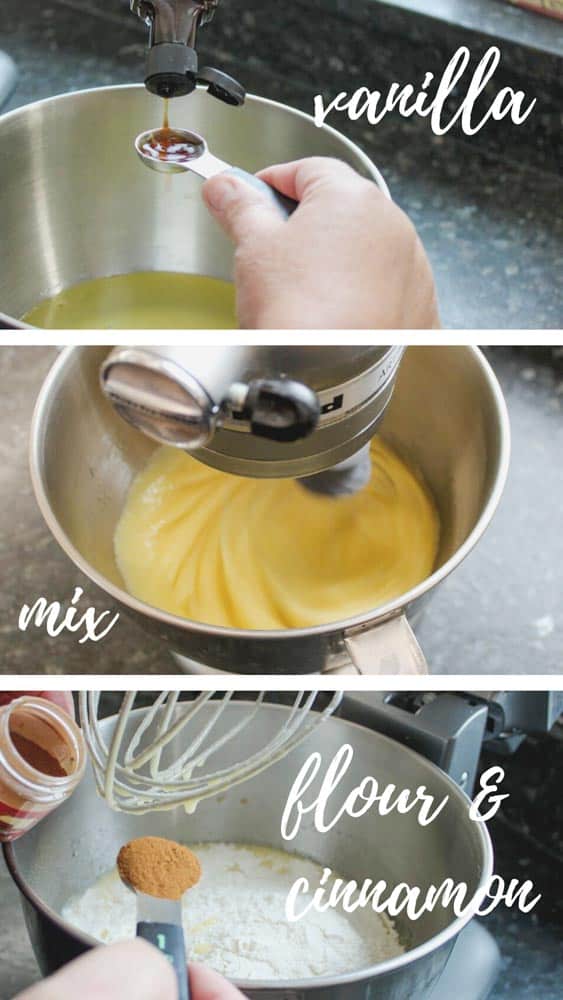 Once the ingredients are combined, the batter is very thick and dense.
Step 3: Core, skin, slice, & cut apples & fold into batter by hand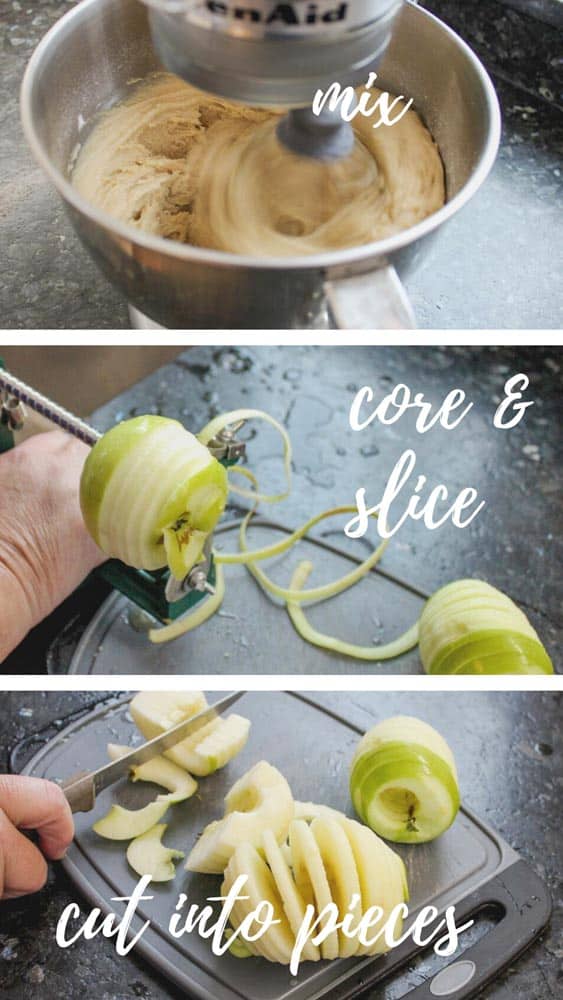 Here's another handy dandy kitchen tool that you really need in your life: an Apple/Potato Peeler Corer (Amazon).
Sure, you can skin the apples with a knife and cut out the core, but this peeler corer device is so much easier, quicker and a lot of fun to use!
I bought it last year after a trip to the apple orchard when we made a bunch of homemade apple butter.
Needless to say, it was a life saver!
Once you crank the apple through this tool, your apples will be one big spiral.
Then you'll just cut the spirals into bite size pieces.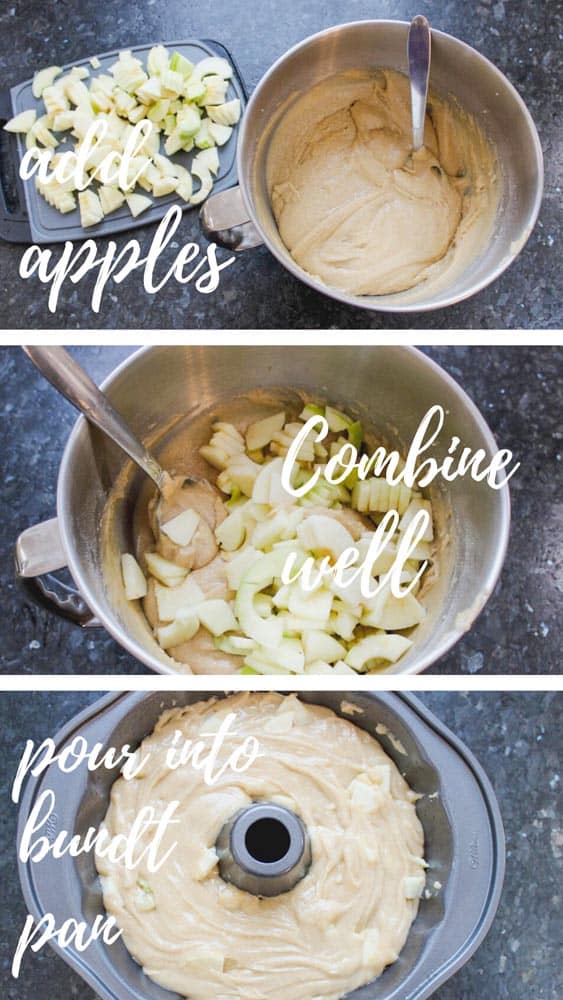 Use a large, heavy duty stainless steel spoon (Amazon) to fold the apples in the batter by hand.
This is when you don't want to use the electric mixer because you want the apple pieces to stay intact.
So, use your strongest arm for this one!
Step 4: Pour batter into bundt pan & bake at 325 degrees F for 70 minutes
First, make sure that your bundt pan is sprayed well with Pam Cooking Spray (Amazon) so that the cake won't stick to the pan and will come out easily onto your cake plate.
Oh, and by the way, this recipe would have been posted a week sooner because I thought I already had a bundt pan, but I didn't.
So, I bought a really nice bundt pan (Amazon) just for you guys!
I know I'll be using this pan a lot because my family has a newfound love affair with bundt cakes after making this recipe.
Before taking the cake out of the oven, make sure that when you stick a toothpick into the cake that it comes out clean.
If it looks like there's still moist batter on the toothpick, stick it back in the oven for another 5 to 10 minutes.
Step 5: Make caramel glaze
Making this caramel glaze is so much easier than I could have imagined.
You just combine butter, heavy cream, & brown sugar in a sauce pan over medium heat and stir frequently.
Then, bring it to a boil, constantly stirring, until the sugar dissolves.
After that, remove it from the heat and add in the vanilla.
One thing I noticed though, is you need to be very careful when you do this because vanilla has alcohol in it.
So when I added it to the hot caramel glaze it started bubbling and popping like a science experiment.
My advice would be to wait a couple minutes once you remove the glaze from the heat before you add in the vanilla.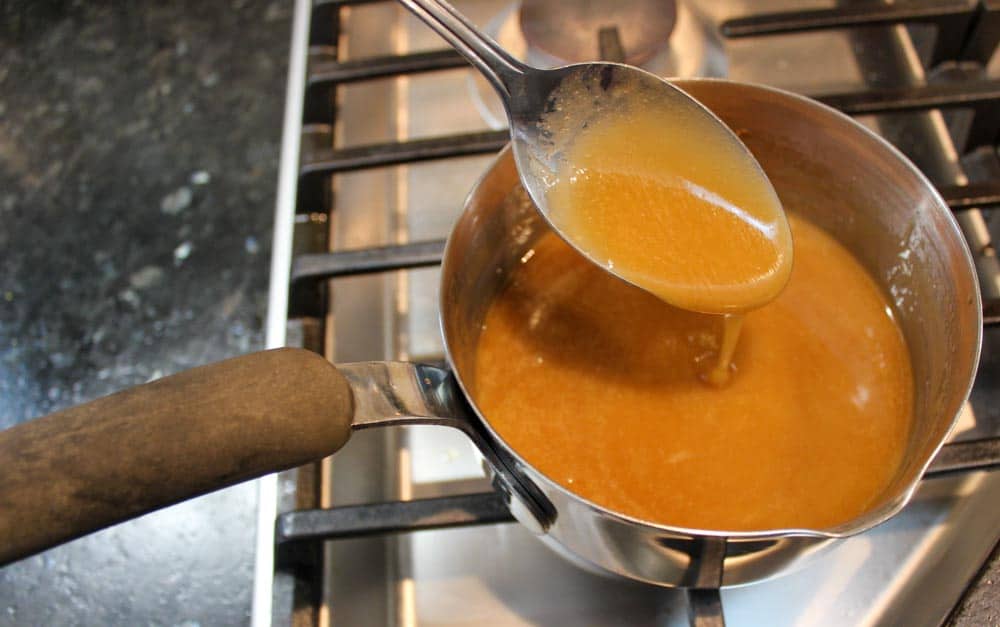 Once the vanilla is stirred in, let the glaze sit for about 10 minutes before you drizzle it over your warm cake.
If you don't wait and you drizzle it while it's piping hot, it will soak into the cake instead of resting on top of it.
In the end, it will still be absolutely delicious, but part of the allure of this cake is seeing the delectable caramel glaze on top.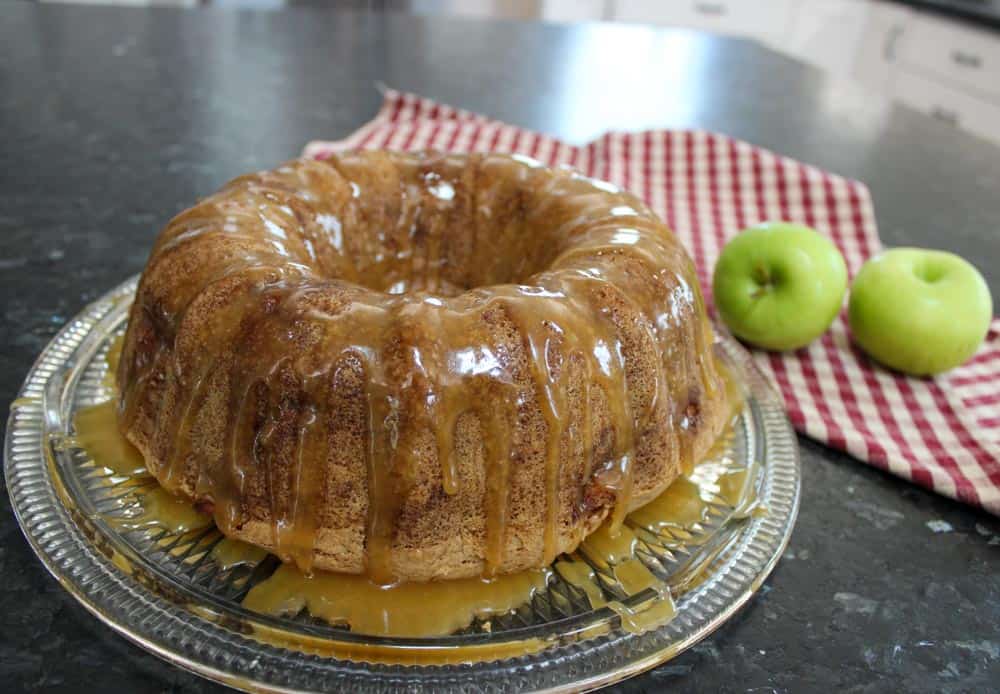 How Do You Make Apple Cake From Scratch
A lot of people ask how do you make apple cake from scratch, and this is exactly how you do it!
See? So much easier than you even imagined, right?
As you can see from the photos, this apple cake recipe is perfection!
Not only does it look amazing, but also it tastes absolutely divine!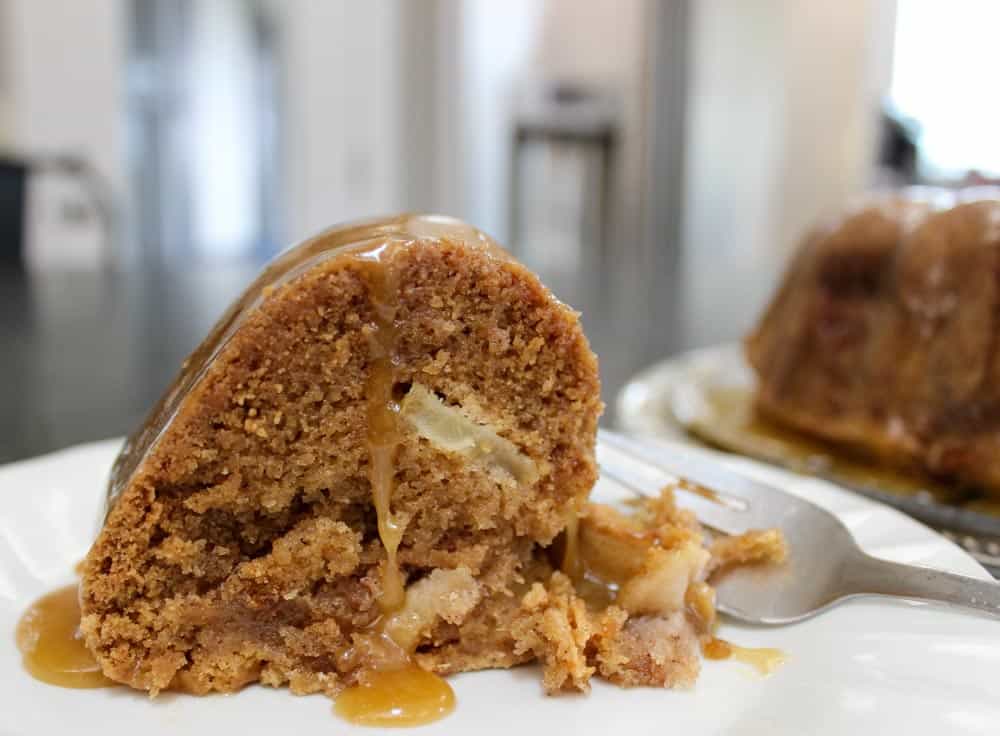 Full disclosure: I don't eat sugar and I eat as little carbs as possible.
Therefore, I can't eat this cake.
But I had to try just one bite!
I probably shouldn't have because I felt like my body was transported to another dimension, it was that good!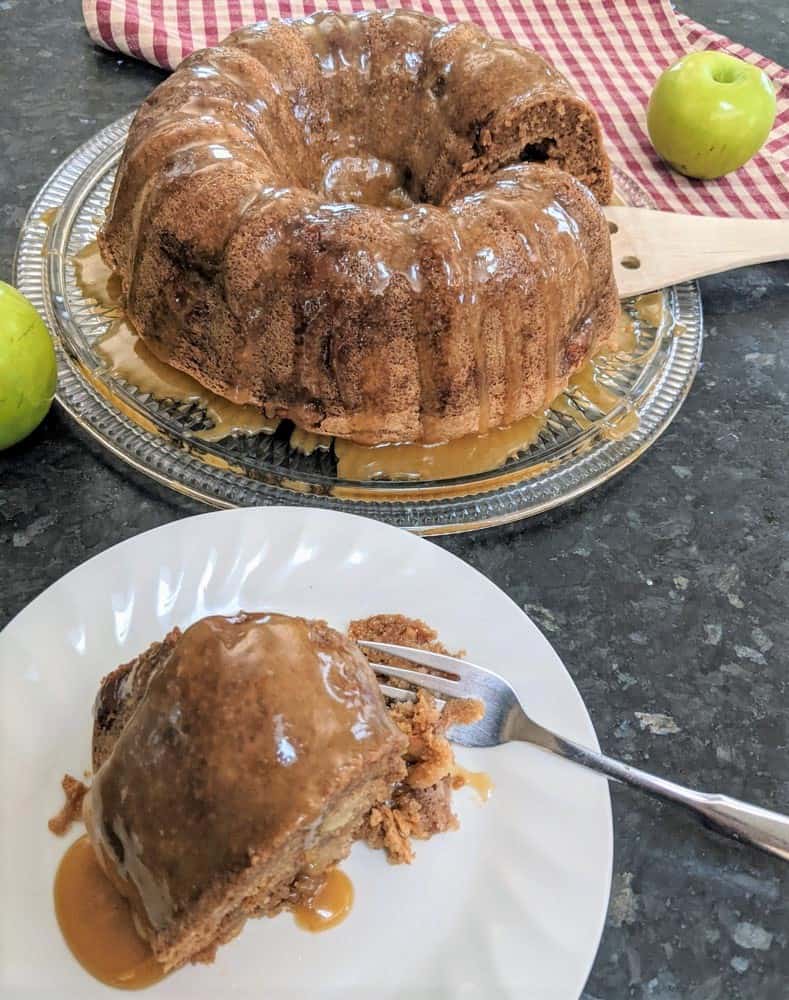 My husband, son, and nephew were able to reap the rewards of me making this cake recipe.
They all absolutely love it and want me to make it again and again!
Pro Tips
If you're a nut person, adding walnuts to this recipe would really be a nice addition!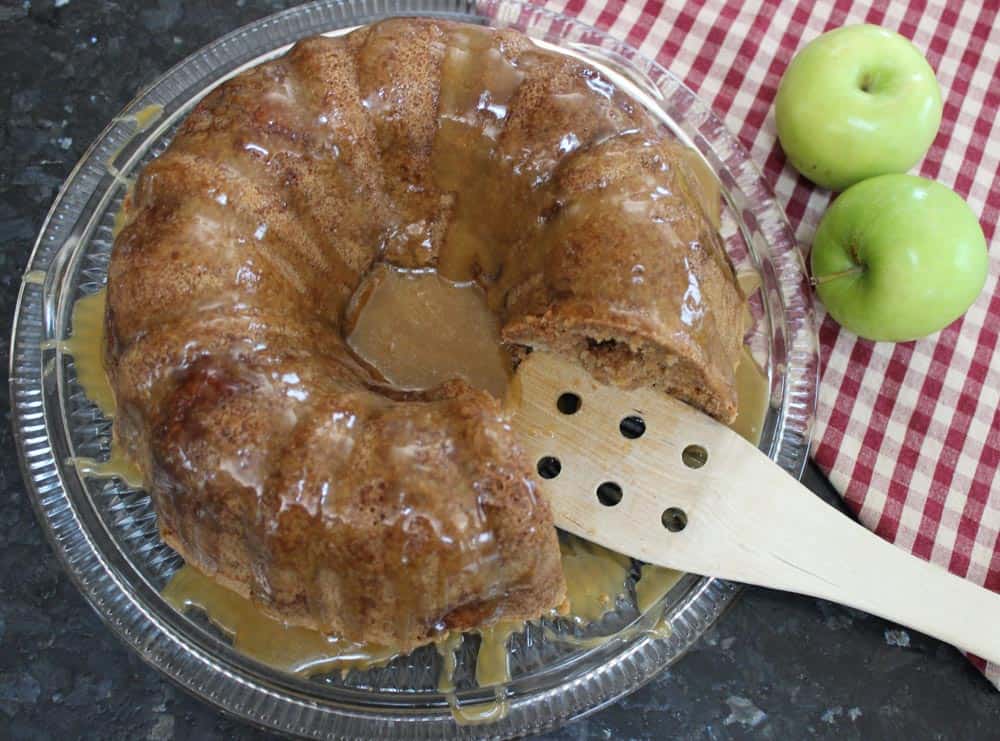 After 2 pieces each, my husband and son said that it's very filling.
Um, ya think?
Obviously, it is a heavier type of cake than a pound cake or an angel cake.
So keep that in mind before rushing to get a 2nd piece.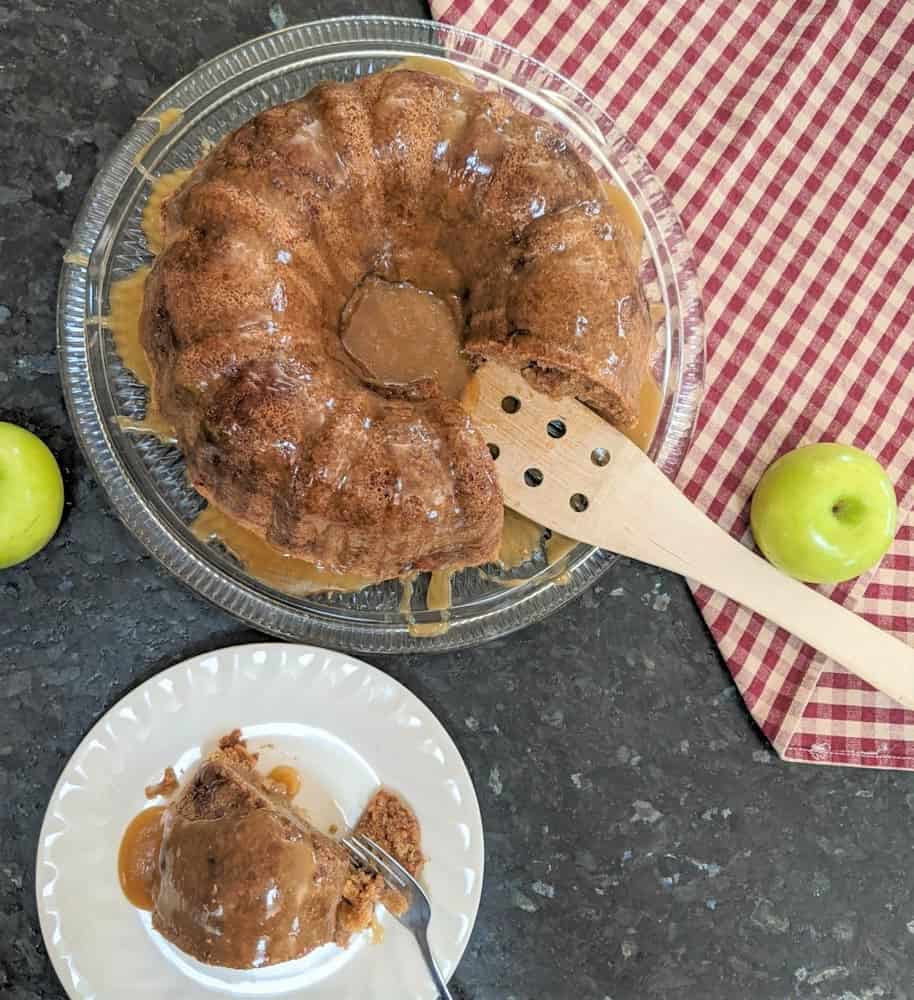 The Best Apple Cake Recipe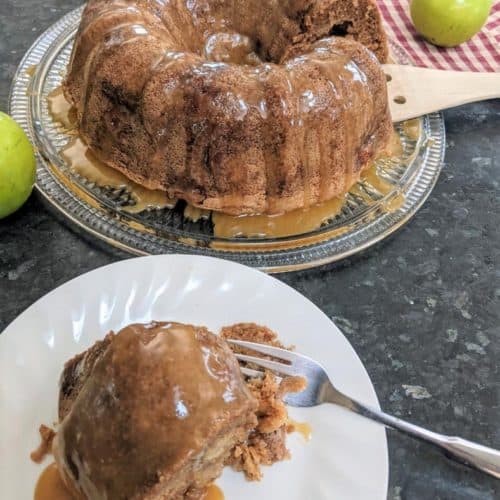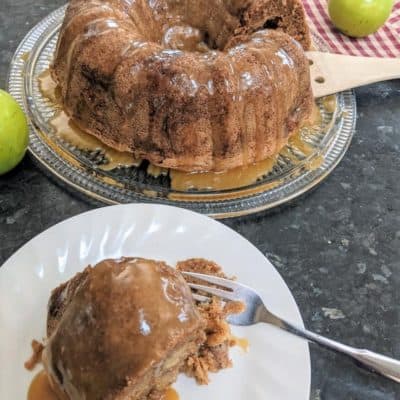 The Best Apple Cake Recipe
Super easy to make recipe for an out-of-this-world delicious apple cake that your family will ask you to make over and over!
Ingredients
Apple Cake
2

cups

Granulated Sugar

1 1/2

cups

Vegetable Oil

2

tsp

Vanilla Extract

3

Eggs, Large

,

Room temperature

3

cups

All-Purpose Flour

1

tsp

Baking Soda

1

tsp

Cinnamon

1

tsp

Salt

3

Granny Smith Apples, Medium

,

Peeled, Cored, Sliced, Chopped
Caramel Glaze
1/2

cup

Butter (1 stick)

2

tsp

Heavy Cream

1/2

cup

Brown Sugar, Packed

1

tsp

Vanilla Extract
Instructions
Cake
Preheat oven to 325 degrees F. Spray bundt pan thoroughly with Pam Cooking Spray.

In a large mixing bowl, use an electric mixer to beat the sugar, oil, vanilla, & eggs until light & fluffy.

Add flour, baking soda, cinnamon & salt to the batter and mix again until blended.

Add chopped apples and use a sturdy spoon to hand mix them into the batter.

Pour batter into greased bundt pan.

Bake for 55 to 70 minutes or until an inserted toothpick comes out clean.

Allow to cool for about 20 minutes in the bundt pan and then invert onto a cake plate.
Caramel Glaze
Heat butter, heavy cream, & brown sugar in a small saucepan over medium heat.

Bring to a boil, stirring frequently until sugar is dissolved. Then remove from heat and let sit for a few minutes.

Add in vanilla & stir until combined. Let sit for 5 to 10 minutes to thicken.

Drizzle sauce over warm cake.
For more delicious, easy-to-make cake recipes, click on over to:
The Best Carrot Cake Recipe You'll Ever Make!
Cherry Pineapple Dump Cake: As Easy As It Sounds
The Ultimate Pumpkin Dessert! Pumpkin Crunch Cake