This Tuna Salad with Egg is a ridiculously easy recipe and perfect for when you're looking for something tasty to fill you up but still eat healthy!
For me, being on a low carb, high protein diet, I'm always looking for ways to keep it interesting with tastes and textures.
Therefore, I decided to make this tuna salad with egg recipe that my Mom used to make ever since I was a kid.
Tuna Salad with Egg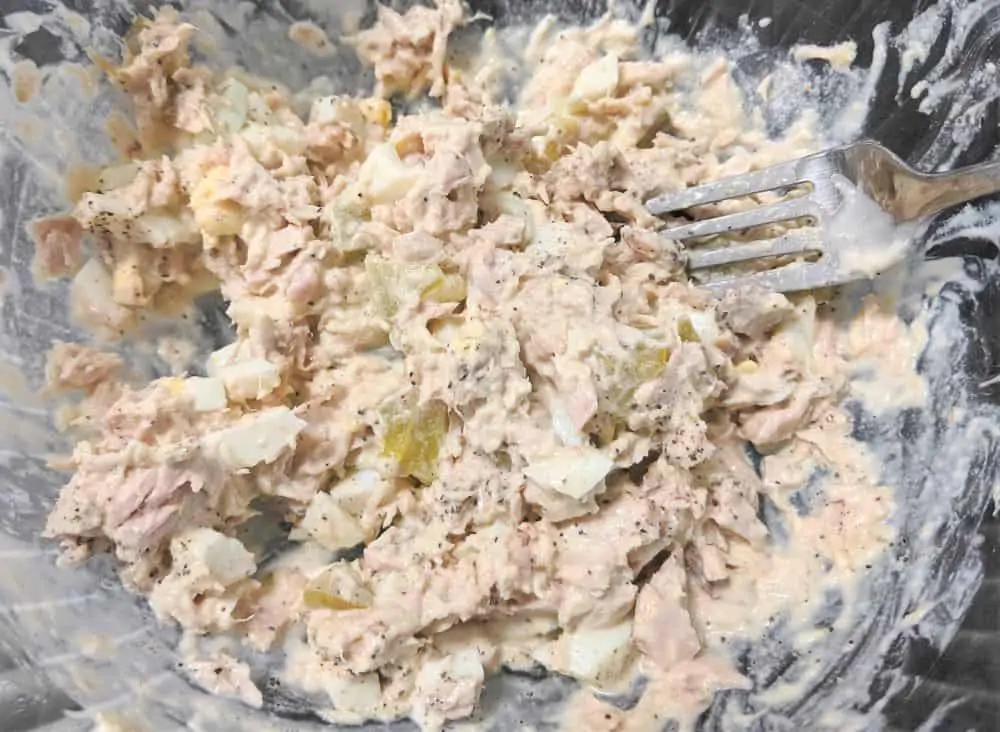 I've always been a big tuna fan, but the very first time my Mom made this recipe for me, I thought, do tuna salad and egg salad together? I'm not so sure!
But then I tasted it and it was heavenly!
As a matter of fact, I consider it the best tuna salad recipe to make your taste buds jump for joy.
Healthy & Delicious Cold Lunch Recipe
Being that this delicious tuna salad is a really easy lunch recipe to make, it's perfect for a busy day at work!
In addition, this recipe makes for a really healthy lunch!
As a matter of fact, this is the best part, because each serving of this recipe has:
139 calories
18 grams of protein
2 grams of carbohydrates
6 grams of fat
Score!
Plus, according to WebMD.com tuna in general has some great health benefits!
As you can see, this recipe is low in calories, an excellent source of high quality protein and has very low carbs.
Gotta love following a balanced diet and finding recipes like this!
Tuna Salad with Egg Ingredients
Here are the classic, simple ingredients that I used:
Canned Tuna
Large Egg
Crunchy Dill Pickles
Mayonnaise
Salt
Black Pepper
My version is just like a classic egg salad but with tuna in it.
However, you can add whatever ingredients you want to!
How To Make Tuna Salad with Egg
Step 1: Drain Juice & Empty Tuna Into Mixing Bowl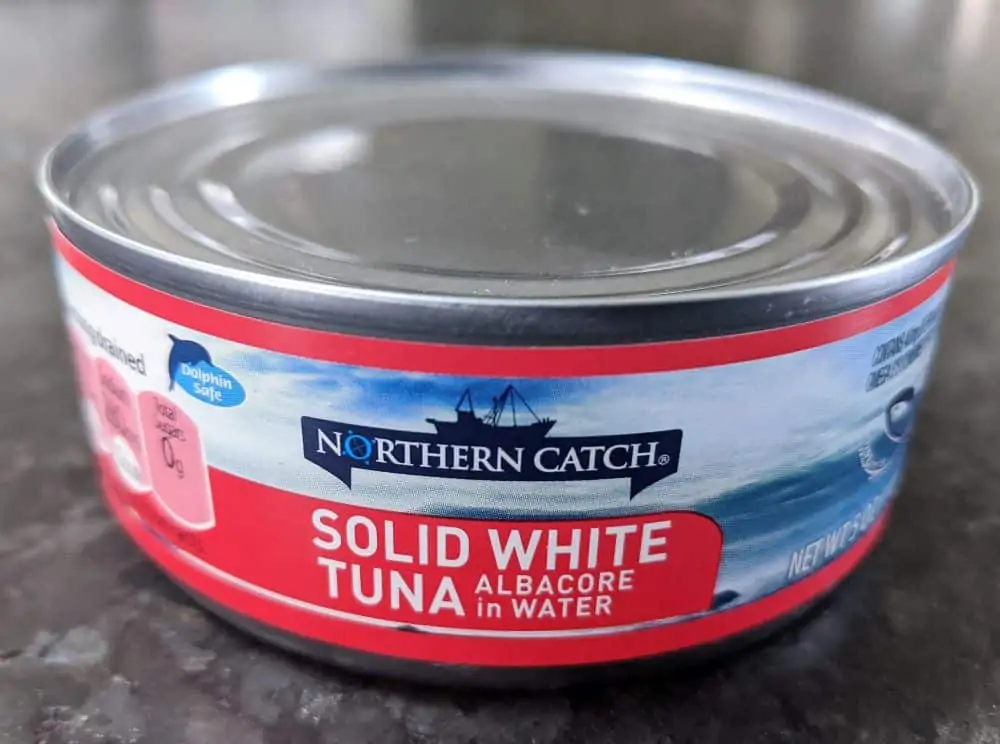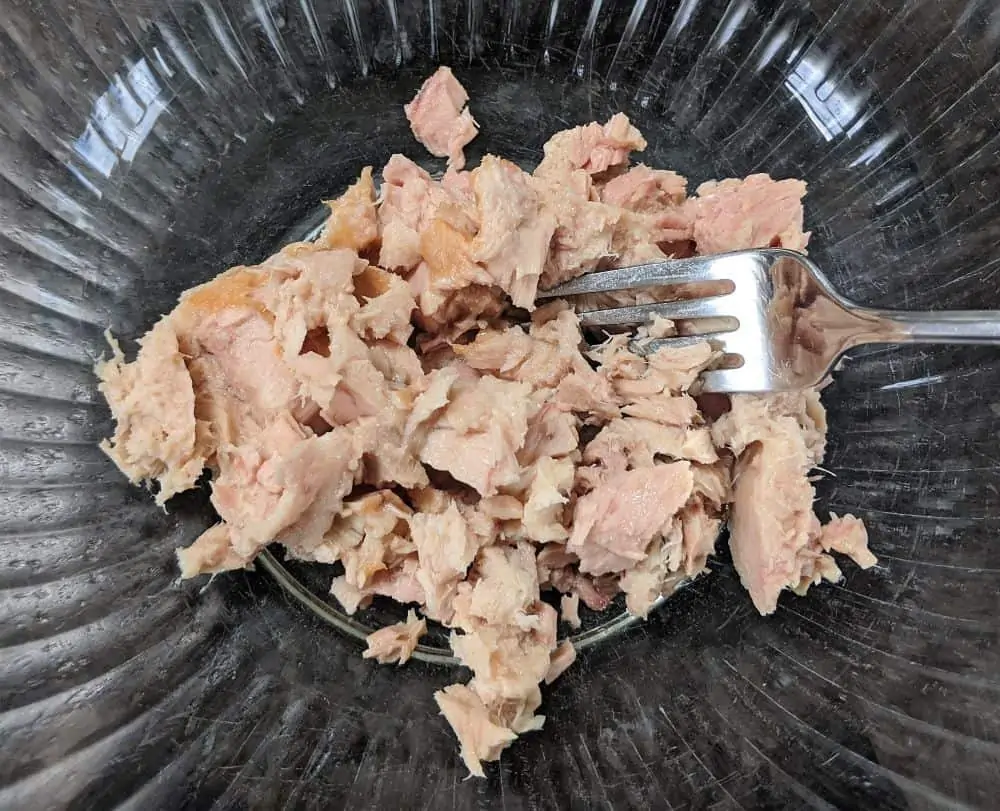 Step 2: Chop Solid Ingredients & Add To Tuna
Chop ingredients into small pieces.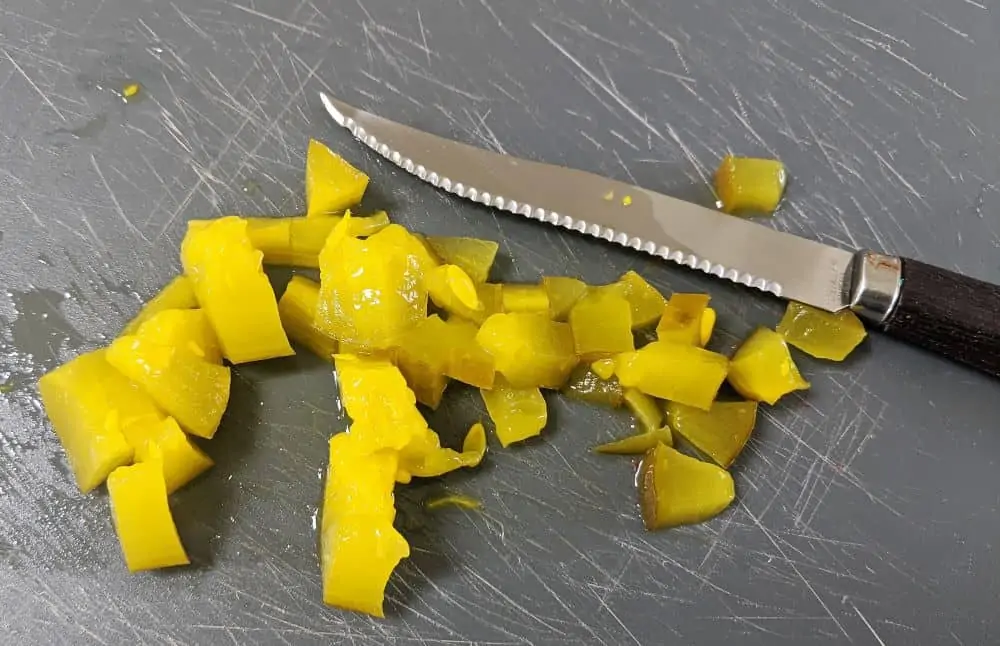 Step 3: Add Mayo and/or Other Wet Ingredients & Mix Well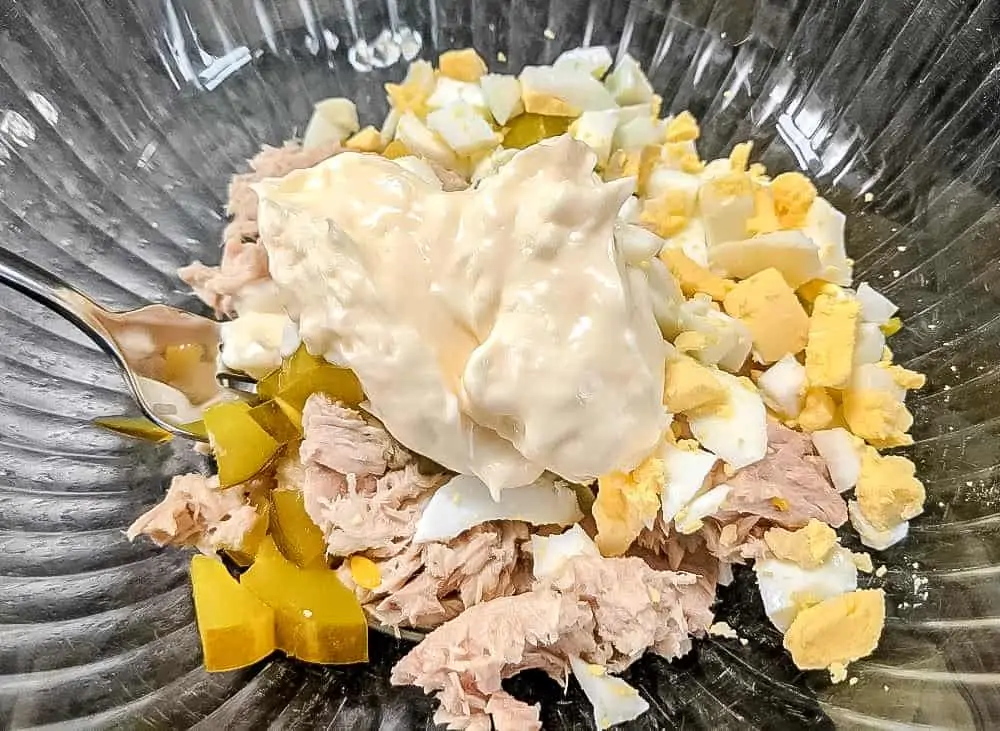 Ways To Eat Tuna Salad
Now all you have to do is decide how you're going to eat it.
Use it as a sandwich filling
Add it on top of a nice bed of lettuce leaves
Dip tortilla chips, crackers, or parmesan crisps into it
Top rice cakes with it
How Long Does Tuna Salad with Egg Last?
This will last you 3 to 7 days as long as you keep it in an airtight container in the refrigerator.
Not to mention, it's a great excuse to get a big can of tuna and a few hard boiled eggs so that you can make a big batch at a time.
That way you'll have leftovers ready to eat for the week.
Additions or Substitutions
Here are some ingredients you can add OR use as substitutes in order to make it just the way you like it:
Greek Yogurt or Sour Cream (instead of mayonnaise)
Chopped celery
Chopped green onion or finely chopped red onion
Water chestnuts
1 teaspoon of Dijon Mustard – you can add this and decrease the amount of mayonnaise
Alfalfa sprouts
Bean sprouts
Chopped cucumber
Chopped peppers
Thinly sliced radishes
Chopped tomatoes
Lemon Pepper
Spices
Lemon Juice
Dill Pickle Relish or Sweet Pickle Relish
Fresh Dill Weed
As you can see, there are multiple ways you can make your very own version of this recipe.
Specifically, I used Aldi ingredients for my recipe because that's where I shop most of the time.
Overall, I love their foods and their prices!
Very Easy & Quick to Make
This is something you can whip up in 10 minutes.
Hence the reason why I love making it.
In this case, I used leftover hard boiled Easter eggs.
However, anytime of year, it's good to have a few hard boiled eggs on hand in the refrigerator to quickly grab and eat.
My dog Sarge was intently watching me as I prepared my tuna egg salad.
I think he thought he was going to get a bite.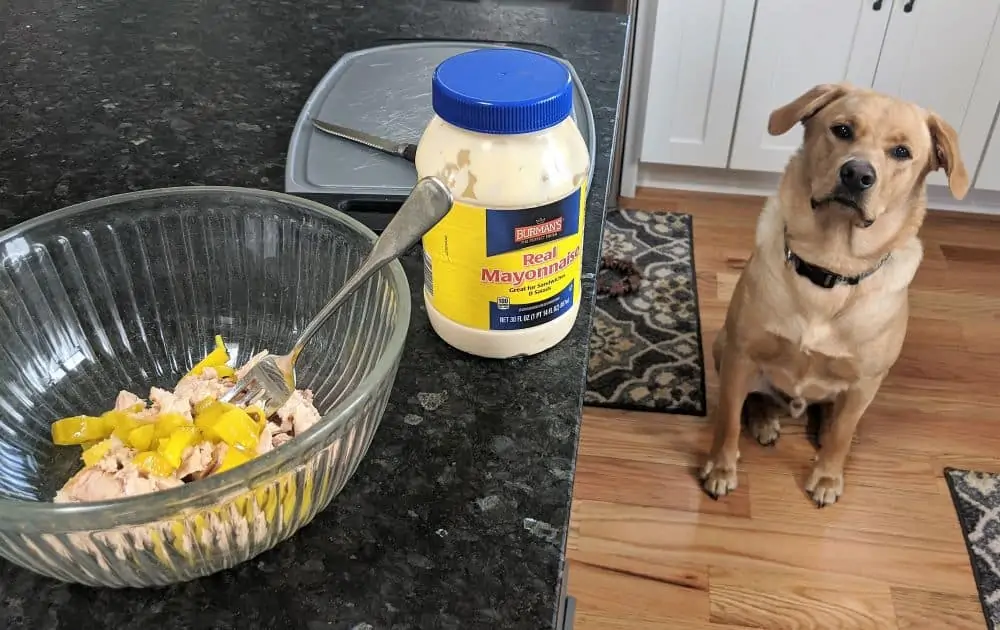 As mentioned above, I would have added more ingredients, such as cucumbers, celery, and spring onions if I had them.
That's what's great about this recipe is that you can switch it up so many different ways.
Because I'm eating low carb and high protein, I added a side of parmesan crisps.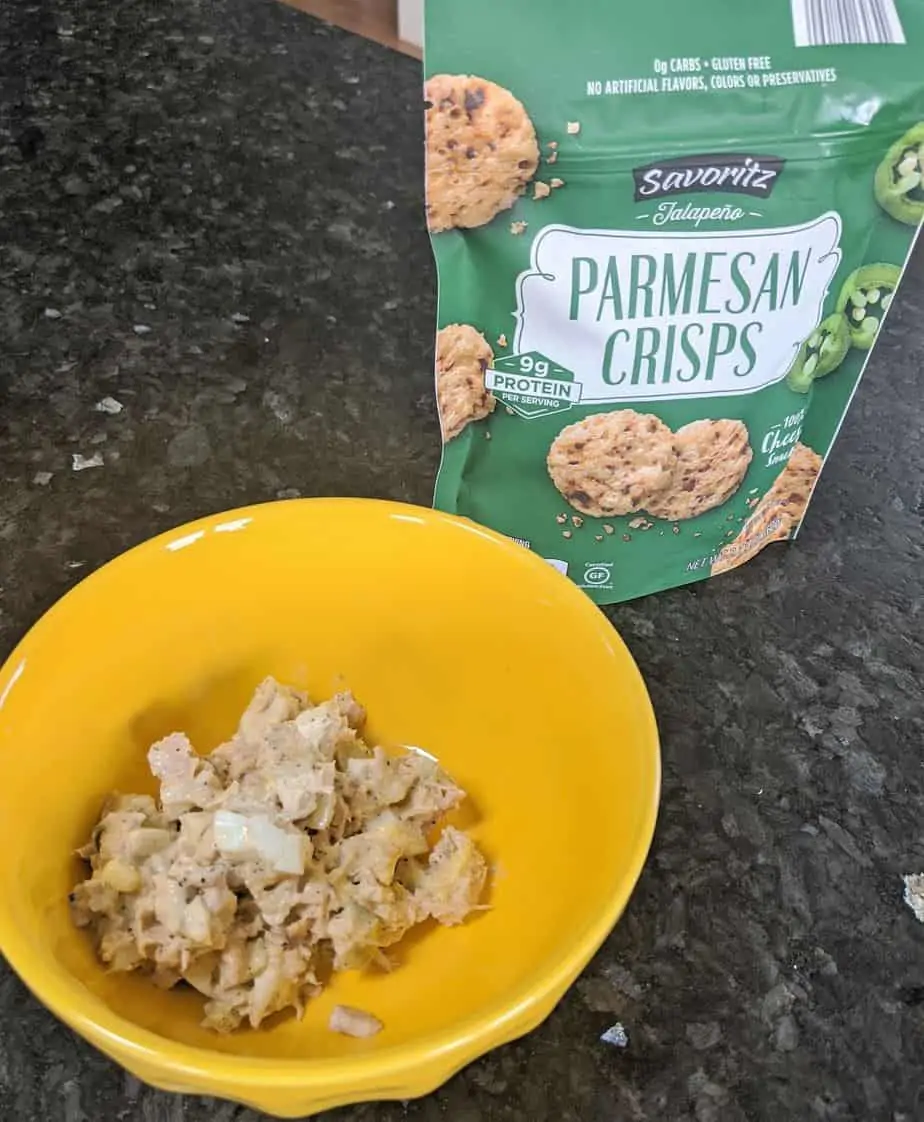 Also, the parmesan crisps gave it that added crunch and made for the perfect lunch!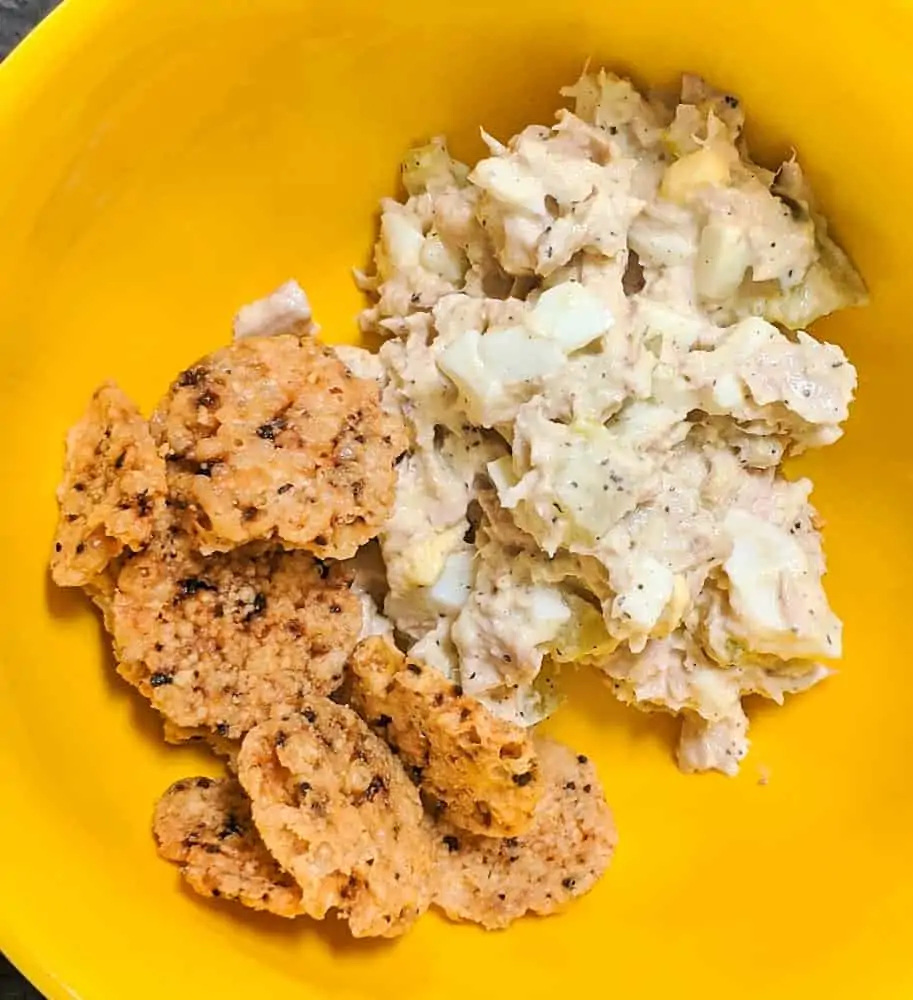 Healthy Tuna Salad with Egg Recipe
Below is the full recipe that you can print out and use as a recipe card: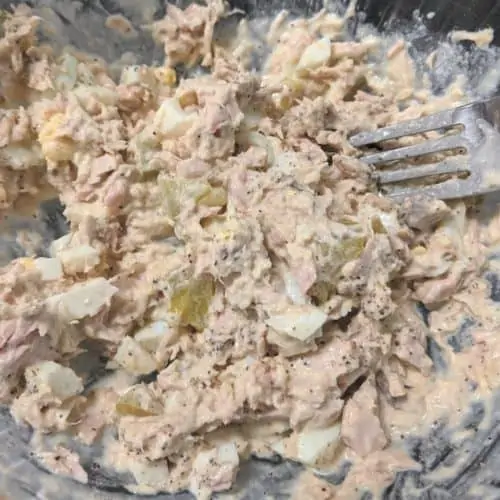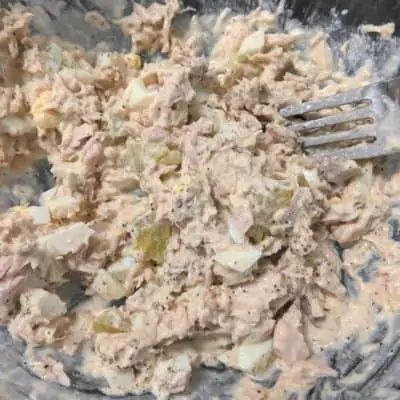 Healthy Tuna Salad with Egg: 3 SmartPoints
This super easy to make tuna salad with egg recipe gives you that boost of protein you need throughout your day & is so delicious!
Ingredients
1

can

Solid White Albacore Tuna in Water, 5 oz

1

egg

hard boiled, chopped

1

spear

Pickle, unsweetened, chopped

2

tbsp

Mayonnaise, Reduced Calorie

1

dash

Salt, to taste

1

dash

Black pepper, to taste
Instructions
Empty tuna from can into large bowl.

Chop hard boiled egg & pickle spear and add to tuna.

Add salt & pepper to taste.
Notes
Nutrition Information (Per Serving):
139 calories
18 grams protein
2 grams carbs
6 grams fat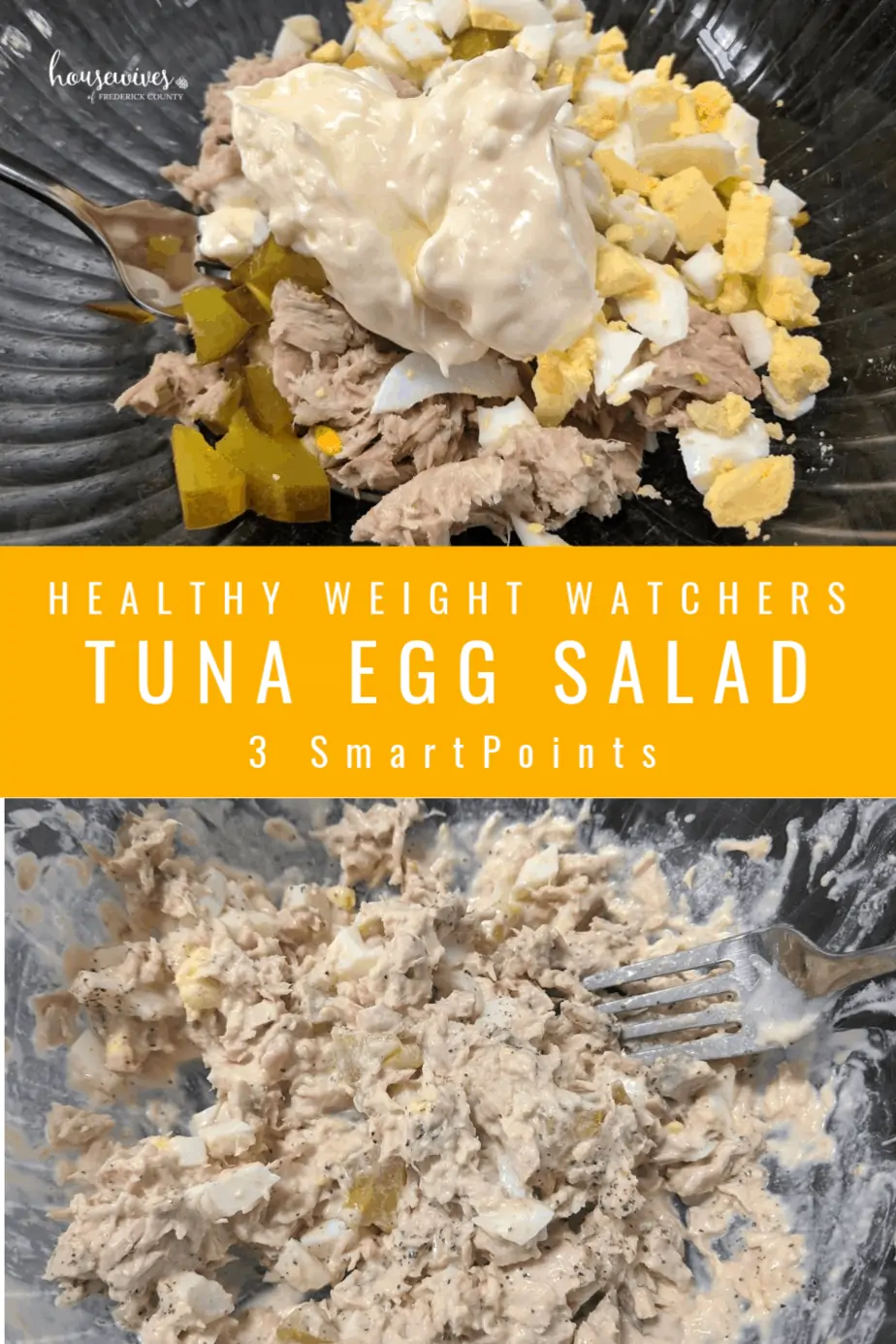 For more delicious tuna recipes, click on over to: