This panini sandwich recipe is a delicious change from the every day sandwich!
For this recipe, a panini maker isn't necessary, but if you have one, by all means use it!
Delicious Panini Sandwich Recipe
See, I tend to get really bored with the same few lunch ideas every single week!
So when I was searching for some different and exciting recipes, I found this one for Pesto, Toasted Pine Nut, & Mozzarella Panini Sandwich.
It looked so delicious that I had to make it!
And the fact that it's Weight Watchers friendly sealed the deal.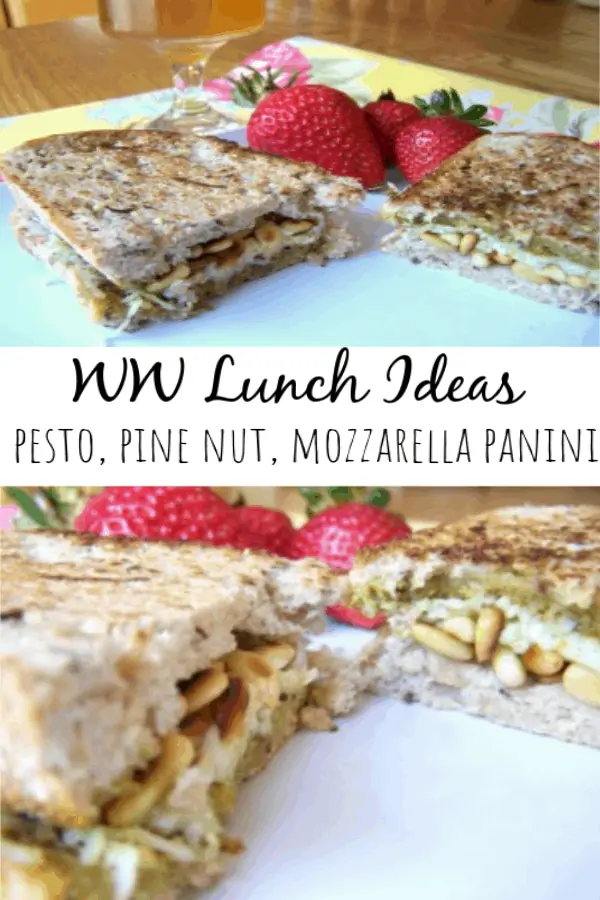 Panini Sandwich: Use The George Foreman Panini Press
Again, you don't have to have a panini press.
So, it's not absolutely necessary to go out and buy one.
BUT, I do believe that this recipe would be even tastier if you used one!
Therefore, if you decide that it's worth the investment and you can use it for other healthy recipes, here's a great one!
This Cuisinart 5-in-1 Griddler (Amazon) will make a mean panini.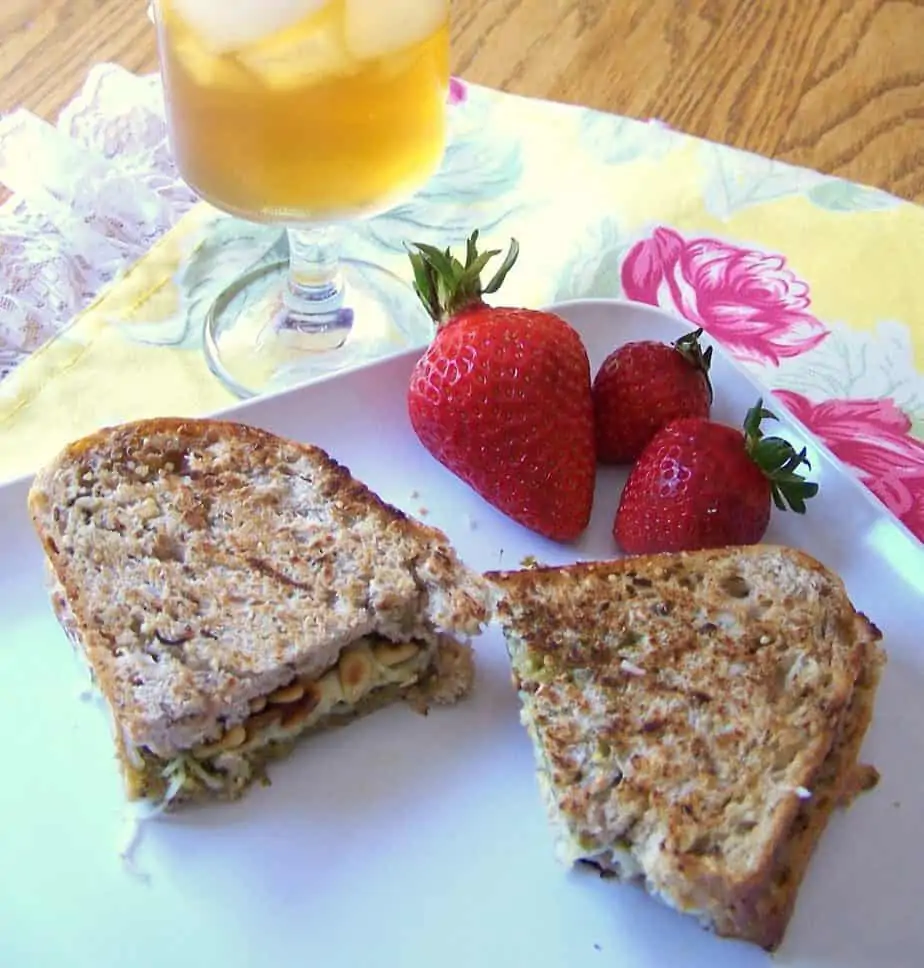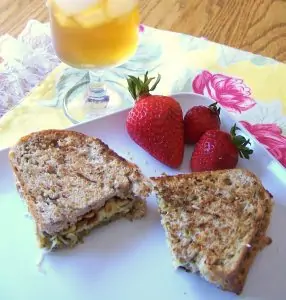 This Panini Sandwich is a Great Weight Watchers Lunch Choice
This recipe makes two sandwiches, one for you and one for a lucky friend!
It weighs in at 10 Weight Watchers Points Plus Value per sandwich.
Some will say that's a lot of points for one sandwich, but once you try it, you won't mind using those extra points!
Pesto, Toasted Pine Nut, & Mozzarella Panini Sandwich Recipe
Pesto, Toasted Pine Nut, & Mozzarella Panini Sandwich Recipe
A delicious alternative to the boring sandwich, this Weight Watchers friendly panini sandwich recipe will wake up your taste buds with toasted pine nuts, pesto, and mozzarella cheese!
Ingredients
2

tbsp

pine nuts

2

tbsp

prepared pesto

4

oz

part-skim mozzarella

,

I used shredded

4

slices

whole wheat artisan bread
Instructions
Spray some Pam (non-stick spray) in a skillet and set it on medium heat.

Toast the pine nuts in the skillet, turning with a spatula, until they turn golden brown.

Spread the pesto on 2 slices of bread.

Layer each slice with the mozzarella cheese.

Sprinkle the toasted pine nuts on top.

Top with the remaining slices of bread.

On the preheated skillet, add more Pam and grill both sides of the sandwich until the cheese has melted and the bread is a golden brown.
Notes
10 Weight Watchers Points per panini sandwich
Where To Find Panini Sandwich Ingredients
I found all of the ingredients at my local Weis Grocery store.
Although, sometimes pine nuts are hard to find.
To make life just a little bit easier, I found these Raw Pine Nuts on Amazon.
The bag is 1 lb and has gotten great reviews.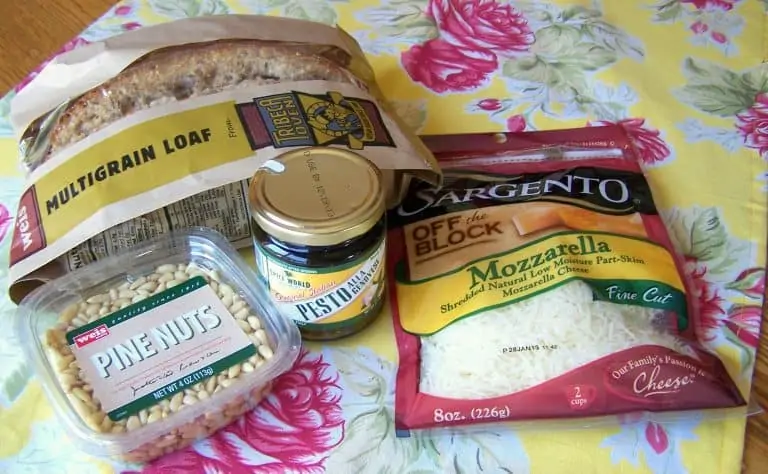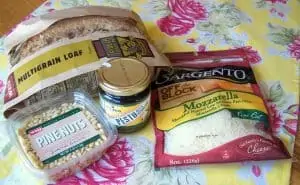 The Recipe Results
I'm so glad that I searched for new Weight Watchers lunch ideas because this panini sandwich turned out amazingly delicious!!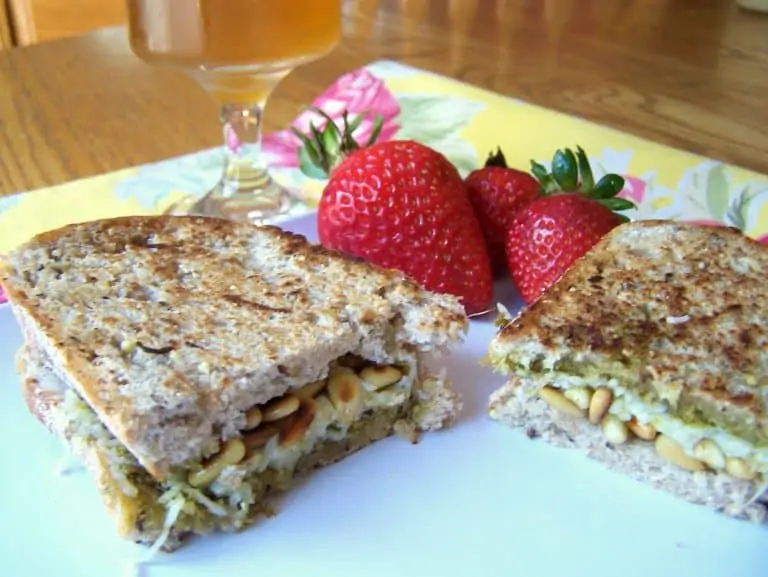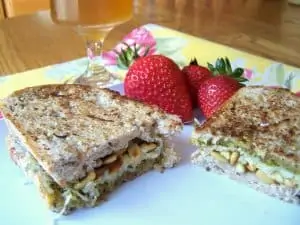 I honestly felt like I had just ordered my lunch from a fancy restaurant!
Not only was it exquisite, but it was also very satisfying and filled me up.
I love the combination of the crunchy, toasted pine nuts, along with the melted mozzarella cheese and the flavorful pesto sauce.
I guess it's my Italian heritage that's drawn me so much to this recipe!
So, next time you're stumped for Weight Watchers lunch ideas, try this recipe out!
You will absolutely not be disappointed!
More Weight Watchers Lunch Ideas
If you're looking for more great tasting, healthy recipes, check out SkinnyTaste!
She has a wealth of amazing recipes that will keep you coming back for more!
In addition, for some other delicious, healthy recipes right here on our site, click on our below posts:
Asparagus Orzo Soup – 2 Weight Watchers Points Plus Value
Asian Chicken Salad – 6 Weight Watchers Points Plus Value
Creamy Leek & Parsnip Soup – 8 Weight Watchers PPV