I have found a delicious almond flour banana bread recipe that will make those of us on a gluten-free or starch free diet so very happy!
Along with other healthy, all natural ingredients and no added sugar, you're going to want to keep this recipe handy.
Almond Flour Banana Bread
So, I've been on a no starch diet for 6 months now.
It's hard! Like, really hard!
I crave all the starchy foods like rice, pasta, cookies, and of course breads.
So I heard that almond flour is a great substitute for white flour!
Oh my gosh, this could totally change my world!
I tried almond flour battered chicken tenders once and thought I would love it, but sadly I didn't.
So I thought, well almond flour just isn't for me.
But then I decided that I should try almond flour in something sweet.
I've always loved a nutty flavor with my sweets, so making a banana bread with almond flour wouldn't taste odd to me.
As a matter of fact, I think it would taste really good!
Just As Good As The Traditional Recipe
I began my search on Pinterest and found a lot of recipes, but none of them looked very good.
They all looked very dense, dry and unappealing.
But then I found a recipe from a site called Snappy Gourmet.
Her recipe has 23 ratings with 5 stars, so I figured I'd give it a shot.
The only thing I changed was that I added chopped walnuts and I made it in a loaf pan instead of ramekins.
I also chose to make the cinnamon optional because it slightly overpowers the taste of the banana in the recipe.
As you can see from my photos, this is a very easy recipe to make.
Can I use Almond Flour Instead of Regular Flour?
That's the main question I had when I first heard that I could make traditionally starchy recipes but without the starch!
And the answer is yes, you can use almond flour instead of regular flour.
As a matter of fact, you can use the exact same measurement.
Just be sure to slightly increase your baking soda and/or baking powder so your recipe will rise the way it should.
Almond Flour Banana Bread Recipe Steps
First, for this recipe, you'll combine the dry ingredients in one bowl.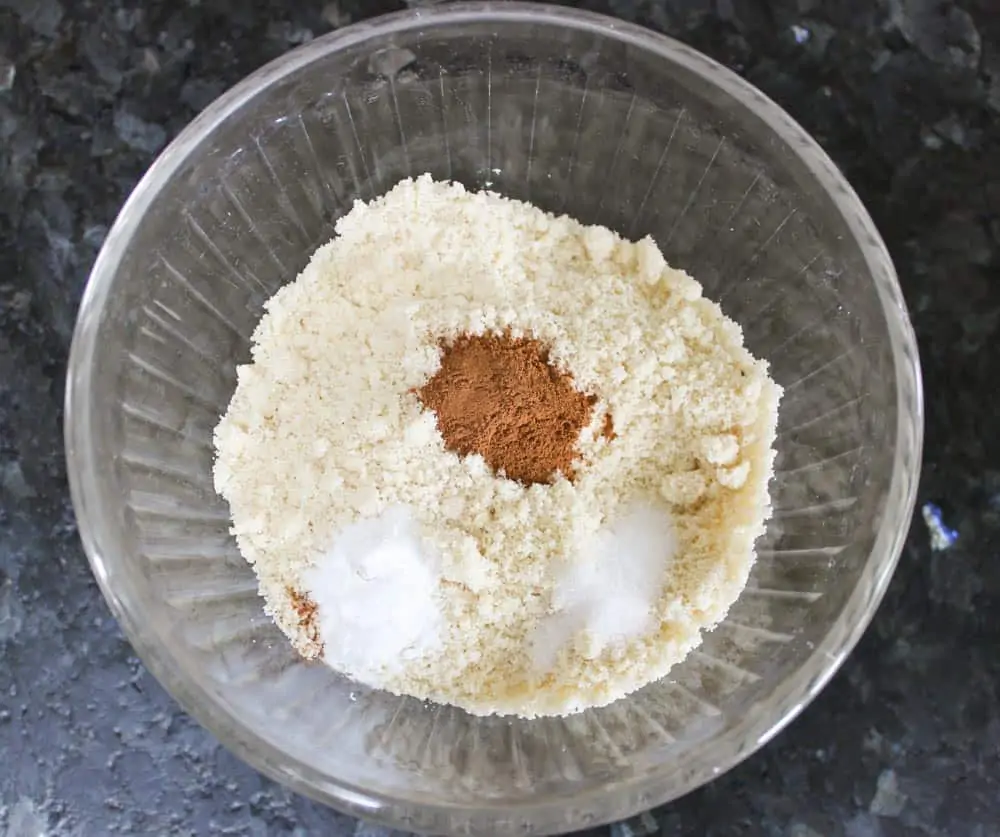 Second, mash one banana up in a another bowl.
I use a hand masher (Amazon) which does a great job and requires a lot less clean-up than using a stand or hand mixer.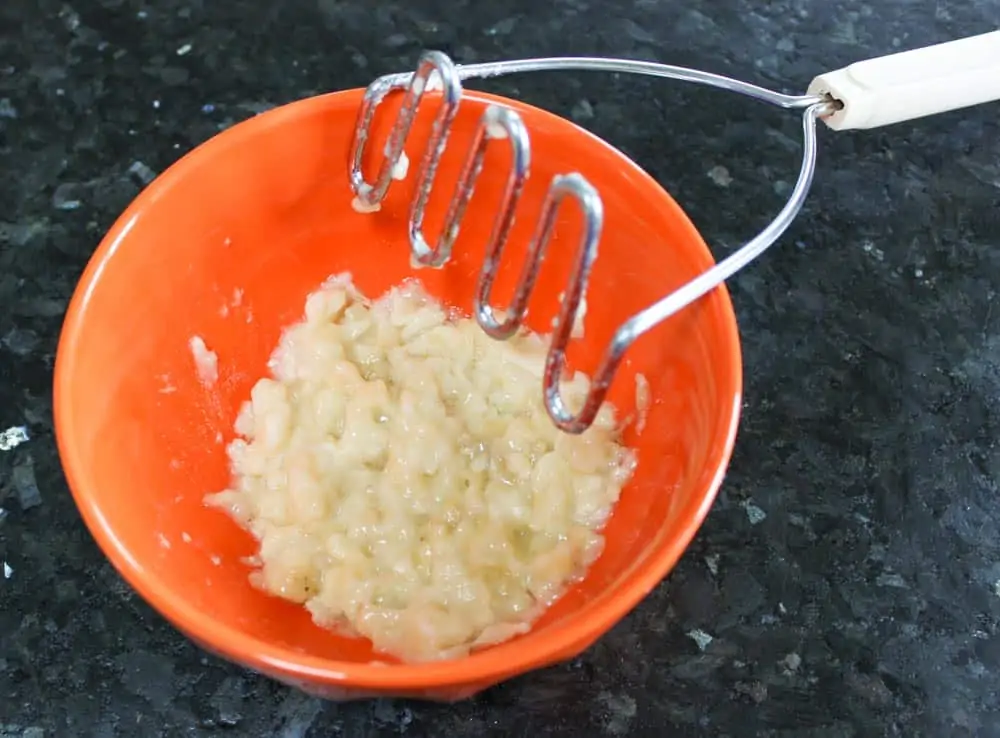 Third, mix the rest of the wet ingredients in the bowl with the mashed banana.
Then gradually add your dry mixture to your wet mixture and blend well, scraping the sides of the bowl as you go to get it all in there.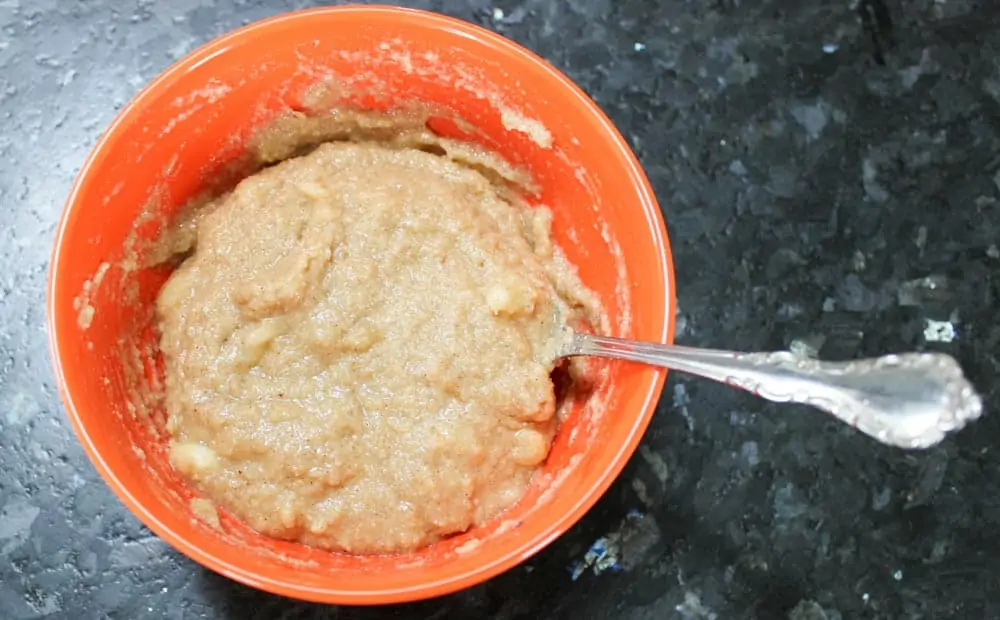 Then you'll fold in your chopped walnuts.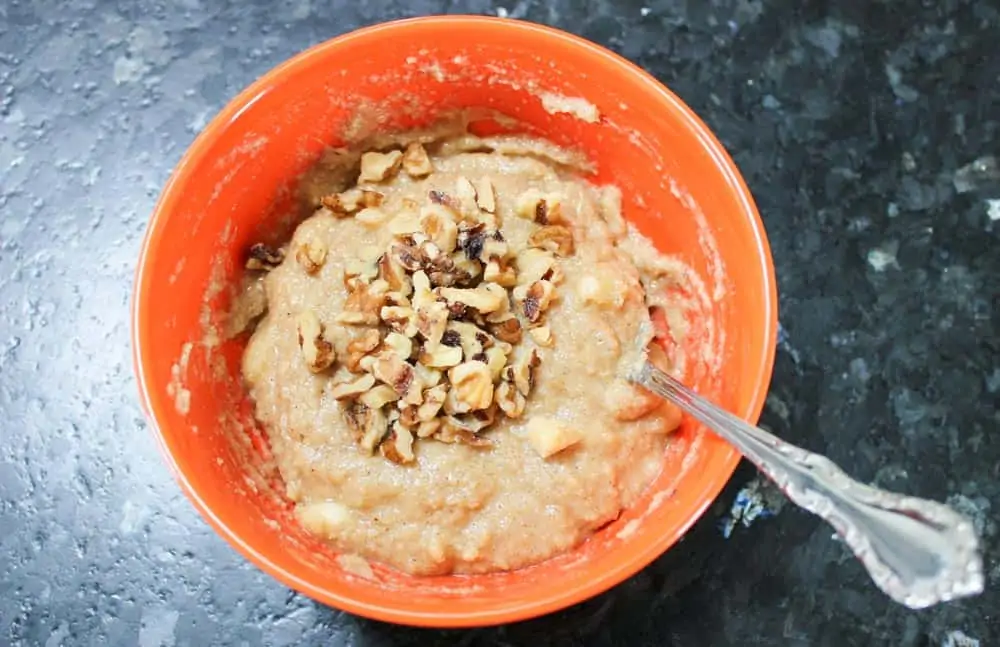 Transfer the batter into your loaf pan and sprinkle some chopped walnuts on top.
As you can see from the below picture, I used a regular size (9″ x 5″) loaf pan.
Ideally, for this particular recipe, you should use a mini loaf pan, like these 5″ x 3″ Wilton mini loaf pans (Amazon).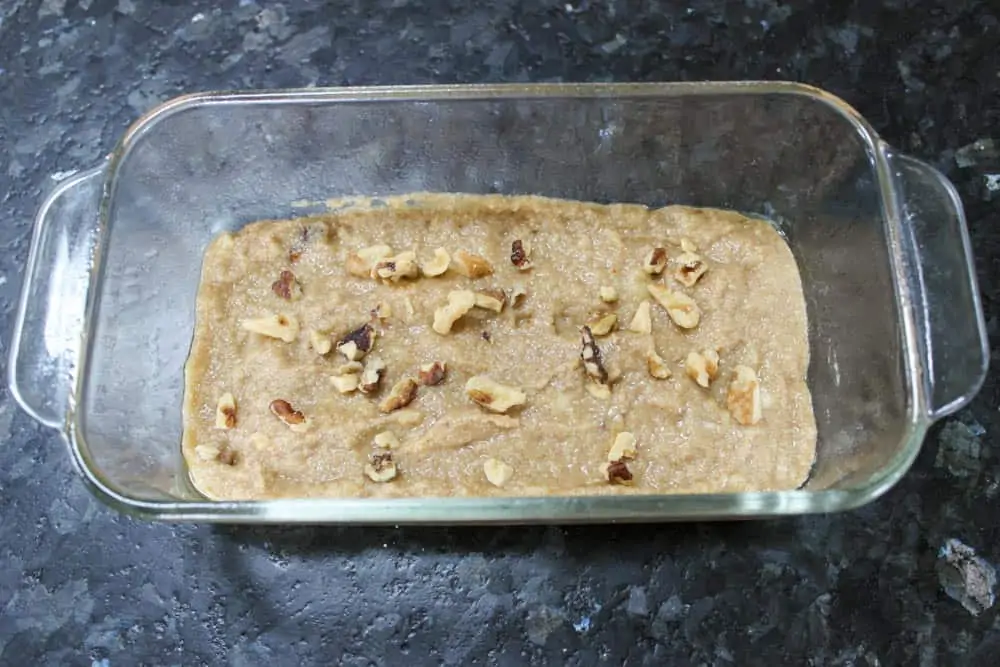 In a standard size loaf pan the bread doesn't have the height of a traditional banana bread recipe.
However, oh my goodness it is delicious!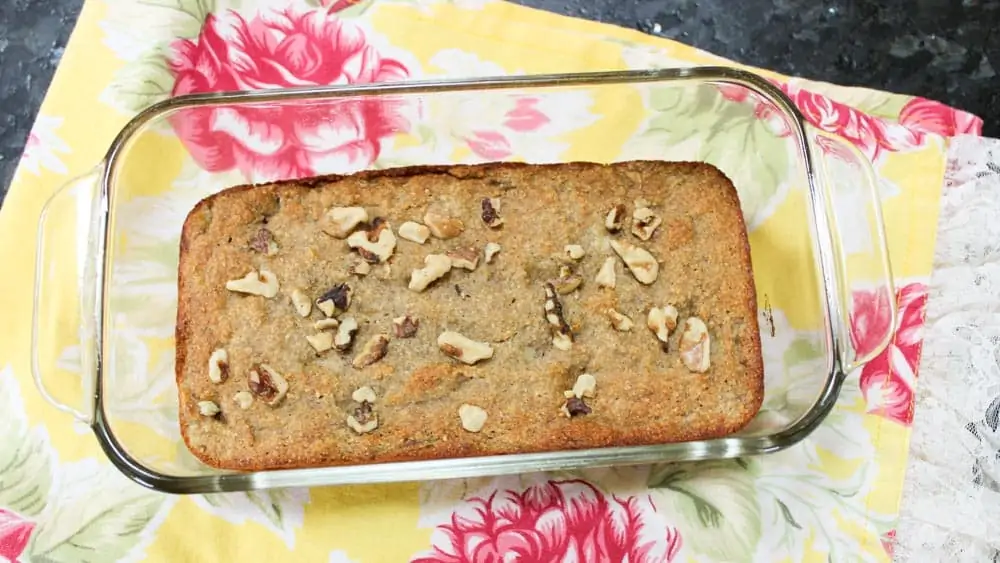 You have no idea what it's like to be on a no starch diet for 6 months and to bite into a hot buttered slice of banana nut bread.
Needless to say, it was magnificent!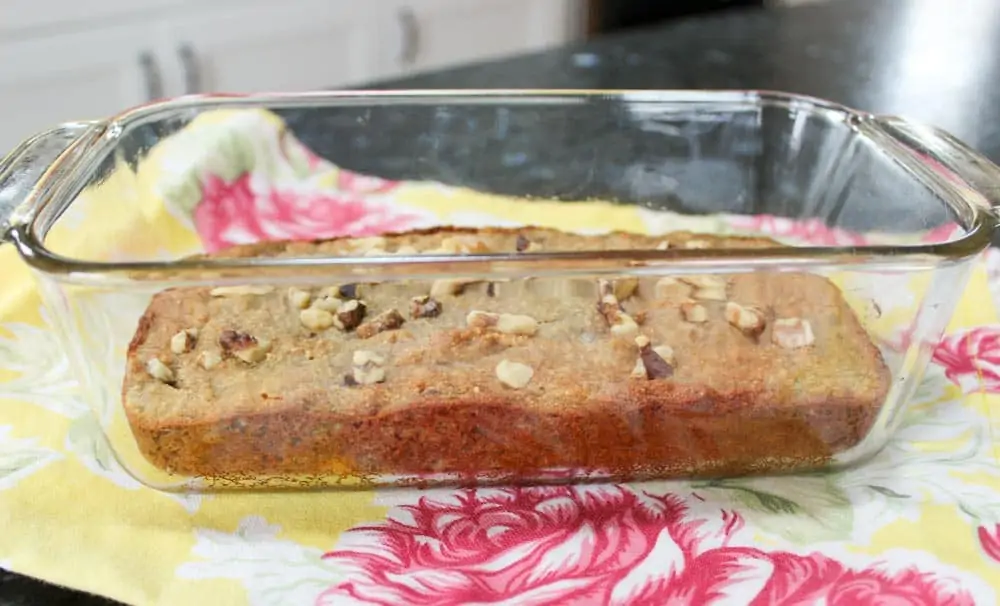 Using almond flour in place of white flour will give the banana bread a slightly different consistency.
But the taste of this particular recipe was darn near close enough to the traditional white flour version!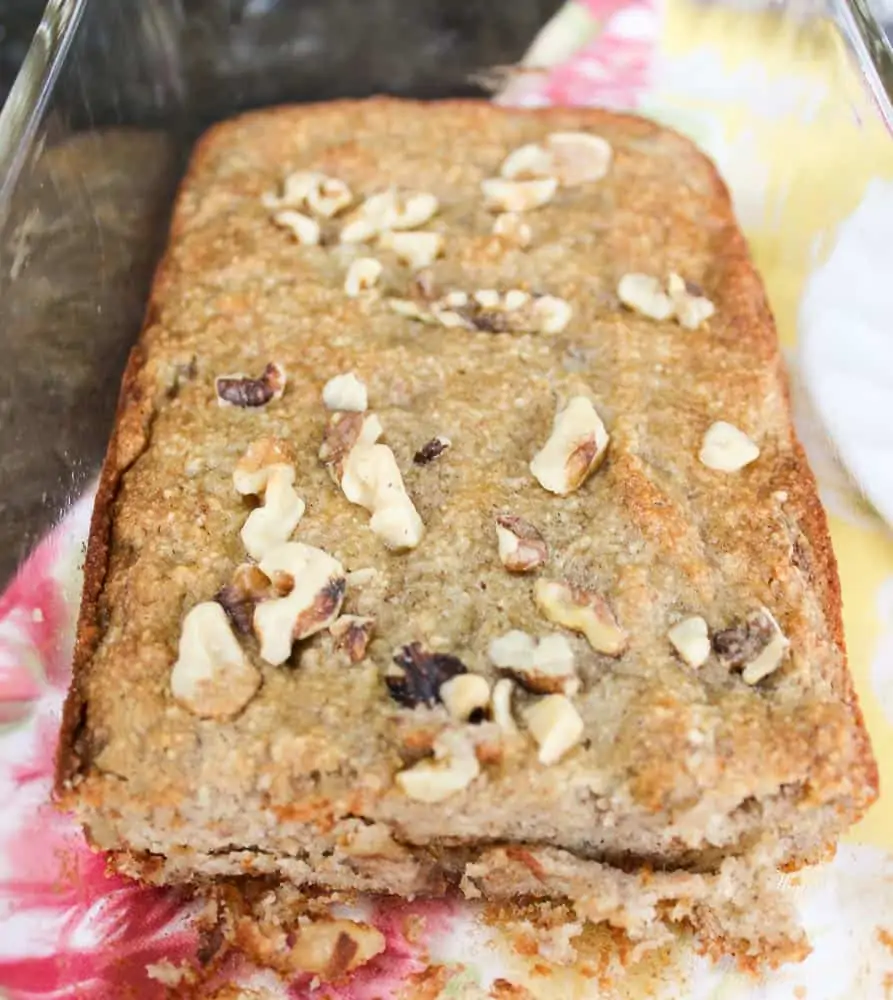 An added bonus is that it's very filling!
Like, I had 2 small slices with butter and was full!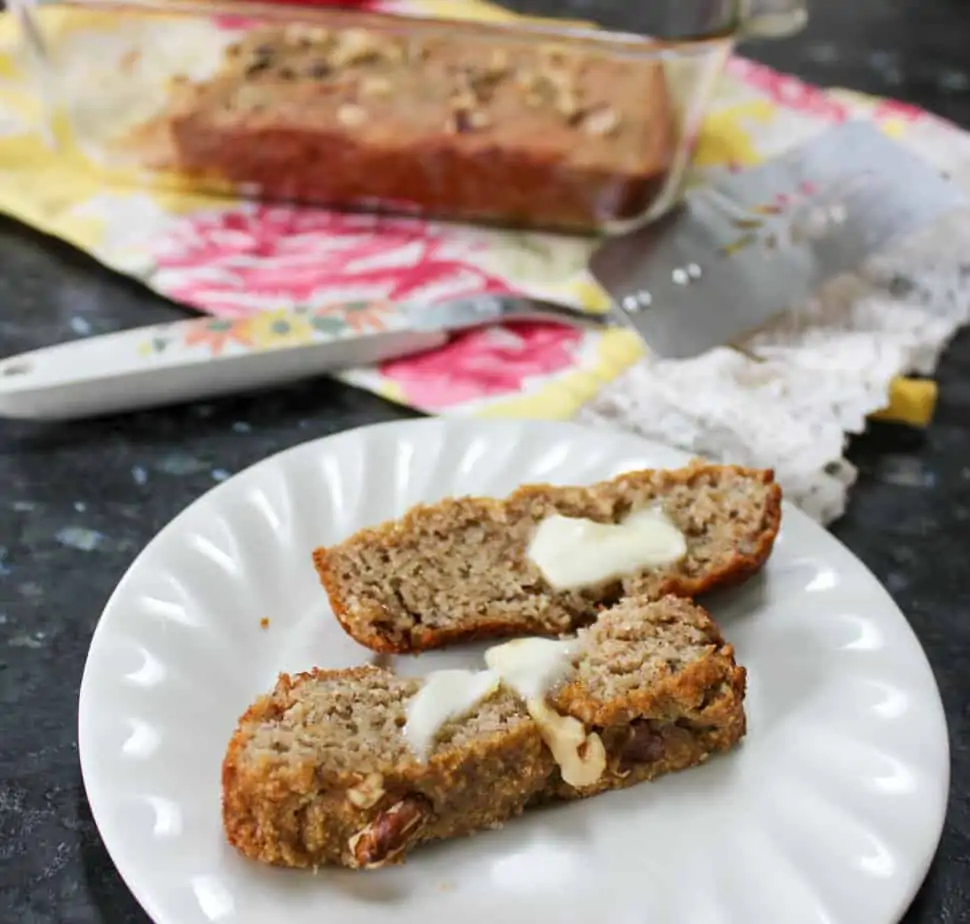 The Husband and Son Taste Test
I gave this almond flour banana bread the husband and son test.
They're not on a no starch diet and eat starches every day.
So, I figured if I could get them to try it and tell me how they like it, that would be a true indicator as to whether or not it's really that good!
Well, they both love it!
As a matter of fact, my son tried to steal my last portion of it this morning and I told him to make toast because that banana bread is mine!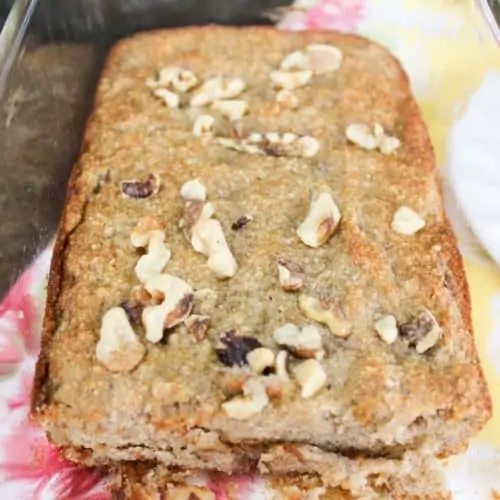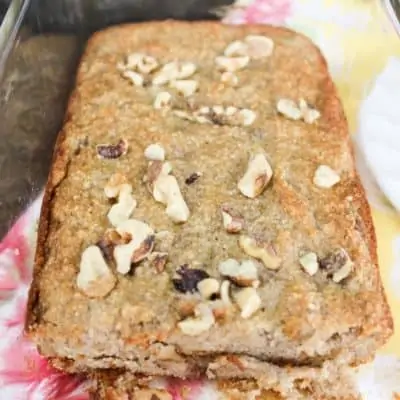 Almond Flour Banana Bread with Walnuts Recipe
A delicious almond flour recipe for banana bread using all natural ingredients and no added sugar.
Ingredients
1

cup

Almond Flour

½

tsp

Ground Cinnamon (optional)

¼

tsp

Baking Soda

⅛

tsp

Salt

1

tbsp

Unsalted Butter, melted

1

tbsp

Maple Syrup OR Honey

1

Banana, mashed

1

Egg, large

1

tsp

Lemon Juice

½

tsp

Vanilla Extract

¼

cup

Walnuts, chopped
Instructions
Preheat oven to 350 degrees farenheit.

Use cooking spray to spray the bottom and sides of a 5" x 3" mini loaf pan.

In a medium bowl, mix together almond flour, cinnamon (optional), baking soda, & salt.

In another medium bowl, mix together the melted butter, syrup (or honey), & mashed banana.

Then mix in the egg, lemon juice, and vanilla extract.

Gradually add the dry mixture into the wet mixture and mix well until fully combined. After that, add in your chopped walnuts, saving a small handful to sprinkle across the top of the batter.

Spoon batter into loaf pan.

Spring remaining chopped walnuts on top of the batter.

Place loaf pan into oven and bake for approximately 25 to 35 minutes or until a toothpick inserted into the center of the bread comes out clean.
For more bread & muffin recipes, click on over to:
Banana Crumb Muffins Even Your Picky Eater Will Love
How To Make the Perfect Chocolate Chip Banana Bread
Easy Bakery Style Chocolate Chip Muffins Recipe
Again, you can easily swap out the white flour and add in the same measurement of almond flour in these recipes.
Just be sure to slightly increase the amount of baking powder and/or baking soda.