With this recipe, the perfect chocolate chip banana bread is right at your fingertips!
And the great thing about this recipe is that there are only 3 steps involved!
In addition, you probably don't even have to go to the store because you most likely already have the ingredients in your pantry.
Chocolate Chip Banana Bread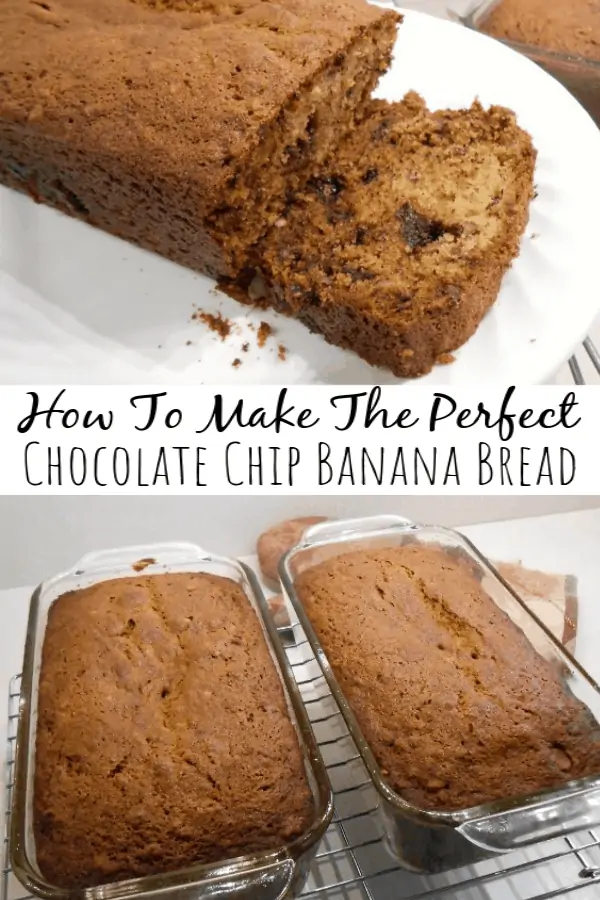 The other day I really wanted to make something sweet!
I thought, instead of going to the store for ingredients, I'd prefer to just peruse my pantry to see what ingredients I had.
In other words, If I could find a recipe I could throw together using ingredients I already had at home, that would be great!
Therefore, I went online to AllRecipes.com and did a search by ingredients.
In my kitchen I had 5 overripe bananas, 2 half bags of chocolate chips and about 1/3 of a bag of chopped walnuts.
Certainly, I didn't want to waste the brown bananas and just throw them away.
So, I typed in the ingredients in the ingredient search menu and came up with this Chocolate Chip Banana Bread Recipe.
Above all, it's a great way to use up what you already have in your house and you'll find a new recipe all at the same time!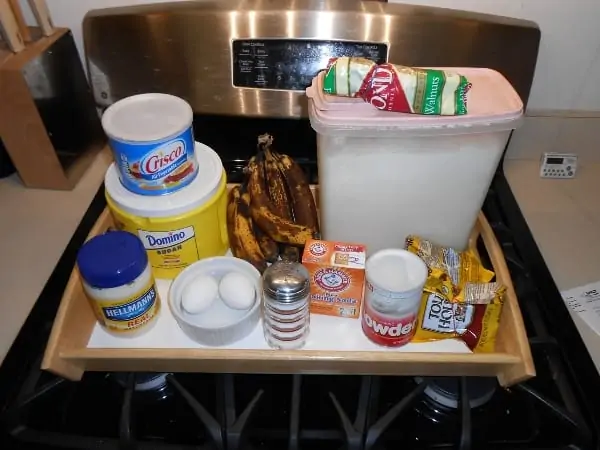 This Recipe has great reviews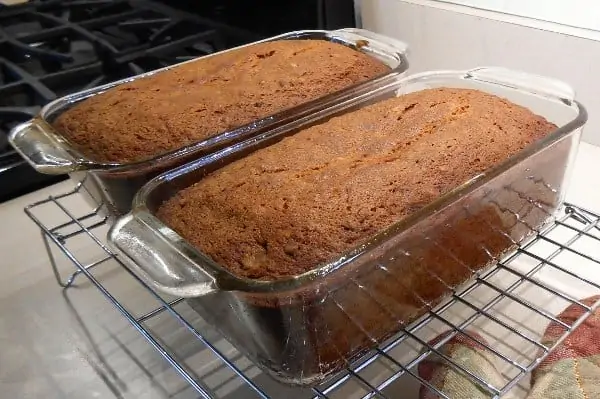 Firstly, you can see what the reviews are on the recipes that come up from your search.
Moreover, if it's a 5 star recipe and there are a bunch of reviewers, you know it'll turn out good.
For example, this particular recipe has 649 reviews and 5 stars.
Can't go wrong with that!
Chocolate Chip Banana Bread Recipe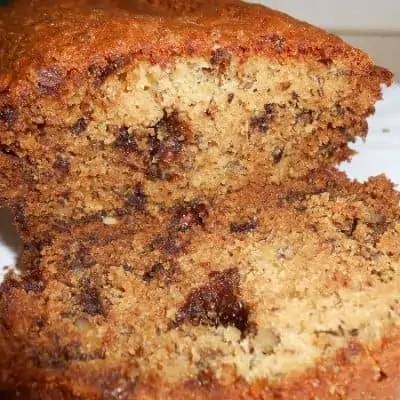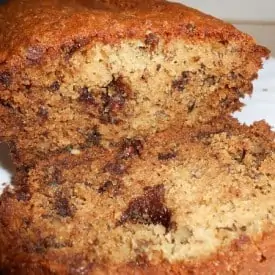 How to Make the Perfect Chocolate Chip Banana Bread
A deliciously moist, ridiculously easy banana bread recipe with chocolate chips and a surprise ingredient.
Ingredients
- 1 cup shortening

- 2 cups white sugar

- 2 eggs

- 2 T mayonnaise

- 6 very ripe bananas

,

mashed

- 3 cups all-purpose flour

- 1/2 t salt

- 1 t baking powder

- 2 t baking soda

- 1 cup semi-sweet chocolate chips

- 1/2 cup chopped walnuts
Instructions
Preheat oven to 350 degrees F (175 degrees C). Lightly grease two 9x5 inch loaf pans.

In a large bowl, cream together the shortening and sugar until light and fluffy. Stir in the eggs one at a time, beating well with each addition. Stir in the mayonnaise and bananas. Stir together the flour, salt, baking powder and baking soda. Blend the flour mixture into the banana mixture; stir just enough to evenly combine. Fold in the chocolate chips and walnuts.

Bake at 350 degrees F (175 degrees C) until a toothpick inserted into the center of the loaf comes out clean, about 50 to 75 minutes. Cool loaf in the pan for 20 minutes before removing to a wire rack to cool completely.
Only 3 steps to the perfect Chocolate Chip Banana Bread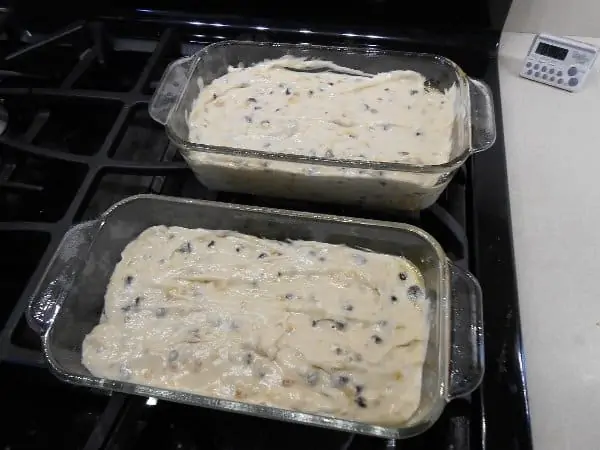 3 Steps:
Grease the loaf pans.
Mix the ingredients.
Bake.
I'd say that's pretty darn easy!
Make sure that, before you take the loaves out of the oven, you insert a toothpick into the center of each loaf of bread.
The tops of the loaves can get brown before the center of the bread is cooked through.
It's moist and delicious!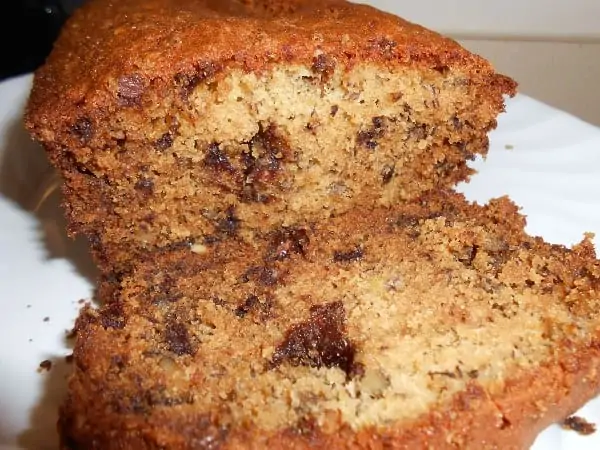 It turned out REALLY good!!
My official taste-testers are my son and my husband.
They are both banana bread snobs and will only eat a banana bread recipe that has been passed down through the generations of our family.
Well, they tried my recipe and they absolutely loved it!
It was really moist on the inside and had a crisp outer crust.
As a matter of fact, they almost finished the entire first loaf this morning for breakfast.
It's a delicious way to start the day, served warm with a pat of melted butter!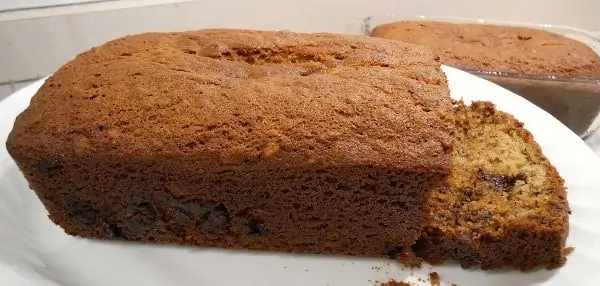 For more delicious breakfast bread recipes, check out our posts on:
Easy Walnut Chocolate Chip Muffins
Banana Crumb Muffins Even Your Picky Eater Will Love
Weight Watchers Zucchini Muffins – Bite Size Mini Quiches