This Crab Stuffed Cucumber Cups with Old Bay Seasoning recipe is the perfect way to use up any leftover crab meat you might have.
Coming on the heels of the internet's bum rush for my Maryland Deviled Eggs with Crab recipe, I had around 5 ounces of crab meat leftover.
Now, you know, in my house, and probably most households, when there's leftover crab meat, you've got to make something out of it!
Crab Stuffed Cucumber Cups with Old Bay Seasoning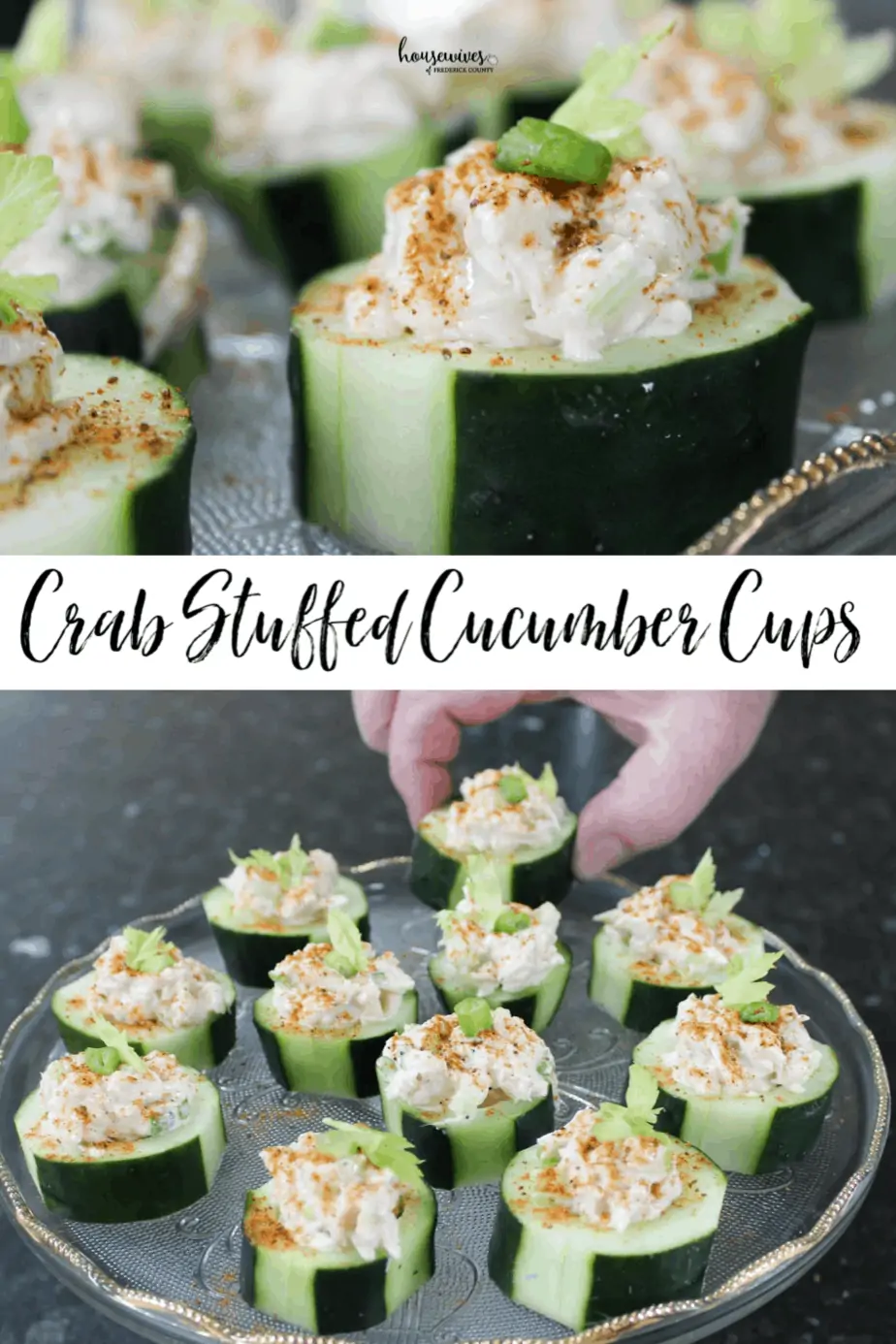 I've already made and posted several crab meat recipes lately, but they all call for more than 5 ounces of crab.
So, I figured if I could create a small appetizer recipe, that should take care of our leftovers.
And I created the exact recipe I needed: Crab Stuffed Cucumber Cups!
I love me some cucumbers and I adore crab meat, so I knew this would be another winning combination!
Low Carb Crab Appetizer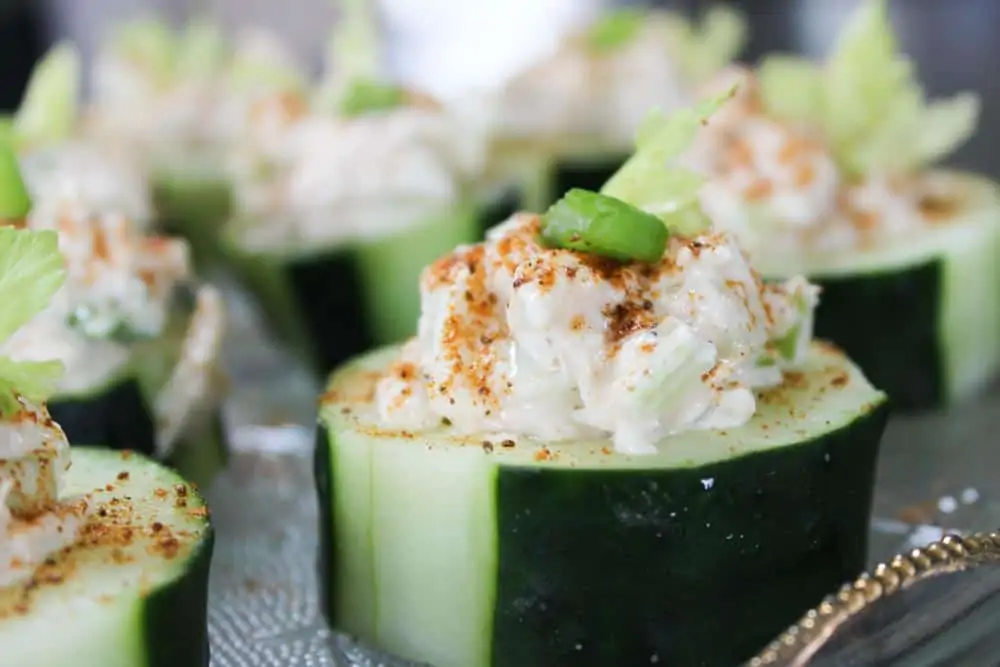 Say that 3 times fast!
Because I'm on a no starch, low carb diet, this crab appetizer is perfect for me, as I'm sure it is for a lot of us trying to eat right.
Instead of being tempted to dip a starchy cracker or chip into the crab mixture, the cucumber cups do the job of giving it that crunch you need.
Easy Steps to Make This Recipe
The steps for making crab stuffed cucumber cups are very simple, as long as you have the proper kitchen tools.
Step One
First, you'll combine all of the crab mixture ingredients together in one bowl.
Step Two
Second, and this is where you'll need the proper tools, you will peel your cucumbers in a striped pattern using a good peeler.
This OXO Good Grips Swivel Peeler (Amazon) is perfect for the job!
After that, slice the cucumber into 1 1/2″ to 2″ slices.
You'll want them somewhat thick because you want the melon baller to scoop the cucumber slice into a 'cup' without creating a hole through the bottom.
This Farberware Double Sided Melon Baller (Amazon) is a good one.
Not only is it great for making cucumber cups, but also it's perfect for melons, cheese and butter.
As you can see, I sliced the cucumber too thin a couple of times, so the melon baller made holes in the bottom.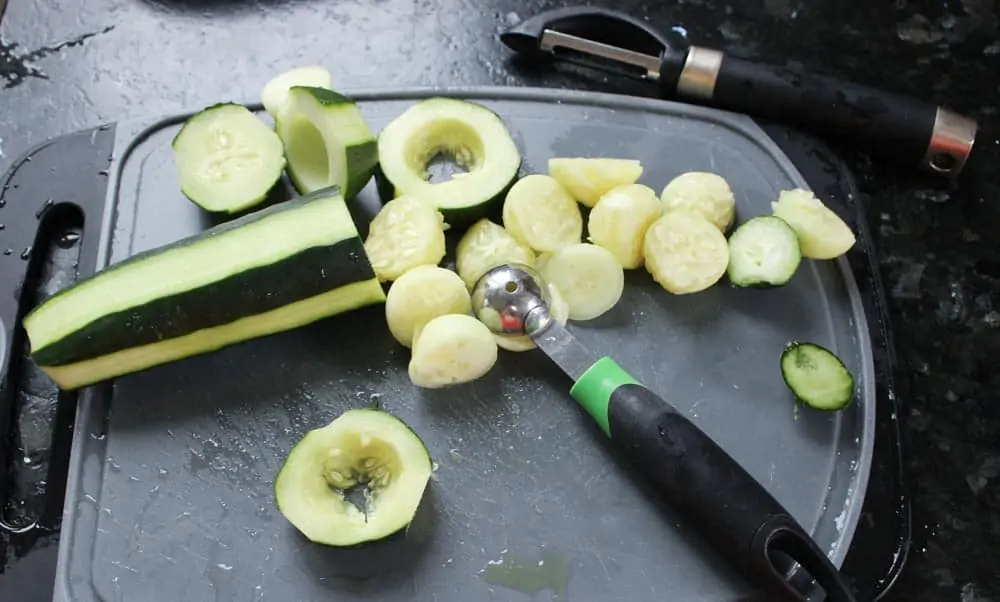 Step Three
Third, place your cucumber cups onto a serving tray.
Then use 2 teaspoons, one to scoop up the crab meat mixture and one to scrape it neatly into each cup.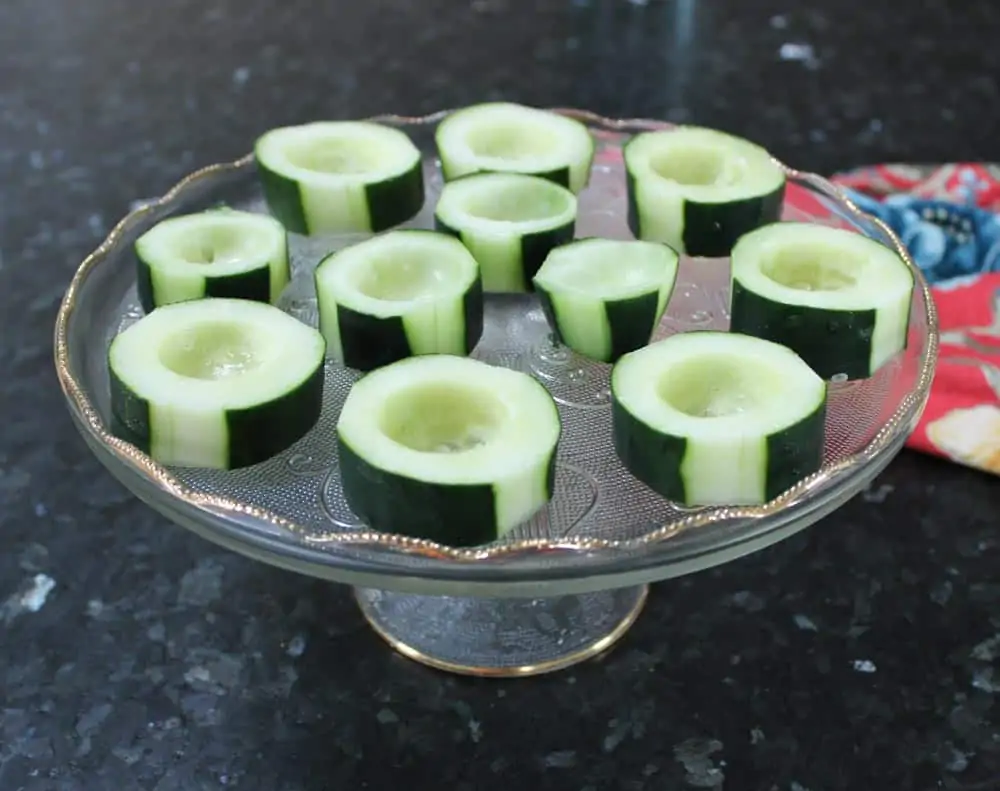 Mmm, it's all coming together now!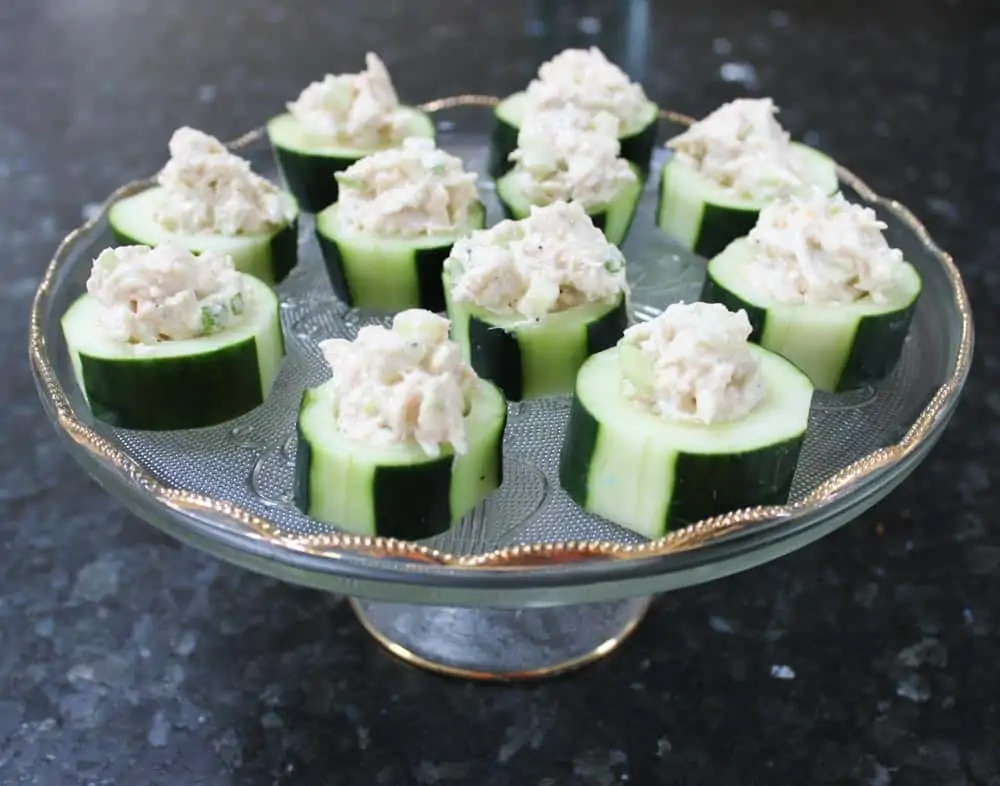 Step Four
Fourth, you'll garnish your crab stuffed cucumber cups with slices of spring onion, celery leaves, and Old Bay Seasoning.
It wouldn't hurt to sprinkle some extra salt and pepper on top too.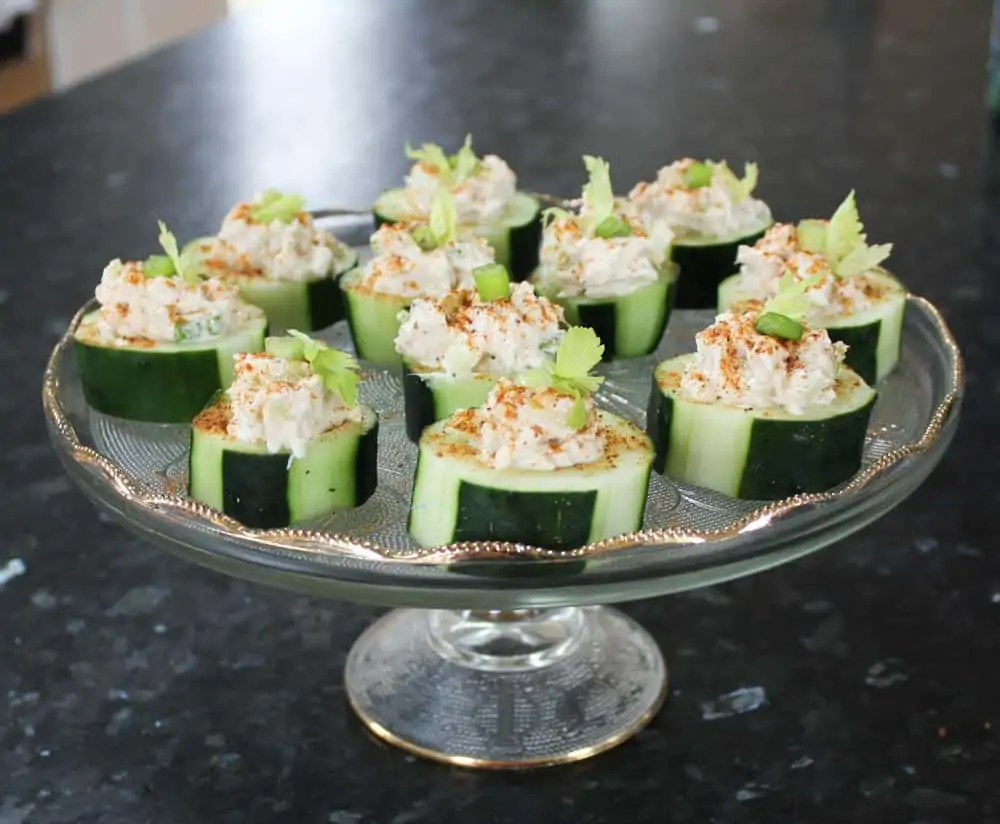 Be sure to keep your Old Bay Seasoning on the table, as well as the salt and pepper shakers.
That way, whoever is eating this appetizer can sprinkle on some extra if needed!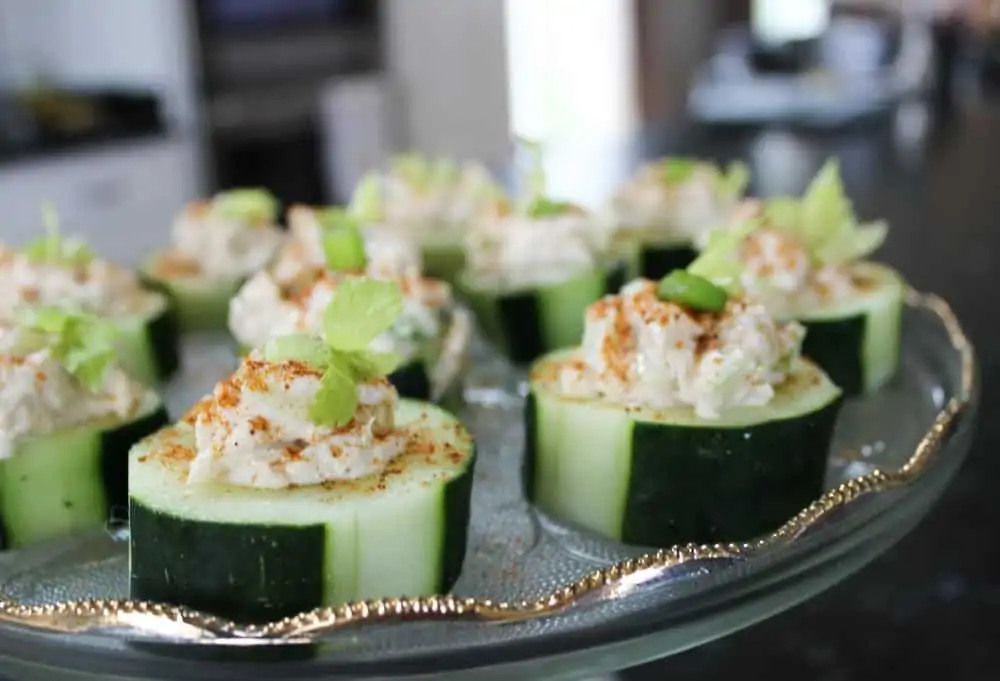 Again, my husband just happened to be right there when I finished taking photos for this blog post.
But in all honesty, he has always been my official taste tester.
For instance, he tells me if the recipe needs anything, which has been great feedback for me.
Needless to say, he loved the the crab stuffed cucumber cups!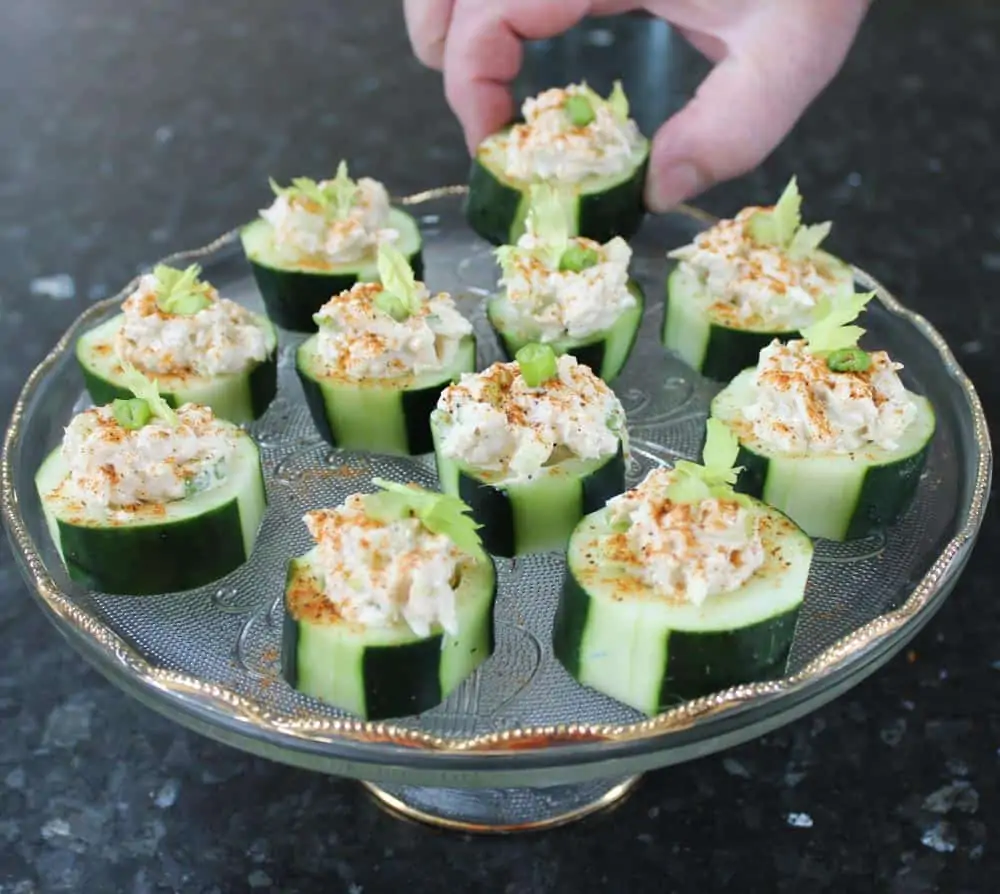 Crab Stuffed Cucumber Cups with Old Bay Seasoning Recipe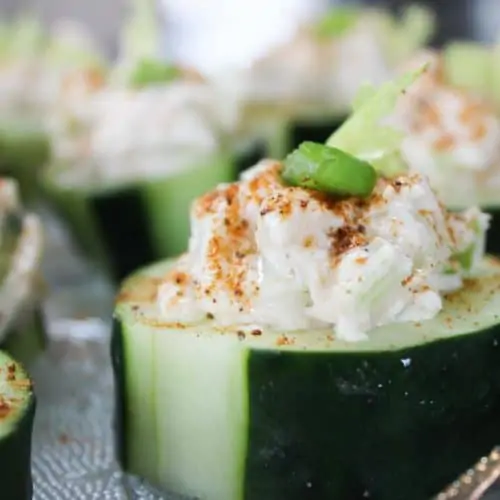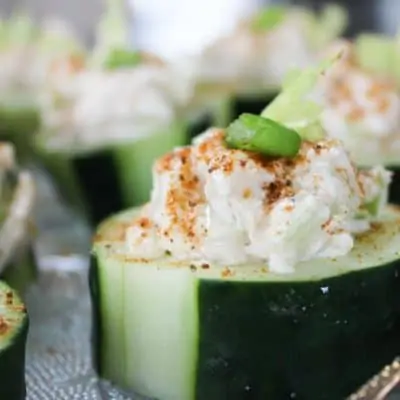 Crab Stuffed Cucumber Cups with Old Bay Seasoning
A delicious, healthy, low carb way to use up any leftover crab meat.
Ingredients
2

Cucumbers, Large

5

ounces

Crab Meat

1

tsp

Hot Pepper Sauce

,

We used Cholula Hot Sauce

1

tsp

Mustard

1

tbsp

Mayonnaise

1

tbsp

Sour Cream

1

tsp

Lemon Juice

1

stalk

Celery, finely diced

1

Spring Onion, finely diced

Salt & Pepper, to taste

Old Bay Seasoning, to taste

Celery Leaves, for garnish
Instructions
Combine all ingredients (except cucumber) into a large bowl and mix well.

Use a good peeler to peel cucumbers in a striped pattern.

Cut the ends off of each cucumber and slice into 1 1/2" to 2" slices.

Use a melon baller to scoop each cucumber slice into a 'cup' without creating a hole in the bottom of the slice.

Arrange cucumber slices on a serving tray.

Fill each cup with crab meat mixture.

Sprinkle Old Bay Seasoning, salt and pepper over top of each crab stuffed cucumber cup.

Add a slice of spring onion and a celery leaf on top of each cucumber cup.
For more crab recipes, click on over to:
Maryland's Grand Prize Cream of Crab Soup Recipe
Crab Cakes Recipe with Remoulade Sauce
Maryland Hot Crab Dip Recipe: A Traditional Maryland Favorite