This recipe for Fried Brussels Sprouts, or Bruksel Lahanasi, is an absolute favorite of ours as well as most Fredericktonians.
We were introduced to this recipe several years ago when we first dined at one of our all-time favorite restaurants, Ayse Meze in Downtown Frederick.
In spite of the fact that they were hugely popular, Ayse Meze sadly closed their doors earlier this year.
However, lucky for all of us, they offer their brussels sprouts recipe on the menu at one of their sister restaurants, Pistarro's Ristorante Pizzeria Napoletana.
In addition, if you want to make them at home, now you can!
Ayse Meze Fried Brussels Sprouts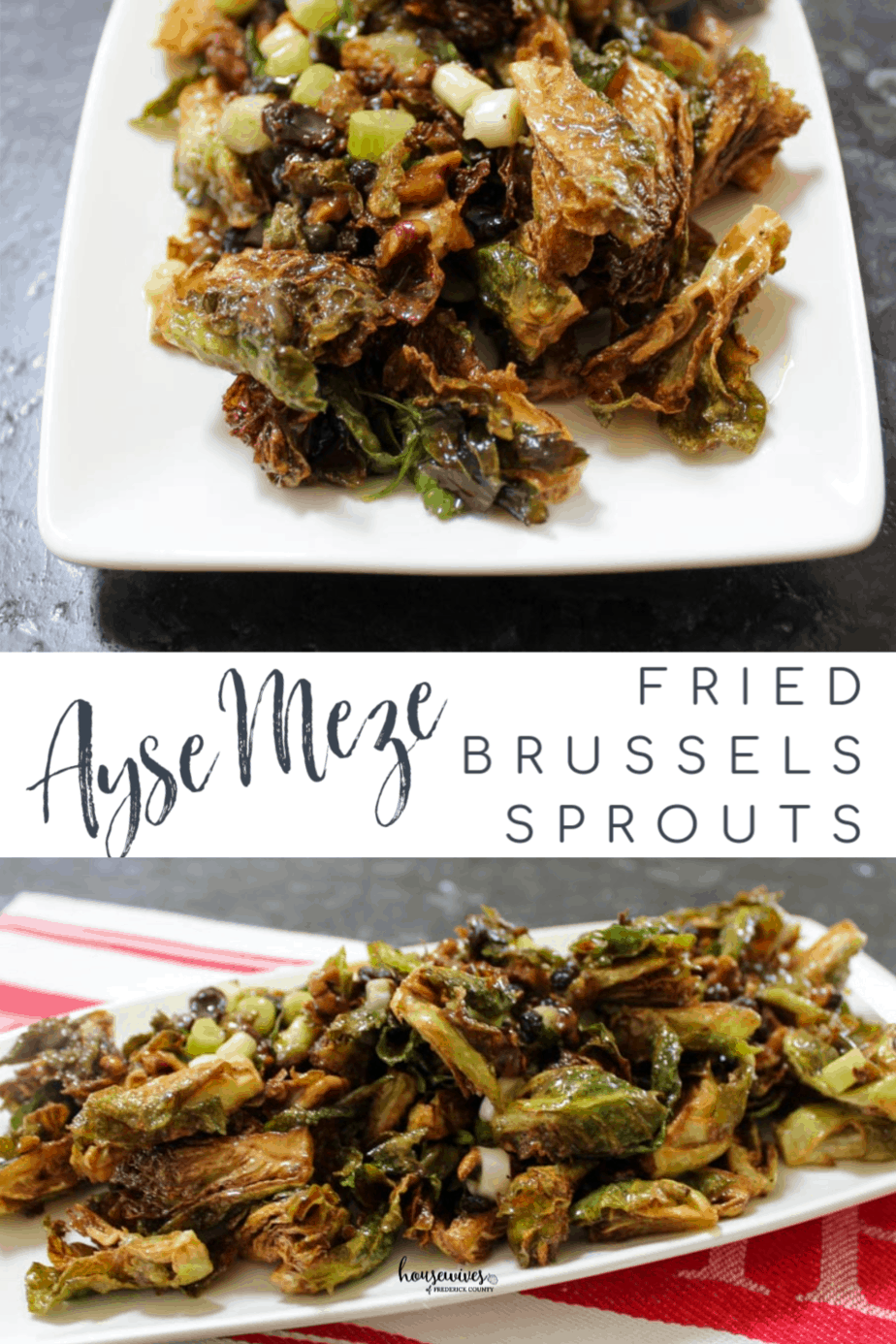 Whenever we dined at Ayse Meze, we always ordered the brussels sprouts appetizer.
It was just a no-brainer.
Admittedly, it was our main reason for going there!
Although their entire menu was amazing, the brussels sprouts were the main draw for us.
Every. single. time!
How We Got Our Hands On The Recipe
Terri and I became friends with the owner of Ayse Meze a few years ago when we held our Sparkle & Spirits event at his restaurant.
Unquestionably, Nezih Pistar is the nicest guy you'll ever meet and was so gracious with us!
Needless to say, our event far exceeded our expectations and we have Nezih to thank for that!
So, when we found out that Ayse Meze was closing, we were seriously bummed.
Fast forward a few months, we decided we were just going to go for it and ask Nezih for his famous brussels sprouts recipe.
All he can do is say no, right?
Obviously, we were super excited when he responded with a copy of Ayse's menu showing the exact recipe.
Now we can finally make this amazing dish at home!
No pressure, right?
Step by Step Instructions
I'm going to take you through the steps for making this recipe.
Then, I will post the recipe for you to print out so you can try it for yourself!
1st Step
First, prepare the vinaigrette by combining garlic cloves (I used minced garlic), minced jalapeno, red wine vinegar, honey, dijon mustard, and e.v.o.o. (Extra Virgin Olive Oil).

Mix all of the ingredients together in a large bowl.
Then pour it into blender and blend well.
I used my NutriBullet (Amazon) which was the perfect size.
Oh, and by the way, when following Ayse's recipe, the dressing will be enough to make 6 to 7 'orders' worth.
An 'order' feeds about 3 people as an appetizer or a side.
So, if you don't plan to make more than one 'order', make less dressing.
Pour your dressing from the NutriBullet into a dressing bottle like the one pictured.
I used my Mom's salad dressing bottle. Reminds me of her.
But if you're in the market for a good salad dressing bottle, this OXO Good Grips Salad Dressing Shaker (Amazon) is perfect for this vinaigrette recipe.
2nd Step
Second, wash and dry your brussels sprouts with a towel or paper towel.
The reason for drying them is because they contain a lot of water content which increases the splashing in a deep fryer.
Then, cut the ends off of the brussels sprouts and cut them in quarters, lengthwise.
Remove any loose outer leaves.
After that, place the cut brussels sprouts into your heated up deep fryer.
I borrowed Terri's deep fryer but if you're in the market for a deep fryer, I found this Presto GanPappy Deep Fryer on Amazon with great reviews!
Cook for approximately 5 minutes or until they're a nice golden brown on the edges.
Pro Tip: Once you remove the brussels sprouts from the deep fryer, press the cooked brussels sprouts with paper towels in order to remove some of the excess oil.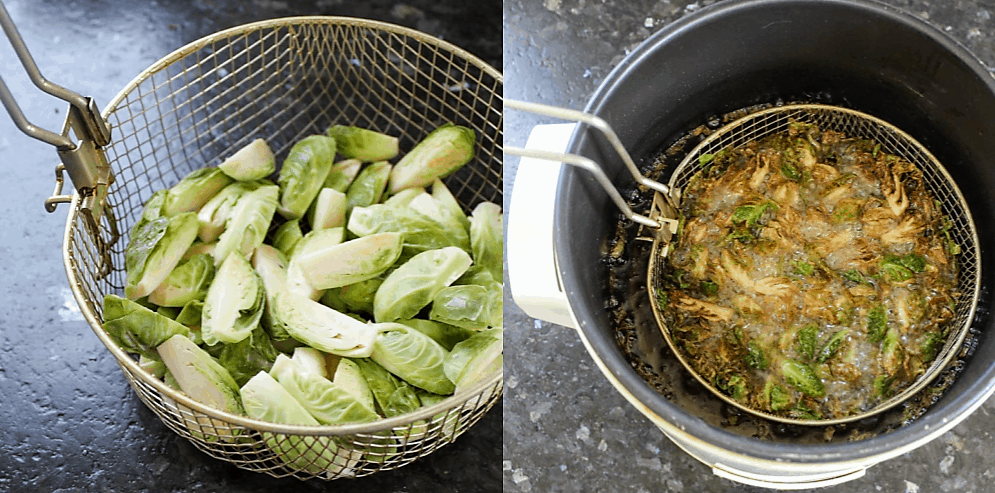 3rd Step
Third, while your brussels sprouts are cooking, toast your chopped walnuts in a 350 degrees fahrenheit oven for 10 minutes.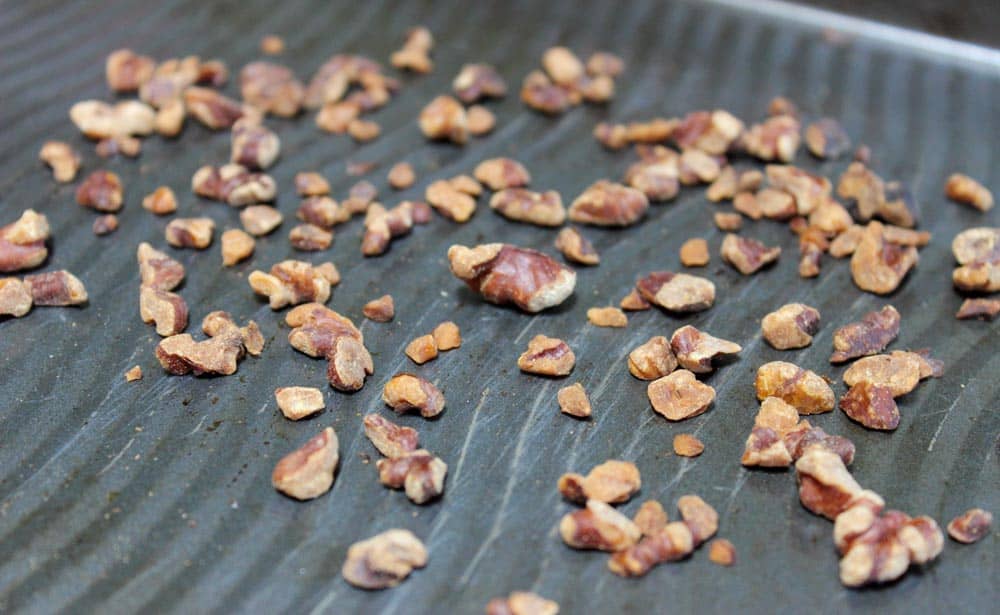 Set aside the walnuts, currants (I found them at Wegmans) and sliced scallions.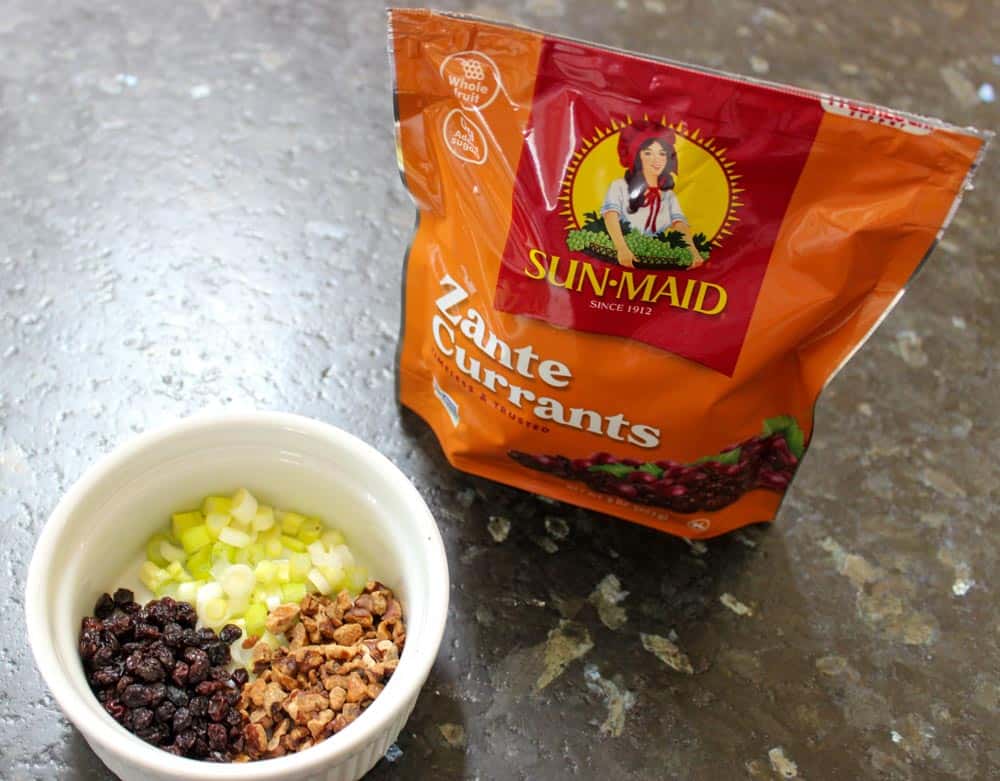 4th Step
Fourth, measure out the capers and parsley leaves and saute in a frying pan for 1 to 2 minutes.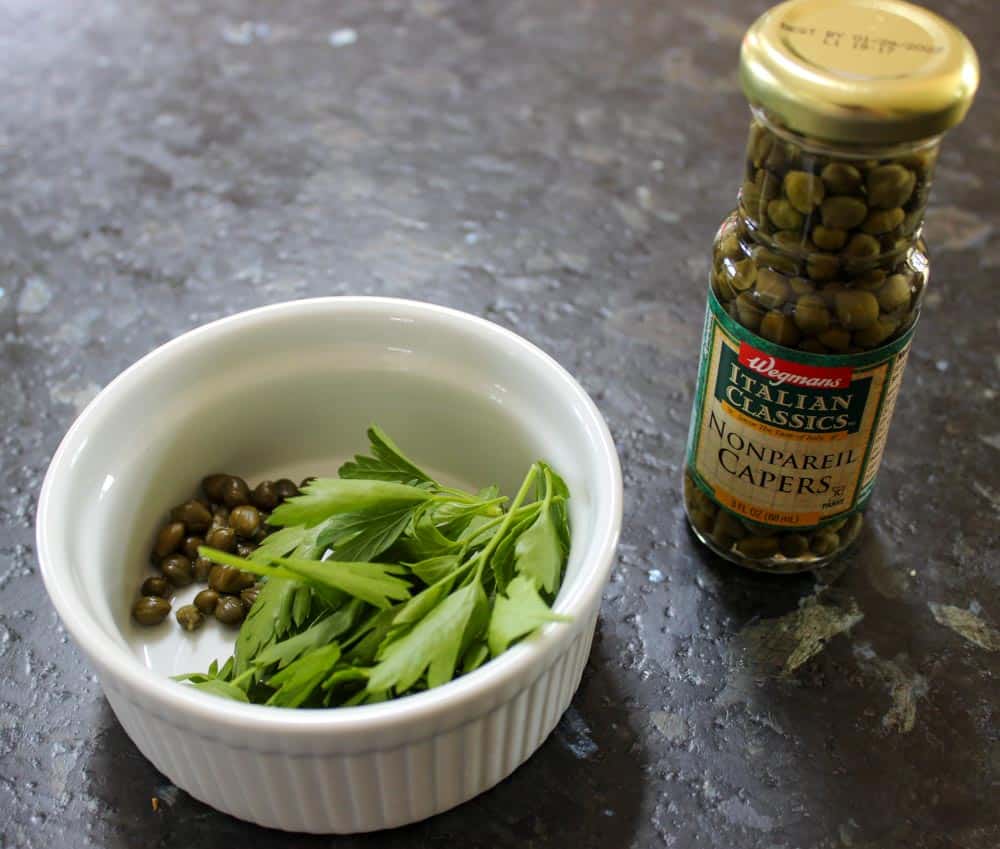 I just used Pam cooking spray to saute these ingredients.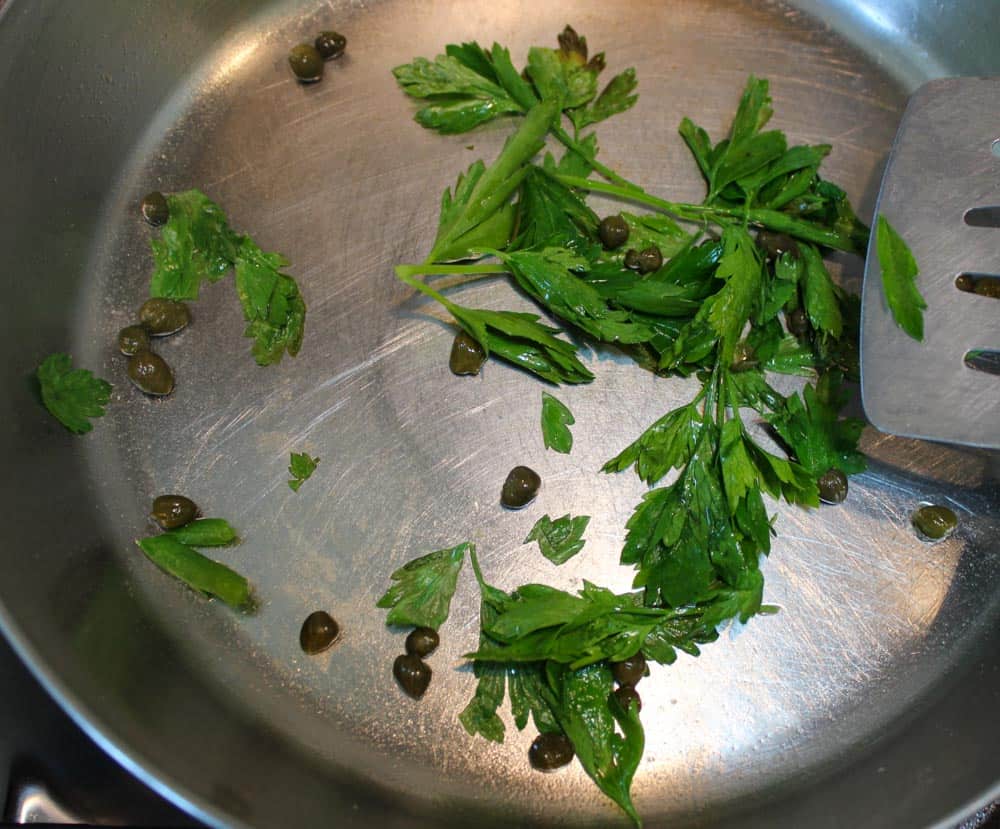 Final Step
Finally, add everything to a large bowl and mix well with a large spoon.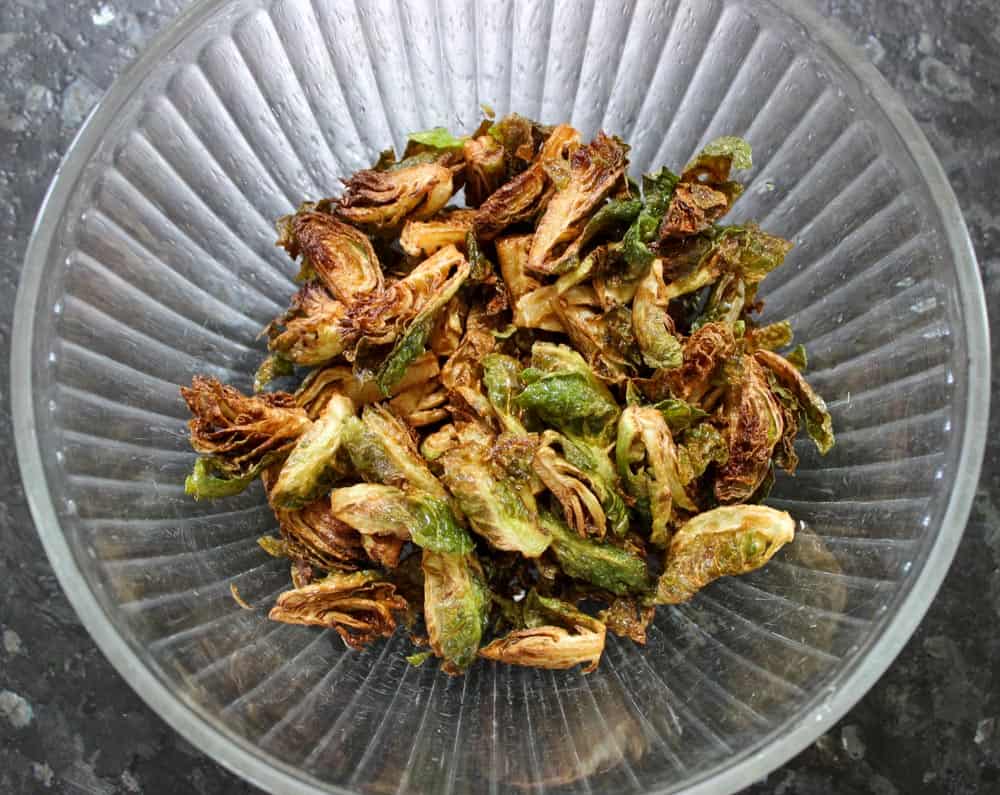 Once all of the ingredients are added to the bowl, toss in the vinaigrette a little bit at a time until the brussels sprouts are lightly coated.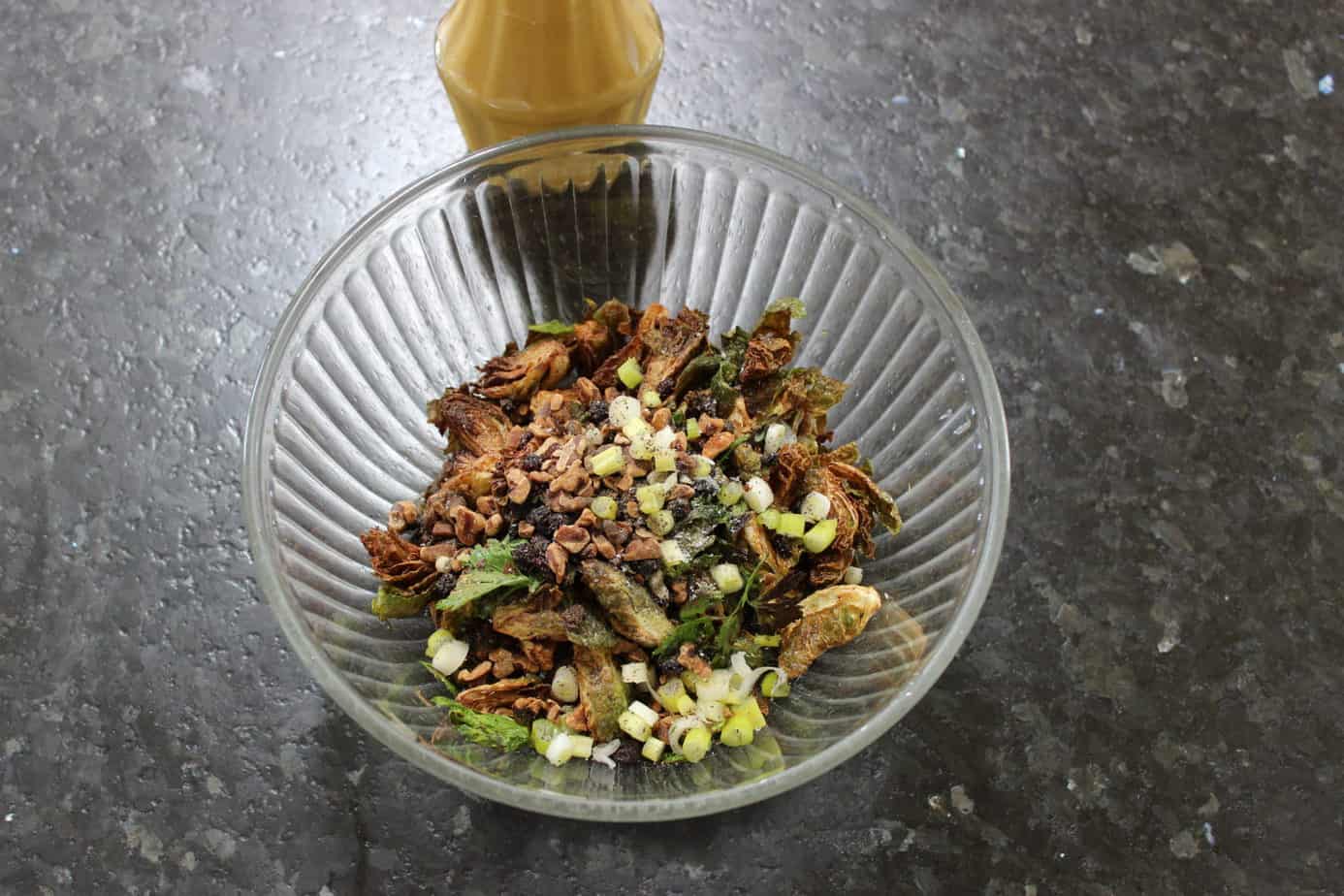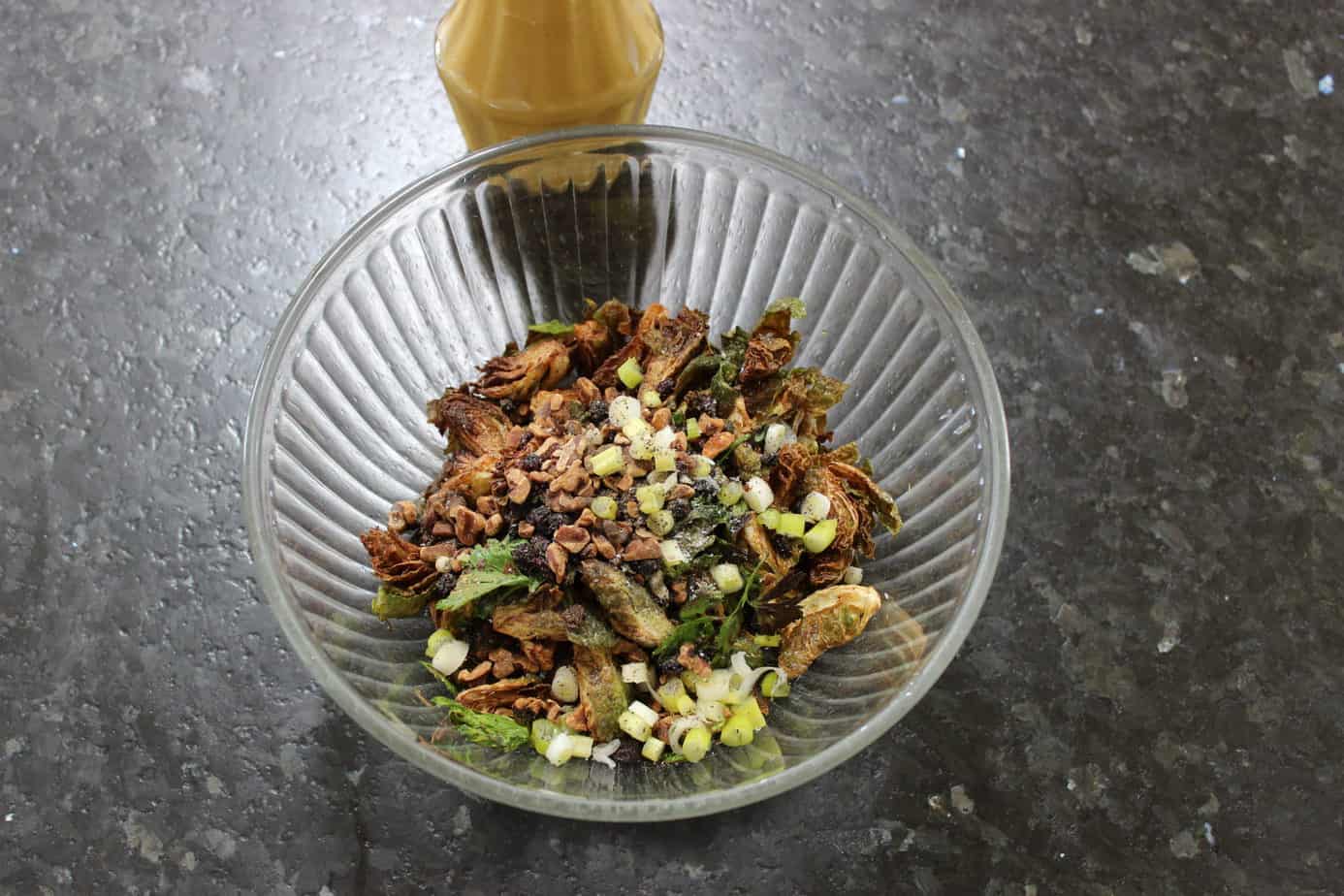 Then place your creation onto a nice serving dish and enjoy!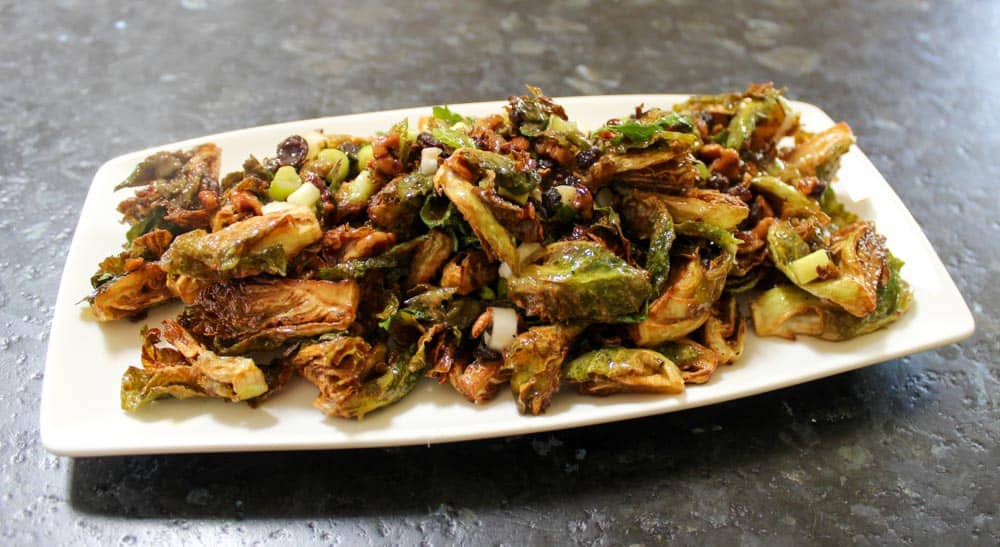 You guys!! These fried brussels sprouts are heaven on a plate!
Just taking a bite will transform you to another dimension.
The combination of the currants, scallions, toasted walnuts, capers and parsley are exquisite along with the fried brussels sprouts and vinaigrette dressing.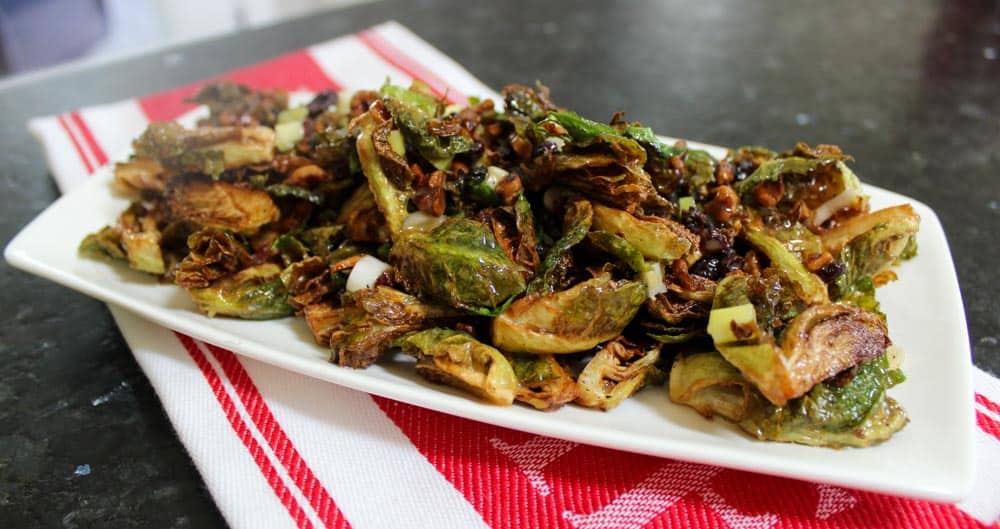 Alternatives to deep frying your brussels sprouts
Also, if you don't want to use a deep fryer or deep fry the brussels sprouts in a frying pan, you can use an air fryer.
I don't have an air fryer so I don't know how they'd turn out, but I'd be willing to bet they'd turn out great and with a lot less fat.
This Ninja Air Fryer (Amazon) has close to 6,000 4 star reviews.
You could probably even oven roast your brussels sprouts and prepare the recipe that way and they'd turn out awesome.
So many options!
Ayse Meze Fried Brussels Sprouts Recipe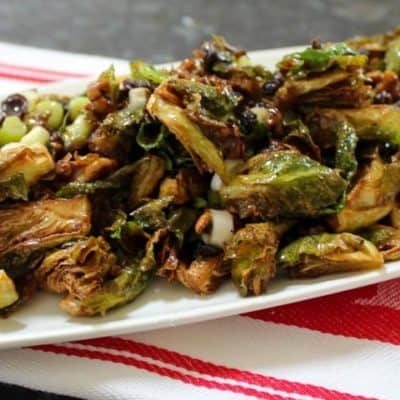 Ayse Meze Fried Brussels Sprouts
Ayse Meze's famous fried brussels sprouts recipe can now be made at home! They're just as delicious as you remember!
Ingredients
6

cloves

Fresh garlic

,

I used 3 tsp minced garlic

1

Jalapeno, minced

1

cup

Red wine vinegar

2

ounces

Honey

2

tbsp

Dijon mustard

2

cups

Extra Virgin Olive Oil

5

ounces

Brussels sprouts, trimmed & quartered

,

I used 15 to 20 medium sized brussels sprouts

1/4

cup

Italian parsley leaves

1

tsp

Capers

1/2

ounce

Walnuts, toasted & chopped

1/2

ounce

Currants

1/2

ounce

Scallions, sliced

Kosher salt, to taste

Black pepper, to taste
Instructions
To make the vinaigrette, blend garlic, dijon mustard, red wine vinegar, hone, olive oil & jalapeno in a blender. Season with salt & pepper, place in a squirt bottle, and set aside.

Deep fry brussels sprouts for 3 to 5 minutes. Remove when edges begin to brown and curl. Toss in a bowl and season with salt & pepper.

Fry parsley and capers for 1 minute. Then add to brussels sprouts.

Toss in the scallions, walnuts, currants and dressing.
Not gonna lie, I was pretty nervous to attempt to recreate this legendary recipe.
BUT, it turned out amazing!
I'm so happy I tried it!
So, now it's your turn.
Let us know if you make it and how you like it.
Just for old time's sake, here's a copy of the original recipe: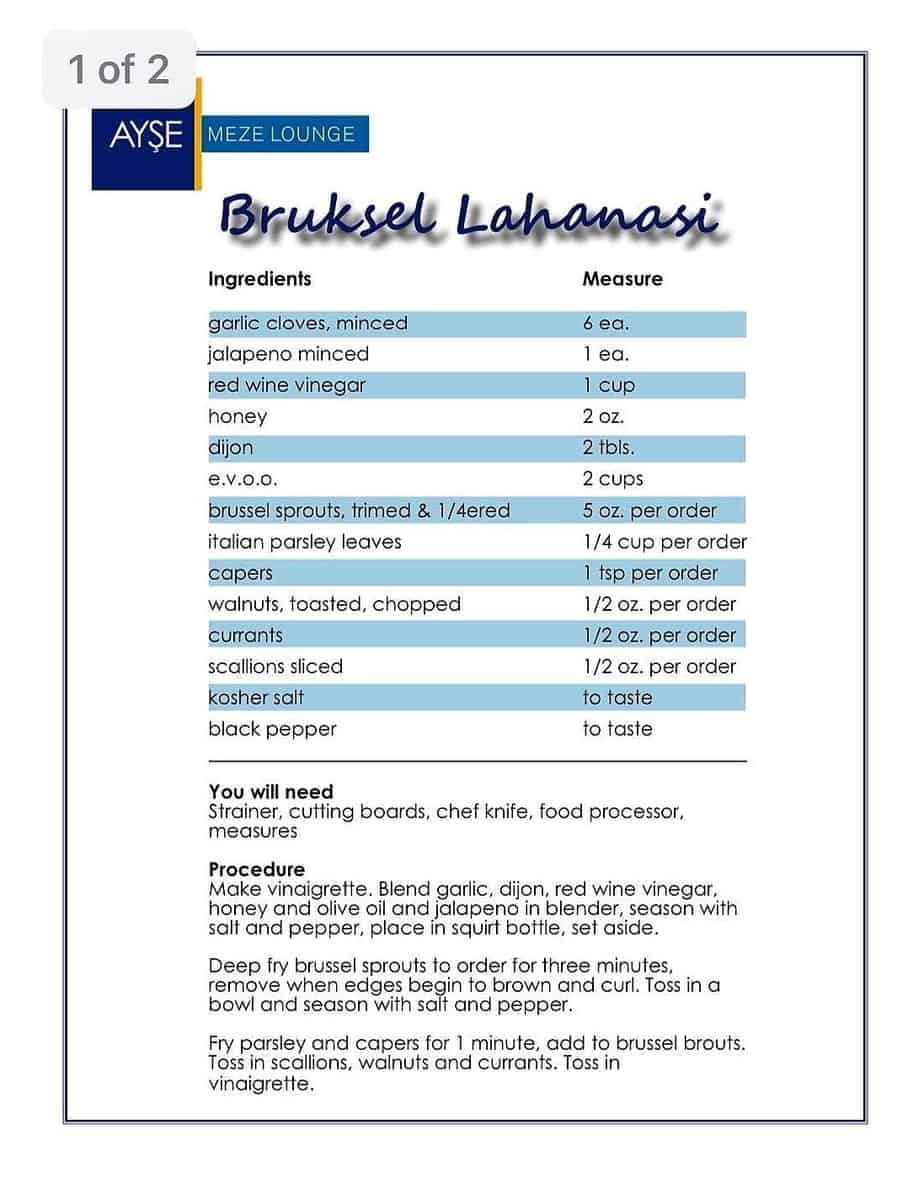 In the meantime, click on over to some of our other appetizer recipes here:
Loaded Sweet Potato Fries with BBQ Chicken
Bacon, Cheese, & Mushroom Chick-Fil-A Nuggets Recipe
Brie in Puff Pastry with Pecans & Brown Sugar Recipe: A Delicious Appetizer