These incredible, mouth-watering lump crab meat recipes cover all menu categories ranging from appetizers to main entrees.
But one thing is for sure with all of them: They're amazing!
Lump Crab Meat Recipes From Maryland
Growing up in Maryland, I cut my teeth on crabs.
We were so lucky because crabs were regularly available to us Marylanders wherever we went.
Admittedly, I took it for granted that crabs would always be as plentiful as they were when I was younger.
Going out to eat crabs was part of our summer routine!
Specifically, a few of the seafood restaurants we frequented the most for crabs were:
Phillips Seafood Restaurant in Ocean City.
The Cracked Claw – originally in Germantown, then later in Urbana, and now, sadly, closed.
Chesapeake Bay Seafood House – in Rockville, but now they're closed.
We absolutely LOVED Chesapeake Bay Seafood House.
They offered a seafood buffet and all-you-can-eat crab legs, crabs, shrimp, hush puppies, french fries and even fried frog legs.
Yes, they really do taste like chicken!
We would sit there for hours on end cracking shells and enjoying each other's company.
Crab Feasts
Also, if we weren't going out to eat crabs, we were buying crabs by the bushel to eat at home.
And that's what you call a crab feast 'round these parts!
One bushel of crabs, depending on the size of the crabs, equals between 5 and 9 dozen of these sought after crustaceans.
What we'd do is lay out newspaper across the entire table, usually outside on the deck, and pour the hot, steaming, ready-to-pick crabs onto the center of the table!
Each place setting had to have a crab mallet, crab cracker, a crab pick, a bowl of melted butter, and a bowl of vinegar.
Then you crack open a beer and get to crackin' on those crabs.
Why Are Crabs So Expensive?
Maryland blue crabs are so expensive because they're SO tasty!
In addition, the demand is high, but the supply is low due to the population declining over recent years.
These days you're pretty darn lucky to get your mallets on some nice size, meaty crabs, justifying a true crab feast.
And when you do, it ain't cheap!
Traditional Maryland Lump Crab Meat Recipes
So, as an alternative to spending this week's paycheck on cracking crabs for hours on end, you can buy the crab meat, already picked!
As a result, you can create some downright amazing lump crab meat recipes!
You know that great feeling you get when you reminisce about something uplifting from your past?
Well, I don't know if it's just because I'm from Maryland, but that's exactly how I feel every single time crab meat passes my lips.
It sounds a little dramatic, but for me, crab meat equals good times with the people I love the most!
So, why not increase these great feelings of joy by creating delicious lump crab meat recipes that can be enjoyed all year long?
And being that my entire website ranks pretty darn well for "cream of crab soup", I knew I had to add to my crab recipe toolbox!
So without further ado, here are links to 8 amazing lump crab meat recipes from Maryland (and me!) with love!
1. Maryland's Grand Prize Cream of Crab Soup Recipe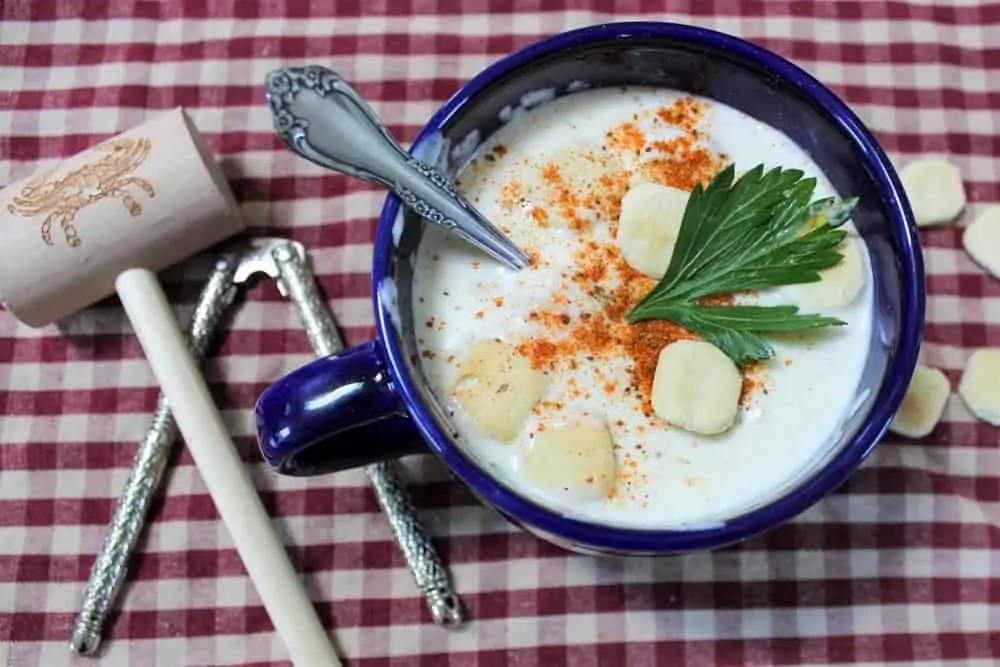 This wonderful, crab-meaty creamy concoction won the Grand Prize at the 53rd Annual National Hard Crab Derby in Crisfield, Maryland.
Ms. Charlese Smith submitted this recipe and the rest is history!
2. Maryland Deviled Eggs with Lump Meat Crab Recipe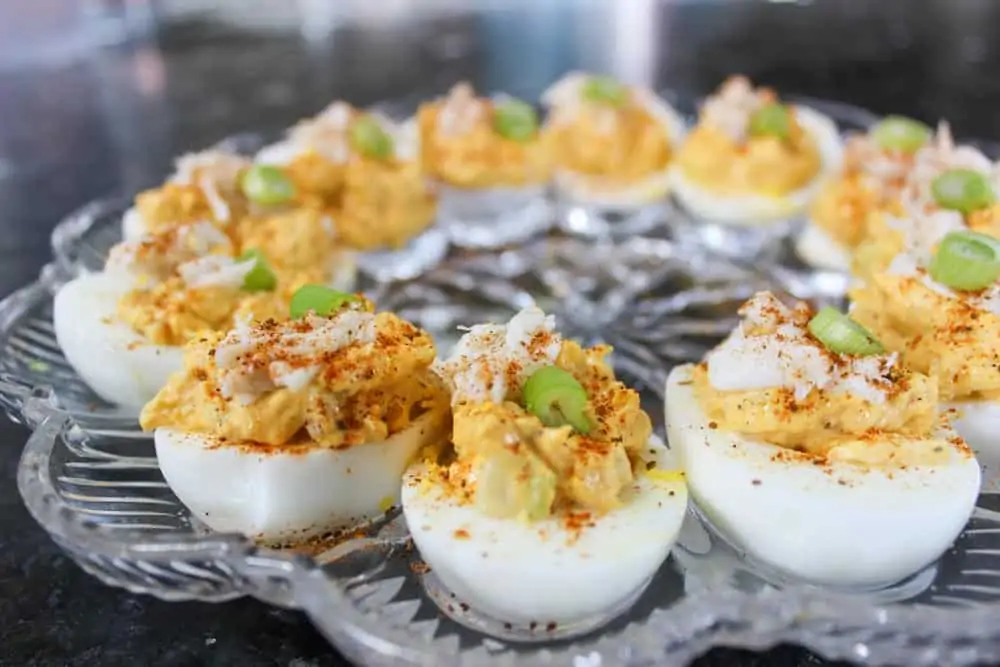 Our most popular crab recipe to date, by a landslide, is these amazing Maryland Deviled Eggs with crab and Old Bay Seasoning.
They were never even on my radar to make until my husband said he heard on the radio about something called Humpty Lumpty.
Um….. huh?
Anyway, I Googled it and couldn't find any type of deviled eggs recipe called Humpty Lumpty.
So, I decided to just create the recipe on my own!
And I'm so glad that I did because they were out of this world delicious!
Just remember if you are serving these to a crowd, please provide a label stating that they contain shellfish, as the crab can be hidden by the egg yolk.
3. Crab Stuffed Cucumber Cups with Old Bay Seasoning Recipe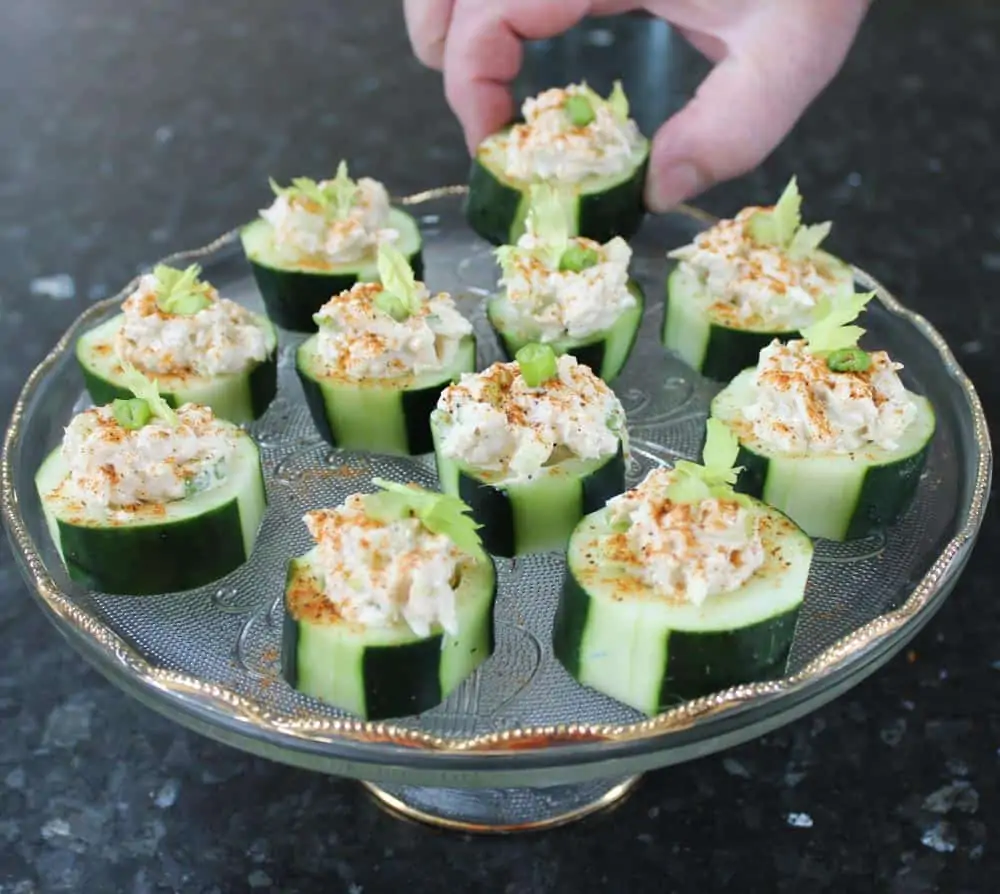 These Crab Stuffed Cucumber Cups were really fun to make, using up some leftover lump crab meat after making my Maryland Deviled Eggs recipe.
My husband couldn't wait to dig into them!
It was fun to make little scoops in each slice of cucumber to nestle the crab meat mixture into.
4. Maryland Hot Crab Dip Recipe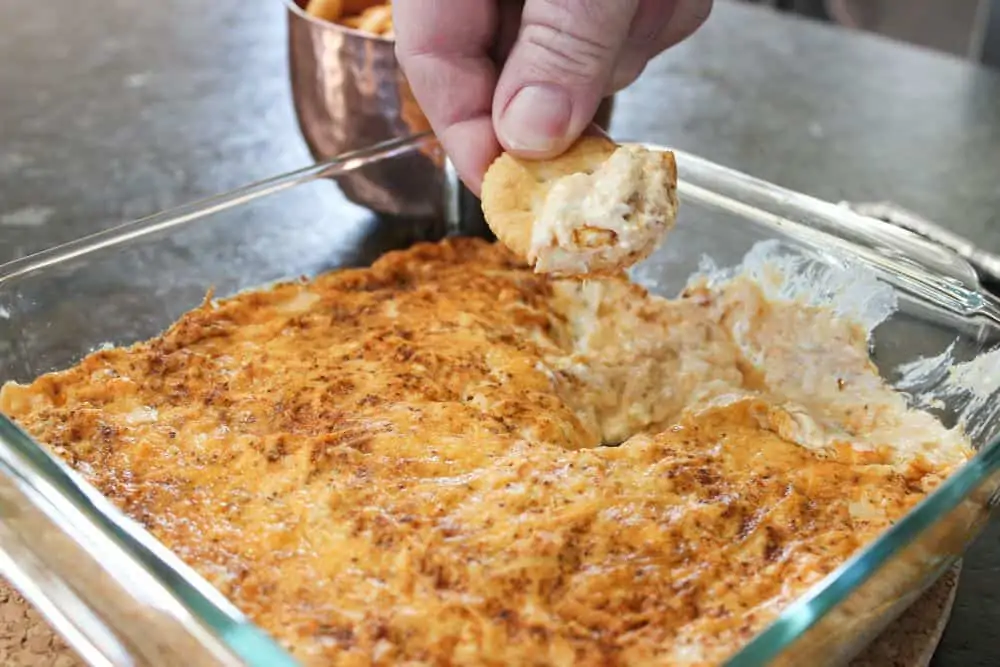 Another tried and true, traditional Maryland crab recipe is this Maryland Hot Crab Dip.
Eat it with Ritz crackers, tortilla chips, sliced baguette, celery, pita wedges, or whatever you darn well feel like dipping into it!
Either way, it's heaven in your mouth!
Mmmm!
5. Lump Meat Crab Salad with Old Bay Seasoning Recipe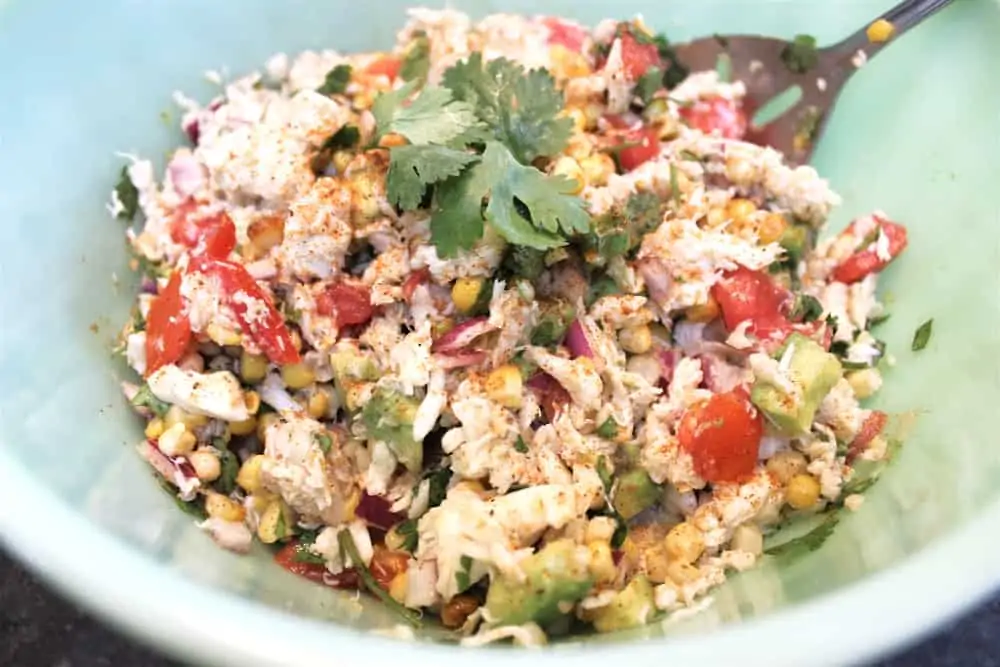 This Crab Salad Recipe with Old Bay Seasoning is seriously refreshing and actually pretty darn healthy!
With corn, avocado, red onion, lime juice, and of course crab meat, your taste buds will be so happy!
6. Crab Cakes with Remoulade Sauce Recipe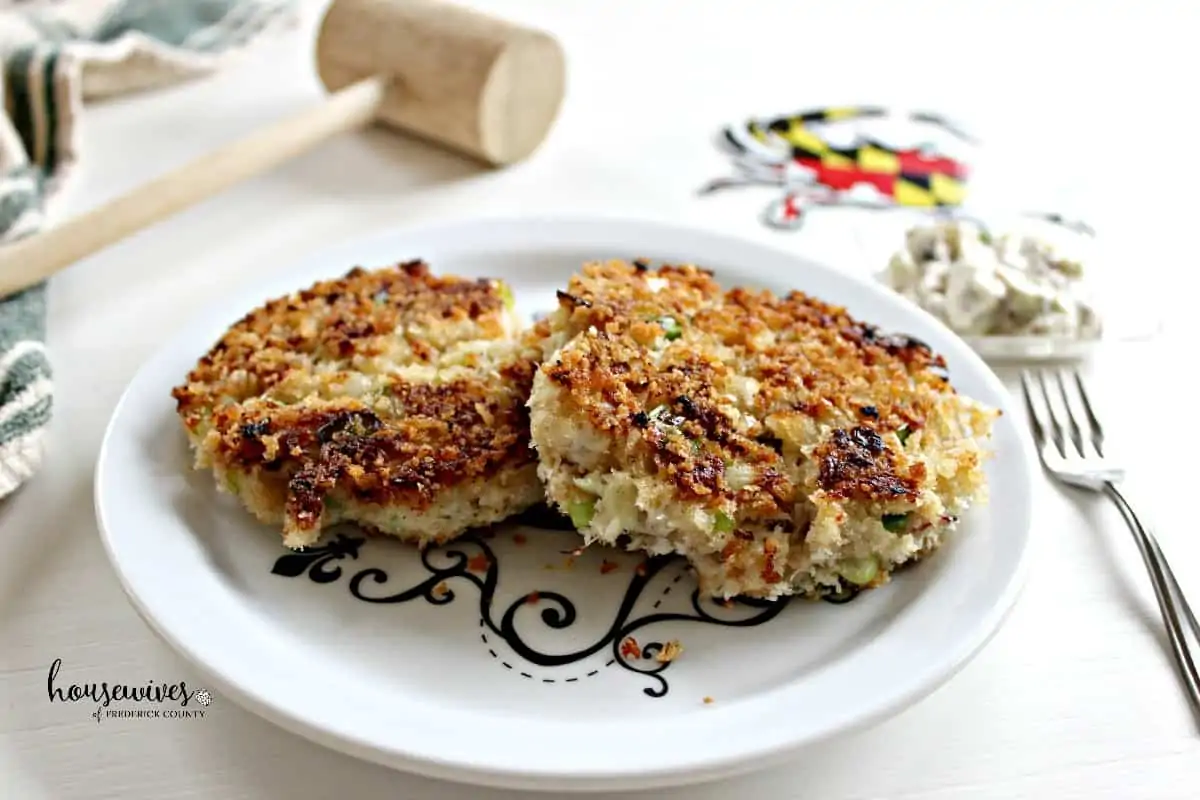 These Crab Cakes with Remoulade Sauce are quite possibly the best crab cakes I've ever had!
The remoulade sauce, which is a French condiment similar to tartar sauce, really complimented the crab cakes perfectly!
7. Maryland Crab Pizza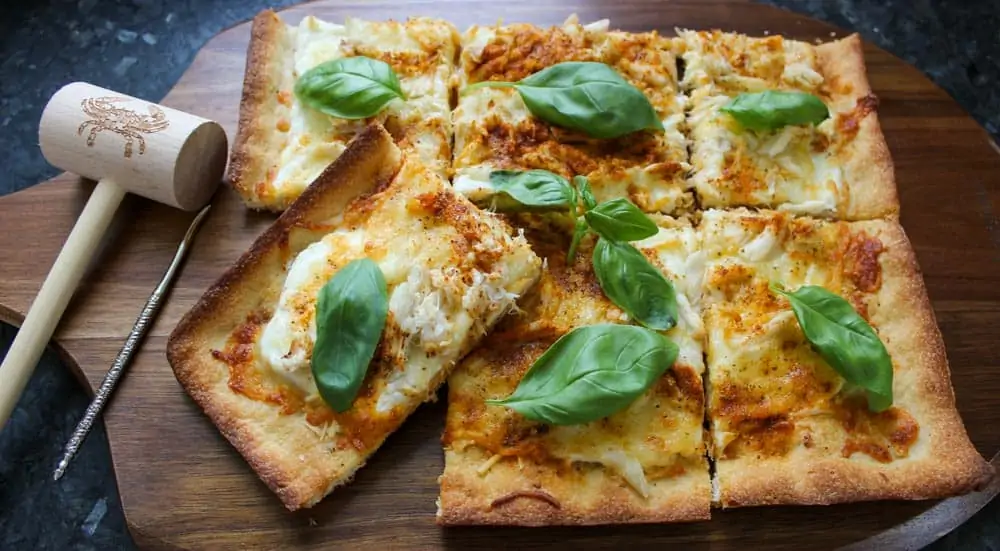 I'm proud to say that I developed this Maryland Crab Pizza recipe myself!
Searching for inspiration but not finding exactly what I wanted, I took matters into my own hands and tested out some ingredients until I got the recipe just right!
Needless to say, my husband and son were very happy that I had to 'test it out' on them several times!
8. Traditional Crab Imperial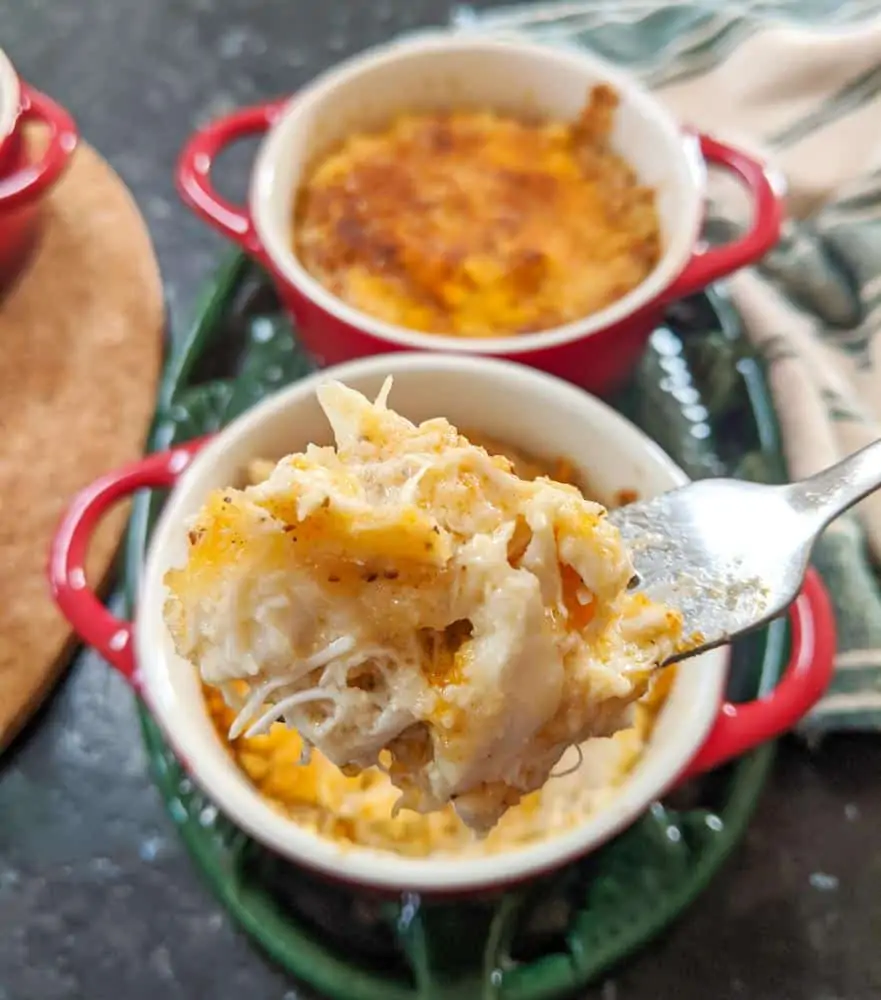 Again, with this recipe, I had to make it a couple of times until I got it just the way I liked it!
This Traditional Crab Imperial recipe is the epitome of Maryland's Eastern Shore cuisine.
It's great served as an appetizer or the main course when entertaining.
Finally, be sure to bookmark this blog post because we will be updating it every time we make a new crab meat recipe!
Next up will be a Chicken Chesapeake recipe! So stay tuned!
In the meantime, click on over to more Maryland themed posts here:
Best Steamed Crabs in Frederick Md
11 Awesome Made in Maryland Etsy Gifts For Marylanders
Baked Oysters on the Half Shell Recipe: Hoopers Island, Maryland