Once you make this delicious Baba Ganoush recipe, you'll wonder why on earth you've never made it before.
With roasted eggplant, tahini, fresh lemon juice, garlic, parsley, olive oil and spices as the ingredients, it's super healthy and very low carb!
Baba Ganoush Recipe: Healthy, Low Carb Spread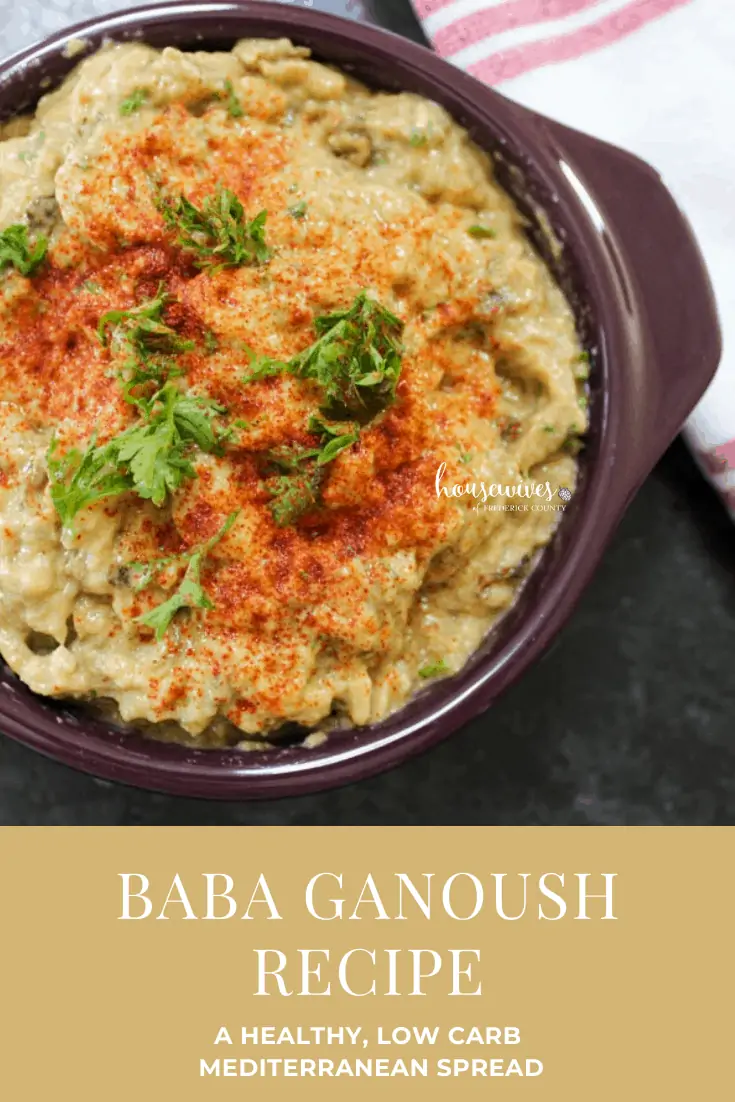 I've been on a very low carb, no starch diet for the last 7 months.
But who's counting?
I am!
For those people who say they've gotten used to it, well I'm just really happy for them.
As for me, I guess I could say that I've gotten more used to it, but I don't think I'll ever stop missing carbs and starches.
My love language involves tortilla chips, rice, french fries, mashed potatoes, and spaghetti.
I miss them! I really do!
But, there are so many things I don't miss since I began this no-starch journey:
Lots of excess weight
Feeling tired all the time
Aches and pains
High blood pressure & cholesterol
Depression
Anxiety
Low self-esteem
I could go on and on with this list, but this isn't about the benefits of eating low carb.
It's about a darn good Baba Ganoush recipe!
What is Baba Ganoush?
So, what is Baba Ganoush?
Baba Ganoush is a Levantine (Eastern Mediterranean) dip or spread made from cooked, mashed eggplant, olive oil, tahini, lemon juice and spices.
It can be eaten as a spread on a sandwich or as an appetizer dish for dipping pita bread or raw veggies.
In my case, I dipped baby carrots, which is actually really tasty.
Baba Ganoush is very similar to hummus except that hummus has more of a nutty bean taste.
Whereas, Baba Ganoush has a smokier taste due to roasting the eggplant.
Plus, chickpeas have carbs and eggplant does not.
So, there's that!
How To Make Baba Ganoush
So, now that you know what Baba Ganoush is, I'm going to show you how to make it.
First, you'll need your ingredients.
Ingredients
You know how there are some recipes you can make where most grocery stores will carry the ingredients?
Well, that's not necessarily the case with this recipe.
Therefore, I immediately decided to go to the grocery store where I knew they'd carry fresh eggplant and tahini: Wegmans.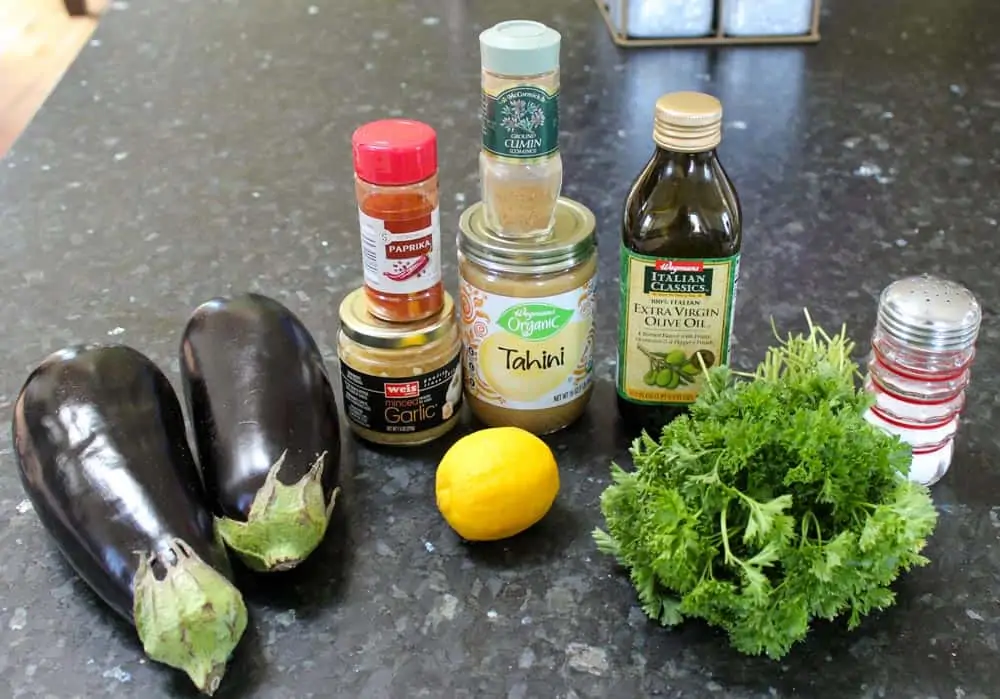 Instructions
Step 1: Prepare your eggplant & roast in the oven
First, cut your eggplant in half, lengthwise.
Feel free to cut off the stem on the end because that part is too tough, even after cooking.
Lightly brush each flesh-side half of the eggplant with olive oil.
Amazon sells the OXO Good Grips Silicone Basting & Pastry Brush.
I use my basting brush all the time, so it's good to have one in your kitchen!
Then, place the halves, cut side down on a baking sheet lined with parchment paper.
The parchment paper will keep the skin from sticking to the baking sheet which will make for a much easier clean-up.
Now place your baking sheet on the upper rack in your oven and bake at 450 degrees fahrenheit.
Bake for 35 to 40 minutes or until the flesh is very tender and the skin is wrinkly looking.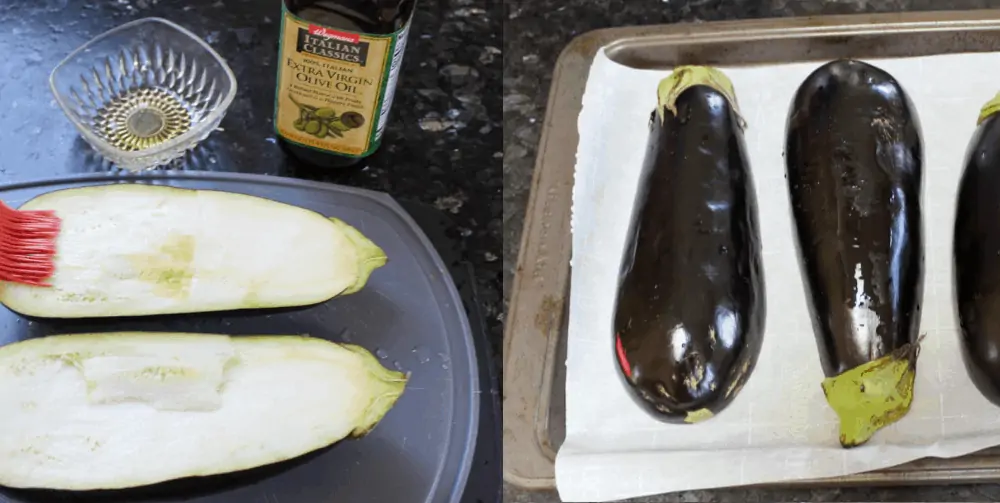 Step 2: Remove eggplant from oven, cool, and scoop out
Take the eggplant out of the oven and allow it to cool for approximately 5 minutes.
Then, flip the eggplant over and use a large spoon to scoop out the flesh of the eggplant.
Pro tip: I used a sharp knife and cut around the entire edge of the flesh. It was a lot easier to scoop the flesh out with the spoon.

Step 3: Put eggplant into a strainer over a large bowl to drain liquids
Discard the skins and place the flesh of the eggplant into a strainer that has been placed over a large bowl.
Keep the strainer over the bowl for about 5 minutes while pressing the eggplant with a large fork.
This will get rid of any extra juices, which will keep your Baba Ganoush from getting too runny.
Once the eggplant is no longer dripping through the strainer into the large bowl, empty the liquid out of the bowl.
Then quickly rinse it out and dry it with a paper towel.
After that, transfer the eggplant from the strainer to the large bowl.
Use the large fork to mix and break up the eggplant.
I also used a knife to cut the long pieces up.

Step 4: Mix in the lemon juice, garlic, tahini, olive oil, parsley, salt & cumin
Now it's time to mix in your other ingredients.
As you add each ingredient, mix well with the large fork to thoroughly combine the ingredients.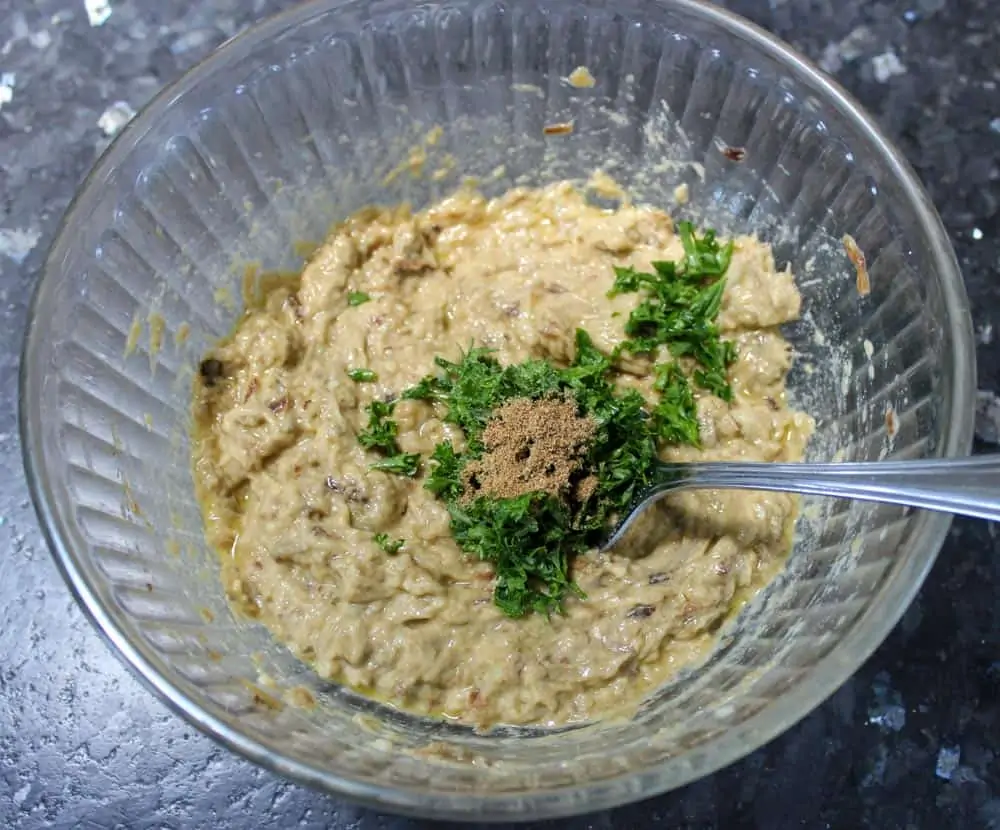 Step 5: Transfer Baba Ganoush to a Serving Dish and Serve
And now, my friends, you have Baba Ganoush.
At this point, you can transfer it to a serving dish and dig in, OR you can blend it in a NutriBullet (Amazon) to get it creamy first.
I chose to just dig in.
However, if you prefer more of a creamy, hummus-like texture, go ahead and blend 'er up.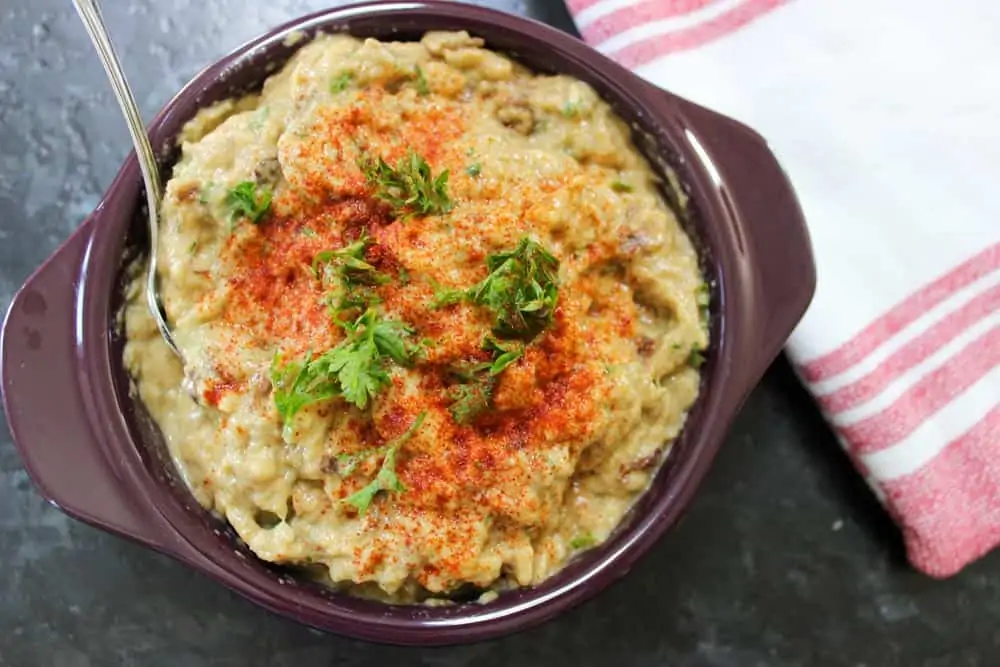 Like I said earlier, I ate mine with baby carrots.
I got the fancy colorful carrots.
However, toasted pita wedges would be delightful as well.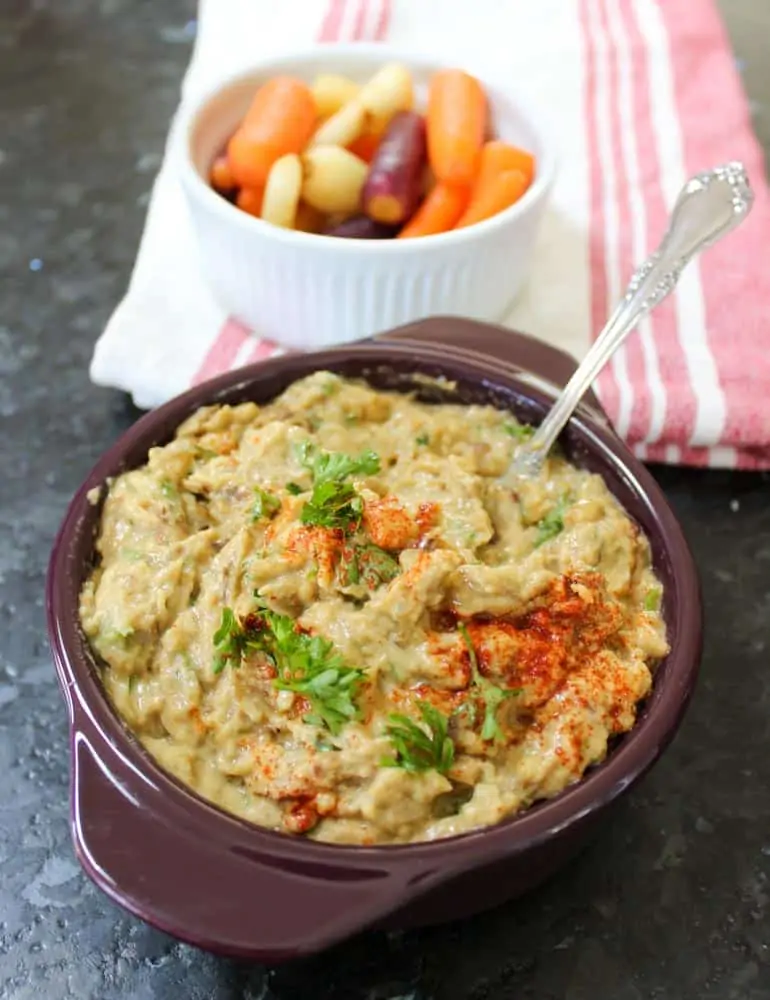 Here is the recipe for you to print out:
Baba Ganoush Recipe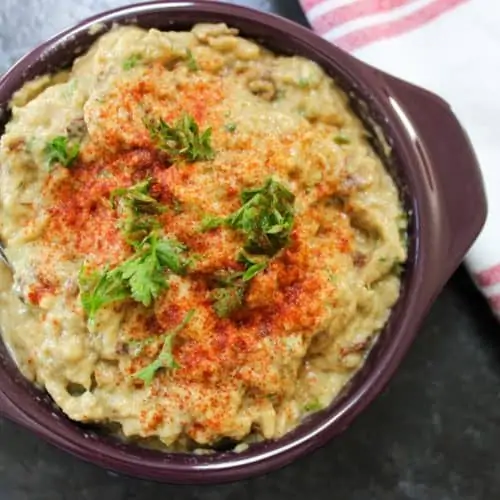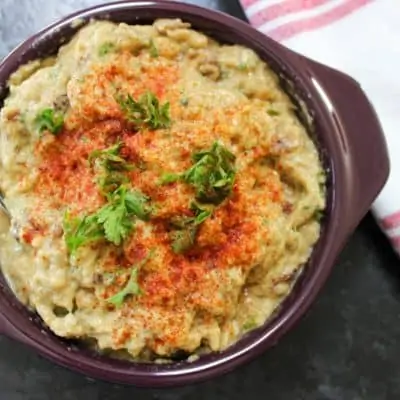 Baba Ganoush Recipe: A Healthy, Low Carb Mediterranean Spread
A tasty, healthy, low carb Mediterranean spread made with eggplant, tahini, olive oil & spices.
Ingredients
2

Eggplants, small to medium in size

2

cloves

Garlic (minced or freshly pressed)

2

tbsp

Lemon juice

¼

cup

Tahini

⅓

cup

Extra Virgin Olive Oil

2

tbsp

Fresh Parsley, chopped

1

dash

Salt, to taste

¼

tsp

Cumin, ground

1

dash

Paprika
Instructions
Preheat oven to 450 degrees fahrenheit.

Line a baking sheet with parchment paper.

Cut eggplant in half lengthwise and brush flesh sides lightly with olive oil.

Place eggplant, cut side down onto the baking sheet. Bake approximately 35 to 40 minutes or until the flesh is very tender and the skin is wrinkly. Let cool for 5 minutes.

Scoop out the flesh of the eggplant with a large spoon and place into a strainer over top of a large bowl so the liquids will be released.

Discard the skins and press the eggplant in the strainer with a large fork in order to remove as much liquid as possible. This will keep the recipe from being too runny.

Pour the liquid out of the large bowl. Then rinse and dry the bowl and transfer the eggplant to the bowl.

Use the large fork and a knife to mash up the eggplant and cut up the longer pieces.

Add garlic & lemon to the eggplant and blend well.

Then add the tahini and blend well.

After that, add the olive oil and mix until creamy.

Finally, stir in the parsley, salt & cumin.

Transfer the Baba Ganoush to a serving bowl. Lightly drizzle more olive oil & sprinkle some paprika & parsley on top as a garnish.

Serve as a dip with pita and raw veggies. Enjoy!
For more delicious appetizer recipes, click on over to:
The Best Cowboy Caviar Recipe: A Healthy Obsession
Maryland Hot Crab Dip: A Traditional Maryland Favorite
Brie in Puff Pastry with Pecans & Brown Sugar