If you're from Maryland then, more than likely, you grew up eating our state's delicious, traditional hot crab dip recipe.
However, if you're not from Maryland and you're wondering what's so great about this recipe, well, just keep reading.
Maryland Hot Crab Dip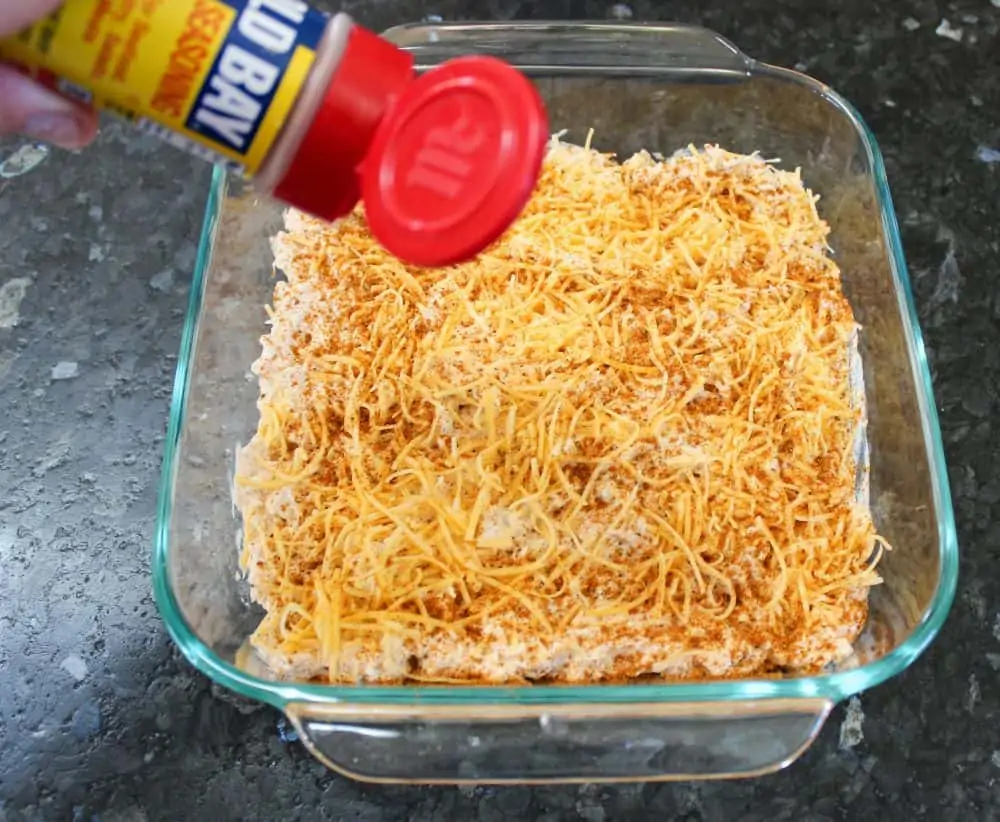 Assuming that you've been a regular reader of ours, you've probably noticed a common thread throughout our blog:
We are Maryland proud!
Our state flag is the best of the best!
We love us some seafood – especially Chesapeake blue crabs!
Because after all, Maryland is for Crabs! It's our state's motto.
We've already posted several crab recipes on this site, like our:
These crab recipes have been so well received that we figured we should build upon them in our recipe database.
Therefore, we plan to add more traditional Maryland recipes in the coming weeks and months.
So stay tuned!
Also, to really get into the crabby mood, here are some super fun crab themed kitchen items to set out alongside your hot crab dip:
Hot Crab Dip Ingredients
As you can see in the picture below, this recipe doesn't require any ingredients that are hard to find.
However, I did not use the paprika that's pictured.
Instead, I used Old Bay Seasoning which has paprika in it.
If, for some reason, you prefer a different seasoning, here are 8 substitutes for Old Bay Seasoning.
On the contrary, you can find all of the ingredients at Aldi, which is where I shop 90% of the time.
I even used Instacart delivery and was pleasantly surprised that they had crab meat available. Yay Aldi!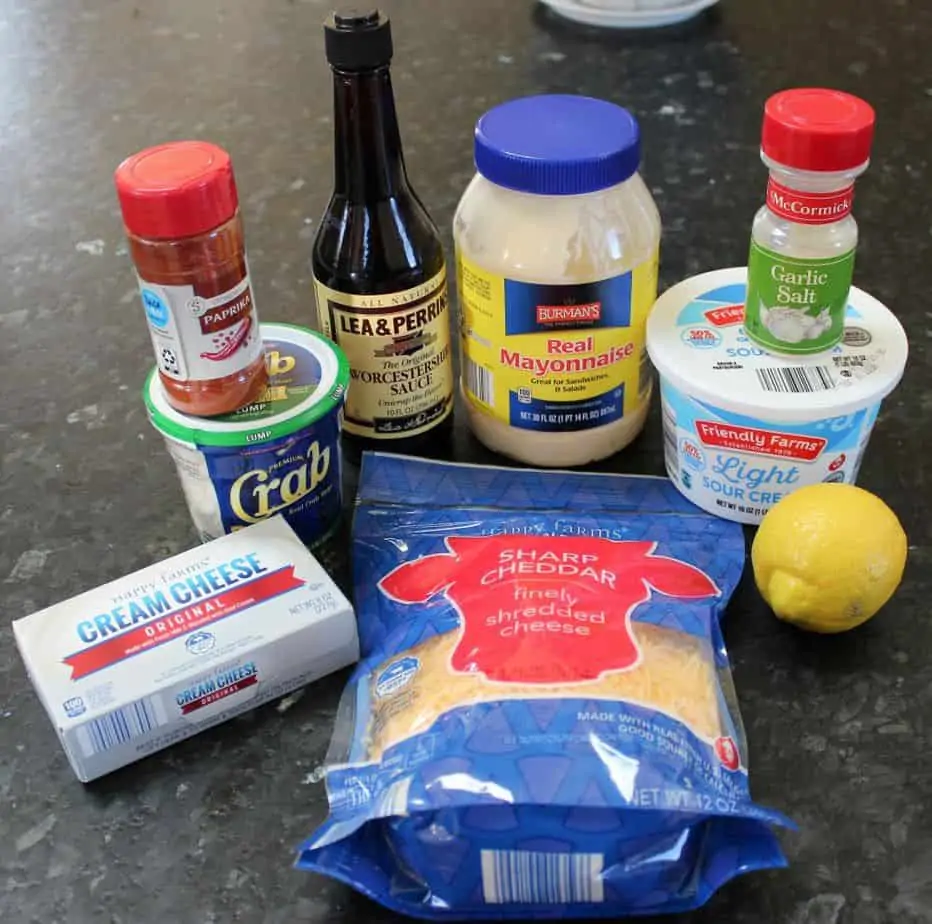 One of the reasons I love to make this hot crab dip is because of how super easy to make.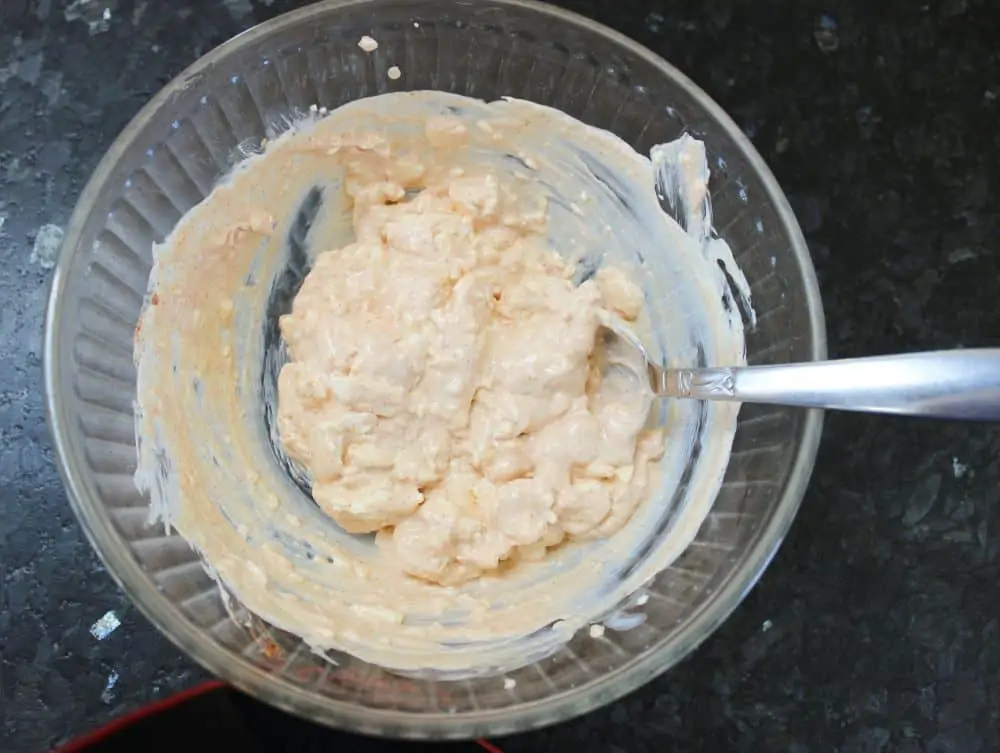 All you have to do is combine all of the ingredients except for the crab meat and a portion of the shredded cheddar cheese.
In addition, it's best, but not absolutely necessary, to use a mixer so that the cream cheese is well blended.
Once that's blended, then you'll fold in your crab meat by hand with a large spoon.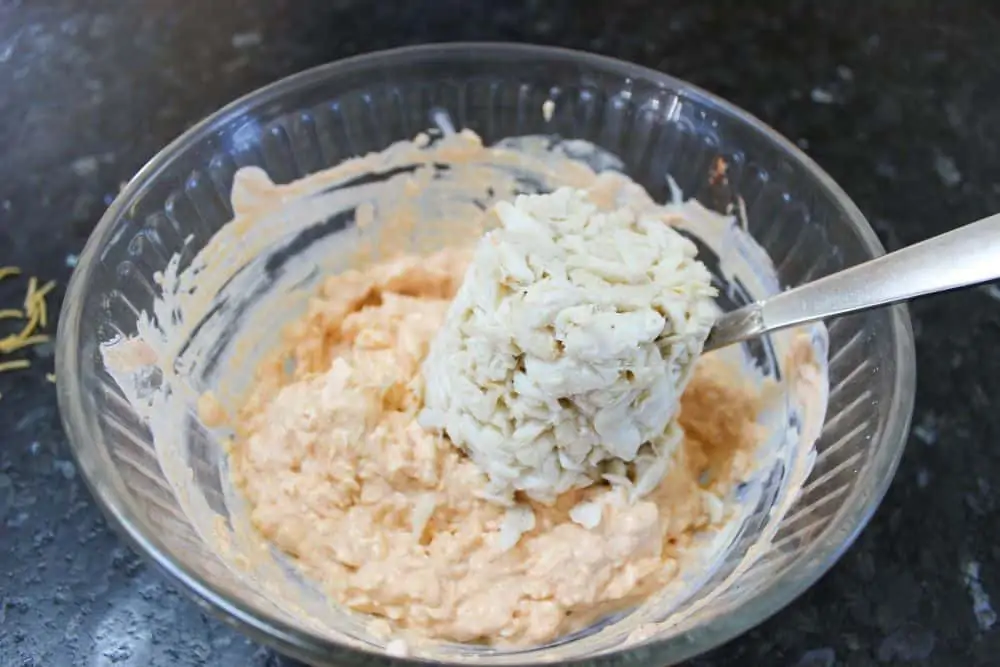 Notably, a special ingredient that we Marylanders like to use a lot is Old Bay Seasoning.
Surprisingly, I forgot to include it in the first photo with the ingredients.
But, it's one of the most important ingredients besides the crab meat in this traditional Maryland hot crab dip recipe!
Old Bay Seasoning is a super popular item 'round these parts!
Even our local Aldi sells it.
Clearly, you can't eat anything crab related without this must-have spice!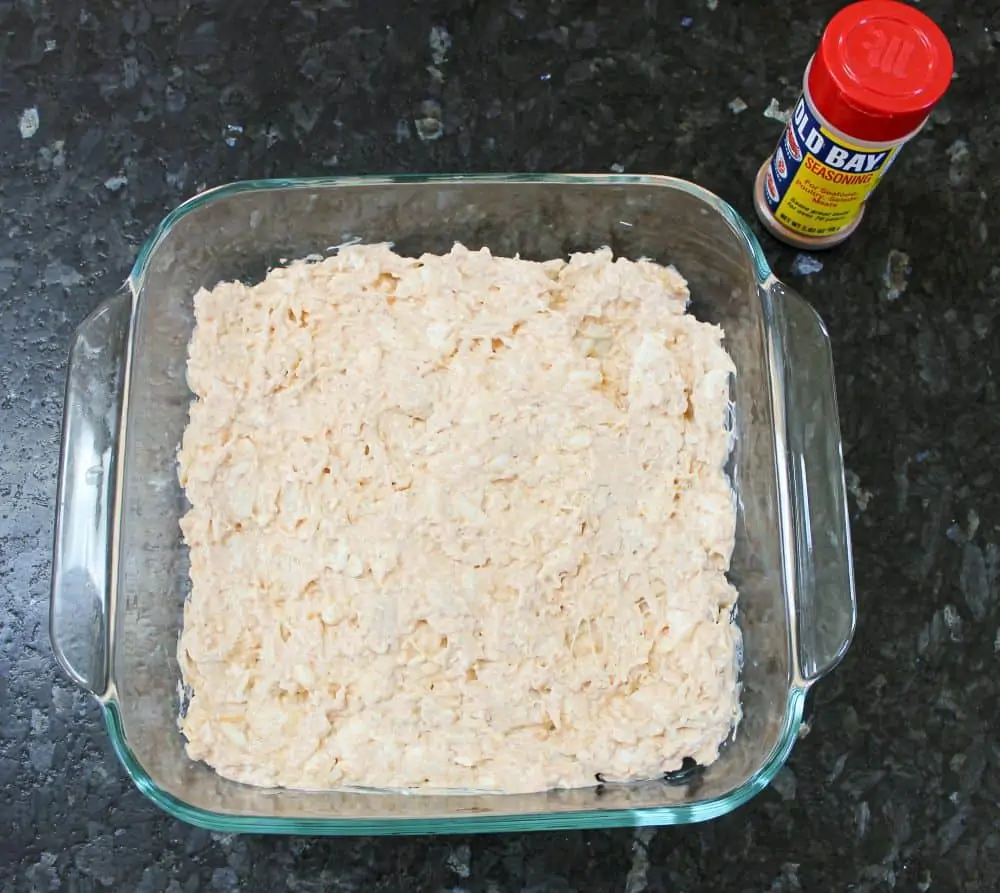 For us, the more the better.
I sparingly sprinkle Old Bay Seasoning on top of the dip before baking.
However, I also keep the Old Bay right next to the dip when it's time to eat it because inevitably someone is going to want to sprinkle more on!
Once you've prepared the dip, place it in the oven and bake it for 30 minutes.
What Goes Well With Crab Dip?
So what do you dip into hot crab dip?
Well, you can dip lots of things into it.
As a matter of fact, there are so many things (38 to be exact) you can serve with crab dip that I wrote a blog post, What To Serve with Crab Dip!
We've eaten it with:
Ritz Crackers
Toasted pita wedges
Celery
Toasted slices of baguette bread
Even parmesan crisps for those of us who eat low carb (me!)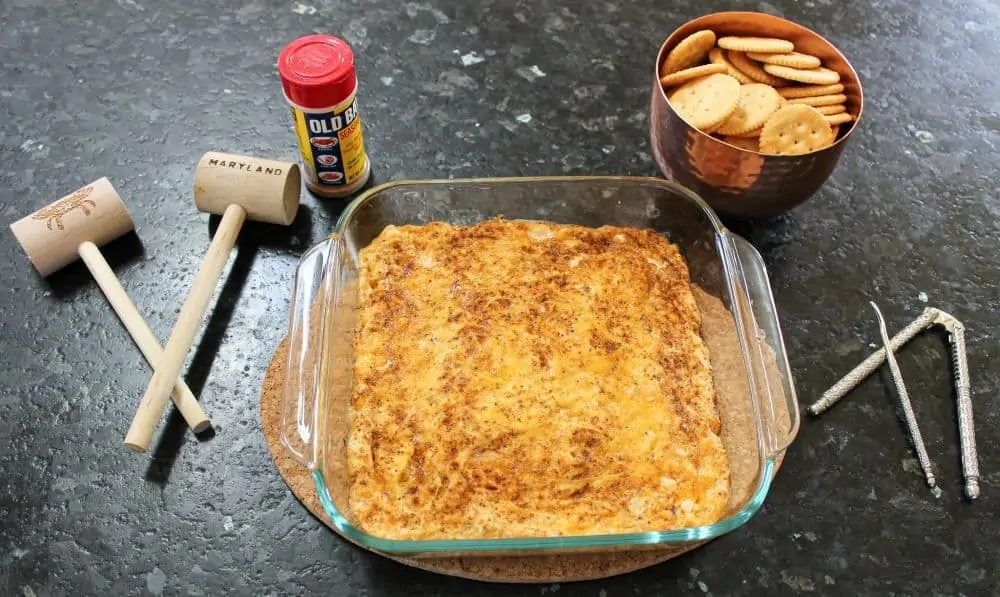 Oh my goodness, I'm telling you, there is nothing quite like this hot crab dip!
My hubby is also from Maryland and loves crabs.
Therefore, he couldn't wait for me to take it hot out of the oven and place it on the kitchen island.
Needless to say, I had to ask him to restrain himself until I could take some pictures.
After that, I told him to go ahead and dig in!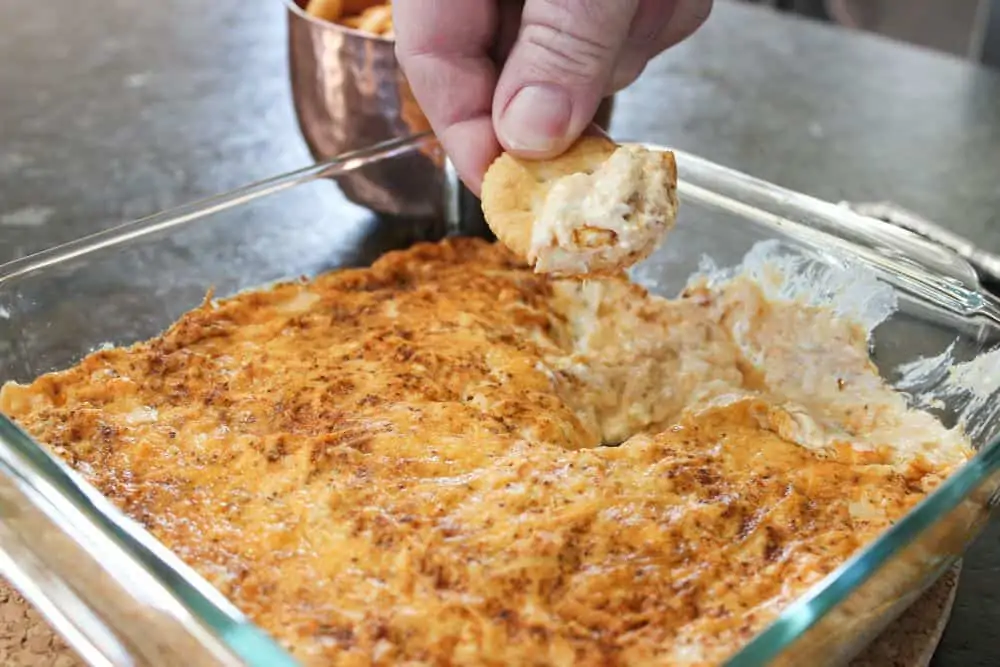 My son is a chip off the old block, so he couldn't wait to dig in either.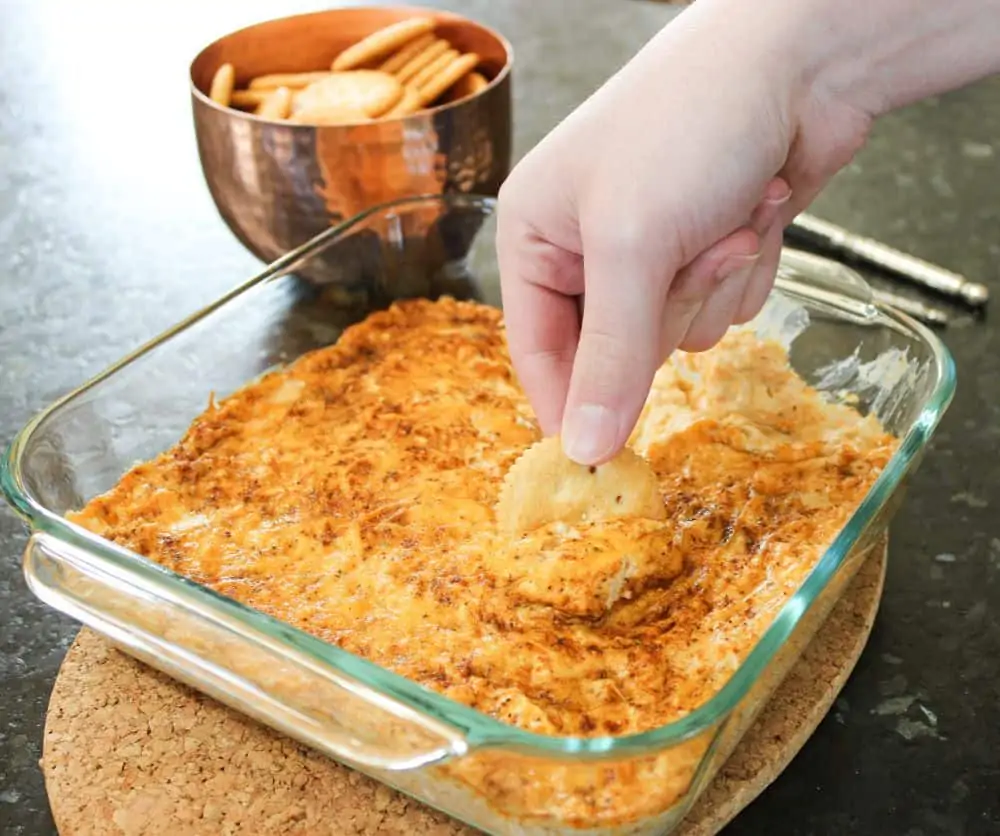 Mmm! So good!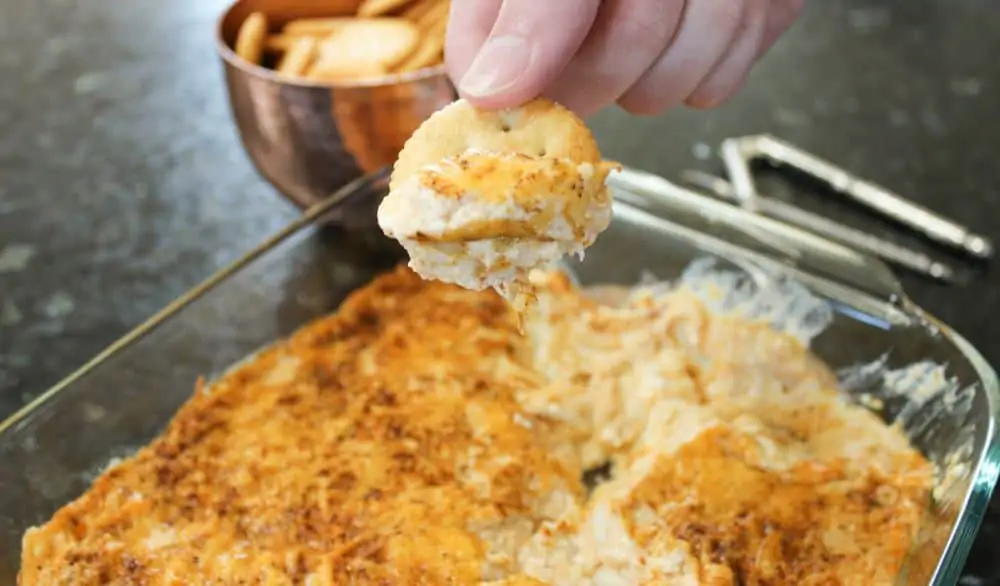 Maryland Hot Crab Dip Recipe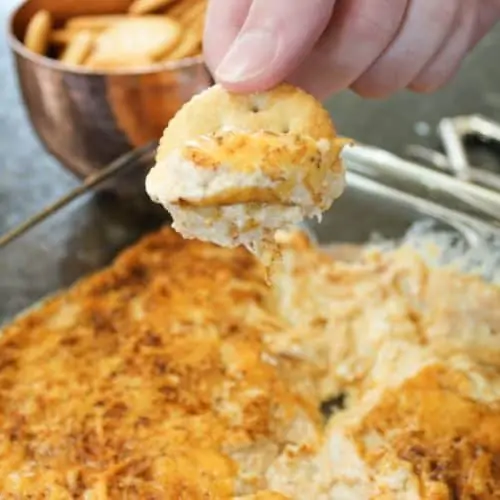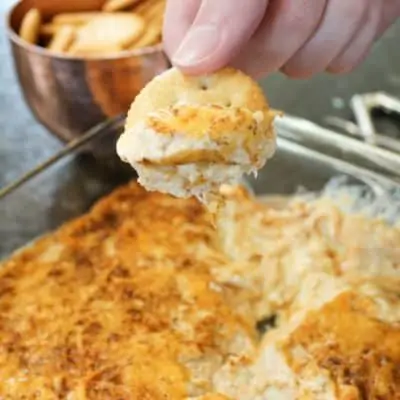 Maryland Hot Crab Dip Recipe
Maryland is for crabs and this Hot Crab Dip Recipe is a traditional favorite!
Ingredients
8

ounces

Crab Meat

8

ounces

Cream Cheese, Softened

½

cup

Sour Cream

2

tbsp

Mayonnaise

1

tbsp

Lemon Juice

1 ¼

tsp

Worcestershire Sauce

½

tsp

Dry Mustard

¼

cup

Shredded Cheddar Cheese

1

pinch

Garlic Salt

2

tsp

Old Bay Seasoning
Instructions
In a large bowl, mix cream cheese, sour cream, mayonnaise, lemon juice, Worcestershire sauce, dry mustard, and garlic salt until smooth.

Stir in 2 tbsp of shredded cheddar cheese.

Fold crab meat into the mixture.

Pour mixture into a 1 quart casserole dish.

Top with remaining cheese, or more. But not too much because you don't want the cheese to overtake the taste of the crab.

Sprinkle Old Bay Seasoning on top of the crab dip sparingly.

Bake at 325 degrees Fahrenheit for approximately 30 minutes or until the top is browned.

Serve with crackers, toasted bread, celery sticks, or parmesan crisps. And of course keep the Old Bay Seasoning handy for extra shakes!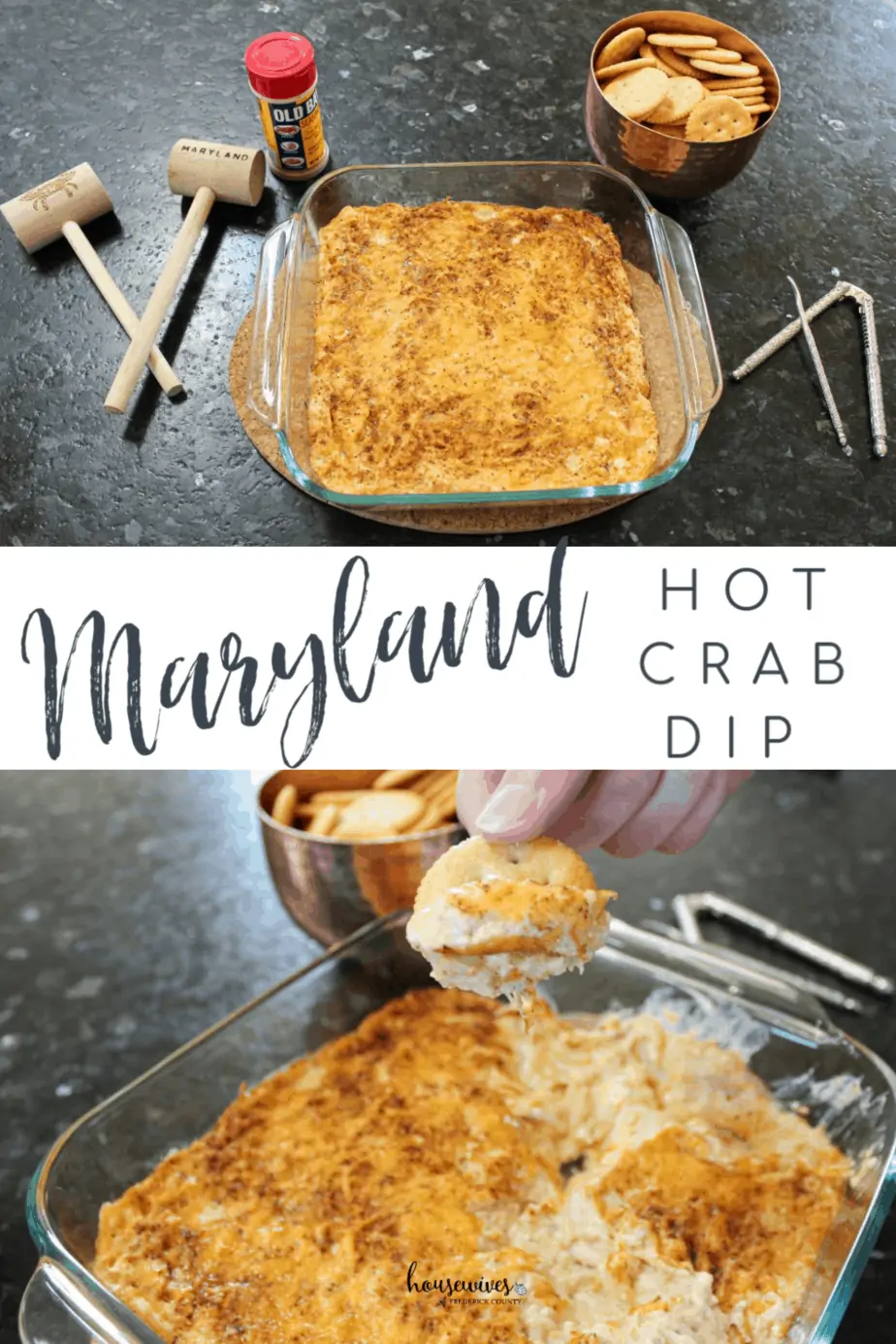 For more Maryland themed posts, click on over to:
Maryland Kids Activity Book: Educational & Fun!
28 Crab Meat Recipes You Don't Have To Be A Marylander To Love!
15 Popular Etsy Sellers in Frederick Md For Your Next Gift Purchase