In this post I'm going to give you THE best Cowboy Caviar Recipe ever!
I've found other recipes on the internet, but haven't found one made as delicious as this one!
Friends and family ask me to make this recipe for every party, cookout, get-together, and holiday.
The Best Cowboy Caviar Recipe
The beauty of this recipe is that it is not only delicious but also healthy!
With corn, black beans, black-eyed peas, avocado, tomato, cilantro, and spring onions, it's a super healthy combination of nutritional goodness!
History Behind The Best Cowboy Caviar Recipe
So first, a little history of how I discovered this wonderful dish.
A few years ago our family took a trip down to Hilton Head Island for some fun and sun.
An added bonus is that our brother lives down there, so we were able to hang out with him for the week.
By the way, our brother is an amazing Hilton Head Realtor.
So, if you're in the market for a vacation home or a forever home, look him up at Hilton Head Expert.
Anyway, we had a bunch of family visiting us at our beach house rental throughout the week.
So, one day while we were grilling and hanging out by the pool, a family member made an appetizer for us called Cowboy Caviar.
I was intrigued, so I grabbed a chip and took a scoop.
Well, the rest is history.
This Cowboy Caviar Recipe is totally amazing!
You truly cannot stop eating it.
Of course the chips aren't the most healthy so you can choose light or low fat chips OR just eat it as a salad without the chips.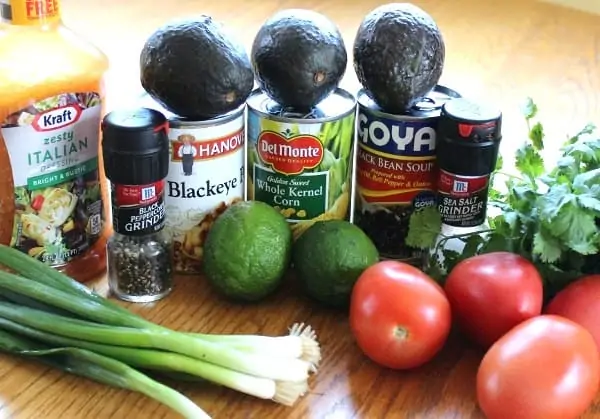 I Guarantee You Will Receive Many Compliments
Every time I've made this recipe since trying it for the first time in Hilton Head, it has gotten devoured!
Hence, I have received so many compliments whenever I make it!
It's definitely one of those 'keeper' recipes that you will use over and over.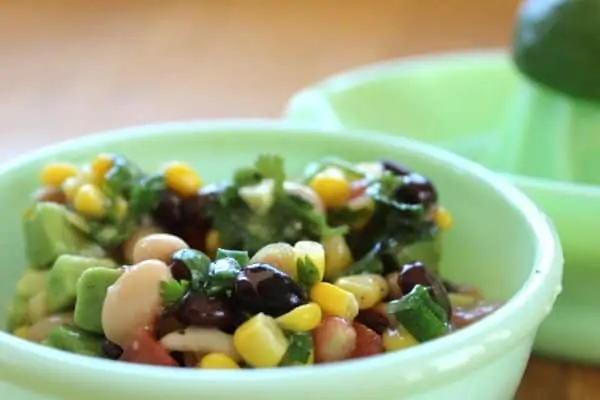 Tweaking the Cowboy Caviar Recipe
I don't know where our family member found this Cowboy Caviar Recipe, but when I tried to find it online, I found many different variations to the recipe.
However, most of the variations did not include avocado, which is an absolute necessary ingredient!
So I was on a mission to find the exact recipe that I enjoyed so much while in Hilton Head.
After a lot of testing and sampling, I finally got the recipe to be just right!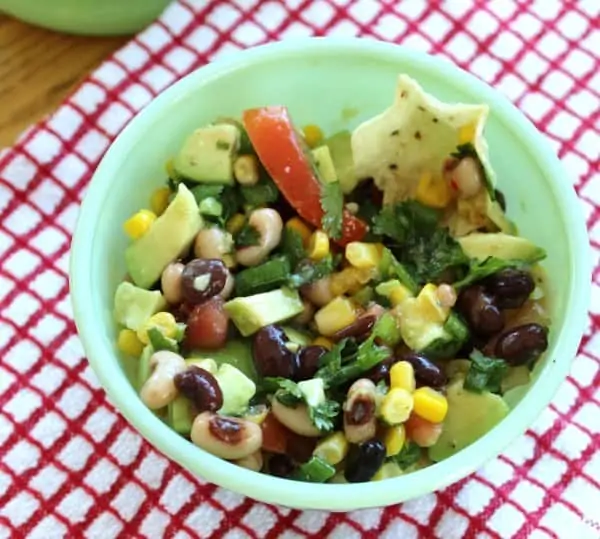 Cowboy Caviar Recipe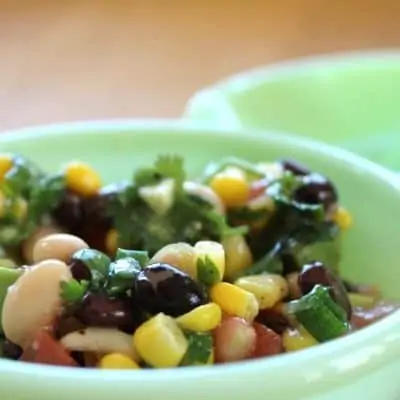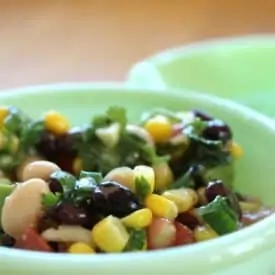 Cowboy Caviar Recipe
The perfect combination of black beans, shoepeg corn, black-eyed peas, spring onions, cilantro, and avocado! Heaven on a chip!
Ingredients
- 1 can black eyed peas

,

drained and rinsed

- 1 can black beans

,

drained and rinsed

- 1 can shoepeg corn

,

drained and rinsed

- 4 to 5 Roma tomatoes

,

seeds removed and diced

- 2 to 3 diced avocados

,

ripe but still firm

- 4 green onions

,

sliced thin

- Approximately 1/2 to 3/4 cup Zesty Italian dressing

- 1/2 bunch cilantro

,

chopped finely

- 1 to 2 limes

- Ground pepper and salt to taste
Instructions
Drain and rinse the black eyed peas, black beans, and corn. This is very important because if you don't, the dip will look brown and be too liquidy.

Add to a large bowl.

Add the tomatoes & cilantro.

After dicing the avocado and adding to the bowl, squeeze the lemon juice over the avocado. This will keep the avocado from turning brown too quickly.

Add the italian dressing and salt & pepper and stir to coat all of the ingredients.

Chill in the refrigerator.

This is best served the same day as prepared.

Serve with tortilla chips.
Tools That Will Make Your Life Easier
So, if you're like me, you can be the martyr and stand there and chop every last ingredient.
OR you can get yourself some tools that will help you to prepare this recipe way more quickly and efficiently.
This metal lemon lime manual squeezer from Amazon is the perfect tool for juicing the heck out of your limes.
Easy squeezy, right?
In addition, this OXO Good Grips 3-in-1 Avocado Slicer from Amazon will be your best friend.
This recipe takes 2 to 3 diced avocados.
And if you're doubling up the recipe, which you most likely will be, that's 6 avocados you gotta slice and dice.
Do yourself a favor and get these tools because, I promise you, you will make this recipe all the time!
Hence, both tools will come in very handy!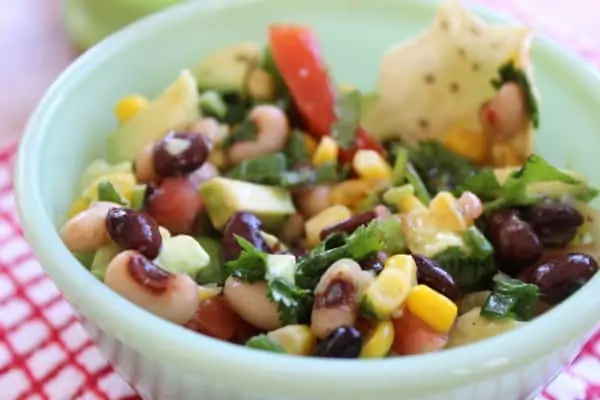 Two Important Reminders
Be sure to thoroughly drain and rinse the black beans, black-eyed peas, and corn before adding it to the bowl.
This stainless steel can colander from Amazon is perfect for straining canned beans and corn.
In addition, wait until just before serving your Cowboy Caviar before you cut up the avocado and add the lime juice.
Avocado browns very quickly and isn't as appealing after it's been sitting out for a while.
The lime juice helps keep the avocado it's original light green color.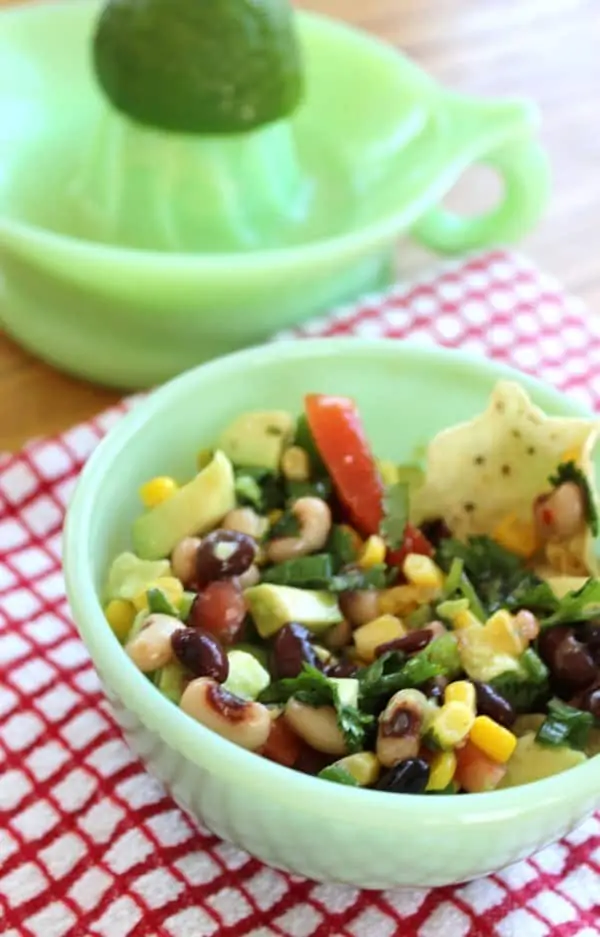 Be Prepared for Compliments
I dare you to make this recipe and not get at least 2 or 3 compliments and requests for the recipe!
Speaking of recipes, on Amazon, I bought myself this really pretty fabric covered recipe binder to hold all of my recipe cards and recipes that I print out from my computer.
Get some of these plastic recipe card protectors and these full page recipe protectors (also from Amazon) to put all of your recipes in one place.
The binder comes with 12 tab dividers and sticker labels.
It keeps all of my tried and true recipes, including my Cowboy Caviar Recipe, safely in one place.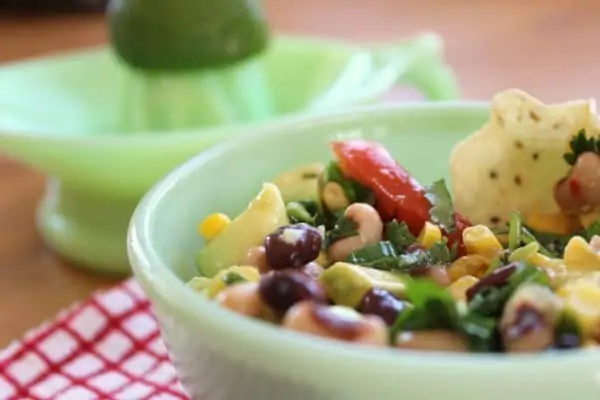 So the next time you need to bring a dish to a party, try making this Cowboy Caviar Recipe.
I promise you, it will not disappoint!
Just know to keep this recipe in the front of your recipe binder, because you're going to make it a LOT!
For more amazing tried-and-true recipes that are party perfect, check out our posts on:
Loaded BBQ Chicken Sweet Potato Fries
Bacon, Cheese, & Mushroom Chick-Fil-A Chicken Nuggets