After 50+ years of hoarding it, I've decided to share with the world the best carrot cake recipe you'll ever make!
You see, my Mom used to make this carrot cake for my siblings and me almost every year for our birthdays!
One would think that a kid's birthday cake of choice would not have carrots in it.
However, this was not the case with us!
The Best Carrot Cake Recipe You'll Ever Make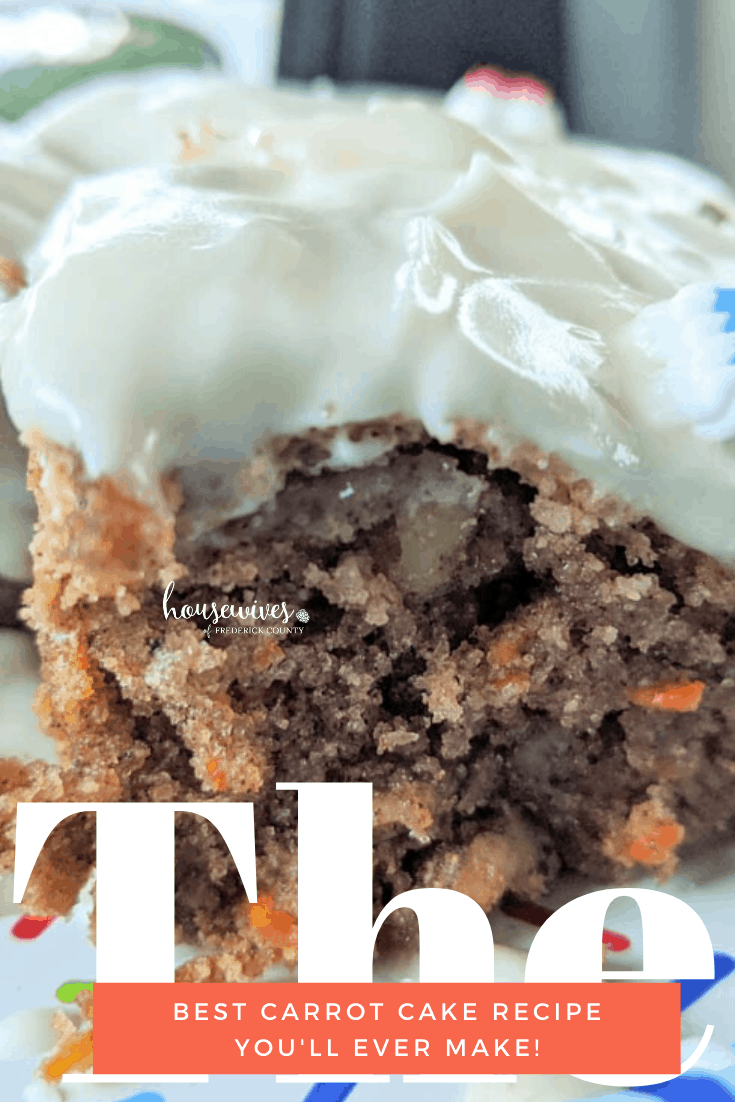 Honestly, I don't even know where my Mom got this recipe.
I'm not sure if her mom gave it to her or if she found it in a magazine back in the 60's and 70's.
All I know is, I've had my share of carrot cake in restaurants, from bakeries, and from others who have made it.
But, God bless them all, they just weren't my Momma's recipe!
CArrot Cake Ingredients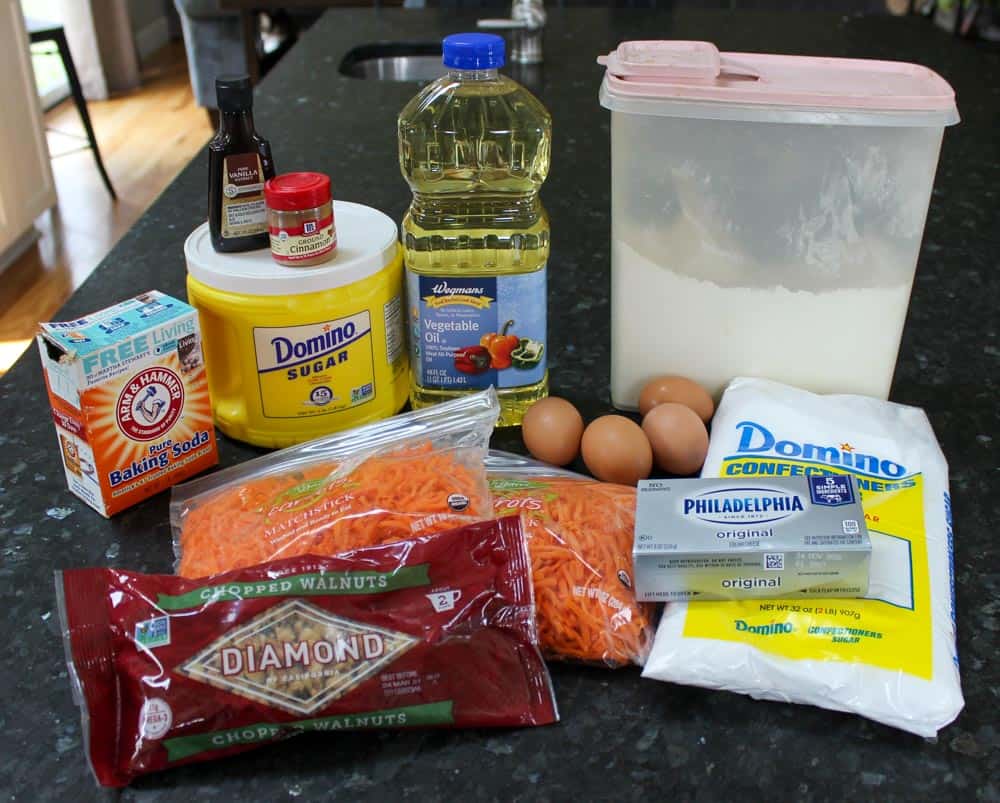 One of the things I love about this recipe is that there are no fancy schmancy ingredients.
My Mom was a simple girl who enjoyed simple things which is what I loved about her the most.
She was the most unassuming, down-to-earth, loving person you'd ever meet.
So it's not a surprise that she'd make this recipe and hold onto it through the years.
She probably had no idea that all 4 of us kids still talk about her 'famous' carrot cake even to this day.
Isn't it funny how traditions start?
Now this cake recipe is and always will be Carmen's Carrot Cake recipe for our family.
My Brother's Birthday
Recently my brother celebrated his birthday by hosting the family at his house.
He asked me if I would make Mom's carrot cake recipe.
I happened to have it in my recipe binder on the original paper that she had typed it on years ago.
Needless to say, I was actually a little bit intimidated to make it.
I mean, this cake is legendary in our family now.
What if I messed it up?
But my brother requested it, so I needed to make it.
Steps for Making a classic Carrot Cake Recipe
So I decided it's about time I share this recipe with our readers.
My Mom wouldn't have cared that I'm sharing a generations old family recipe.
As a matter of fact, she'd be really proud that I'm sharing it in this way!

Step 1: Mix Eggs, Sugar & Oil
You can hand mix the eggs, sugar, and oil but it will save your arm strength if you use an electric mixer.
I have the KitchenAid 5 Quart Artisan Series Stand Mixer and absolutely love this thing!!
It makes my life so much easier and is so easy to clean.
You can find a range of KitchenAid stand mixers on Amazon with different colors and features.
Once the eggs, sugar, and oil are well blended, slowly add in the flour, cinnamon, and baking soda.
On my Mom's typed recipe it says that the flour needs to be sifted.
I don't think you have to sift flour anymore.
Although I fondly remember her metal sifter with the crank (like this one on Amazon).
Whenever she got it out of the cupboard it meant she was making something really good!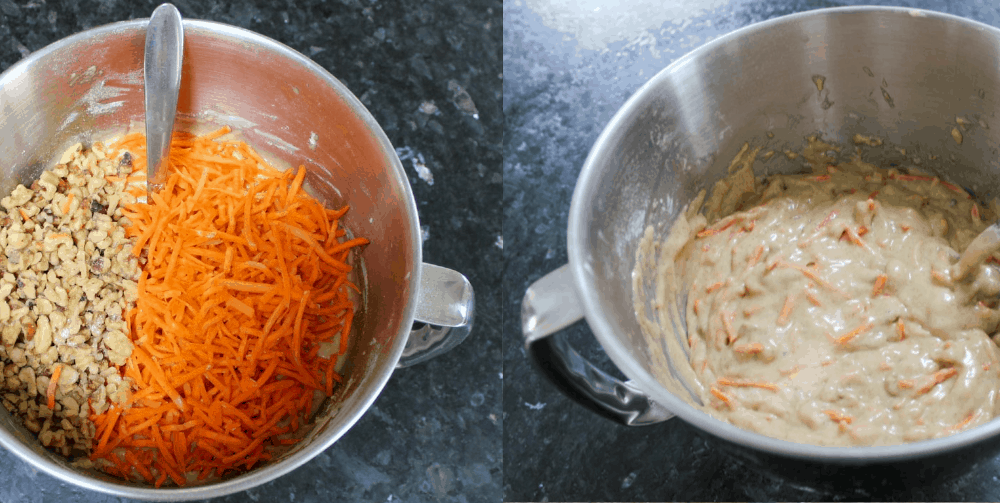 Step 2: Add Carrots & Nuts
By the way, some have asked, what are the best nuts for carrot cake?
We've always used walnuts whenever we make carrot cake.
Same goes for our chocolate chip cookies. Always walnuts.
Therefore, in my opinion, walnuts are the best type of nuts for carrot cake.
Back to step 2: Fold in the shredded carrots and nuts by mixing with a good strong, large spoon.
Of course, I have a few of my Mom's old trusty mixing spoons. Thanks Mom!
This is where you don't want to use the stand mixer because you don't want the carrots or nuts to get 'lost' in the cake batter.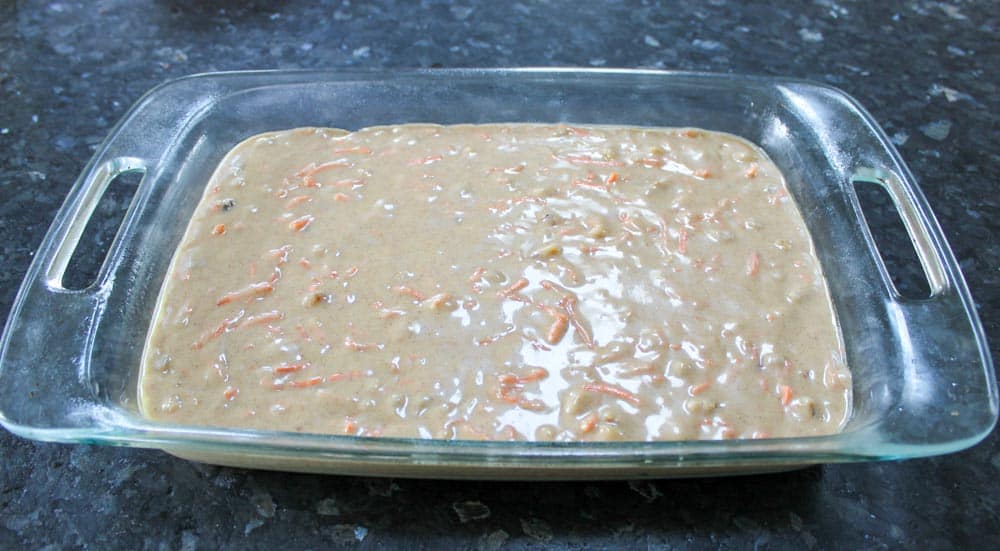 Step 3: Pour Batter Into Greased Dish & Bake
I used a 9″x13″ baking dish because my Mom always made her carrot cake this way.
But you can also use 9″ round pans.
The recipe says it will fill three 9″ round pans.
Either way, spray your baking dish or cake pans with cooking spray.
Then, pour the cake batter into the baking dish or round cake pans.
Bake at 350 degrees fahrenheit for about 30 minutes if you're using round cake pans and about 40 to 50 minutes if you're using a baking dish.
For my oven, it took 50 minutes for the cake to be fully baked through.
Be sure to stick a toothpick in the center.
If the toothpick comes out clean and the top of the cake is a nice golden color, it's ready to come out of the oven.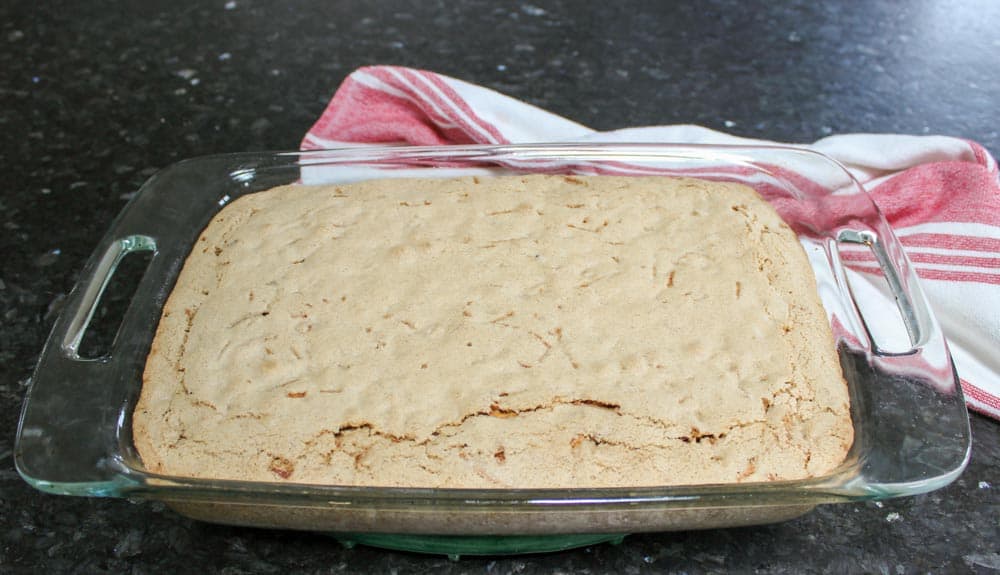 For some reason my cake cracked a little bit on the top, but it didn't matter because it was about to get hidden by some homemade cream cheese icing.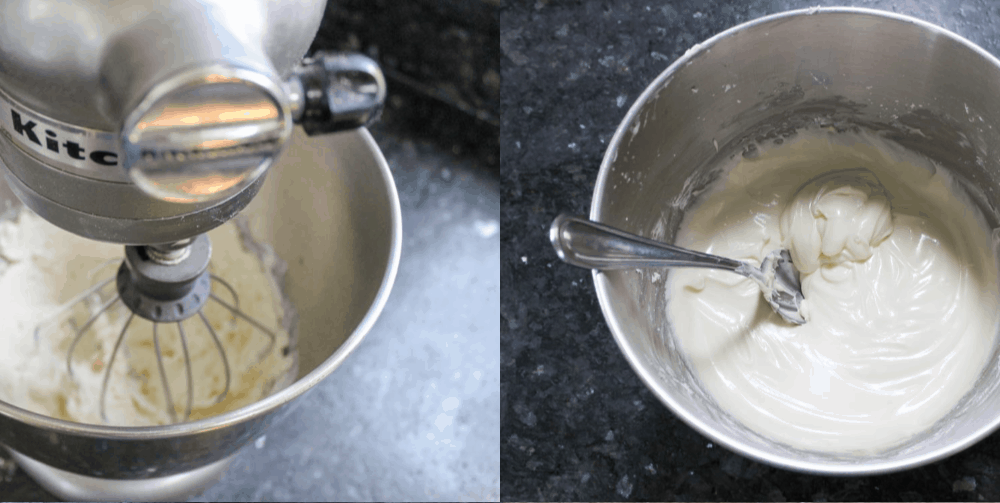 Step 4: How Do You Make Cream Cheese Icing From Scratch?
It's super easy!
Just mix the cream cheese with the vanilla extract until it's blended well and creamy.
Then, add the powdered sugar a little bit at a time while the mixer is on until it's blended well with the cream cheese.
Once your cake is baked and cooled, add icing to the top of your cake.
Not gonna lie, I doubled the cream cheese icing recipe.
For some reason it didn't look like there would be enough for the cake.
However, I had more than enough and now there's a plastic container of leftover cream cheese icing in my refrigerator.
If you're family likes a lot of cream cheese icing, maybe 1 1/2 the recipe.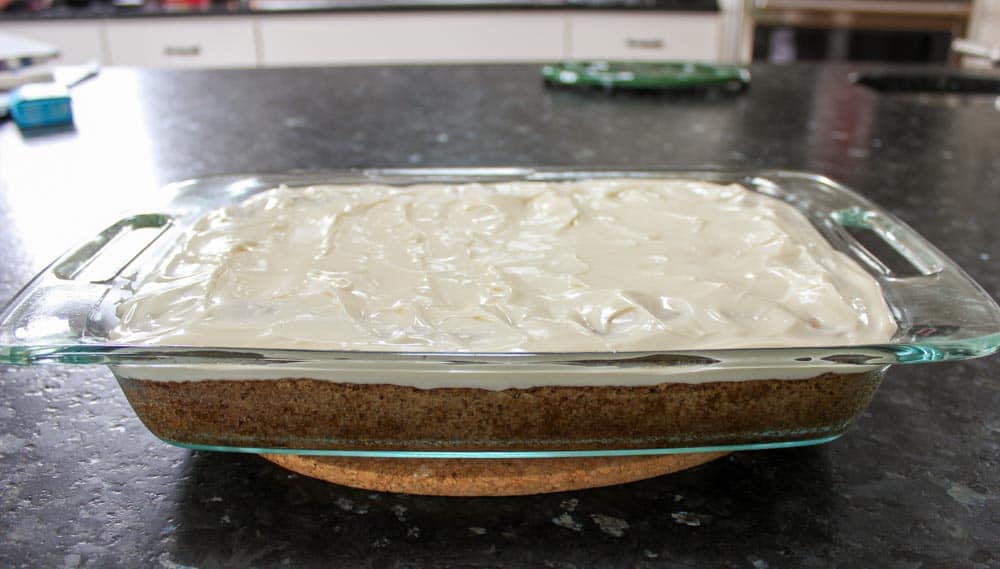 Carrot Cake Recipe Was A Success!
Although my son threw his heavy baseball bag over the back seat into the trunk of my car without realizing the cake was sitting back there, and it landed right on top of the cake (thank goodness it had a lid and a carrier), it survived the ride to my brother's house.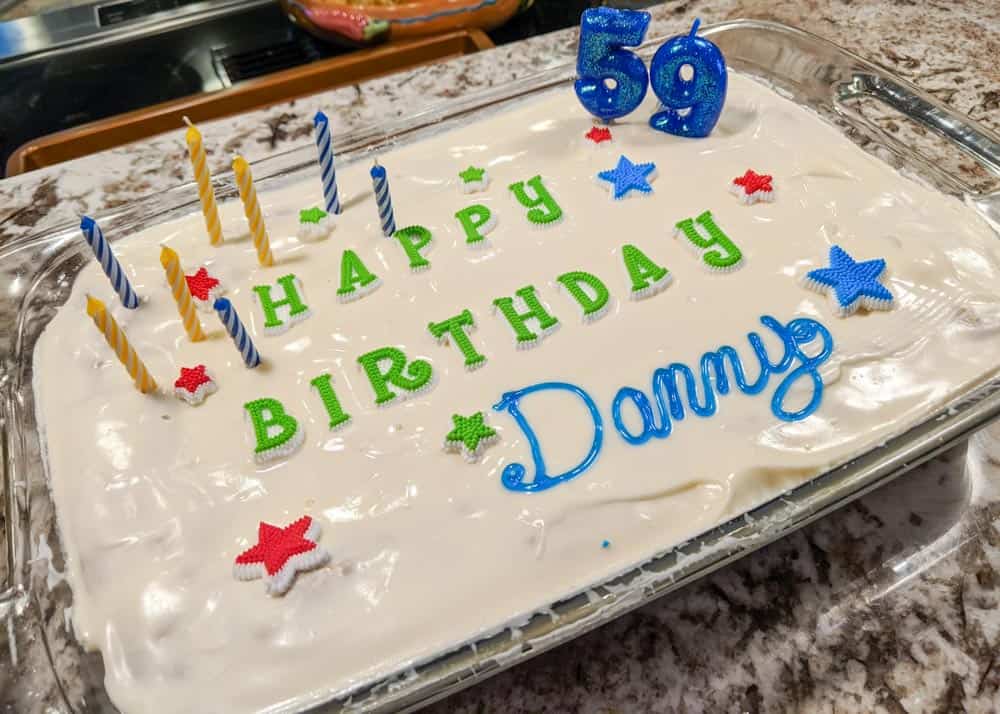 And as we sang happy birthday to my brother, all was well with the world again.
Now, my son, niece, and nephews will have fond memories of Carmen's Carrot Cake too and will pass the tradition on to their kids some day.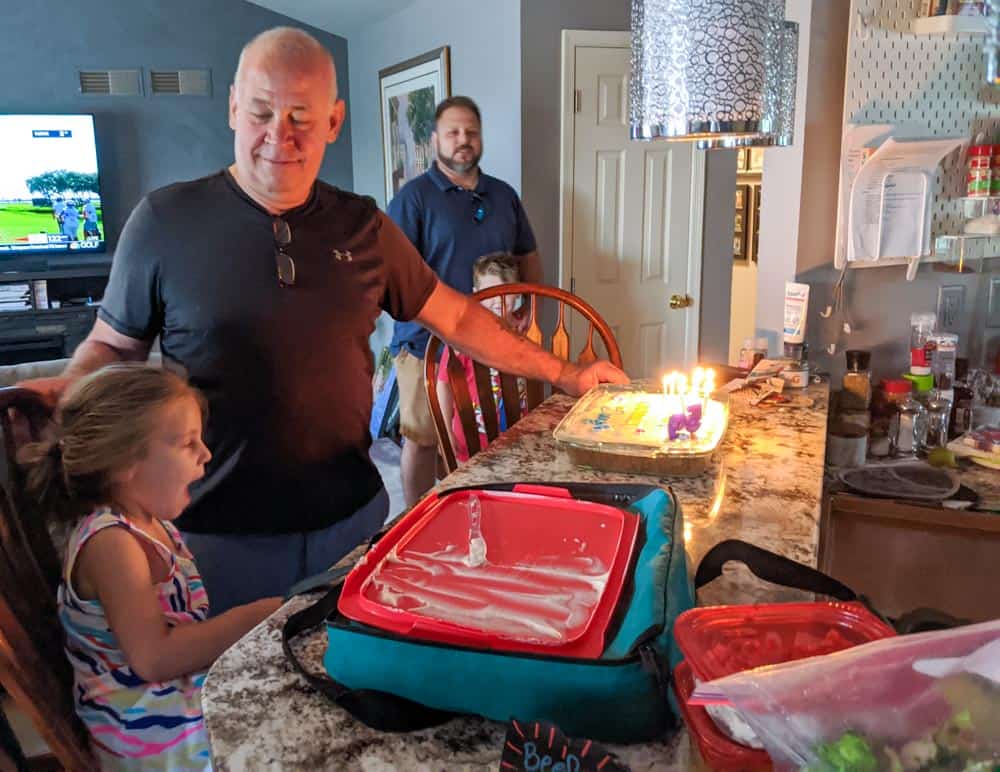 Thanks Momma!
We all miss you so much!
Here is her typewritten recipe: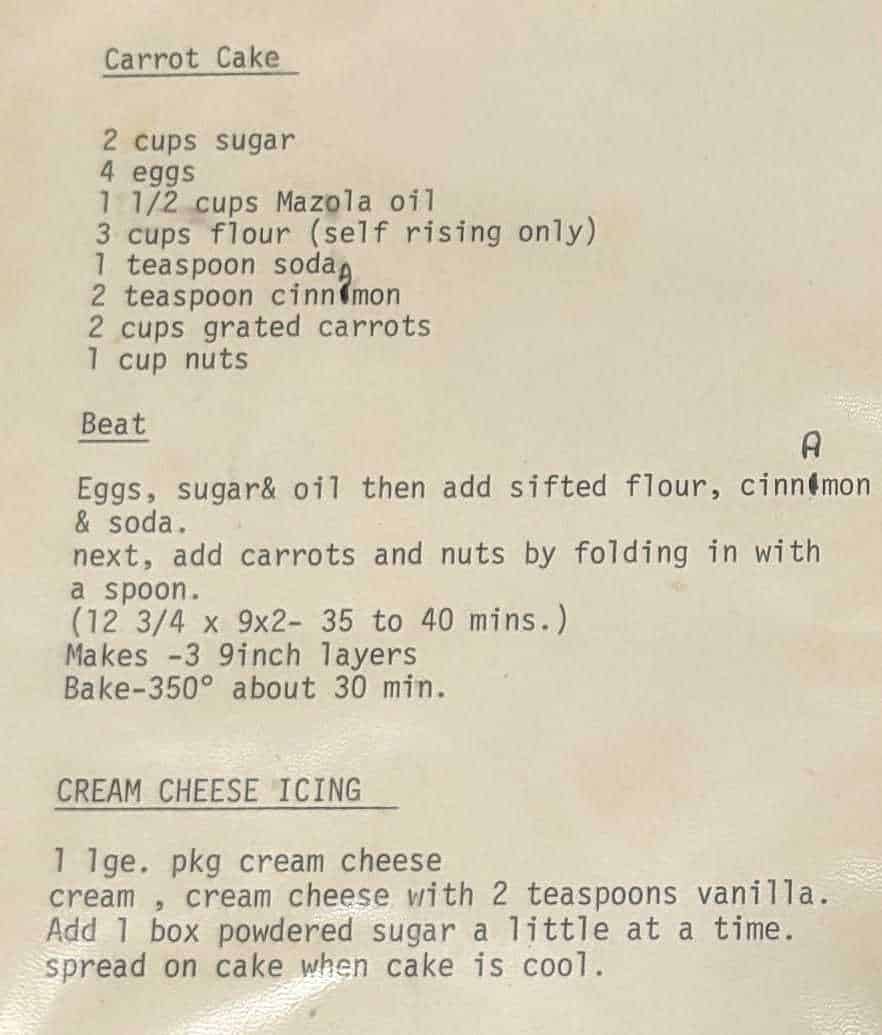 Pro Tips:
Note that I tweaked my recipe below a little bit because I had a bag of powdered sugar vs. a box.
Instead of a full box of powdered sugar for the cream cheese icing, I measured out 2 cups.
Also, I didn't sift the flour.
Lastly, I bought the carrots already shredded (Thank you Wegmans), so I skipped the step of shredding the carrots.
However, that's another fond memory: Watching my mom, a whiz in the kitchen, use her stainless steel box grater (like this one from Amazon).
Ah, those were the good old days!
And, to be honest, shredding the carrots using the box grater using the smallest holes results in a better tasting cake.
Don't get me wrong, saving the step of grating the carrots was wonderful!
AND the cake was SO good!
However, I do think using finer grated carrots results in a more traditional carrot cake experience!
The Best Carrot Cake Recipe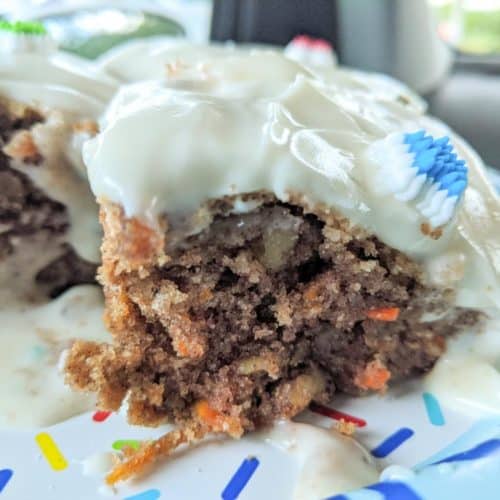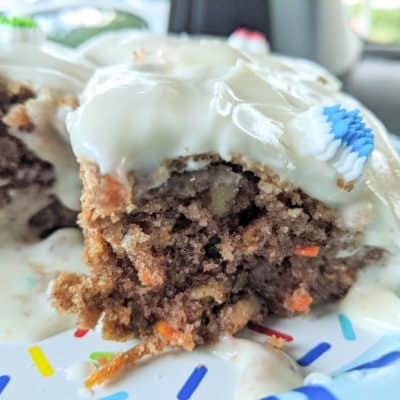 The Best Carrot Cake Recipe
My Mom made this carrot cake throughout my childhood. It has stood the test of time over the years. Moist and full of flavor on the inside with a delectable homemade cream cheese icing on the outside! You won't find a recipe better than this!
Ingredients
CAKE
2

cups

Granulated Sugar

4

Eggs

1 1/2

cups

Vegetable Oil

3

cups

Flour

1

tsp

Baking Soda

2

tsp

Cinnamon

2

cups

Carrots, grated/shredded

1

cup

Walnuts, chopped
CREAM CHEESE ICING
8

ounces

Cream Cheese

2

tsp

Vanilla Extract

2

cups

Confectioners (Powdered) Sugar
Instructions
Preheat oven to 350 degrees fahrenheit.

Using a mixer, beat the eggs, sugar, & oil until well blended.

Then add the flour, cinnamon, and baking soda to the egg mixture and mix well.

Using a large, sturdy spoon, fold in the carrots and nuts and mix well.

Poor batter into a greased (I used Pam Cooking Spray) 9"x13" baking dish OR (3) 9" round cake pans.

Bake for approximately 30 minutes if using round cake pans and approximately 40 to 50 minutes if using a baking dish.

While your cake is baking, make your icing: Use a mixer to blend cream cheese and vanilla extract.

Then add powdered sugar to the mixer, a little bit at a time, until creamy. Set icing aside.

Put a toothpick in the center of the cake. If you pull it out clean and the top of the cake is a nice golden color, it is ready to take out of the oven.

Allow cake to cool completely and then add cream cheese icing.
For more delicious dessert recipes, click on over to:
Cherry Pineapple Dump Cake: As Easy As It Sounds
Pineapple Coconut Cake Bars with Crumb Topping