This Tortilla Lasagna recipe will yank you out of your regular hum drum recipe boredom.
And you'll find yourself saying 'Olé!'
With lots of chicken and traditional Mexican ingredients, you'll devour this up without adding in any unnecessary Weight Watchers Smart Points!
Cheesy Tortilla Lasagna
As you probably know by now after reading a few of my recent posts, I am back on the Weight Watchers plan.
I seriously believe that it's the best diet plan out there and gives you the most freedom to eat within your lifestyle and still lose weight.
Clearly, I love this tortilla lasagna recipe because it's so delicious and it only has 4 Smart Points (Blue) & 6 WW Smart Points (Green).
Where I Found This Mexican Tortilla Lasagna Recipe
For me, it's really tough to reduce my portion sizes and restrict the types of food that I have become so accustomed to eating.
Therefore, I went on an online search for some filling and tasty recipes that also have low Weight Watchers points.
Happily, I found a site called Skinny Kitchen with Nancy Fox.
Nancy Fox has been extremely successful in her quest to offer healthy foods to the public.
She's been on TV, has restaurants, has a successful gift basket company, has been featured in magazines, and is a book author.
Wow! Talk about credentials!
And the best part is, she gives the WW Smart Points for all of her recipes.
Needless to say, I have subscribed to her website so that I can get all of her delicious recipes delivered straight to my inbox as soon as she posts them.
One recipe that looked really tasty to me is her Skinny Lasagna Ole.
Mexican Tortilla Lasagna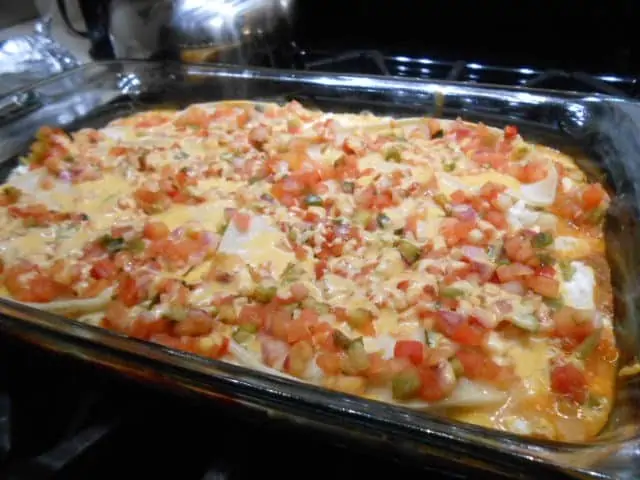 At first I was thinking it would be a skinny version of the Italian lasagna we all know and love.
But after reading the ingredients, I realized that it's more of a Mexican, enchilada type of dish.
Hence, the olé reference.
I decided to rename it Tortilla Lasagna.
Don't worry though, she does have a recipe for the more traditional lasagna recipe as well, just skinnied up.
Healthy Tortilla Lasagna Recipe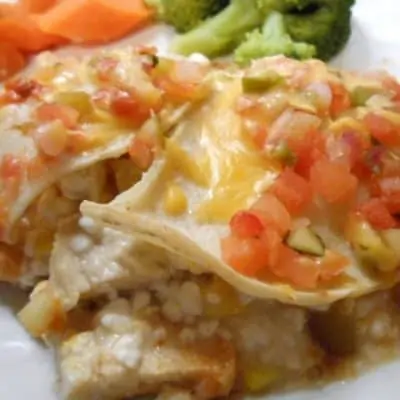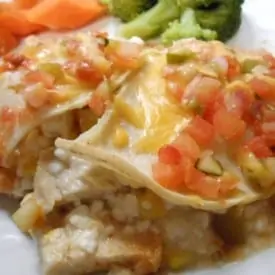 Healthy Tortilla Lasagna Recipe 4 Weight Watchers Smart Points
This Tortilla Lasagna is a lightened up, Mexican spin on the traditional lasagna recipe with chicken.
Ingredients
1 ½

cups

Reduced-fat cottage cheese

1

cup

Cooked white meat chicken

,

chopped (I boiled boneless,skinless chicken breasts)

⅓

cup

Fresh or frozen corn

,

thawed

¼

cup

Ortega diced green chilies

⅔

cup

Pasta or marinara sauce

,

from a jar, such as Classico or Prego

6

Corn large tortillas

,

cut each into four

8

ounces

Fat-free refried beans

⅔

cup

Salsa

,

I used the refrigerated chunky kind

¼

cup

Reduced-fat cheddar cheese
Instructions
Preheat oven to 350 degrees. Coat a 9" square pan with cooking spray.

In a large bowl, combine cottage cheese, chicken, corn and green chilies.

Spread pasta sauce on bottom of pan.

Arrange 2 tortillas (8 pieces) on top of pasta sauce

Remove the beans from can, place in a small bowl and soften in the microwave for easy spreading.

Spread the re-fried beans evenly on the tortillas.

Arrange 2 more tortillas (8 pieces) over beans.

Spread cheese mixture evenly over the tortillas.

Cover pan with foil and bake for 30 minutes.

Remove from oven and place the last cut tortillas on top of casserole.

Spread the salsa evenly over tortillas. Sprinkle cheddar cheese evenly on top.

Cover casserole and bake 15 minutes longer. Cool slightly and cut into 6 slices.
Notes
4 WW SmartPoints (Blue Plan)
6 WW SmartPoints (Green Plan)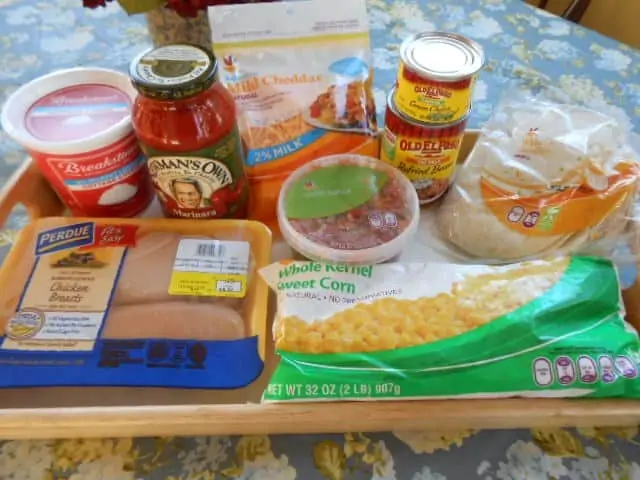 Tortilla Lasagna Pro Tips
I happened to use a larger rectangular pan and not the recommended 9″ square pan.
Next time I will use the 9″ square pan because the rectangular pan made it not as thick and the layers were harder to spread across the entire casserole.
How it turned out
But boy was it good!!
My son, who says he doesn't like to eat anything 'all mixed up' wouldn't touch it.
Because I knew this ahead of time, I set aside some of the boiled chicken and cut it up into pieces for him to eat with some rice and broccoli.
On the other hand, my husband, who is pretty traditional when it comes to the types of food he likes to eat, actually went back for seconds!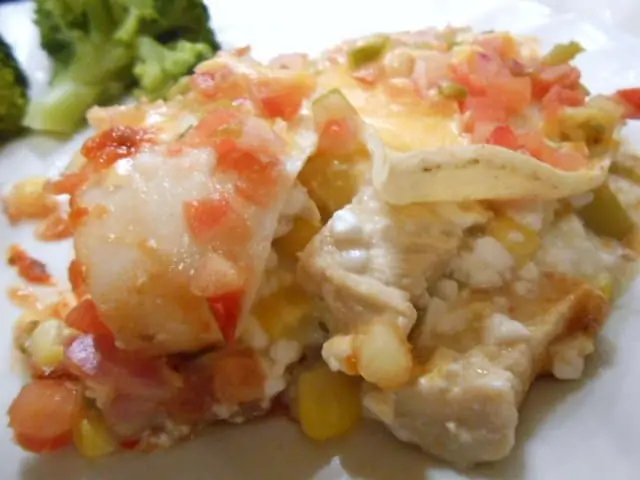 Perfect Amount of WW Smart Points
By the way, don't be alarmed when you see the amount of calories and grams of fat in this dish.
If you follow the WW plan, you'll know that this recipe's Smart Points are great for a dinner entree.
The best part was that I had a good amount leftover and was able to enjoy it the next day for lunch.
It's very satisfying and delicious.
So if you're on the WW or even if you're not, you must try this recipe.
It's healthy, filling and very tasty!
For more WW friendly dinner recipes, go to our posts on:
Healthy Veggie Fried Rice – WW SmartPoints
Blackened Tilapia with Radish & Cucumber Salsa – WW SmartPoints

North African Meatball Stew –WW SmartPoints