This fish recipe, Blackened Tilapia recipe with Radish and Cucumber Salsa came right out of one of my Weight Watcher's Weekly's.
What I love about this recipe is how crispy and flavorful it is on the outside but still moist on the inside.
In addition, it's one of those low carb, easy dinners you can very easily make on a weeknight.
Blackened fish recipes are considered a Cajun cuisine, originating in New Orleans.
Blackened Tilapia Recipe
Before now, I've never cooked with blackened seasoning.
Needless to say, I didn't even know where to find it in the grocery store until I got the ingredients to make this recipe.
By the way, if you shop at Weis in Frederick, it's right next to the seafood counter.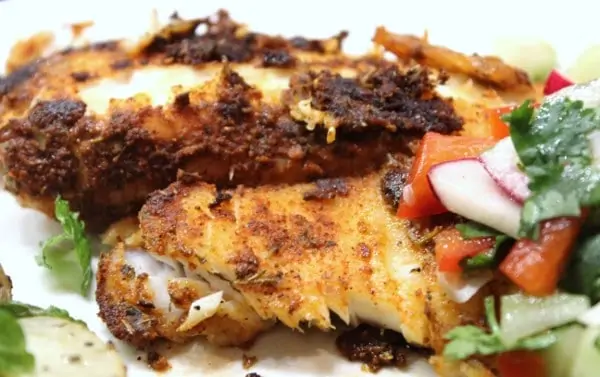 Indeed, this recipe intrigued me because I've always loved the taste of flaky tilapia fillets.
It's a white, mild-tasting fish that I usually bread or broil.
Additionally, my husband and son love this tasty freshwater fish.
However, I wanted to try something different this time as opposed to my typical way of cooking tilapia.
So when I found this recipe, I just had to try it!
There's a first time for everything, right?
Plus, the salsa that accompanies it looks incredible!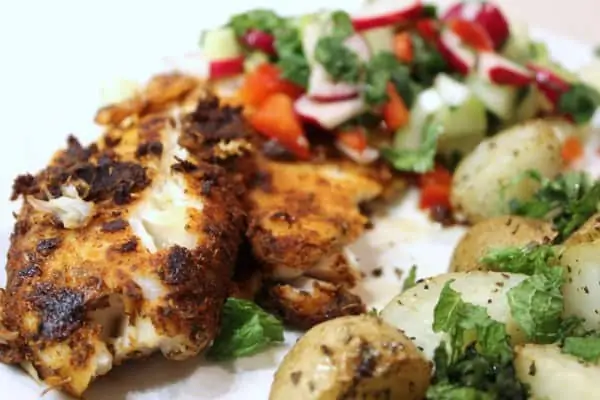 Ingredients
Cooking Spray
Tilapia Fish Fillets
Homemade Blackening Seasoning or store-bought (typically consists of Cajun spices such as paprika, onion powder, garlic powder, thyme, oregano, cayenne pepper, kosher salt and freshly ground black pepper)
Radishes
Cucumber
Sweet Red Pepper
Scallions
Fresh Cilantro
Olive Oil or Vegetable Oil
Fresh Lime Juice
Salt
Black Pepper
Instructions
Step 1: Coat Large Skillet with Cooking Spray
Spray a cast iron skillet or frying pan liberally with cooking spray.
In this case, I like to use Pam Cooking Spray, but you can use any.
I've found a good one at Aldi.
Step 2: Coat Tilapia with Blackened Seasoning
Now, remember, blackened seasoning is VERY spicy, so keep this in mind when coating both sides of your fish with it.
With a pinch of the blackened spice, rub it onto all sides of your fish.
Just remember to wash your hands thoroughly afterwards so you don't accidentally get the spice in your eyes.
Step 3: Sautè Over Medium Heat
Be sure to lay your fish into the skillet in a single layer and cook over medium to high heat for approximately 2-3 minutes per side.
Once your fish is cooked, transfer it to a dish with a paper towel on it to absorb any grease.
However, unless you're using a lot of oil or grease in your skillet, this fish shouldn't be very greasy at all.
Step 4: Prepare Radish Cucumber Salsa
To prepare your salsa, slice each radish in half and then thinly slice each half into half moon shapes.
Then, in a medium bowl, combine radishes, cucumber, red pepper, scallions, cilantro, lime juice, and oil.
After that, season your salsa to taste with salt and pepper.
Salsa can be eaten at room temperature.
Then, serve over top of your fish.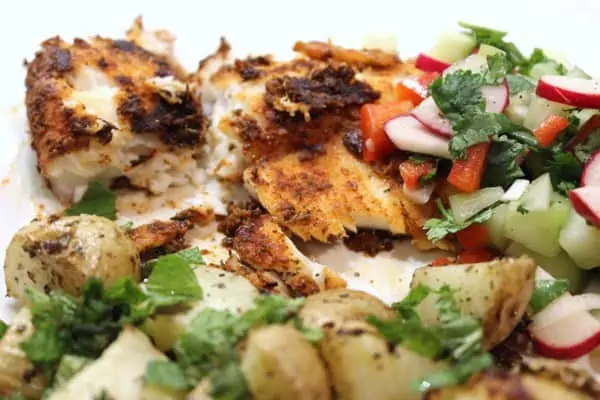 Is Blackened Tilapia Spicy?
In one word: YES!
The end result is SO good, but it's HOT, as in SPICY hot!
Even my husband, who usually likes to eat spicy foods, was struggling through it.
But, it really is delicious!
As a matter of fact, my son even ate it!
Needless to say, when he was younger, I had to slice the blackened edges off for him.
That way he could eat the white fish without burning his tongue from the spiciness.
Radish Cucumber Salsa
A fantastic addition to this recipe is the refreshing radish cucumber salsa!
As a matter of fact, it is a crucial part to the blackened tilapia because it cools off the spiciness of the fish.
Side Dish For Tilapia
In addition to the blackened tilapia and radish cucumber salsa, I added another Weight Watchers recipe as the side dish.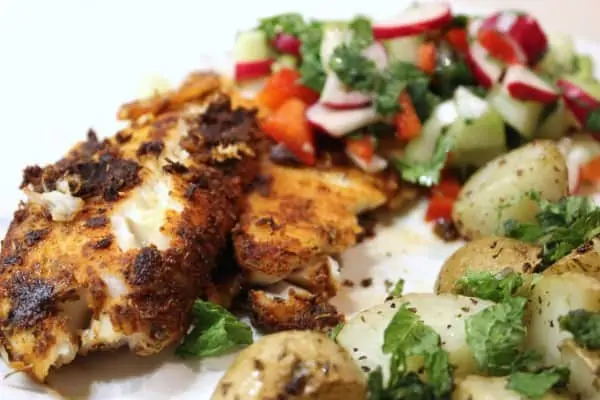 This Roasted Baby Potatoes with Oregano and Lemon is my favorite side along with the fish and salsa.
Bottom line, if you're not hugely into spicy dishes, but like to walk a tad bit on the wild side, decrease the blackened seasoning a little bit.
It really gives it that nice crispy, flavorful coating on the outside of the fish.
AND, if you love spicy food and like to show off how tough you are to all of your friends, even when your face is drenched in sweat, add more blackened seasoning.
Serving Suggestions
Here are some serving suggestions for this wonderful blackened tilapia recipe:
Eat them as fish tacos, including the salsa
Cut up lemon wedges to use as a garnish so people can squeeze fresh lemon juice over top of their fish
Enjoy a nice glass of white wine with your meal
Serve with a side of tartar sauce or, even better, a homemade version, remoulade sauce
Other sides that go well with this simple recipe are wild rice and mango salsa
Storing Leftovers
To store any leftover blackened fish and/or salsa, place each, separately, into an airtight container.
Then, keep it in the refrigerator for 1 to 2 days.
Blackened Tilapia with Radish Cucumber Salsa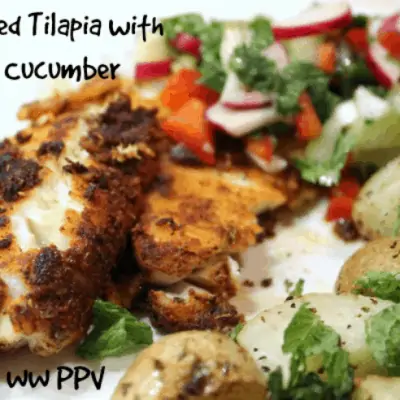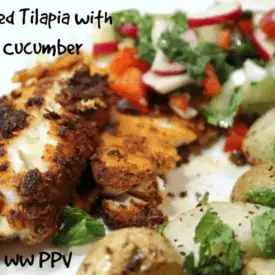 Blackened Tilapia Recipe with Radish and Cucumber Salsa
This tilapia dish is wonderfully crispy and spicy with the radish cucumber salsa included in order to cool off your tongue.
Ingredients
1

spray

Cooking Spray

1 ½

lbs

Farm-Raised Tilapia

3

tbsp

Blackened Seasoning

,

or to taste

5

Red Radishes, sliced

1

Cucumber, chopped

½

Sweet Red Pepper, chopped

3

Scallions, sliced

1

tbsp

Fresh Cilantro, chopped

2

tbsp

Fresh Lime Juice

1

tsp

Olive Oil

⅛

tsp

Salt

⅛

tsp

Black Pepper
Instructions
Coat a large nonstick sautè pan with cooking spray.

Coat tilapia with blackened seasoning and cook over medium-high heat until fish flakes with a fork, about 2 to 3 minutes per side. (Do not crowd fish in pan. Only cook as much fish as can fit in a single layer. Cook in batches if necessary.)

Slice each radish in half and then thinly slice each half into half-moons.

In a medium bowl, combine radishes, cucumber, red pepper, scallions, cilantro, lime juice, and oil.

Season to taste with salt & pepper and serve over fish.
Lastly, if you love tilapia as much as I do, you'll adore this Baked Tilapia with Dijon Mayo Sauce recipe from my friend Liza with Amusing Foodie.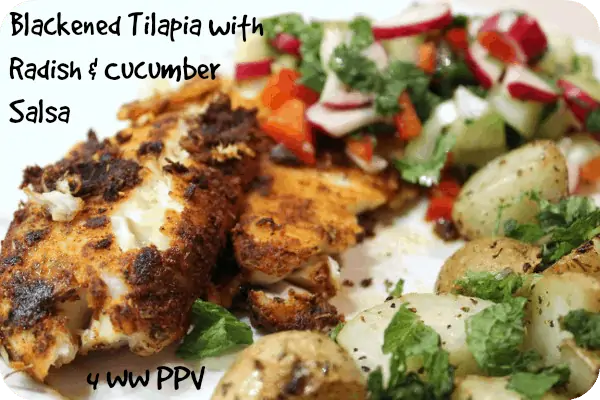 For more seafood recipes, click on over to
What to Serve with Scallops: 22 Perfect Side Dish Recipes
Traditional Maryland Crab Imperial Recipe