This Chocolate Chai Tea Latte Recipe Gift In A Jar will have you in the mood for a spicy, creamy, warm feeling in your tummy!
And why not spread the love by preparing the ingredients for this wonderful concoction in a mason jar to give as gifts for the holidays?
Chocolate Chai Tea Latte Recipe
Tis the season to go to parties and events!
I think it's so thoughtful when guests bring a little gift for the host/hostess.
A nice bottle of wine and fresh flowers are great ideas to offer the party-thrower.
However, I always like to be a little different and I LOVE unique gifts!
Hence my decision to make this Chocolate Chai Tea Latte Recipe Gift in a Jar to give to our hosts on Thanksgiving!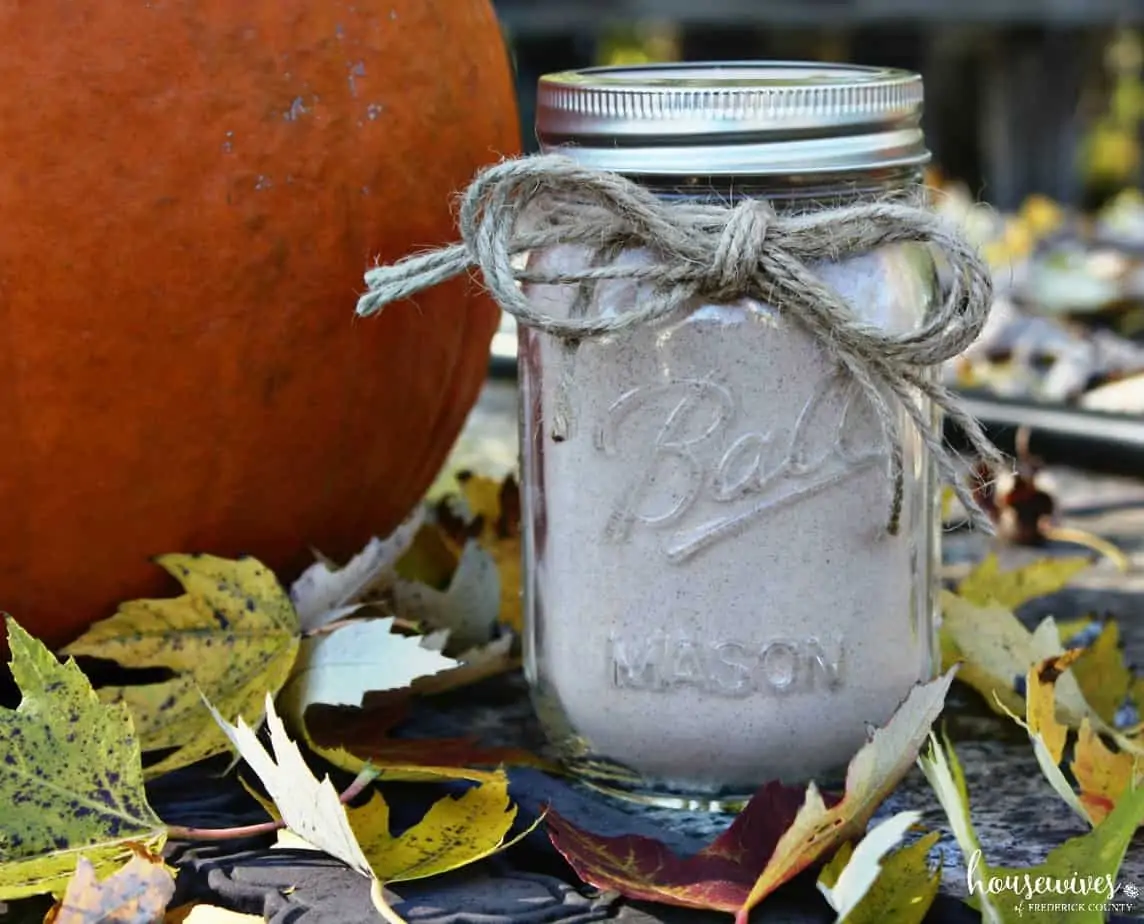 What is Chai Tea?
If you haven't had chai tea before, you definitely need to give it a try!
It's kind of an acquired taste – very different, but very soothing.
According to Chai-Tea.org,
"Chai (pronounced as a single syllable and rhymes with 'pie') is the word for tea in many parts of the world. It is a centuries-old beverage which has played an important role in many cultures."
The beauty of chai tea is that it contains lots of healthy ingredients!
HealthyEating.SfGate.com reports,
Chai tea is a spicy, pungent drink made from some of the world's most medicinally active herbs. There are thousands of chai recipes – many of which come from India – but the basic components of chai include black tea, cinnamon, ginger, clove, cardamom and black pepper. While each of these ingredients has its own powerful health benefits, their synergy creates a potent tea that may help support digestion, prevent cancer, lower blood sugar and promote cardiovascular health."
There are LOTS of recipes for chai that I was able to find online, but I didn't find many for chocolate chai tea latte.
So, to stand out a little from the crowd, I will share with you how to make a Chocolate Chai Tea Latte Recipe Gift in a Jar!
Chocolate Chai Tea Latte Recipe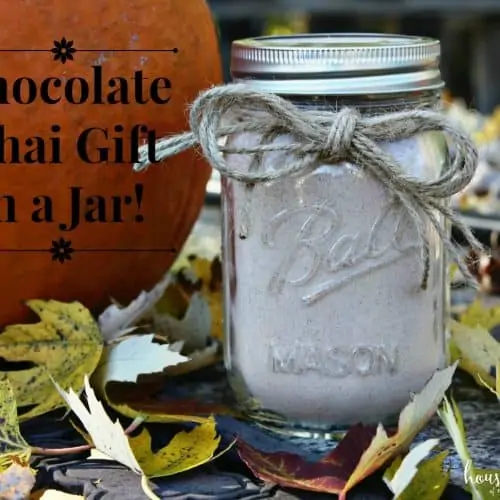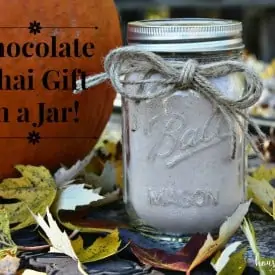 Chocolate Chai Tea Latte Recipe Gift in a Jar
A wonderful concoction of dry spices, cocoa, tea, sugar, & evaporated milk packaged in a mason jar and used as a wonderful, unique gift for the holidays.
Ingredients
3

cups

non-fat dry milk powder

2

cups

unsweetened instant tea

3

tsp.

ground cinnamon

2 ½

tsp.

nutmeg

2

tsp.

cloves

2

tsp.

cardamom

1 ½

tsp.

all spice

⅓

cup

cocoa powder

½

cup

packed brown sugar

1

cup

powdered sugar
Instructions
In a large bowl, mix together the dry milk powder, instant tea and spices.

Transfer to a blender or food processor, and blend until finely ground. This may take a few minutes.

Once the mixture is finely ground, there will be more space in the blender.

Add powdered sugar, brown sugar and cocoa powder.

Turn on blender, and blend until mixture is completely smooth and well incorporated. If necessary, turn the blender off and mix well with a spoon or spatula, and blend again.

Transfer mixture to mason jars. Decorate the jar with a ribbon, twine, and add a label if you'd like!

All your recipients will need to do is add 3-4 tablespoons of the mix to a mug of hot water and stir!

This recipe fills 3 pint sized mason jars with a little left over.
Tips For Making Chocolate Chai Tea Latte Recipe
A note about this recipe – I was unable to find unsweetened instant tea in either of the two grocery stores I looked.
So, I ended up using raspberry flavored instant tea in mine.
It made it a bit too sweet, so I went back and doubled the amount of unsweetened cocoa that the recipe asks for.
It would be ideal if you can find unsweetened instant tea!
So, after the fact, I found this Lipton Black Iced Tea Mix, Unsweetened on Amazon.
Because you need 2 cups of this per jar, it's a good idea to buy a large amount at one time.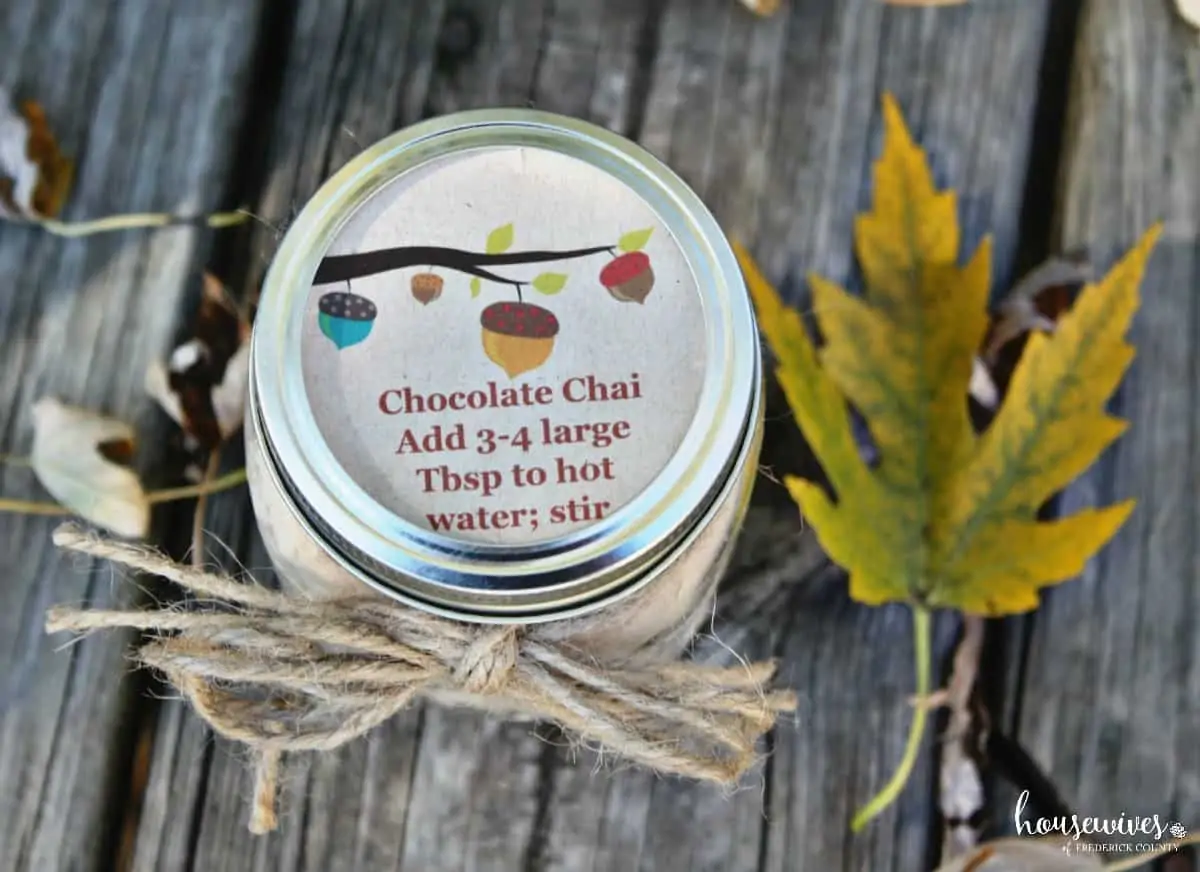 Decorating Your Gift in a Jar
To decorate my gift in a jar, I got some twine from a craft store and tied a bow around the jar.
I also went to an office supply store and got a pack of Avery Print-to-the-Edge Round Labels (2 1/2″ diameter; Kraft Brown).
I went online to avery.com/print and followed the directions to pick a template for my label, and I was able to add my own text!
After you print your label(s), and you're ready to apply it to the mason jar lid, be sure that the outside of the lid doesn't end up covering up your text (lesson learned over here!).
I'm pretty pleased on how it turned out!
It's relatively easy to do, and it's a thoughtful, homemade gift!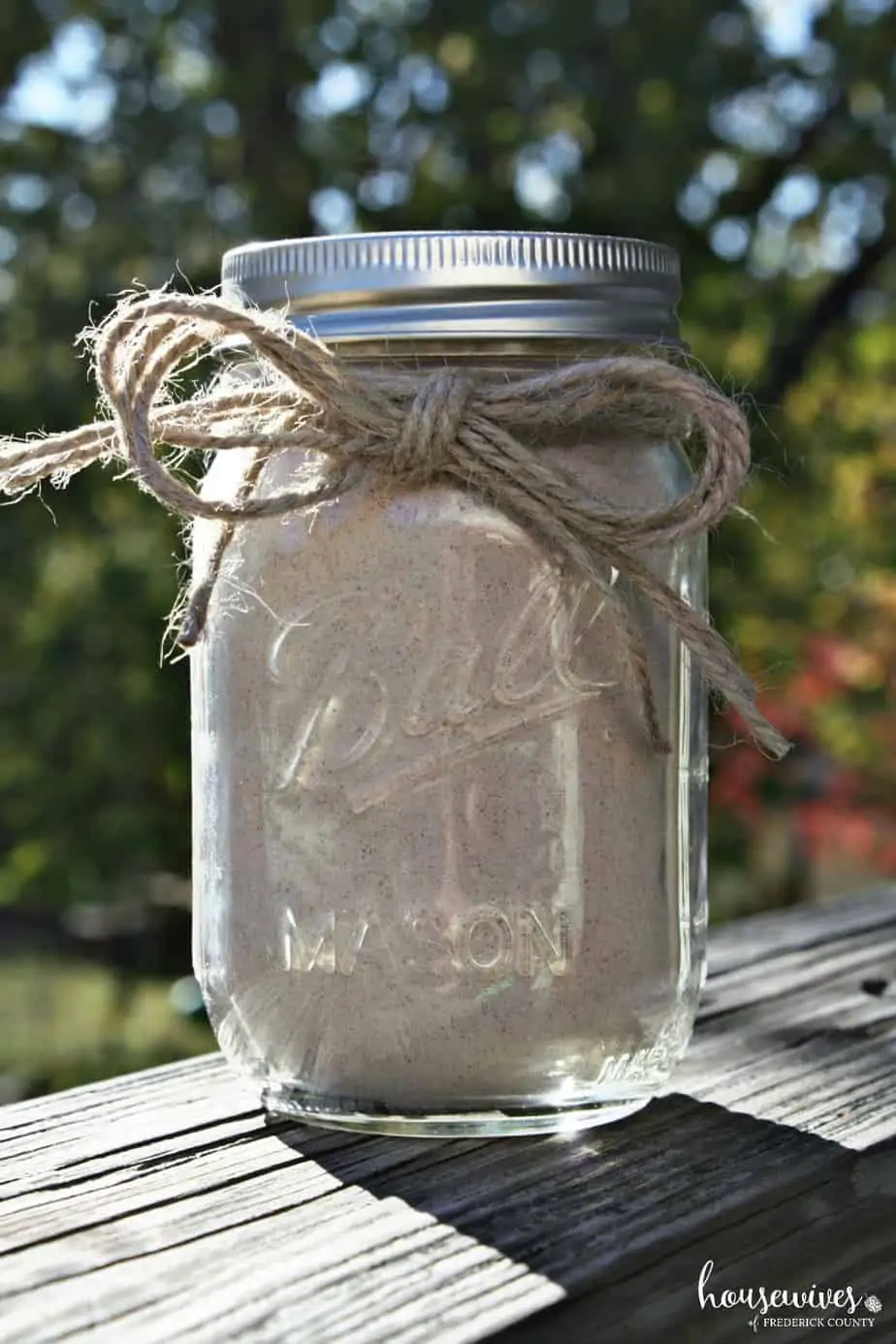 For more gift in a jar ideas, check out our posts on:
Mason Jar Dollar Bill Birthday Gift
10 Awesome Gift in a Jar Ideas
Gift in a Jar Recipe: Espresso Cocoa