Most likely you've already heard of this cherry pineapple dump cake recipe and have made it yourself.
Our Mom used to make this recipe way back in the 80's.
Needless to say, it's been around for a long time!
However, as long as it's been around, it's still one of my favorite all time desserts!
Cherry Pineapple Dump Cake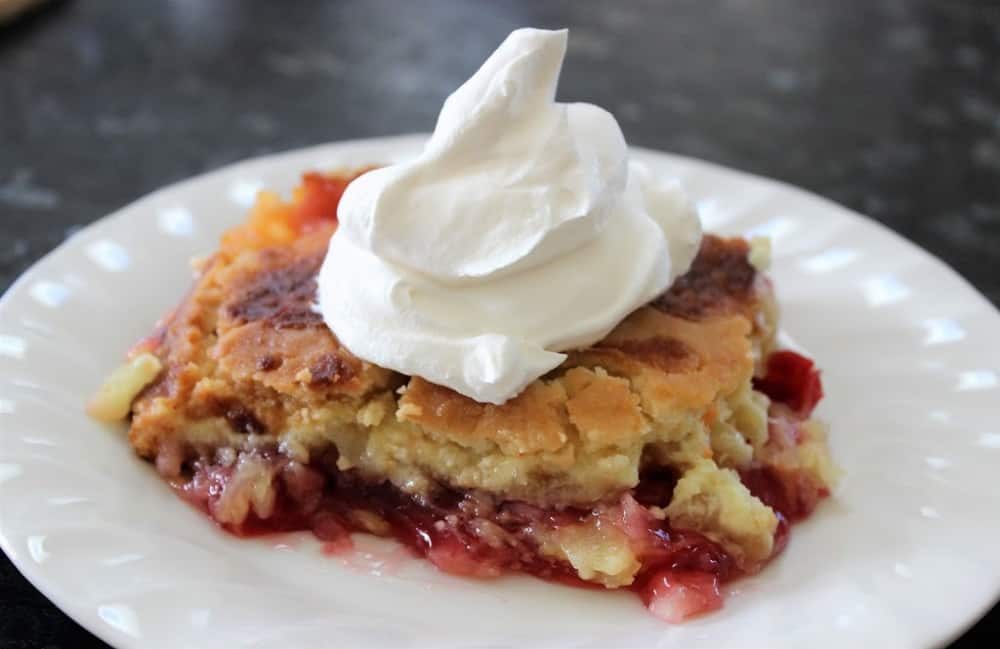 Maybe it's one of my favorites because my Mom used to make it a LOT!
Everything my Mom made just oozed caring and love to me.
Whatever the reason, this cherry pineapple dump cake recipe stands the test of time.
Also Called Lazy Man's Cake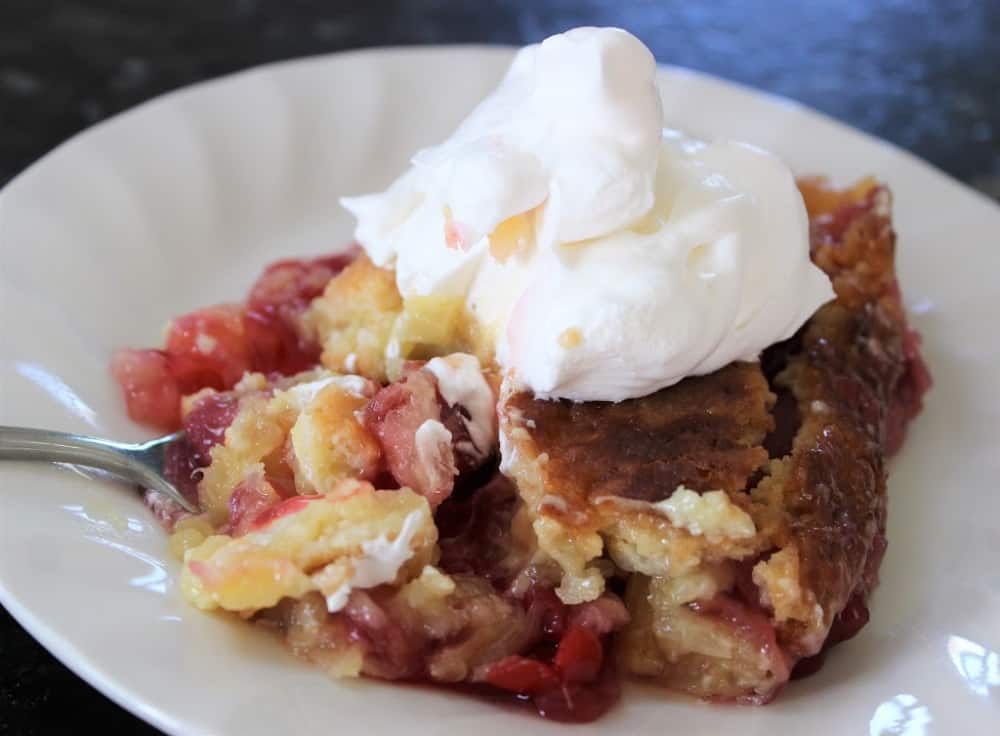 Back in the day, my Mom called this recipe Lazy Man's Cake.
As you're probably guessing by now, based on both names for this recipe, it's the easiest cake you'll ever make.
And whoever originally came up with this recipe is a genius!
Who would have thought to use dry yellow cake mix as a topping?
There Are Dump Cakes of All Varieties
Nowadays, dump cake recipes are everywhere!!
There are dump cakes made with peaches, pumpkin, apples, blueberries, strawberries, and chocolate.
In addition, there are even different methods of making a dump cake such as with a crock pot or even a dutch oven.
But I prefer the O.G. version of cherry pineapple dump cake as well as the traditional way of making it.
Traditional Cherry Pineapple Dump Cake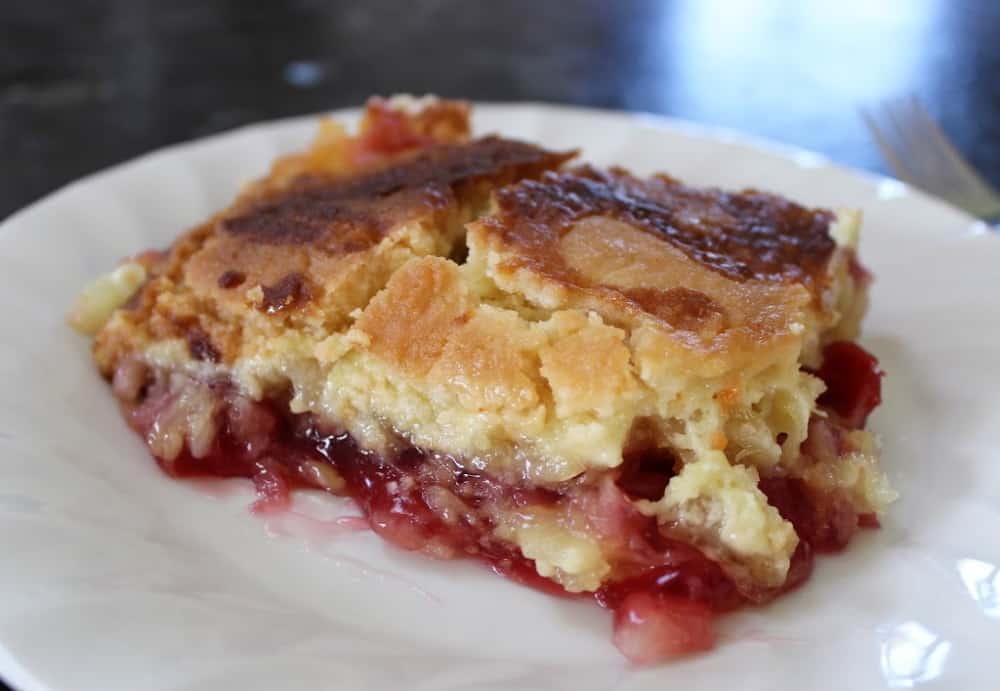 The traditional way of making a Dump Cake, or Lazy Man's Cake, is to use cherry pie filling and crushed pineapple.
Not sure the reason behind the cherry/pineapple combination, but it works!
In my opinion, don't fix what ain't broke!
Step-by-Step Instructions For Making Cherry Pineapple Dump Cake
So now, I'm going to take you on a little photographic journey showing you how darn easy this dump cake is to make!
Cherry Pineapple Dump Cake Ingredients
First step is your ingredients.
Just 4 ingredients.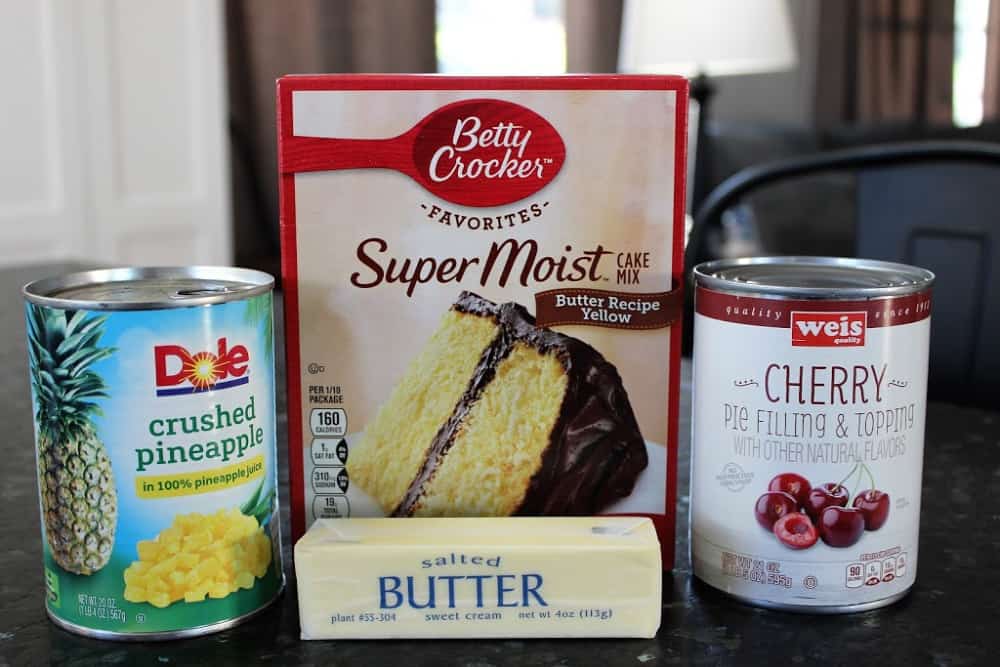 You'll need a box of yellow cake mix, a stick of butter, a can of cherry pie filling, and a can of crushed pineapple.
Yup, that's it!
Step 1: Dump Cherry Pie Filling Into Baking Dish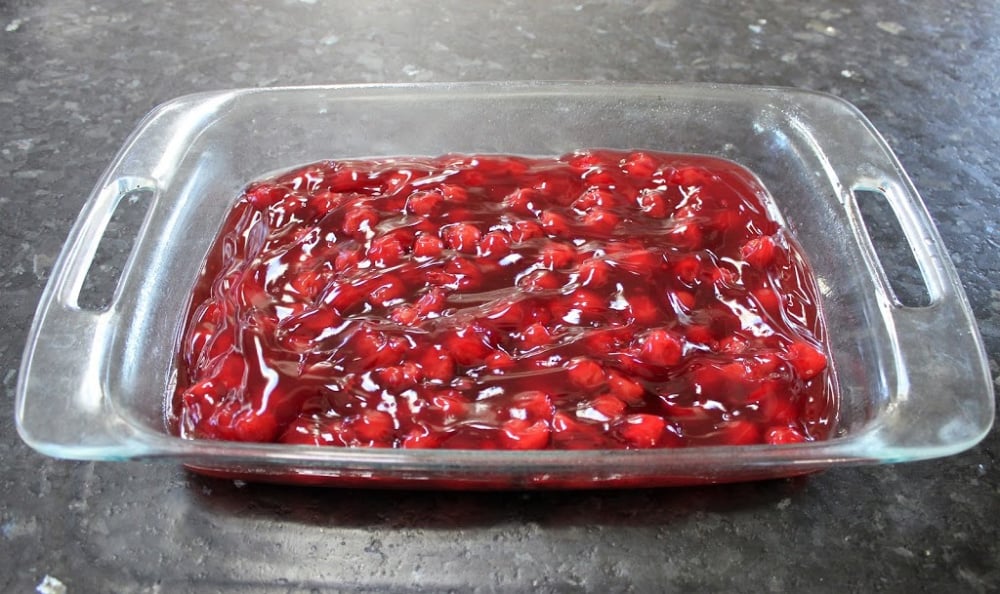 Pretty self-explanatory.
I like this Pyrex 3 Quart Glass Oblong Baking Dish with Lid from Amazon.
Step 2: Spread Drained Crushed Pineapple On Top of Cherry Pie Filling
Drain the crushed pineapple thoroughly and then spread it in a layer on top of the cherry pie filling.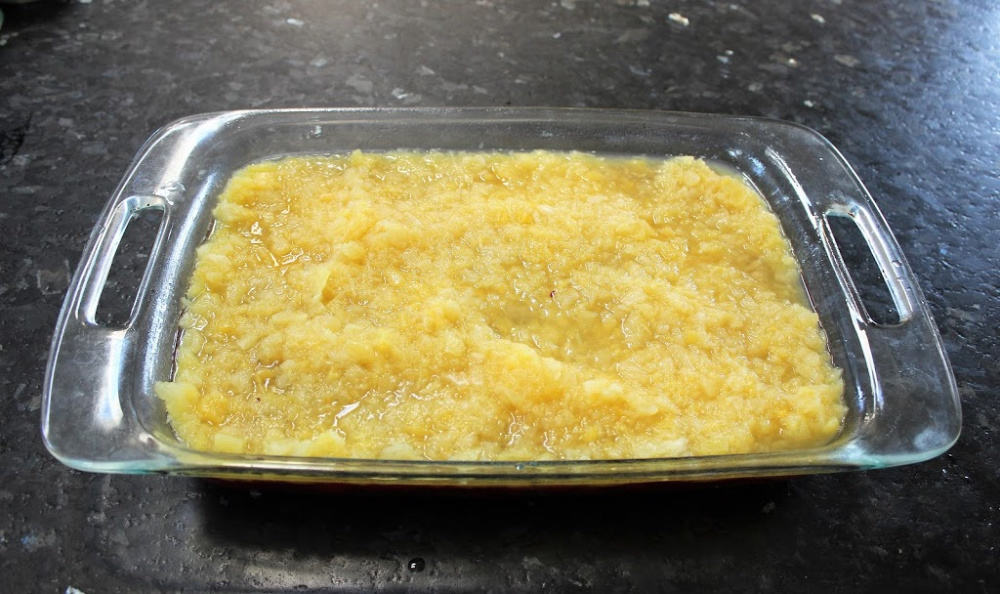 Step 3: Sprinkle Dry Yellow Cake Mix Evenly On Top of Pineapple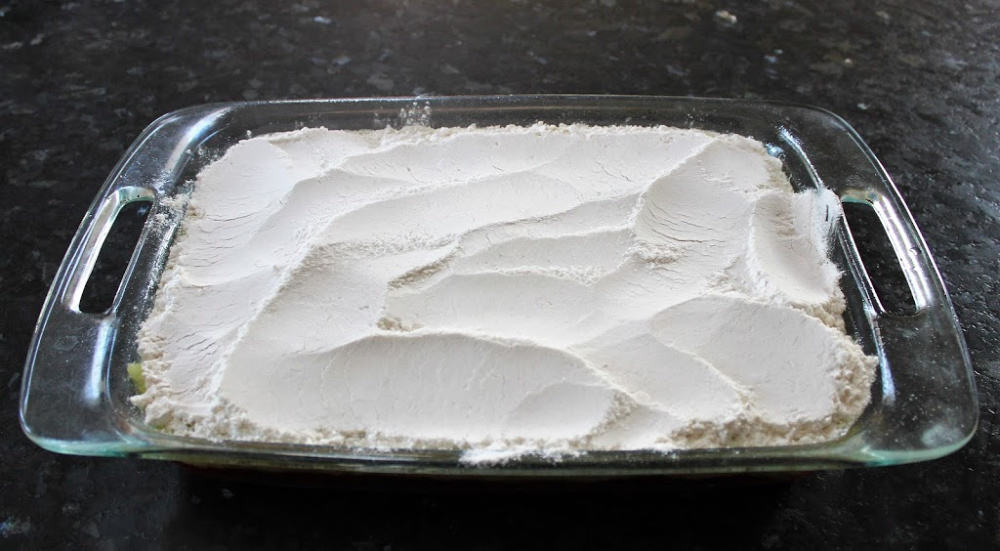 As many times as I've made this cake, it had been a very long time since I prepared it.
So, take note that I smoothed out the yellow cake mix over top of the crushed pineapple.
Don't do that!
Keep the yellow cake mix loose without flattening it down.
I'll tell you why later.
Step 4: Dot the Top with Pats of Butter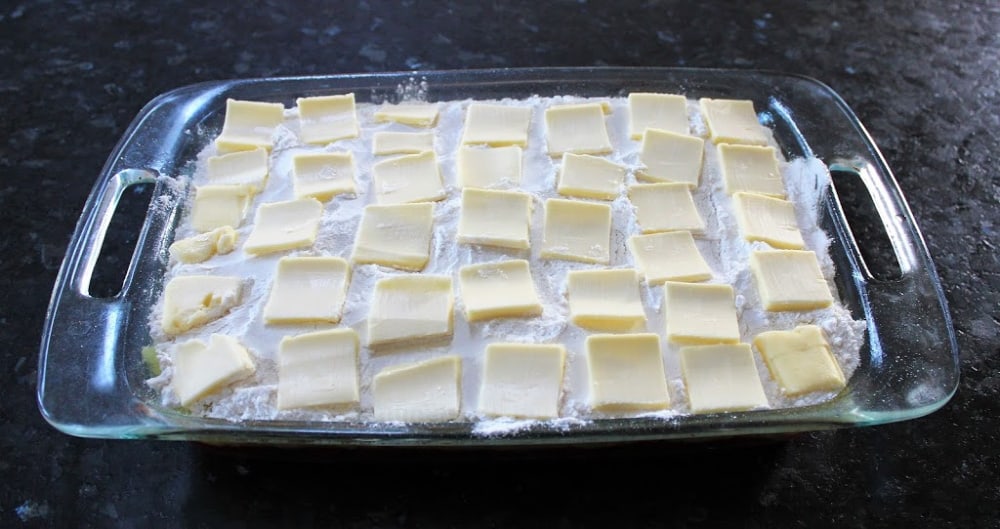 This is also a crucial step because if you don't try to cover the entire cake with the pats of butter, some of the top of the cooked cake will be powdery.
After these 4 steps you just pop that bad boy in the oven and let the heat and ingredients do their job!
You will take it out of the oven and be greeted by an amazing aroma of a buttery, crusty-topped fruit cobbler-like creation!
Here is the full, printable recipe for you.
Cherry Pineapple Dump Cake Recipe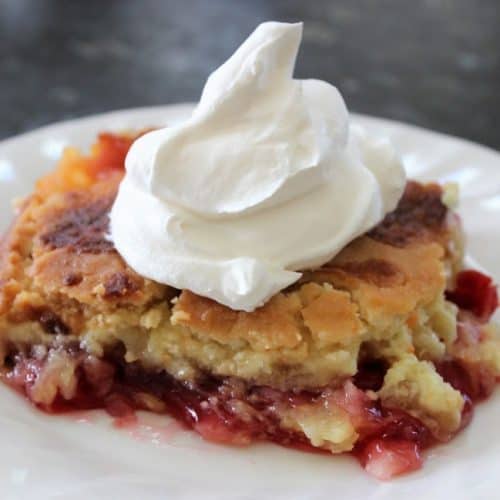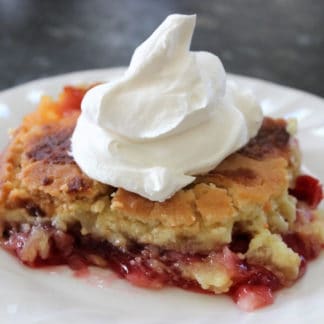 Cherry Pineapple Dump Cake - As Easy As It Sounds
This tried and true recipe has been around for decades. Also called Lazy Man's Cake, it is the easiest cake you'll ever make. And most importantly, it is absolutely delectable!
Ingredients
1

can

21 ounces Cherry Pie Filling

1

can

20 ounces Crushed Pineapple, drained

1

box

Yellow Cake Mix

1

stick

4 ounces Salted Butter
Instructions
Preheat oven to 350 degrees.

Spray a 9 x 13 rectangular baking dish with non-stick cooking spray.

Pour can of cherry pie filling and spread evenly in the bottom of the baking dish.

Pour can of drained, crushed pineapple over top of the the cherry pie filling evenly, without mixing the 2 ingredients.

Sprinkle dry yellow cake mix over top of the crushed pineapple, evenly over the entire top. Do not flatten the cake mix down.

Slice butter into thin pats and evenly place over top of the entire cake.

Place cake into heated oven and bake for approximately 50 to 60 minutes, keeping an eye on it until it is golden brown on the top.

Serve warm and top with whipped cream or vanilla ice cream.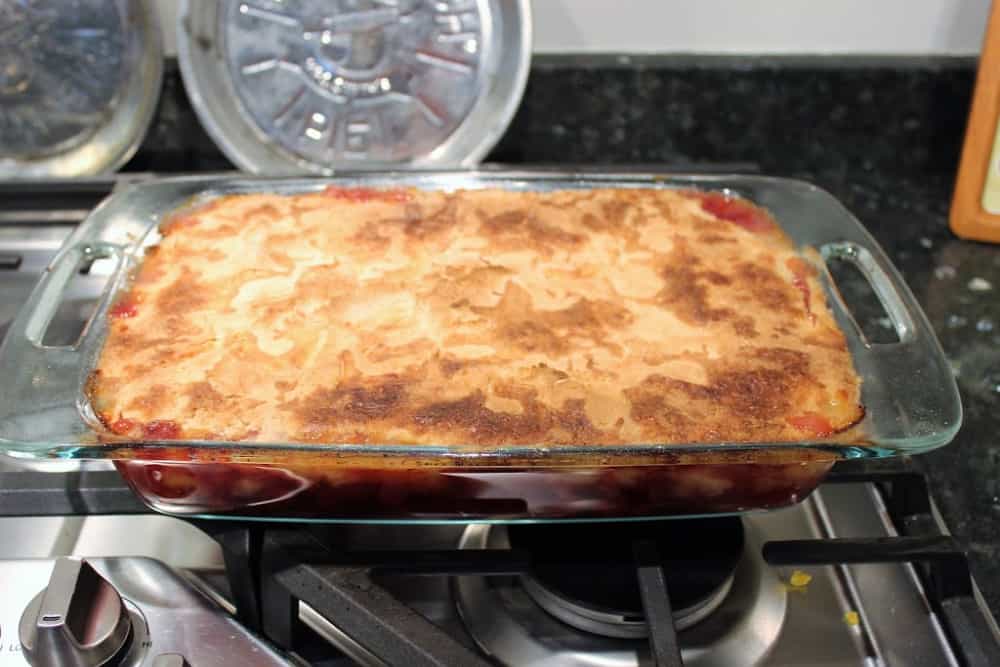 When you take it out of the oven, you'll notice that the juices from the cherry pie filling and the crushed pineapples seeped up toward the top of the cake.
It all magically blends together so seamlessly!
But here's the part I wanted to tell you about the importance of not spreading and smoothing down the dry yellow cake mix.
If you do that, the juices won't be able to seep up all the way through the cake mix.
So be sure to just sprinkle it on top without flattening it down.
Trust me, it will turn out better that way!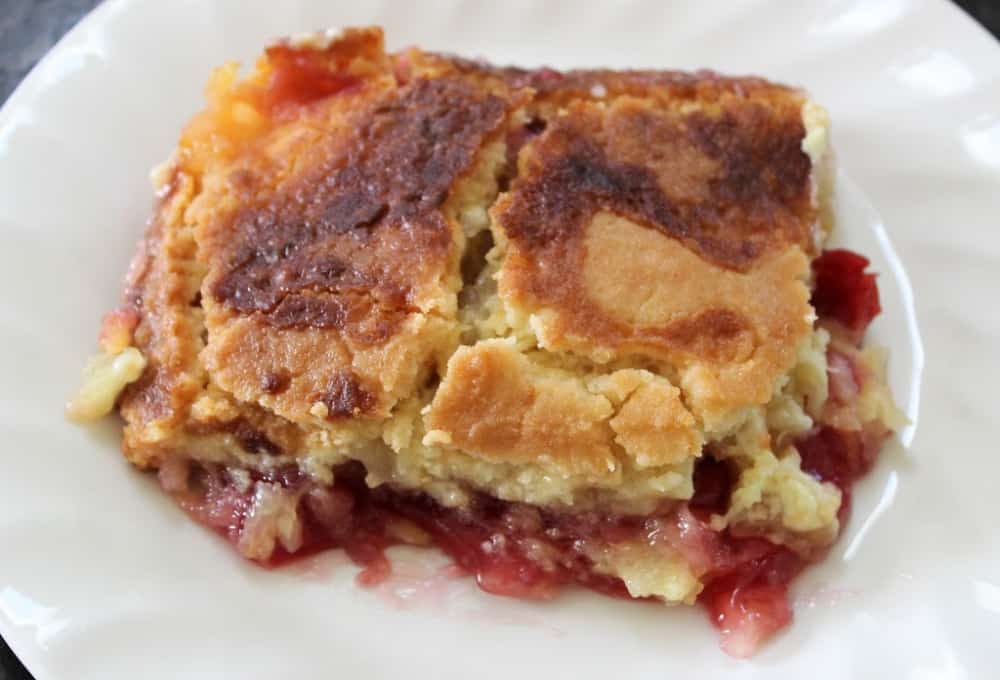 Mmmm Mmmm!
Once you try this cherry pineapple dump cake, you'll be addicted and will want to make it all the time.
My Mom made this for our birthdays several times and it was always so good!
Be sure to serve it while it's still warm.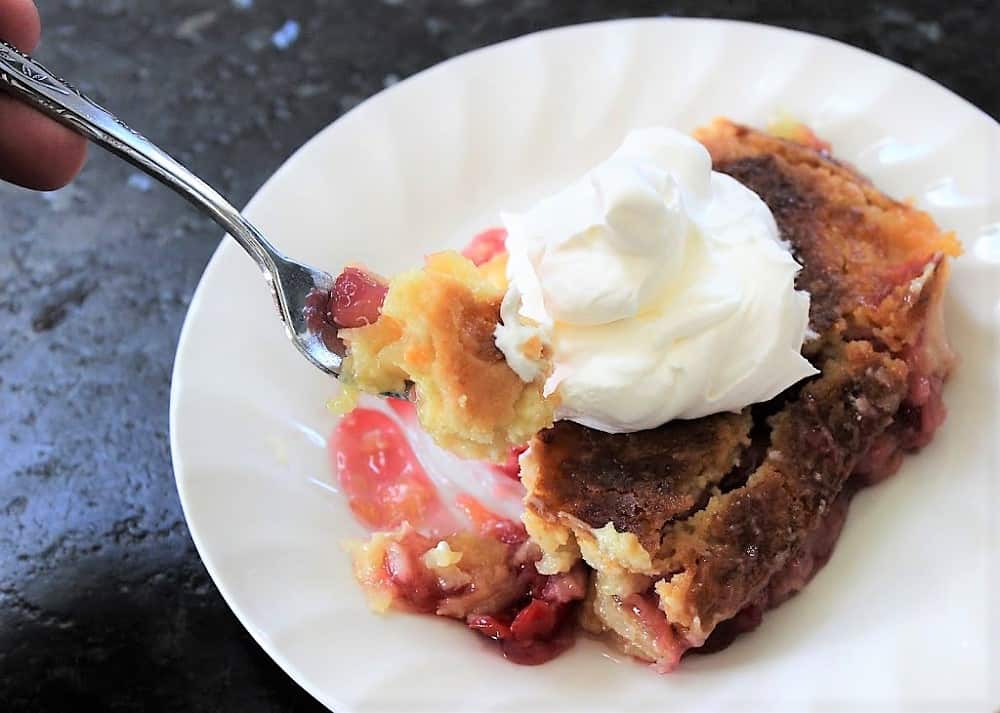 Also, it's delicious with a dollop of whipped cream or a scoop of vanilla ice cream on top!
This cake won't last long in your household.
But if you do have any leftover, put it in the refrigerator to keep it from going bad too fast.
Whenever you want to enjoy another piece, just cut yourself a piece and pop it in the microwave.
For more amazing cake recipes, click on over to:
Easy Pumpkin Dump Cake Recipe: Your Ultimate Fall Dessert
Patty's Lime Poke Cake with Jello
St. Patrick's Day Cupcakes – Irish Eyes Smiling