Sure, everybody has had red velvet cupcakes, but have you tried green velvet St Patrick's Day cupcakes?
Green velvet cake is great to make anytime, but especially for St. Patrick's Day!
I found this green velvet St Patrick's Day cupcakes recipe on Pinterest.
It's from a site called Love From the Oven.
Her version is Green Velvet Cake Pops, which look amazing!
However, I just don't have the patience to make cake pops.
I've tried, but I'm just not a cake pop makin' momma.
So, I decided to use this recipe and make St Patrick's Day cupcakes and cake instead.
St Patrick's Day Cupcakes
St Patrick's Day Facts
Did you know that Saint Patrick was not Irish? He was British!
I learned this fact, plus 7 other facts in this People.com article, 8 St. Patrick's Day Facts You Never Knew Before.
And Patrick wasn't even Saint Patrick's original name!
It was Maewyn Succat.
St. Maewyn's Day just doesn't have the same ring to it.
Also, St Patrick's Day used to be a dry holiday; as in no alcohol!
Boy how things have changed over the years!
Why green velvet?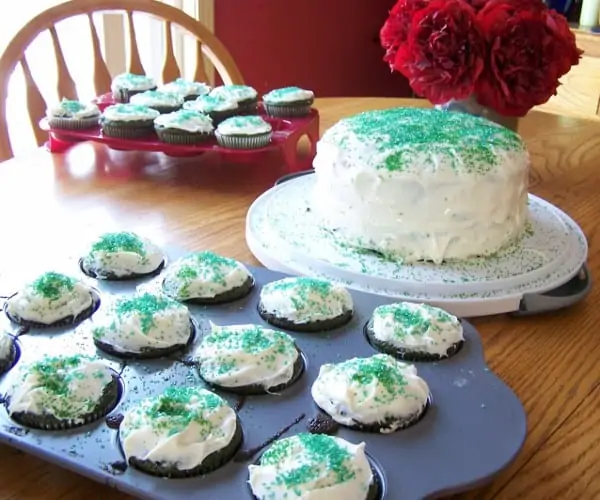 So, why, you ask, have I decided to make green velvet St Patrick's Day cupcakes & cake?
Well, it's not so much that it's St. Patrick's Day.
Although, it's the perfect reason to make them.
However, it so happens that my husband's birthday is on March 17th.
My hubby could eat cake all day, erry day, so I knew he'd love this recipe.
St Patrick's Day cupcakes Recipe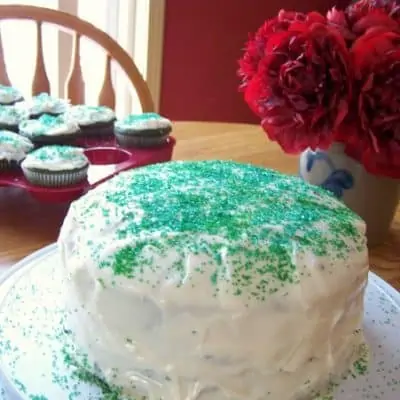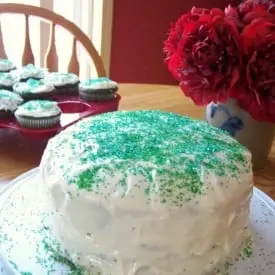 St Patrick's Day Cupcakes & Cake Recipe
These green velvet cupcakes and cake with cream cheese frosting are perfect for St Patrick's Day and if you know someone like I do who has a March 17th birthday!
Ingredients
- 2 1/2 cups all purpose flour

- 2 cups sugar

- 1 Tablespoon cocoa

- 1 teaspoon salt

- 1 teaspoon baking soda

- 2 eggs

- 1 cup oil

- 1 cup buttermilk

- 1 Tablespoon vinegar

- 1 teaspoon vanilla

- 1 oz green food coloring
Instructions
Preheat your oven to 350 degrees.

Grease your cake pans and/or muffin tins.

Lightly stir eggs in a medium bowl with whisk.

Add in remaining liquid ingredients.

Whisk until blended and sit aside.

Place all dry ingredients in your mixing bowl and stir together well.

Add food coloring into the wet ingredients.

Stir.

Pour your wet ingredients into your dry ingredients and mix on medium-high for about a minute or two until well combined.

Pour the batter into cake pans or cupcake pans.

For one 8″ cake pan, bake about 22 minutes.

For regular size cupcakes bake about 16 minutes.

For mini cupcakes bake about 13 minutes.

Let cool for 10-15 minutes and than remove from pans.

While cooling, prepare frosting.
You can use the store-bought cream cheese frosting, or use this Classic Cream Cheese Frosting recipe.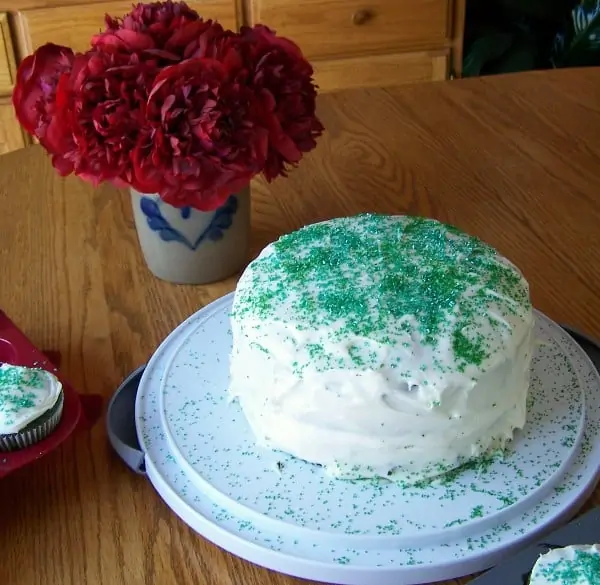 The cupcakes & cake were a huge hit with my husband, my son, my family and friends.
The only caveat that I would like to mention is, ahem, please don't be surprised when you go to the bathroom that what you see is greener than normal for the next few days!
But, no cause for alarm.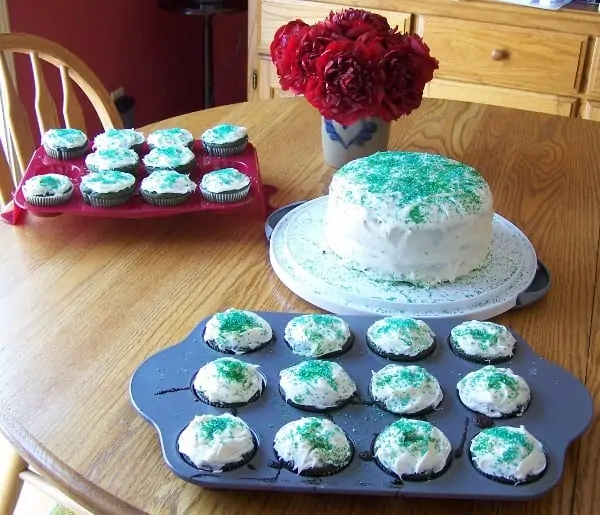 Irish Blessing
So with that, I'm going to leave you with this Irish Blessing:
May flowers always line your path and sunshine light your day.
May songbirds serenade you every step along the way.
May a rainbow run beside you in a sky that's always blue.
And may happiness fill your heart each day your whole life through.
And the chorus of this ages old Irish Song: When Irish Eyes Are Smiling.
When Irish eyes are smiling,
Sure, 'tis like the morn in Spring.
In the lilt of Irish laughter
You can hear the angels sing.
When Irish hearts are happy,
All the world seems bright and gay.
And when Irish eyes are smiling,
Sure, they steal your heart away.
To my wonderful husband, I wish you the happiest of birthdays! I love you!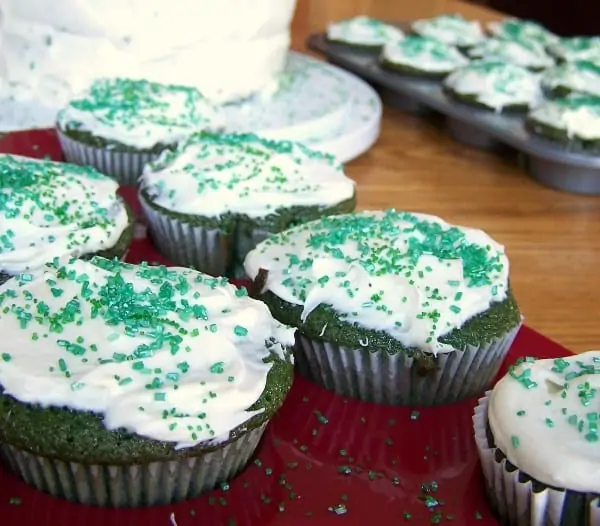 For more delicious dessert recipes, click on over to:
Chocolate Chip Cookie Recipe with Peanut Butter & Pretzels
Patty's Lime Poke Cake with Jello
Raspberry Crisp – 7 Weight Watchers PPV