Great Pumpkin Dessert
Being that it's fall and pumpkins are all over the place, I had a hankerin' for something really sinful and pumpkinie.  I looked at allrecipes.com, my favorite online resource for recipes with ratings, user reviews, and searches by ingredient.  I put in 'pumpkin' in the search box and came up with a slew of recipes.  But the one recipe that really caught my eye was the Great Pumpkin Dessert.  Not only was the picture of the dessert enticing, but also the 4 1/2 stars based on 396 reviews.  Plus, it looked really easy to make.
As you can see, there aren't that many ingredients.  Always a bonus in my virtual cookbook.
This is how it looks when you first take it out of the oven!  Yum!!!
So here is the recipe for the Great Pumpkin Dessert: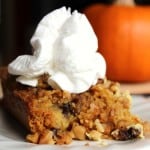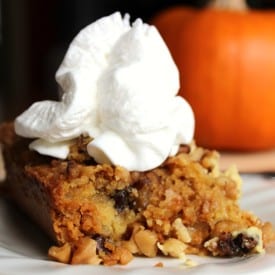 Print Recipe
Great Pumpkin Dessert
Ingredients
- 1

15 oz can pumpkin puree

- 1

12 fluid oz can evaporated milk

- 3 eggs

- 1 cup white sugar

- 4 teaspoons pumpkin pie spice

- 1

16.5 oz package yellow cake mix

- 3/4 cup butter

melted

- 1 1/2 cups chopped walnuts
Instructions
Preheat oven to 350 degrees F (175 degrees C). Grease a 9x13 inch baking pan.

In a large bowl, combine pumpkin, milk, eggs, sugar and spice. Mix well, and pour into a 9x13 inch pan.

Sprinkle dry cake mix over the top, then drizzle with melted butter. Top with walnuts.

Bake at 350 degrees F (175 degrees C) for 1 hour or until a knife inserted near the center comes out clean.
Please note that on the allrecipes.com recipe, she states to use a 18.25 oz package of yellow cake mix.  I couldn't find that anywhere.  The closest I could get was 16.5 oz.
It turned out really good.  I'm always a fan of yellow cake mix with drizzled butter and chopped nuts on top.  You could put that combination on just about anything, and I'd eat it.  It's so good!!
The nuts on the top were crispy and had that toasted taste.  Just the way I like it.
The dry cake mix combined with the melted butter, turns into a crusty heaven after it's baked.
The pumpkin pie portion of the dessert totally satisfied my hankerin' for something pumpkinie.
Dollop on some whipped cream or a scoop of ice cream and you're good to go.
HAPPY FALL!

Pam is married and has 1 son – a middle-schooler in his teen years. She followed Terri to Frederick in 1999. She absolutely loves going to yard sales and estate sales and finding hidden treasures.
read more...