A little over 10 years ago, a friend of mine told me about this amazing jello poke cake recipe.
You literally poke holes in the cake with a straw and pour jello over top of the holes.
Her version used orange jello and I think even mandarin oranges.
I thought it sounded really weird but really good.
Who would even think of making a recipe like that?
People are so creative, I tell ya.
Well, over the 10 years since she told me about it, I never got a chance to try it.
Jello Poke Cake Recipe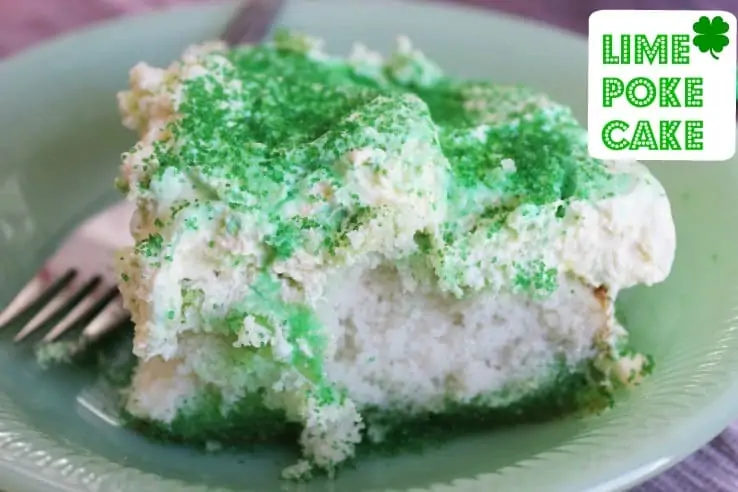 Recently I found out that this particular friend's health is not good at all.
Hearing the news made me think of how sweet she is.
I'll never forget how enthusiastic she was about her daughter and grandchildren and things that she made.
At the time she told me about the jello poke cake recipe, she made sure to give me a copy of it.
I still have it in my recipe box.
So, because it's close to St. Patty's Day and also because her name is Patty, I am using lime jello.
Therefore, I dedicate this recipe to my friend Patty.
Patty's Lucky Lime Jello Poke Cake Recipe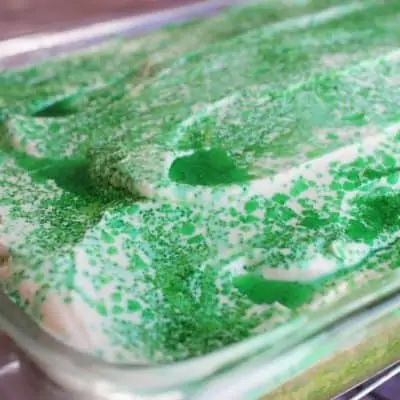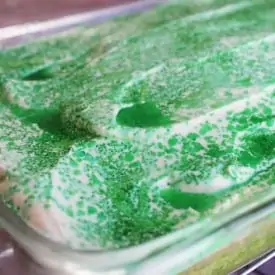 Patty's Lucky Lime Jello Poke Cake Recipe
A wonderfully moist cake made by poking holes using a straw and pouring jello over the holes.
Ingredients
- 1 package white cake mix

- 2 packages

,

3 oz each lime gelatin

- 1 cup boiling water

- 1/2 cup cold water

Frosting:

- 1 cup cold milk

- 1 package

,

3.4 oz instant vanilla pudding mix

- 1 tub

,

8 oz frozen whipped topping, thawed

- green sprinkles
Instructions
Prepare & bake cake according to package directions, using a 13" x 9" baking dish.

Cool cake on wire rack for 1 hour.

In a small bowl, dissolve lime gelatin in boiling water.

Stir in cold water and set aside.

With a large utility fork, poke holes about 1/2 to 1 inch apart into cooled cake.

Slowly pour gelatin over cake.

Cover and refrigerate.

In a large bowl, whisk milk and pudding mix for 2 minutes until mixture becomes thick.

Fold in whipped topping.

Spread over cake.

Decorate with green sprinkles.

Cover and refrigerate until serving.
How does Jello poke cake Taste?
It turned out really good!
The frosting is really light and creamy with the vanilla pudding and whipped topping mixed together.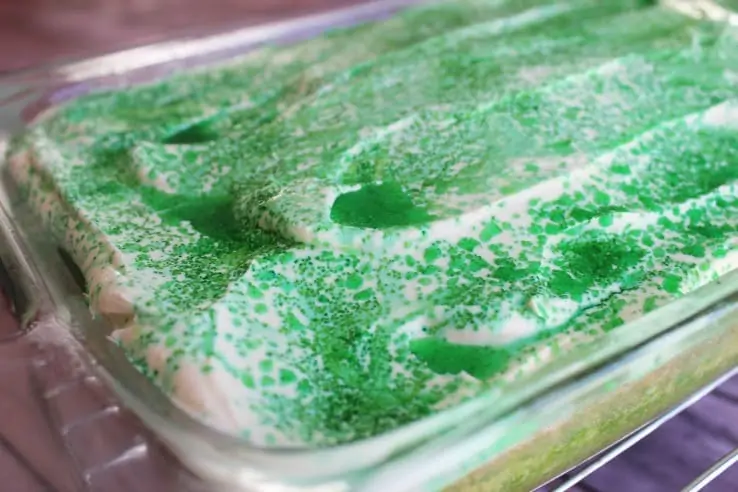 Terri's family happened to stop by that evening to visit and each of them tried a piece of the cake.
They loved it.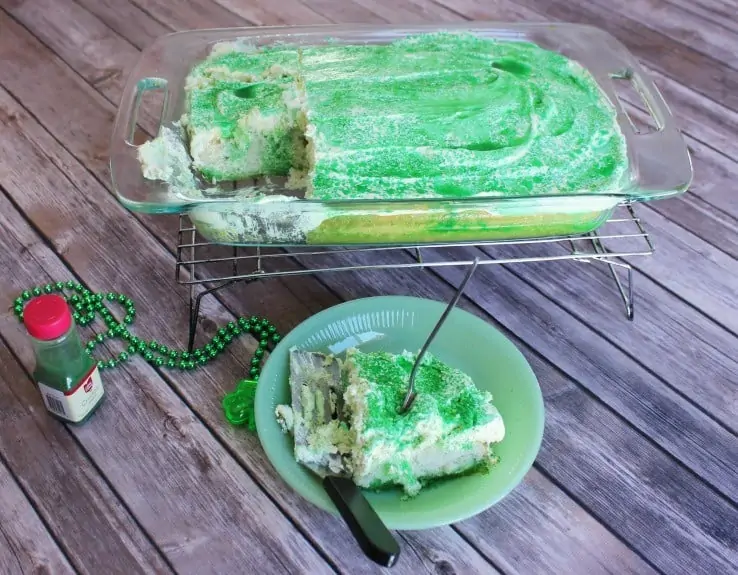 My husband loved it too.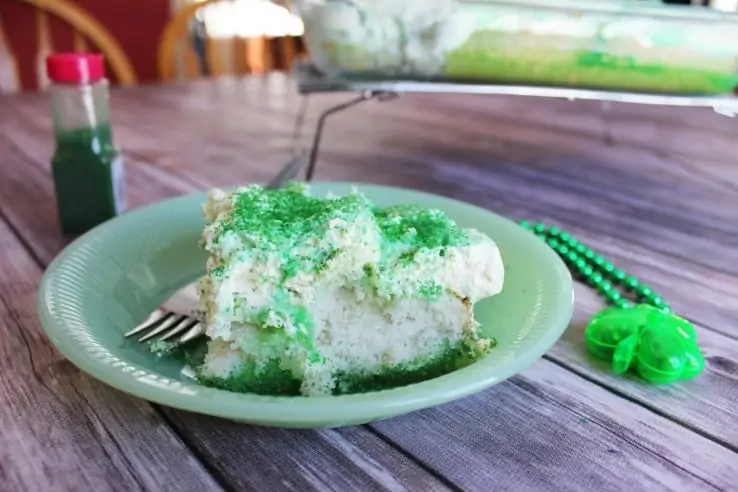 My son, who is very picky, wouldn't try it.
He loves cake, but after I told him that I poured jello over top of it, he told me that he's not really into cake that much. Mmmm Hmmm.
Well, at least he was polite about it.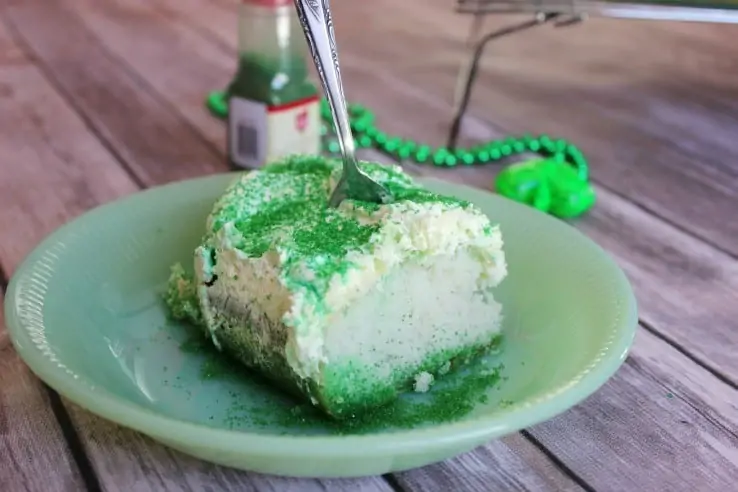 After refrigerating the cake, the sprinkles kind of settled into the frosting.
Therefore, I recommend keeping the shaker of sprinkles handy when you serve the cake.
Just sprinkle a little extra on top and around the sides to make it more festive.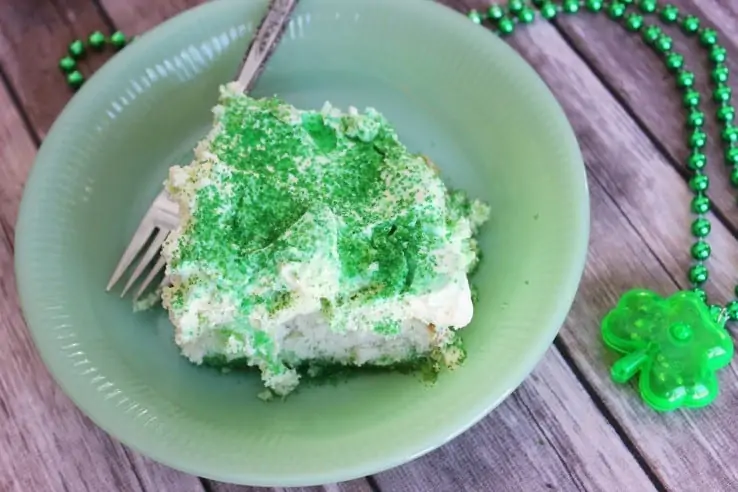 This cake keeps well in the refrigerator for up to a week.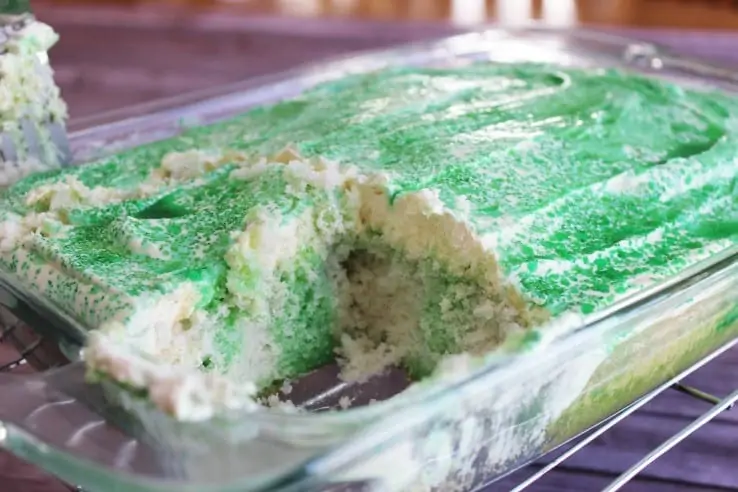 It's very light and refreshing.
This jello poke cake recipe can be altered in so many different ways with so many different flavors.
Do a search on 'Poke Cake' on Pinterest and you'll see what I mean.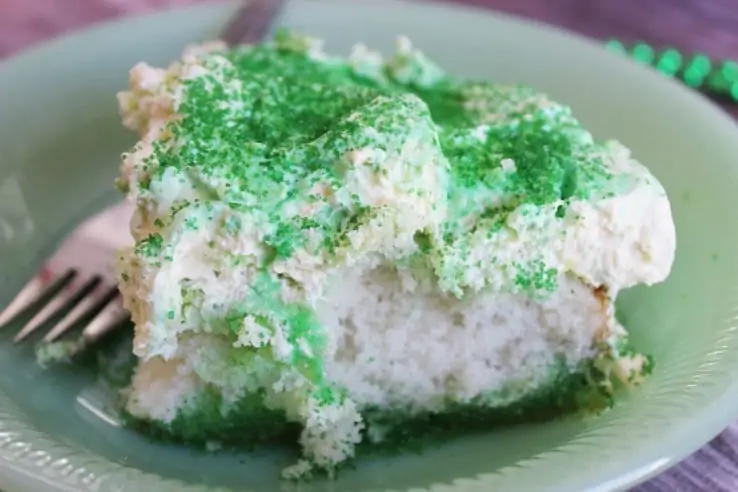 Here's to you Patty!
And Happy St. Patrick's Day everybody!
For more amazing dessert recipes, click on over to:
Dump Cake with Cherries: As Easy As It Sounds
Pineapple Coconut Cake Bars With Crumb Topping
Spring Sugar Cookie Bars with Easter M&M's