This easy homemade salsa recipe with roasted tomatoes will totally take care of your craving for going out to your local Mexican restaurant!
And because it's just so darn easy to make, you're going to want to keep the recipe handy because it's going to get eaten up very quickly!
In addition, it's a great recipe for the end of summer what-am-I-going-to-do-with-all-these-tomatoes declaration!
Homemade Salsa Recipe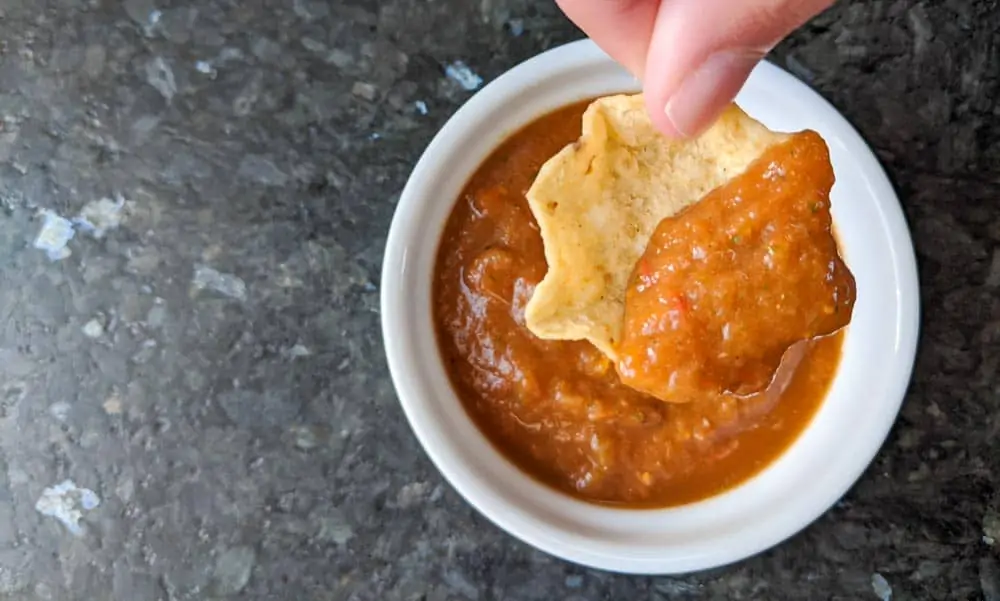 This is the predicament I was in the other day.
We had a ton of homegrown tomatoes, onions, and peppers that we had to do something with or else they were going to go bad.
My husband suggested that I make that roasted salsa recipe I made years ago.
I remember it fondly as the best salsa I've ever eaten!
So, I'm really not sure why I hadn't made it again after all these years, but I'm so glad I saved it in my recipe binder.
I originally found this recipe on a site called One Particular Kitchen.
The blog owner, Erin got this recipe from her "world-traveling chef cousin".
So, thank you Erin and her cousin for this amazing homemade salsa recipe!
Step by Step Instructions
I'm going to take you through each step for making this wonderful recipe!
Step 1: Cut Tomatoes In Half
Preheat oven to 375 degrees fahrenheit.
Cut all of your tomatoes in half and place them cut side up onto a baking sheet.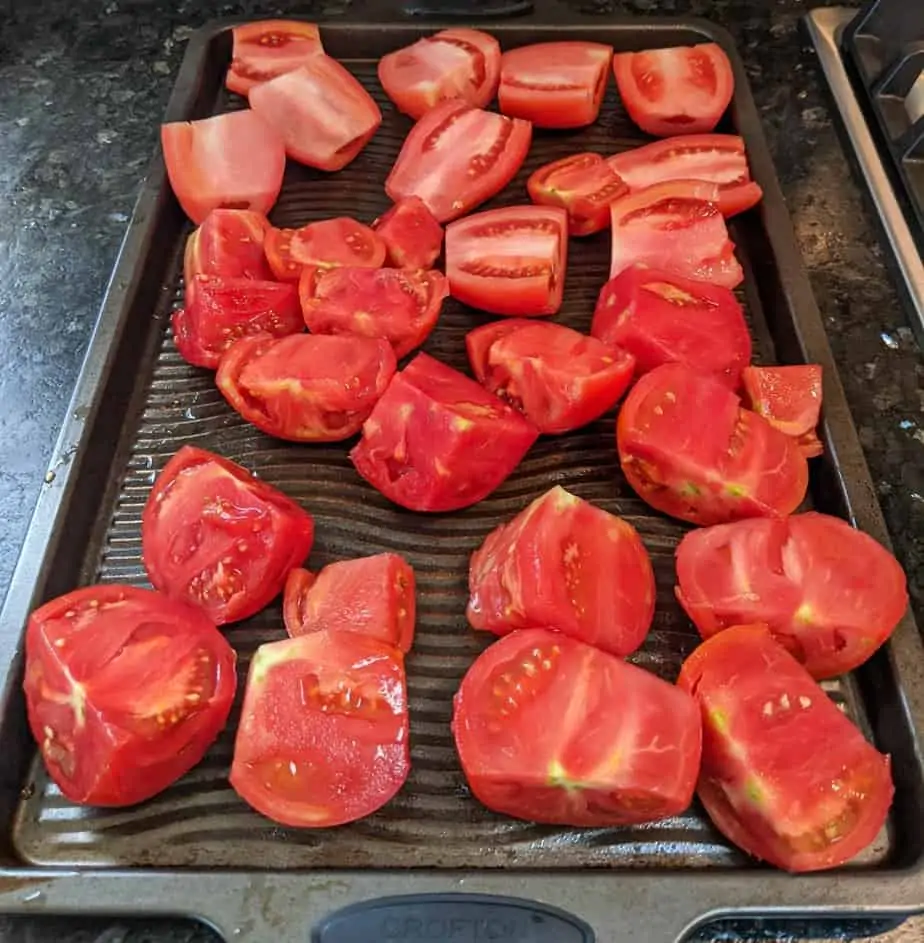 Step 2: Cut Onions & Peppers
Cut onions in half and place them on another baking sheet cut side up.
Depending on how many you roast, you can fit the onions and peppers on the same baking sheet.
Cut your peppers in half lengthwise, remove the seeds and place them cut side up onto the baking sheet.
This is where your personal tastes come into play.
If you're a the-spicier-the-better type of salsa eater, go ahead and use serrano peppers (remove the caps) like Erin does in her recipe.
By the way, just so you know, serrano peppers are apparently 5 times hotter than jalapeno peppers.
So don't say that I didn't warn you!
In our case, I just used what we had in our garden which was a few jalapeno peppers and a few jaloro peppers, both of which are pretty mild.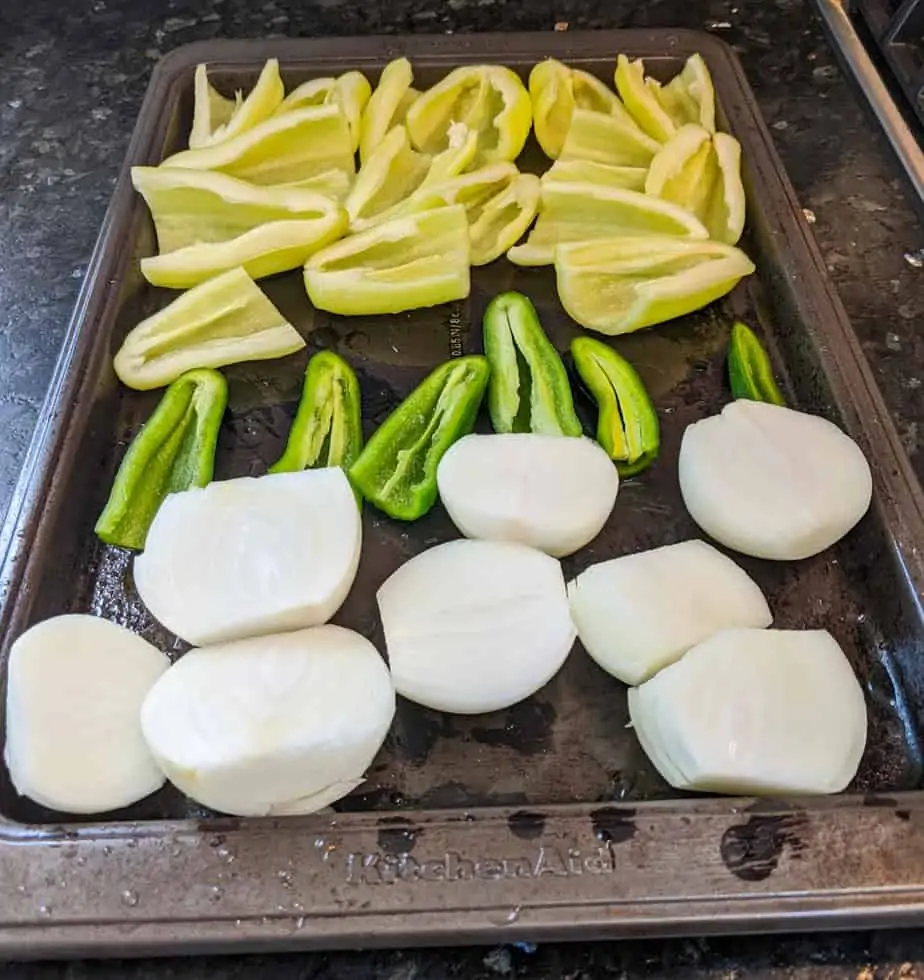 Step 3: Add Garlic to the Tomatoes & Roast All Ingredients in the Oven
I used minced garlic because I always have it on hand.
However, you can use fresh garlic too.
Place your baking sheets into the preheated oven and bake until the onions are translucent, the tomatoes are soft, and the peppers are a little bit charred on the edges.
Also, you'll know that they're ready to take out of the oven when everything starts to look a little bit wrinkly.
For me, with the amount of tomatoes (about 15), 4 onions and 11 peppers, it took around 55 minutes of baking time.
Just be sure to stay near the oven and keep checking until they look ready to come out.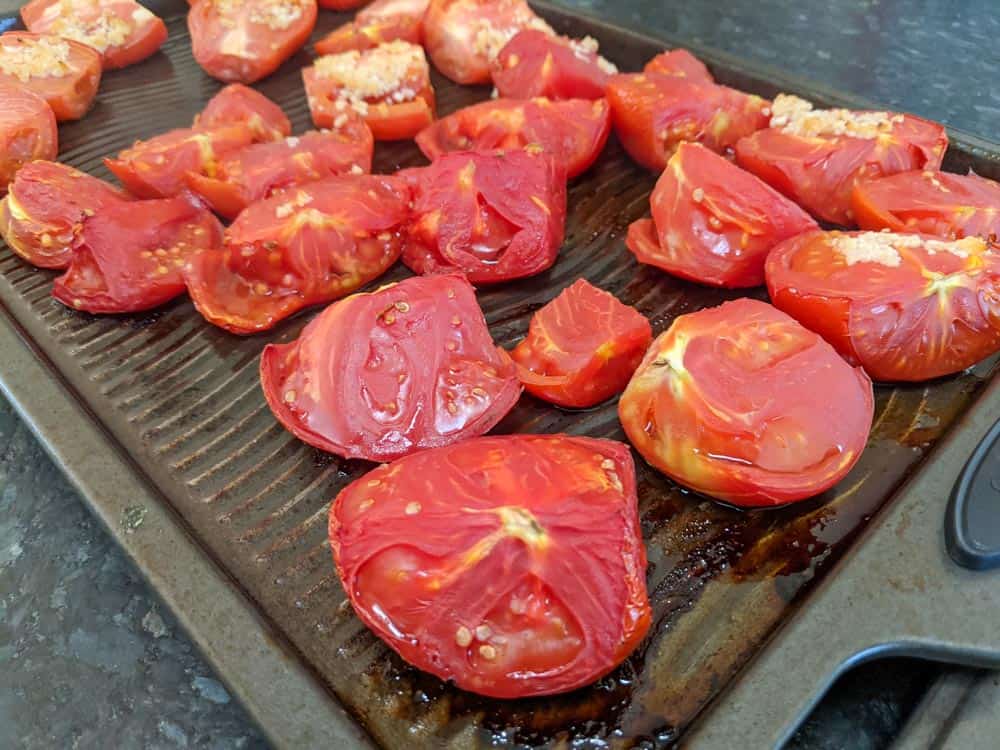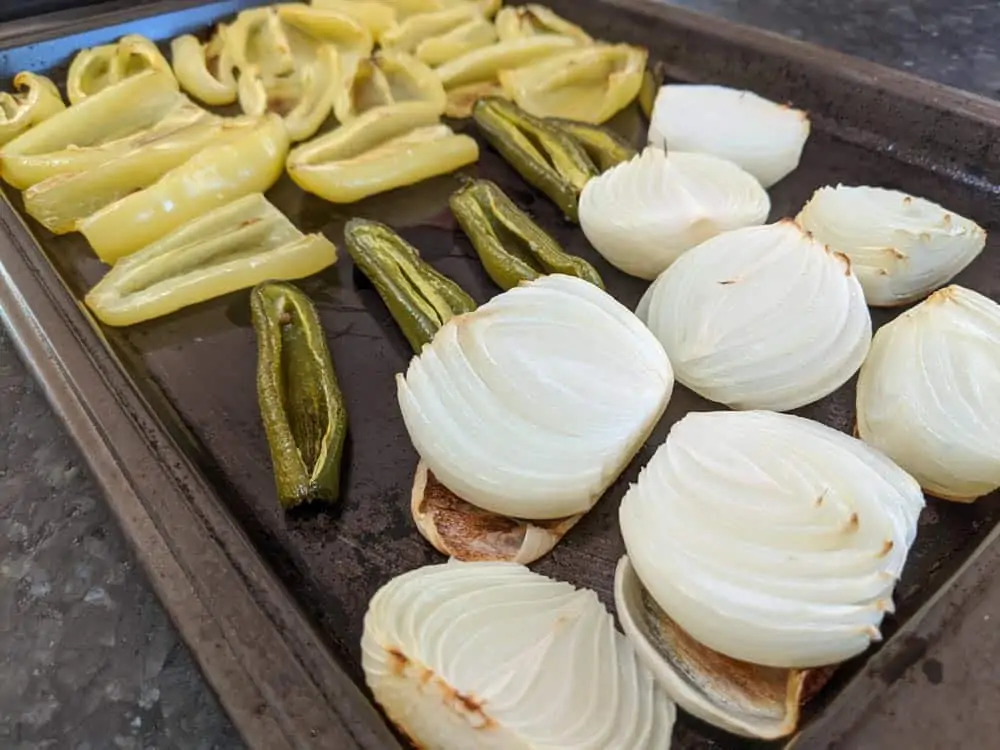 Step 4: Add Roasted Ingredients, Fresh Cilantro, Salt, Cumin, & Lime Juice to Blender
You can either use a food processor, a blender, or a NutriBullet.
I absolutely love my NutriBullet because it does the job, it doesn't take much room on your countertop and it's super easy to clean.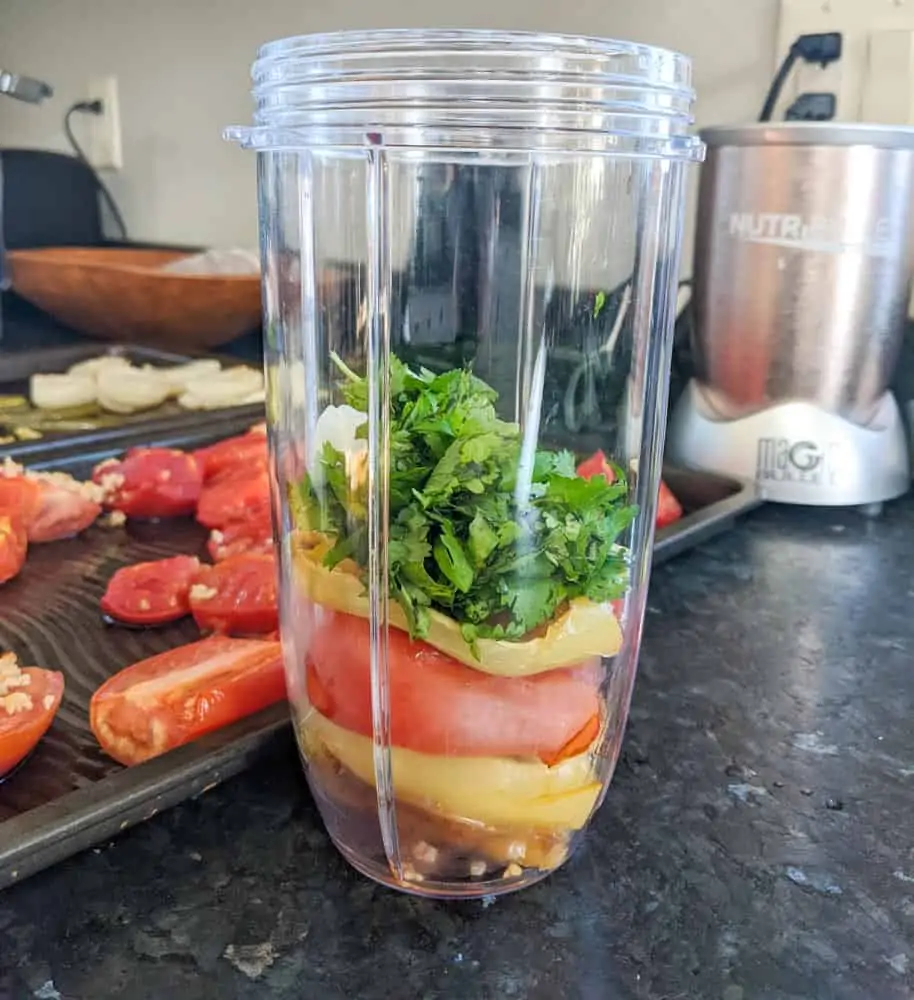 Pro Tip: One mistake I made when I made the recipe this time around was that I blended it for too long.
So, make sure you blend it in short spurts and check the consistency until it's just right based on your personal preference.
Either way, this homemade salsa is absolutely amazing AND I prefer my salsa really fine anyway, but next time I won't blend it as long.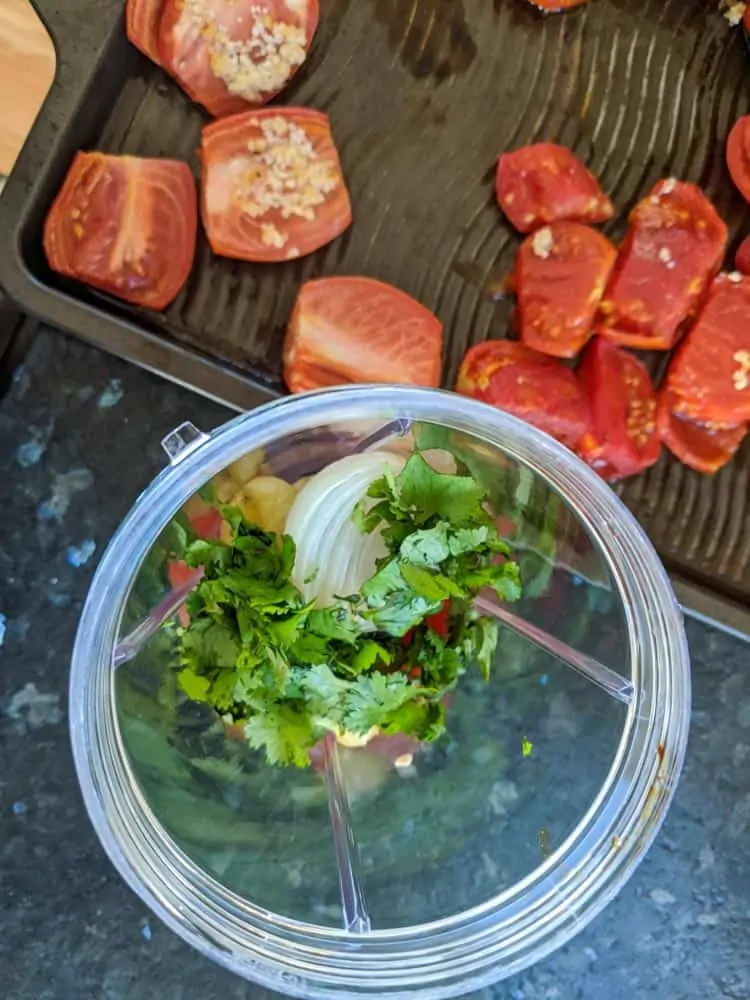 Also, I used one bunch of fresh cilantro.
Next time I'll use at least two bunches because the salsa is so good with a nice strong cilantro flavor.
The best way to use it is to pull the leaves off the stems before you add them to the mixture.
You really don't want the stems floating around in your salsa.
Step 5: Store Salsa in an Airtight Container
I poured the salsa from the NutriBullet into a large bowl to give you a visual idea as to how much salsa this recipe makes.
Obviously, you can make more or less based on the quantity of ingredients you use.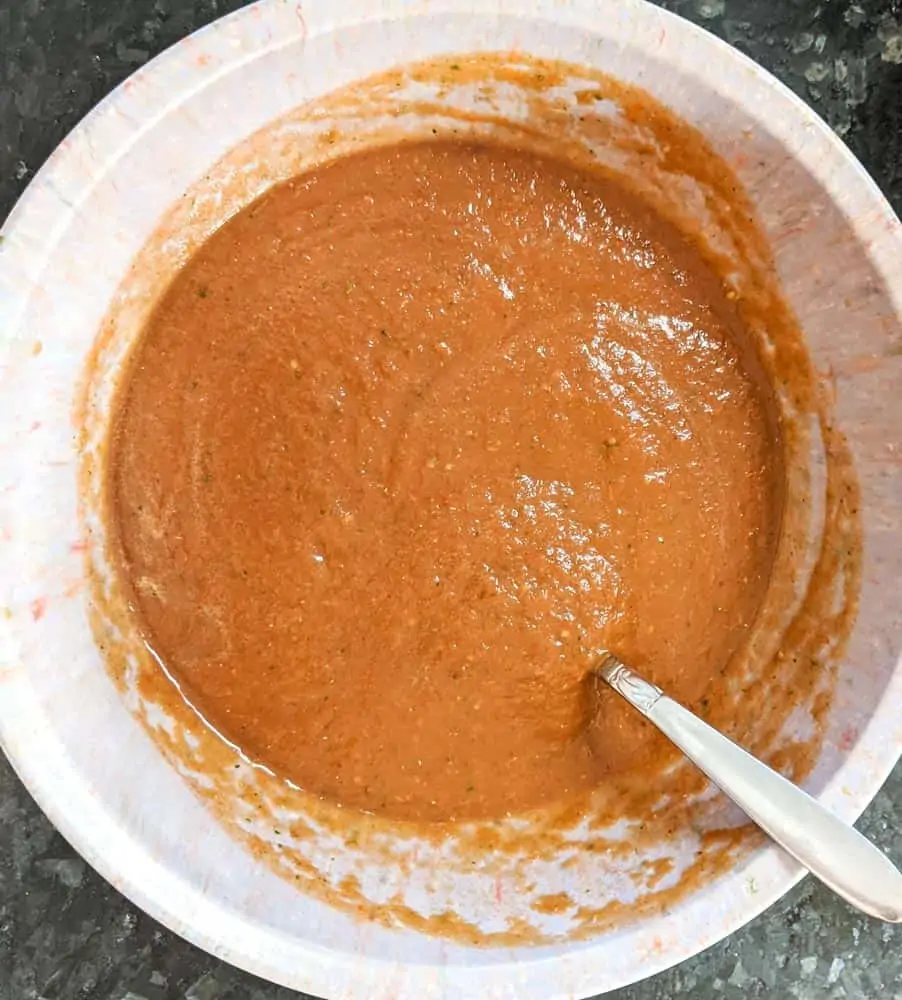 Also, after realizing the salsa was a little too fine, I cut up the rest of the peppers into chunks to give it more texture.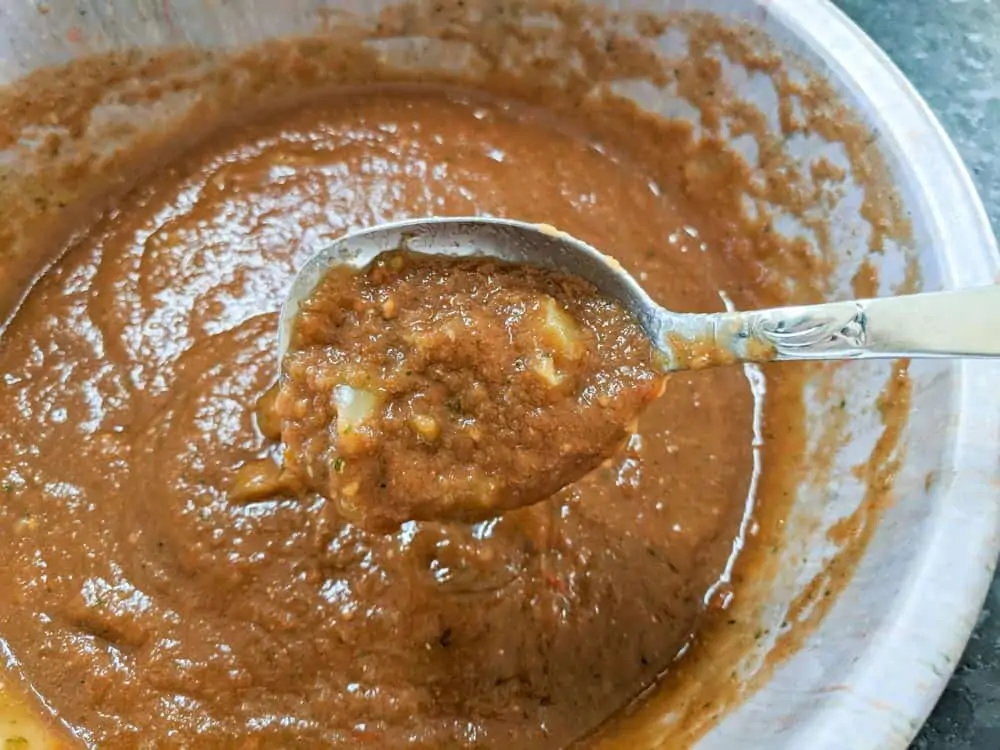 A large mason jar (or two) are the perfect vessel for storing your salsa.
I used a wide mouth kitchen funnel to neatly transfer the salsa from the large bowl into the mason jar.
In addition, after reading through the comments on the One Particular Kitchen post, due to the acidity or lack of acidity (I forget which) of this recipe, canning is not recommended.
However, it will get eaten up so fast anyway that you won't have a problem with having to store it for a long period of time.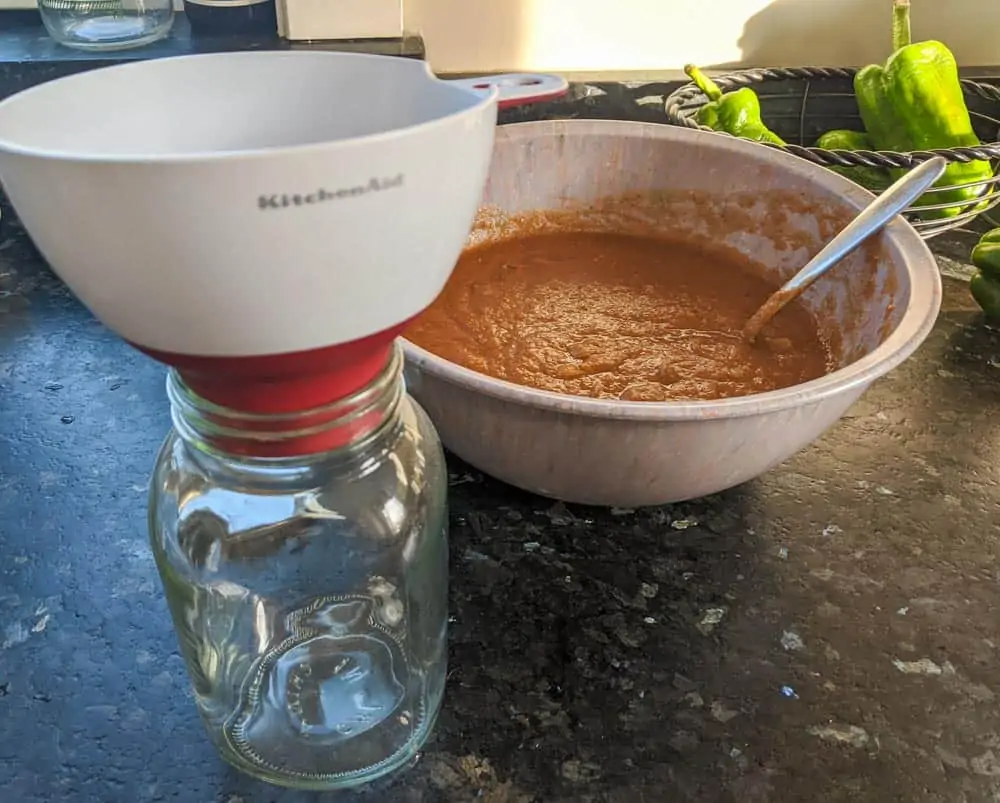 Needless to say, It made more than enough, so I got out a smaller mason jar and filled it up for Terri's family to enjoy.
Not only did they enjoy it with tortilla chips, but also they used it in their eggs for breakfast.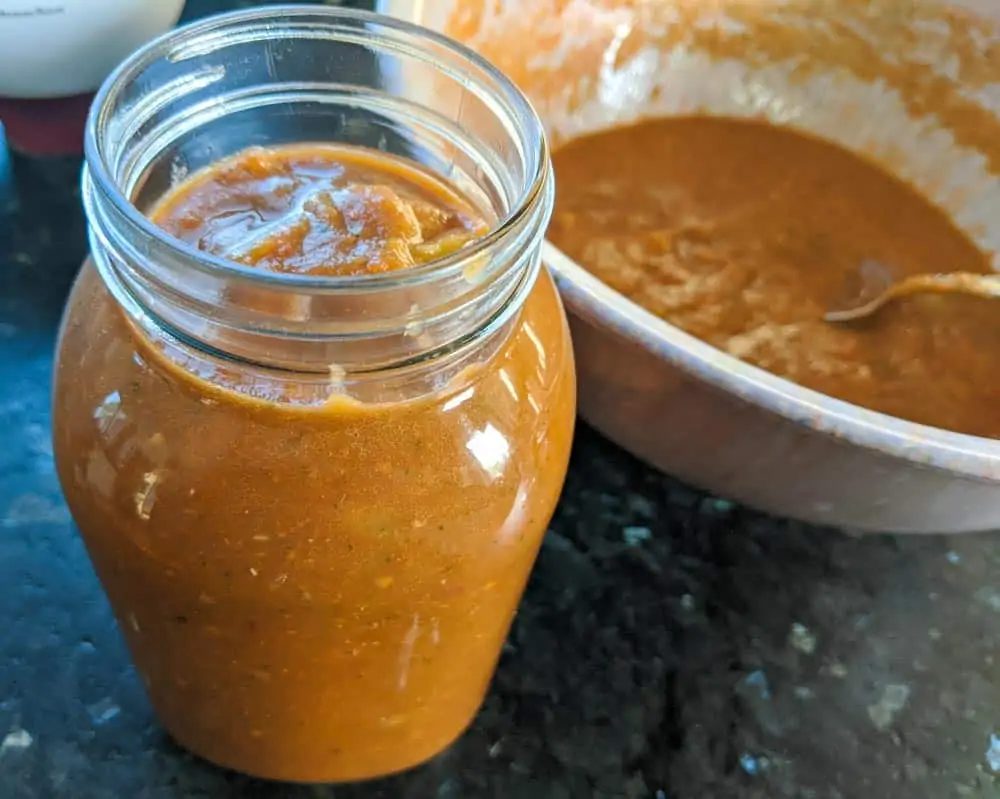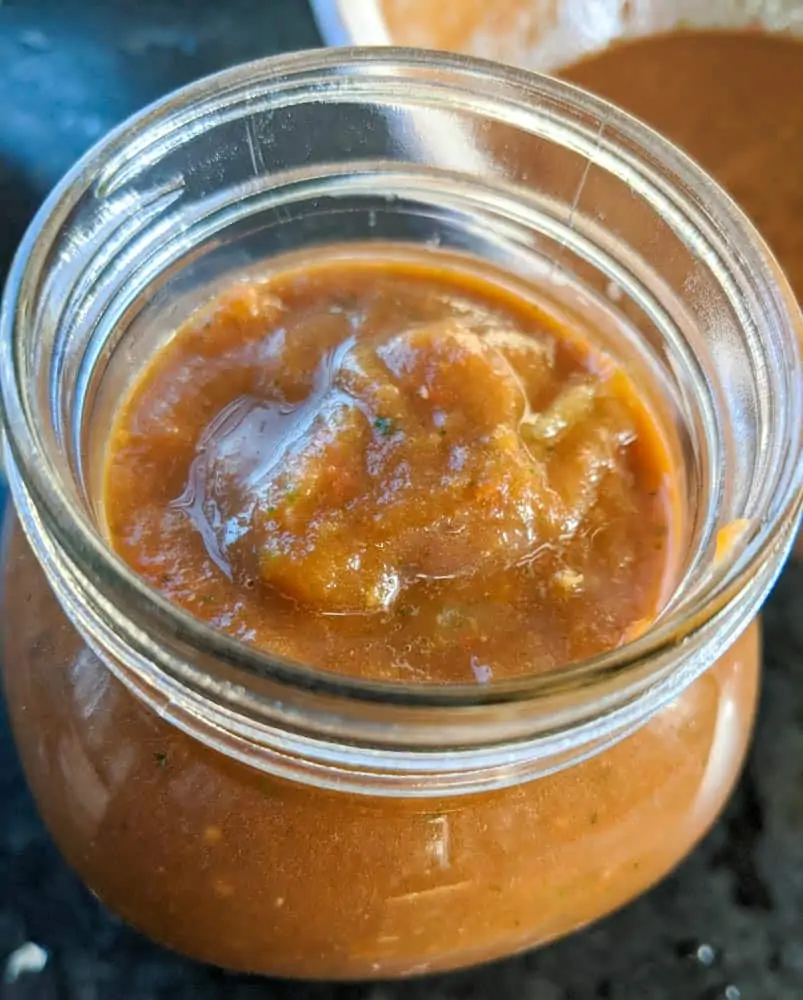 What to add to salsa for flavor
Full disclosure, I didn't add the cumin or lime juice to my recipe because I didn't read the comments in the original recipe's blog post before making it.
SO, based on what I read, adding cumin and lime juice will definitely add an enhanced flavor to your salsa.
Some recipes also add olive oil and even a little bit of sugar.
Also, adding stronger and/or more peppers will enhance the flavor as well.
In addition, next time I'll cut up the roasted onions separately and add them to the blended salsa.
I like that extra onion crisp and taste in my salsa.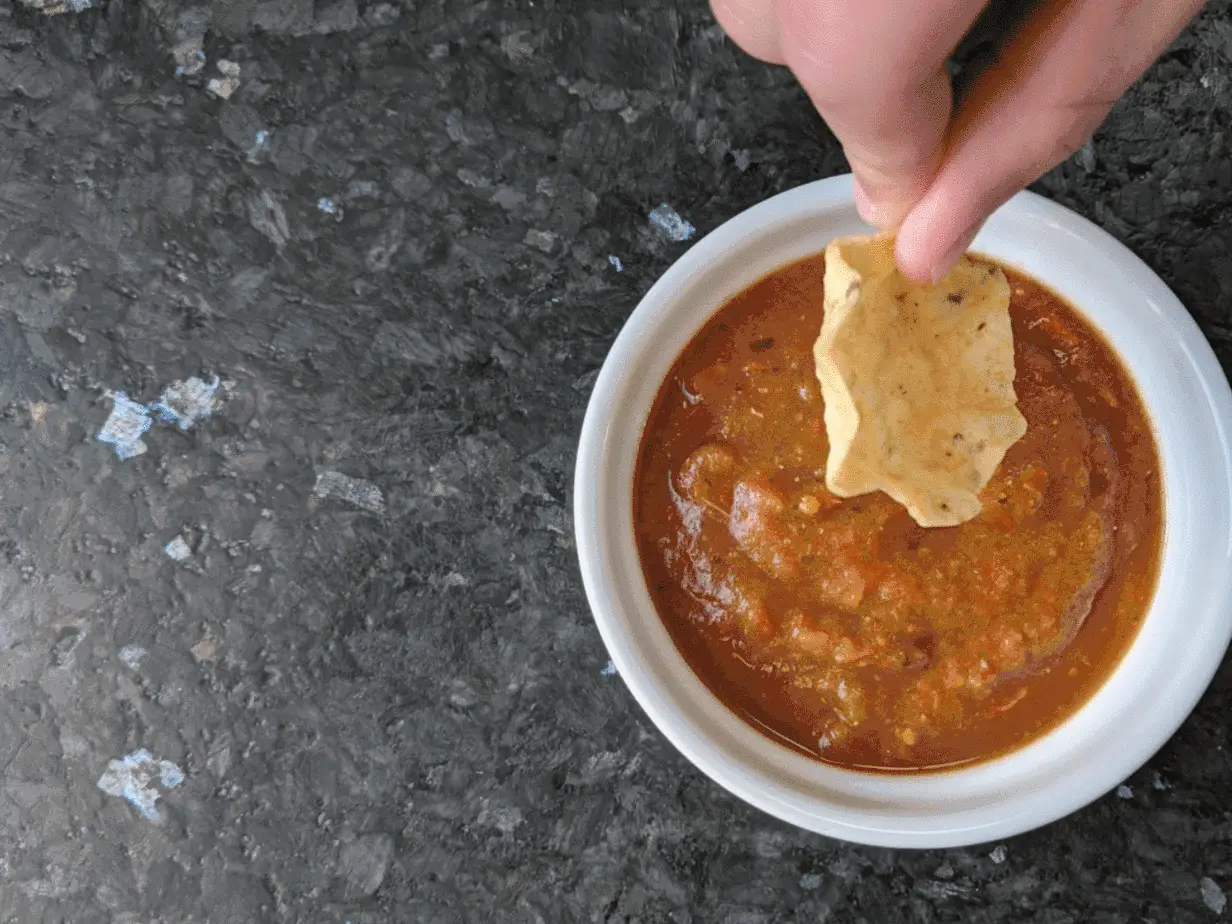 Do You Have To Cook Salsa Ingredients?
Not at all!
You can make your salsa with 100% uncooked ingredients, which would be called salsa fresco.
That's the beauty of salsa!
You can make it in so many different ways depending on your taste preferences!
In our case, we roasted the ingredients, which gave it an extra smoky taste!
Just have fun with it and write down what you'd do differently next time you make it, until you get it just right for you!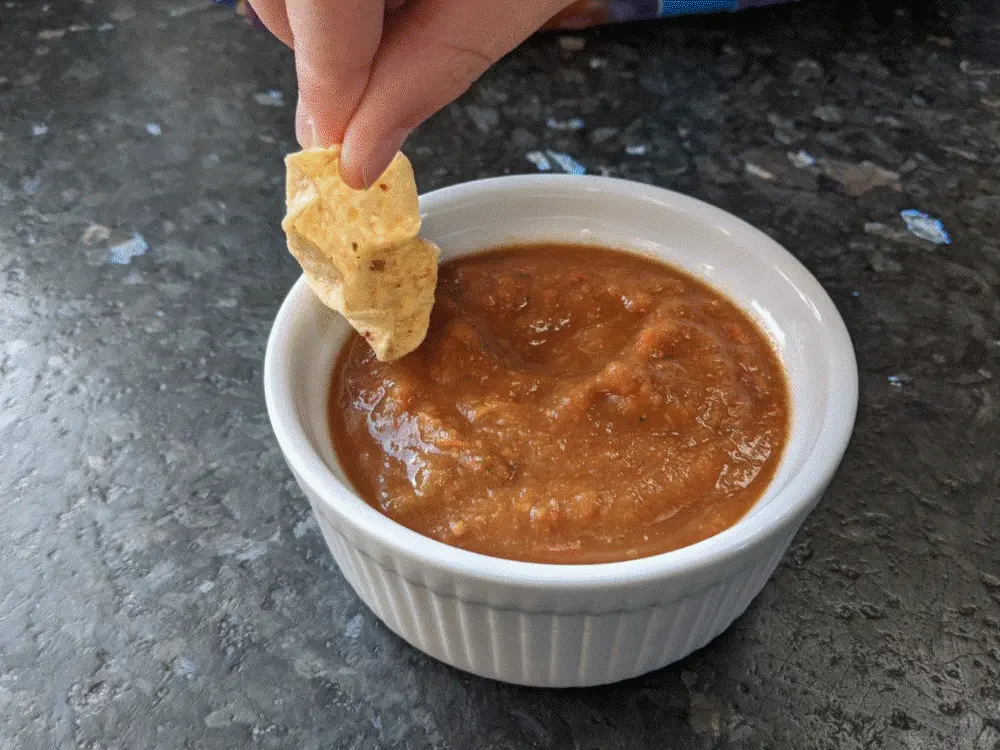 Ways To Eat Salsa
My absolute favorite way to eat salsa is with homemade tortilla chips. Mmmm!
However, why just wait for that opportunity?
You can eat salsa in so many other ways:
With fried or scrambled eggs
On top of a baked potato
In a salad
On top of your hamburger
As a marinade
With Shrimp
On top of cooked fish
Mixed with guacamole
In your chili
Mixed with queso
How do you like to eat salsa?
Easy Homemade Salsa Recipe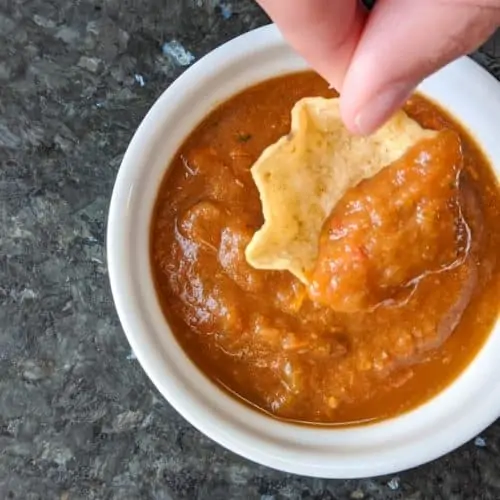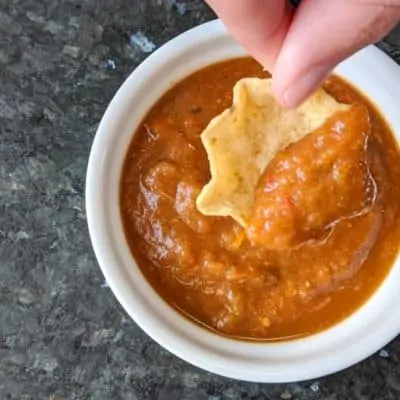 Easy Homemade Salsa Recipe with Roasted Tomatoes, Onions, & Peppers
A delicious, homemade salsa made with roasted tomatoes, onions, peppers, cilantro, & garlic. You'll never want store-bought salsa again!
Ingredients
16

Tomatoes, full size, sliced in half

3

Onions, sliced in half

20

Peppers, small, sliced in half and seeded, caps removed

,

Jalapeno (for mild) or Serrano (for spicy)

8

cloves

Garlic, fresh or minced

1

tbsp

Salt

2

bunches

Cilantro leaves, fresh (no stems)

1

Lime, juiced

½

tsp

Cumin, ground

1

tbsp

Sugar

,

Optional
Instructions
Preheat oven to 375 degrees fahrenheit. Place the halved tomatoes & onions and the seeded (remove caps) peppers cut side up onto baking sheets.

Add minced garlic or fresh garlic cloves to baking sheet with tomatoes.

Roast in oven for approximately 55 minutes or until tomatoes are wrinkly, onions are translucent, and peppers are charred on the edges.

Allow to cool somewhat and then place all ingredients into a blender, NutriBullet or food processor. Pulse for short spurts until the salsa gets to your preferred consistency.

If you prefer a chunkier salsa, leave a couple of the onions and peppers out of the blender and instead chop them and add back to the salsa after it's been blended.

Transfer prepared salsa into an airtight container such as a mason jar with a lid or any other lidded container. Place in the refrigerator. Salsa will stay fresh in the refrigerator for a week.
For more dip recipes, click on over to: