These loaded egg cups are the bomb for busy breakfast mornings!
This eggs in a muffin tin recipe is brilliant for so many reasons!
Not only are these toast cup vessels of egg goodness delicious but they're also really healthy!
In addition, they're great for meal prep and reheating throughout the week.
Eggs in a muffin tin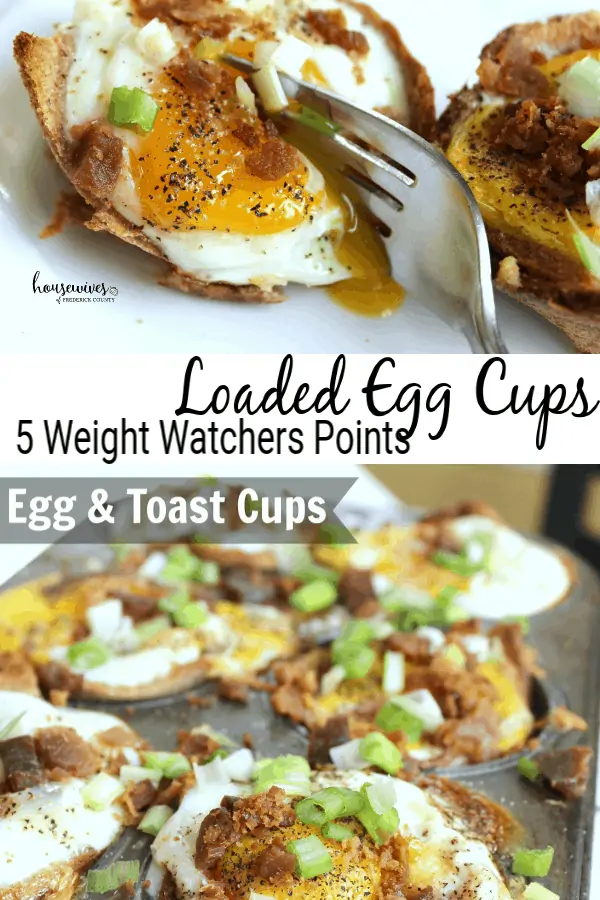 I love anything involving eggs.
For instance, omelets, egg salad, hard boiled eggs, deviled eggs, poached eggs, eggs over easy…pretty much anything!
In addition, eggs are a super healthy source of protein.
So when I saw this delicious looking loaded eggs in a muffin tin recipe in my Cooking Light Magazine, I had to try it out.
And if you're looking for a compilation of amazingly delicious, lightened up recipes, you really need to get Gina Homolka's SkinnyTaste Cookbook.
I've made several of her recipes and they're all so good!
Knowing that each serving is only 5 Weight Watchers SmartPoints makes it a no-brainer for me.
Storing all of your best recipes for safe-keeping
Obviously, I've put this recipe in my 3-ring recipe binder to make again in the future.
By the way, this binder has been a game changer for me.
I used to print out recipes, fold them up and stuff them in a recipe box.
It was always overflowing.
This binder comes with 12 tab dividers and 20 sticker labels with categories and one large pocket.
The inside front and back cover include measurement equivalents and common substitutions.
I bought extra recipe card protectors and 3-ring binder sheet protectors to organize all of my recipes in my binder.
It's SO much easier now to find my go-to recipes!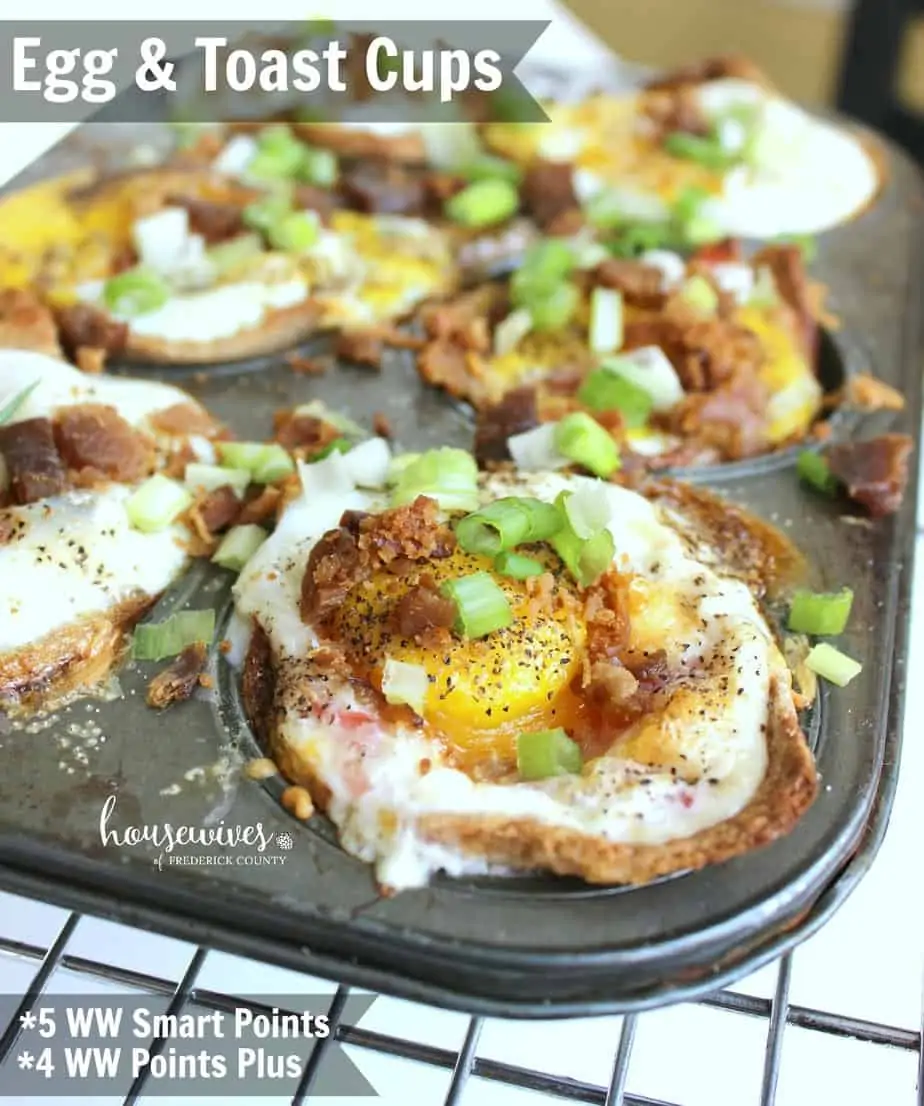 Eggs in a muffin tin Are Super Easy To Make
A little bit of preparation is required, but it's so well worth it.
First, flatten out 6 slices of whole wheat bread with a rolling pin and cut the crusts off.
Then, cut each slice in half diagonally and then brush each side of the bread, using a basting brush, with a little bit of melted butter and place into muffin cups.
How The Eggs in a muffin tin Should Look Before Adding Other Ingredients
Here's what the bread looks like in the muffin tin before baking them into crispy cups.
Yes, I need new muffin tins.
I guess you could say a lot of love went into these tins.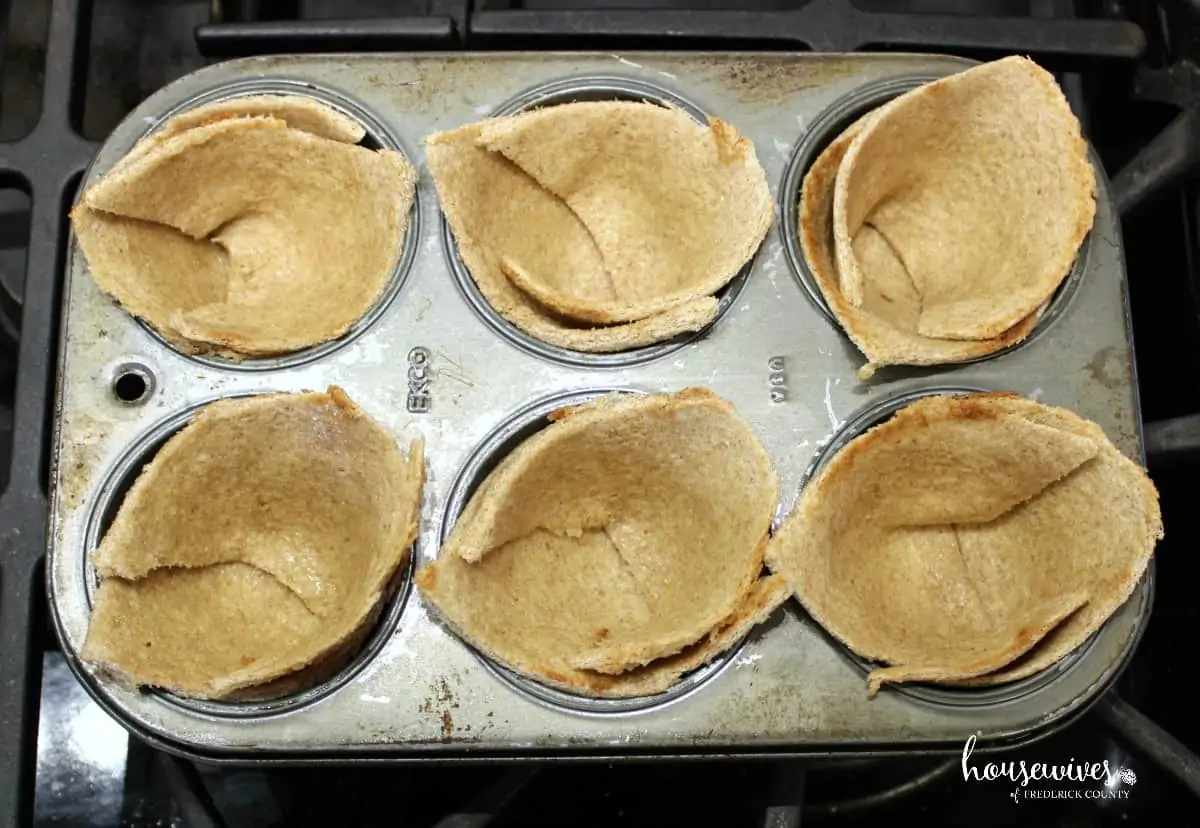 Eggs in a muffin tin Recipe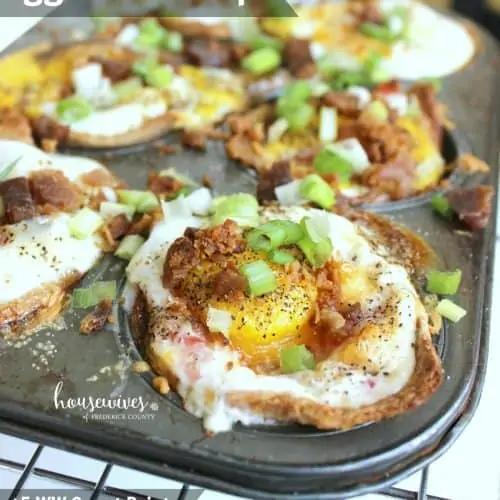 Eggs in a Muffin Tin Recipe - 5 Weight Watchers SmartPoints
This Eggs in a muffin tin recipe consists of flattened bread formed into cups with cracked eggs and toppings, baked to perfection.
Ingredients
- 6 slices whole-wheat bread

- 1 tablespoon butter

,

melted

- 1/4 cup shredded reduced-fat cheddar cheese

- 1/4 cup finely chopped tomato

- 6 large eggs

- 1/4 teaspoon kosher salt

- 1/4 teaspoon freshly ground black pepper

- 2 bacon slices

,

cooked & crumbled (I used store-bought cooked & crumbled bacon)

- 1 tablespoon chopped spring onions
Instructions
Preheat oven to 375 degrees.

Lightly spray muffin pan with cooking spray.

Flatten each bread slice with a rolling pin until very thin. Trim crusts off bread. Lightly brush both sides of bread slices with melted butter. Cut each bread slice in half diagonally.

With cut sides facing, place 2 bread halves in each of 6 muffin cups, making sure to cover bottom entirely and allowing bread corners to extend above rims.

Bake for 5 minutes or until bread is slightly firm.

Remove pan from oven; sprinkle 2 teaspoons shredded cheese into each cup.

Top each cup with 2 teaspoons chopped tomato.

Crack 1 egg into each cup; sprinkle eggs evenly with salt and pepper.

Bake an additional 18 to 20 minutes or until whites are set and yolks are still a bit runny.

Remove egg cups from pan; sprinkle evenly with bacon & spring onions.
Notes
* 5 Weight Watchers SmartPoints
* 4 Weight Watchers Points Plus Value
Amazingly Delicious
These eggs in a muffin tin are seriously delicious!
The combination of the cheese, tomatoes, bacon, spring onions, and a sunny-side up egg all enveloped inside a toasty vessel was heaven to my taste buds!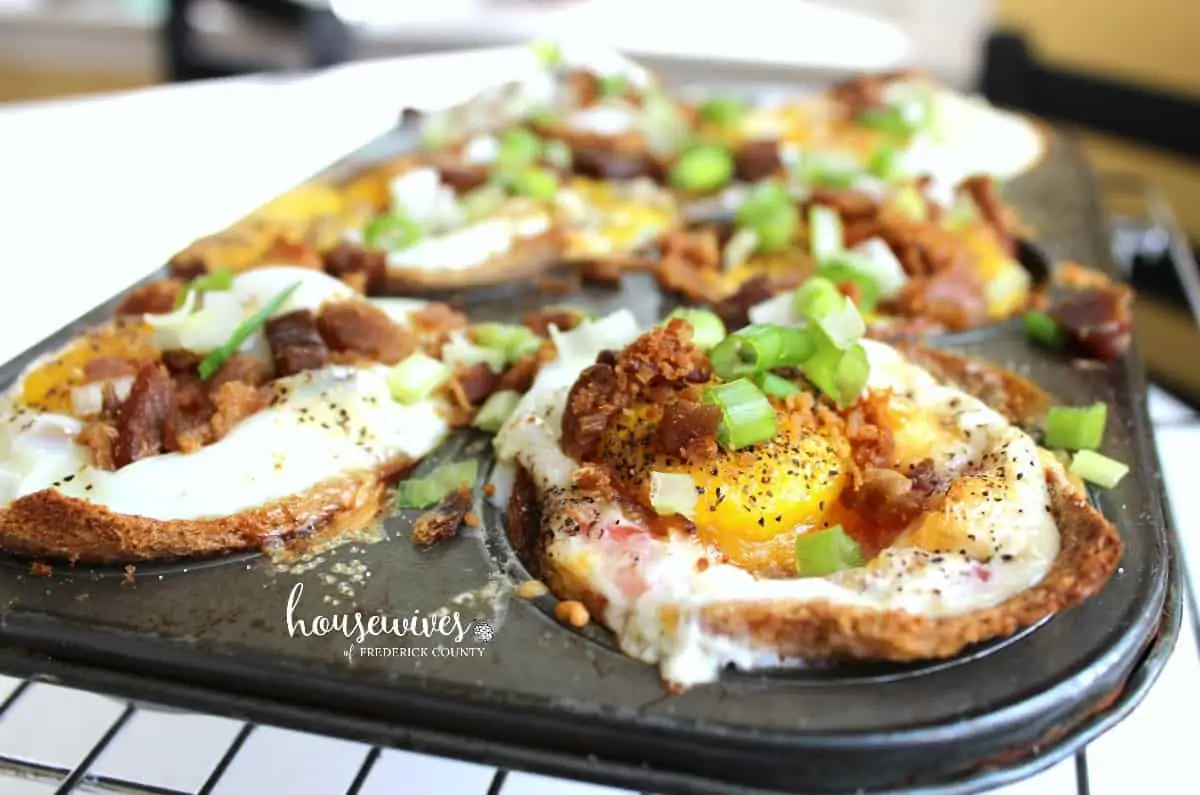 With a total of 11 grams of protein per toast cup, this is a great breakfast option to start your day off right.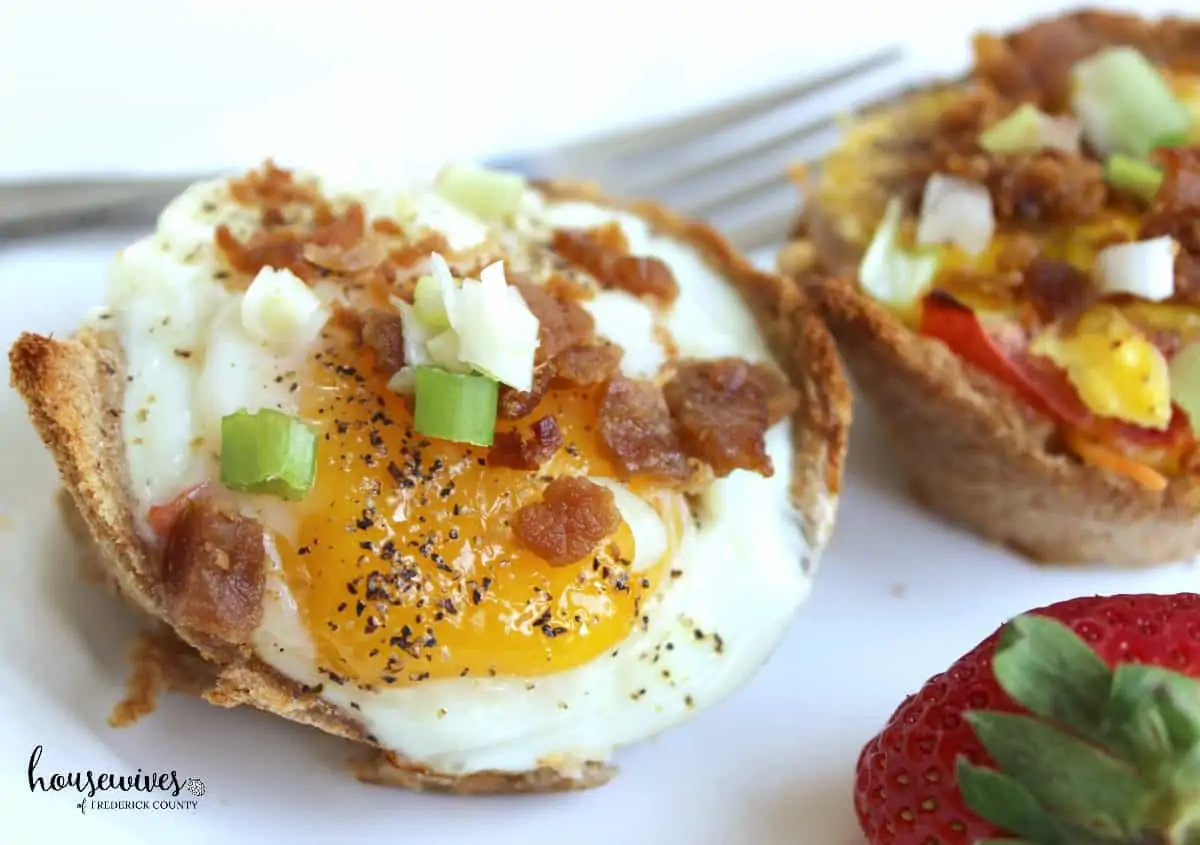 Make Ahead Of Time For Busy Mornings
And the beauty of these cups is that you can make them in advance and just pop them in the oven to warm through when you're ready to eat them.
I've already got some in a container in the refrigerator for my husband to bake in the morning before he leaves for work.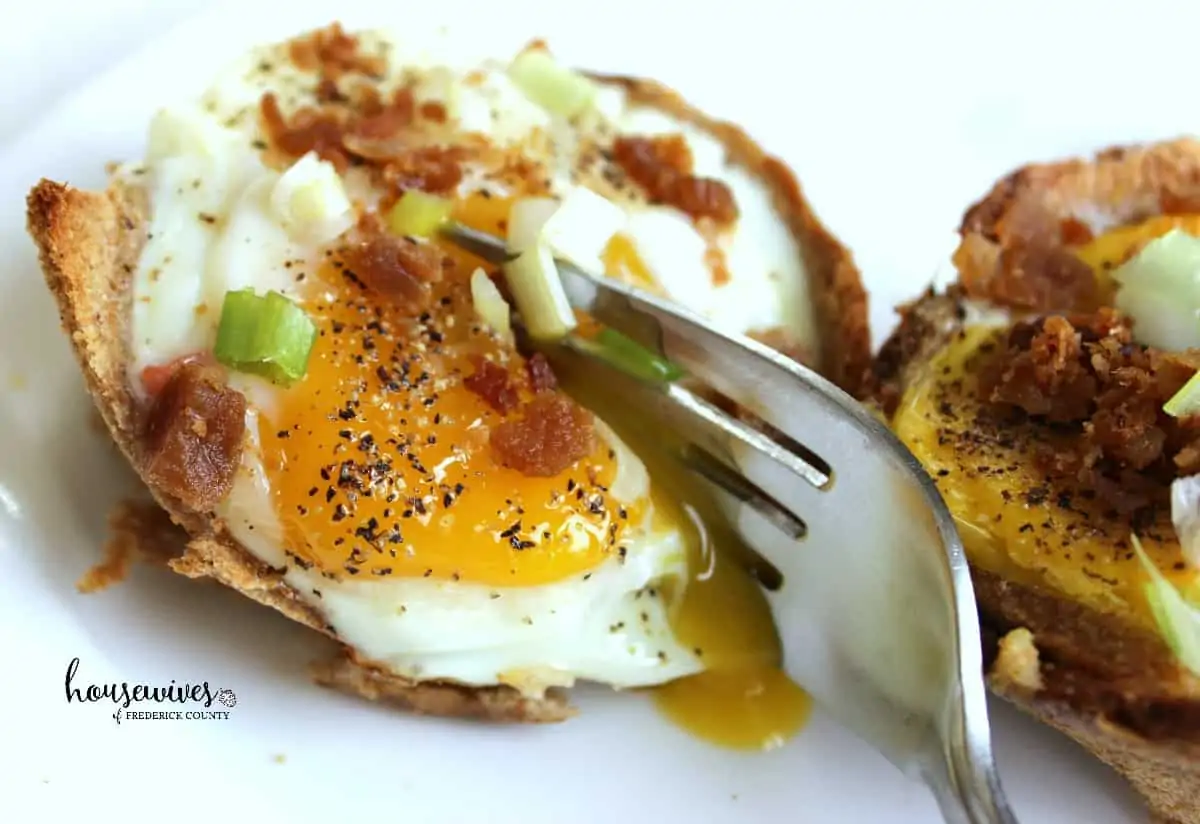 How do you like your eggs?
We'd love to hear back from you in the comments!
Here's to a Sunny-Side Up Day!
For more egg recipes, check out our posts on:
Kale & Parmesan Souffle: 4 Weight Watchers PPV
Breakfast Omelet in a Mug: 3 Weight Watchers PPV
Weight Watchers Zuchinni Quiche Muffins: Bite Size Mini Quiches