If you've never made a cheese souffle before (raises hand) and you're a little bit intimidated to do it (waves arm to and fro), you're in good company.
But my desire to make this Weight Watchers Cheese Souffle with Kale outweighed my feelings of intimidation.
Weight Watchers Cheese Souffle
I kind of went into making this recipe somewhat blissfully ignorant.
Clearly, I knew it contained mainly eggs, chopped kale, and parmesan cheese.
Obviously, very similar to a crustless quiche.
However, it wasn't until I began to make the recipe that I realized it was a bit more complicated than I expected.
But, do not let that dissuade you.
As long as you follow the directions, you will have a gorgeous, delicious, Weight Watchers friendly souffle sitting in front of you.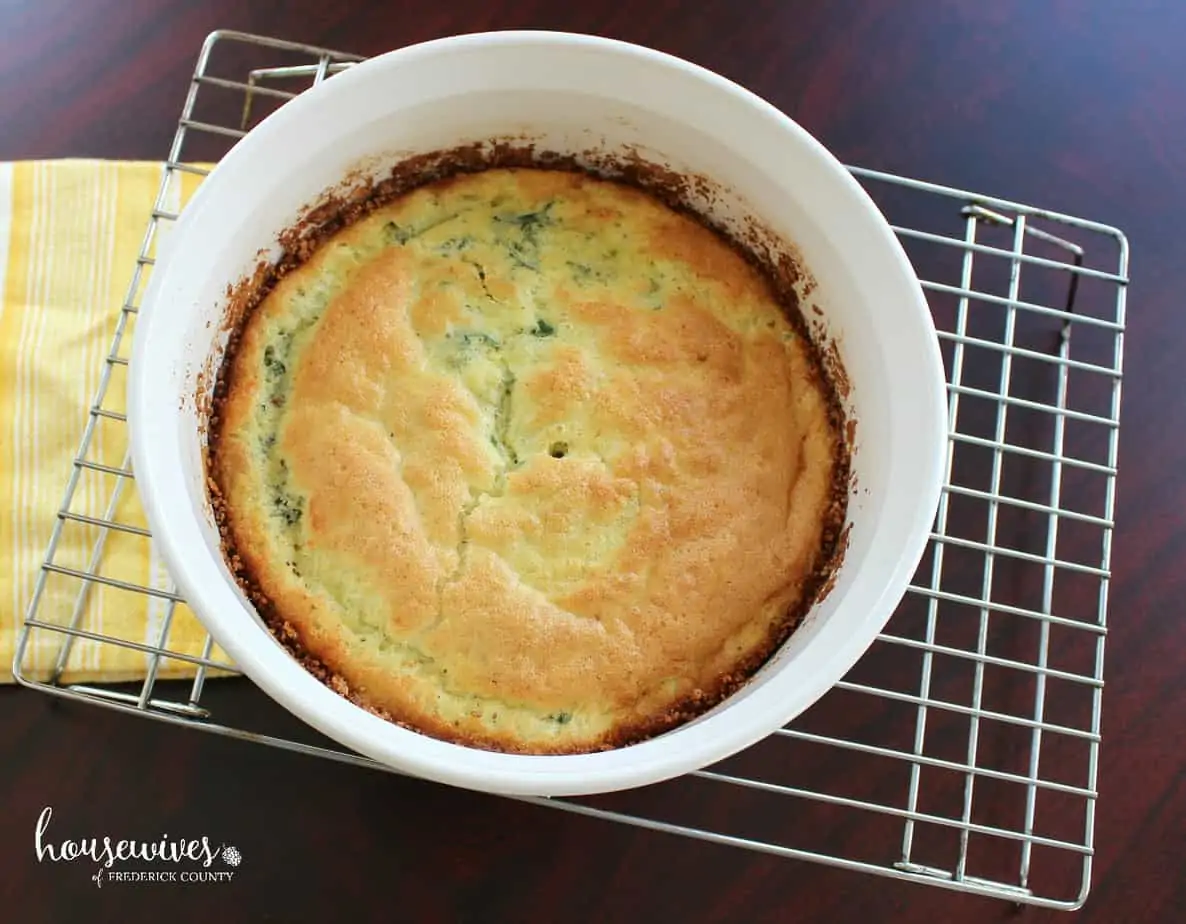 What Makes A Souffle A Souffle?
What are some unique traits of a souffle?
The souffle dish originated in 18th century France, hence the french sounding name.
And you have to say it with a french accent. Not really, but it's actually hard to say 'souffle' without saying it with a french accent.
A souffle contains mostly eggs that are separated so that the egg whites are beaten in order to help the souffle to rise while baking.
Obviously, part of the allure of a souffle is that, while baking, it rises to the top of the baking dish and then even higher as it puffs up into a gorgeous tower of french awesomeness.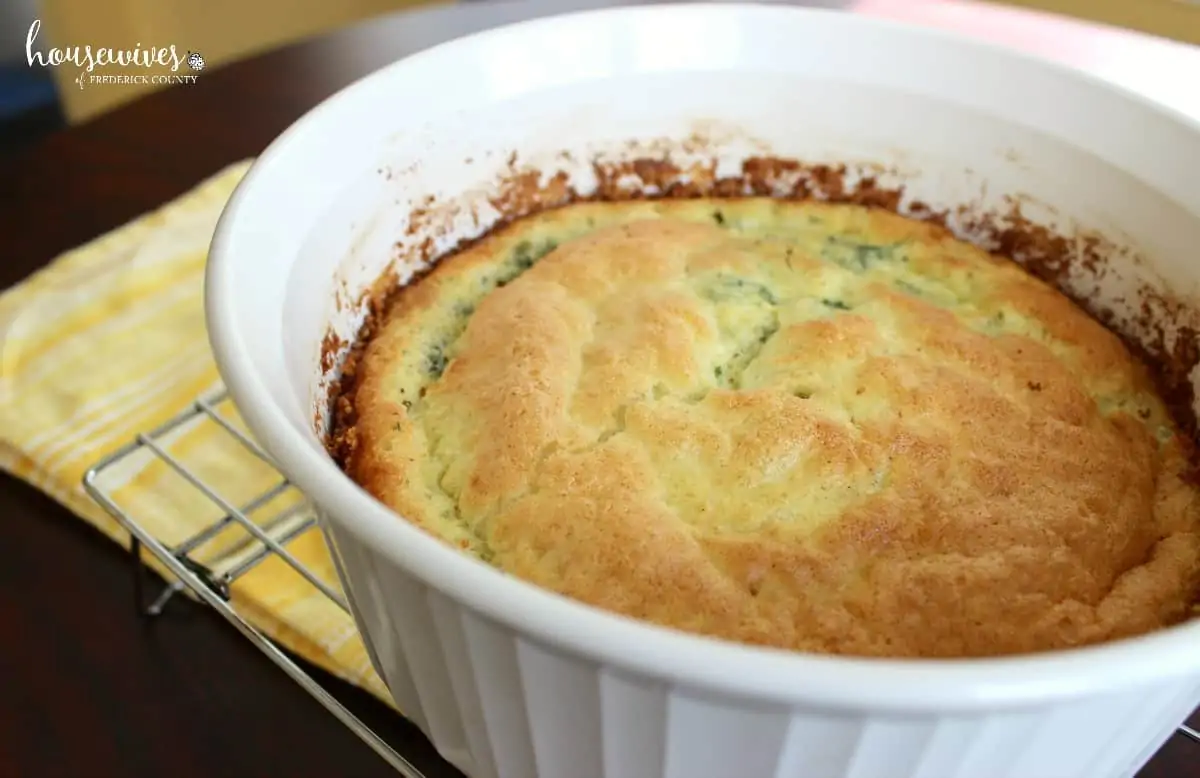 The Size of Your Souffle Dish Matters
Yes, I'm sure you've noticed that my photos above do not exactly resemble the ideal souffle.
Well, that was my only mistake in making this.
The recipe calls for a 6-cup dish.
I don't own a souffle dish and I happened to see a large one in my sister's cupboard, so I borrowed it not realizing that size DOES matter when choosing what dish you use.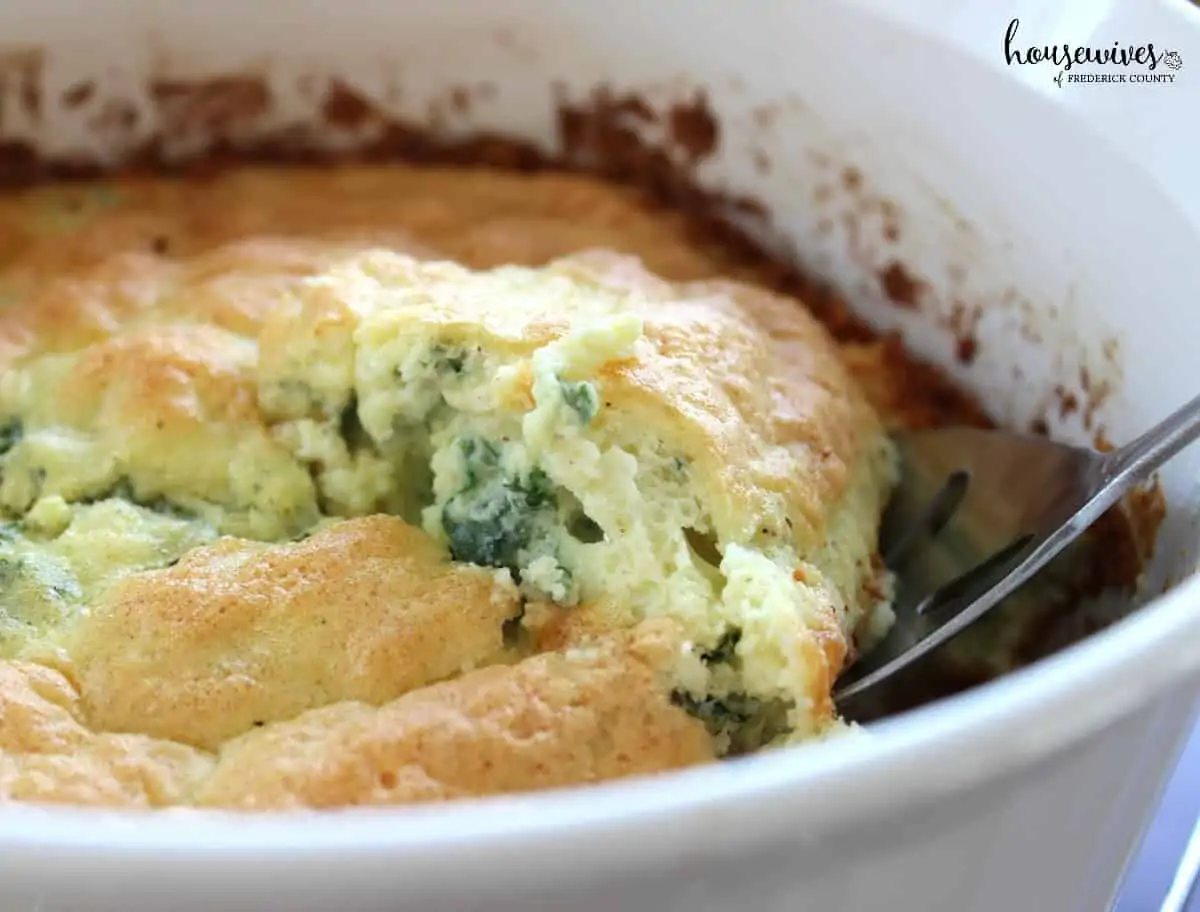 Nonetheless, it still rose.
AND it turned out amazing!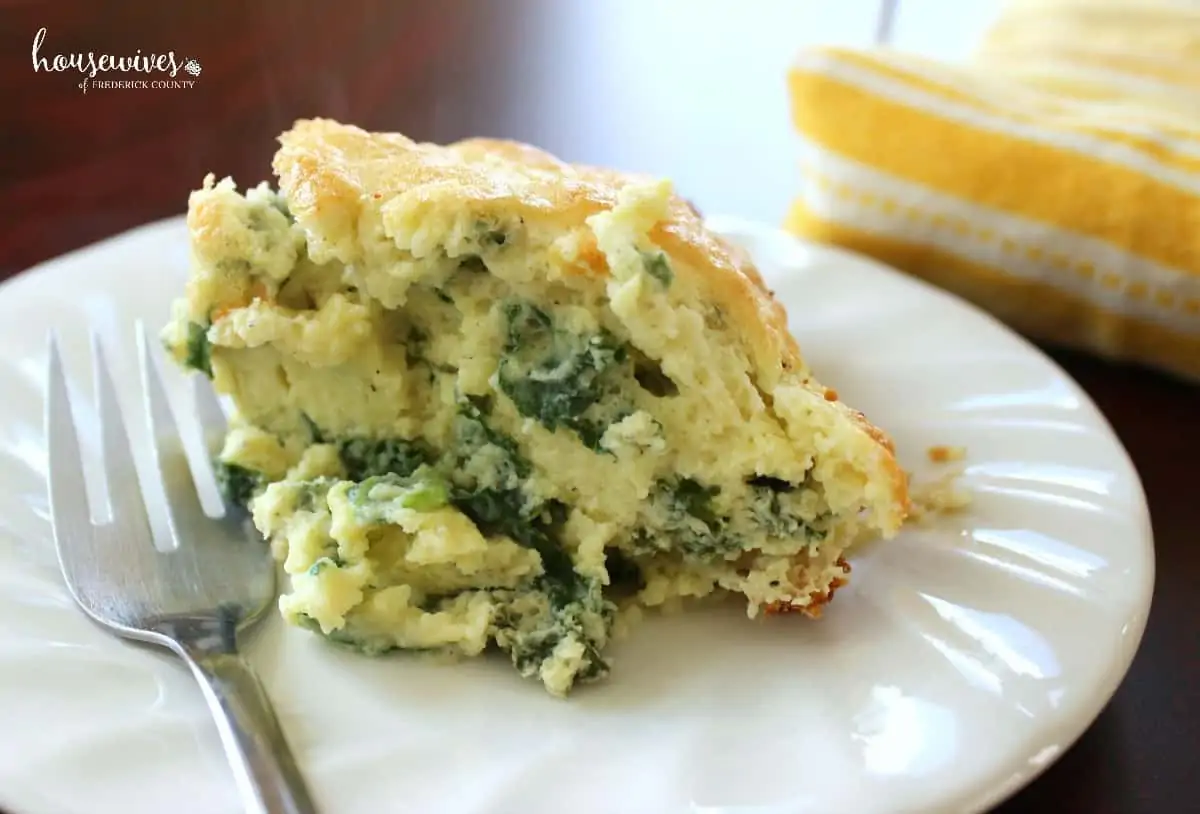 Items You'll Need To Make A Souffle
What Does Cheese Souffle Taste Like?
The outer crust is a delectable combination of parmesan cheese and butter.
And the inside of the souffle is a light and airy egg, cheese, and kale masterpiece.
Simply delicious!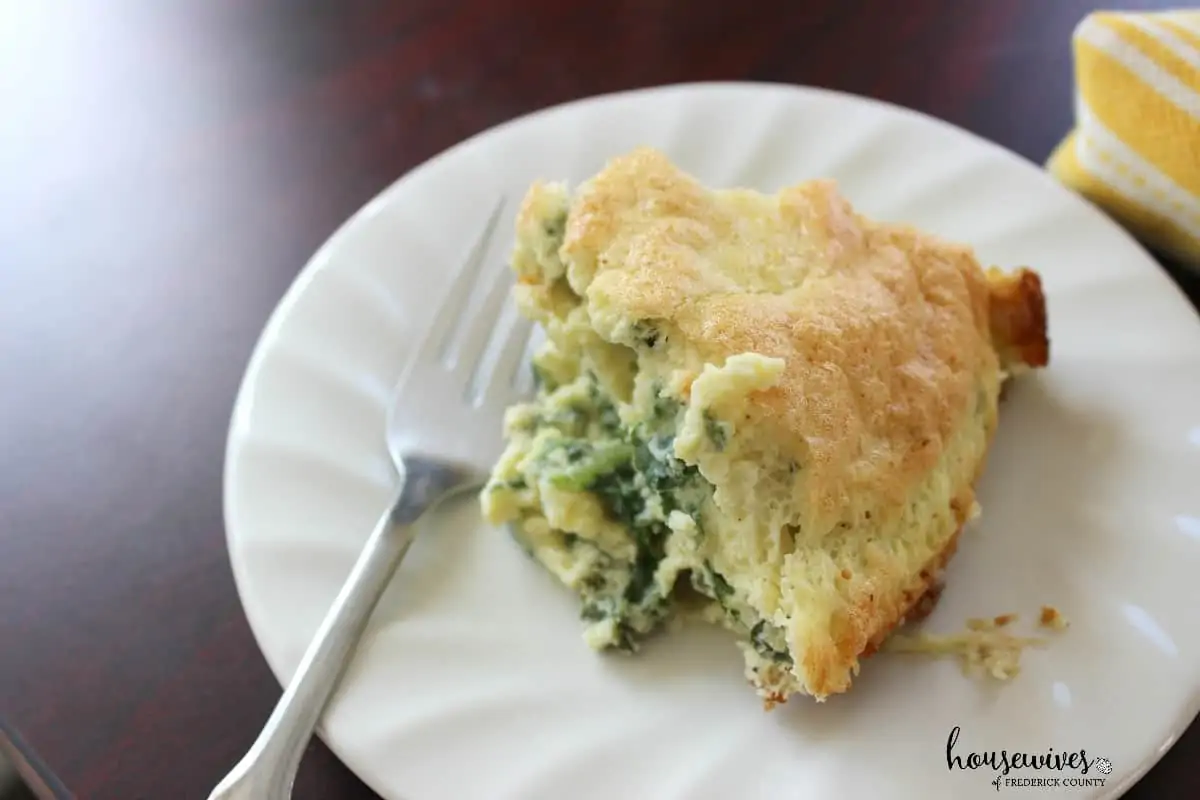 Weight Watchers Cheese Souffle with Kale Recipe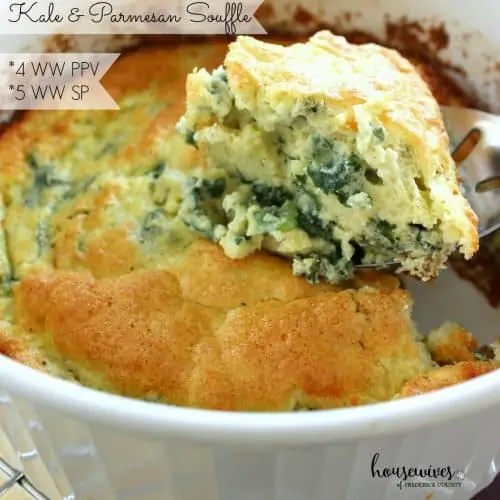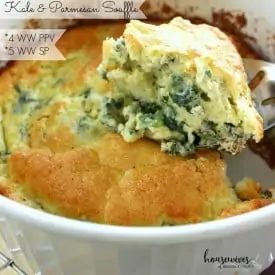 Weight Watchers Cheese Souffle with Kale Recipe
A delectable french inspired egg dish that is moist and fluffy on the inside and cheesy and crusty on the outside.
Ingredients
- 4 tablespoons unsalted butter

- 3/4 cup grated parmesan cheese

- 3 tablespoons all-purpose flour

- 1 cup milk

- 10 oz frozen chopped kale

,

thawed, squeezed dry (I used bagged fresh kale and chopped it myself)

- 1/2 teaspoon plus 1/8 teaspoon salt

- 1/4 teaspoon nutmeg

- 1/4 teaspoon black pepper

- 5 large eggs

,

separated, plus 1 large egg white

- 1/8 teaspoon cream of tartar
Instructions
Heat oven to 400 degrees.

Spread 1 tablespoon butter on bottom and sides of a 6-cup souffle dish (I used a rubber spatula).

Sprinkle in 1/4 cup parmesan cheese, turning to coat completely.

Melt 3 tablespoons butter in a small pot over medium heat.

Stir in flour. Cook 1 minute.

Whisk in milk and bring to a simmer. Cook 1 minute, until thickened.

Stir in kale, 1/2 teaspoon salt, nutmeg and pepper.

Whisk egg yolks in a large bowl.

Slowly stir a third of warm kale mixture into yolks (Mixing too quickly could cause eggs to scramble).

Stir in remaining mixture and 1/2 cup parmesan cheese.

In a separate bowl, beat egg whites, cream of tartar and 1/8 teaspoon salt on low speed for 1 minute.

Increase speed to high and beat 1 to 2 minutes, until stiff peaks form.

Gently fold egg whites into yolk mixture. Don't overmix or the souffle won't rise properly.

Transfer to prepared dish. Place in oven and reduce heat to 375 degrees.

Bake 35 to 40 minutes, until souffle has risen and is browned.

Quickly insert an instant-read thermometer into center of souffle; temperature should register at least 140 degrees.

Serve immediately.
Notes
4 Weight Watchers SmartPoints
Next time I make this, I will probably add some chopped onions.
I pretty much love anything involving chopped onions.
You can serve this as a breakfast, a lunch with a salad or even dinner.
Leftovers kept perfectly in our refrigerator for a few days with quick heat-ups in our microwave.
Have you ever made a souffle before?
Bon Appetit!
For more delicious recipes using eggs, click on over to:
Eggs In A Muffin Tin Recipe – 5 Weight Watchers SmartPoints
Eggs In A Cup Recipe – 3 Weight Watchers Points
Weight Watchers Zucchini Muffins – Bite Size Mini Quiches