This scrambled eggs in a mug recipe is so delicious and easy to make!
Plus, the clean up is minimal since you don't have to use a frying pan!
Eggs in a Mug Recipe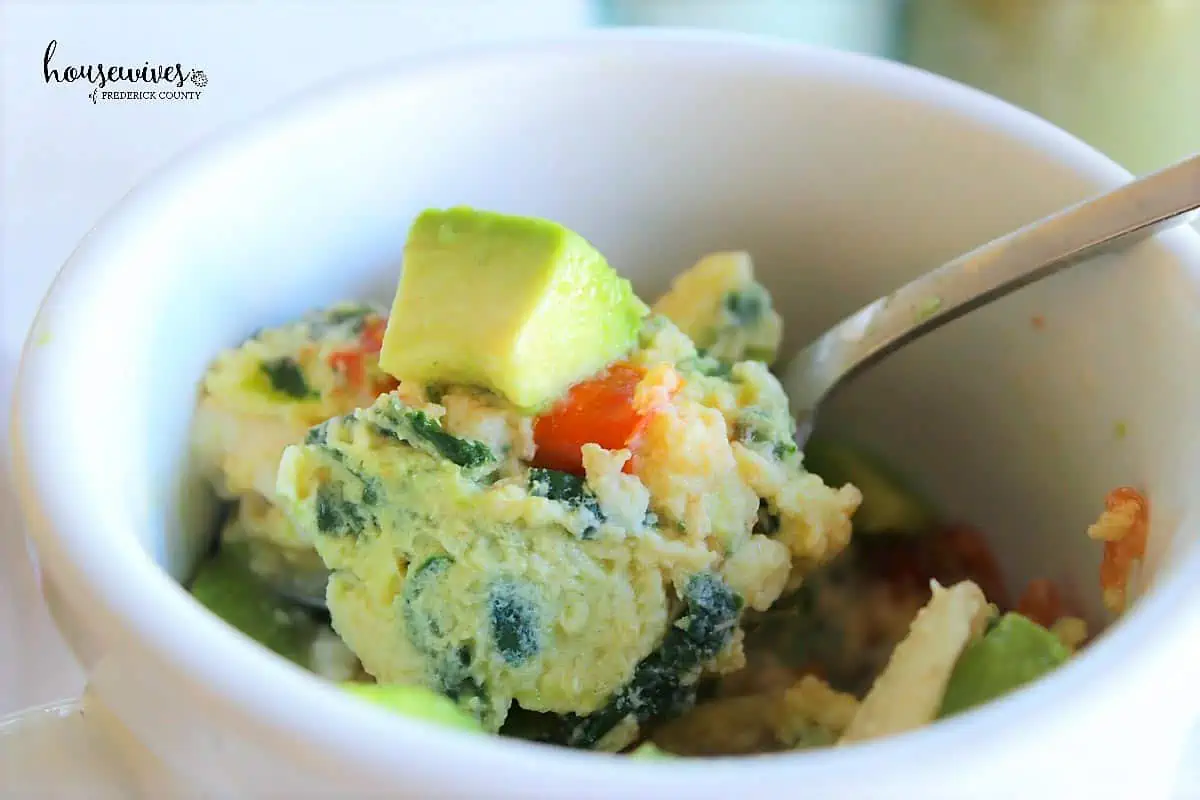 Before ever trying out this particular recipe, I used to make scrambled eggs in a mug in the microwave a lot.
However, I never thought to make an actual OMELET in a mug similar to Lisa Lillien's recipe in her book "Hungry Girl to the Max! The Ultimate Guilt-Free Cookbook".
Needless to say, I absolutely love her recipe ideas to eat healthy foods BUT still in a fun way!
Can You Cook An Egg in a Mug?
You absolutely can cook an egg in a mug!
As a matter of fact, it's the most easy way to make eggs as it only takes a couple of minutes.
BUT you need a microwave to do it.
In addition, I want to stress that I don't recommend putting a mug on your stove top or inside the oven because the mug can break.
But because a microwave cooks your food from the inside out, cooking in a mug works beautifully!
Also, you an use a large microwave-safe mug like I did or even a small 8 ounce coffee cup.
Either way, you should have plenty of room in your mug to fit your eggs, as well as the ingredients that you add to your eggs.
Easy Eggs in a Mug Recipe Ingredients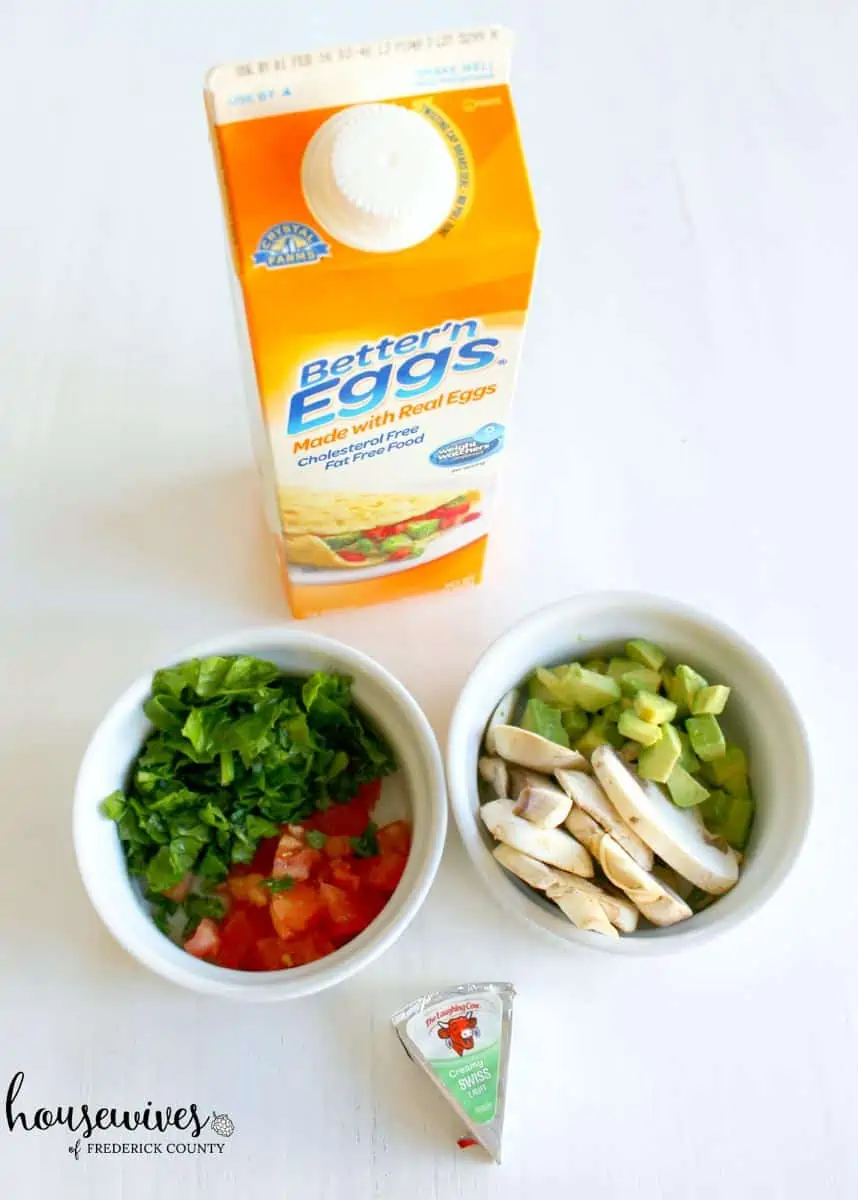 One of the reasons I absolutely love this recipe is because of it's versatility.
In other words, you can add very little ingredients OR as many ingredients as you like.
For example, for this particular recipe, here are the ingredients I added:
Liquid egg substitute
Fresh spinach
Mushrooms
Tomato
Laughing Cow Cheese
Avocado
Black Pepper
Salt
Eggs in a Mug Step-by-Step Instructions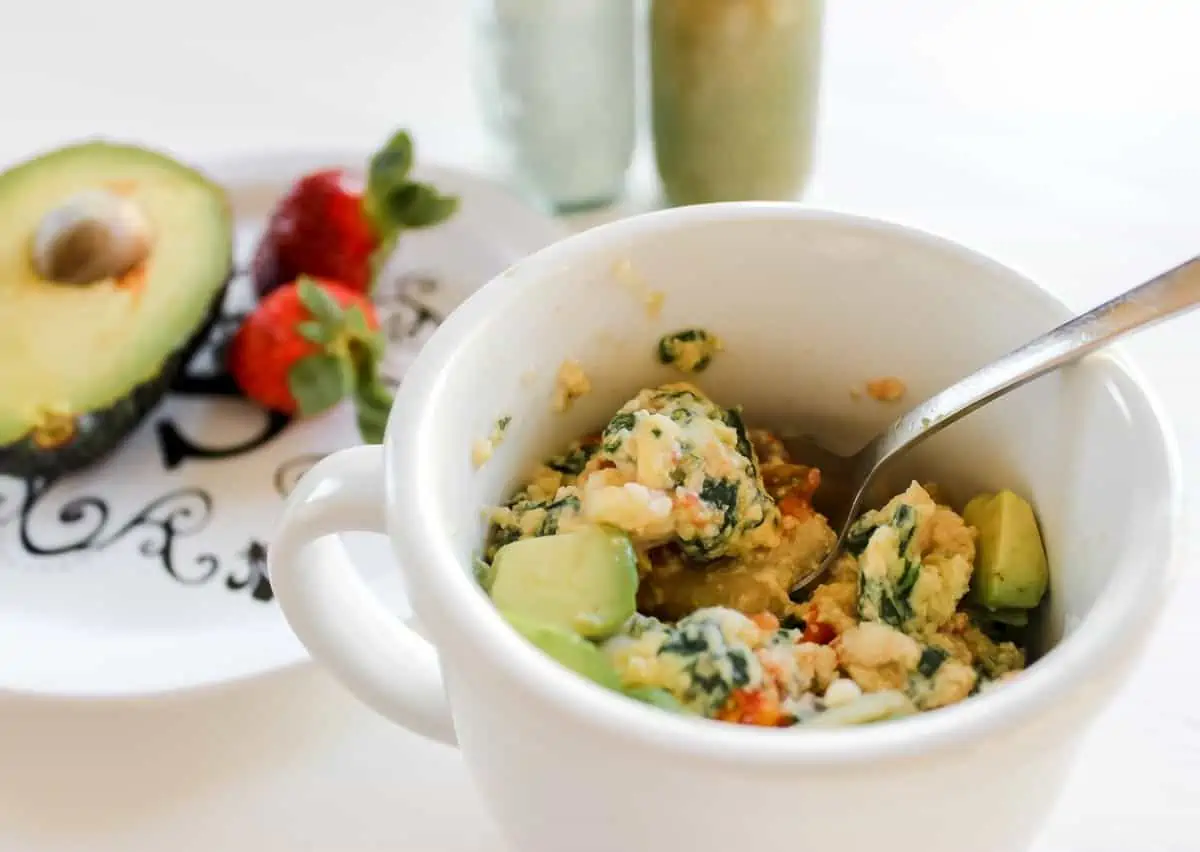 Step 1: Spray Inside of Microwave Safe Mug with Cooking Spray
First, this is a very important first step because if you don't spray the entire interior sides of the mug, egg will get stuck to it.
Additionally, if you don't want to use cooking spray, you can use olive oil.
Just make sure that every part of the inside of your mug is greased well.
Step 2: Microwave Spinach & Mushrooms
Second, before even adding your egg, you want to microwave your spinach and mushrooms for approximately 1 1/2 minutes, or until softened.
This is a crucial step because the egg cooks a lot faster than your veggies and you don't want to end up eating an omelet with undercooked veggies.
Also, keep in mind that, depending on the strength of your microwave, you might have to adjust your cooking time.
Step 3: Add Egg Substitute, Stir, & Microwave
Third, using a paper towel, carefully blot away any excess moisture.
Then, add in your egg substitute.
Mix egg substitute well with your veggies and then microwave for approximately 1 minute.
After this, you will have partially cooked egg in your mug.
Step 4: Add Tomato & Laughing Cow Cheese & Microwave
Fourth, after your veggies and egg have been microwaved for a minute, add in your tomato and laughing cow cheese.
Then, mix well and microwave again for 1 minute, or until the eggs are set.
Sprinkle with some salt and black pepper.
Step 5: Add Avocado & Enjoy!
Finally, immediately before serving, cut up your avocado and add it to the top of your eggs in a mug.
This egg in a mug recipe, eaten with a piece of toast and some fruit is a completely balanced breakfast!
Substitutions and Additions to This Recipe
Here's a great list of additional ingredients and toppings that go really well with scramble eggs in a mug:
Real Eggs
Bell Peppers
Cheddar Cheese
Bacon Bits
Kosher Salt
Heavy Cream
Chunky Salsa
Fresh Herbs
Minced Onions
Toppings:
Sour Cream
Hot Sauce
Green Onions (or spring onions)
Light Laughing Cow Cheese Is Great In This Recipe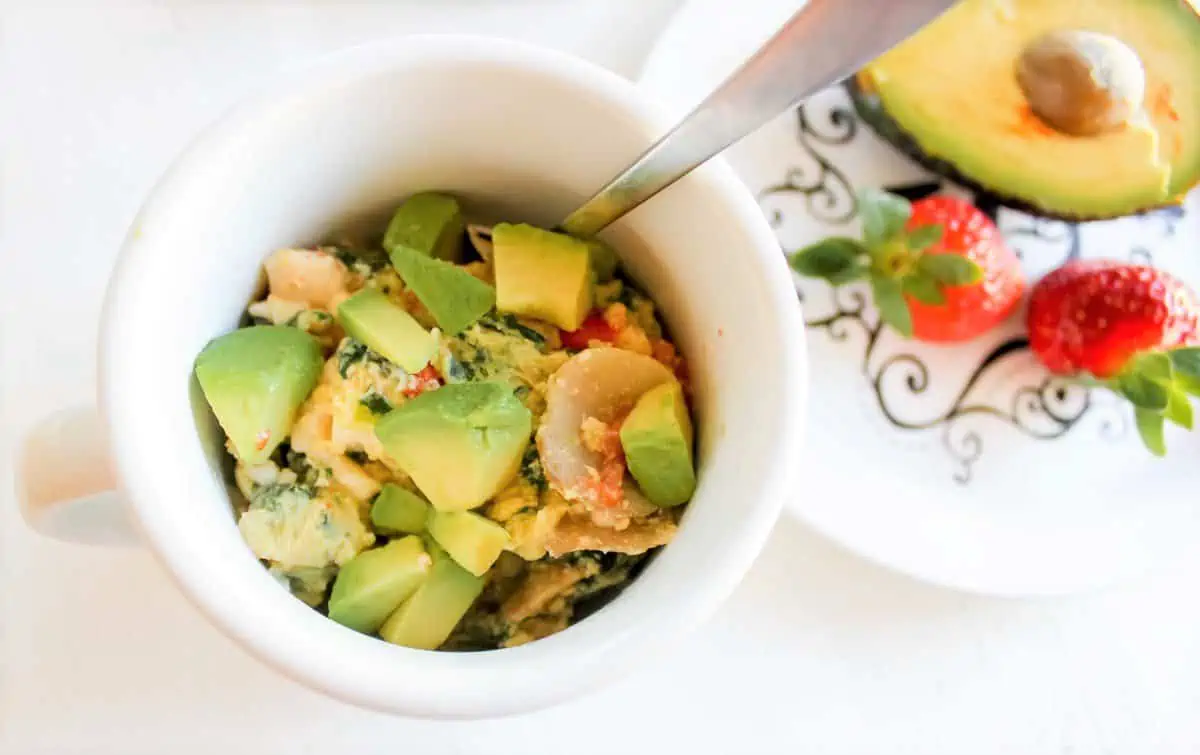 If you've never tried the Light Laughing Cow cheeses, you need to.
They're really good!
I've only had them with crackers.
Never thought of incorporating them into recipes like this one.
High Protein, Good Fats, Healthy Veggies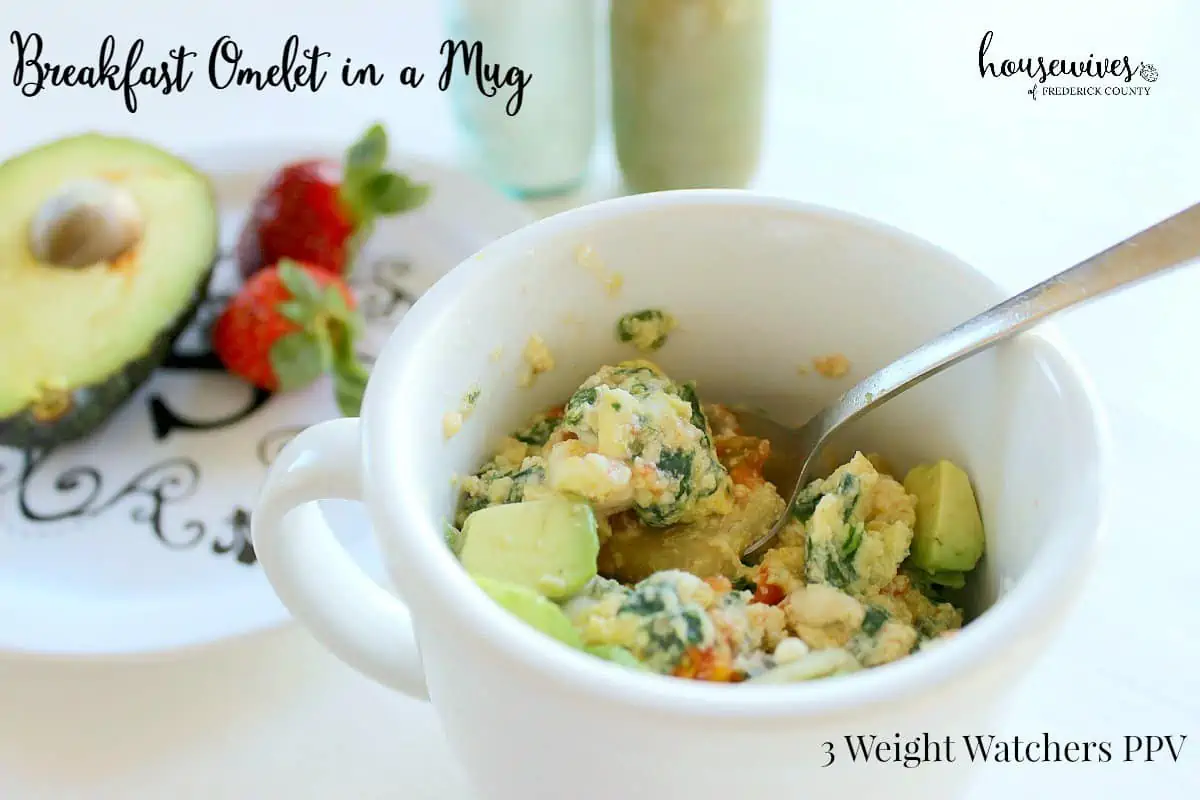 This eggs in a cup recipe turned out great!
It was really tasty and very satisfying.
After eating it, I wasn't hungry again until that afternoon.
Another great idea would be to cut up a week's worth of the veggies to keep in the fridge.
Just throw them in as you need them whenever making a breakfast omelet in a mug.
Do you have any mug recipes you'd like to share?
Let us know in the comments.
For more great breakfast recipes, click on over to:
Eggs in a Muffin Tin Recipe – 5 Weight Watchers SmartPoints
Weight Watchers Zucchini Muffins – Bite Size Mini Quiches
Quinoa Breakfast Scramble Recipe – 12 Weight Watchers Points Plus Value
For the full recipe, click below:
Eggs in a Mug Recipe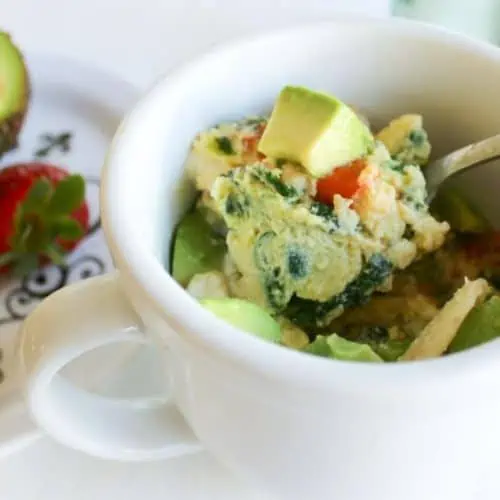 Eggs in a Mug Recipe
Quick,, easy, and healthy breakfast with minimal cleanup!
Ingredients
½

cup

chopped spinach leaves

½

cup

sliced mushrooms

½

cup

fat-free-liquid egg substitute

2

tablespoons

diced tomato

1

wedge The Laughing Cow Light Creamy Swiss cheese

1

ounce

about 2 tablespoons diced avocado

Salt & Pepper to taste
Instructions
In a large microwave-safe mug sprayed with nonstick spray, microwave spinach and mushrooms for 1 1/2 minutes, or until softened.

Blot away excess moisture.

Add egg substitute, stir, and microwave for 1 minute.

Mix in tomato and cheese wedge, breaking the wedge into pieces.

Microwave for 1 minute or until set.

Top with avocado and enjoy!