Surely by now you've seen on social media those colorful, eye-catching displays of balloon decorations in peoples' front yards.
This yard art typically celebrates a memorable milestone.
Particularly, we've been seeing balloon decorations a lot lately with high school and college seniors observing graduations!
Balloon Decorations
This post is sponsored by Frederick Balloon Co. All opinions are my own
Seriously, I mean, who doesn't love balloons?
They attract so much positive attention!
As well as that, the meaning behind balloon decorations almost always depicts happiness, fun, and cause for celebration.
Clearly, we wanted in on it!
My nephew, (Terri's son) Sean, is turning 18 tomorrow as I write this.
In addition, his last day of high school was today and he graduates in the next couple of weeks.
Now, if that isn't cause for celebration, I don't know what is!
Needless to say, we really wanted to do something extra meaningful to recognize this very special time in his life.
Frederick Balloon Company
Enter Frederick Balloon Company's CEO, Owner, & Certified Balloon Artist, Caity Byrne, along with Kelsey, her Operations Manager!
Caity, who has run a national balloon decorations business, All About Balloons for the last decade, just started Frederick Balloon Co. 2 months ago.
Indeed, ever since starting this new regional endeavor, Caity has hit the ground running!
Although she has a full plate of orders for balloon decorations, she's always open for more.
After meeting her just once, we can see that she is the definition of hustle!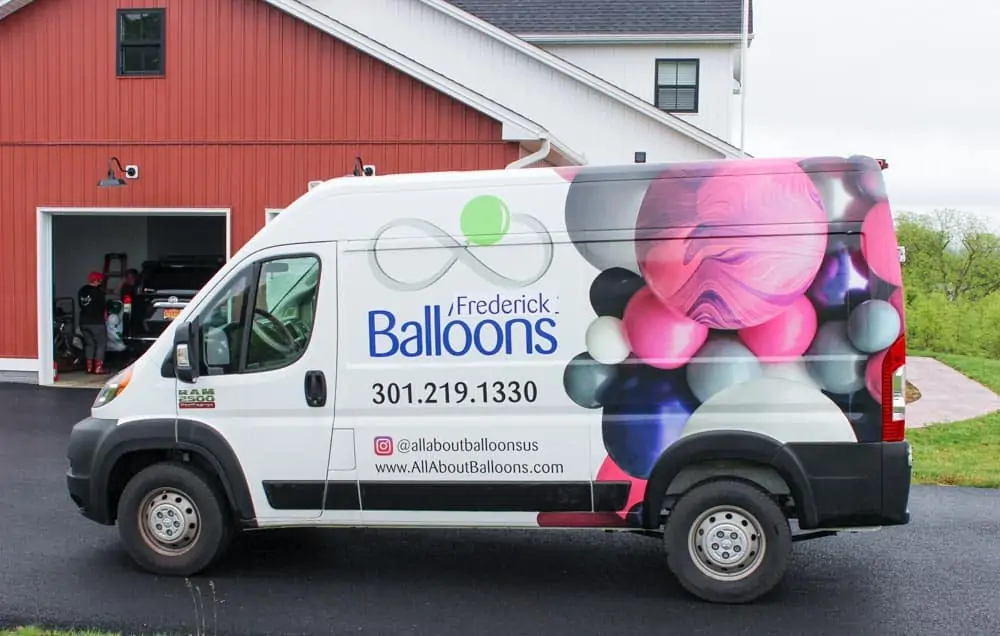 What Does Frederick Balloon Co. Do?
Not only does Frederick Balloon Co. do yard art with balloon decorations but also they do:
Balloon deliveries (like bouquets)
Balloon installations for big events.
To see examples of the gorgeous balloon creations they make, just pop on over to their website.
On this particular morning, Caity had 11 balloon decorations deliveries to make.
Because the displays are so large in size, they have to make multiple stops back at their warehouse in Frederick between installations.
Needless to say, everything needs to be on a schedule to keep things running smoothly.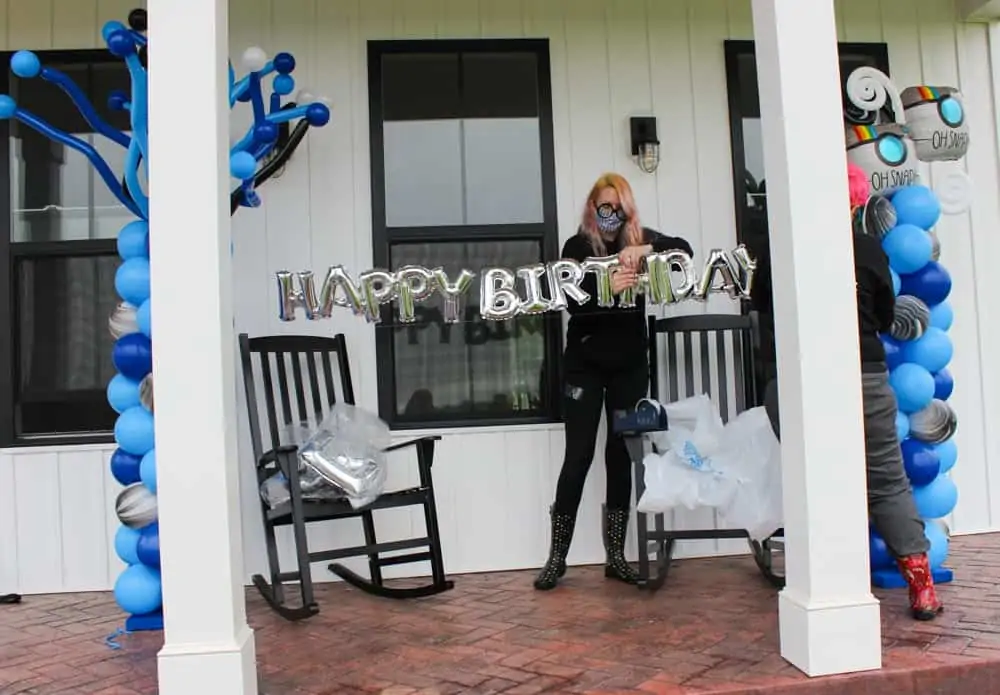 Terri and I are both really impressed with the organization of their setup process.
In addition, because there's been rain in the forecast, we chose to have Sean's display setup on the front porch.
Caity happily obliged.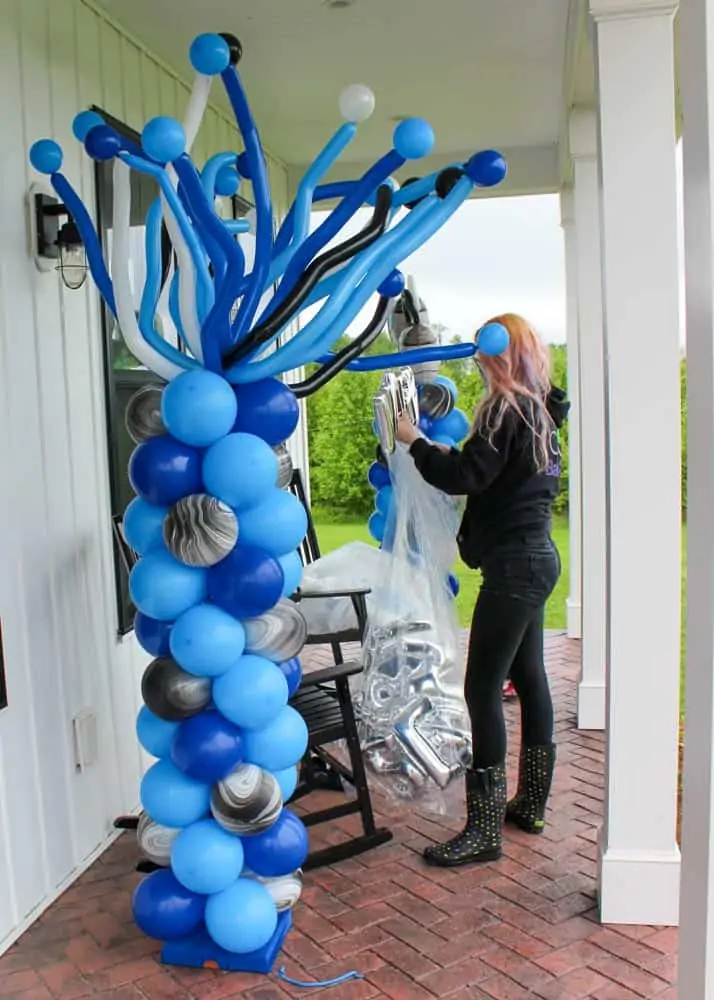 Also, Caity had asked Terri in advance what colors Sean would enjoy in his display as well as any fun extras.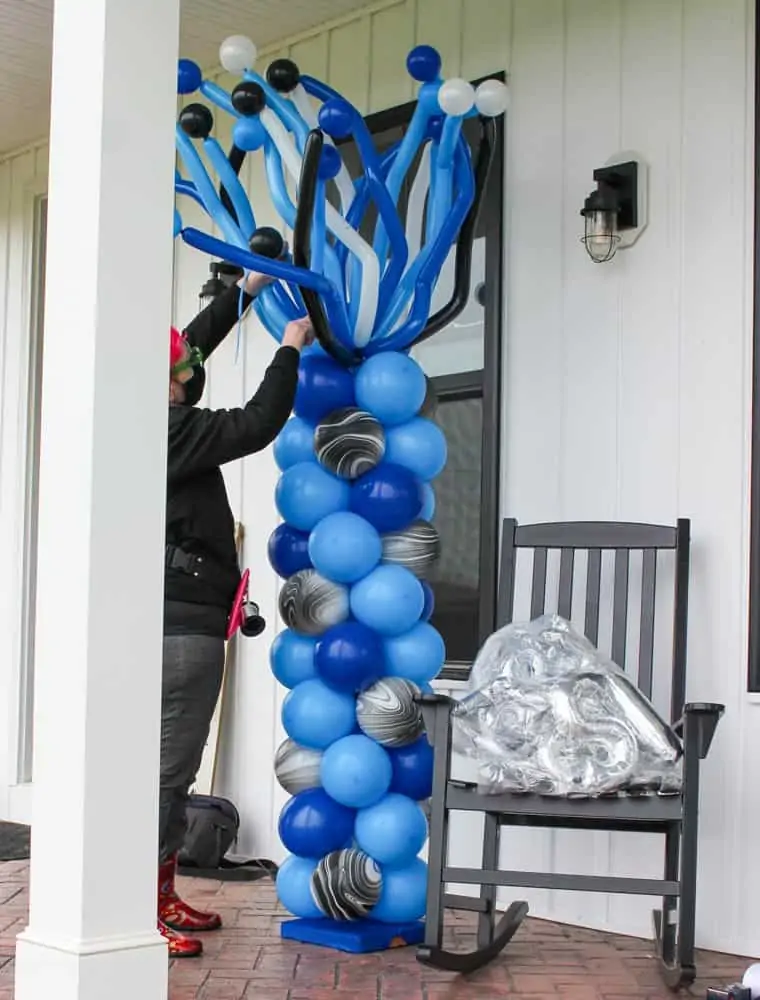 Sean is a budding photographer and likes to post his awesome shots on Instagram.
So it was fitting that they included the Oh Snap! Instagram balloons!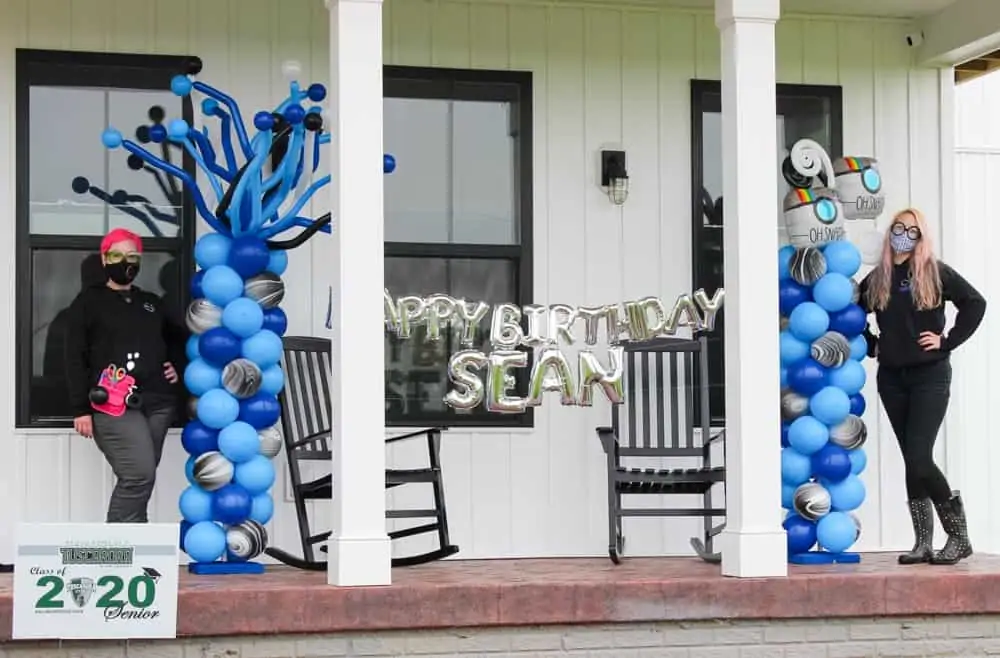 A Happy Surprise!
I mean, how cool is this?
Once Caity and Kelsey were finished with the installation and heading off to their next lucky recipient, we called Sean out of the house.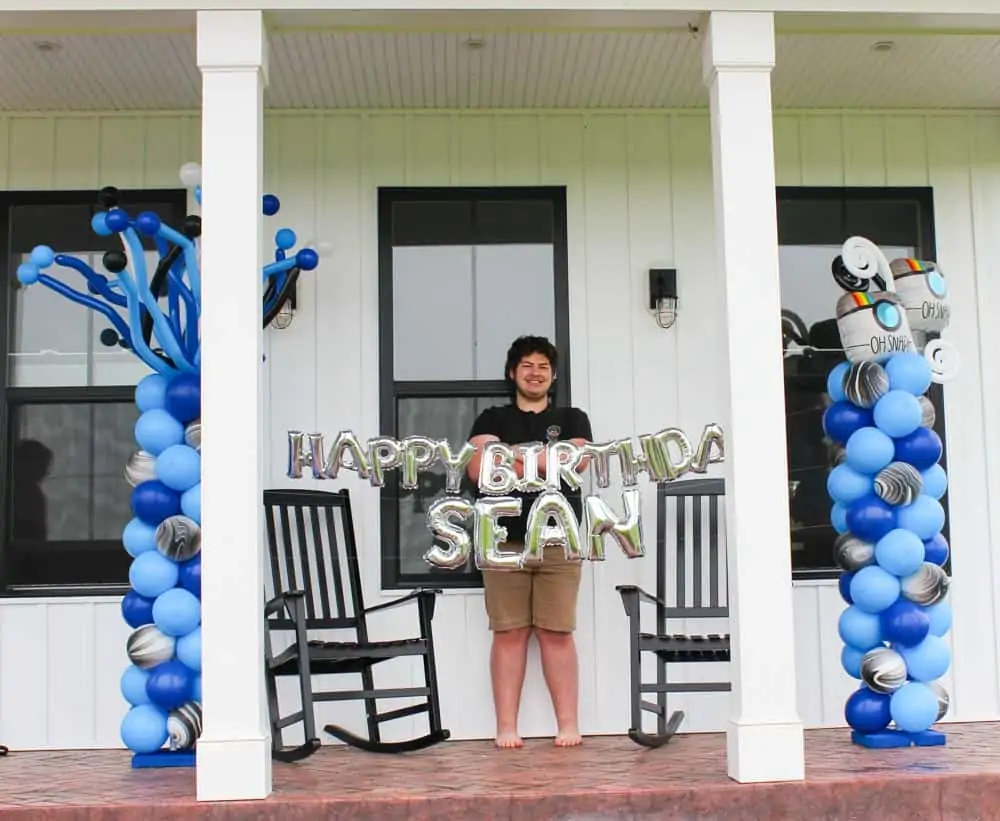 Without a doubt, he was totally surprised and had a huge smile on his face!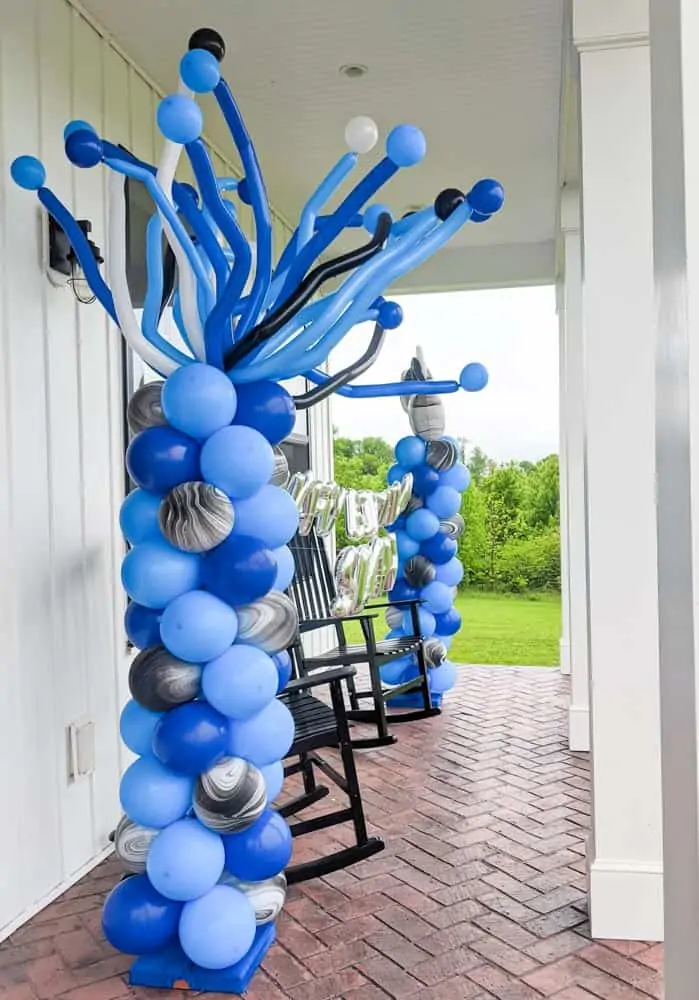 Our family is super proud of the hard work that Sean has put forth into his high school years!
We are so excited that we could do something so visually fun and upbeat to share with him during this season of his life.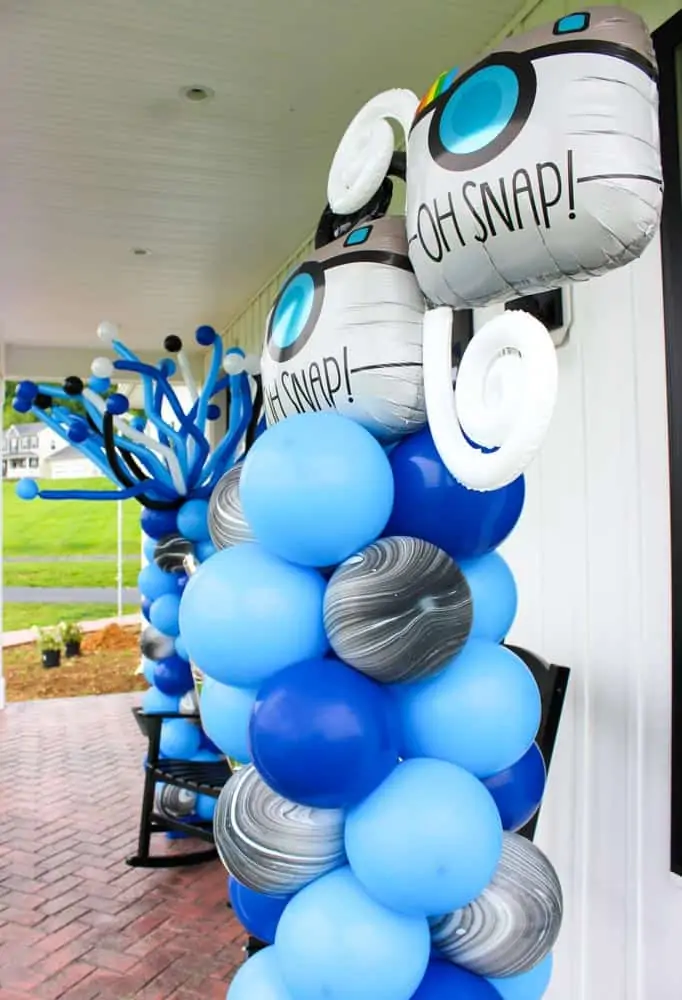 And to top it all off, Terri's family is welcoming a new addition to their family tomorrow.
An 8 week old Chesapeake Bay Retriever puppy will make their lives feel complete again after losing their precious Stella late last year.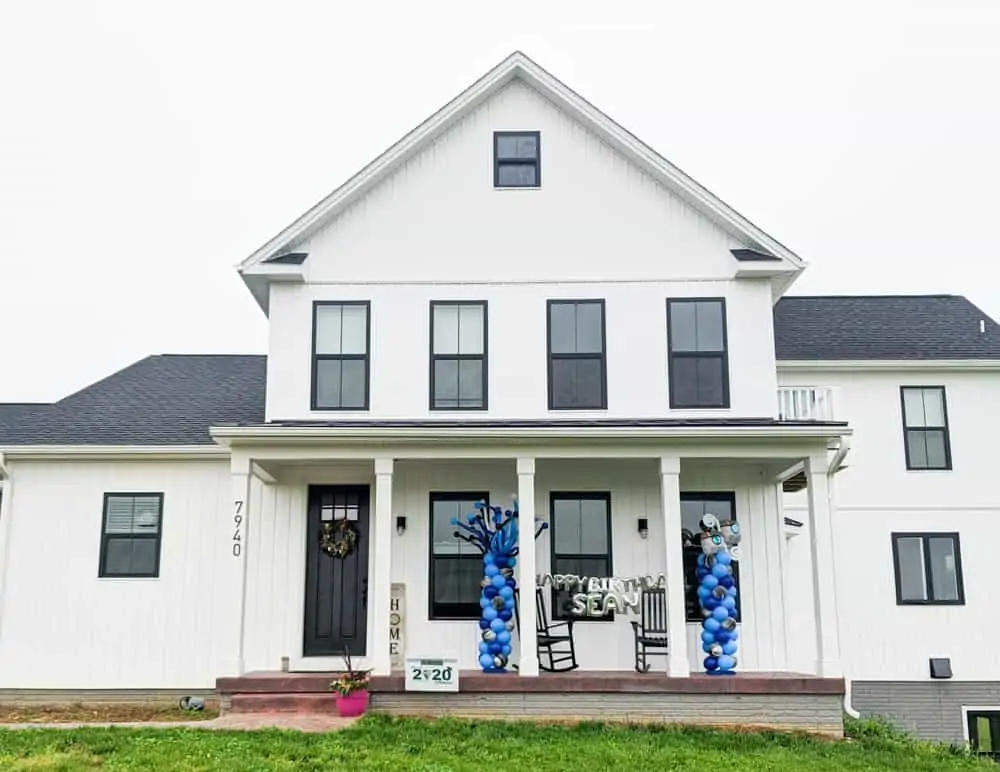 Lastly, we'll leave you with this Winnie-the-Pooh quote from A.A. Milne, "Nobody can be uncheered with a balloon."
So simple, but so true!
For more fun Frederick finds, click on over to:
Sunflowers at Valley View Acres: Scenic Views in Middletown, Md
AR Workshop Frederick: We Made Something Really Cool!
South Mountain Creamery – Cows, Ice Cream, & More!