This easy baked oyster recipe will make you feel like you're on a beach vacation, treating yourself to the best seafood restaurant!
My series of Maryland seafood recipes are so popular with our readers, that I'm keeping 'em coming!
Baked Oyster Recipe on the Half Shell
Recently, in preparation for making this baked oyster recipe, I asked our Facebook readers for the best place in Frederick to get oysters.
Several great responses later, one of my readers mentioned the Hoopers Island Oyster Co. Pop-Up in Frederick!
Wait….hold on!
There are fresh Chesapeake Bay oysters being driven up to Frederick from Maryland's Eastern Shore?
Come to find out, at one time it was happening every single Saturday morning from 10:00 am to 12:00 in June.
Being that my hubby absolutely loves oysters, and I love them too, we had to try them out!
Hoopers Island Oyster Co. Saturday Pop-Up Stores
Luckily for us, Hoopers Island Oyster Co. partnered with Rosedale Ice for these pop-ups, which has a location right here in Frederick!
The Rosedale Ice in Frederick, some people know it as the "Beer Cave", is located on North East Street.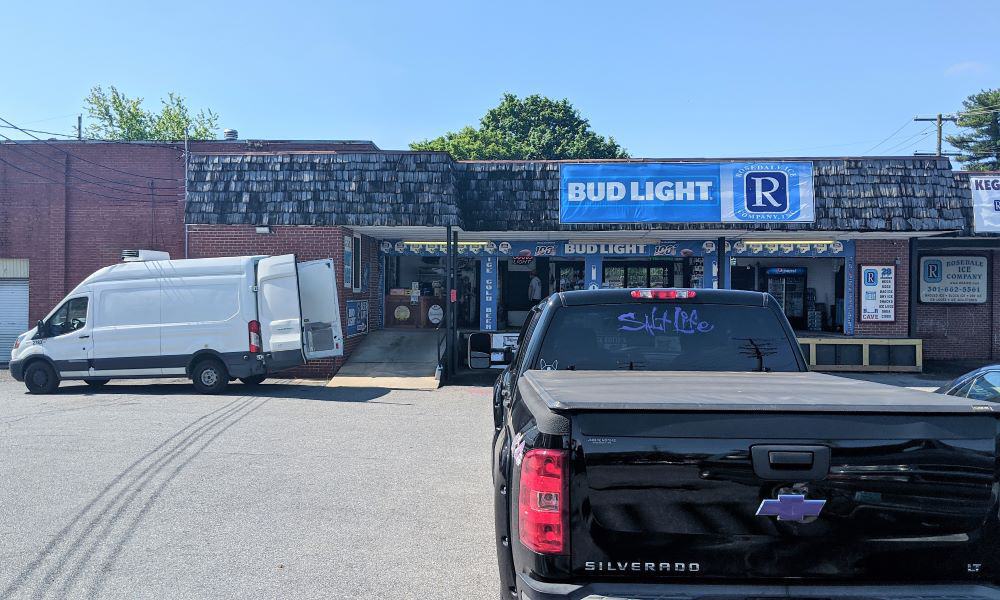 Hoopers Island Oyster Co. farms and raises millions of premium oysters, including their signature "Chesapeake Golds" and "Mermaid Kisses".
Here is the Facebook Event with information about these pop-ups including prices and how to order your oysters.
We decided to get 20 oysters still in the shell ($17.50) and a pint ($20) of already shucked oysters.
How To Shuck Oysters
We were SO excited about getting these oysters, that we didn't even care if we had never shucked an oyster in our lives!
Needless to say, we ordered an oyster shucking knife set with gloves (Amazon) early in the week so we'd have it here when it was time to pick up the oysters and make the baked oyster recipe.
I watched a nice, short, to-the point YouTube video on how to shuck oysters and it really made it look simple.
My husband didn't watch the video but he already had a good idea as to how to shuck the oysters.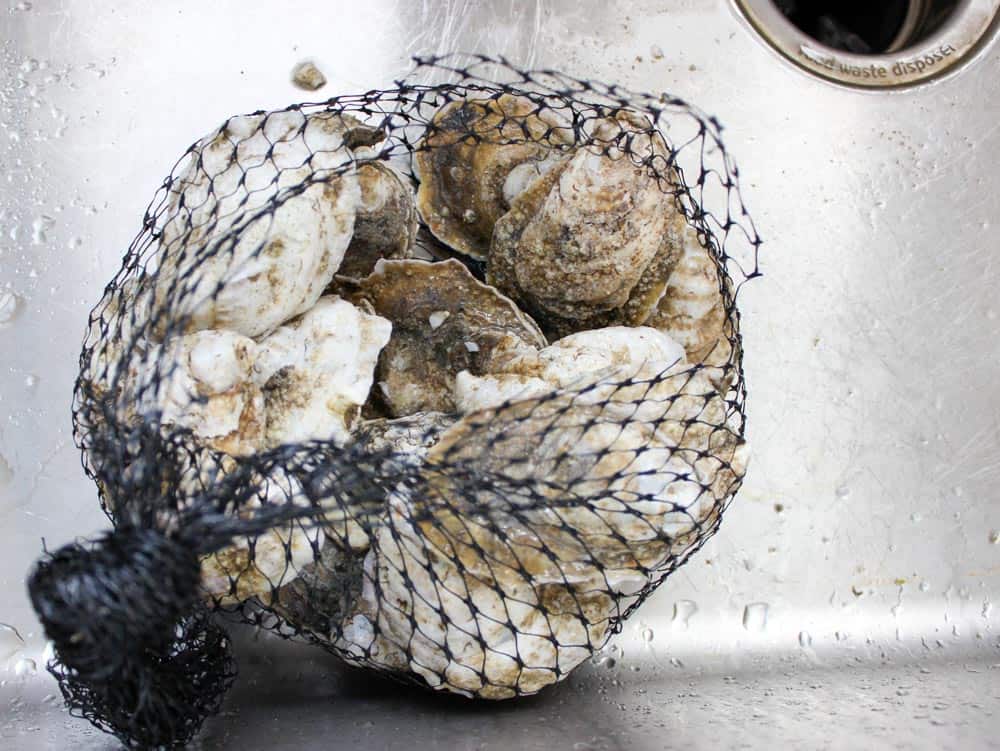 This is the only good picture I could get of him shucking the oysters.
It was a little stressful at first and he wasn't in the mood for me hanging over his shoulder with a camera lens.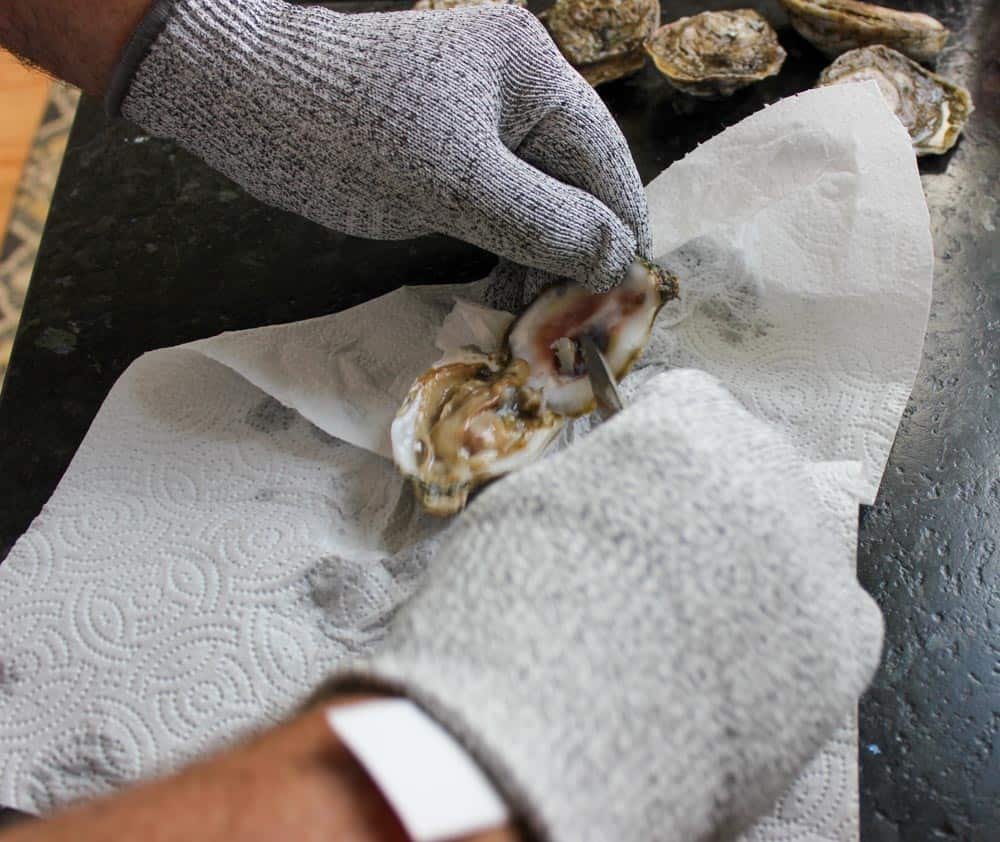 After getting through a few oysters, he now has the hang of this shucking thing and is officially an oyster shucking pro!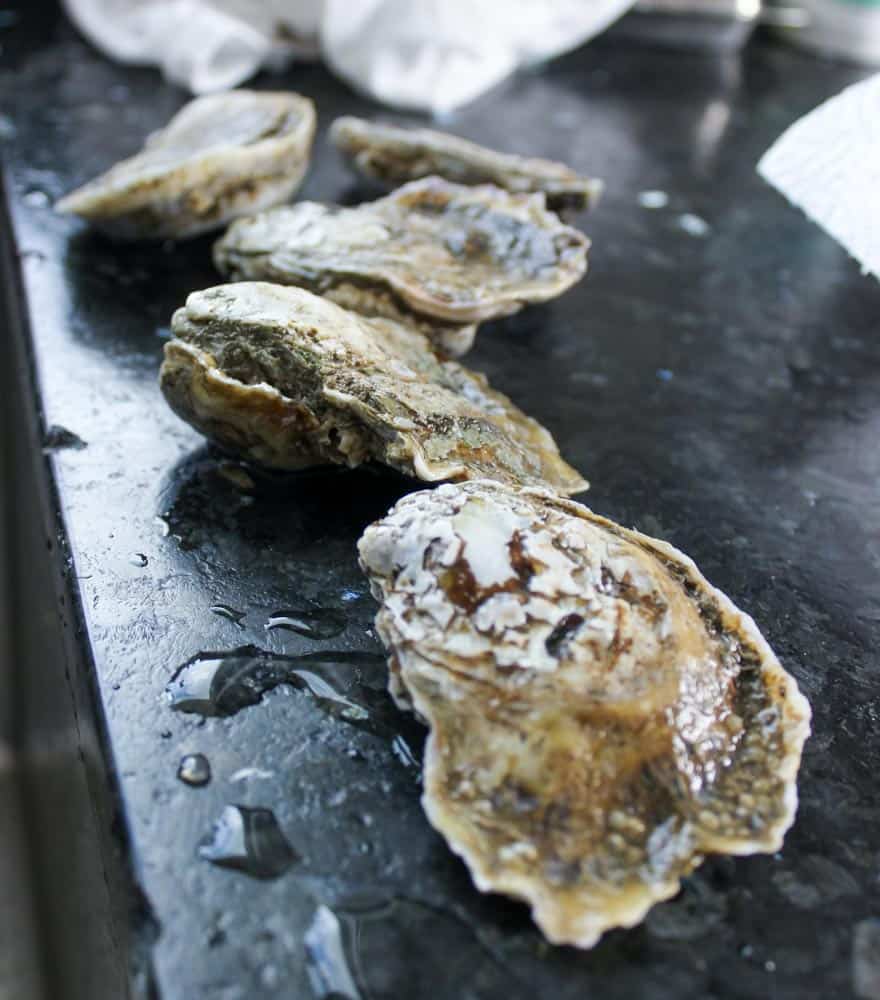 He removed the oysters from the shells and put them on a plate so I could wash out the shells.
How to Make Baked Oysters On The Half Shell
I found this particular Spicy Oysters with Bacon & Cheese recipe on a site, Maryland Delivered.
They got the recipe from the Dishing Up Maryland: 150 Recipes From The Alleghenies to the Chesapeake Bay cookbook (Amazon).
The only thing I changed with the recipe is the type of cheese.
They used Colby cheese and I used Gruyere cheese.
And here are the easy instructions:
First, place your washed and dried shells on a baking sheet.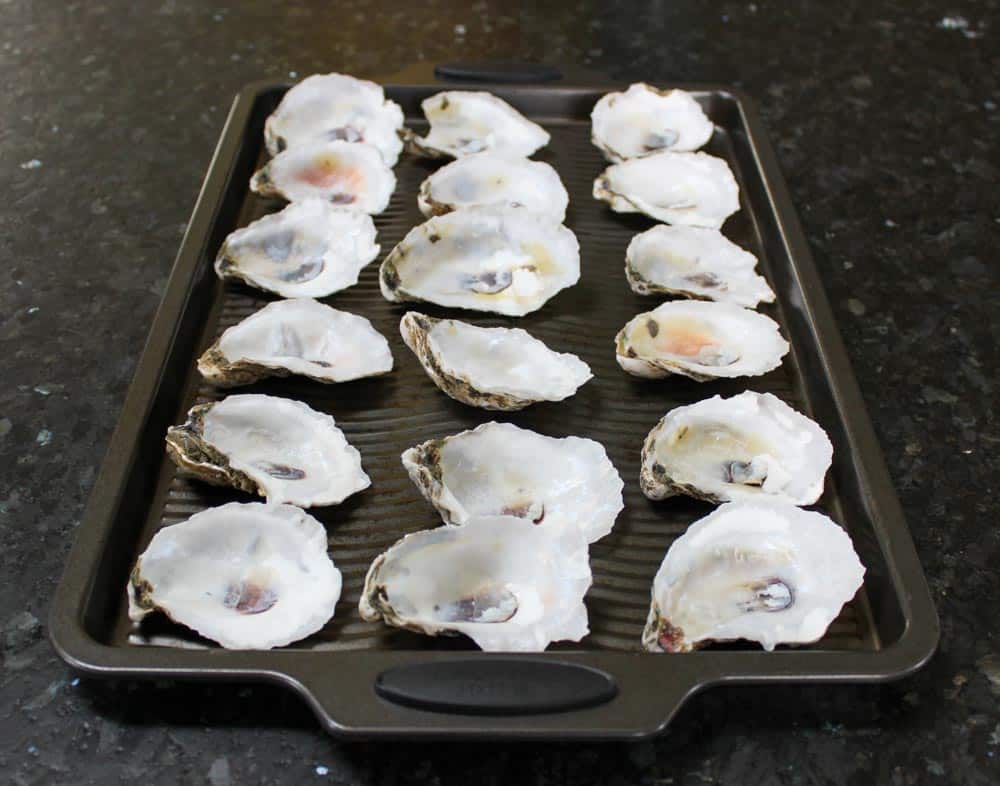 Second, place the rinsed oysters into each shell.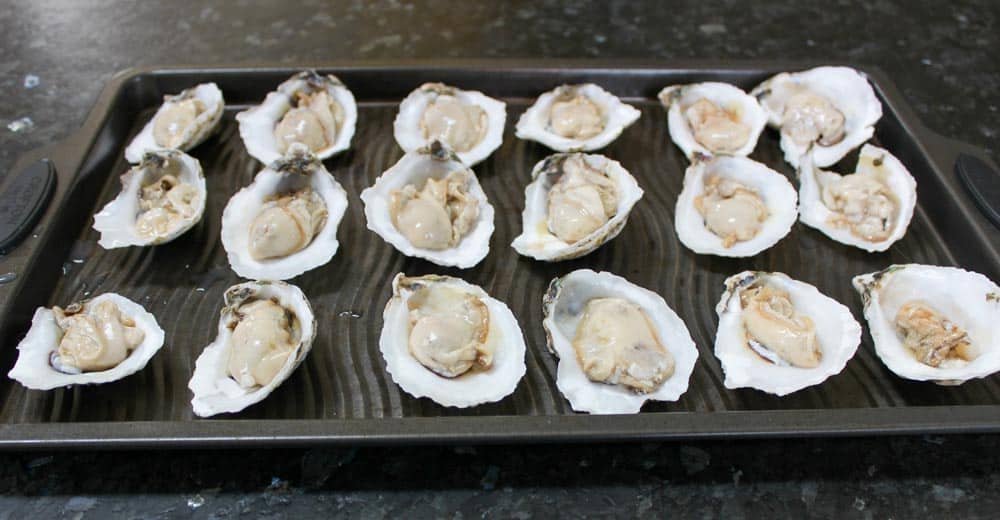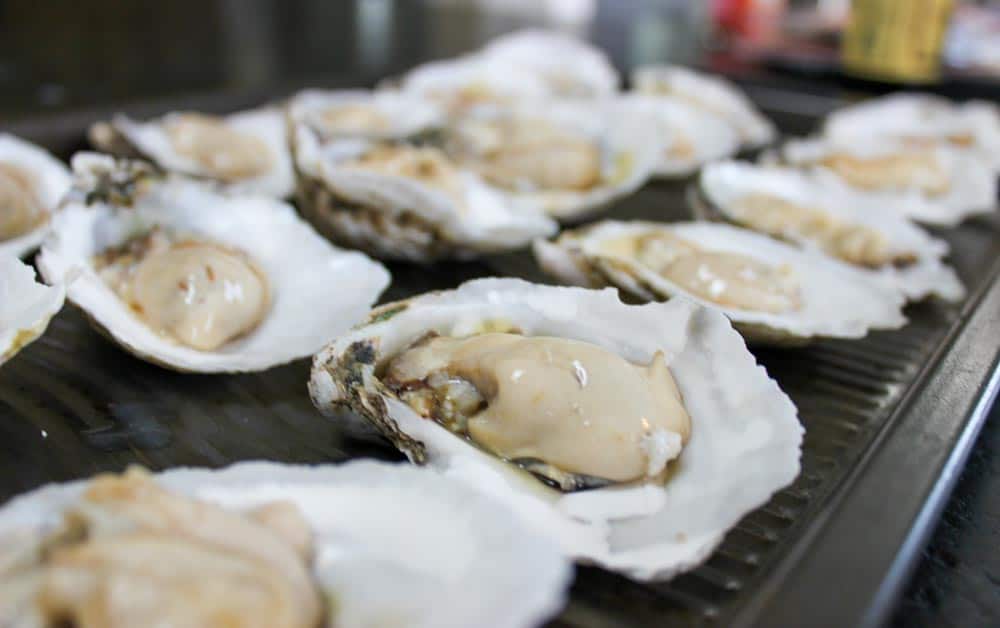 Third, add 2 to 3 drops of Worcestershire sauce to each oyster and then a 1/4 to 1/2 slice of bacon on top.
Note: I followed the recipe with the bacon, but I personally felt that the bacon might overwhelm the taste of the oyster. So you can adjust the amount of bacon based on your preference.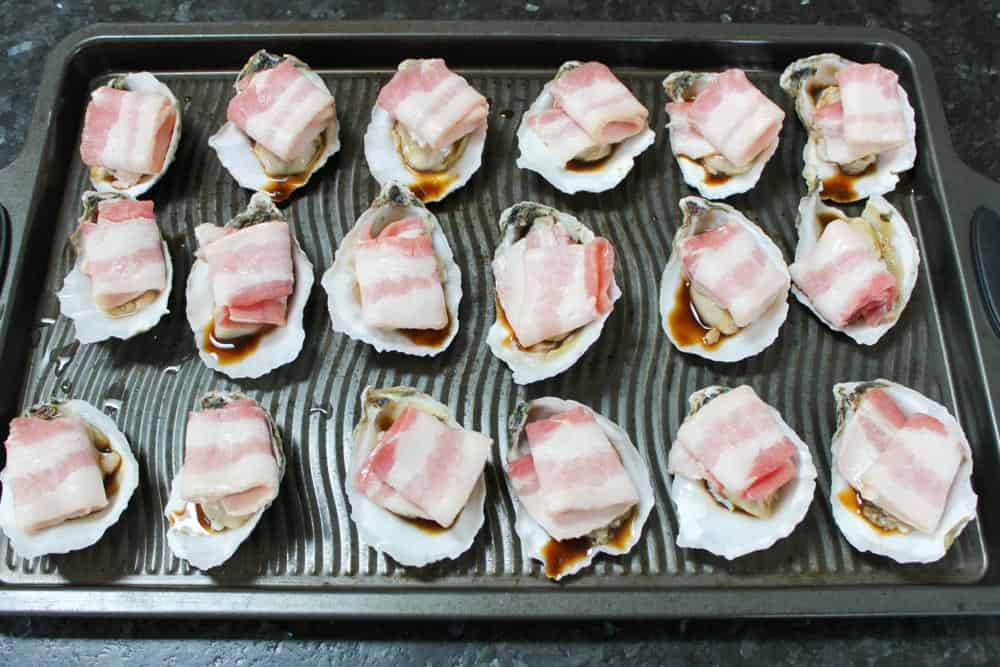 Next step is to add 3 to 4 drops of hot sauce to each oyster.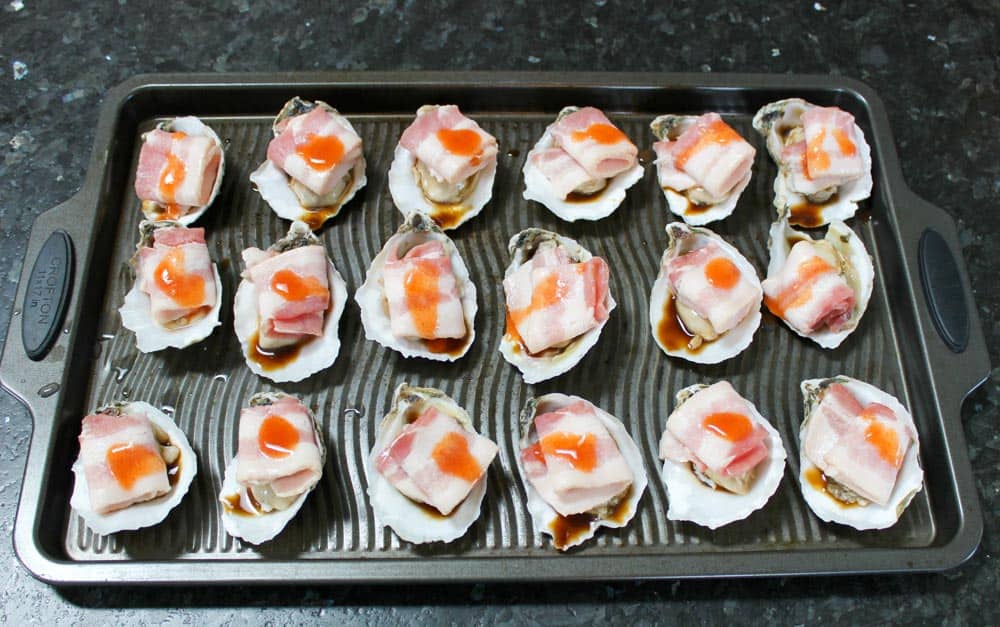 Finally, add a small slice of cheese to each oyster.
I used Gruyere cheese, but you can use whatever cheese you prefer.
Also, you can swap shredded cheese for the sliced cheese.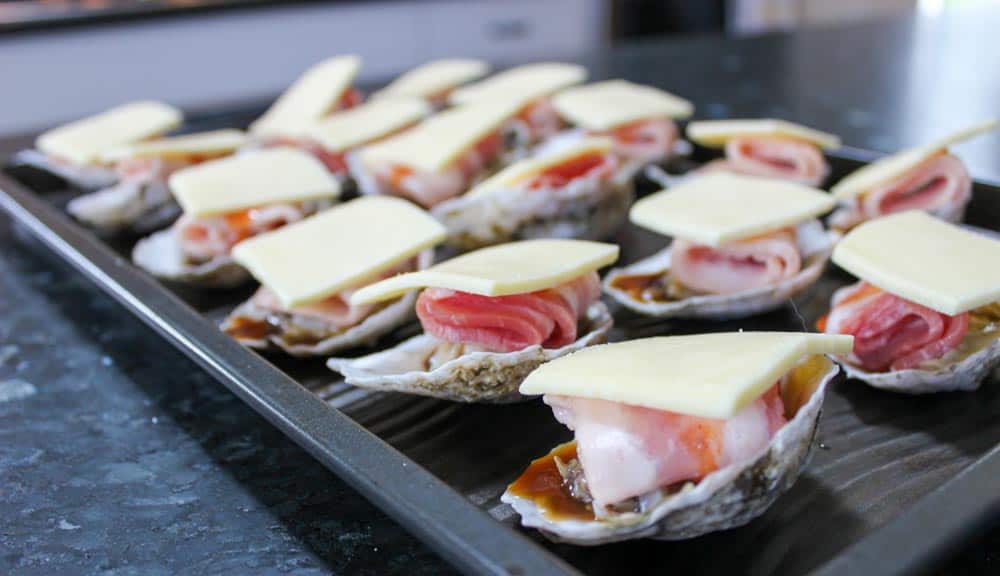 Then bake in a 450 degrees fahrenheit oven for 20 minutes until the cheese is golden and bubbly.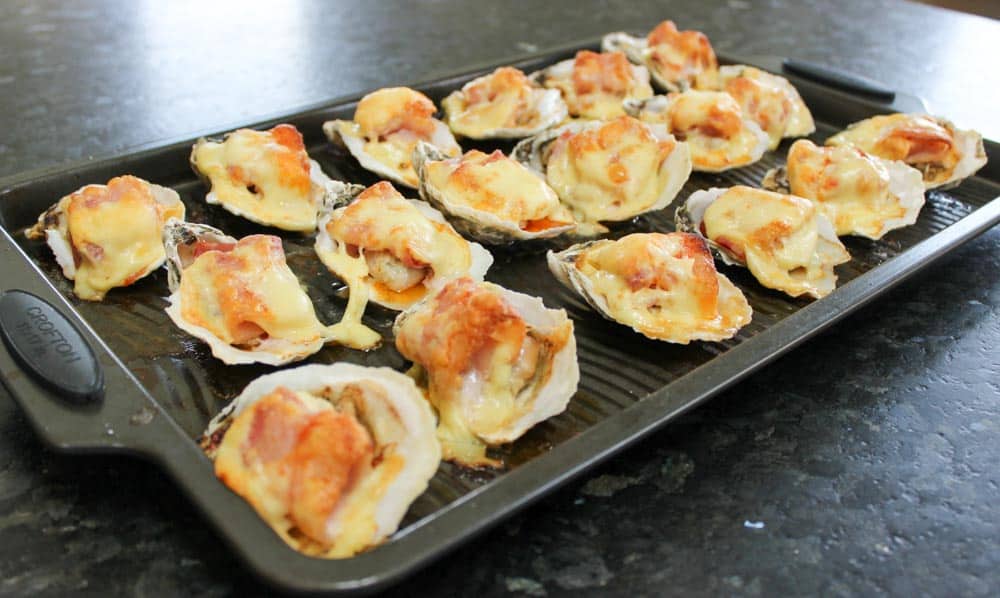 After you remove the baking sheet from the oven, sprinkle Old Bay Seasoning over top of each oyster sparingly.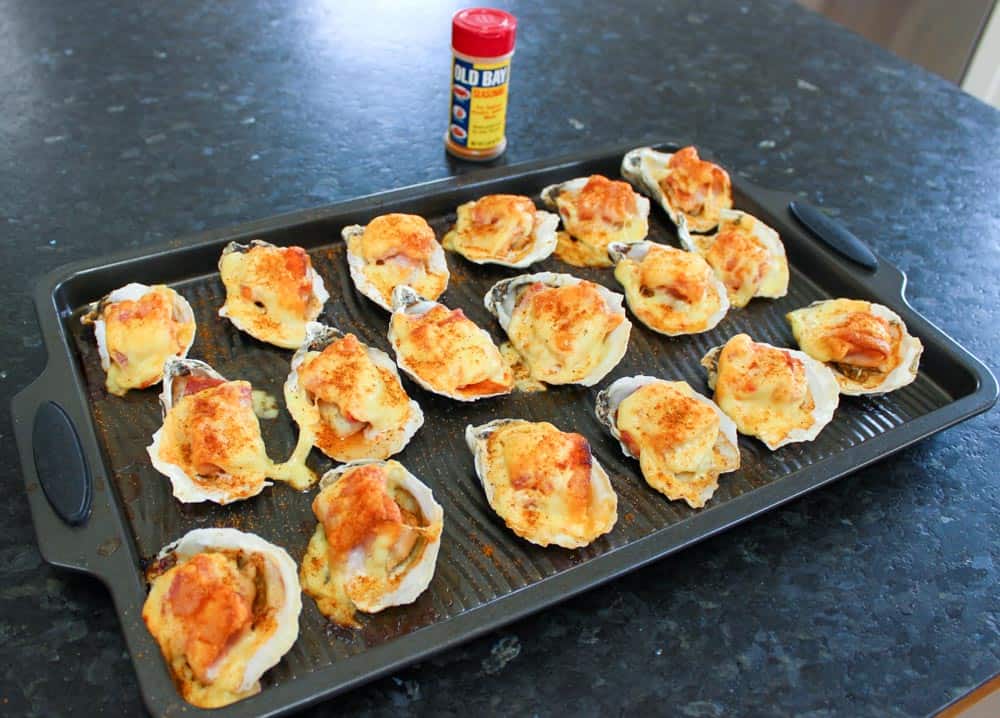 Have some sliced lemon available for people to squeeze over their baked oysters.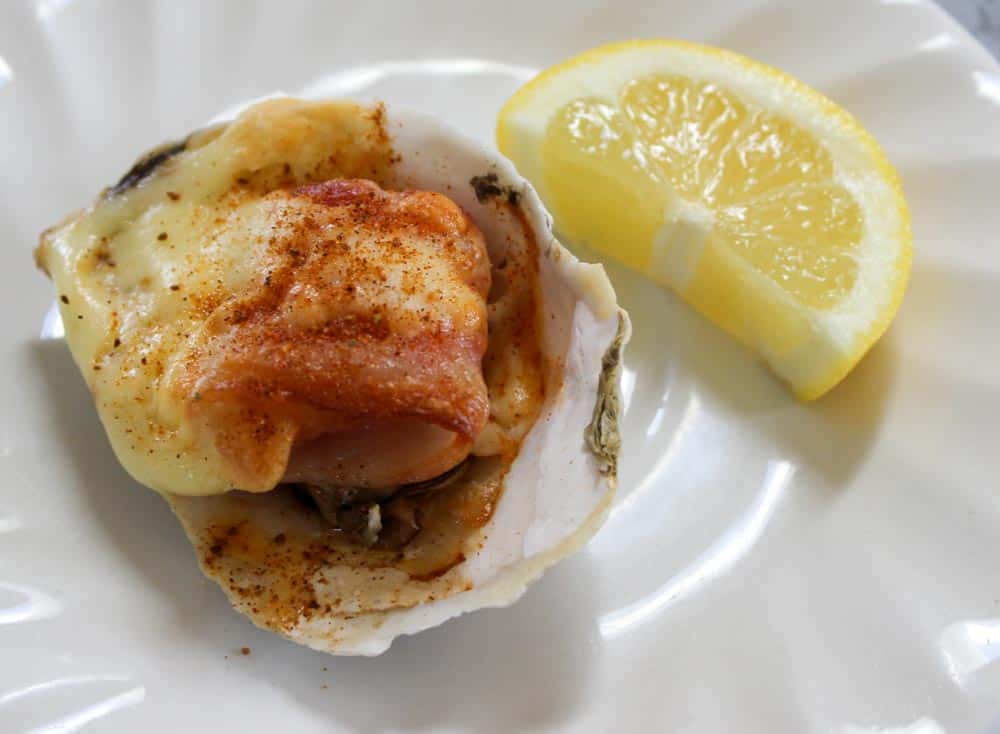 Baked Oyster Recipe with Bacon and Gruyere Cheese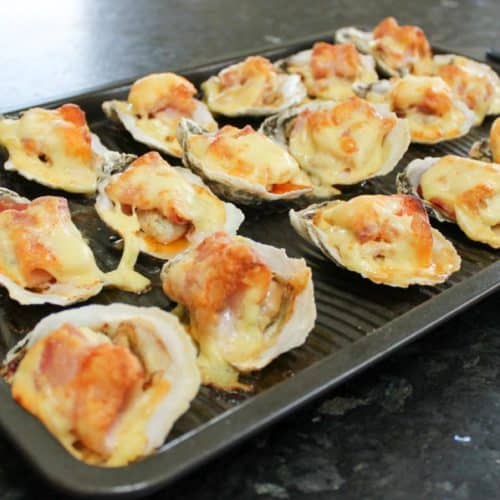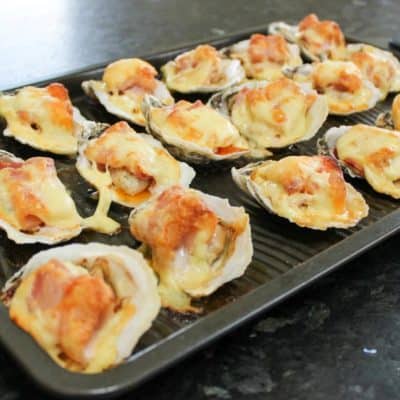 Baked Oyster Recipe with Bacon and Gruyere Cheese
A traditional Maryland oyster recipe, baked on the half shell. You can't eat just one!
Ingredients
20

Oysters, fresh in the shell

10

strips

Bacon, uncooked

10

slices

Cheese, Gruyere (or your preferred type of cheese)

Worcestershire Sauce

Hot Sauce

Old Bay Seasoning

Lemon Slices
Instructions
Preheat oven to 450 degrees Fahrenheit.

Shuck the oysters, reserving the shells.

Rinse & drain the oyster meat. Clean & dry the shells.

Place 20 oyster shells on a baking sheet.

Place 1 oyster in each shell.

Add 2 to 3 drops of Worcestershire Sauce to each oyster.

Top each oyster with 1/4 to 1/2 strip of uncooked bacon.

Add 3 to 4 drops of hot sauce to each oyster.

Place 1/2 slice of cheese on top of each oyster.

Place oysters in the oven and bake for 20 minutes, or until the cheese is golden and bubbly.

Sprinkle Old Bay Seasoning over each oyster.

Serve immediately with lemon wedges as a garnish.
How They Turned Out
You know when the cook is usually their own worst critic?
Well, after eating one, I immediately felt that the bacon was overpowering the taste of the oysters.
However, everybody else, including my husband, son, Terri, her two sons, and her husband, absolutely love this recipe just the way it is!
I guess whenever you involve bacon, you can't go wrong!
We had enough baked oysters to reheat the following day.
Needless to say, they were just as good, if not better than they were the day before!
And as for that pint of shucked oysters we got, my husband wants to fry those up.
So you might see another oyster recipe very soon!
For more traditional Maryland recipes, click on over to:
Maryland Deviled Eggs with Crab & Old Bay Seasoning
Hot Crab Dip Recipe: A Traditional Maryland Favorite
Maryland's Grand Prize Cream of Crab Soup Recipe