This delicious and healthy vanilla protein shake recipe is my favorite go-to whenever I want to get all of my good-for-you foods blended up into one glass.
With almond milk, almond butter, vanilla protein powder, peaches and cinnamon, it's so frothy good!
Vanilla Protein Shake Recipe
I love nutty and I love fruity.
Add those to a protein shake and I'm all over it.
My friend John Robinson, one of the rockstars from our CrossFit gym, The X-Project, shared this recipe with me the other day.
The man has lost over 100 pounds and gotten himself in the best shape of his life.
He's also a Personal Trainer and Fitness Nutrition Specialist.
Can't get any better credentials than that!
So, it was a no-brainer for me to make one of his tried and true recipes.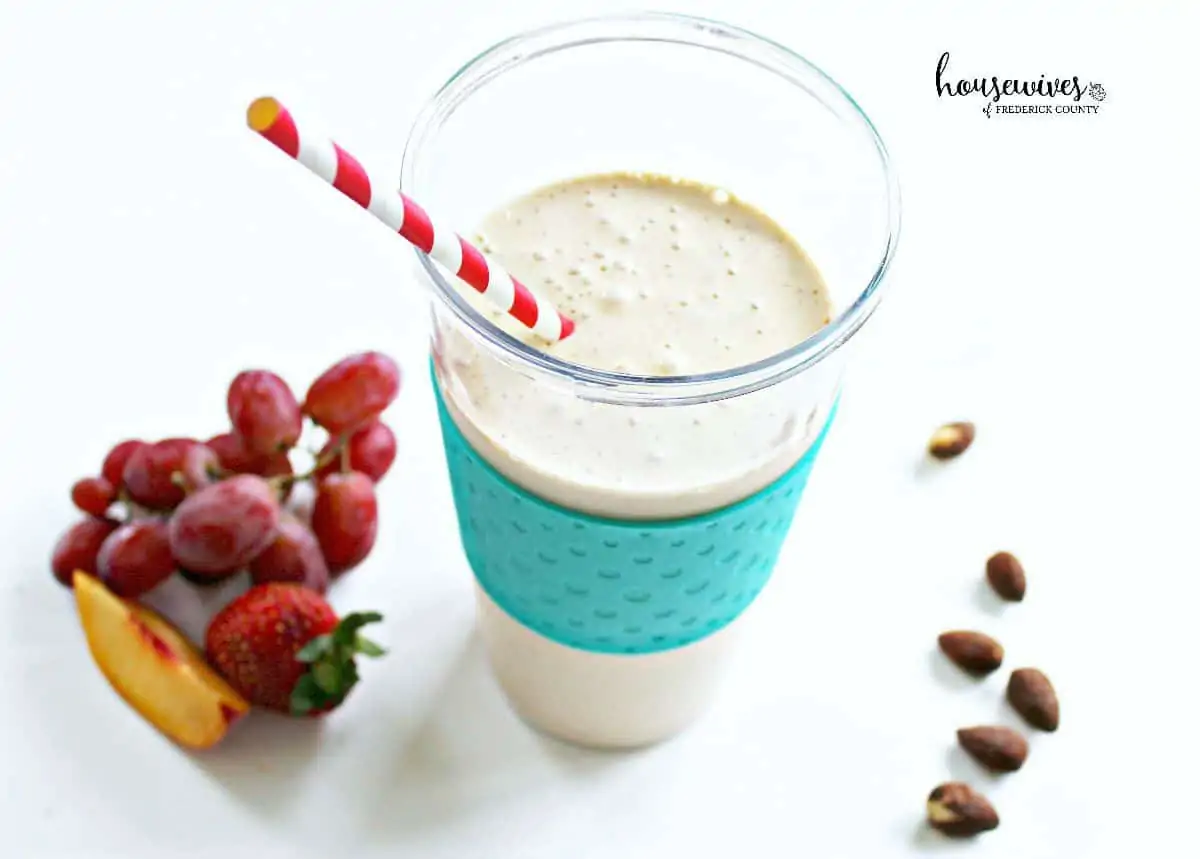 So Yummy and Satisfying
This shake has so much protein in it that after I drank mine, the thought of eating again anytime soon never entered my mind.
I just didn't want to eat.
And if you know me, you know that I will find reasons to need to eat.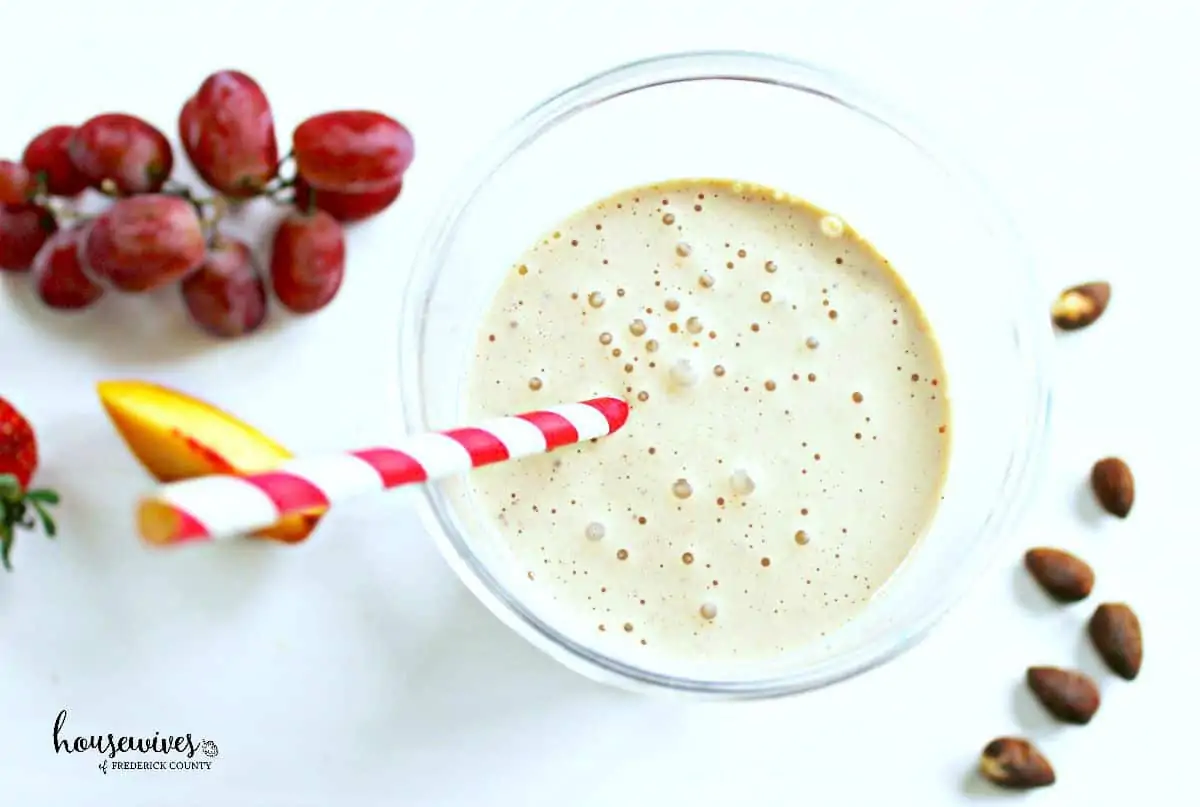 Very Simple to Make
I love how simple it was to make.
The recipe calls for almond butter and almond milk.
Two things that really seem to be trending lately.
I already had almond butter leftover after making my delicious Chicken Cabbage Salad with Almond Dressing recipe.
And I already had protein powder and frozen fruit.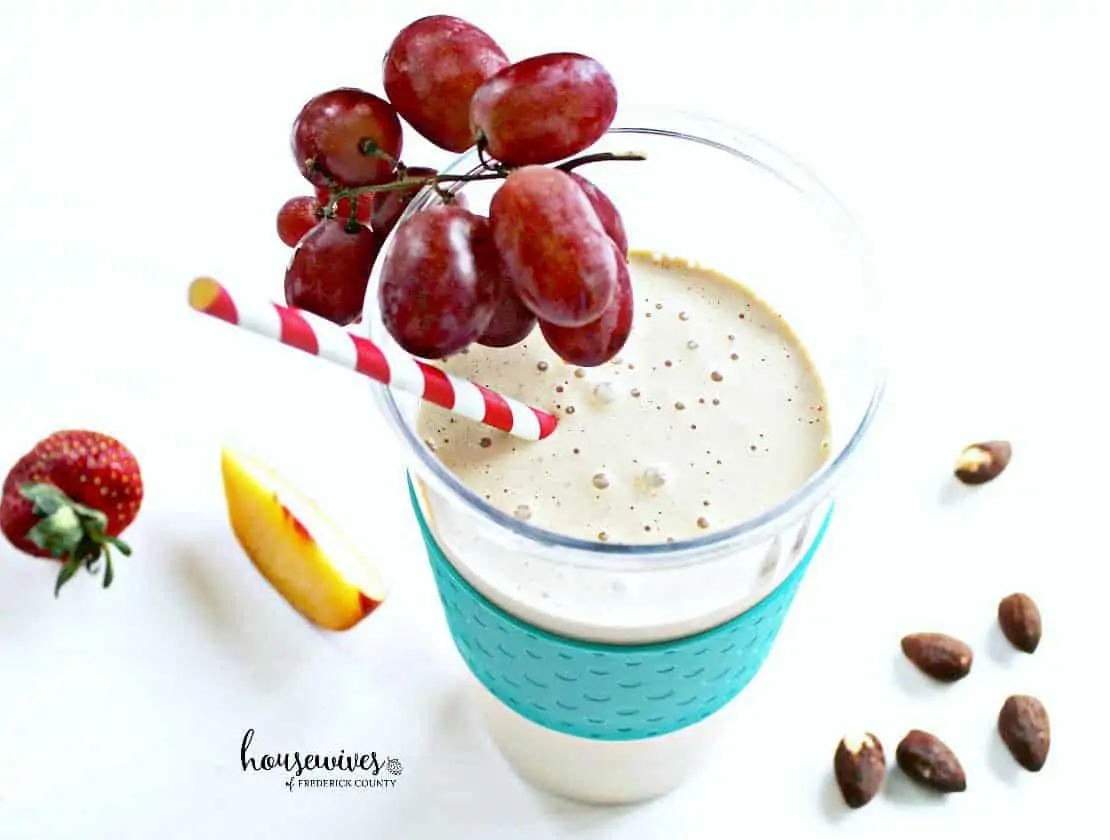 All I needed to get from the grocery store was the almond milk.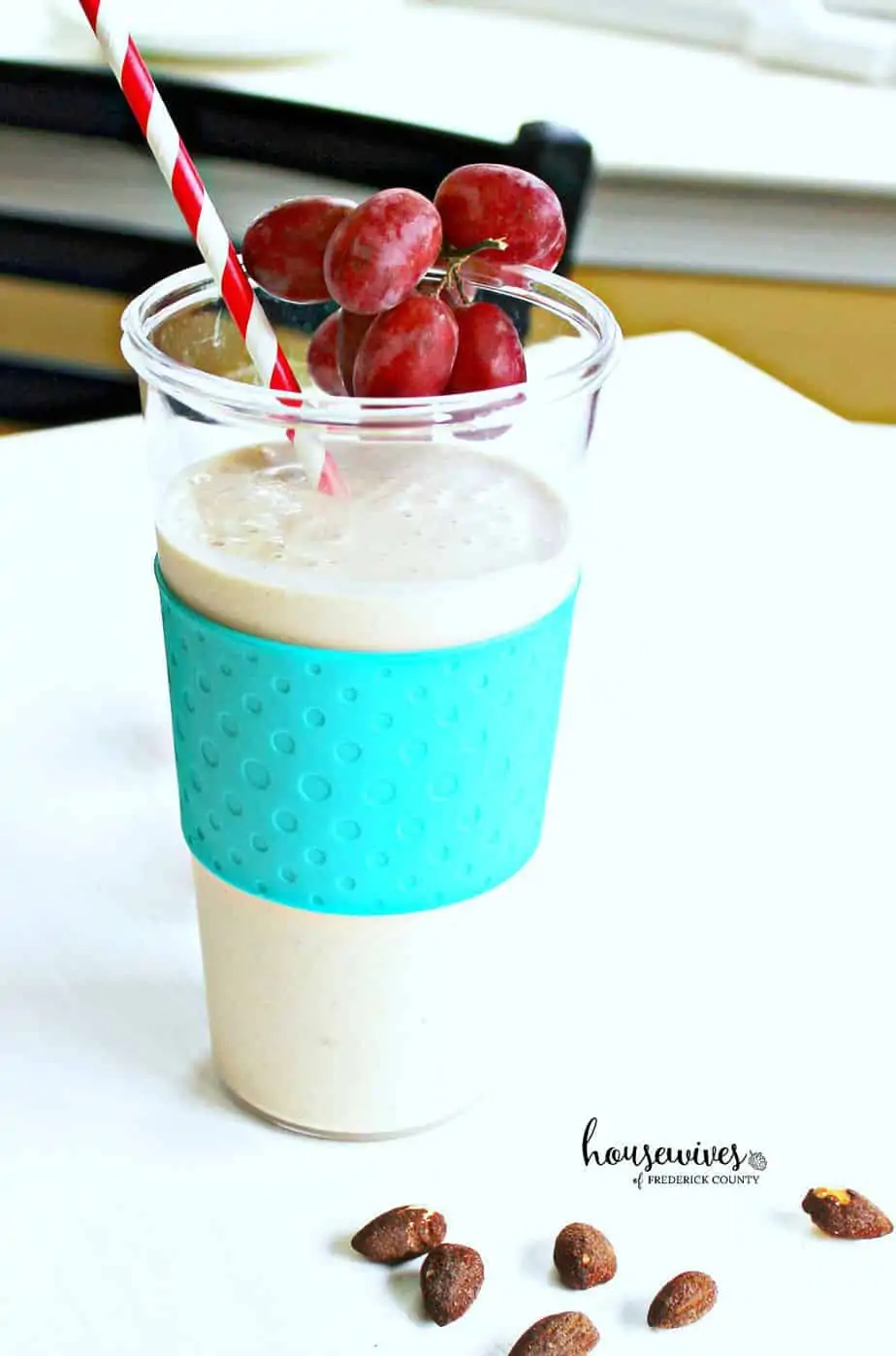 Based on my calculations, this protein shake (using 2 scoops of protein powder) totals 50 grams of protein!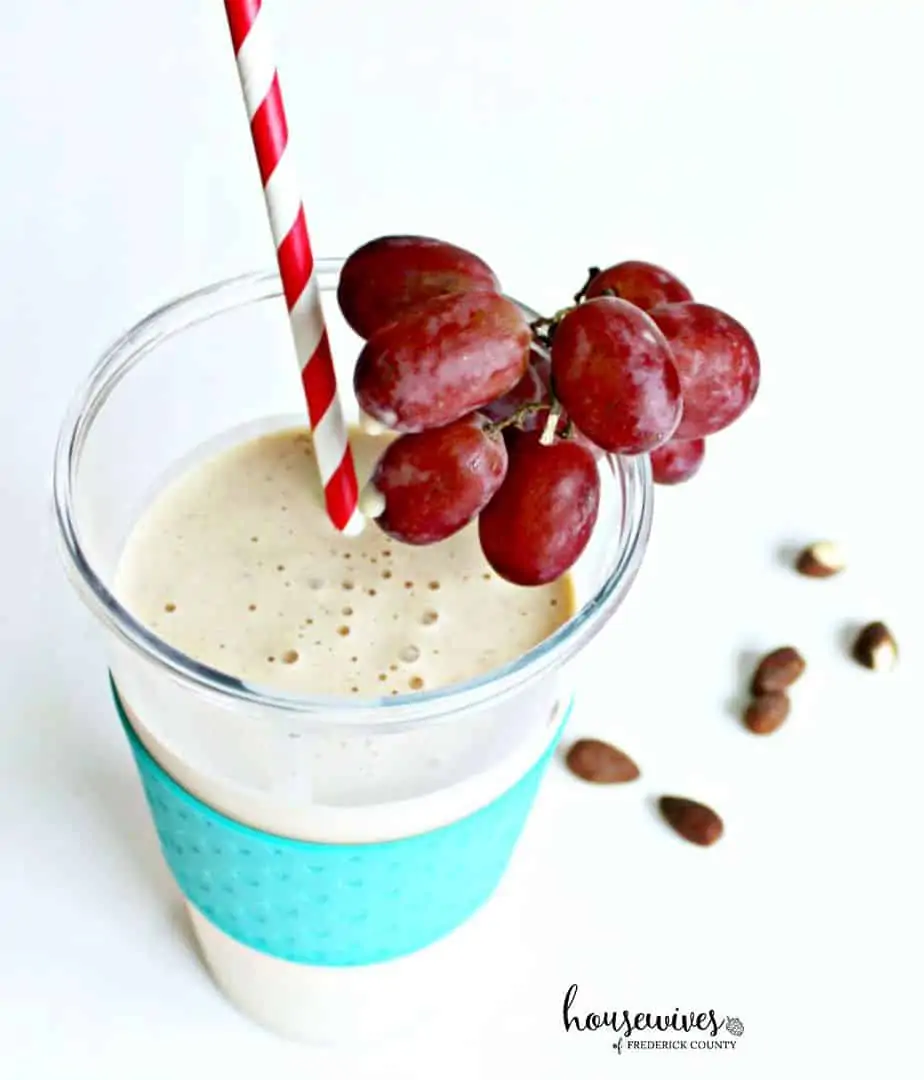 I didn't want to let the fruit and nut props go to waste, so I ate those too.
No wonder I was full!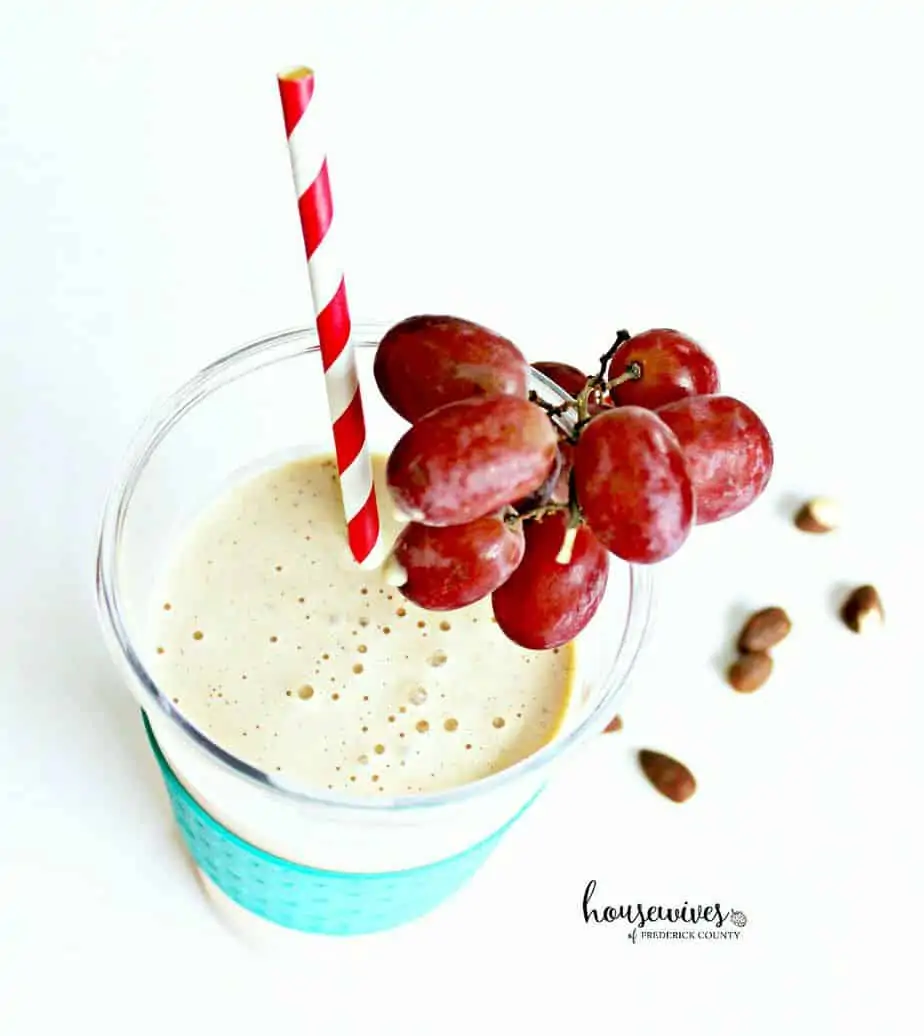 Vanilla Protein Shake with Peaches & Almond Milk Recipe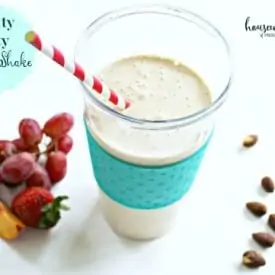 Vanilla Protein Shake Recipe with Peaches & Almond Milk
A delicious, easy to make, high protein shake with a nutty and fruity combination.
Ingredients
- 1 cup vanilla unsweetened almond milk

,

or any flavor you prefer

- 1 cup water

,

I omitted the water so the shake would be thicker

- 1 or 2 scoops vanilla protein powder

,

I used 2 scoops

- 1 tablespoon almond butter

,

or any preferred nut butter

- 1/2 teaspoon cinnamon

,

or as much as you prefer

- 1 cup frozen peaches

,

or any other fruit
Instructions
Blend all ingredients together until desired consistency.
The Results
My shake was DELICIOUS and so satisfying!
Instead of vanilla flavored protein powder, I used Matrix Peanut Butter Cookie Protein Powder.
Also I used frozen mixed fruit since that what was already in my freezer.
The water wasn't needed because I like my shakes thick.
In addition, I omitted the cinnamon because I wasn't sure if I'd like it with the nutty flavor of the shake.
Experiment with Your Ingredients
This is the type of shake you can really experiment with ingredients.
You could make an apple pie or pumpkin pie tasting shake using apple pie or pumpkin pie spices.
Experiment with different fruits and nut butters too.
I'm so excited to have this protein shake recipe in my arsenal of healthy recipe options.
Also, I love using my NutriBullet High Speed Blender (Amazon)!
I've used it over and over and over to make smoothies.
Plus it takes up way less space than a full size blender.
What 'ta-die-for' protein shake recipes do you have?
Let us know in the comments.
For more delicious smoothies, click on over to:
Pumpkin Smoothie – 8 Weight Watchers Points
Al Roker's Basic Berry Smoothie Recipe
Peach Cobbler Shake – 5 Weight Watchers Points