This Weight Watchers Peach Cobbler Shake really tastes like a peach cobbler in shake form!
And what's even more wonderful about this recipe is that it's only 3.5 Weight Watchers SmartPoints per serving!
Weight Watchers Peach Cobbler Shake
Okay, so as you've probably guessed by now:
This site contains affiliate links. I may receive a commission for purchases made through these links. As an Amazon Associate I earn from qualifying purchases.
[View our Disclosure Policy Here]
I am following Weight Watchers.
Good Weight Watchers friendly recipes are always on my radar!
I have the Hungry Girl To The Max! The Ultimate Guilt-Free Cookbook with 650 recipes waiting for me to try out!
This Peach Cobbler Shake recipe really caught my eye because I love sweets!
In addition, I'm always looking for something that is low in Weight Watchers points.
Clearly, satisfying that sweet craving without the guilt is a wonderful feeling!
I mean, why opt for something way more sinful when you can make this recipe while staying on plan?
Substitutions to The Original Recipe
Although I love the Hungry Girl recipes this peach cobbler shake recipe needed some tweaking.
However, I still wanted to give them credit because they inspired this recipe.
I just needed to add in my own substitutions.
Read through this post to see how I tweaked the recipe to make it perfect!
Items You'll Need To Make This Recipe
Here are some items from Amazon that you'll need for this recipe:
Weight Watchers Peach Cobbler Shake Recipe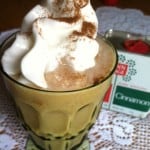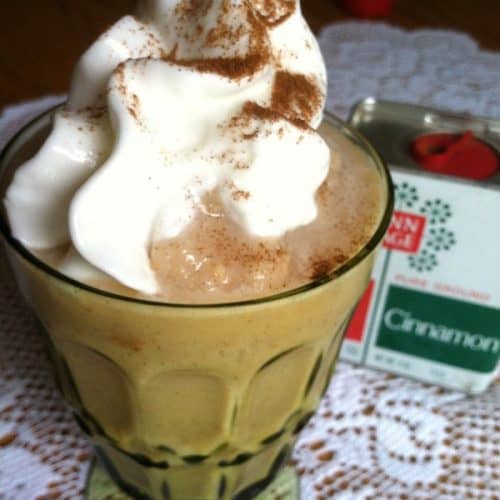 Print Recipe
Weight Watchers Peach Cobbler Shake - 3.5 SmartPoints Per Serving
This Peach Cobbler Shake truly tastes like a peach cobbler but in shake form! And at only 3.5 Weight Watchers SmartPoints per serving, you're going to want to make this often!
Ingredients
- 1 t. sugar-free French vanilla powdered creamer

- 1 no-calorie sweetener packet

- 1/2 c. light vanilla soymilk

We like Silk

- 1/2 c. fat-free vanilla ice cream

We like Breyers

- 1 c. frozen sliced unsweetened peaches

partially thawed

- 1/2 t. plus 1 dash cinnamon

- 2 low-fat cinnamon graham crackers

1/2 sheet, crushed

- 2 T. Fat Free Reddi-wip

- Optional topping: additional cinnamon
Instructions
In a blender, combine creamer with sweetener.

Add soymilk, ice cream, peaches, and 1/2 teaspoon cinnamon, and blend at high speed until smooth.

Pour shake into milkshake glass and stir in crushed graham crackers.

Top with Reddi-whip and remaining dash cinnamon.
Notes
3.5 Weight Watchers SmartPoints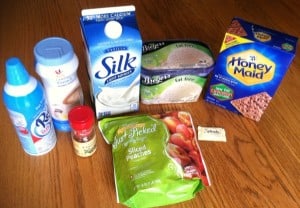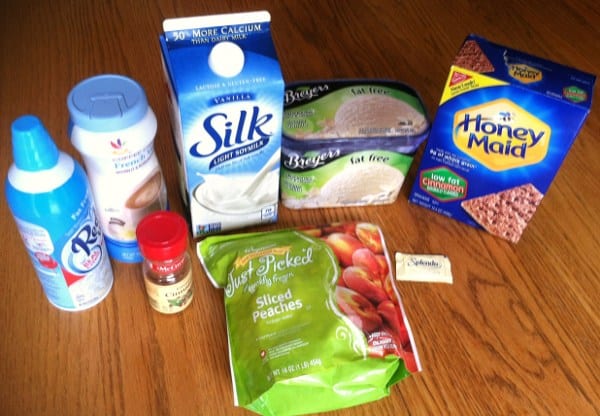 Notably, this recipe makes 2 servings, so you can make one for you and one for a lucky friend!
OR, just save the 2nd serving in the freezer and blend it up when you're ready to drink it.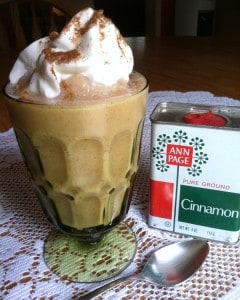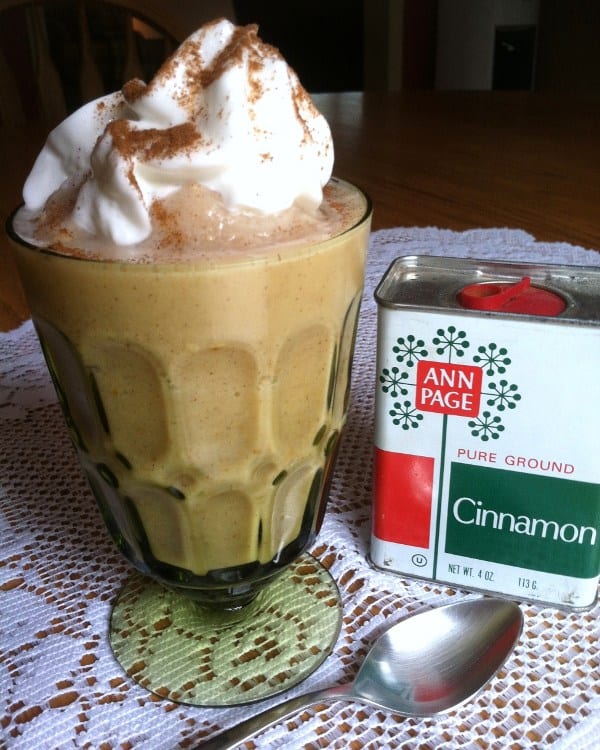 How Does This Peach Cobbler Shake Taste?
The taste of this Peach Cobbler Shake is really good!
It truly tastes like I'm drinking a peach cobbler, crust and all!
I loved the combination of the crumbled graham crackers, cinnamon, and of course the whipped cream.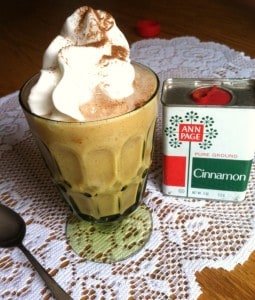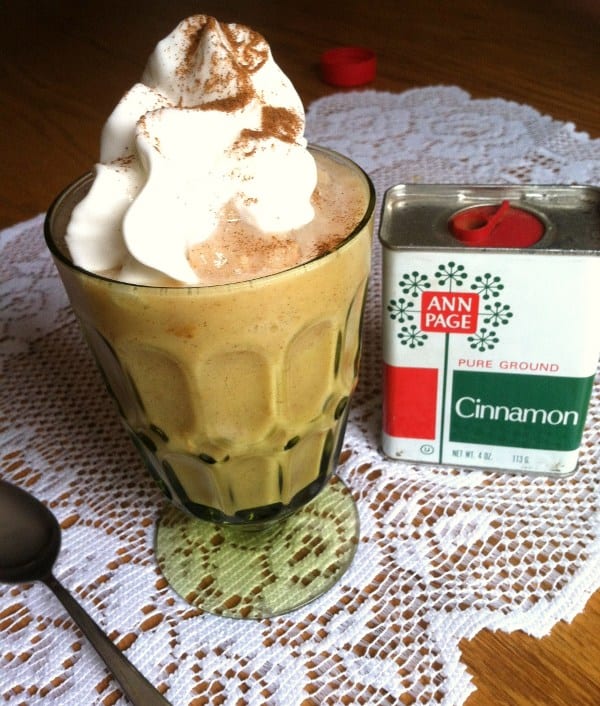 I omitted from the original recipe adding ice and water because it made it too runny.
Also, I doubled the original recipe's fat free vanilla ice cream as it only added 1 extra Weight Watchers point and made it so much creamier.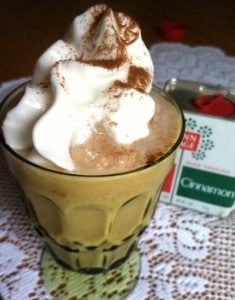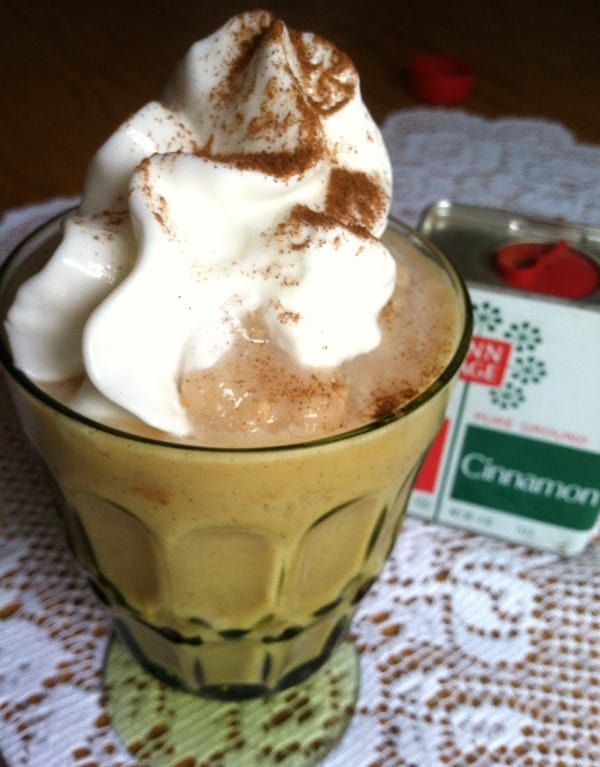 Lastly, you really need to try this for yourself!
Let us know what you think of it and if you would make any further substitutions.
Let's click our virtual milkshake glasses and say 'cheers' to staying healthy!
For more Weight Watchers recipes to satisfy that sweet craving, click on over to:
Weight Watchers No Bake Chocolate Marshmallow Cookies – 4 SmartPoints
Healthy Snack Bars Recipe – 4 Weight Watchers Points
Weight Watchers Lemon Bars – 3 Points