Okay, so as you've probably guessed by now:  # 1.  I am following Weight Watchers, # 2. I am always on the lookout for good Weight Watchers friendly recipes, and # 3. I have the Hungry Girl To The Max! The Ultimate Guilt-Free Cookbook with 650 recipes waiting for me to try out.  This Peach Cobbler Shake recipe really caught my eye because I love sweets and am always looking for something that is low in Weight Watchers points to satisfy that sweet craving without making me feel guilty that I had it.
The Weight Watchers Points Plus Value is 5 points, which is a little bit high for a treat, but so much better than opting for something really sinful.
I have to admit though, that this recipe isn't on my list as one of my favorite Hungry Girl recipes.  I think it definitely has potential, but the way the recipe states to make it, it wasn't decadent enough to make the 5 points worth it to me.
I'm going to suggest some subsitutions after you review the recipe: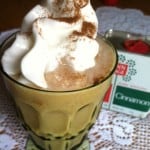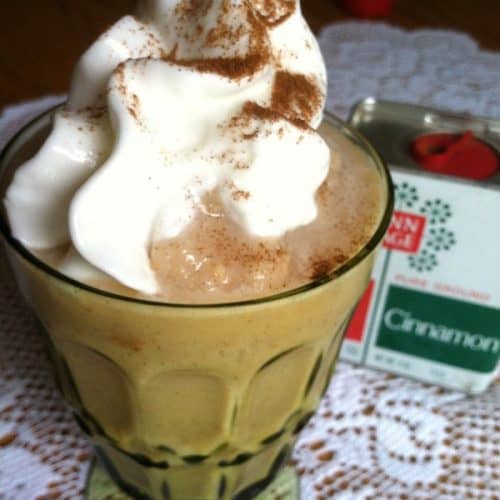 Print Recipe
Peach Cobbler Shake – 5 Weight Watchers Points Plus Value
Ingredients
- 1 t. sugar-free French vanilla powdered creamer

- 1 no-calorie sweetener packet

- 1/2 c. light vanilla soymilk

- 1/4 c. fat-free vanilla ice cream

- 1 c. frozen sliced unsweetened peaches

partially thawed

- 1 c. crushed ice OR 5 to 8 ice cubes

- 1/2 t. plus 1 dash cinnamon

- 2 low-fat cinnamon graham crackers

1/2 sheet, crushed

- 2 T. Fat Free Reddi-wip

- Optional topping: additional cinnamon
Instructions
In a tall glass, combine creamer with sweetener.

Add 2 tablespoons hot water and stir to dissolve.

Transfer mixture to a blender.

Add soymilk and 2 tablespoons cold water.

Add ice cream, peaches, ice, and 1/2 teaspoon cinnamon, and blend at high speed until smooth.

Pour, stir in crushed graham crackers, and top with Reddi-wip and remaining dash cinnamon.
The glass that the Peach Cobbler Shake is pictured in, was too small, but I used it for photo purposes.  The actual amount is at least twice what is shown in the picture.
The taste of the Peach Cobbler Shake was really good and it truly tasted like I was drinking a peach cobbler.  Really good!!  I loved the combination of the crumbled up graham crackers, the cinnamon, and of course the whipped cream.
However, I believe that it was too watery and icy tasting.  
The fat-free vanilla ice cream could be at least doubled.  1/4 cup isn't that much and 1/2 cup only equals 2 points.  So that would add 1 more point to the total Weight Watchers Points Plus Value of the Peach Cobbler Shake.  But it could make the difference as to whether or not I'd make it again.  
Next time I'll try that and see how it goes.  I'll also at least cut the amount of water and ice that I add to it in half.  It could make it a smaller serving, but I actually had a hard time finishing it because it was just too watery.  I'd rather it be smaller and more decadent, than larger and not good enough to want to finish.
So there you have it.  Kind of a mixed review on this recipe, but worth a try, especially if you use my substitution recommendations.
Enjoy!

Pam is married and has 1 son – a middle-schooler in his teen years. She followed Terri to Frederick in 1999. She absolutely loves going to yard sales and estate sales and finding hidden treasures.
read more...