In this post, I'm going to give you the easy steps to make a delicious Rotisserie Chicken Salad Recipe with Almond Dressing.
This salad has an Asian flare to it and you'll feel like you should've slaved in the kitchen all day preparing it.
But instead, all you had to do was throw everything together and enjoy!
Rotisserie Chicken Salad Recipe
If you know me, you know that I am a food LOVER!
There aren't too many types of food that I won't eat.
I'll eat Italian, Latin-American, Japanese, American, Thai, Korean, and pretty much anything that doesn't involve a cow tongue.
Ahem, YES, I've accidentally eaten cow tongue!
My son, on the other hand, won't eat anything that's 'mixed up'.
So, I made today's Rotisserie Chicken Salad Recipe with Almond Dressing just for yours truly.
There hasn't been an Asian style dish that I haven't liked.
So, this salad is no exception.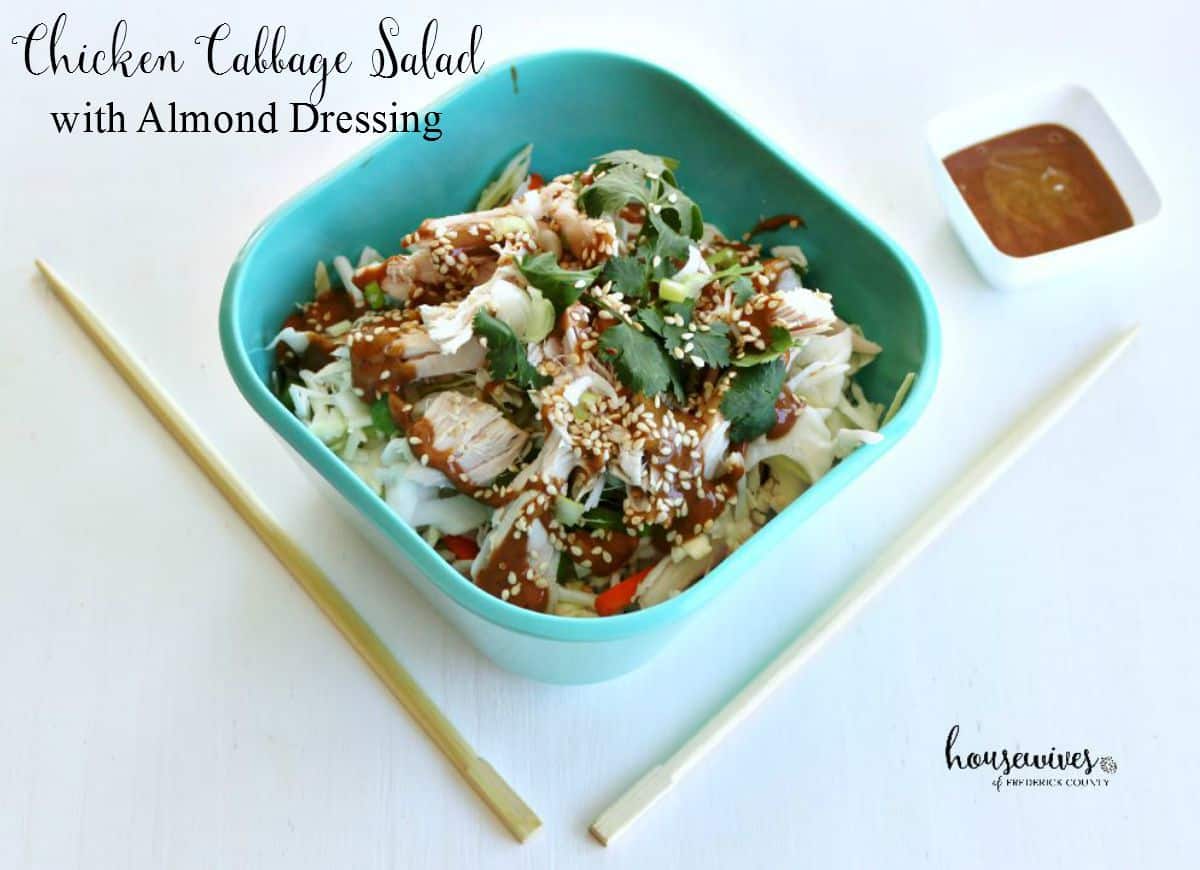 The inspiration for this Rotisserie Chicken Salad Recipe
I was inspired to make this salad after flipping through my First for Women Magazine.
I came across a page with a lunch recipe called 'Chicken Thai Bowl'.
It looked dee-lish!
I changed my version somewhat.
Rotisserie Chicken Salad Recipe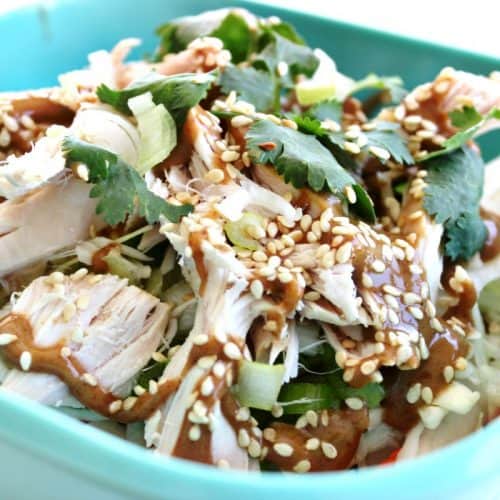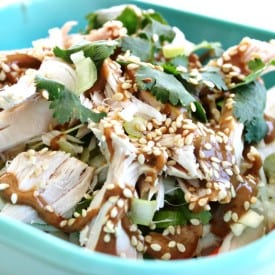 Rotisserie Chicken Salad Recipe with Almond Dressing
Use already-prepared ingredients like rotisserie chicken and cole slaw mix to make a delicious, healthy salad. The almond dressing is homemade and worth every mix of the spoon!
Ingredients
SALAD:

- 1 bag cole slaw mix

- 1 rotisserie chicken

- 4 sliced spring onions

- 1 bunch fresh cilantro

- 2 tablespoons sesame seeds

DRESSING:

- 1 tablespoon soy sauce

- 1/4 cup almond butter

- 2 tablespoons rice vinegar

- 1 tablespoon lime juice

- 2 tablespoons honey

- salt & pepper to taste
Instructions
Add cole slaw mix to large bowl.

Cut up the meat of the rotisserie chicken into shredded pieces and add to cole slaw mix.

Add sliced spring onions and cilantro (to taste),

In a small bowl combine the dressing ingredients and mix well.

If dressing is too thick, add about a teaspoon of hot water.

Drizzle dressing on top of salad.
Tweaks to the almond dressing
I have to say, the almond dressing is a little bit different from what I'm used to.
I can't put my finger on it, but I thought it would taste very similar to the Asian peanut dressing I've had in the past.
The magazine's recipe did not add honey to the dressing.
But I felt the need to add some sweetness to it, so I added the honey.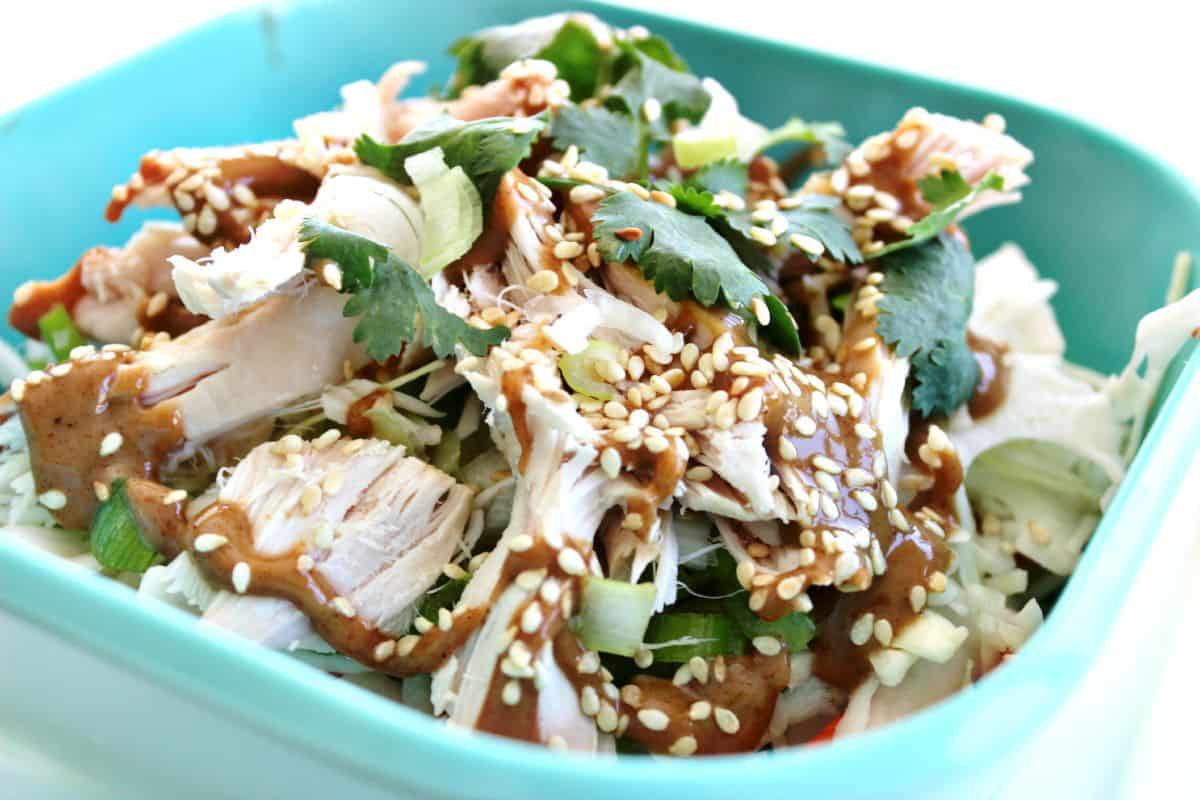 Rotisserie chicken is better than pre-cut cooked chicken strips
I really liked the rotisserie chicken added to the salad as opposed to using the already cut-up chicken pieces you can get in the lunch meat section of the grocery store.
The rotisserie chicken made it taste so much fresher.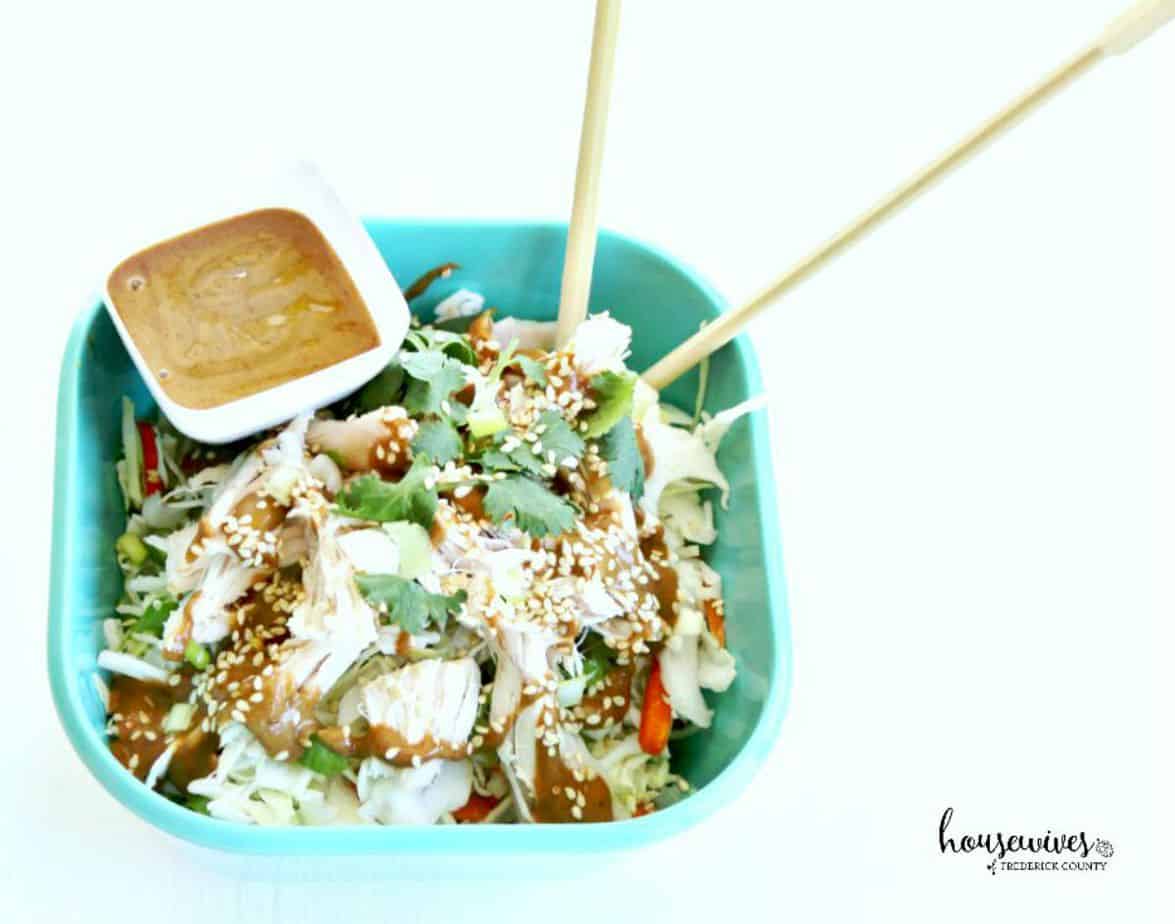 Suggestions for next time I make this recipe
The sesame seeds really add to the taste of the salad.
Next time I might throw in some slivered almonds.
Heck, I might throw in some of those crunchy chow mein noodles too.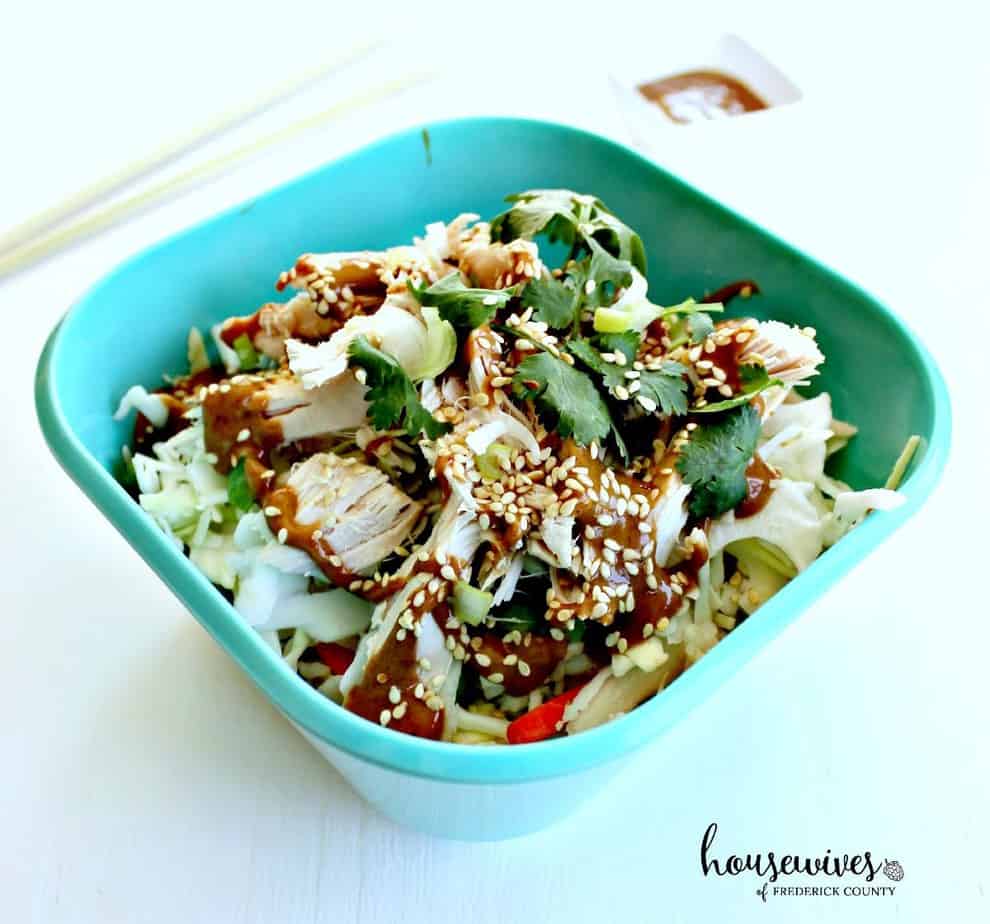 There's definitely enough crunch to this salad mainly due to the cole slaw mix, but I love a nutty crunch as well.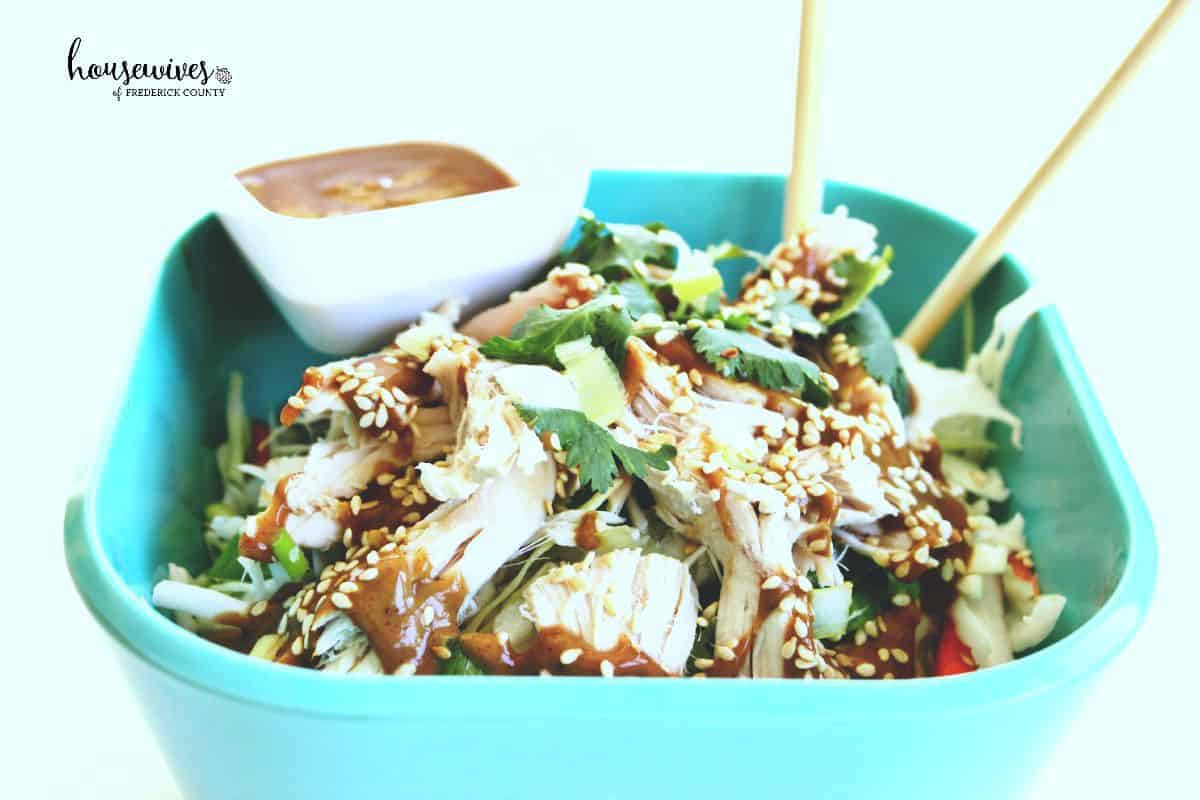 What types of Asian-inspired salads do you enjoy?
Let us know in the comments!
In the meantime, click on over to some of our other delicious salad recipes:
Healthy Chickpea Salad Recipe That Will Make You Happy
Asian Chicken Salad – 6 Weight Watchers Points Plus Value