There are 10 golf courses in Frederick, Md, each with it's own personality and aesthetic beauty.
In this post, I'm giving you information on each of these incredible golf courses in Frederick Md.
In addition, I've included pro advice for each course from a seasoned golf professional.
Golf Courses in Frederick Md
Coming from a family consisting of 3 brothers and a Dad whose lives have centered around the game of golf, this sport has always intrigued me.
However, I've never actually played a round of golf.
As a matter of fact, besides putt putt, I've only been to a driving range 2 or 3 times in my life.
BUT, the experience gained by my brothers and Dad have MORE than made up for it, with their golf adventures literally spanning the globe!
Frederick Area Golf Courses
With the Frederick area being so close to Washington D.C., taking a nice ride to our picturesque country setting for a great round of golf should totally be on your bucket list!
Whether you are a golf aficionado or are new to the game, this list of golf courses in Frederick Md will help you decide which ones to play first.
As an extra, super cool bonus, I asked my Class A, PGA Golf Professional brother, Josh, to provide some valuable tips for each course.
The only course he couldn't offer a description for is Maple Run Golf Course since he hasn't played there in several years.
Most of these golf courses in Frederick Md (some are private, some are semi-private, and some are public golf courses) offer golf lessons and online links to book your tee times.
So without further ado, here's our list!
1. Clustered Spires Golf Club
Clustered Spires Golf Club (Public)
8415 Gas House Pike
Frederick, MD 21701
(301) 600-1295
"The first public, Frederick golf course, Clustered Spires is surrounded by the Monocacy River on 3 sides, creating a beautiful setting while providing a natural barrier from outside distractions."
Josh's Pro Tips:
Bombs away!
Clustered Spires Golf Course is an affordable golf course located in Frederick City a mile or two from Downtown Frederick.
It's a fairly wide open golf course which benefits big hitters.
You can definitely score well at this great course.
It's relatively flat and is almost always in great condition.
Beware of #16, as it's a long par 3 with out of bounds to the left of the green.
2. Glade Valley Golf Club
Glade Valley Golf Club (Public)
10502 Glade Rd
Walkersville, MD 21793
(301) 898-5555
"Glade Valley Golf Club is an immaculately manicured 18-hole Maryland golf course. This course affords a challenge for all Frederick golfers of all skill levels. Selected by the prestigious Washington Golf Monthly as one of the top 100 public golf courses in the Mid-Atlantic golf region. With the gently rolling terrain, Glade Valley Golf Club is beautiful and a pleasure to play. The Maryland golf course has a unique blend of holes that combine woods, water, natural habitat and devilishly-placed sand traps. "
Josh's Pro Tips:
Glade Valley is located minutes from Walkersville and is a similar course to Clustered Spires.
It is slightly longer than CS and features a fun, risk-reward layout.
#6 is a long downhill par 5 with out of bounds up the entire right side of the fairway and a green shaped like an upside down bowl.
#7 is a driveable par 4, but be careful of the pond to the right, left, and behind the green!
The back 9 also has some signature holes including #13 which is a par 3 made for someone looking for a hole in 1.
Land your ball on the left side of the green and watch it roll down to the hole.
This is a fun golf course to play if you avoid all the little trees lining the fairways!
3. Holly Hills Country Club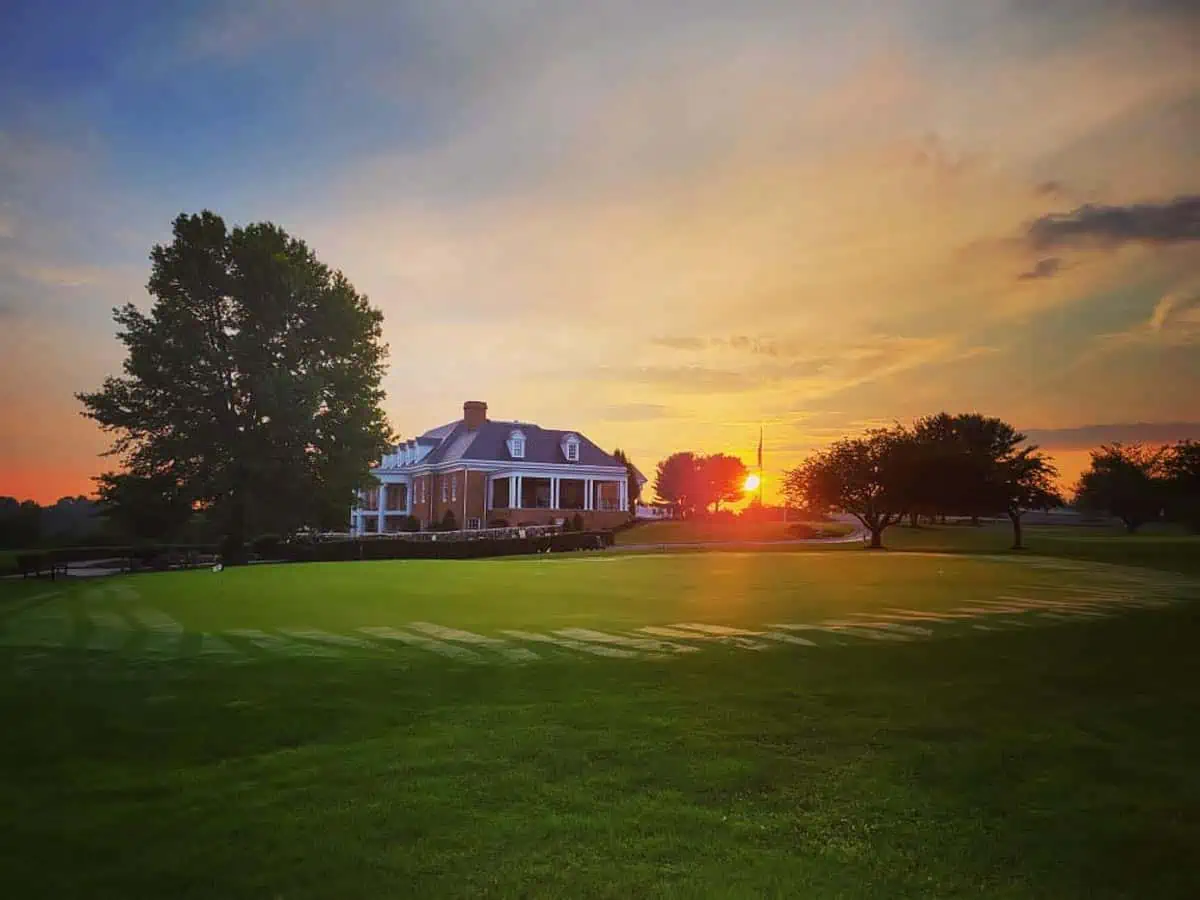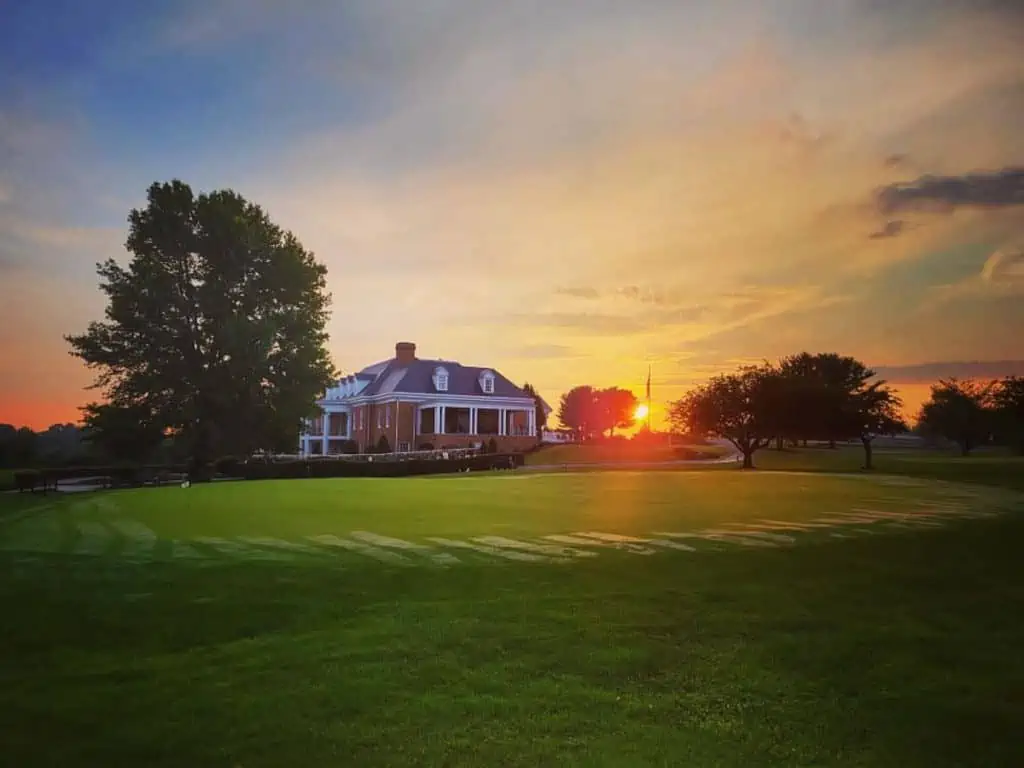 Holly Hills Country Club (Private)
5502 Mussetter Rd
Ijamsville, MD 21754
(301) 694-8322
"Designed by Russell Roberts, Holly Hills offers a challenging 18-hole championship golf course in a private country club setting. A favorite of former President George Bush, the golf course is rated as one the most challenging in Maryland and features the "Toughest hole in western civilization" (Dan Jenkins, Golf Digest, June 1990). The club is located east of Frederick, Maryland overlooking the scenic Catoctin Mountains. The Golf course can be enjoyed by players of all ages and abilities."
Josh's Pro Tips:
Everyone has driven past Holly Hills on route 70 hundreds of times, but have you had the pleasure to play it?
Holly Hills is a private club located a few minutes East of Frederick City.
The course snakes through the Holly Hills community so make sure your insurance company covers broken windows!
This course features several holes with significant elevation changes.
Don't get too excited about finding a flat hole like #7.
Years ago it was voted most difficult par 4 in America!
A 500 yard par 4 that turns left with out of bounds right and a creek left!
Driving your cart through the beautiful covered bridge can give you some solace.
Getting away with a bogey here is a moral victory for sure.
HH is always in good condition and definitely worth the trip.
4. Maple Run Golf Club
Maple Run Golf Club (Semi-Private)
13610 Moser Rd A
Thurmont, MD 21788
(301) 271-7870
"Maple Run is an 18 hole par 72 golf course that offers a challenge for golfers of all skill levels. The front 9 has a relatively open layout with small drastically sloped greens. Depending on pin locations, some of the greens can be downright diabolical. The back 9 scenically takes golfers through the woods for a much tighter test, but has larger and easier greens. The stark difference in the two 9s allows for players to try a wide variety of shots."
5. Maryland National Golf Club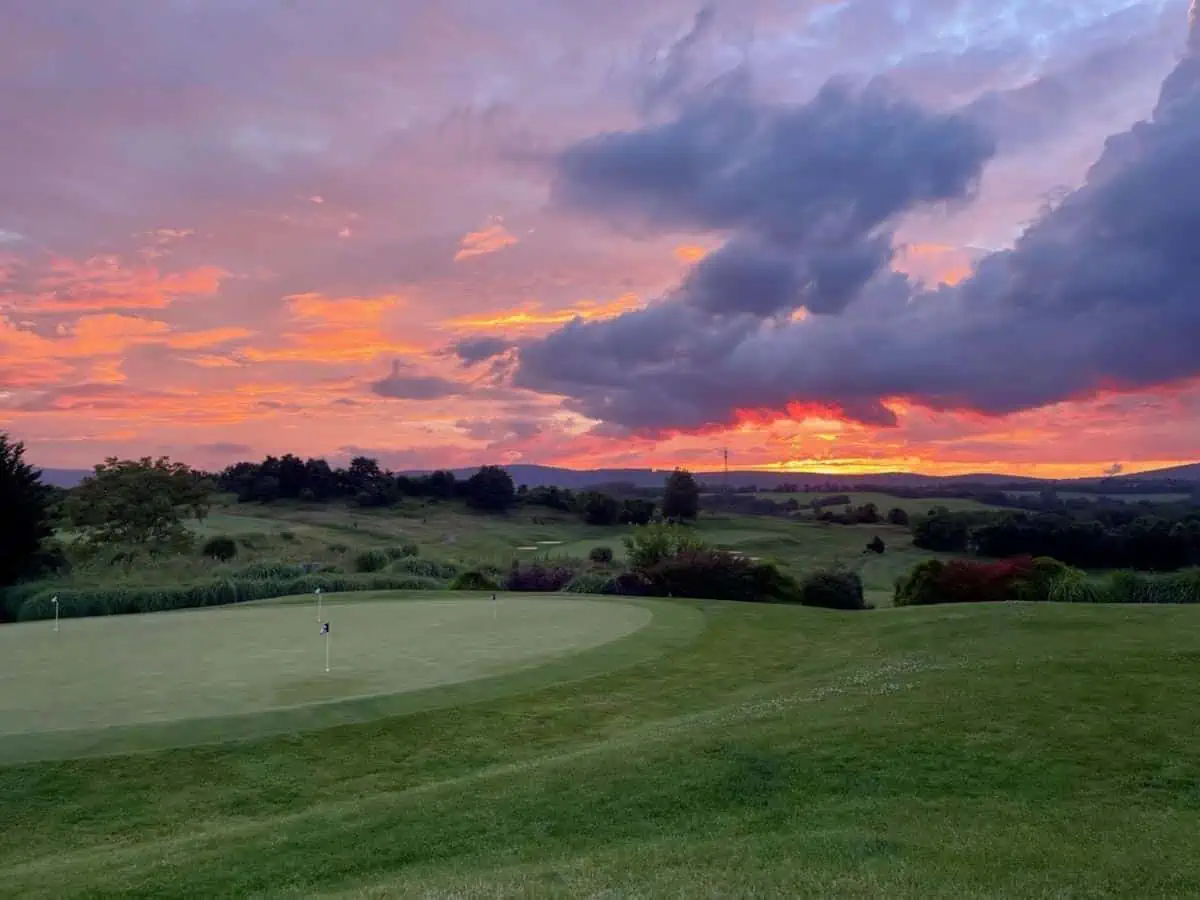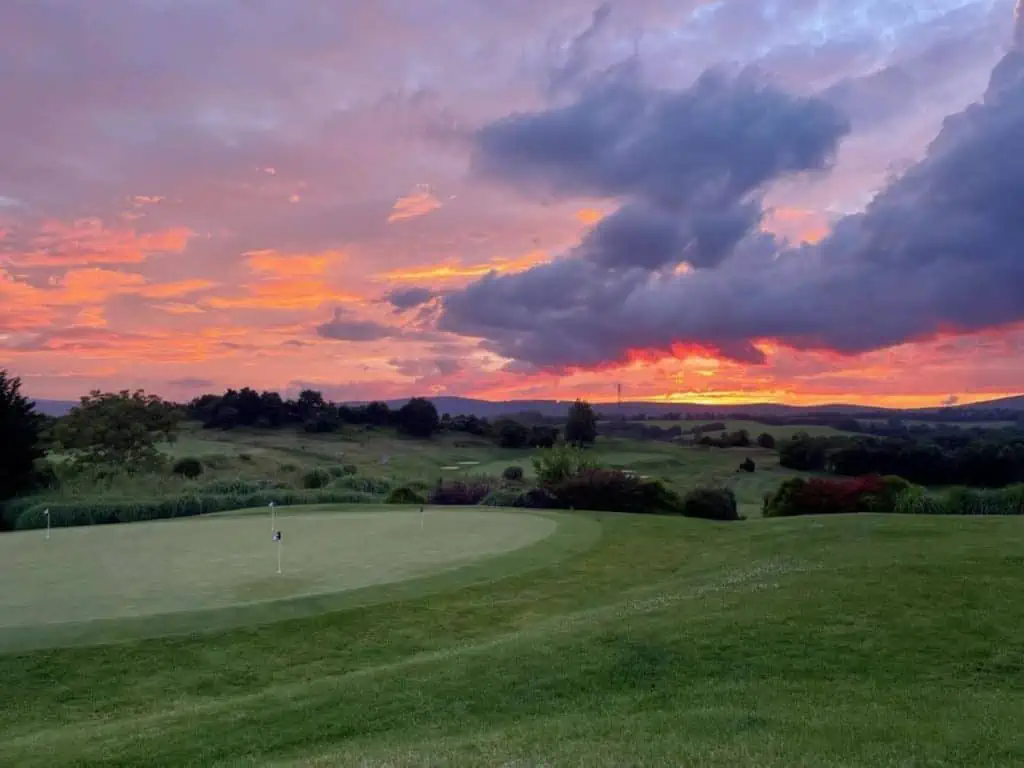 Maryland National Golf Club (Semi-Private)
8836 Hollow Rd
Middletown, MD 21769
(301) 371-0000
"Nestled in the beautiful rolling hills of central Maryland with views of the Catoctin Mountains, Maryland National Golf Club's picturesque 18-hole, par 71 layout provides an unforgettable golfing experience. Designed by world-renowned architect Arthur Hills, Maryland National takes full advantage of the dramatic terrain changes and wetlands surrounding the course. From long, rolling fairways to magnificent holes carved out of natural wooded lowlands and various water hazards, each hole of this 6811- yard layout provides a unique challenge sure to inspire any golfer. Just play one round at Maryland National – and we guarantee the memories will bring you back time and time again."
Josh's Pro Tips:
Definitely one of the best courses in Frederick!
Visible from route 70 in Middletown, Maryland National is not for the faint of heart.
Elevation changes, underbrush, sloped greens and some ill-placed bunkers can cause some serious headaches.
Make sure you use the cart's GPS system, there are some tricks out there you may not see from the tee.
Four holes to look out for.
#2 is a monster par 5, but catch the downhill slope on your drive and you can find yourself on the green in two.
Club down on your approach shot or you'll need an axe and saw to find your ball.
#6 looks like a long par 3 on the scorecard, but it's straight off a cliff and over a ravine to a small green.
Don't get too caught up on the beauty of the hole or you'll find yourself getting another ball out of your bag.
#10 is the ultimate risk/reward hole.
This is a driveable par 4 next to the clubhouse, but there is a creek in front of the green so if you want to try to get it there, it has to fly the whole way.
The smart play is to knock an iron into the fairway and make your easy par.
Lastly, #15 is a really fun hole.
The tee shot is over an environmental area and you can shorten the hole the further left you aim, but be careful, a tee shot up the left needs to be smashed to make it to green grass again.
Definitely a scoring chance!
MN is definitely worth a trip, especially if you appreciate great customer service.
6. Musket Ridge Golf Club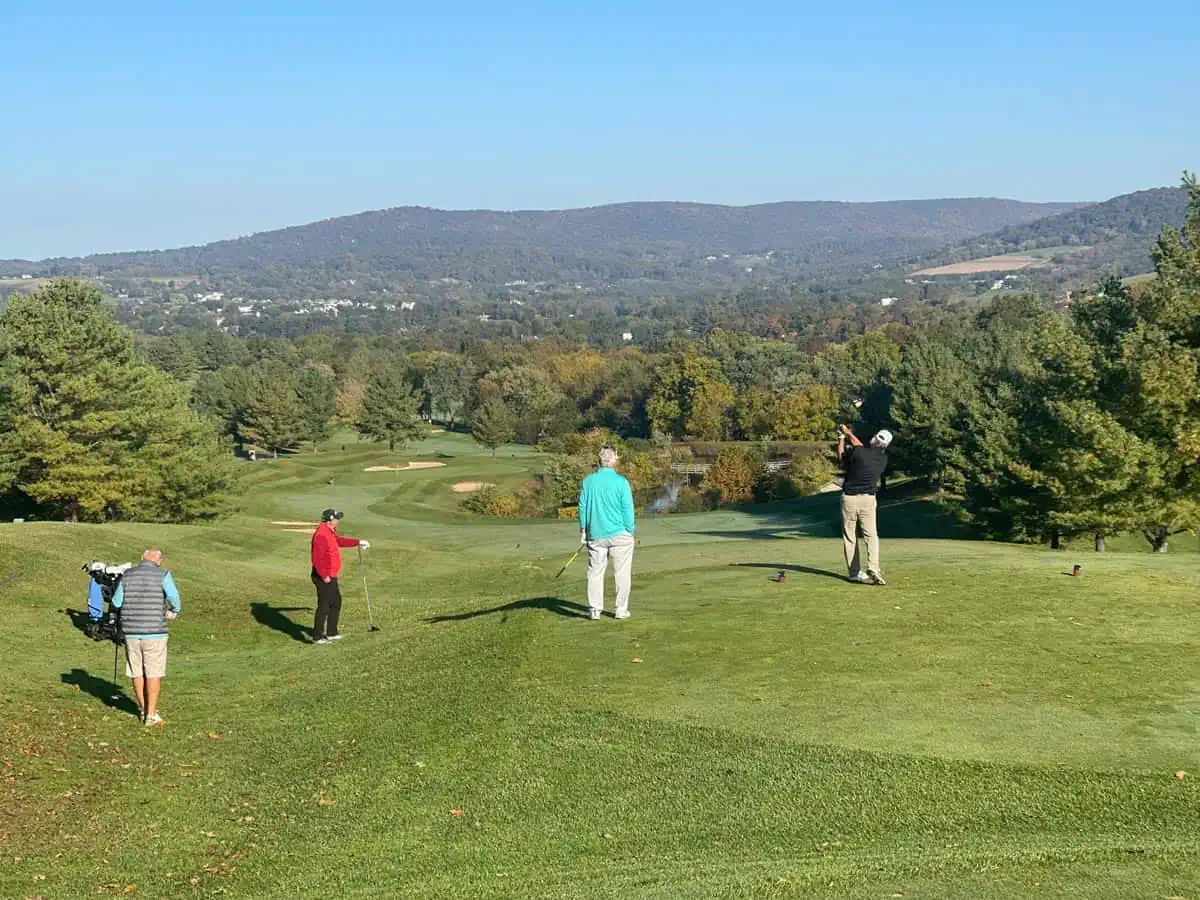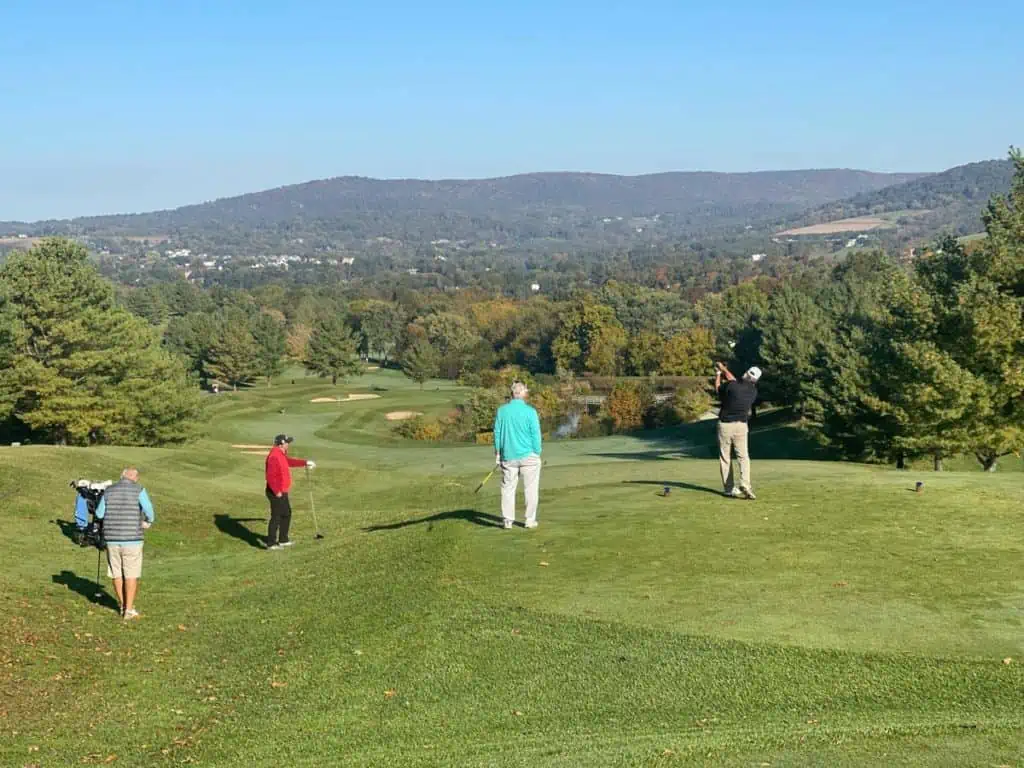 Musket Ridge Golf Club (Public)
3555 Brethren Church Rd
Myersville, MD 21773
(301) 293-9930
"Musket Ridge offers some of Maryland's best rounds of golf nestled in the foothills of the Catoctin Mountains. The golf course layout, designed by renowned golf course architect Joe Lee, capitalizes on some of Maryland's most beautiful panoramic views and provides a first-class experience for scratch golfers as well as high handicappers."
Josh's Pro Tips:
Musket Ridge is also in Middletown, a short drive down the road from Maryland National.
The course is similar to its neighbor, but only in difficulty.
No two holes are the same, so never let your guard down!
Right out of the gates, #1 is a beautiful downhill par 4 with water front and left of the green.
To finish the front 9, you have an uphill par 5 that you think will never end!
It takes 3 solid shots to get to the dance floor.
The back nine has some great holes, but #16 is a lot of fun.
The tee shot is straight downhill, over a ravine, to an elevated fairway.
From there, the hole turns right and the green is so far downhill you can practically putt from 100 yards out.
MR is a really fun golf course and the mountain views are extraordinary.
7. P.B. Dye Golf Club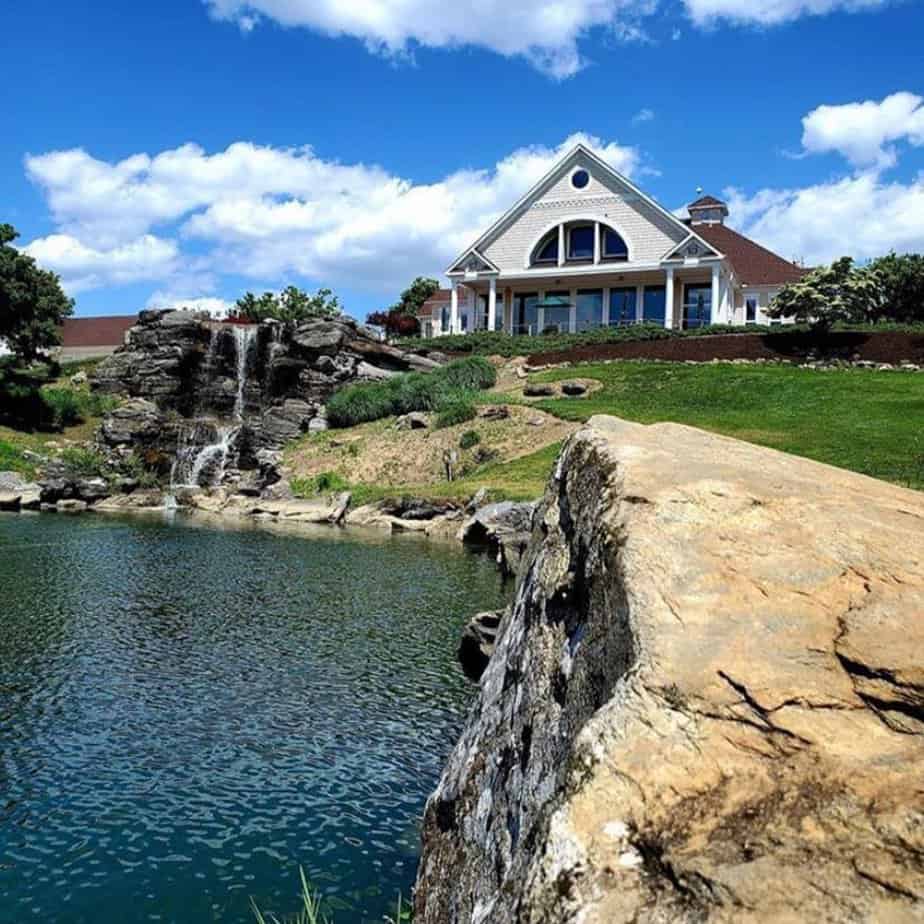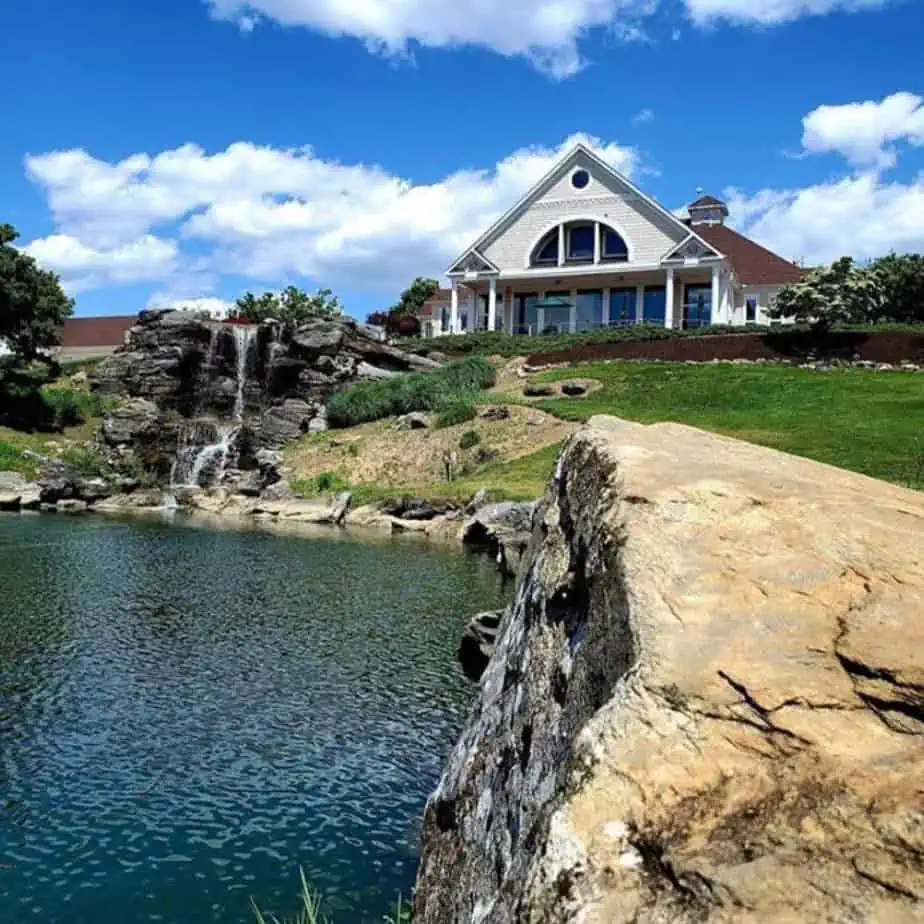 PB Dye Golf Club (Semi-Private)
9526 Dr Perry Rd
Ijamsville, MD 21754
(301) 607-4653
"The Club at P.B. Dye has been selected by Golf Digest as one of the toughest courses in America. Our course is also among the 15 best courses in Maryland. With Sugarloaf Mountain looming as its backdrop, our beautifully crafted and meticulously manicured golf course will capture both your imagination and your competitive spirit."
Josh's Pro Tips:
Throw away the scorecard!
PB Dye is an amazingly unique golf course located near Urbana and is home to America's premium charity event, The Robby Foundation's Invitational Golf Tournament.
Things you'll need to play PB Dye: A good attitude, a pencil with good eraser, a shopping cart of golf balls, a mountain goat, and a camera.
PB Dye was designed by the son of renowned golf course designer Pete Dye who has designed PGA level golf courses all over the world.
The signature of Dye courses are the wood railroad ties that surround greens and bunkers.
The greens are quite large, but you won't find an even surface anywhere once you leave the golf shop.
#3 is a great example of things to come.
Thread your tee shot between the trees to a landing spot.
Then turn 90 degrees left where the fairway goes downhill for 100 yards and then straight uphill for another 100 yards!
Two bunkers guard a 3 tiered green, make sure you know which tier the hole is on or a 3 or 4 putt is in the cards.
Holes #11 and #12 are two of the most fun holes you can find anywhere.
#11 is mid-distance par 3, straight downhill to a mostly island, two tiered green.
You definitely want to take this photo op.
#12 is a blind uphill tee shot to a generous fairway.
Locate the boulder and fly your tee shot right over the top.
This par 5 is easily reachable in two shots, but beware the green.
This is a 4 tiered green where the back of the green to the front has to be an elevation change of 30 feet.
If you're putting downhill and your ball misses the cup, you may find yourself 50 yards down the fairway.
PB Dye is definitely a destination course and something to put on the bucket list, as there is truly nothing like it.
And if you're a year-round glutton for punishment, they also have golf course simulators in their clubhouse during the winter months.
8. Richland Golf Club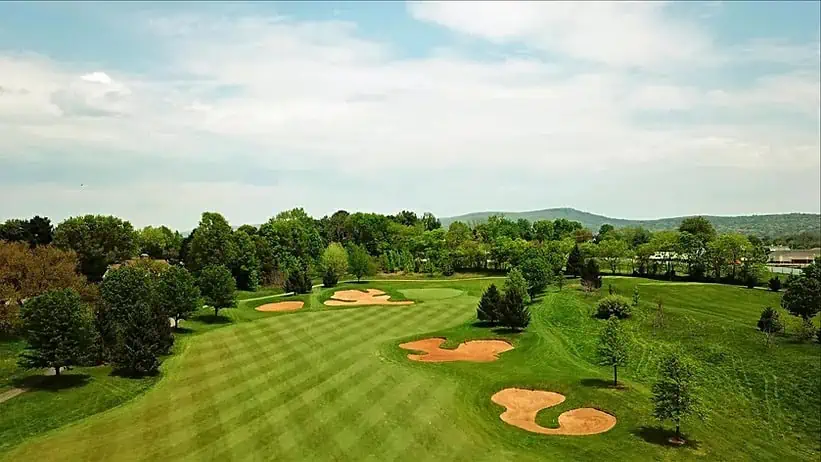 Richland Golf Club (Semi-Private)
50 Glenbrook Dr
Middletown, MD 21769
(301) 371-0400
"Our challenging and beautiful 18-hole layout. Be prepared to use every club in the bag!"
Josh's Pro Tips:
Richland (formerly Hollow Creek Golf Club) completes the trio of golf courses in Middletown.
The course wanders through the surrounding community, but the homes are far enough away that an errant shot won't end up in someone's living room.
Not necessarily long, you need laser accuracy if you want to navigate Richland.
The front features #6, a downhill par 3 that's so long you need to dial 1 first to reach it.
#9 finishes off the front with a downhill tee shot to a landing.
The fairway ends and your approach is off the side of a cliff and over a ravine down to the green.
The back features some really narrow holes you have to navigate until the course opens back up again on hole 18.
#18 is a beautiful par 5 that moves gradually left.
You can go for it in two, but you have to deal with a massive lake up the left side of the fairway and green.
If the course didn't treat you too well, there's always the nice sports bar inside the clubhouse.
9. Whiskey Creek Golf Course
Whiskey Creek Golf Course (Public)
4804 Whiskey Ct
Ijamsville, MD 21754
(301) 694-2900
"Come find out why Whiskey Creek was recognized as "Best in Maryland" by Golf Digest. At the end of a mile-long drive through forest and field, Whiskey Creek Golf Club has a feeling of privacy and seclusion. Bordered by a high ridge of hardwoods and a winding, free-flowing creek, the property contains many different environments and natural features including springs, streams, stone walls, wetlands, rock outcroppings, broad meadows, pine forests and dramatic views of the Catoctin Mountains."
Josh's Pro Tips:
Whiskey Creek Golf Club, without a doubt, is one of the best golf courses in Maryland.
Designed by Ernie Els, the course has nothing but feature holes.
#4 is a narrow uphill par 5 with trees on the right and a forest on the left.
After finishing #4, you drive straight uphill between massive boulders to #5.
This tee shot looks like you're hitting it off the edge of the world, but don't worry there is a small fairway down there to the left with a tiny green at the end.
With so many great holes in between, #14 is a fun par 4 with a lake up the entire left side of the hole.
A safe play can be toward the par 5 #16, but make sure there are no players over there first!
After finishing that tough test, now you have a long par 3 over water!
This beautiful hole runs alongside some train tracks which have seen more than their fair share of balls on the tracks.
Last, but not least, #18 could be the best hole in Maryland.
A long par 5 with an approach shot over water is hard enough, now add an old barn foundation in the landing zone for tee shots!
Go left or right of the barn, only a handful of players have cleared the barn from the tee.
With the beautifully rustic clubhouse in the background, make sure you snap a few photos.
This course is pricy, but save up for a few weeks and make sure you get out there.
10. Worthington Manor Golf Club
Worthington Manor Golf Club (Semi-Private)
8329 Fingerboard Rd
Urbana, MD 21704
(301) 874-5400
"The 19th century clubhouse, picturesque country setting, rolling valleys, scenic wetlands, superb conditioned bentgrass tees, fairways and greens along with 10-minute tee time intervals are just the beginning. This Ault-Clark signature course is notably one of the Mid-Atlantic's premier daily-fee golf clubs. A frequent U.S. Open Qualifying site with numerous accolades ranging from "Best Courses You Can Play" Golfweek to "Middle Atlantic's 50 Best Courses" GolfStyles. From the time you are welcomed at the bag drop, you'll enjoy the first-class practice facilities and prestigious championship golf course."
Josh's Pro Tips:
This course has a little bit of everything.
Worthington Manor has one of the best, most friendly staff around which makes the trip there even better.
With many signature holes, look out for #3.
It's a long par 4 with junk up the left side and in front of the green.
It goes against convention, but think about an iron or 3-wood off the tee.
Finding the fairway in a good spot is a must, otherwise avoid going for the green in two, there is nothing wrong with laying up and trying to make par the old fashioned way.
#6 is their signature hole which is a long par 3 over water with a bunker in front of the green no less!
The smart play is to aim for the fat right part of the green or take an extra club and hit it over the green where it's a pretty level chip shot.
#9 is a really fun hole running along route 85.
Bombs away off the tee to a big fairway.
You can tighten up your shoelaces and swing for the green or you can layup to about 100 yards down the fairway.
The green slopes significantly from back to front so playing past the hole and having it roll back is a smart play.
The back 9 is full of great holes like #14 that goes right past the clubhouse, but #17 is where it's at.
A monster par 3 downhill, over a creek, and between a forest of trees that would make a lumberjack blush.
Worthington Manor expanded their clubhouse and now has a nice bar and restaurant to cap off your day at a beautiful course.
Lastly, let me know in the comments which of the 10 golf courses in Frederick Md is your favorite and why?
For more fun sports in Frederick posts, click on over to:
Best Fishing Spots in Frederick Md
Kids Sports Organizations in Frederick County