This iced bulletproof coffee recipe with coconut cream is so refreshing, smooth as silk, and super easy to make!
Naturally, Keto, Paleo, & low carb enthusiasts love bulletproof coffee because it's low carb, improves mental focus, increases your energy, and keeps you full for hours.
Iced Bulletproof Coffee Recipe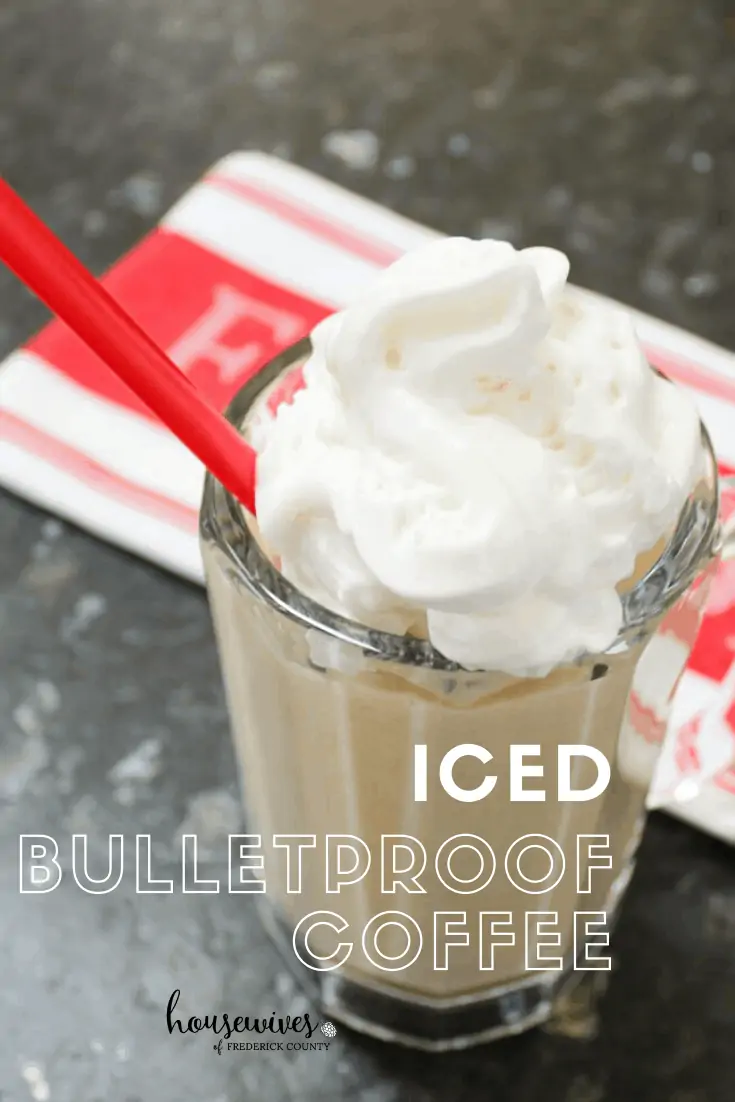 Don't get this recipe confused with iced coffee.
Iced coffee is typically just regular coffee with some half & half or heavy cream, sweetener, and some ice cubes thrown in.
Iced bulletproof coffee is way different in that it adds a couple other key ingredients!
What is Bulletproof Coffee?
First of all, what is bulletproof coffee?
Bulletproof coffee is a high fat, low carb meal replacement, typically for breakfast, that gives you energy and fills you up.
In addition to breakfast time, some people drink it before their workouts.
It's extremely creamy and tastes heavenly!
Typically butter is used in the recipe.
I know, it sounds kinda gross.
Honestly, I've never tried it hot with butter.
With this iced bulletproof coffee recipe, you won't use butter because, yeah, butter solidifies when it's cold.
Clearly, that would be pretty nasty.
My Coffee Bar
I don't know exactly why I love coffee so much, but I look forward to that first cup when I'm waking up.
Just that coffee smell and the fact that I can sit and sip on it while I'm waking up is so comforting.
I love it so much that I decided to devote an area of my kitchen as a coffee bar.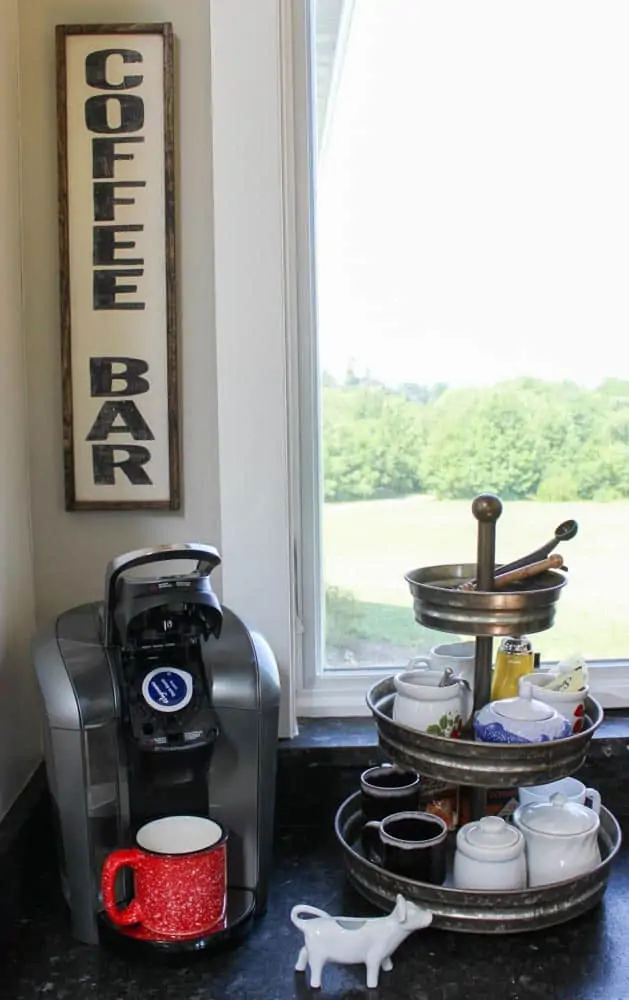 We use the Keurig that we purchased from Amazon, during the week and a percolator (also from Amazon) on the weekends.
Undoubtedly, the percolator is the way to go for the richest cup of coffee.
But the Keurig is so convenient and the coffee is good enough!
Even better, use a coffee bean grinder (Amazon) and add the coffee to the percolator and you'll have yourself a great cup of coffee!
Simple Steps For Iced Bulletproof Coffee
I was so excited to have found this recipe on DiabetesStrong.com.
The recipe writer calls it a Bulletproof Coffee Keto Milkshake.
I felt like it wasn't quite thick enough to call it a milkshake, so I decided Iced Bulletproof Coffee was a better description.
Step 1
Brew a cup of coffee and let it sit until it is at room temperature.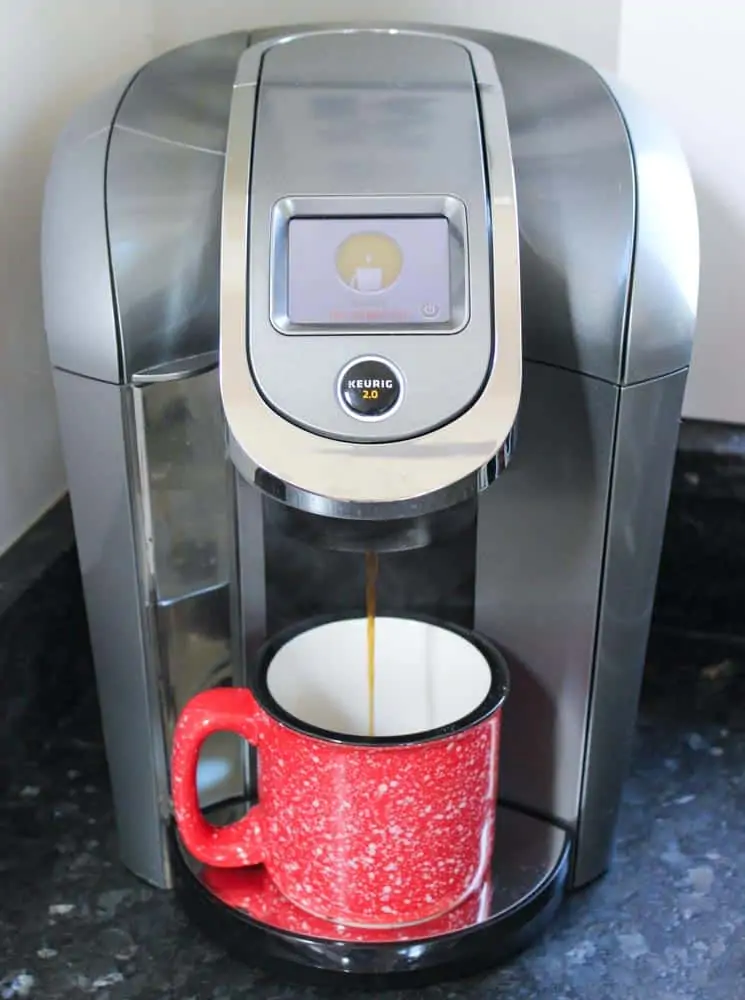 Step 2
Gather your ingredients, blender cup, and drinking glass of choice.
I like a clear glass because you can see the rich, velvety goodness while you're drinking it!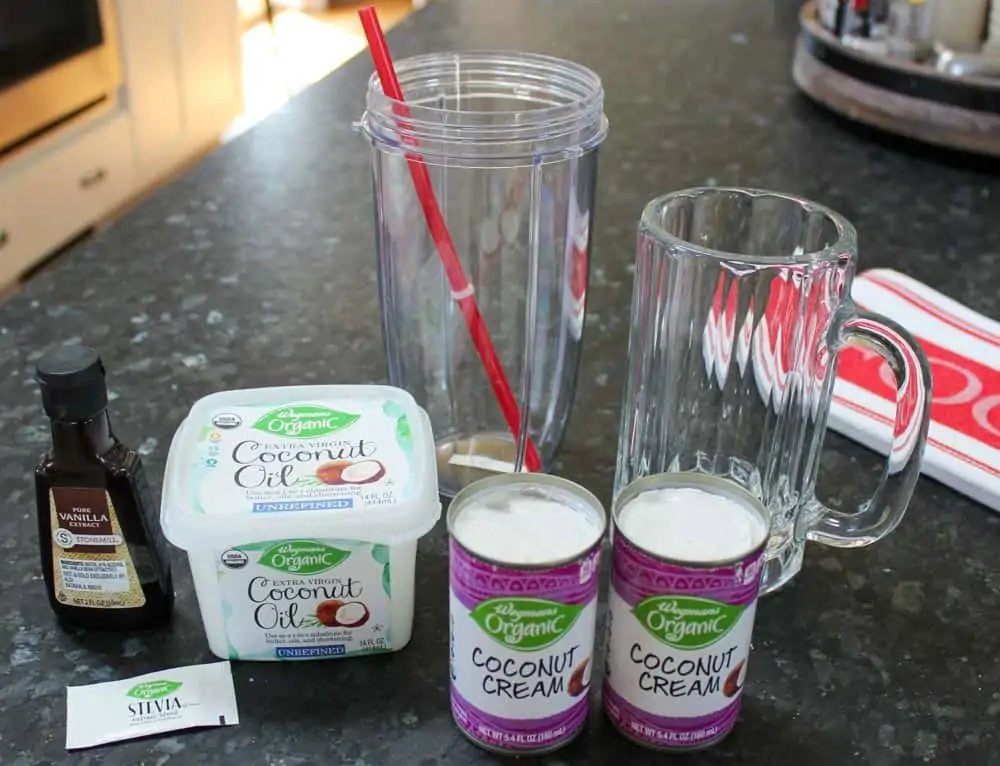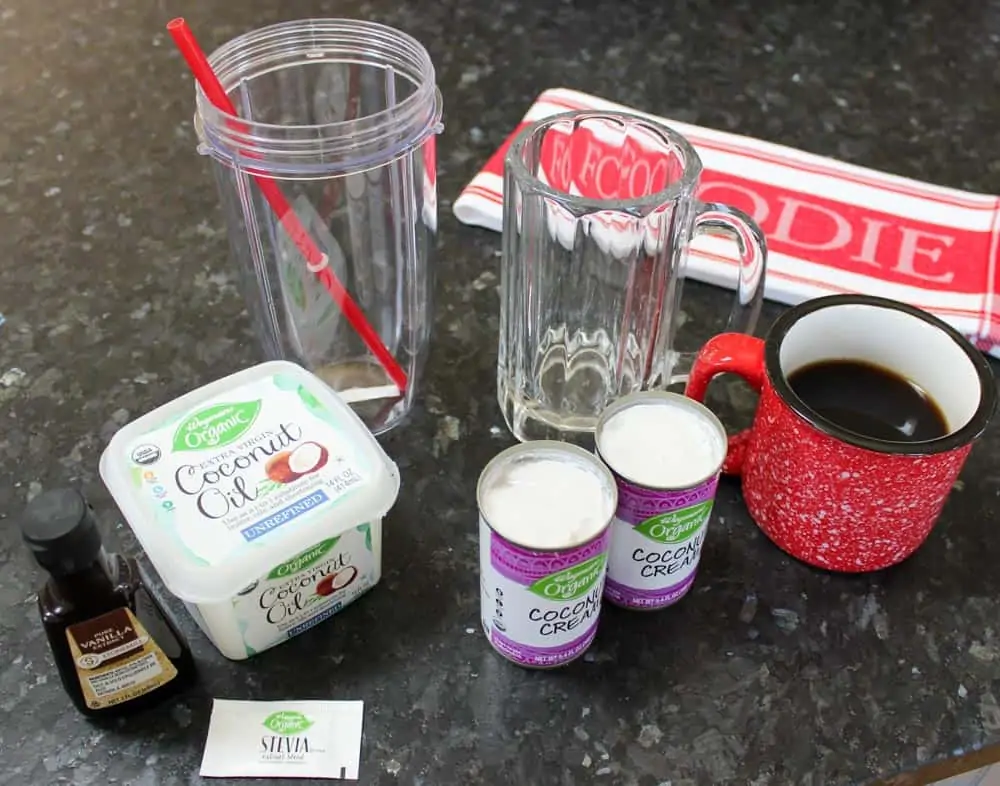 Step 4
Add all of your ingredients to a blender or NutriBullet (Amazon) and blend it until it's nice and frothy.
I LOVE my NutriBullet! I use it for SO many things like smoothies, salad dressings, dips, even beating eggs before scrambling them.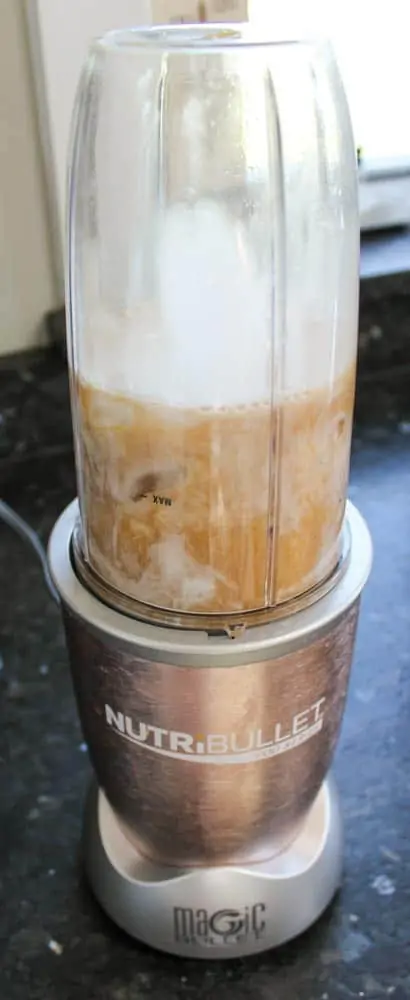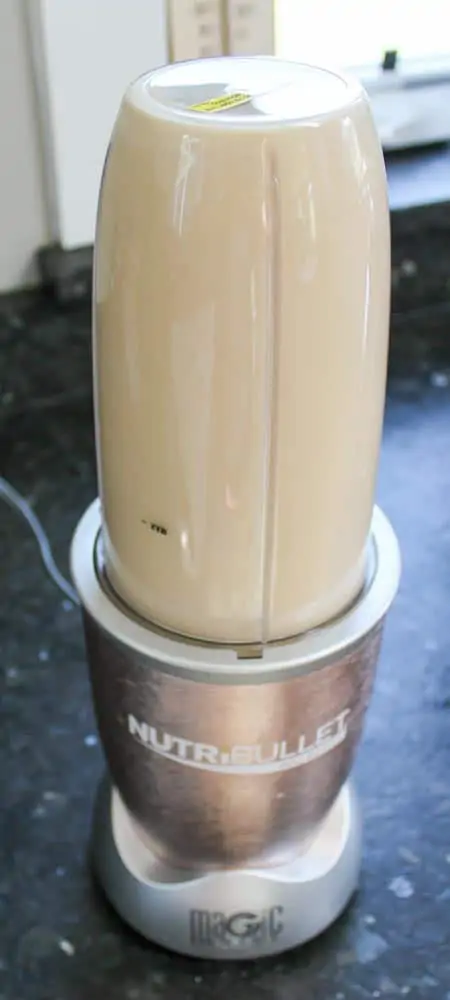 Step 5
Pour your iced bulletproof coffee in a glass or mug and enjoy!
You can also add some whipped cream on top for that extra 'yum' factor!
This recipe makes at least 2 servings, so if you're just making it for yourself, you can save the rest in a container in the refrigerator for a few days.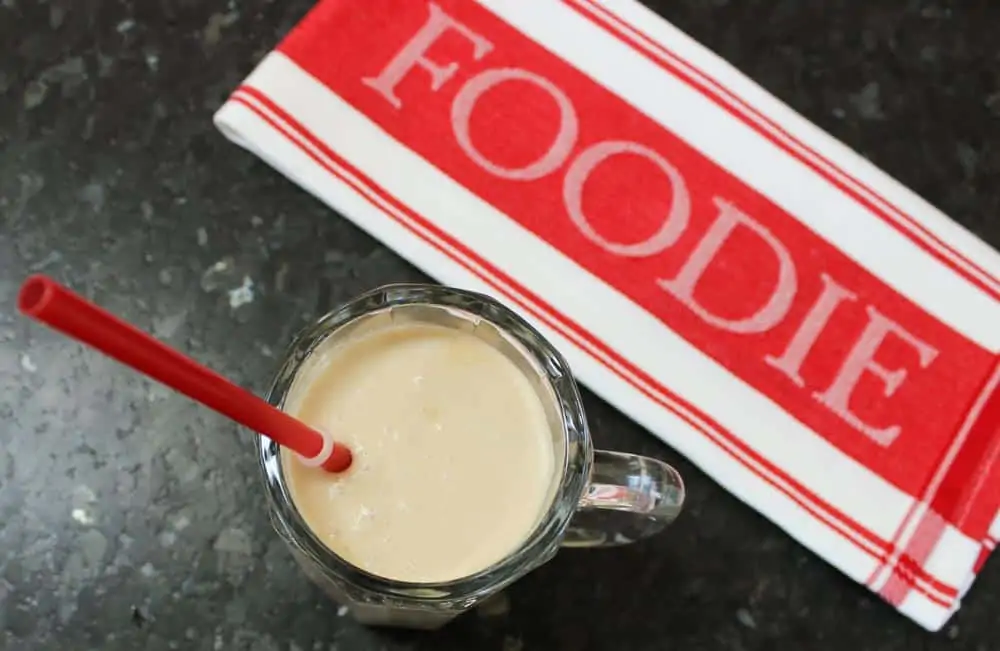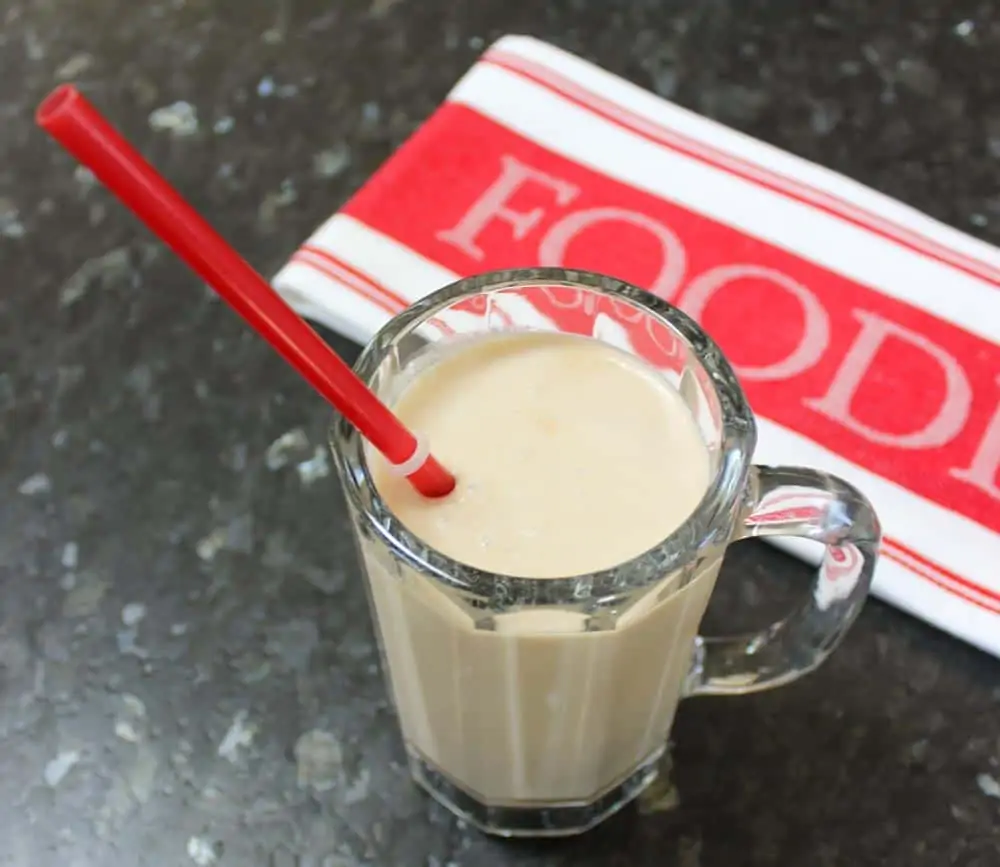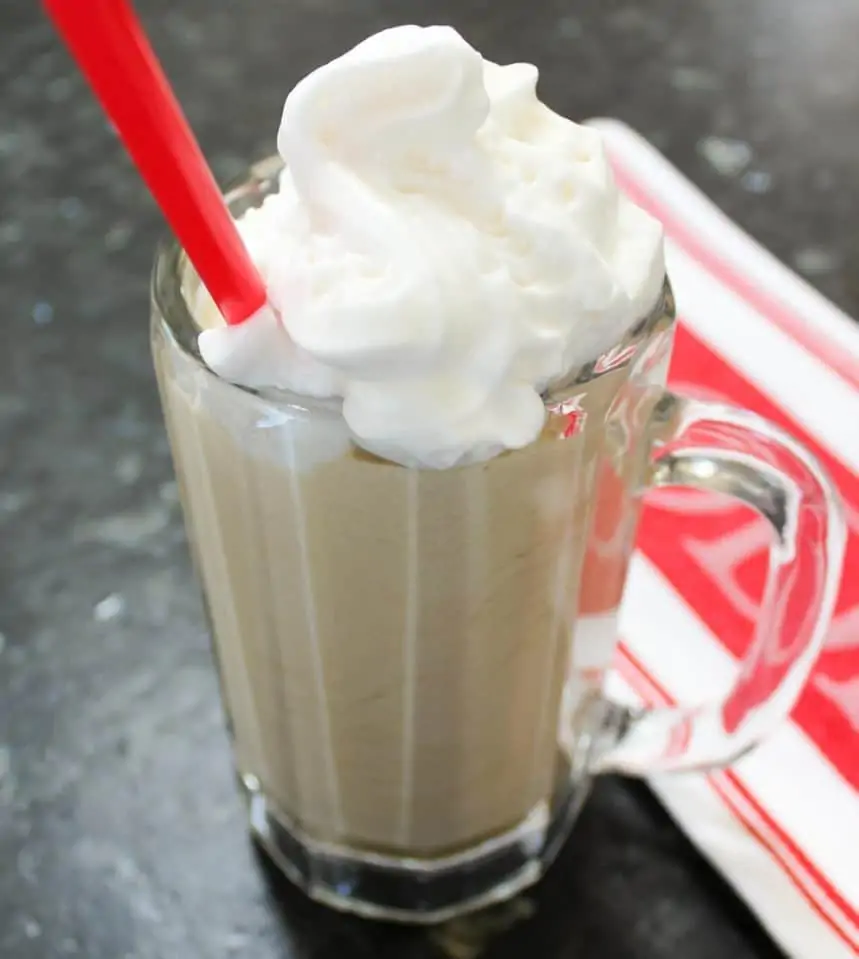 Tweaks to the Recipe
The beauty of this recipe is that you can tweak it to your personal preference.
You can add cinnamon or cocoa powder on top of the whipped cream.
Also, you can substitute MCT oil (Amazon) for the coconut oil.
MCT oil is an acronym for medium-chain triglycerides, which is found in palm kernel oil and coconut oil.
Apparently, MCT oil doesn't have a taste to it.
I would like to try that instead of the coconut oil next time I make my iced bulletproof coffee.
Because I used coconut oil and coconut cream, I felt like the coconut taste almost overpowered the taste of the coffee.
In addition, I've seen other recipes use heavy cream instead of coconut cream.
This would make the consistency a tad bit thinner as the coconut cream is thicker than heavy cream.
However, it would eliminate the coconut taste if you're not into coconut.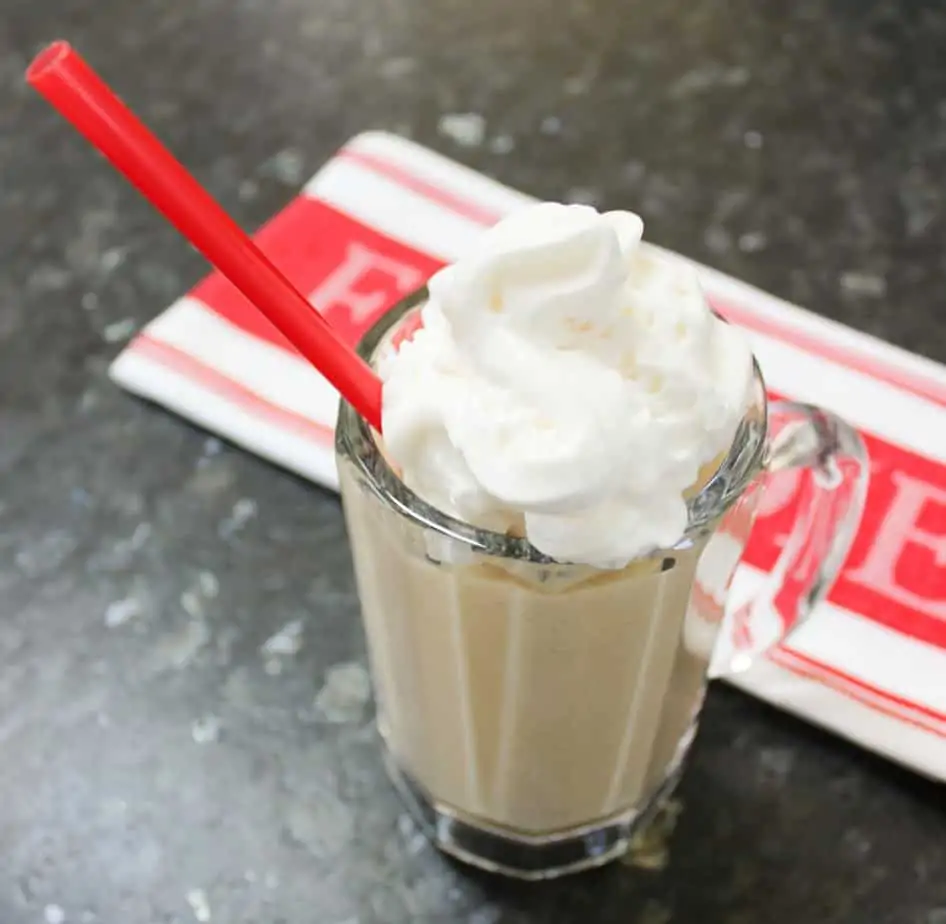 As I've stated above, bulletproof coffee is great as a meal replacement for those who follow a Keto, Paleo, or low carb diet.
This is not something you should drink on the regular, especially if you don't follow a low carb diet.
The reason for this is that it's very high in fat and doesn't have the nutrients your body needs at mealtime.
So my message to you is to drink bulletproof coffee in moderation.
It's a great alternative on days when you just don't feel like preparing a meal and you want something you can mix up really quick for energy, mental clarity, and satiety.
Below is the printable version of this recipe:
Iced Bulletproof Coffee Recipe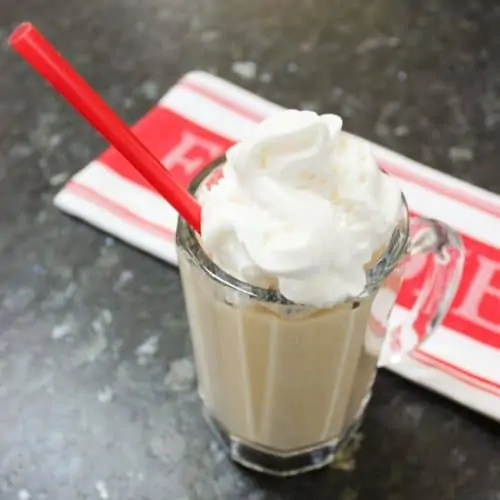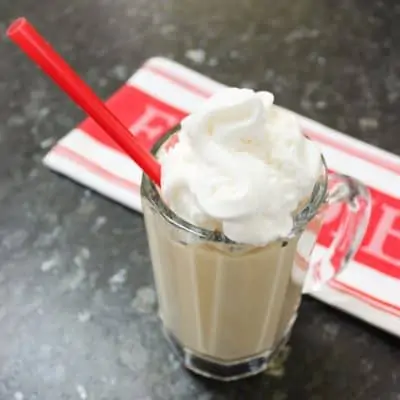 Iced Bulletproof Coffee Recipe
A rich, velvety coffee recipe that's great for low carb dieters as a meal replacement for increased energy, mental clarity, and satiety.
Ingredients
1

cup

Coffee, brewed & cooled to room temperature

1

cup

Coconut Cream or Heavy Cream

1

cup

Ice Cubes

2

tbsp

Coconut Oil or MCT Oil

1

tsp

Vanilla Extract

⅛

tsp

Stevia
Instructions
Brew a cup of coffee and let it cool to room temperature.

Add all of your ingredients to a blender or Nutribullet and blend well until smooth and frothy.

Pour into a glass and add extra toppings such as whipped cream, cinnamon, and/or cocoa powder, based on your personal preferences.

Save any remaining iced bullet coffee in a container in the refrigerator for up to a few days.
Notes
407 calories
4.5 g carbs
2.9g protein
41.3 g fat
30.7g sat fat
0g fiber
.3g sugar
For more low carb recipes, click on over to:
Big Mac Salad: A Low Carb, Copycat Recipe You'll Love
Almond Flour Banana Bread with Walnuts
Maryland Deviled Eggs with Crab & Old Bay Seasoning