This sugar free chocolate chip mug cake recipe is a super easy dessert to make and can be whipped up in just minutes for when you have that "I need something really sinful" sweet craving!
And the best part is, when you use sugar free chocolate chips and almond flour you can have your mug cake and eat it too! – Without all the added carbs and sugar!
Sugar Free Chocolate Chip Mug Cake Recipe
Being that I follow a very low carb, no starch, no sugar diet, I'm always looking for ways I can get an occasional sweet fix without consuming starches or sugars.
Believe me when I tell you, this can be very challenging!
Don't get me wrong, I love me some fruit and luckily, on my plan, I can eat up to 3 fruits a day.
However, there are those times when I just want something involving chocolate!!
Russell Stover Sugar Free Chocolate
Thank goodness for the wonderful invention of sugar free chocolate.
And God bless Russell Stover who has been crafting small batch, delicious chocolate for close to 100 years now!
Being a fan of chocolate chips my entire life, I was a tiny bit apprehensive to use sugar free chocolate chips.
However, I was willing to try it if it meant I could stay on my low carb diet while splurging at the same time!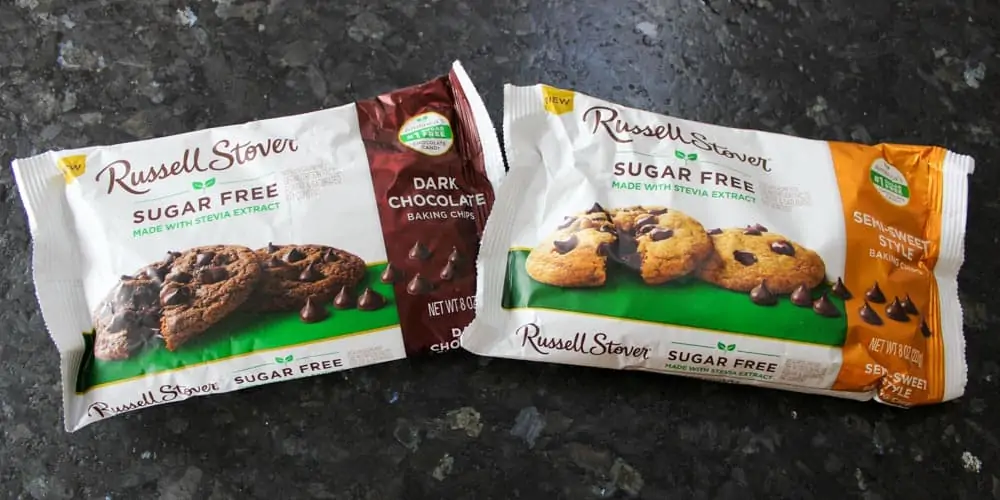 Not only does Russell Stover offer Dark Chocolate & Semi-Sweet Style Baking Chips, but also, they offer sugar free chocolate candies too.
And they're really good!
Try them for yourself and tell me if you can tell that they're sugar free!
Needless to say, I keep my pantry stocked with a nice variety of their chocolates!
How Do You Satisfy A Sweet Tooth On A Keto Diet?
To satisfy your sweet tooth on a keto diet, you find ingredients you can use that work as great substitutions for carbs and sugars.
In this case with my chocolate chip mug cake recipe, I used these keto substitutes:
Another thing that I love about this easy chocolate chip mug cake recipe is that I can eat the whole cake!
I mean, seriously, there's just something so satisfying about being able to say that.
Of course it's a single serving dessert, so it's easy to eat the whole thing AND you don't have to share with anybody!
Whereas, if you were to make a whole batch of cookies, you'd be much more likely to overeat them.
Ingredients
Here are the simple ingredients for this Chocolate Chip Mug Cake Recipe:
Almond Flour
Peanut Butter
Whole Egg
Sugar Free Chocolate Chips
Artificial Sweetener
Vanilla Extract
Baking Powder
Butter
Step-By-Step Directions
And here are the very simple steps for making this chocolate chip mug cake recipe.
Step 1: Beat Egg in Large Bowl
First, beat your egg.
Pretty self explanatory.
Step 2: Add Remaining Ingredients and Mix Well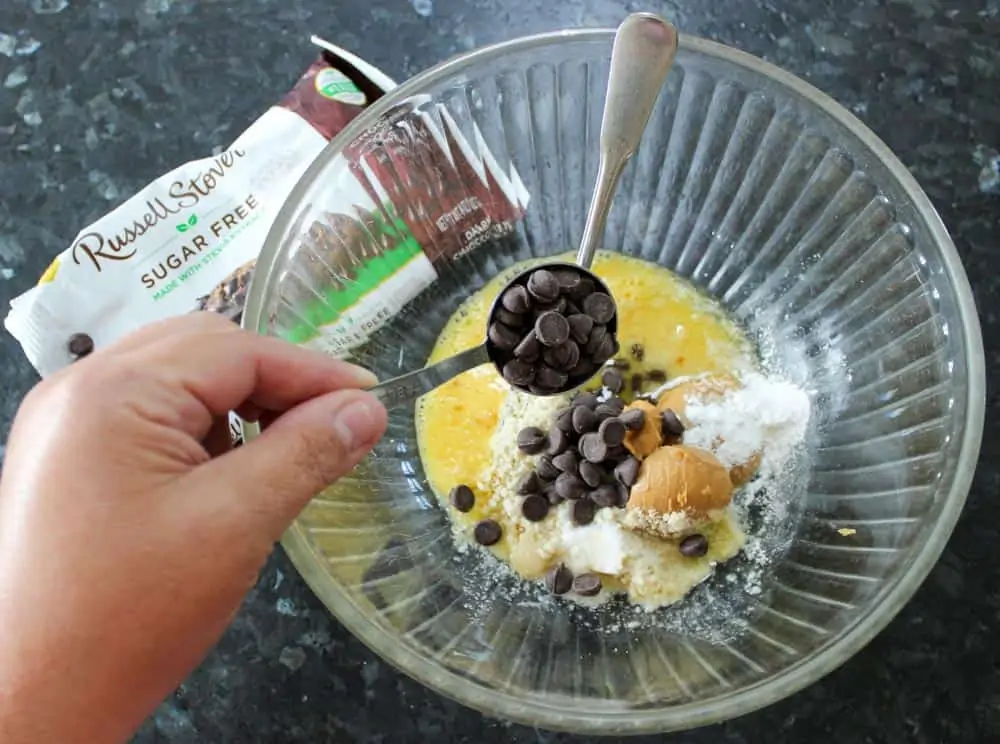 Second, add all of the rest of the ingredients and mix until well blended.
Again, very simple to understand.
Step 3: Pour Batter into Coffee Mug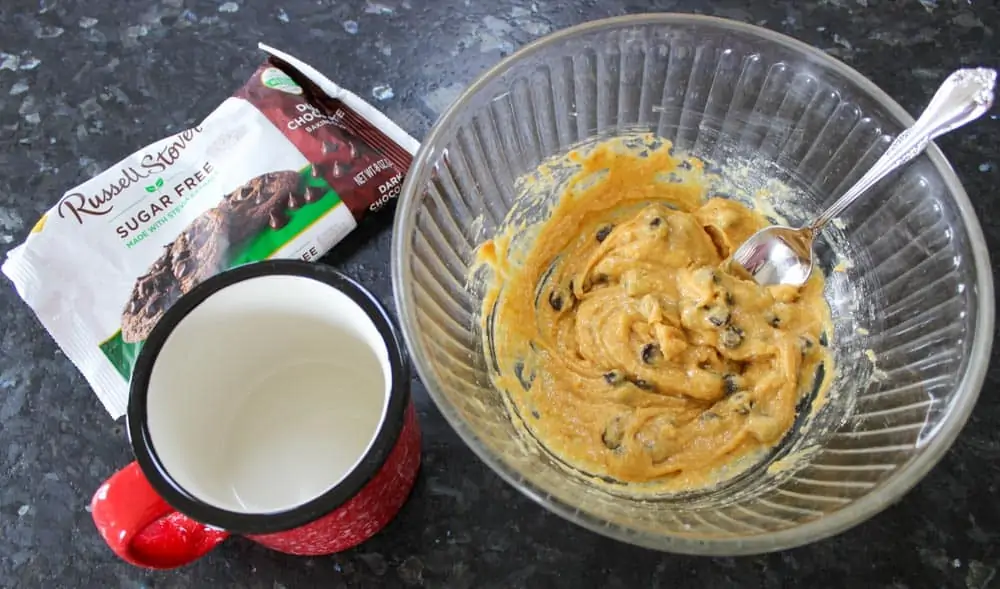 Initially, when I made this recipe I poured all of the batter into one large, microwave-safe mug.
However, this recipe can be split into 2 servings and made in two small coffee mugs.
Trust me when I say that it's very filling!
Step 4: Place Coffee Mug/Mugs in Microwave & Heat for 1 Minute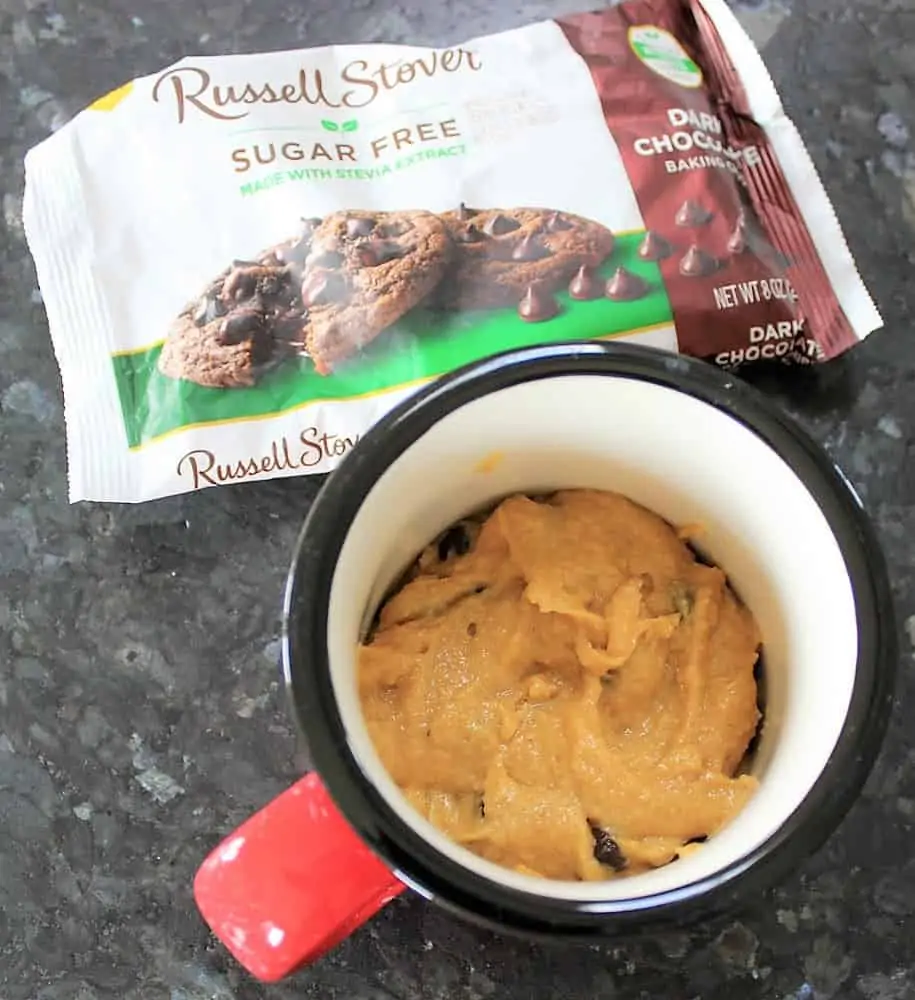 Finally, microwave chocolate chip mug cake for 1 to 2 minutes (keep an eye on it after 1 minute) or until it rises somewhat.
After that, use a toothpick inserted in the center of the mug cake to test that it is completely cooked through.
I sprinkled a few more sugar free chocolate chips on top of my chocolate chip mug cake when I took it out of the microwave.
Sugar Free Chocolate Mug Cake Recipe Substitutions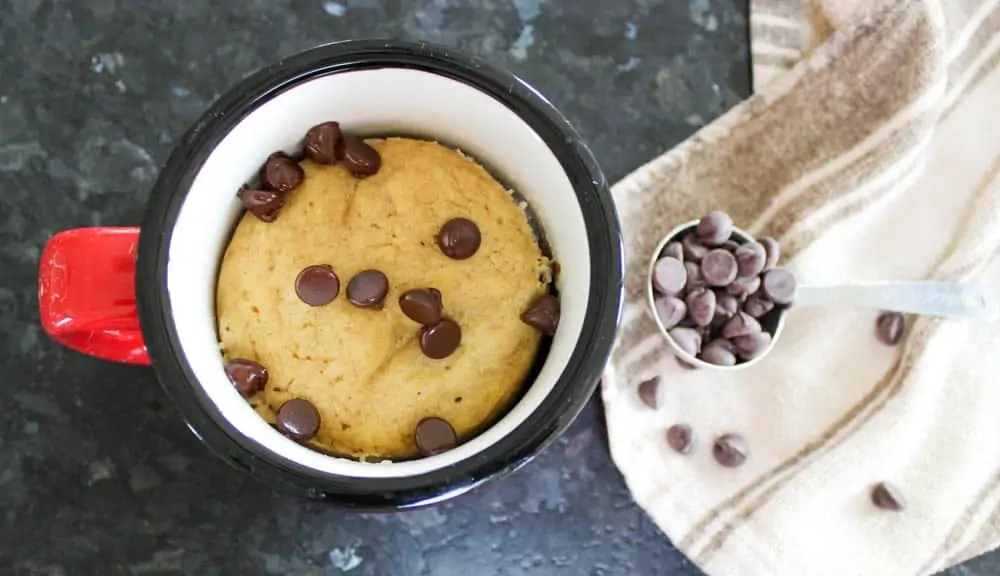 Everybody has their own personal preferences as to what they consider to be the perfect mug cake.
Therefore, here are some substitutions you can use to make it taste just the way you want it.
Instead of peanut butter, use:

Almond Butter
Seed Butter
Nut Butter
Powdered Peanut Butter

Add in chopped nuts
Omit the chocolate chips altogether for a vanilla mug cake
Substitute whole wheat flour for almond flour
Add in canned pumpkin for a pumpkin mug cake
Include ripe bananas as a topping or in the batter
How It Turned Out
Oh my gosh, it turned out heavenly!
Honestly, it's the best mug cake I've ever had!
Needless to say, it was the perfect, moist cake consistency without feeling overly dense like some recipes are when using almond flour.
As a matter of fact, it was just like eating a hot, soft, gooey chocolate chip cookie with a spoon.
Mmmm!
AND, with the fiber and sugar alcohols in this recipe, it comes out to only 6 net carbs per serving and 11.5 grams of protein!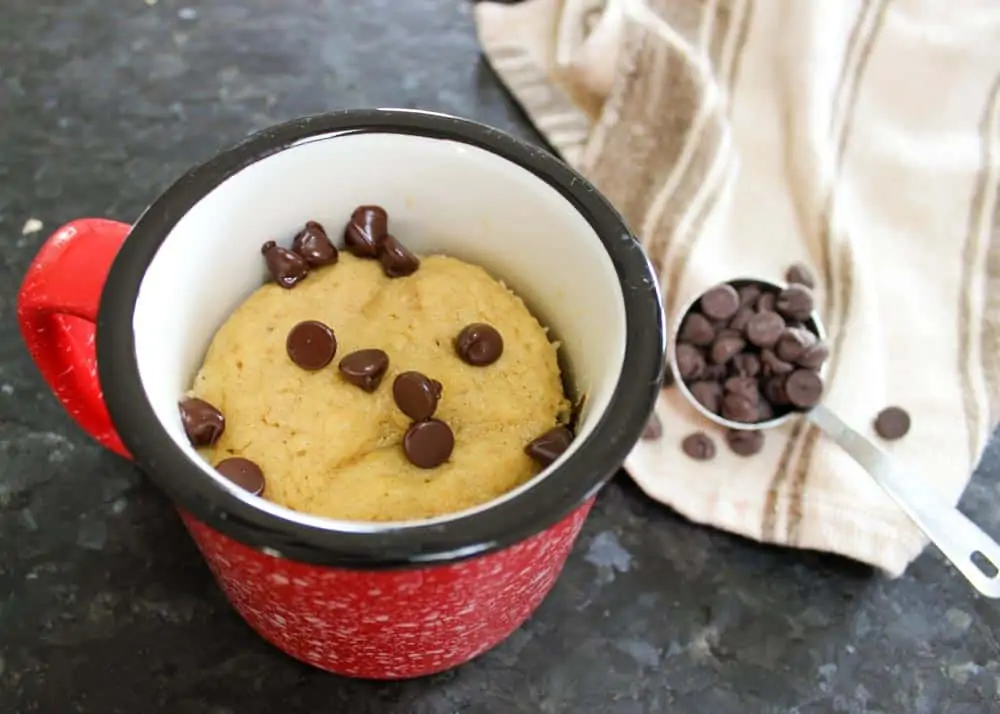 The sugar free chocolate chips melted just like normal chocolate chips and tasted amazing!
In addition, there was no sugar free aftertaste which is huge for me.
Honestly, it ruins it for me if it has a sugar free aftertaste.
So, the fact that it didn't have that, gave this recipe that extra wow factor!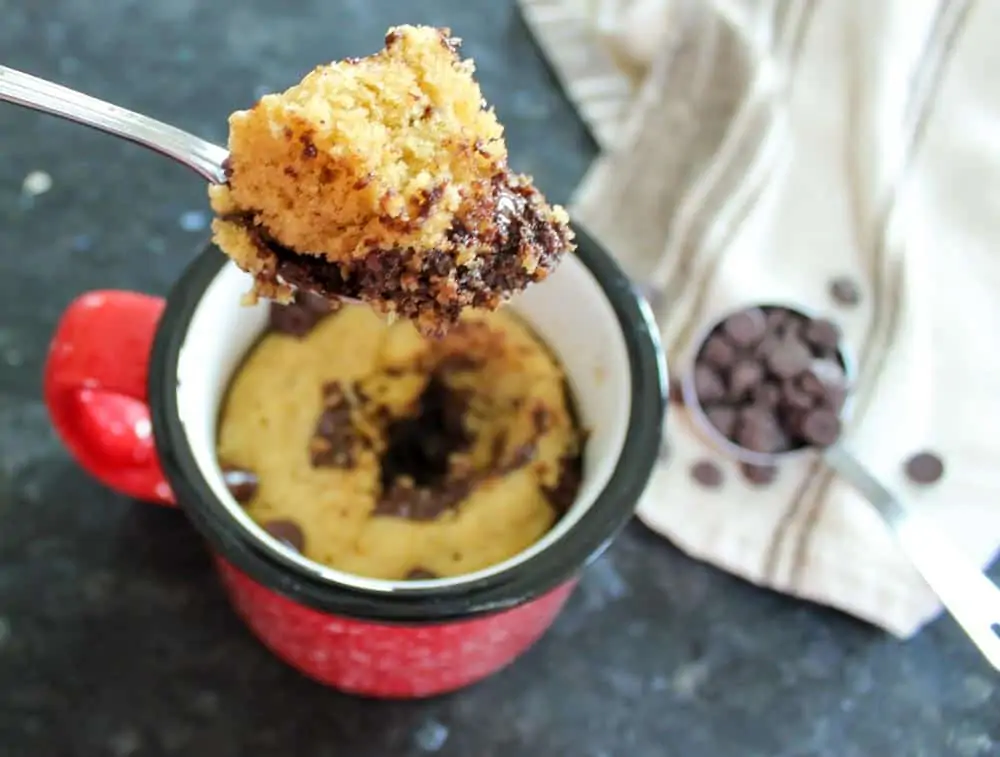 Because, when you're on a low carb, no starch, no sugar diet, getting that wow factor is a big deal!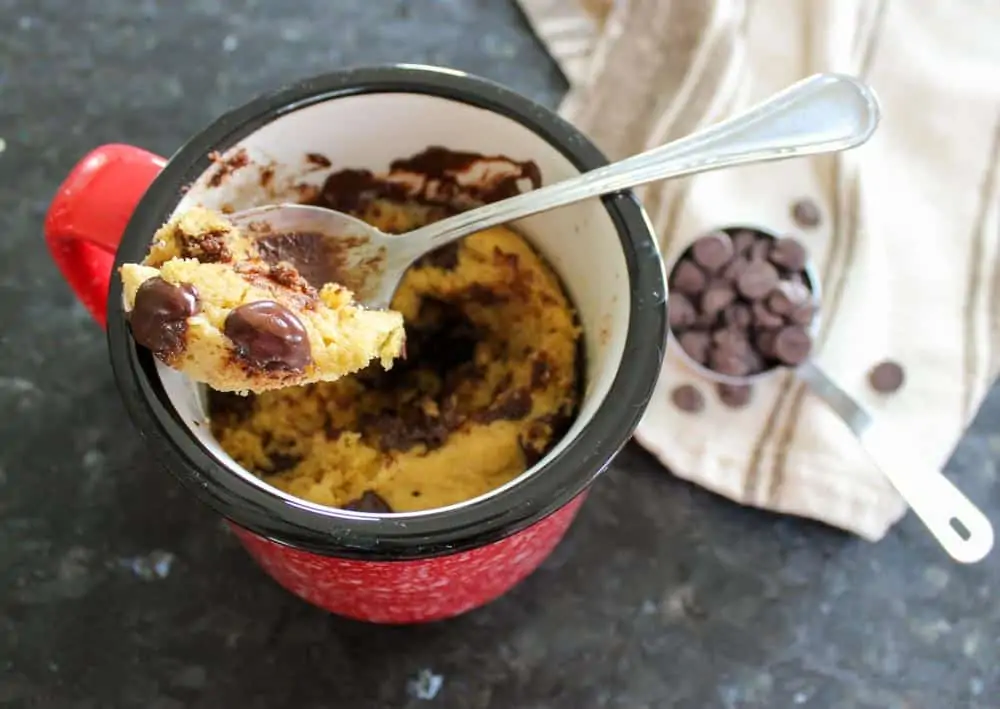 Sugar Free Chocolate Chip Mug Cake Recipe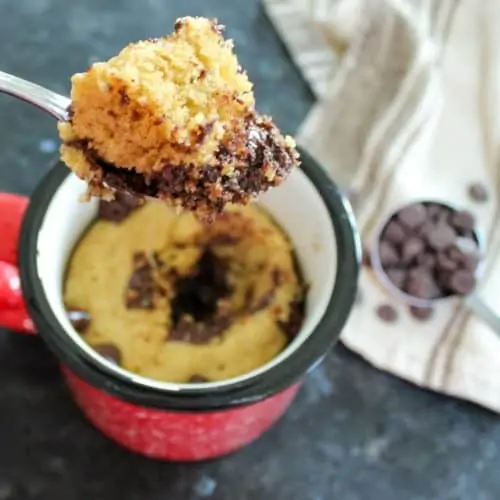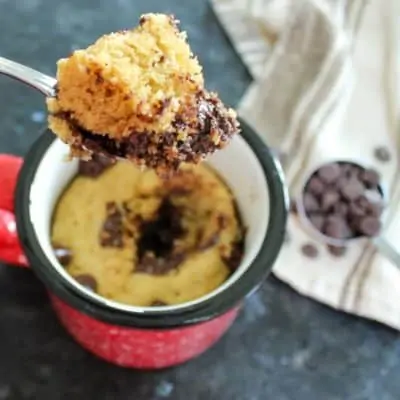 Sugar Free Chocolate Chip Mug Cake Recipe
A delicious, hot, soft chocolate chip cookie in a mug using sugar free chocolate chips. Keto, Low Carb, No Sugar.
Ingredients
¼

cup

Almond Flour

2

tbsp

Peanut Butter or nut butter of choice

1

Egg, large

2

tbsp

Russell Stover Sugar Free Chocolate Baking Chips

,

Dark or Semi-Sweet

1

packet

Artificial Sweetener

⅛

tsp

Vanilla extract

½

tsp

Baking powder

2

tbsp

Butter, melted
Instructions
In a large bowl, beat your egg.

Add remaining ingredients.

Mix well with a large spoon until completely blended.

Pour batter into 1 large mug OR 2 small mugs.

Place in the microwave and heat for 1 minute or until mug cake is fully cooked through.
Notes
This recipe makes 2 servings.
Each serving contains:
398 calories
18 grams carbohydrates
6 net carbs
1.5 grams sugar
40 grams fat
11.5 grams protein
Let me know if you try this recipe and if you made any substitutions to it.
I'd love to hear how yours turns out!
Lastly, for more keto, low carb recipes, click on over to:
Keto Orange Creamsicle Jello Mousse