Soak City Water Park at Kings Dominion is a water park lover's paradise!
When you go, be ready to a day full of huge water slides, swimming in wave pools, relaxing in lazy rivers, and getting soaked!
Soak City Water Park at Kings Dominion
Ever run out of ideas for the kiddos to keep them busy over the summer?
I know I do!
Recently, I was invited to bring my son, my sister and her two sons to Kings Dominion.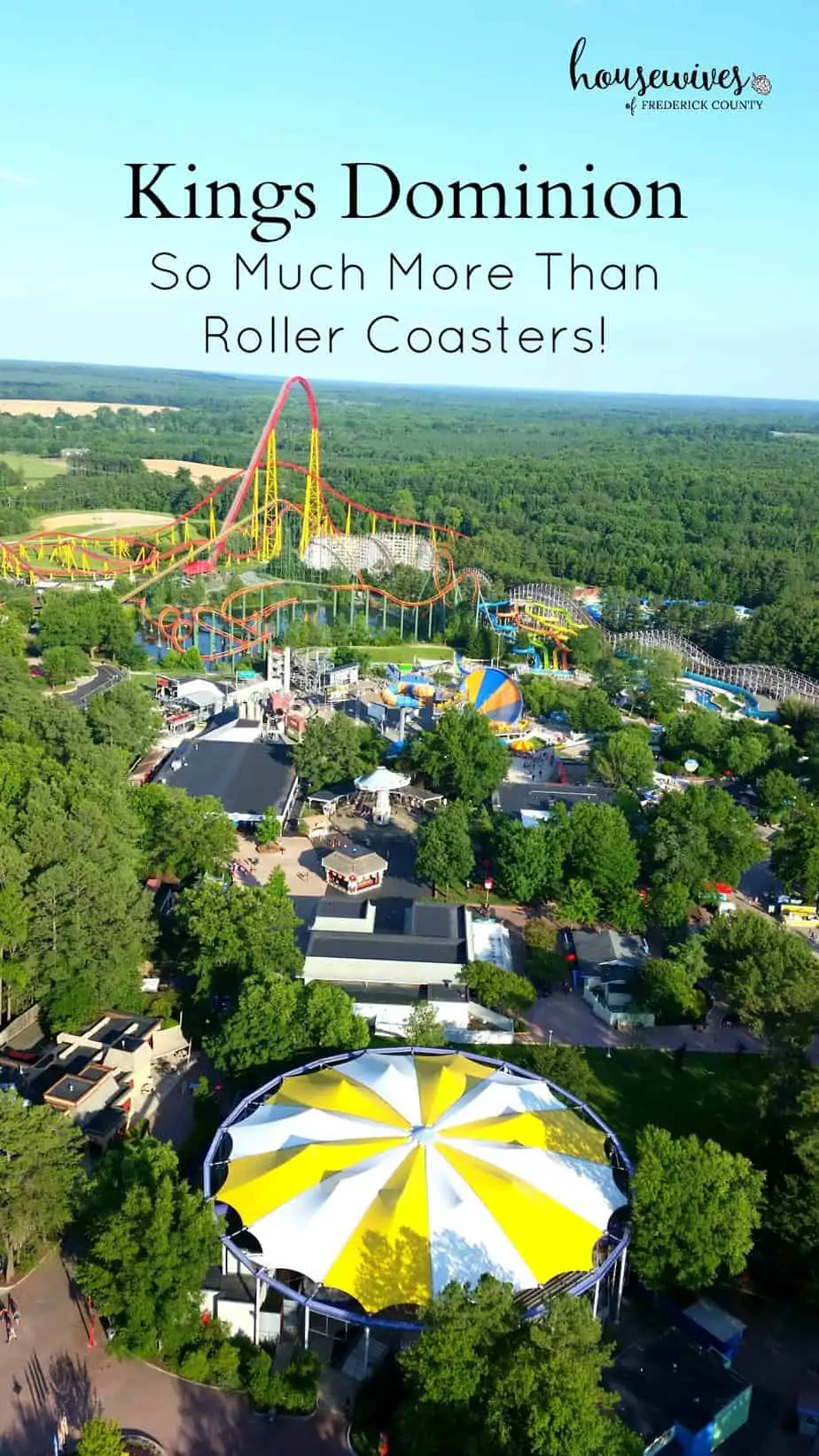 As we walked through the entrance to the park, I quickly realized that Kings Dominion is SO much more than roller coasters!
I'm really aging myself here, but it has been around 33 years since the last time I had been to Kings Dominion.
Between college, my career, and starting a family, I just hadn't had the chance to get back down there and enjoy it.
BUT now that I have a son who is the perfect thrill-ride age AND two nephews who will do anything fun with their cousin, I was finally able to get back to Kings Dominion after all these years.
AND I was able to see it for the first time through my son's and nephews' eyes since they had never been to Kings Dominion before now.
Kings Dominion is A Magical Place
With it being only a 2 hour trip each way, it is the ideal day trip excursion.
We happened to pick THE perfect day, a weekday, to take our day-trip to Kings Dominion.
The weather was just right and the crowds were light.
Walking through Kings Dominion for the first time in so long, brought back so many fond memories for me.
It's just as magical now as it was way back then. Maybe even more!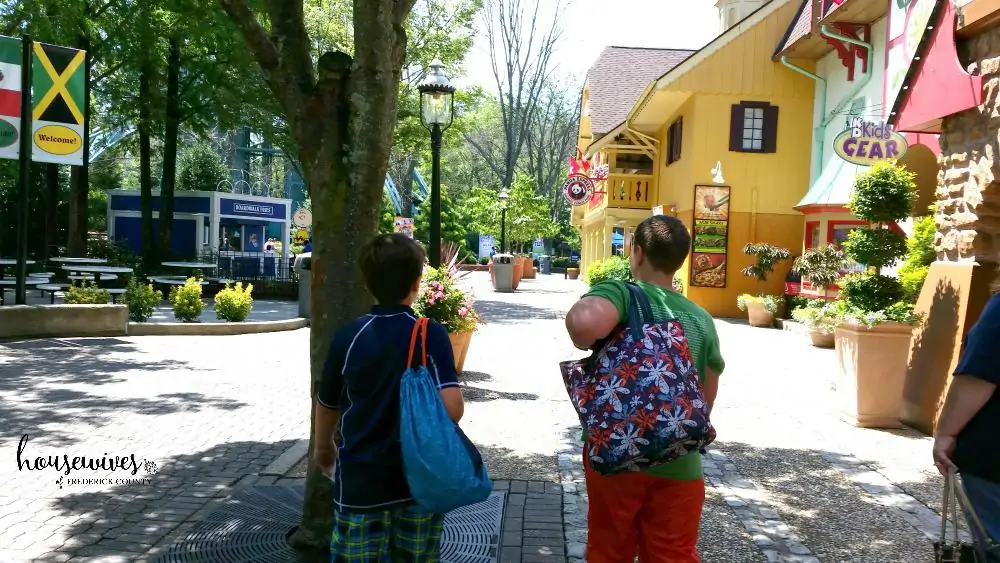 Soak City Water Park
The first place the kids wanted to do was go to King's Dominion's Water Park, Soak City.
Recently expanded and renovated, Soak City is a "20-acre splash-tacular, sun lover's paradise"!
And that's no exaggeration.
Soak City has water activities galore.
And when you go to Kings Dominion, there's no extra cost to go to Soak City Water Park.
You actually get two parks for the price of one.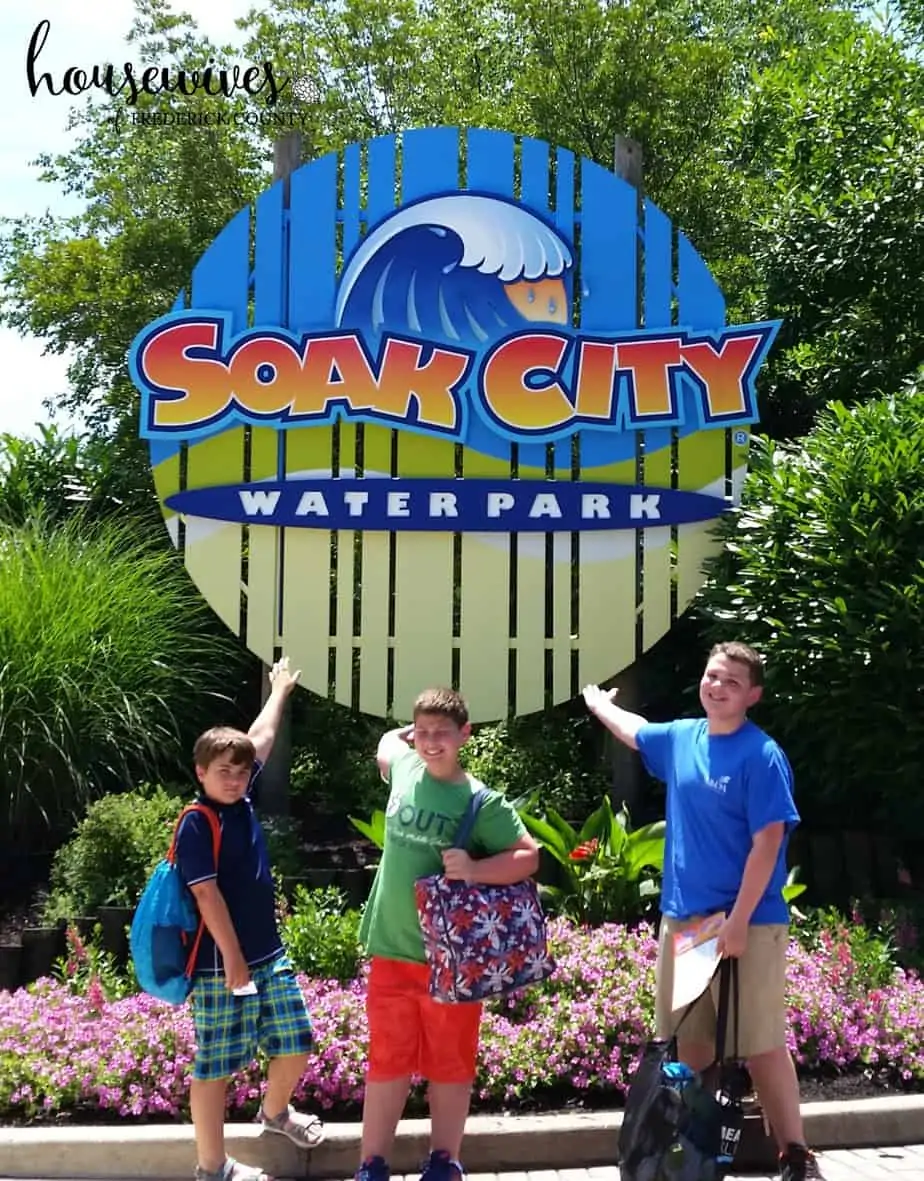 The beach music and beach themed food stands and shops got us in just the right mood to have some major fun in the sun.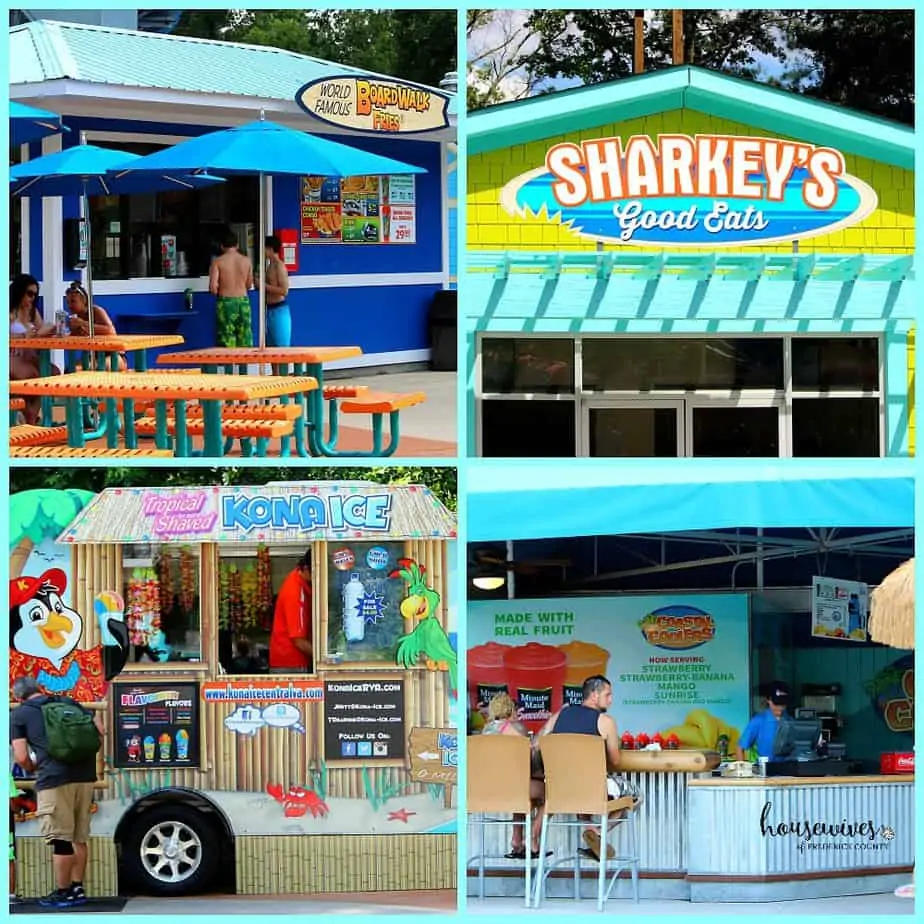 Soak City has lockers available to store your valuables and changing stations to get out of your roller coaster riding clothes and get into your swimsuit.
One tip: wear shoes between water rides.
You'll save the bottoms of your feet from getting burned from the hot concrete walkways.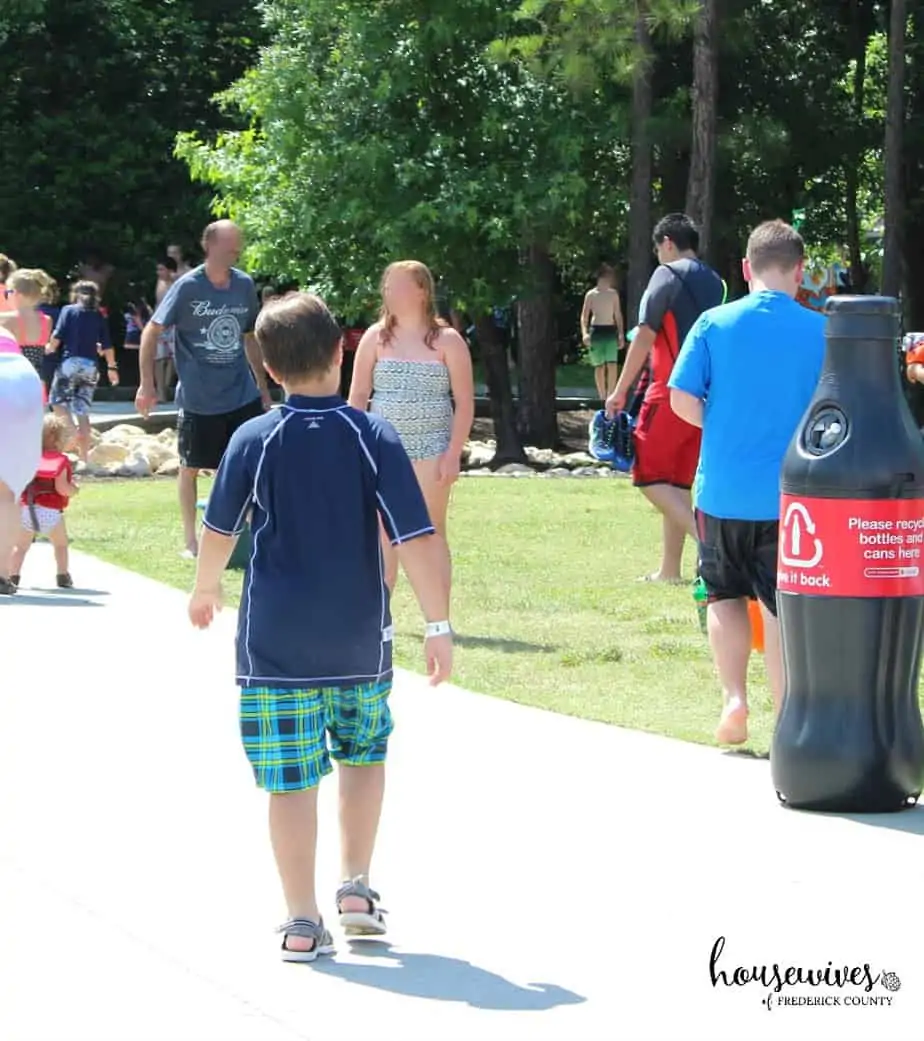 With lounge chairs and huge umbrellas everywhere you go, you have a wide range of choices as to where you park your towel.
OR you can also choose to rent a cabana in advance, as we did.
Soak City Cabanas
Each cabana is equipped with:
Table and chairs
Small refrigerator
Stand-up fan
Safe to lock up your valuables
Waitstaff at the ready to deliver food and drinks
15 minute early entry into Soak City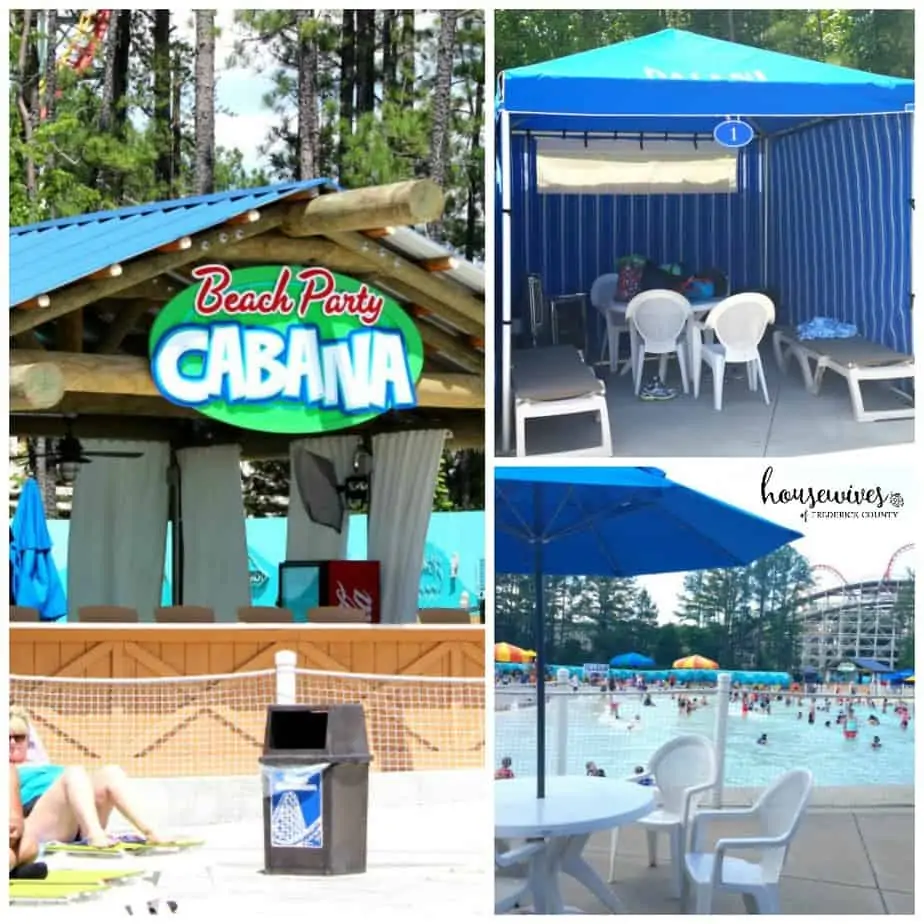 Here are just a few of the opportunities you have to get your water-filled thrill at Soak City:
Tidal Wave Bay at Soak City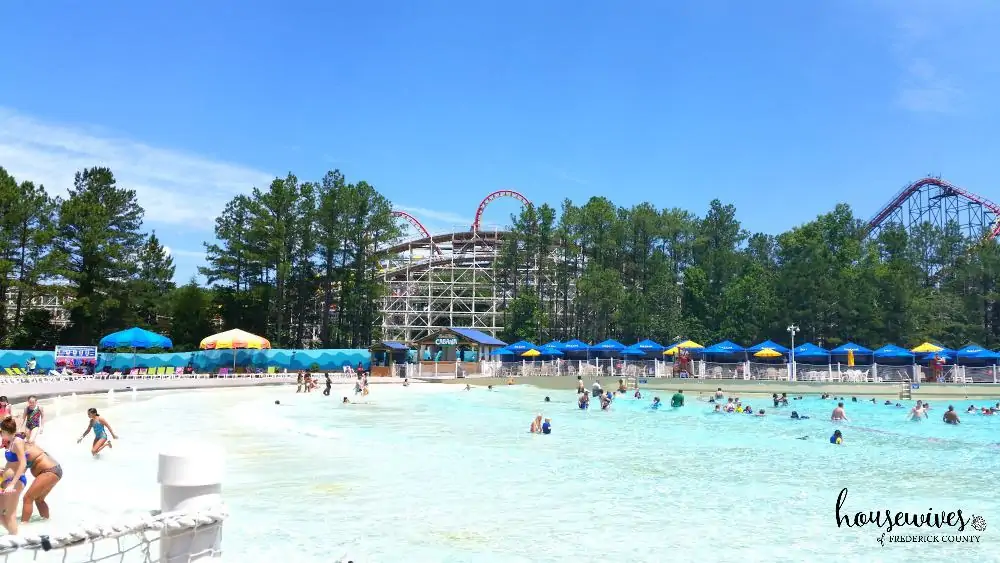 Hurricane Heights
"A 65-foot tall slide complex features three thrilling new attractions: Paradise Plunge, Aqua Blast, and Thunder Falls."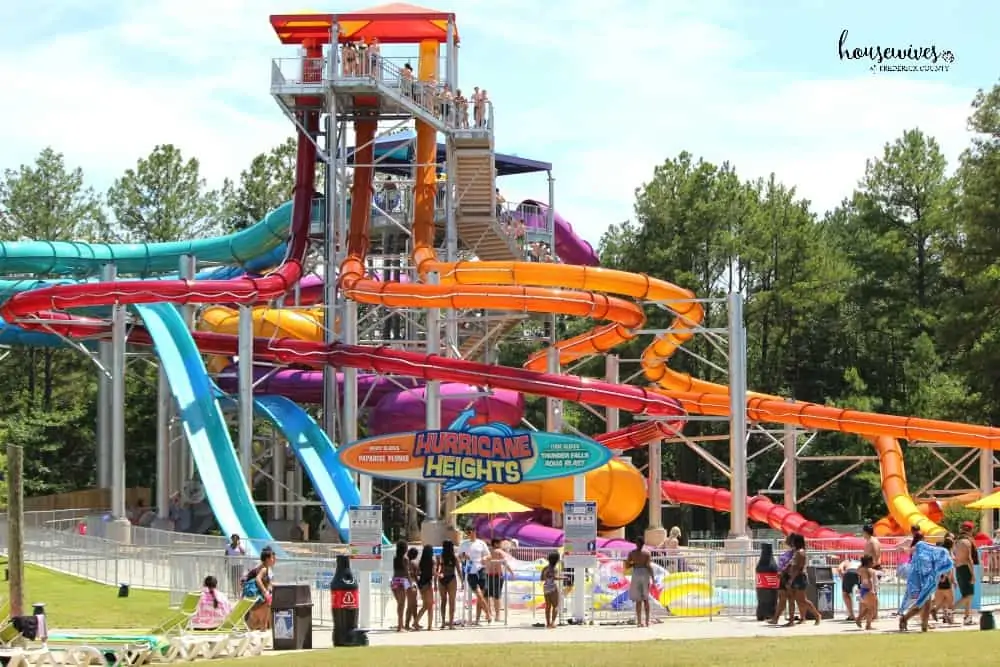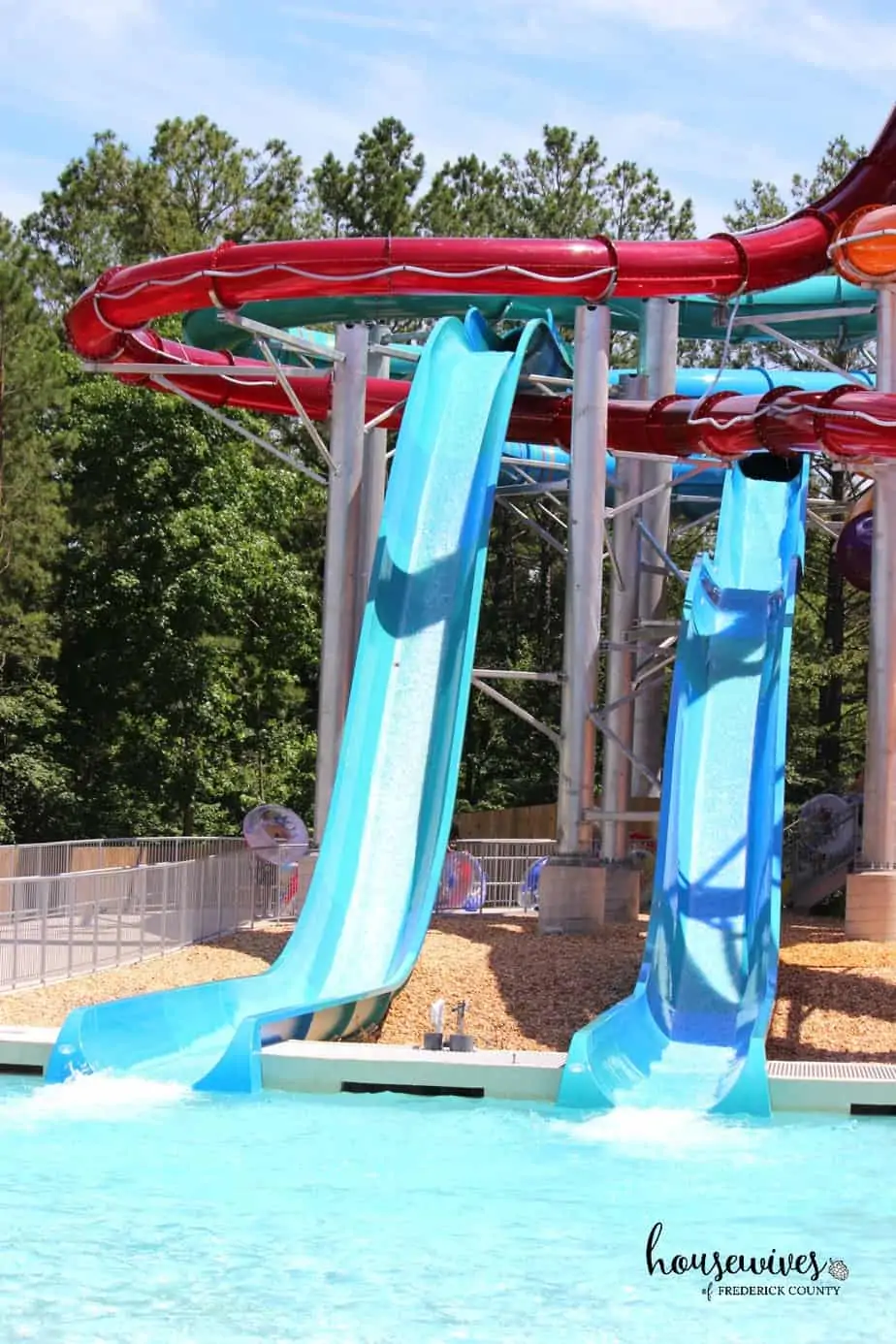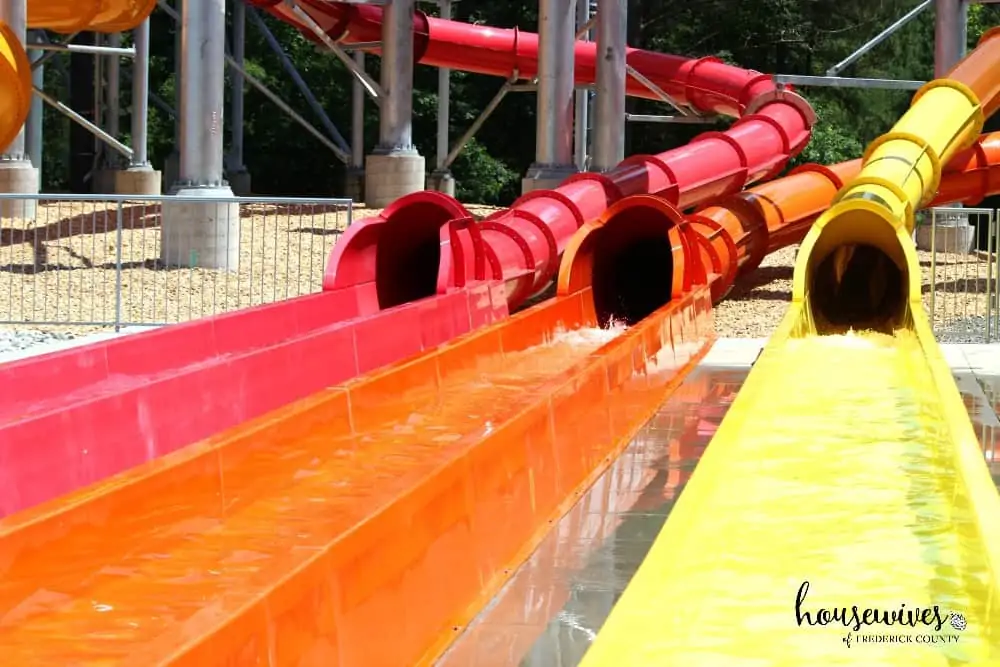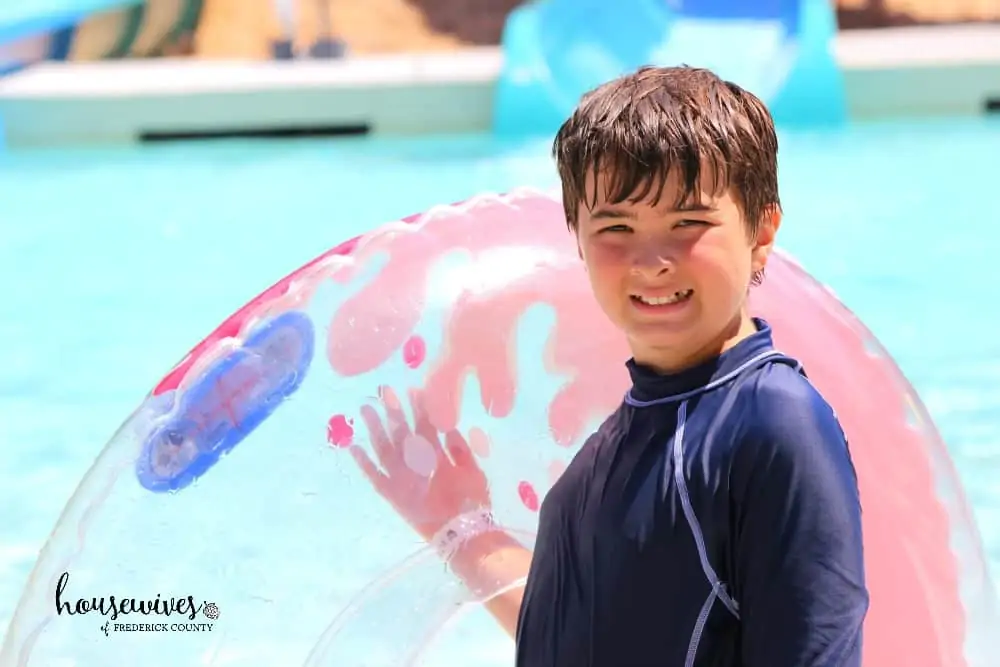 Lazy Rider at Soak City
A "1/4-mile river raft ride that meanders through waterfalls and geysers."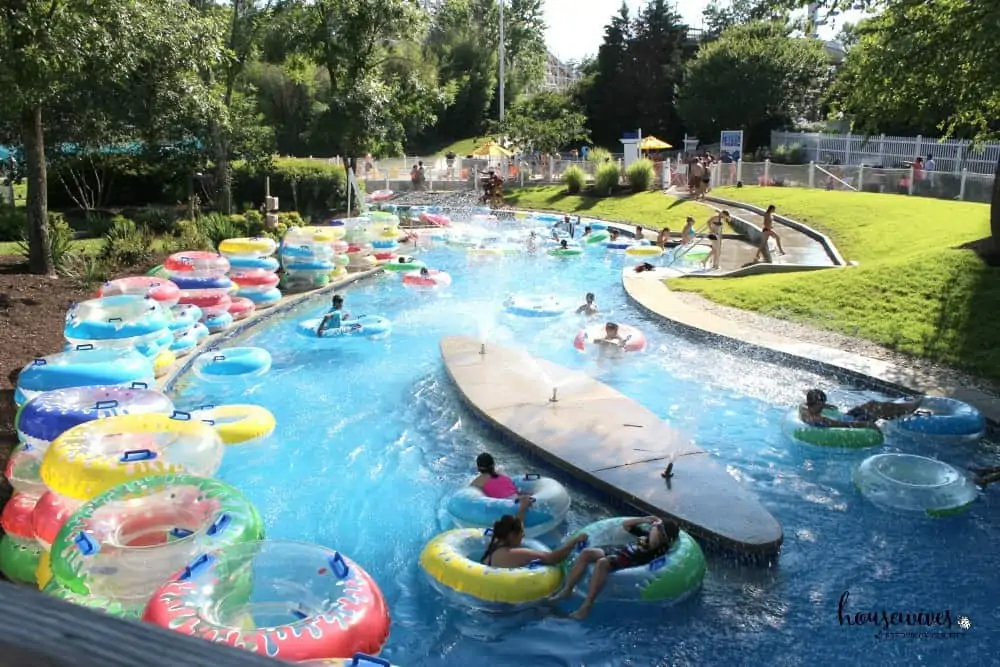 Pipeline Peak
A complex consisting of four totally enclosed slides, two body slides and two inner tube slides.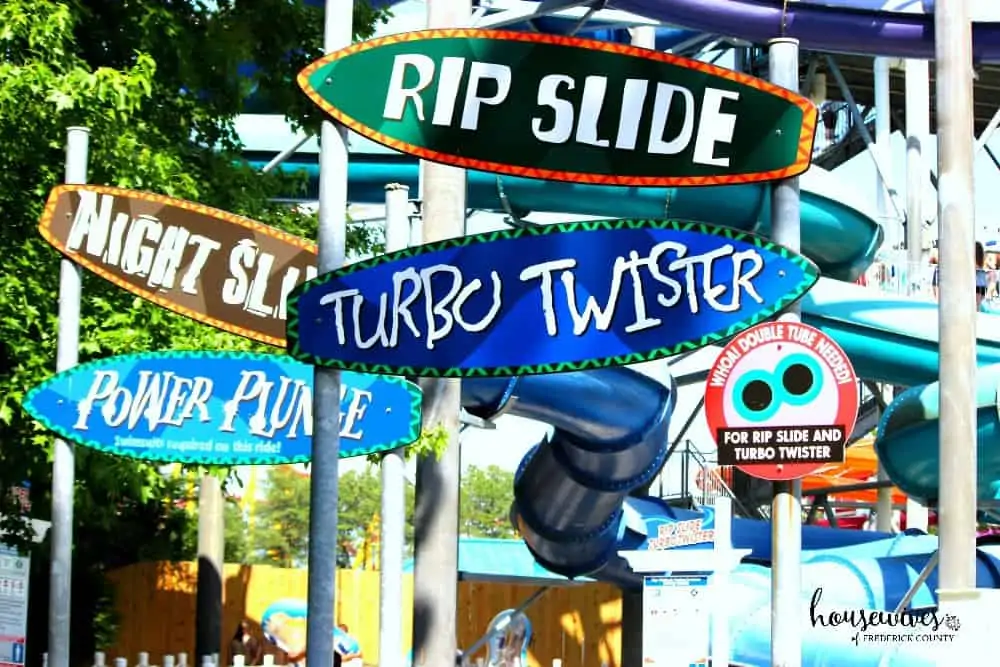 Splash Island at Soak City
Meant specifically for the little ones, small slides, jets of streaming water, cascading flowers, and splash pads keep toddlers happy for hours.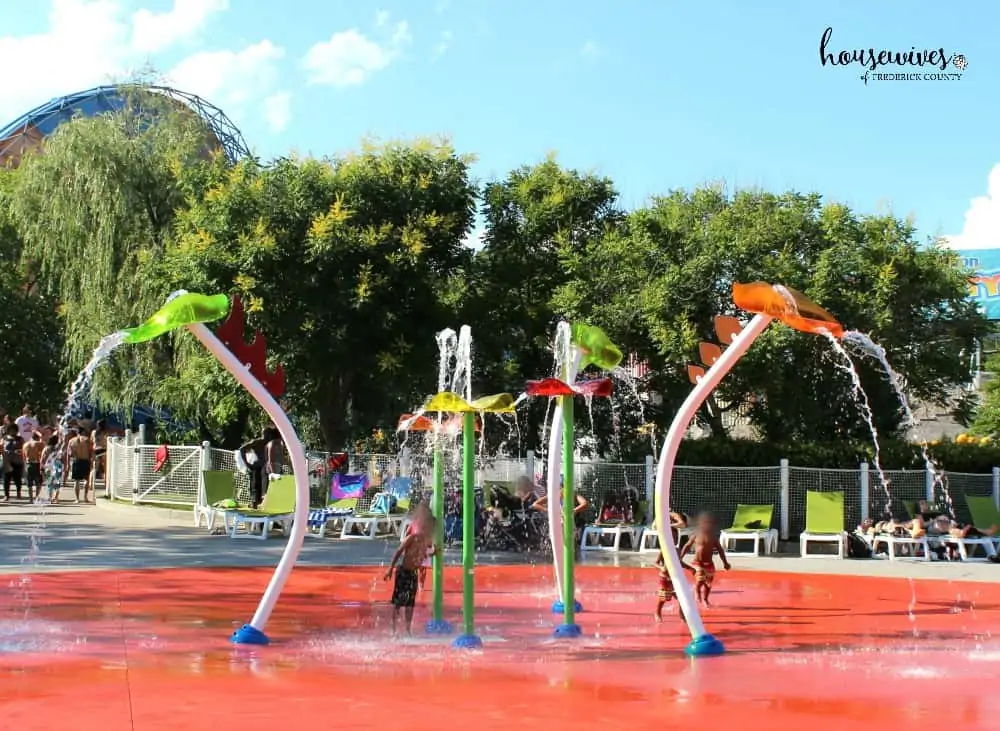 Tornado
This huge funnel was ideal for the boys to jump on a big raft together and slide down a steep slide, swirling around inside the funnel and ending up splashing into the pool of water at the end.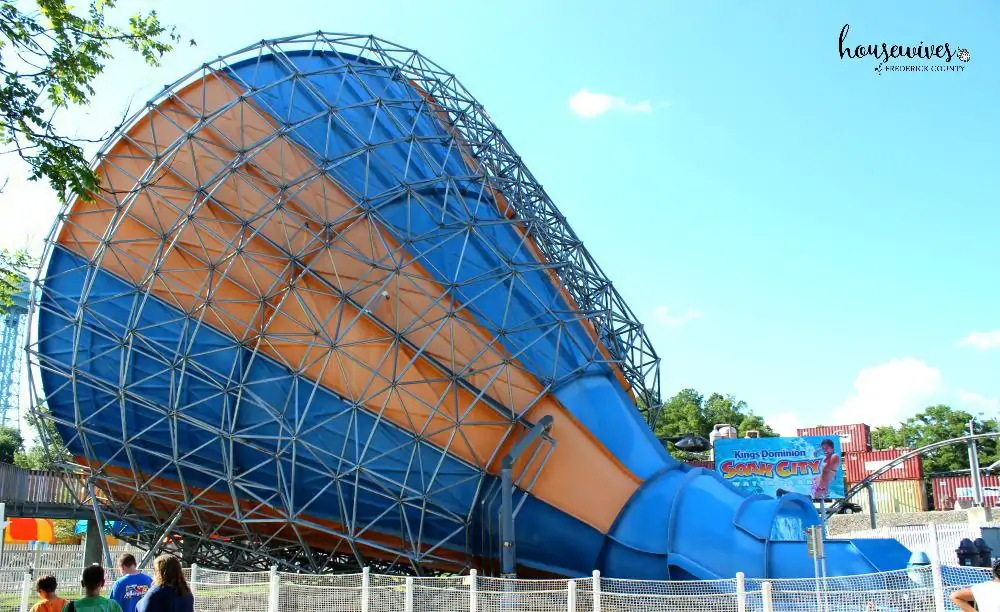 Zoom Flume
Up to four riders can jump on the raft and zoom down the "curving and tilting raging water path" with the same rush as if you were white water rafting.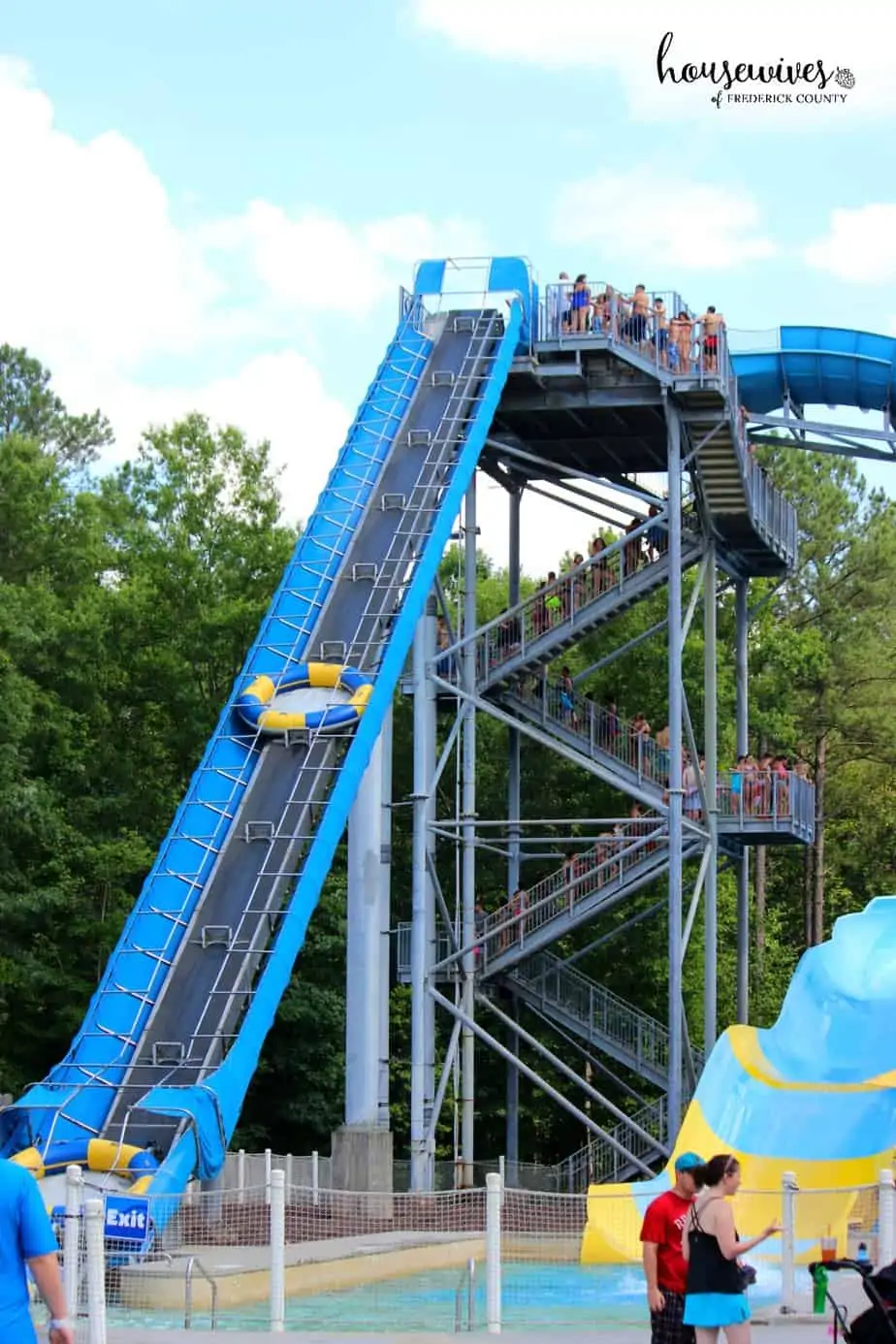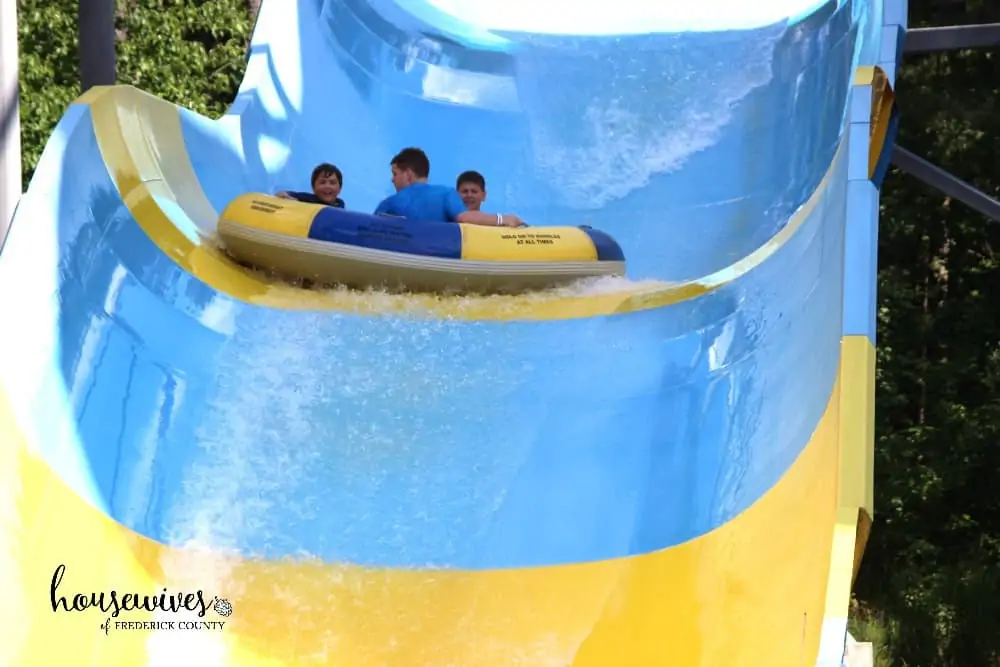 Because we wanted to get dried off and check out some of the new attractions in Kings Dominion, we weren't able to check out all that Soak City had to offer, like Soak City Splash House, Baja Bends, Big Wave Bay, FreeStylin', and Little Barefoot Beach.
We'll have to keep those attractions on our bucket list for next time.
Next up, we wanted to check out some of the new attractions at Kings Dominion.
Planet Snoopy
"An elaborate collection of PEANUTS-themed rides and attractions for every age including roller coasters, live shows, gift shop and meet-and-greet opportunities with your favorite pals from PEANUTS TV shows and comic strips."
Planet Snoopy has over 14 acres of Peanuts themed fun!
It was so fun walking through the park and seeing all of our favorite Peanuts characters walking around.
We actually felt like we were on a movie set.
Delirium
Kings Dominion's newest thrill ride for 2016, thrill seekers of all ages will fly through the air as they experience gravity-defying hang time.
Um, yeah, I'll leave that one to the younger people in my group!
We also made sure to visit the Eiffel Tower and ride the Dominator, the Drop Tower, and my personal favorite from way back in the day, the Rebel Yell.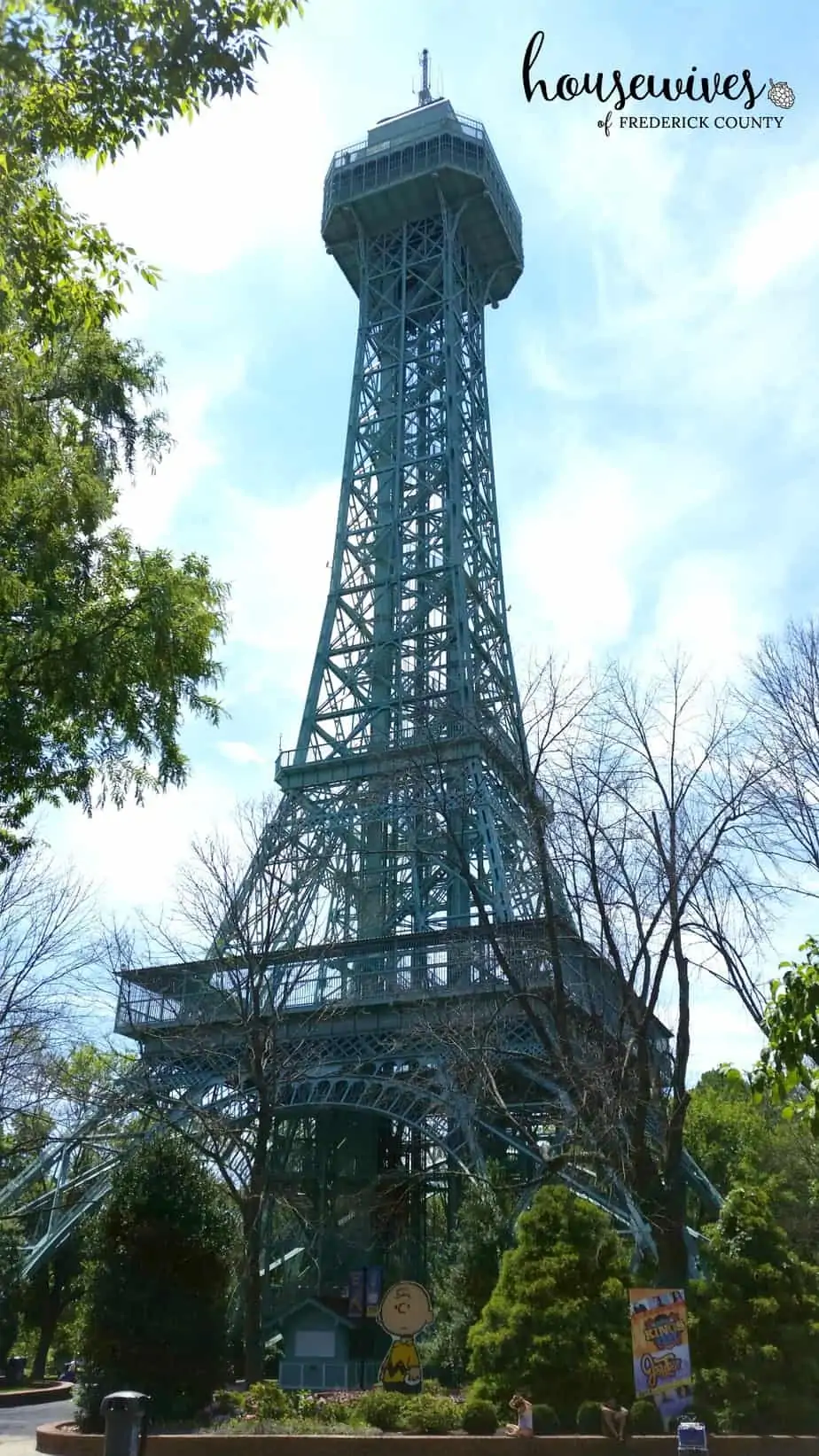 To see the wide-eyed expressions of excitement and anticipation on my son's and nephews' faces was priceless.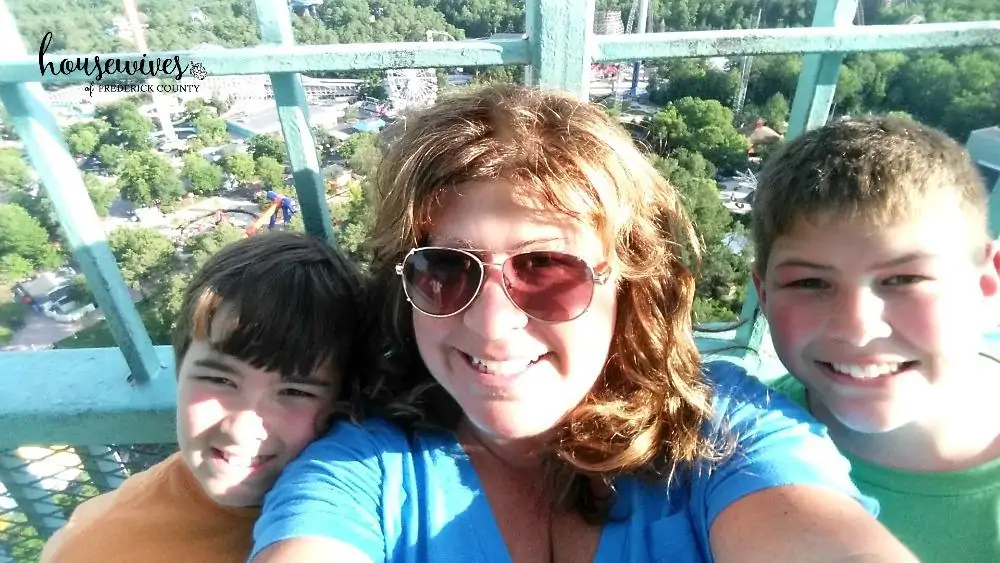 This was a day-trip like no other.
Colossal family fun was had by all.
We will absolutely be making Kings Dominion a new summer time tradition.
As a matter of fact, Kings Dominion has season pass offerings for unlimited summer visits, exclusive ride times, early access, food and merchandise discounts, free parking, and more.
So go get your thrill-on at Kings Dominon!
For more summer fun posts, click on over to:
Massey's Landing: 10 Reasons to Stay At This Luxury Campground
Kings Dominion Soak City: 10 Tips Before You Go (A great follow-up post for what to bring!)
Catoctin Zoo: How to Have an Awesome Day Trip