Kings Dominion has been a magical place I've been going to since I was a kid back in the '70s!
I'll never forget all of the awesome rides, the great food, and of course the iconic Eiffel Tower!
Soak City is just another amazing addition to Kings Dominion that makes me want to continue to go, even as an adult.
Since this was our 2nd summer in a row (see my post from last year: Kings Dominion: So Much More Than Rollercoasters!) going to Kings Dominion Soak City, I'm now pretty well versed with how to prepare in advance to ensure that everybody has a great time!
And by the way, everyone pays kids price NOW online through June 30th, so take advantage of this special offer!
Now, back to the 10 Kings Dominion tips.
10 Tips Before Going to Kings Dominion Soak City
1. Load The Kings Dominion Mobile App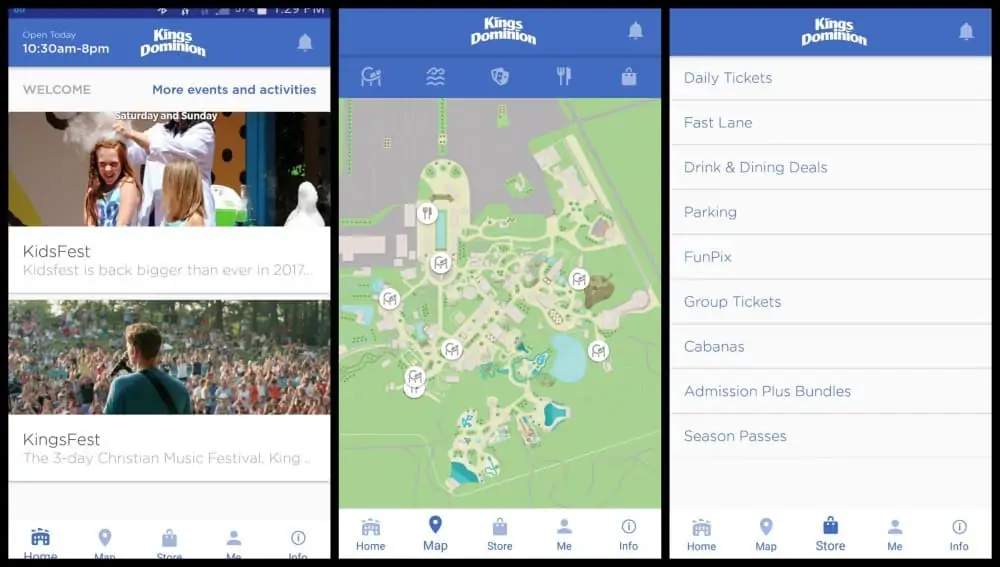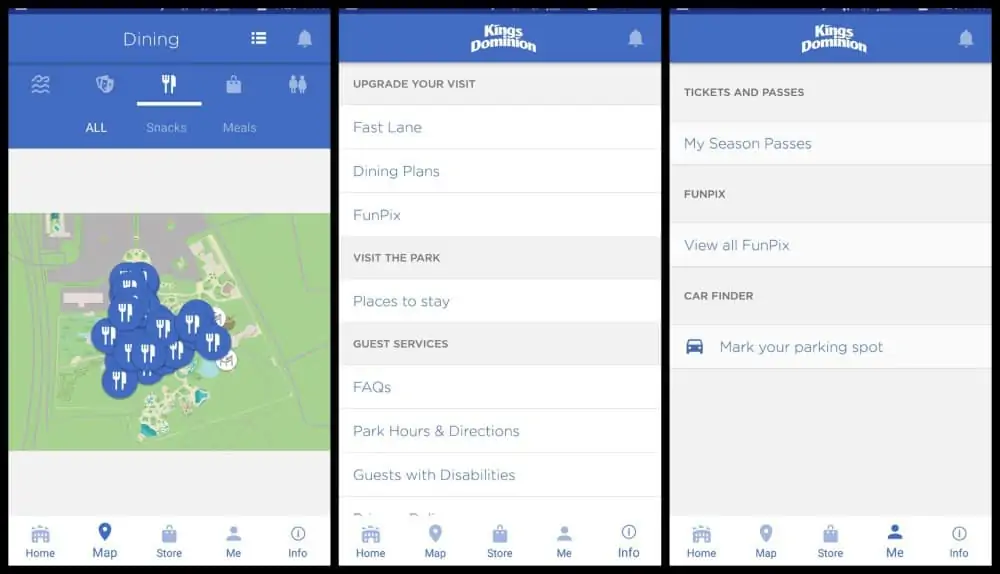 The Kings Dominion Mobile App is a free GPS enabled app you can install on your cell phone.
View the park's map to:
Get ride wait times
Find places to eat
See what events are going on
Find all of the water attractions
Use the car finder
Take advantage of any special deals, season pass info, and so much more!
The kids loved using this app to find all of the water attractions.
In addition, I love that you can use this app for Kings Dominion tips on planning your trip around any events that may be going on.
Kings Dominion's events include:
KingsFest
Star Spangled Celebration
Fireworks
JoyFest
Soak City Beach Parties
BBQ and Brew
Coaster Campout.
2. Get To Soak City At Kings Dominion Early With Swimsuits Already On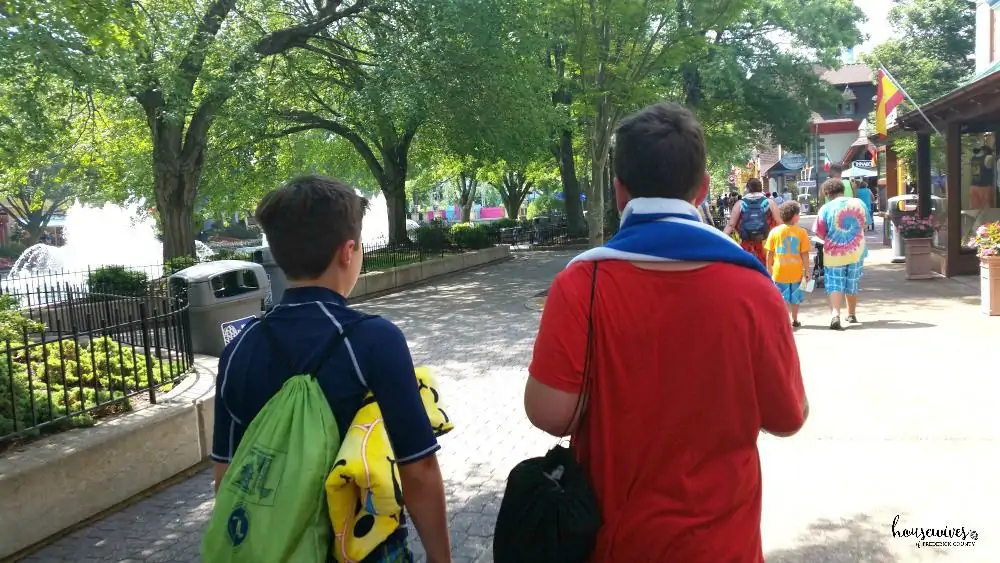 You'll want to get to Soak City early (weekdays are ideal) with your rash guard shirts, swim trunks (Amazon) and easy slip-on shoes (like flip-flops or water shoes (Amazon)) already on, grab a locker, stash your stuff, and get your soak on!
It goes without saying that long lines and a full wave pool aren't as much fun as feeling like you practically have the place to yourself.
3. Prepare Each Person Their Own Sackpack To Carry Through Kings Dominion To Soak City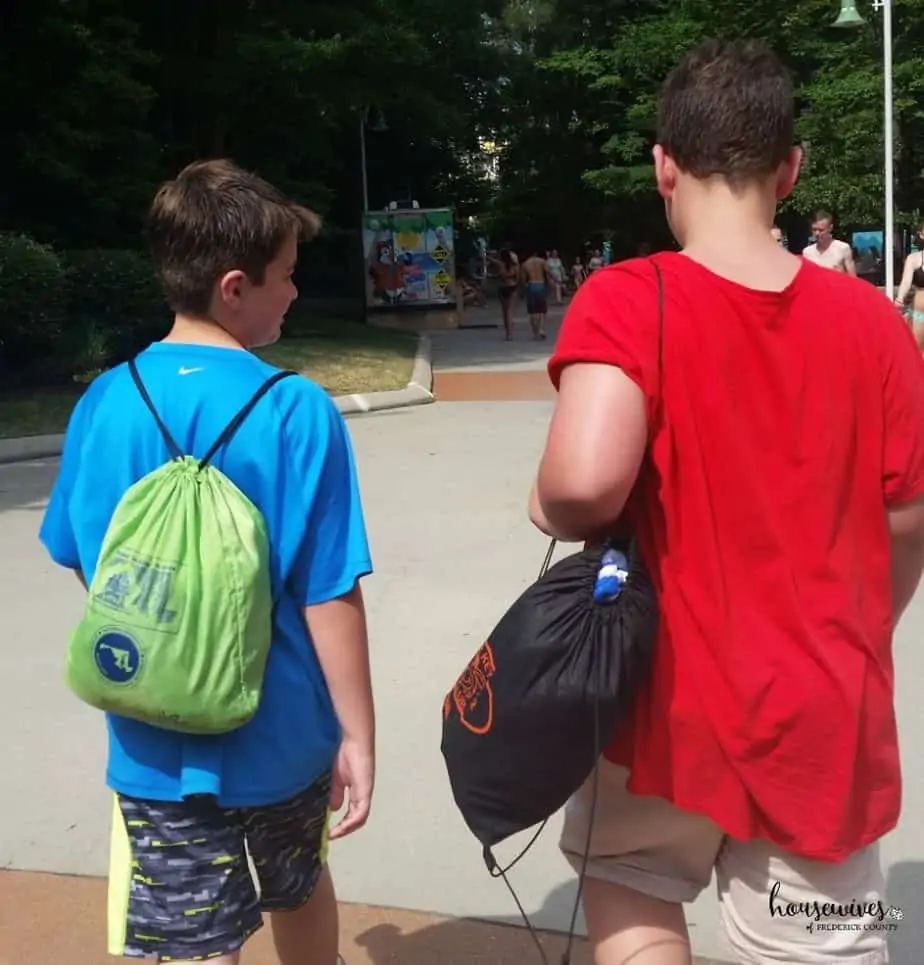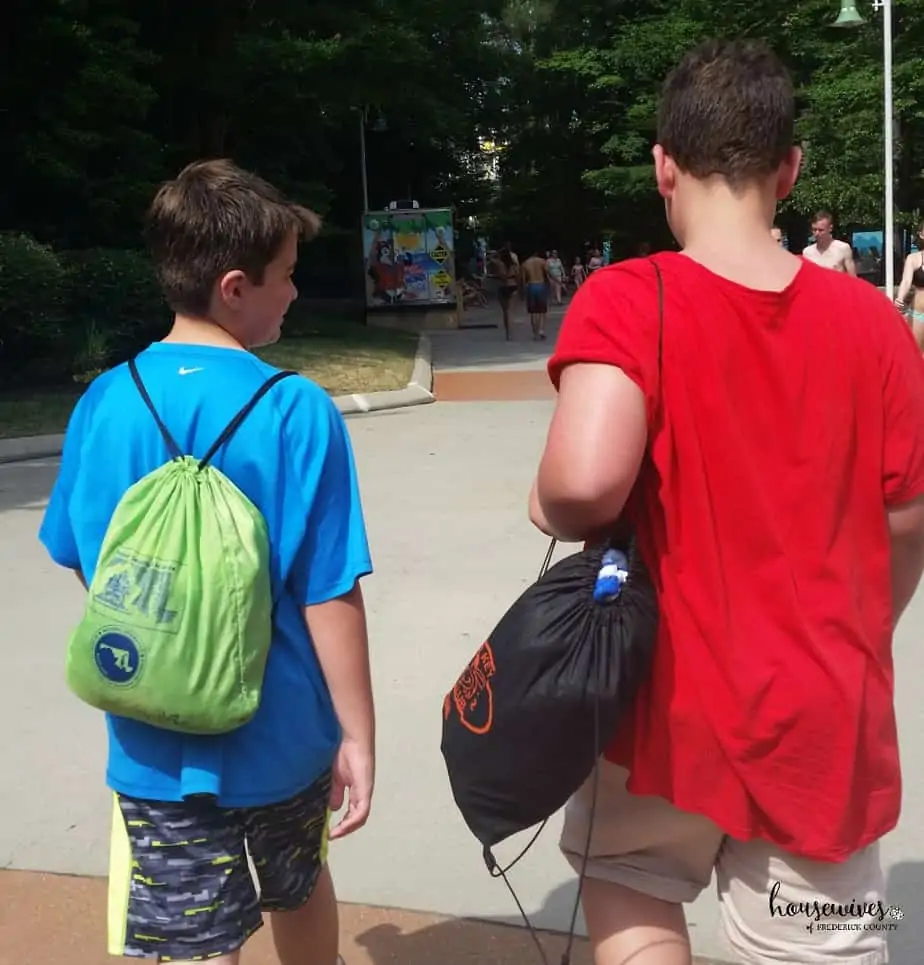 It's SO much easier this way versus you, the Mom (or home base as I call myself), having to carry everything in one big bag.
Therefore, pack each person's sackpack (Amazon) with a set of dry clothes (don't forget underwear and socks!), good walking shoes (for after Soak City), a beach towel (Amazon), and some spending money.
And before you even get to this point, make sure that each kids' sackpack has their name and address on a label inside.
If you need labels for this purpose, we love these waterproof, self-laminating labels (Amazon).
4. Plan To Buy a Kings Dominion Souvenir Refillable Drink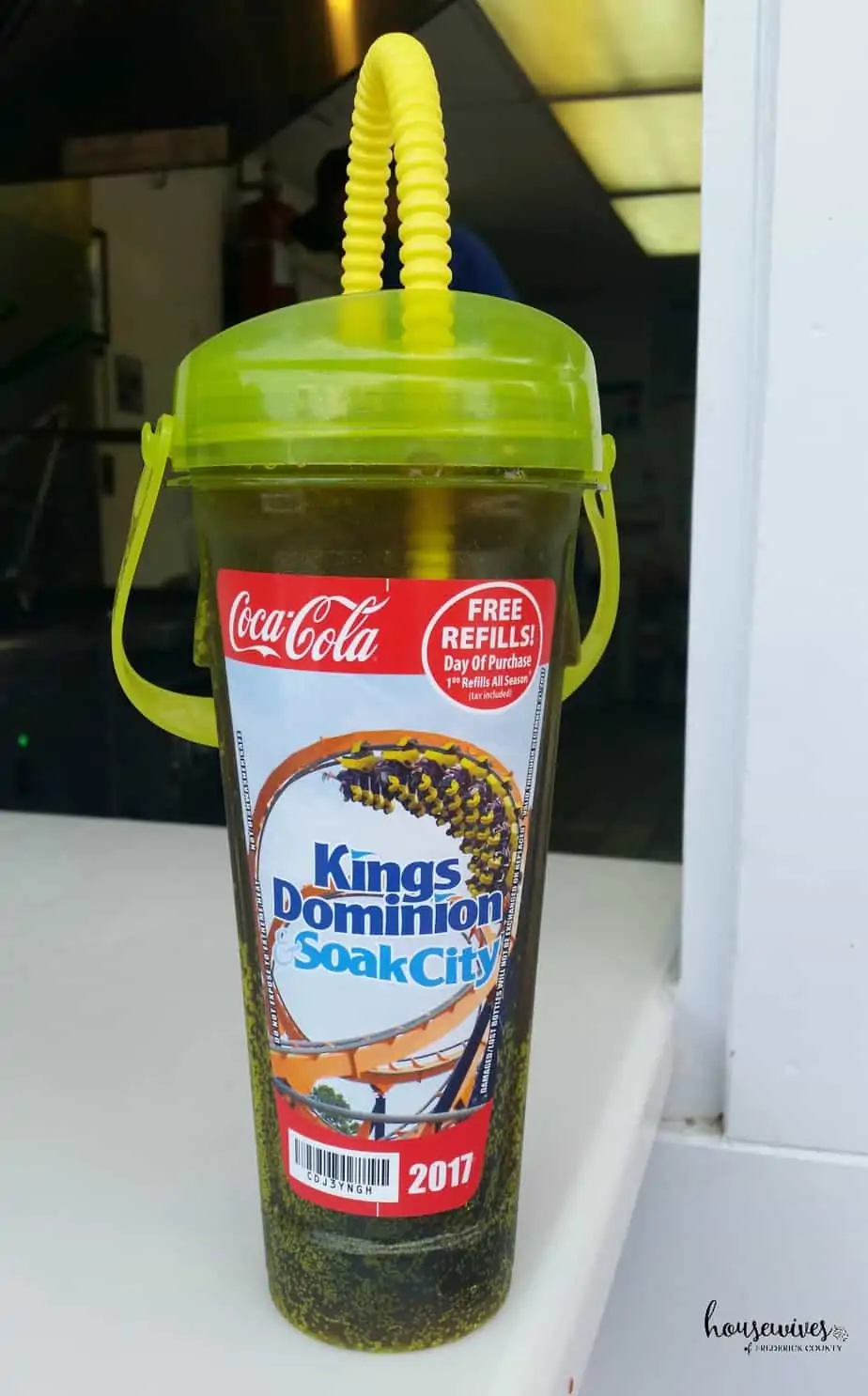 I promise you this will be your most important Kings Dominion tip of the day!
Obviously, you will be walking a LOT and the temps will be warm or even very HOT.
No lie, we went through at least 10 refills by the end of our day.
So. Worth. It.
5. Bring Spending Money For Each Person To Hold
Firstly, this gives the older kids a little bit more independence and takes some responsibility off of you.
Have each kid bring their own wallet (Amazon), again with their name & address inside just in case they lose it and a kind Samaritan turns it in, with a set amount of cash to spend as they please.
Secondly, it's a great way to teach them how to budget for the day.
Your older kids will like the freedom of getting what they want without having to ask first.
For instance, they REALLY wanted to check out the Hurricane Simulator for the first time since they hadn't had a chance to try it out last year.
Also, you'll definitely need to take time out to eat.
AND it's a great time to regroup.
Right here my son is saying, "The Power Plunge is AWESOME!"
And my nephew is replying, "Same" (for us older folks that means, Yes, I agree!).
Then they plotted out their next soak-filled attractions.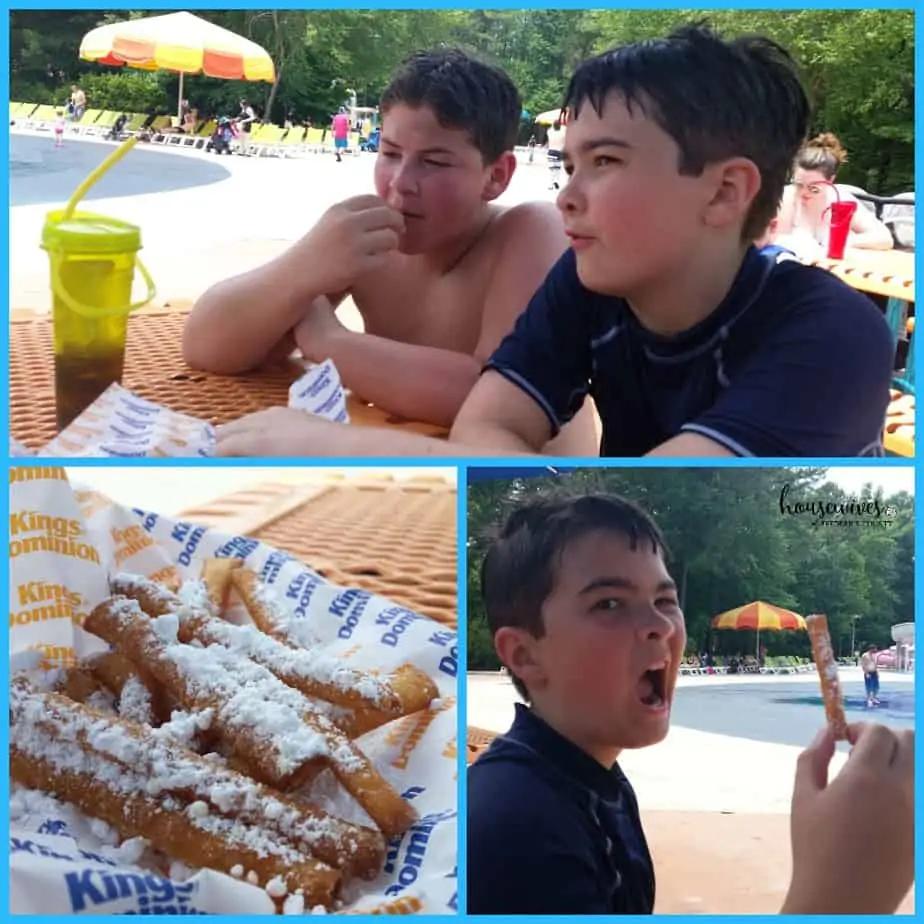 My son tried the funnel cake fries for the very first time and LOVED them!
6. Get A Locker At Soak City As Soon As You Get There
Another one of my great plan-ahead Kings Dominion tips!
Lockers are available, first-come, first serve, in Soak City, near the Front Gate, Safari Village Restroom, and the Old Virginia Restroom.
You have a choice of 3 different size lockers you can use for the entire day.
It's so nice to stash your stuff, get a pin code and go enjoy yourself without having to hold anything.
7. Plan to Get Wet At Soak City!
This really goes without saying, but it's just a reminder.
You will get soaking wet!
Don't worry about your hair or makeup and for goodness sake, don't wear anything that becomes see-through when wet.
The goal is to have a day's worth of carefree fun and not have to worry about how you look.
8. Sit On Top of The Tube In The Lazy River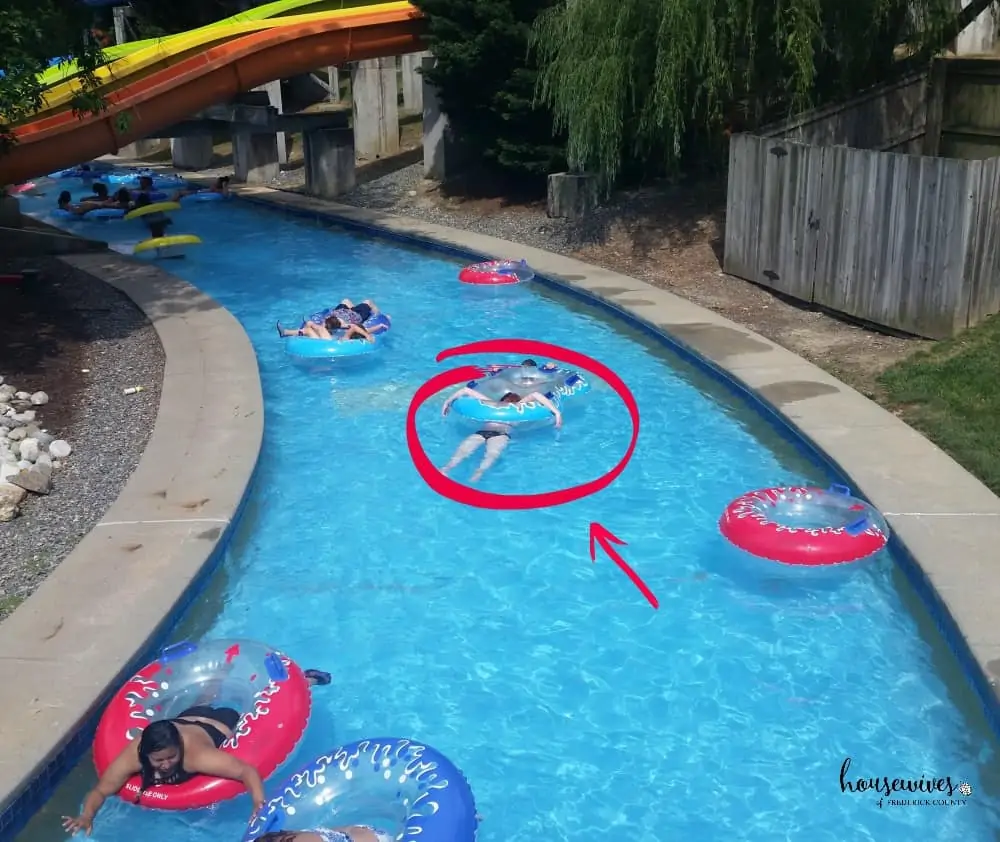 Another one of my "lessons learned" Kings Dominion tips is to not be this person circled in the above picture.
Hanging your body in this position over the tube is not comfortable at all.
How do I know? Because I tried it.
My arms got tired and my feet dragged along the bottom of the river.
Your best bet is to put most of your body on top of the tube and enjoy the ride!
You'll thank me later.
9. Enjoy A Live Show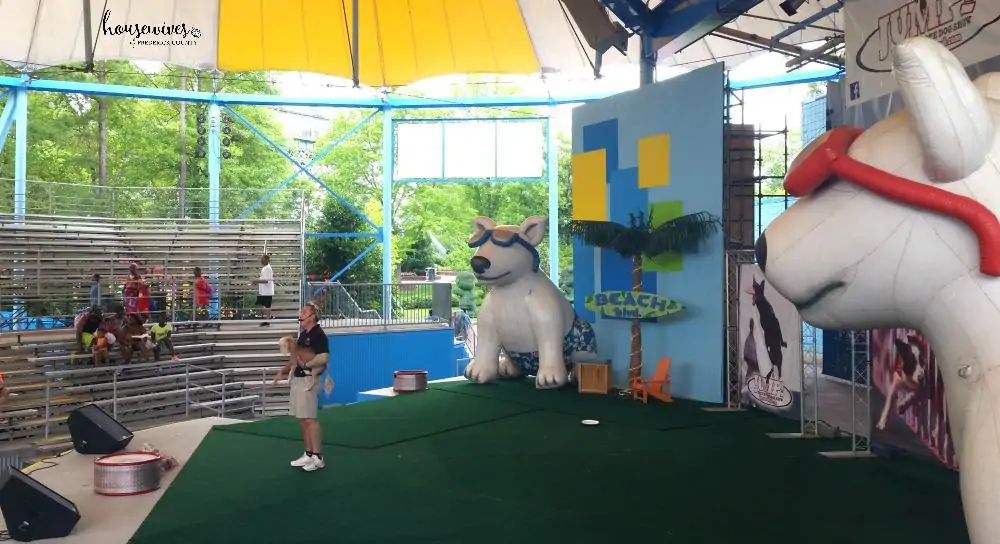 If you're like us, we usually last from the time Soak City opens until around 4:00 pm.
At that point, we're pretty water logged and we want to explore other parts of Kings Dominion.
We enjoyed a super cute dog show!
Here's the link to all of Kings Dominion's Live Shows.
10. Visit the Top Of The Eiffel Tower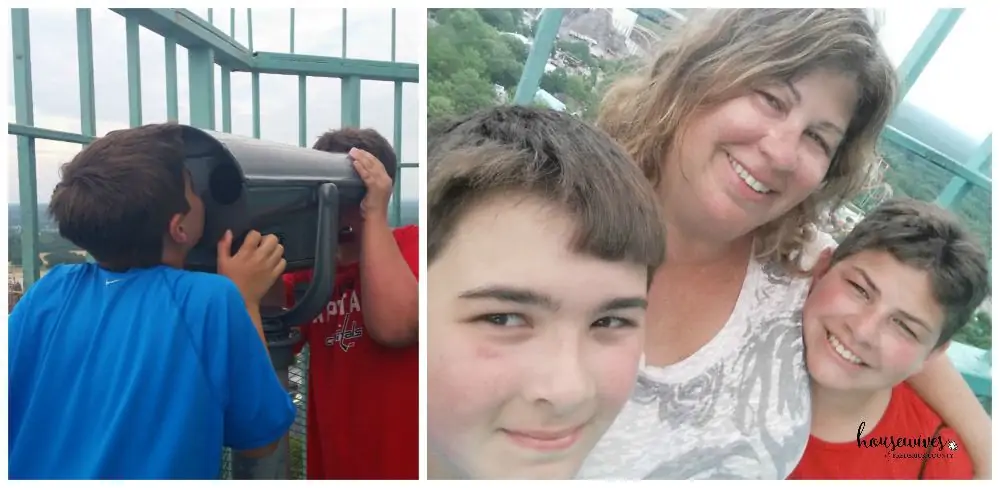 It is our tradition to go to the top of the Eiffel Tower toward the end of our day.
At this point, we're all pretty worn out, but happy because we had another amazing day!
You get to enjoy the view of the entire park, feel the extra breezes from being up so high, AND, the most important thing of all, it's GREAT for selfies!
So, before you make your next trip to Kings Dominion, be sure to print out my tips to ensure that you have the best day possible!
What are your best tried-and-true Kings Dominion tips?
Let me know in the comments!
For other fun things to do with the kids this summer, check out my posts on:
5 Reasons Folly Beach Should Be Your Next Summer Vacay
Masseys Landing: 10 Reasons To Stay At This Luxury Campground
Free Things To Do In Frederick, MD During The Summer