This traditional Gaspacho soup recipe is brought to us by one of our absolute FAVORITE local bloggers, Tara, at Lace & Grace!
By adding jalapenos and hot sauce, it really spices up this delicious cold tomato soup recipe!
Traditional Gaspacho Recipe
Gaspacho (also spelled Gazpacho) is a cold soup, originating in Spain, made from raw vegetables (mainly tomatoes), usually served as an appetizer.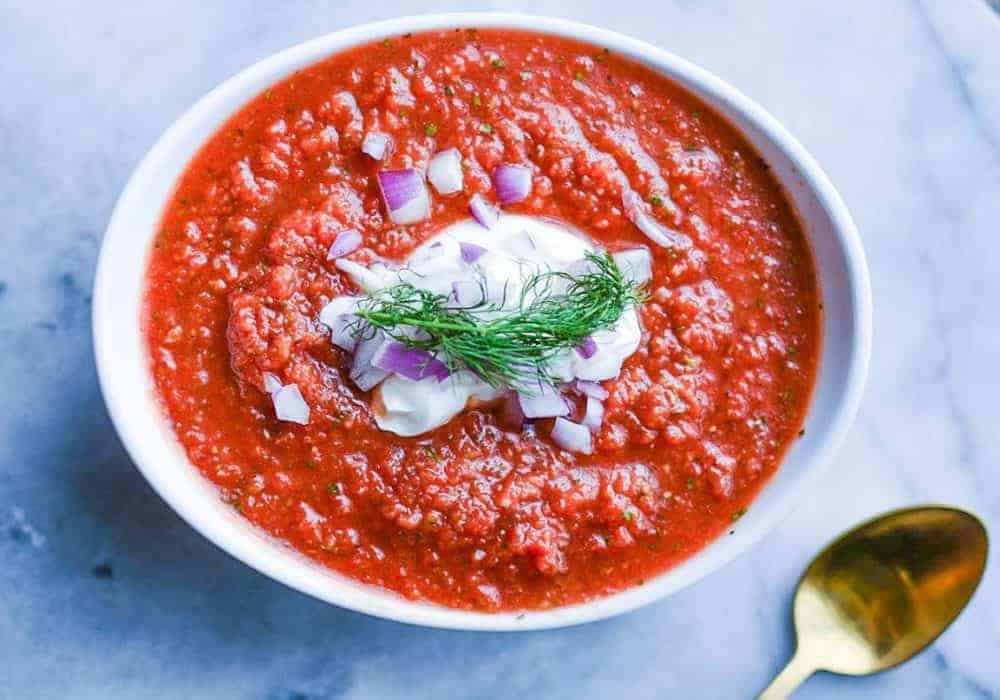 Is Gaspacho Really Healthy?
Oh my gosh yes! I mean, how can it not be healthy when the main ingredient is veggies?
For example, with this Gaspacho recipe, using tomatoes, you'll get a great source of minerals, antioxidants, fiber, and vitamins.
Because it's such a great source of lots of good stuff, eating this soup regularly will help to prevent prostate cancer, high blood pressure, and eye issues.
Is Gaspacho Served Hot or Cold?
If you serve it hot, it's not Gaspacho – it's tomato soup.
So, yes, Gaspacho is served cold.
And what better way to enjoy the hot summer and use up all those tomatoes you're growing than to enjoy this wonderful concoction!
Serve it with a side of hot crusty buttered bread and life is good!
Is Gaspacho Good For Weight Loss?
As a matter of fact, this super healthy, fresh recipe is great for weight loss!
Because the main ingredient is tomatoes, which are high in fiber but low in calories and fat, it's filling and satisfying.
Coming Up with the Recipe
Growing up, Tara's father frequently ordered Gaspacho when they dined out.
As a matter of fact, at home, he would attempt his own version and it always turned out fantastic.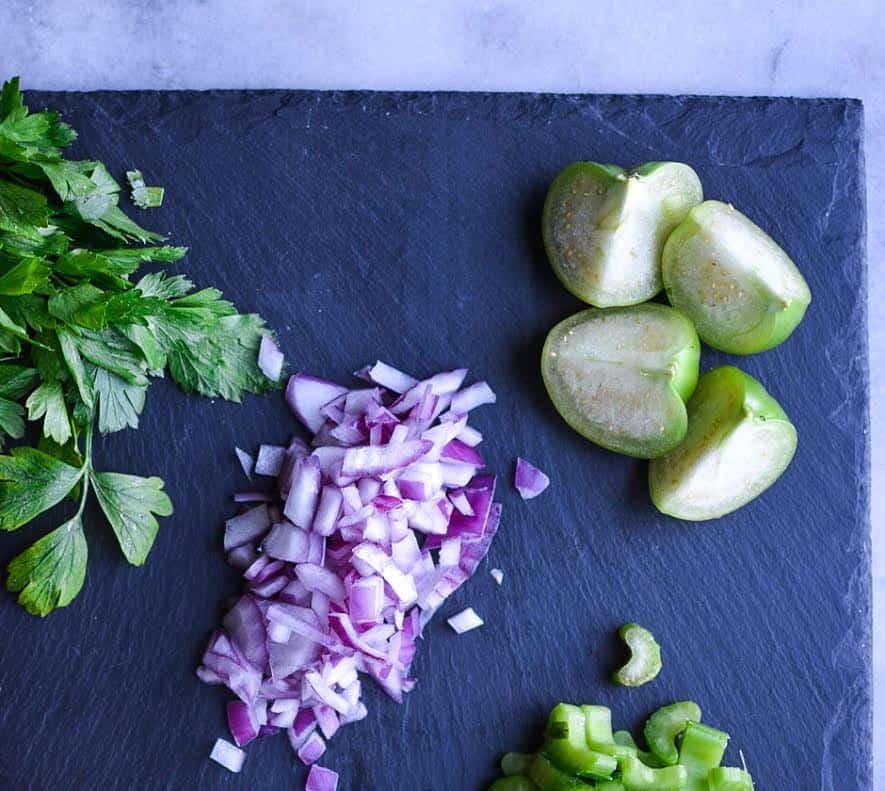 Consequently, Tara quickly fell in love with the flavor and freshness of this dish.
Plus, a soup you can eat in the summer time to cool you off?
Clearly, you can't get any better than that!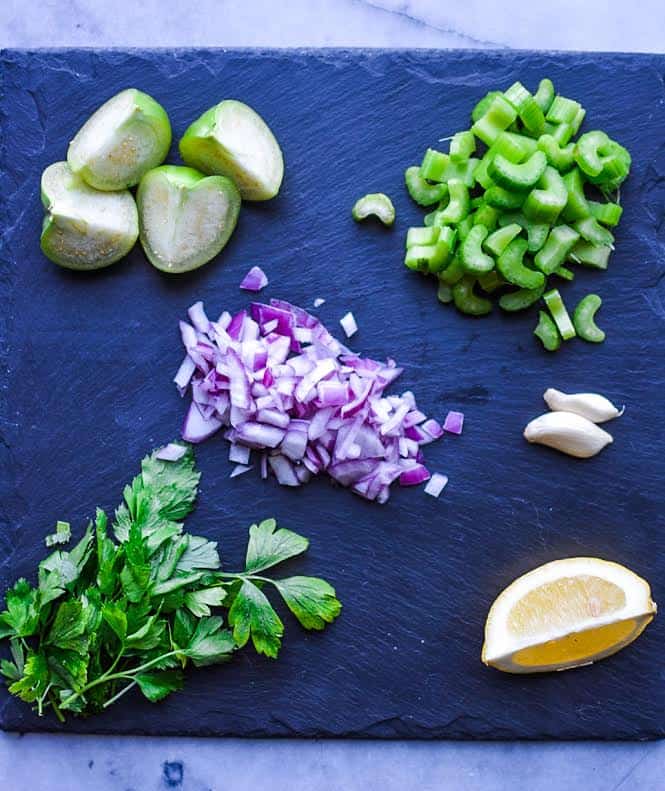 Therefore, Tara decided to give this classic a try, but gave it her own flair and threw in some hot sauce and jalapeno to add some kick.
Because summers can get pretty hot here in Maryland, this traditional Gaspacho recipe is a fantastic addition to your summer recipe rotation!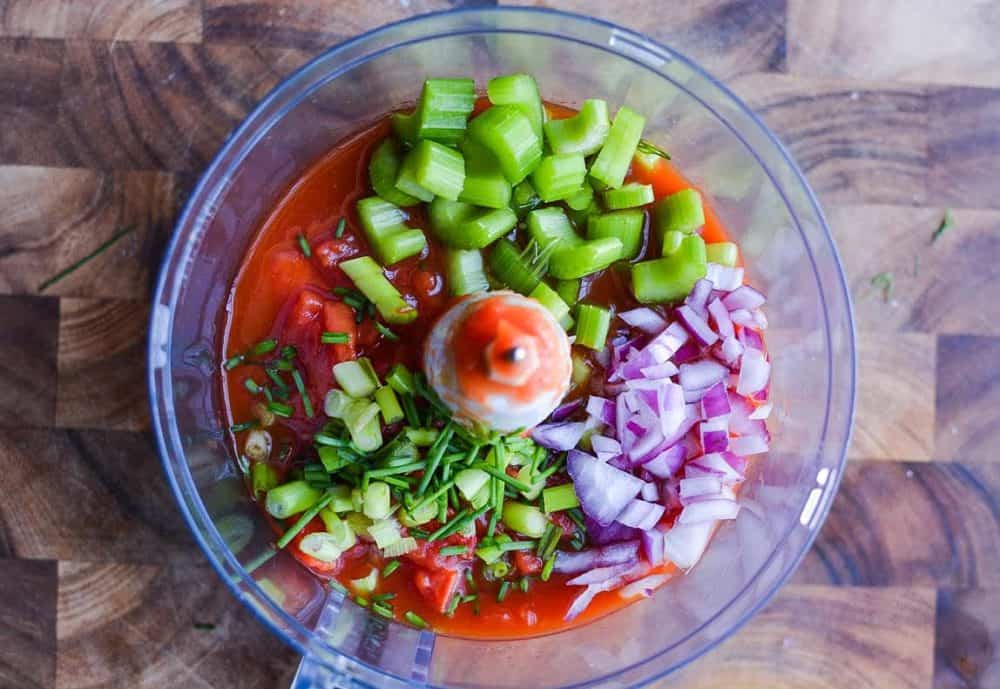 As well as that, this recipe can be made in a matter of minutes and cleanup is a breeze.
Quick, easy recipe + minimal cleanup = a winning recipe for me!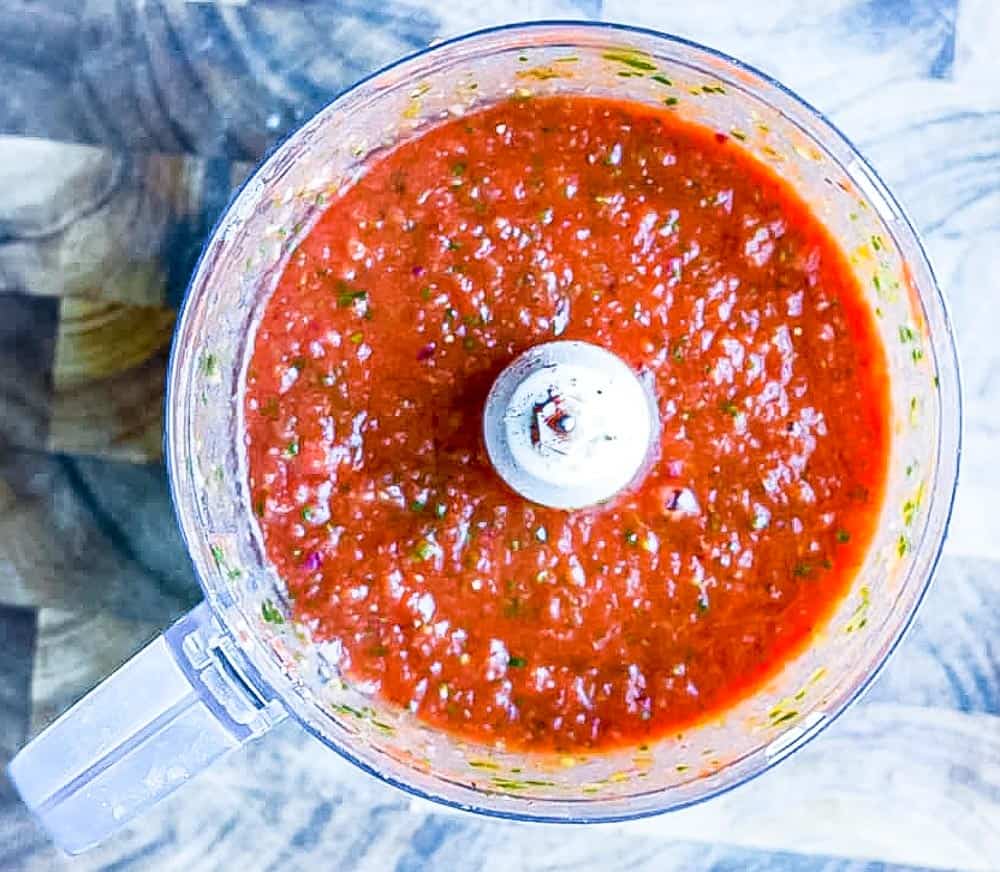 Gaspacho Ingredients
Here's what you'll need to make this delicious recipe:
Diced Tomatoes (canned or fresh)
Tomato Juice
Olive Oil
Hot Sauce
Sour Cream or Greek Yogurt
Lemon
Jalapeno
Celery
Zucchini
Cucumber
Red Onion
Fresh or Minced Garlic
Tomatillo
Parsley
Fresh Dill
Scallions
Chives
Also, you will need a good food processor (Amazon) or a NutriBullet (Amazon) to combine the ingredients into a nice smooth soup consistency.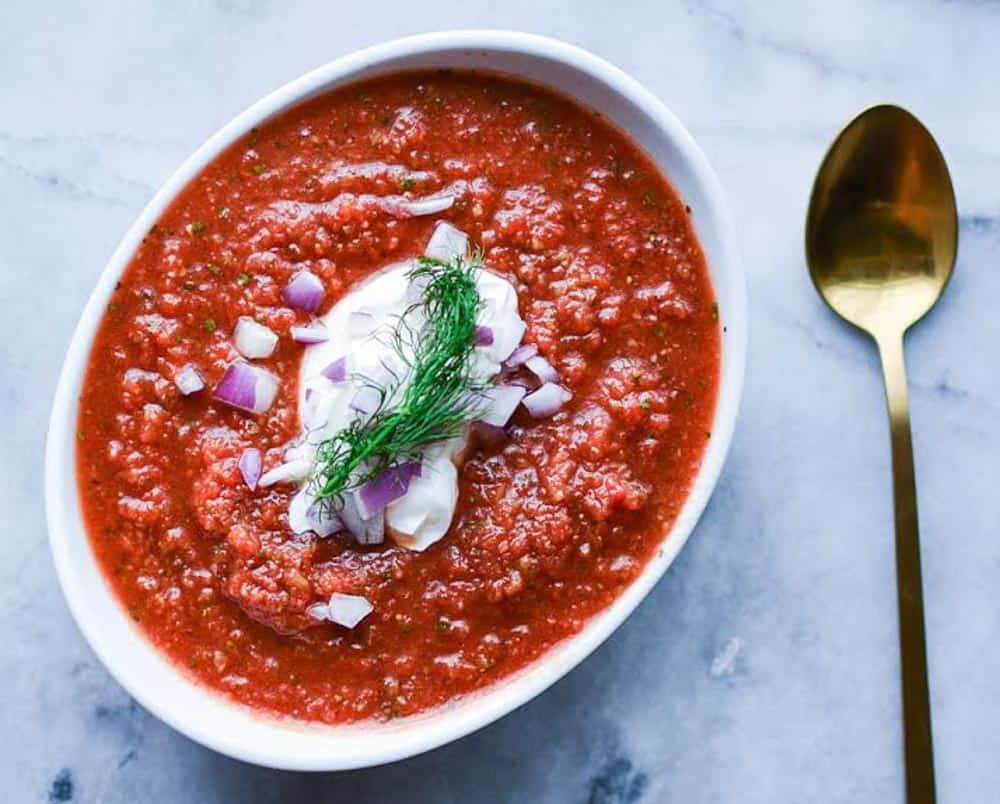 Gaspacho Recipe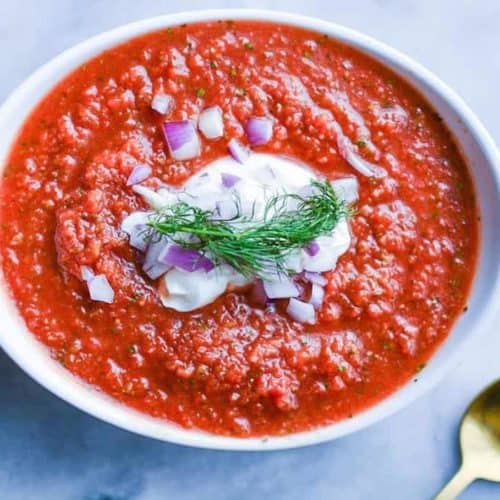 Traditional Gaspacho Recipe with a Kick
A delicious cold Spanish soup made with raw veggies and jalapenos and hot sauce to give it a kick!
Ingredients
12

oz

can of diced tomatoes

½

cup

tomato juice

¼

cup

olive oil

1

tablespoon

hot sauce

1

tablespoon

sour cream

,

or Greek Yogurt

1

Juice of 1 lemon

½

jalapeno

,

seeded and minced

2

sticks

celery

,

chopped

½

zucchini

,

sliced

½

cucumber

,

sliced

¼

red onion

,

chopped (reserve some for garnish)

2

cloves

garlic

,

minced

1

tomatillo

¼

cup

parsley

2

Tbsp

fresh dill

2

scallions

,

chopped

1

Handful of chives

,

chopped (for garnish)
Instructions
Directions

Place all ingredients in food processor and blend until all ingredients are mixed and fairly smooth (leave some chunk in there)

Add a bit of water if too thick; add a bit more sour cream if too runny

Refrigerate for at least an hour before serving

Garnish with sour cream, red onion and dill
Finally, if you are looking for a cold soup without tomatoes, head on over to Tara's blog to get the recipe for the Chilled Cucumber & Dill Soup!
And for more tomato recipes, click on over to:
Simple Vegetarian Chili Recipe with Tempeh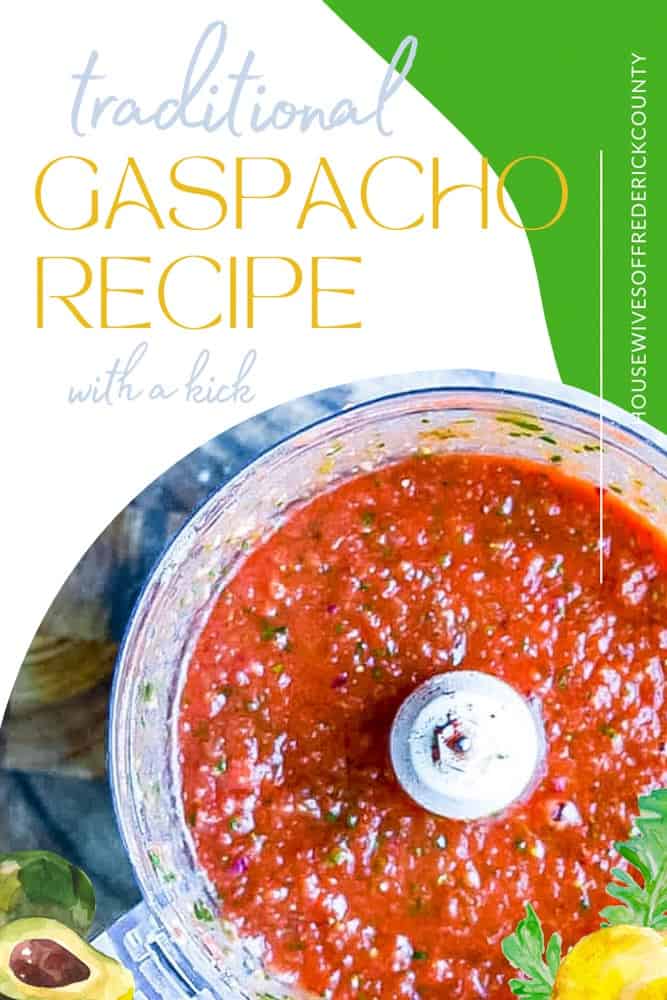 Thank you to Tara from Lace & Grace Blog for this yummy recipe!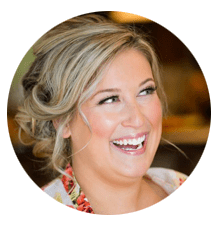 Tara is a born and raised Fredericktonian and loves sharing all about her travels, food experiences and fun events at her lifestyle blog Lace & Grace. She lives with her husband, 2 baby boys and 2 pups, Cha Cha & Hoover. In her spare time, she loves to be outside, explore new places, entertain friends/family and go antiquing.