This authentic Gazpacho recipe is super easy to make and the perfect cold soup recipe for a hot summer day.
By adding jalapenos and hot sauce, it's spiced up just the right amount, adding a little zing and resulting in an incredibly delicious appetizer or main course!
Authentic Gazpacho Recipe
Traditional Spanish Gazpacho (also spelled Gaspacho) originated in the south of Spain and is a cold soup made from raw vegetables (mainly tomatoes), and usually served as an appetizer.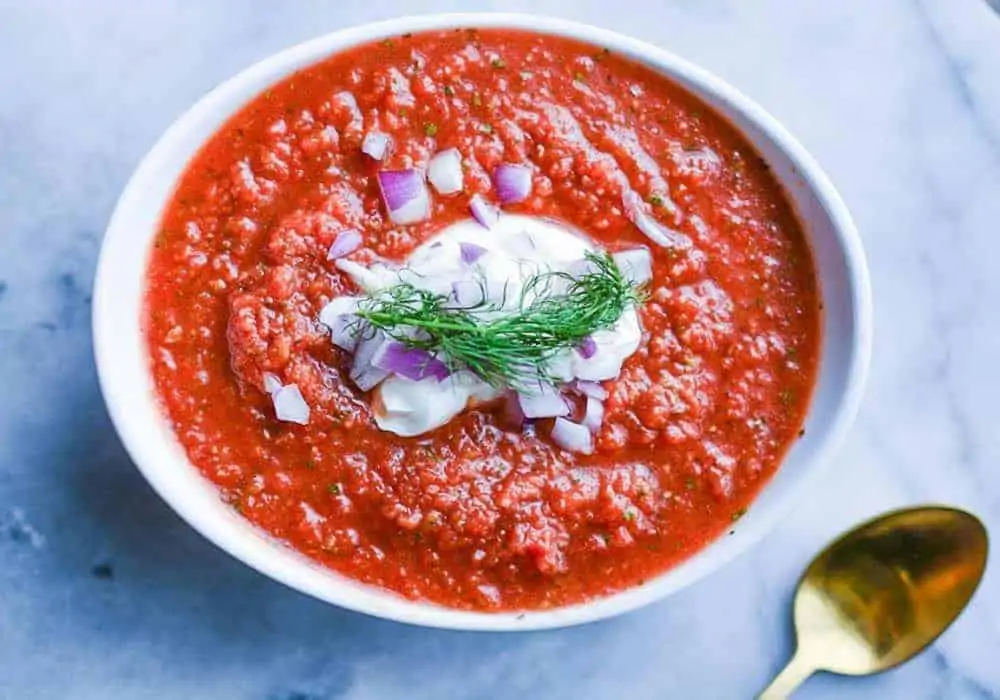 Is Gazpacho Really Healthy?
Oh my gosh yes! I mean, how can it NOT be healthy when the main ingredient is veggies?
Specifically, this type of Spanish cuisine uses lots of tomatoes, providing you a great source of:
Minerals
Antioxidants
Fiber
Vitamins
Also, this super healthy, fresh recipe is great for weight loss!
Because the main ingredient is tomatoes, which are high in fiber but low in calories and fat, it's filling AND satisfying.
In addition, it's such a great source of fresh ingredients which can help to prevent:
Prostate Cancer
High Blood Pressure
Eye Issues
Is Gazpacho Served Hot or Cold?
If you serve it hot, it's not Gazpacho – it's tomato soup.
So, yes, Gazpacho is served cold.
Although good Gazpacho is typically a summer soup, you can enjoy it any time of year.
However, what better way to enjoy the hot summer months than to use up all those delicious, fresh, ripest tomatoes you're growing and include them in this recipe!
Not only that, but other summer produce is included in this recipe as well.
But, if you're not growing your own, it's okay!
Gives you a great excuse to take a trip out to your local farmers market to ensure you get the freshest ingredients possible.
How to Make Authentic Gazpacho
In my opinion, this is the best Gazpacho recipe I've ever tasted!
To give you a little bit of background, my friend Tara, from Lace & Grace Blog, grew up enjoying this recipe made by her beloved father.
Then, when she grew up, she decided to give this classic a try, but also give it her own flair by throwing in some hot sauce and jalapeno to add some kick.
Quick, easy recipe + minimal cleanup = a winning recipe for me!
So, first, you need to know what ingredients to use.
Ingredients: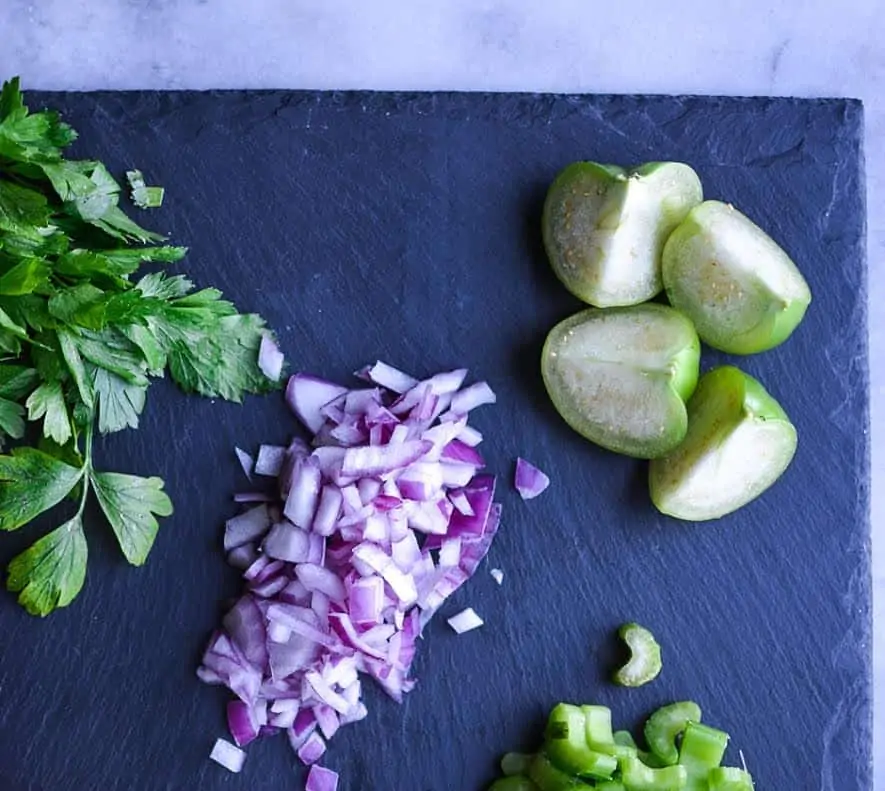 Here are the ingredients (preferably as many fresh ingredients as possible) you'll need to make this delicious recipe:
Diced, Ripe Tomatoes (canned or fresh tomatoes)
Tomato Juice
Olive Oil
Hot Sauce
Sour Cream or Greek Yogurt
Lemon
Jalapeno
Celery
Zucchini
Cucumber
Small Red Onion (diced onions)
Fresh, Small Garlic Cloves or Minced Garlic
Tomatillo
Fresh Herbs: Parsley, Dill, Chives
Scallions (Green Onions)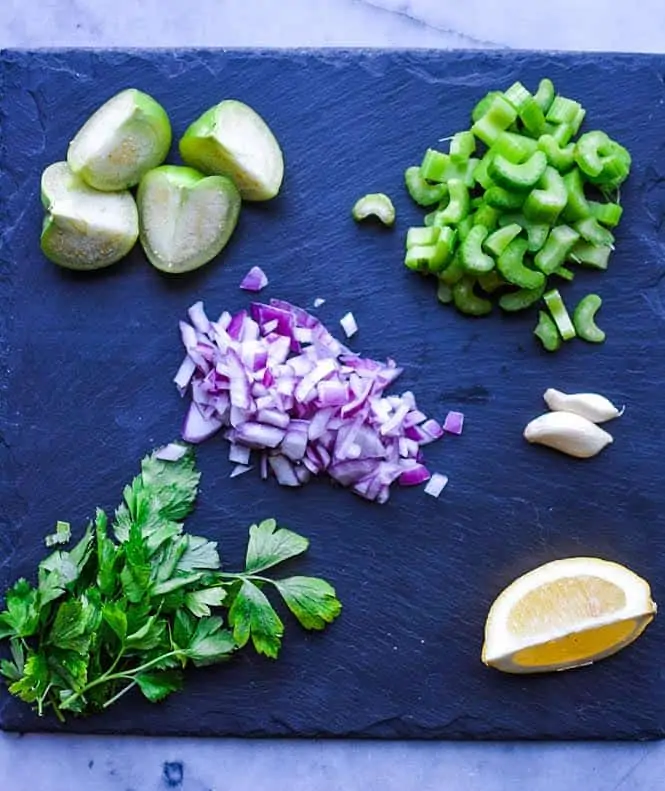 Easy Gazpacho Recipe Step-By-Step Instructions
Step 1: Place All Ingredients in Food Processor & Blend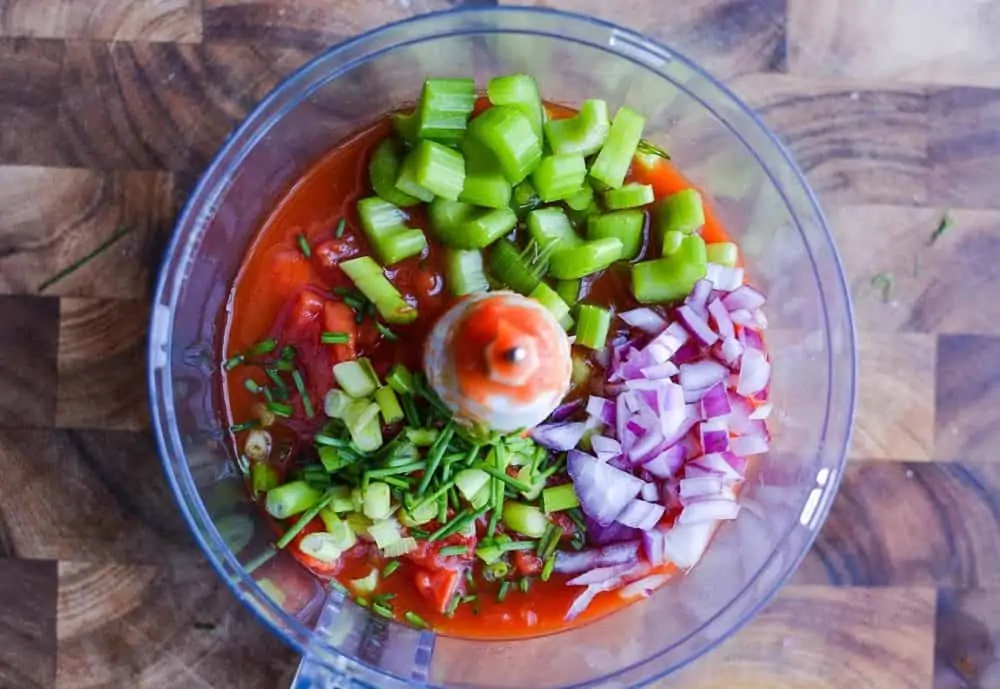 First, you will need a good Food Processor (Amazon), Hand Blender (Amazon), or a NutriBullet (Amazon) to combine the ingredients (typically on high speed) into a nice, fairly smooth soup consistency.
However, be sure to leave a little bit of consistency to this soup so it's not runny.
Step 2: Add Cold Water OR Sour Cream For Desired Consistency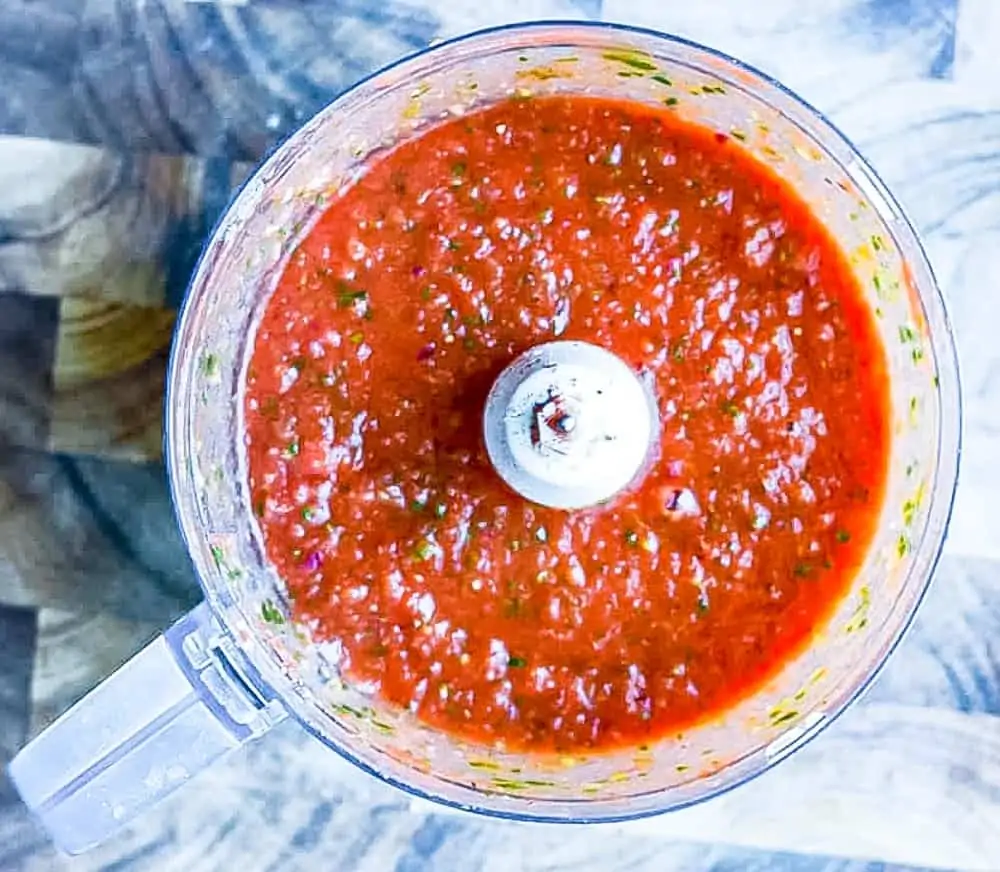 In order to get your soup to the appropriate consistency, you'll either want to add cold water to make it thinner or sour cream to make it thicker.
This all depends on your personal preference as to how thick you want your soup.
For example, whenever I eat gazpacho, I like it to be a somewhat thick and chunky soup.
Step 3: Refrigerate for At Least an Hour
Because this is a soup best served cold, chill it in your refrigerator for at least one hour.
Step 4: Garnish Soup & Serve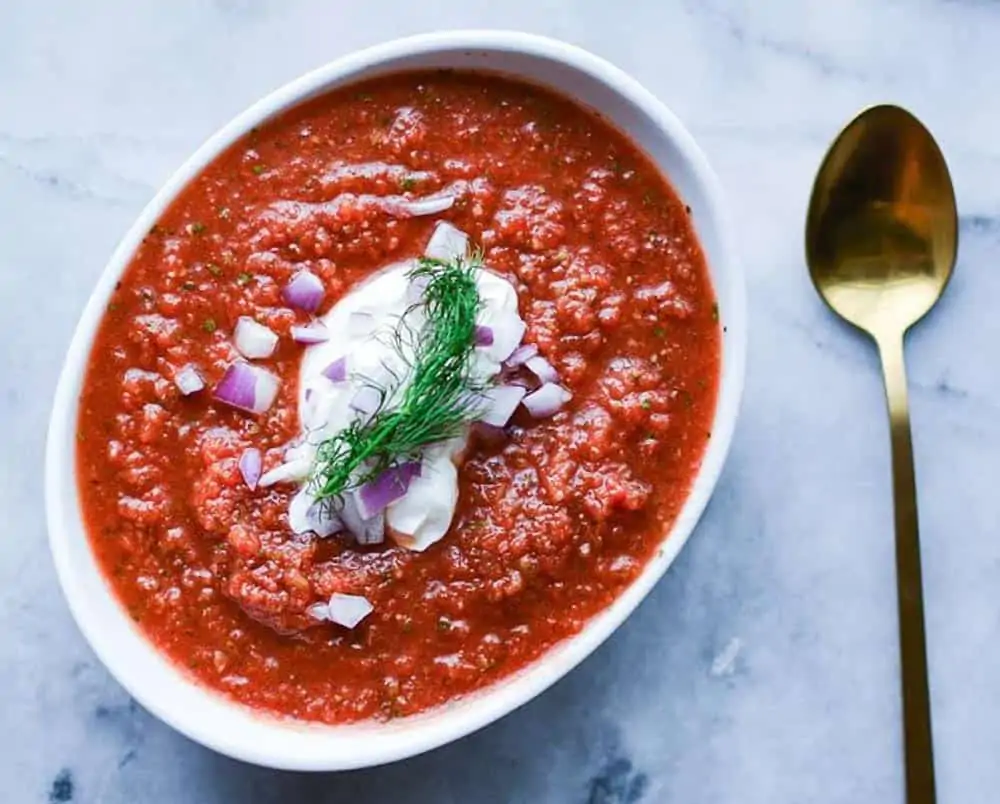 Now that your soup is chilled, use a ladle (Amazon) to scoop it out and place into individual soup bowls (Amazon).
Then, garnish with some sour cream, chopped red onion, and fresh dill.
See, wasn't that easy?
The total time for making this recipe, including the time it takes to chop everything and refrigerate for an hour is approximately one hour and 20 minutes.
Additions and/or Substitutions
Although this gazpacho is the traditional recipe, feel free to add or omit specific ingredients.
Additions:
Sherry Vinegar, Balsamic Vinegar or Red Wine Vinegar
Green Bell Pepper
Red Bell Pepper
Black Pepper
Worcestershire Sauce
What To Serve with Gazpacho
There's no rule that Gazpacho has to be served as an appetizer.
Although Gazpacho is the perfect starter to your summer main course, you can also serve this chilled soup as the star of the show along with:
Salad
Hot, crispy buttered bread
Toppings:

Croutons
Drizzle of Olive Oil
Chopped Onions
Fresh Dill
Sour Cream
Different Ways To Make Gazpacho
I have only eaten this Spanish soup made the traditional way.
However, there are other ways you can eat and make Gazpacho:
Watermelon Gazpacho

– Oh my! I definitely need to try this. The recipe still has tomatoes in it but also adds in watermelon and fresh mint!

White Gazpacho

– Okay, so this is a totally different recipe altogether but still sounds amazing. It calls for cucumbers, green grapes, stale bread, and blanched almonds.

Gazpacho Andaluz

– This is just another way of saying classic Gazpacho because it originated from Andalusia, Spain. However, it is typically made with a slice of bread in order to thicken up the consistency.
Authentic Gazpacho Recipe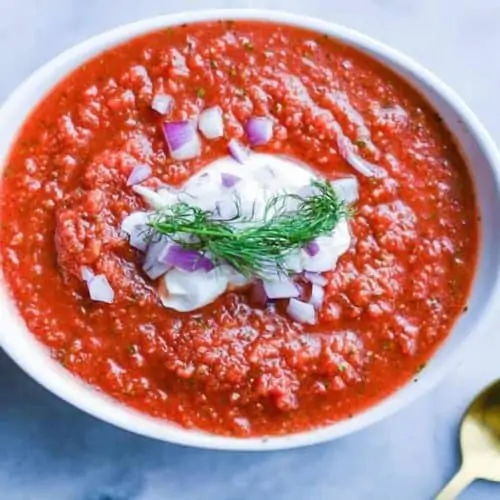 Authentic Gazpacho Recipe
A delicious cold Spanish soup made with raw veggies and jalapenos and hot sauce to give it a kick!
Ingredients
12

oz

can of diced tomatoes

½

cup

tomato juice

¼

cup

olive oil

1

tablespoon

hot sauce

1

tablespoon

sour cream

,

or Greek Yogurt

1

Juice of 1 lemon

½

jalapeno

,

seeded and minced

2

sticks

celery

,

chopped

½

zucchini

,

sliced

½

cucumber

,

sliced

¼

red onion

,

chopped (reserve some for garnish)

2

cloves

garlic

,

minced

1

tomatillo

¼

cup

parsley

2

Tbsp

fresh dill

2

scallions

,

chopped

1

Handful of chives

,

chopped (for garnish)
Instructions
Place all ingredients in food processor and blend until fully mixed and fairly smooth (leave some chunk in there)

Add a bit of water if too thick; add a bit more sour cream if too runny

Refrigerate for at least an hour before serving

Garnish with sour cream, red onion and dill
And for more tomato recipes, click on over to:
Simple Vegetarian Chili Recipe with Tempeh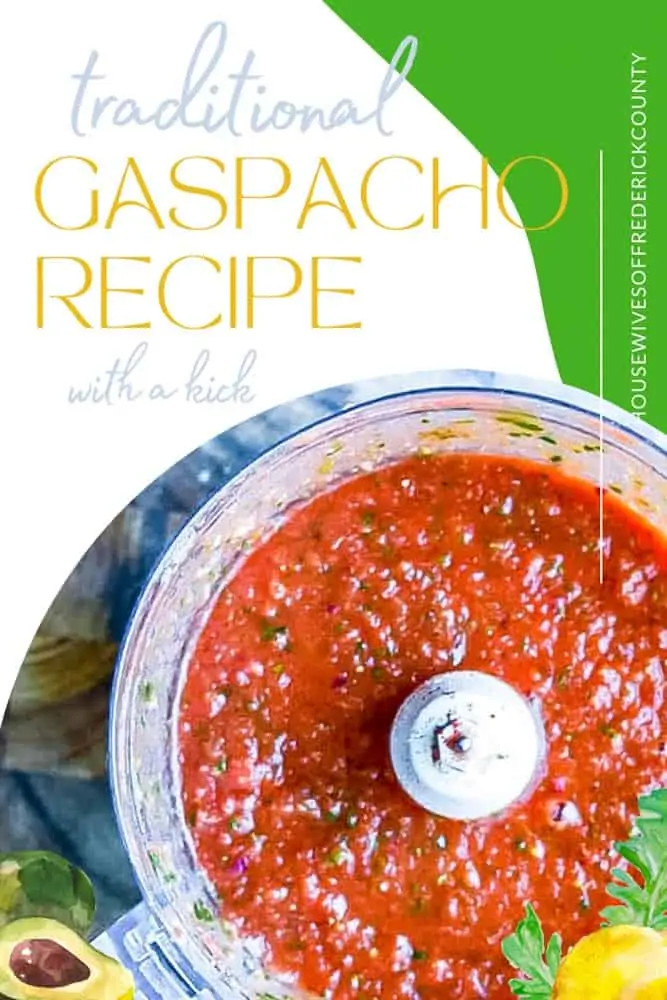 Thank you to Tara from Lace & Grace Blog for this yummy recipe!