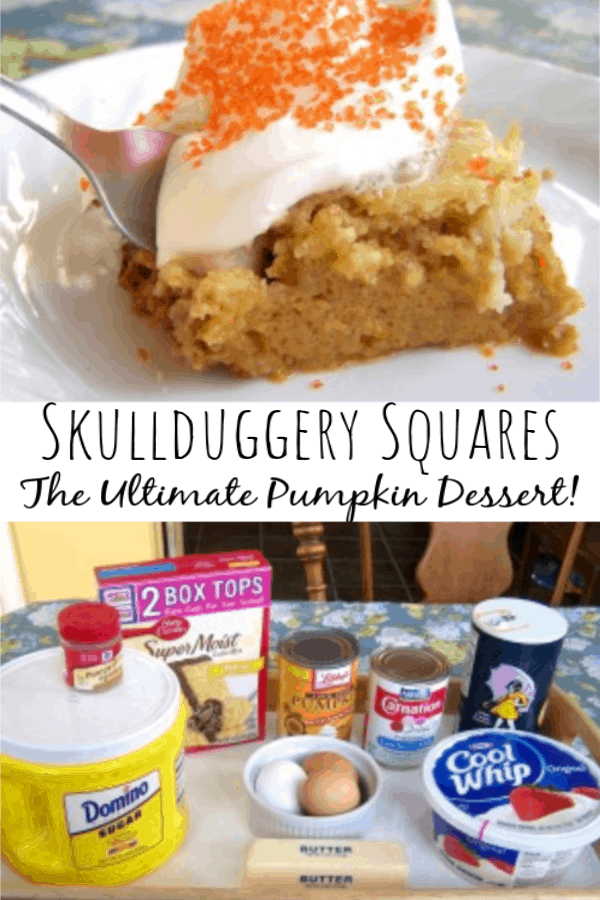 This easy Skullduggery Squares recipe is so delicious and very similar to make as a dump cake.
It's the perfect dessert to make during the Fall months when pumpkin pickin' is prime!
However, you're using canned pumpkin so technically you can make this Skullduggery Squares recipe all year round!
Easy Skullduggery Squares Recipe: Here Is The Ultimate Pumpkin Dessert!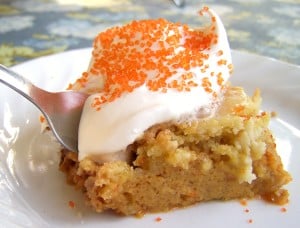 The name of this recipe implies that this is a Halloween themed recipe.
Although when I looked up the definition of skullduggery, it means underhanded or unscrupulous behavior or trickery.
However, I've seen the word skullduggery used for names of Halloween pirate costumes and skull decorations.
In addition, it truly could just as easily be a Thanksgiving themed recipe because of the pumpkin involved.
What are Skullduggery Squares?
Nevertheless, these scrumptious Skullduggery squares are the ultimate pumpkin dessert!
Not only because they taste like little pieces of pumpkin heaven on a plate, but also because they're ridiculously easy to make.  
Also, they're a great alternative to pumpkin pie on Thanksgiving and Christmas Day.  
Thank you to my friend Robin for introducing me to this recipe.  
It can also be found on Amazon in the A Ghastly-Good Halloween by Gooseberry Patch.
This book has Halloween recipes, crafts, costume ideas, and decorations.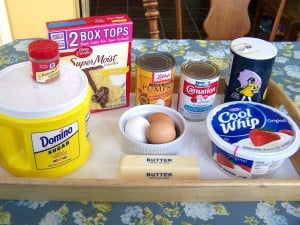 Skullduggery Squares Recipe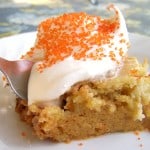 Print Recipe
Skullduggery Squares Recipe
An easy to make and scrumptious pumpkin dessert bar recipe.
Ingredients
12

ounces

Evaporated Milk

I used low fat

3

Eggs, beaten

2

tsp

Pumpkin Spice

1/2

tsp

Salt

1

cup

Granulated Sugar

15

ounces

Pumpkin, canned

18 1/2

ounces

Yellow Cake Mix

1

stick

Butter

1

garnish

Whipped Topping, Candy Sprinkles or Colored Sugar
Instructions
Combine all ingredients except cake mix, butter, and garnish.

Pour into a greased 13 x 9 pan.

Sprinkle on the dry cake mix evenly across the top (Do not stir).

Dot with butter – Lesson learned: I did not cover the entire top of the dry cake mix with butter and this is why part of the powder did not bake.  It is important to slice the butter into very thin slices and cover the entire top of the cake mix so that the butter will moisten the cake mix in order to make a nice crispy crust.

Bake at 350° for 30 to 35 minutes – Another lesson learned: I added an additional 10 minutes and it still was not cooked to my liking.  Based on your oven, keep checking after the 35 minutes has passed until the top is an even golden color.

Serve with whipped topping.

Decorate with candy sprinkles or colored sugar.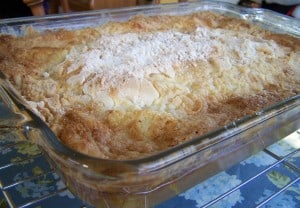 Nutrition Information
This recipe makes 20 squares.  
I could not find the nutrition information.  
However, based on the fact that it contains an entire stick of butter and 1 cup of sugar, it is not something you'll want to eat on a regular basis.  
Hence, this would be put in the 'special occasion treats' category.  
And after learning the definition of Skullduggery, I realized that if you really want to fatten up your skinniest friend underhandedly, this recipe would probably be a good start.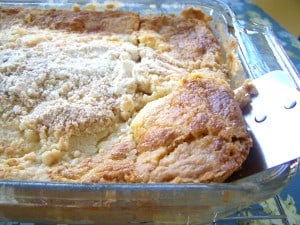 How Did It Taste?
This recipe was a hit with my son and my husband.  
As I've mentioned in previous posts, they are both very particular about what they like and don't like when it comes to food.  
They REALLY liked this recipe.  
The crusty top was so tasty and rich and the pumpkin filling was just like a good pumpkin pie.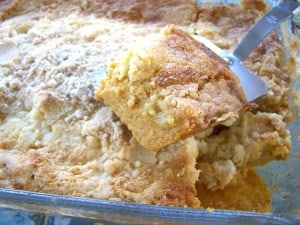 Based on other peoples' reviews, adding chopped walnuts on top, before baking, would make it even tastier.
I will be sure to try that next time.  
I would also think that vanilla ice cream would be a great alternative to whipped topping.  
Just sayin'.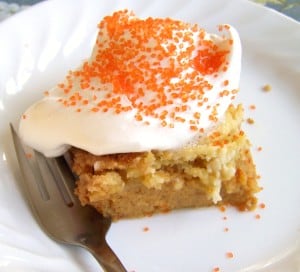 Try this at your next Thanksgiving gathering as opposed to the traditional, same old, humdrum pumpkin pie .  
I guarantee you will be the new Skullduggery Square 'go-to' for all future gatherings.
Don't go anywhere because we have more pumpkin recipes for you right here:
Roasted Pumpkin Seeds Recipe – 6 Weight Watchers Points Plus Value
Pumpkin Smoothie – 8 Weight Watchers Points Plus Value

Pam is married and has 1 son – a middle-schooler in his teen years. She followed Terri to Frederick in 1999. She absolutely loves going to yard sales and estate sales and finding hidden treasures.
read more...