Our roasted pumpkin seeds recipe is a family tradition for us every year at Halloween time!
Because of this, I had to post this recipe since most of us are going pumpkin patchin' and carving pumpkins in preparation for Halloween.
Roasted Pumpkin Seeds Recipe
Roasted Pumpkin Seeds Are A Family Tradition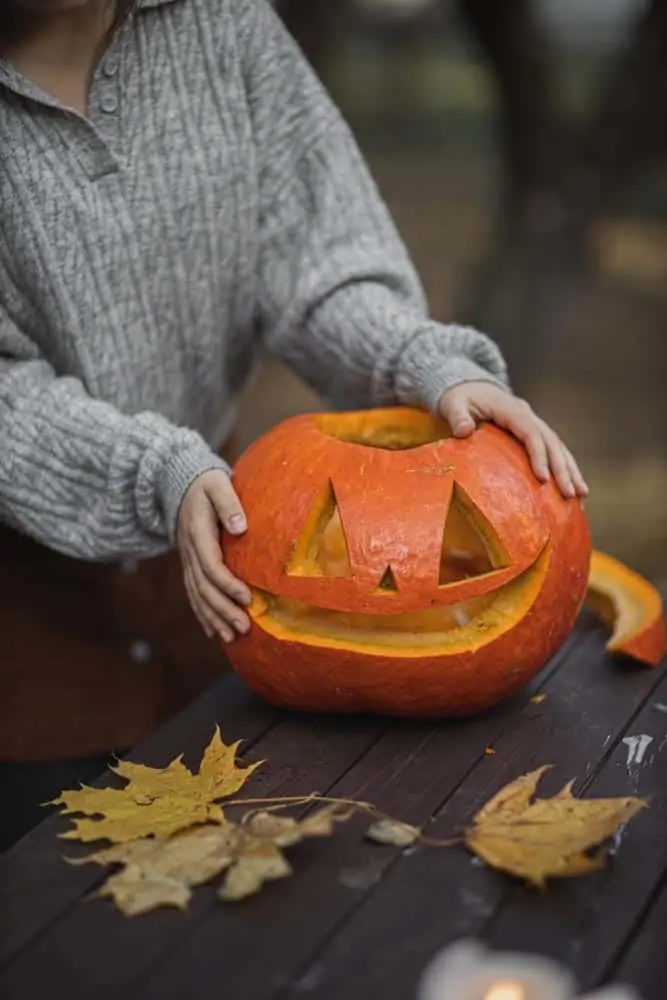 Ever since Terri and I were kids, we've always looked forward to not only carving our pumpkins, but also our Mom scooping the seeds out and roasting them in the oven.
I have many memories of getting dressed in my Halloween costume and smelling the wonderful aroma of roasted pumpkin seeds (also called pepitas).
I almost enjoy snacking on the pumpkin seeds better than all the candy I'd get for Halloween.
Who am I kidding? Not really, but close!
Weight Watchers Friendly Roasted Pumpkin Seeds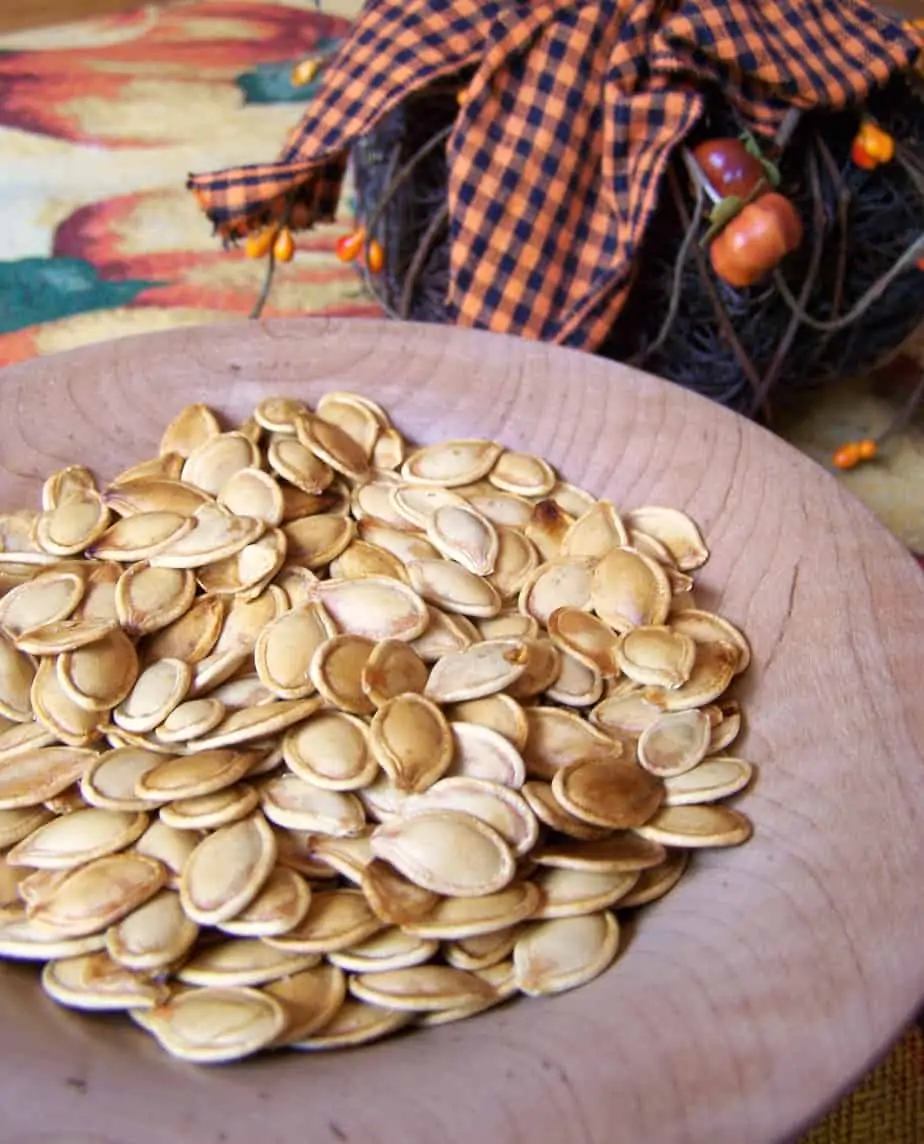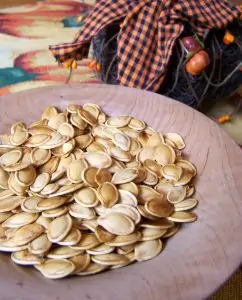 I found this particular recipe on the Good Housekeeping website.
In addition, for those of us who are on the WW SmartPoints, 1/4 cup serving of these roasted pumpkin seeds = 6 SmartPoints.
Roasted Pumpkin Seeds Recipe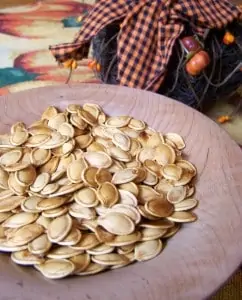 Roasted Pumpkin Seeds Recipe - 6 WW SmartPoints
Roasted pumpkin seeds are really good for you and so tasty! This recipe is Weight Watchers friendly too!
Ingredients
1

cup

pumpkin seeds

1

tsp

salt

1

tbsp

canola oil or olive oil
Instructions
Scoop out the inside of a medium size pumpkin into a colander.

Run cold water over the seeds and discard the pulp and strings.

Drain seeds well and dry (I spread them out on a cookie sheet and let them dry out for 24 hours).

Toss the seeds with the oil.

Spread the seeds out in a single layer onto a cookie sheet.

Sprinkle lightly with salt.

Bake at 375° F until toasted for approximately 30 minutes or longer until pumpkin seeds are a dark, golden brown.

Check and stir every 10 minutes.

Cool completely, then store leftovers in an airtight container.
Notes
6 WW SmartPoints Per Serving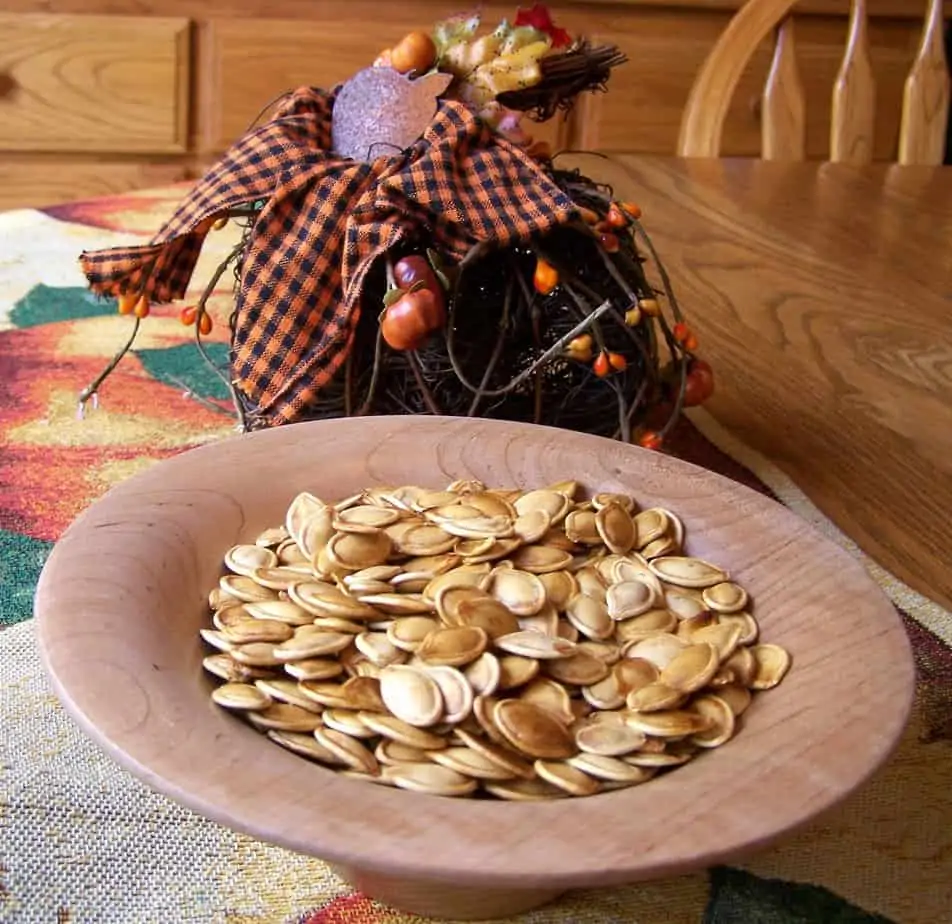 How Long To Bake Roasted Pumpkin Seeds?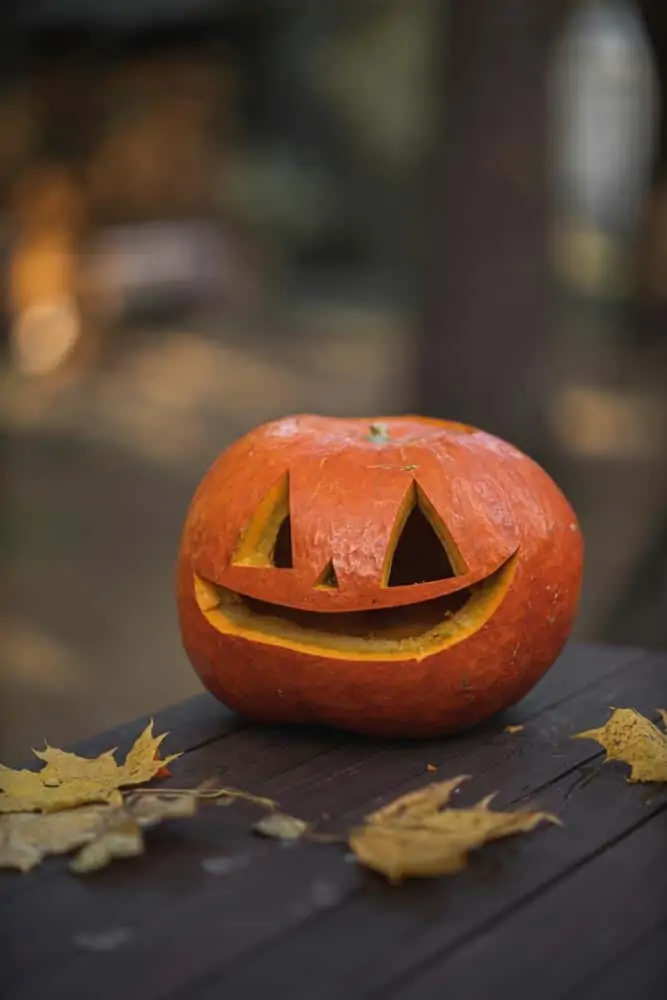 Mmmmm! They turned out really good!!
But, I would have baked them probably another 30 minutes if I had more time.
I like them extra crispy, almost burnt.
You just need to make sure that you're home long enough to keep checking them.
In other words, be patient enough to bake the heck out of them!
How to Season Them
Depending on your taste, you can also season your pumpkin seeds with chili powder, cumin & salt, cinnamon sugar, or garlic salt.
They're Really Good For You!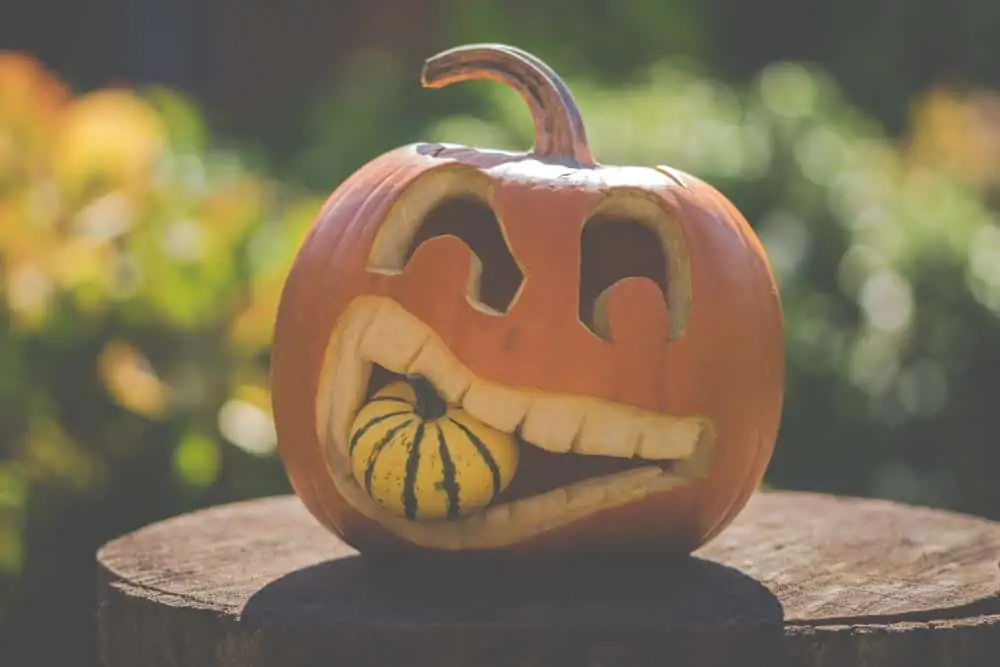 Not only are these a yummy snack, but roasted pumpkin seeds are good for you too!
According to Livestrong.com:
1/4 cup of roasted pumpkin seeds contains 169 calories & 4.34 grams of carbs.
They serve as a good, vegetarian source of protein with 8.8 grams – 16% of a day's worth of protein.
There are 2 grams of fiber per 1/4 cup serving of pumpkin seeds.
Most of the 14.47 grams of fat in one ounce of pumpkin seeds is the heart-healthy unsaturated variety.
The American Heart Association notes that choosing foods high in unsaturated fats in lieu of those high in saturated & trans fats can have positive effects on cholesterol levels & overall health.
1/4 cup of pumpkin seeds provides 46% of the daily recommended value for magnesium, 29% of iron, 52% of manganese & 24% of copper.
Pumpkin seeds are also a good source of zinc, with 17% of the daily recommended value.
They're also high in phytosterols, which are compounds that might help reduce cholesterol levels, enhance immunity & decrease your risk of developing certain cancers, says The World's Healthiest Foods website.
In a study in the "journal of Agricultural and Food Chemistry" researchers from Virginia Polytechnic Institute and State University listed the phytosterol content of pumpkin seeds at 265 mg per 100 grams, close to the amounts found in sunflower seeds and pistachio nuts.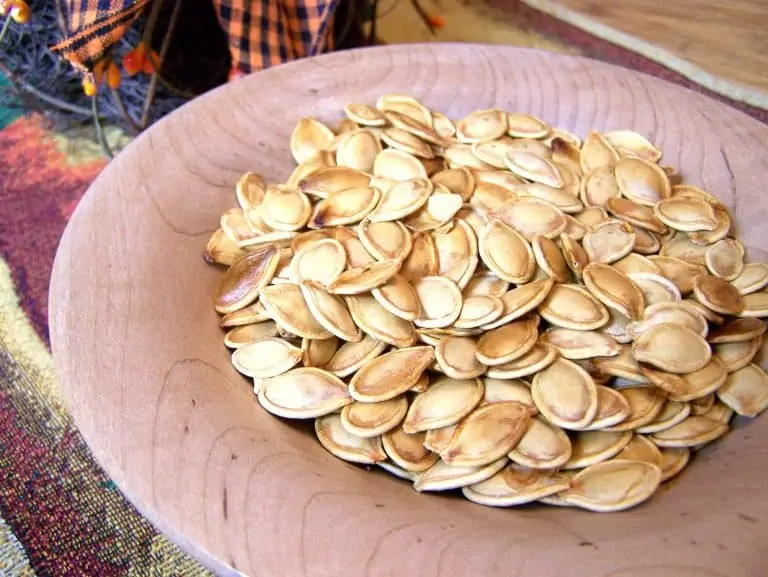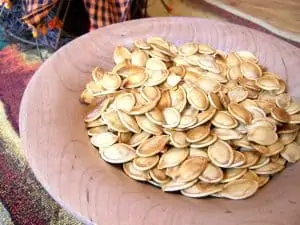 So, as you can see, you really can't go wrong with good old pumpkin seeds!
Start your own Halloween tradition and roast pumpkin seeds while the kids are suiting up for trick-or-treating.
They will thank you later!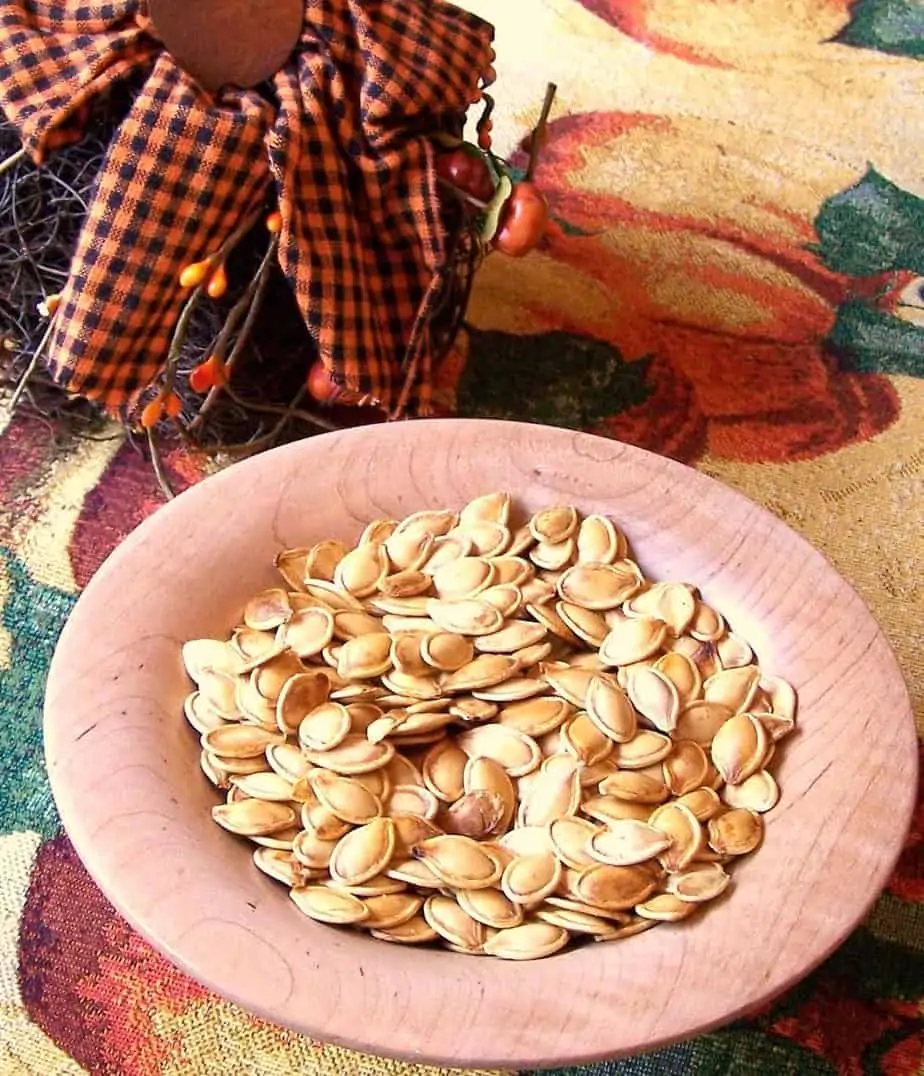 Happy snacking!
For more ways to enjoy your pumpkins, check out our posts on:
Pumpkin Chunkin & How To Host Your Own Event