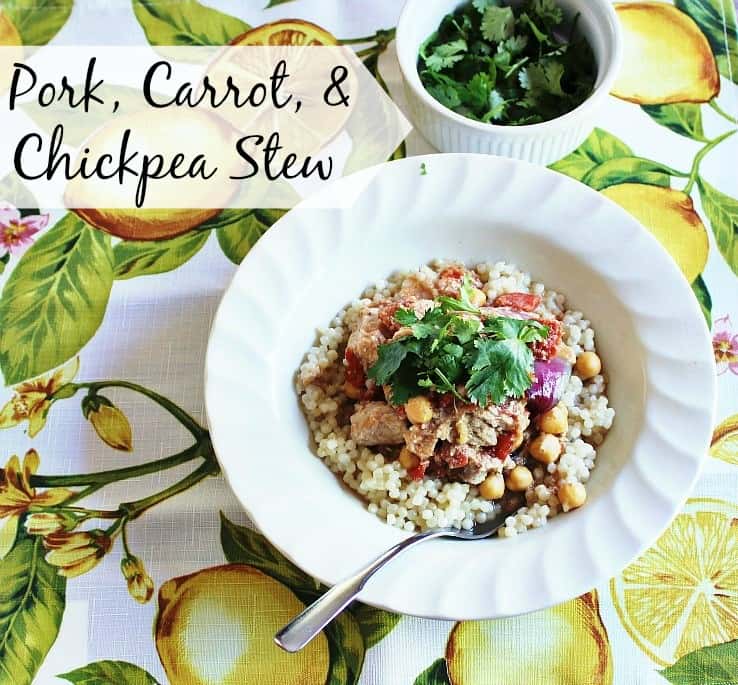 I love me a good hearty recipe.
Especially one that I can make a lot of and then eat leftovers for lunch the next day.
And what I love even more is when you can make that recipe in a slow cooker.
Yes, it's the upfront work that is kind of a pain in the butt when you have to prepare it after you've just cleaned up the dishes from dinner.
But once it's prepared and waiting in the slow cooker in the refrigerator, all you have to do is just wake up the next morning, plug that puppy in, and you can go on about your day!
Slow Cooker Pork, Carrot, & Chickpea Stew
There are so many good slow cooker recipes for the cold winter months, like my Hearty Slow Cooker Beef Stew and my White Chicken Chili.
But I'm on a quest to find slow cooker recipes for the warmer summer months too.
Why should winter have all the fun?
I recently found this Slow Cooker Pork, Carrot, & Chickpea Stew recipe in the April issue of Woman's Day Magazine.
It looked so good that I had to try it out for myself.
Here's the printable recipe: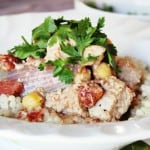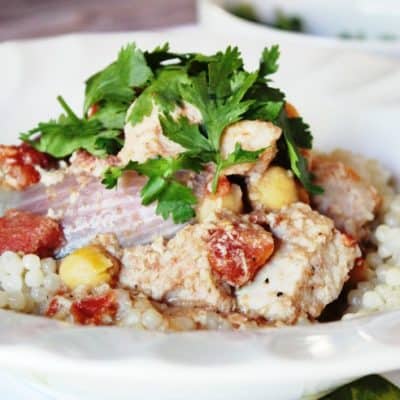 Print Recipe
Slow Cooker Pork, Carrot, & Chickpea Stew
Ingredients
- 1/2 cup low-sodium chicken broth

- 2 Tbsp flour

- 1 Tbsp grated fresh ginger

- 2 tsp ground cumin

- 1 tsp ground coriander

- Kosher salt & pepper

- 1

2 1/2 lb pork butt, well trimmed and cut into 2 inch pieces

- 1

28 oz can diced tomatoes, drained

- 8 oz medium carrots

cut into 2 inch pieces

- 4 cloves garlic

smashed

- 1 red onion

cut into 3/4 inch wedges

- 1/2 cup dried apricots

quartered

- 1

15 oz can chickpeas, rinsed

- 1 cup couscous

- Chopped fresh cilantro
Instructions
In a 5 to 6 quart slow cooker, whisk together the broth, flour, ginger, cumin, coriander, and 1/2 tsp each salt & pepper.

Add the pork, tomatoes, carrots, garlic, onion and apricots and toss to combine. Cook, covered, until the pork is tender and easily pulls apart, 4 1/2 to 5 1/2 hours on high or 7 to 8 hours on low.

10 minutes before serving, add the chickpeas to the pork and prepare the couscous according to package directions. Serve the pork, vegetables and any pan juices over the couscous and sprinkle with cilantro.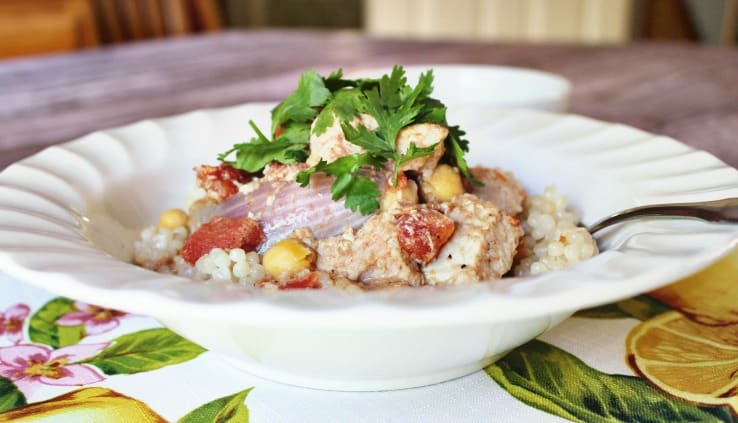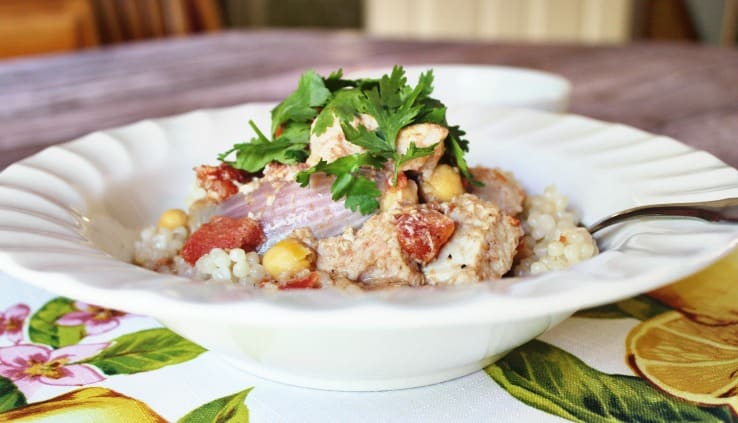 As expected, it turned out great.
The combination of the garlic, fresh ginger, cumin, & coriander really gave it a distinct taste.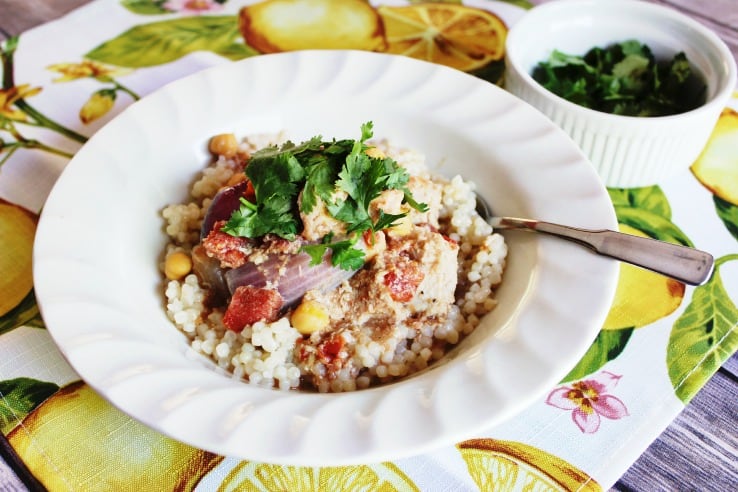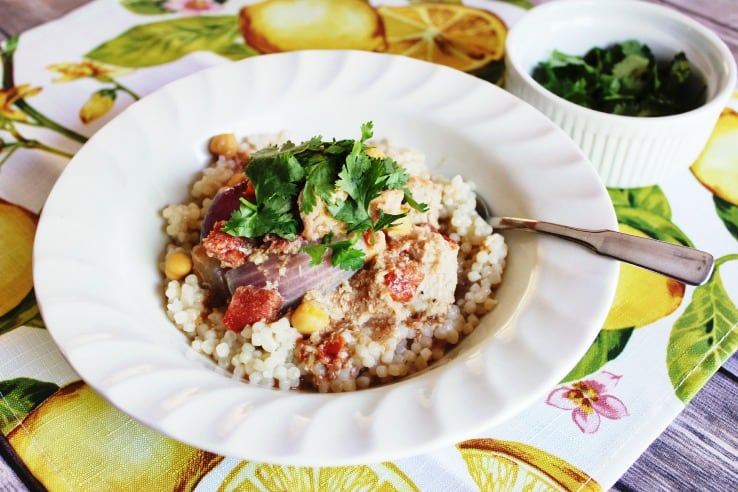 I have to admit that I did not include dried apricots in my version of this recipe.
I wasn't sure if that was something I'd like.
And I pretty much knew my husband wouldn't like it.
But I'd be willing to bet that it enhances the taste of the dish.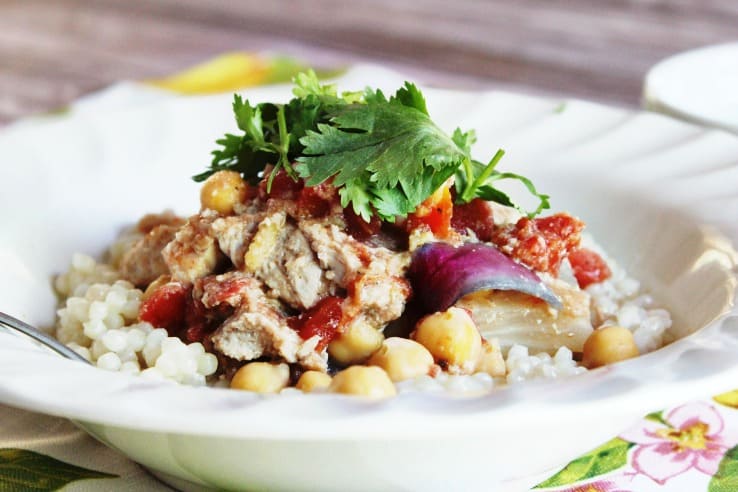 I also used pearl couscous instead of the smaller grain couscous.
The only reason I did that was because it was the only kind I could find in my grocery store.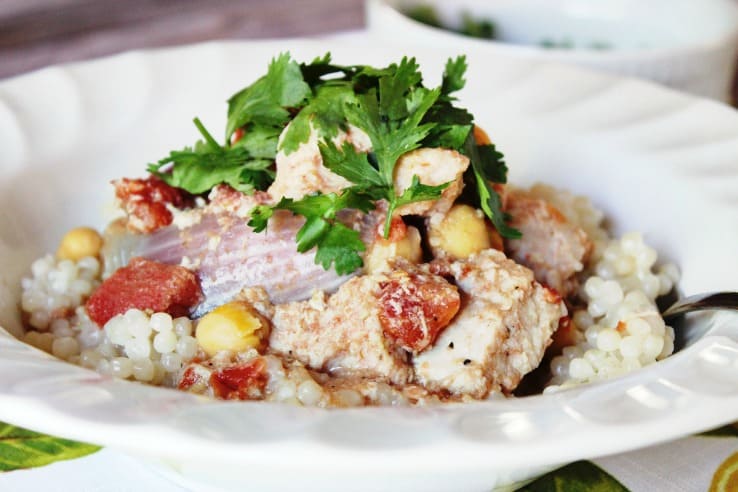 The night I made this dish, my son had baseball practice in the early evening (Hence the reason I wanted to make a meal that would be ready early).
I told my husband that I made it and to go ahead and eat it while I took my son to practice.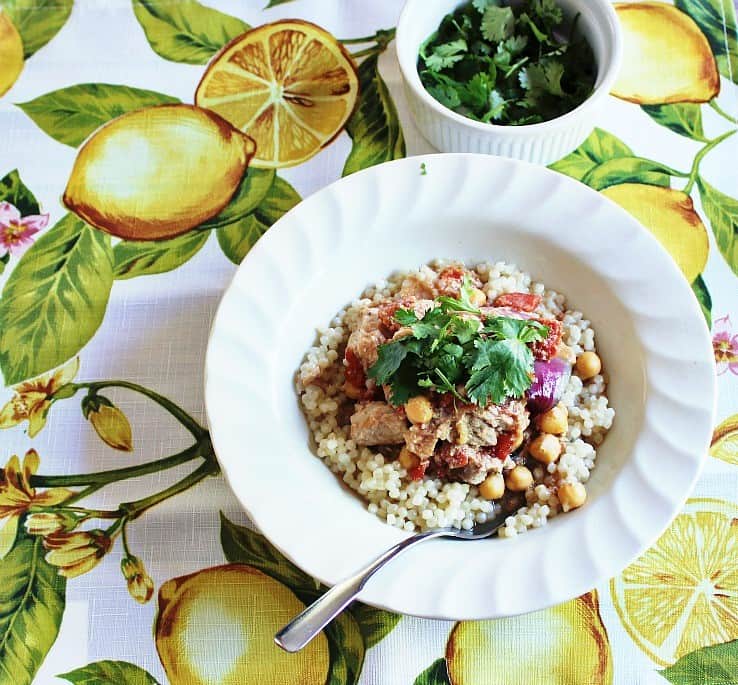 I came home to a big ole empty bowl and my husband's full stomach.
He was a happy man!
Do you have any warm weather slow cooker recipes in your arsenal?
If so, I'd love to know about them in the comments.

Pam is married and has 1 son – a middle-schooler in his teen years. She followed Terri to Frederick in 1999. She absolutely loves going to yard sales and estate sales and finding hidden treasures.
read more...