This Slow Cooker Pork Stew is one of those hearty stews that makes for an absolutely delicious and healthy meal!
In addition, with 44 g protein & 11 g dietary fiber per serving, this is a nice, low carb, fill-you-up kind of meal that you'll want to make often.
Slow Cooker Pork Stew
Needless to say, I'm always looking for good hearty recipes that my family will love.
In particular, I look for recipes that will make big portions.
Clearly, it's a great way to create leftovers for lunch the next day.
Hence, the reason why the slow cooker (or crock pot) is such a wonderful invention!
Yes, it's the upfront work that is kind of a pain in the butt, or shall I say pork butt!
Specifically, this recipe calls for approximately 25 minutes of prep time.
However, once this slow-cooked pork stew recipe is ready and waiting at dinner time, especially on busy weeknights, I'm glad I prepared it in advance!
In addition, if you get a big enough slow cooker, you can make enough food for an army!
This extra large, 10 quart capacity slow cooker on Amazon is my kind of slow cooker!
As a matter of fact, it's so big, it can fit a 12 pound roast!
I mean, if you're going to take the time to make a good meal, you might as well have leftovers!
That way you can eat it later in the week OR you can freeze it.
What is Pork Butt?
Although the name implies that this type of meat comes from the rear end, tuckus, or derriere of the pig, that is not correct.
This particular cut of meat comes from the shoulder of the pig and is used primarily in pulled pork recipes, best cooked slowly.
For further explanation of the answer to the question, what is pork butt, check out this article on The Spruce Eats.
Slow Cooker Pork Stew Ingredients:
Chicken Broth or Chicken Stock
Flour
Ginger
Cumin
Coriander
Kosher Salt (1 teaspoon salt or to taste)
Black Pepper
Pork Butt (cut into 2-inch pieces)
Diced Tomatoes
Carrots – cut-up large carrots or baby cut carrots
Garlic – Chopped, fresh garlic or minced garlic
Medium Onion – I used Red Onion
Dried Apricots
Chickpeas
Couscous
Fresh Cilantro
Step-By-Step Instructions
Step 1: Whisk Together First 7 Ingredients in Slow Cooker
First, add your chicken broth, flour, ginger, cumin, coriander, salt and pepper to your slow cooker.
Then, whisk it all together until well blended.
Step 2: Place Pork, Tomatoes, Carrots, Garlic, Onion, & Apricots Into Slow Cooker
Second, add in your cubed pork and the next 5 ingredients to the slow cooker and toss to combine.
Step 3: Cook in Slow Cooker Until Pork is Tender
Then, turn your slow cooker on and cook for 4 1/2 to 5 1/2 hours on high OR 7 to 8 hours on low.
You'll know it's ready when your pork turns into tender chunks of meat and easily pulls apart with a fork.
Step 4: Add Chickpeas and Prepare Couscous
Finally, 10 minutes before serving your pork stew, add the chickpeas to the stew.
Then, prepare the couscous according to the package directions.
Spoon your pork stew (make sure you scoop up that flavorful broth) over the couscous and sprinkle your fresh cilantro on top.
Serve with a side of buttered, crusty bread and you've got yourself a delicious meal for the whole family!
Substitutions and Additions
Here are ingredients you can swap or add on to this easy recipe:
Substitutions
In general, pork is a lean meat. However, pork butt is less lean than other cuts of pork, such as pork chops, pork stewing meat, pork sirloin, pork loin, boneless pork shoulder roast, or pork tenderloins.
Pinto beans or kidney beans instead of chickpeas.
Instead of couscous, serve your pork stew over top of:

Egg Noodles
Brown Rice
Red Potatoes
Additions
Tomato paste
Chopped green chiles
Diced sweet potatoes
Fresh parsley
Other root vegetables
Green beans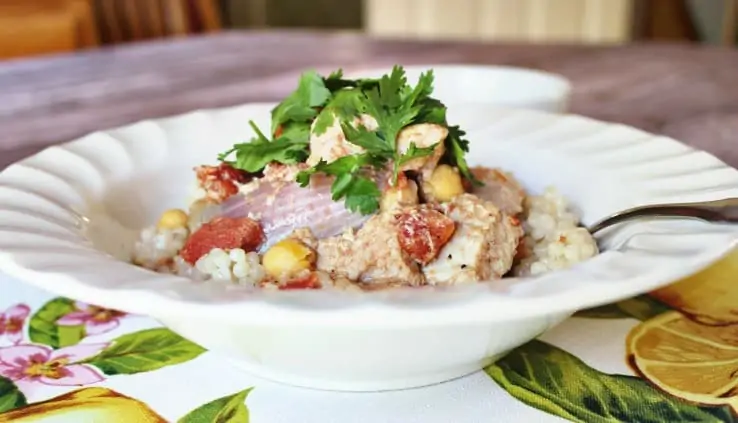 How Does it Taste?
As expected, it turned out great!
Just like any kind of stew, this pork stew is the perfect comfort food.
The combination of the garlic, fresh ginger, cumin, & coriander really gave it wonderfully distinct, delicious flavors.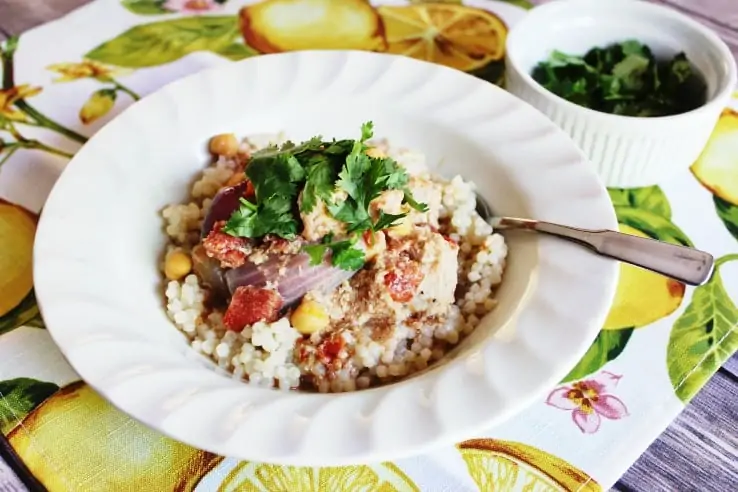 In addition, I used pearl couscous instead of the smaller grain couscous.
You can use whatever type of couscous you prefer.
The night I made this dish, my son had baseball practice in the early evening (Hence the reason I wanted to make a meal that would be ready early).
I told my husband that I made it and to go ahead and eat it while I took my son to practice.
I came home to a big ole empty bowl and my husband's full stomach.
He was a happy man!
How To Store Pork Stew
To store any of your leftovers, place the pork stew in an airtight container with a tight lid.
Then, place it in the refrigerator for up to 4 days.
Slow Cooker Pork Stew Recipe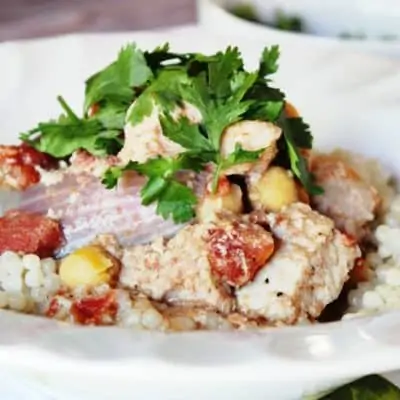 Slow Cooker Pork Stew
A delicious, hearty & healthy stew recipe that you can cook in the slow cooker.
Ingredients
½

cup

Low-Sodium Chicken Broth

2

tbsp

Flour

1

tbsp

Grated Fresh Ginger

2

tsp

Ground Cumin

1

tsp

Ground Coriander

Kosher Salt, to taste

Black Pepper, to taste

2 ½

lbs

Pork Butt, well trimmed and cut into 2 inch pieces

28

oz

Canned, Diced Tomatoes, drained

1

cup

Carrots

,

cut into 2 inch pieces

4

cloves

Garlic

,

smashed or minced

1

Red Onion

,

cut into 3/4 inch wedges

½

cup

Dried Apricots

,

quartered

15

oz

Canned Chickpeas, rinsed

1

cup

Cooked Couscous

½

bunch

Fresh Cilantro, chopped
Instructions
In a 5 to 6 quart slow cooker, whisk together the broth, flour, ginger, cumin, coriander, and 1/2 tsp each salt & pepper.

Add the pork, tomatoes, carrots, garlic, onion and apricots and toss to combine. Cook, covered, until the pork is tender and easily pulls apart, 4 1/2 to 5 1/2 hours on high or 7 to 8 hours on low.

10 minutes before serving, add the chickpeas to the pork and prepare the couscous according to package directions. Serve the pork, vegetables and any pan juices over the couscous and sprinkle with cilantro.
Lastly, for more great recipes for hearty stew, check out our posts on:
Weight Watchers White Chicken Chili – 5 Points Plus Value
North African Meatball Stew – 5 Weight Watchers Points Plus Value