This Slow Cooker Pork Butt, Carrot, & Chickpea Stew is a delicious, hearty, & healthy meal.
With 44 grams of protein & 11 grams of fiber per serving, this is a nice fill-you-up kind of meal that you'll want to make often.
Slow Cooker Pork Butt Stew
I'm always looking for good hearty recipes that my family will love.
In particular, I look for recipes that will make big portions.
Therefore, I can eat leftovers for lunch the next day.
That's why the slow cooker is such a wonderful invention!
Yes, it's the upfront work that is kind of a pain in the butt, or shall I say pork butt!
However once it's ready waiting for you at dinner time, you'll be glad you prepared it in advance!
In addition, if you get a big enough slow cooker, you can make enough food for an army!
This extra large, 10 quart capacity slow cooker on Amazon is my kind of slow cooker!
It's so big, it can fit a 12 pound roast!
I mean, if you're going to take the time to make a good meal, you might as well have leftovers!
That way you can eat it later in the week OR you can freeze it.
What is Pork Butt?
Although the name implies that this type of meat comes from the rear end, tuckus, or derriere of the pig, that is not correct.
This particular cut of meat comes from the shoulder of the pig and is used primarily in pulled pork recipes, best cooked slowly.
For further explanation of the answer to the question, what is pork butt, check out this article on The Spruce Eats.
Slow Cooker Pork Butt, Carrot, & Chickpea Stew Recipe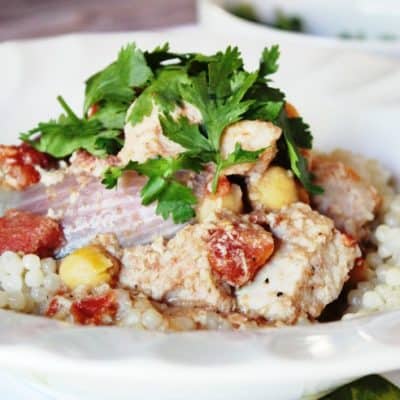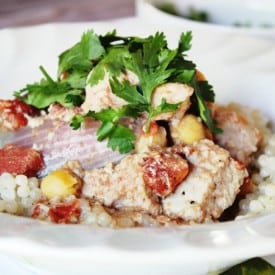 Slow Cooker Pork Butt, Carrot, & Chickpea Stew
A delicious, hearty & healthy stew recipe that you can cook in the slow cooker.
Ingredients
- 1/2 cup low-sodium chicken broth

- 2 Tbsp flour

- 1 Tbsp grated fresh ginger

- 2 tsp ground cumin

- 1 tsp ground coriander

- Kosher salt & pepper

- 1

,

2 1/2 lb pork butt, well trimmed and cut into 2 inch pieces

- 1

,

28 oz can diced tomatoes, drained

- 8 oz medium carrots

,

cut into 2 inch pieces

- 4 cloves garlic

,

smashed

- 1 red onion

,

cut into 3/4 inch wedges

- 1/2 cup dried apricots

,

quartered

- 1

,

15 oz can chickpeas, rinsed

- 1 cup couscous

- Chopped fresh cilantro
Instructions
In a 5 to 6 quart slow cooker, whisk together the broth, flour, ginger, cumin, coriander, and 1/2 tsp each salt & pepper.

Add the pork, tomatoes, carrots, garlic, onion and apricots and toss to combine. Cook, covered, until the pork is tender and easily pulls apart, 4 1/2 to 5 1/2 hours on high or 7 to 8 hours on low.

10 minutes before serving, add the chickpeas to the pork and prepare the couscous according to package directions. Serve the pork, vegetables and any pan juices over the couscous and sprinkle with cilantro.
How Does it Taste?
As expected, it turned out great.
The combination of the garlic, fresh ginger, cumin, & coriander really gave it a distinct taste.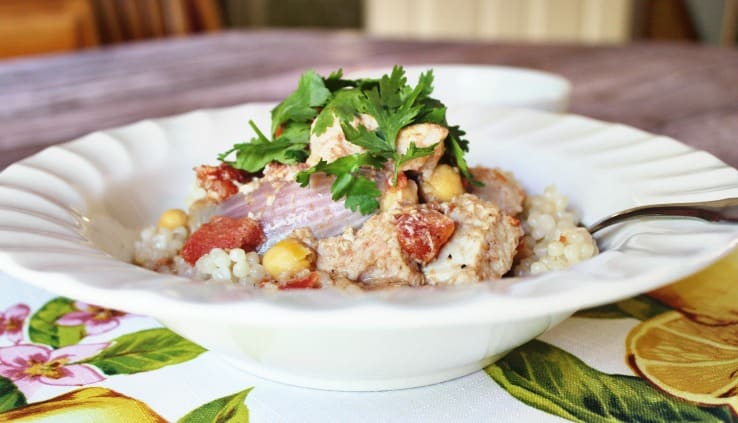 Similar recipes include dried apricots in them.
However, I have to admit that I didn't include dried apricots in my version of this recipe since I wasn't sure if I'd like it.
But, that doesn't mean you can't add them!
Actually, it probably really enhances the taste of the dish and makes it more exotic.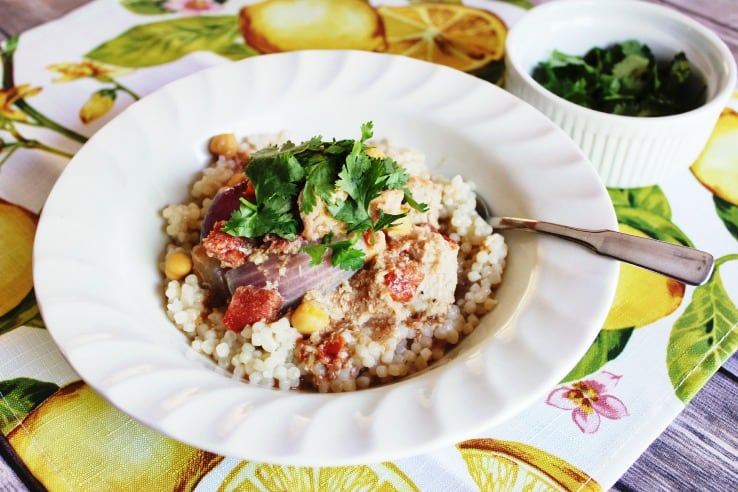 In addition, I used pearl couscous instead of the smaller grain couscous.
You can use whatever type of couscous you prefer.
The night I made this dish, my son had baseball practice in the early evening (Hence the reason I wanted to make a meal that would be ready early).
I told my husband that I made it and to go ahead and eat it while I took my son to practice.
I came home to a big ole empty bowl and my husband's full stomach.
He was a happy man!
For more hearty, stew recipes, check out our posts on:
Weight Watchers White Chicken Chili – 5 Points Plus Value
North African Meatball Stew – 5 Weight Watchers Points Plus Value